After some great overviews of the best hikes in Asia and top hiking trails in Europe, we're bringing you an awesome list of best hikes in America. And because we haven't ventured to this corner of the world ourselves, we asked our friends and fellow travelers to tell us about their memorable hikes in North, Central and South America.
The following hikes are in an alphabetical order of the states. Ready for an outdoor adventures?
Like it? Pin it!

Best hikes in America: from the North to South
Canada: Bruce Trail
Duration: 30 days (end-to-end)
Best time to go: spring, September – November
One of the best hiking paths in Canada is the Bruce Trail. Crossing southern and central Ontario, the Bruce Trail runs from Niagara River to the tip of the Bruce Peninsula in Tobermory.
The Trail is nearly 900 kilometres long, with over 400 kilometres of associated side trails, making it Canada's longest and oldest footpath. The Trail runs along the Niagara Escarpment making for challenging hiking at times, while other sections are moderate.
The wealth of natural beauty and wonders you'll stumble upon make it all worthwhile. From epic cliff top views to hiking through canyons and old growth forests, the Bruce Trail will wow you at every turn.
Read more travel articles from Stephanie on The World As I See It and follow her on Instagram and Facebook. 
Chile: Mirador Base de las Torres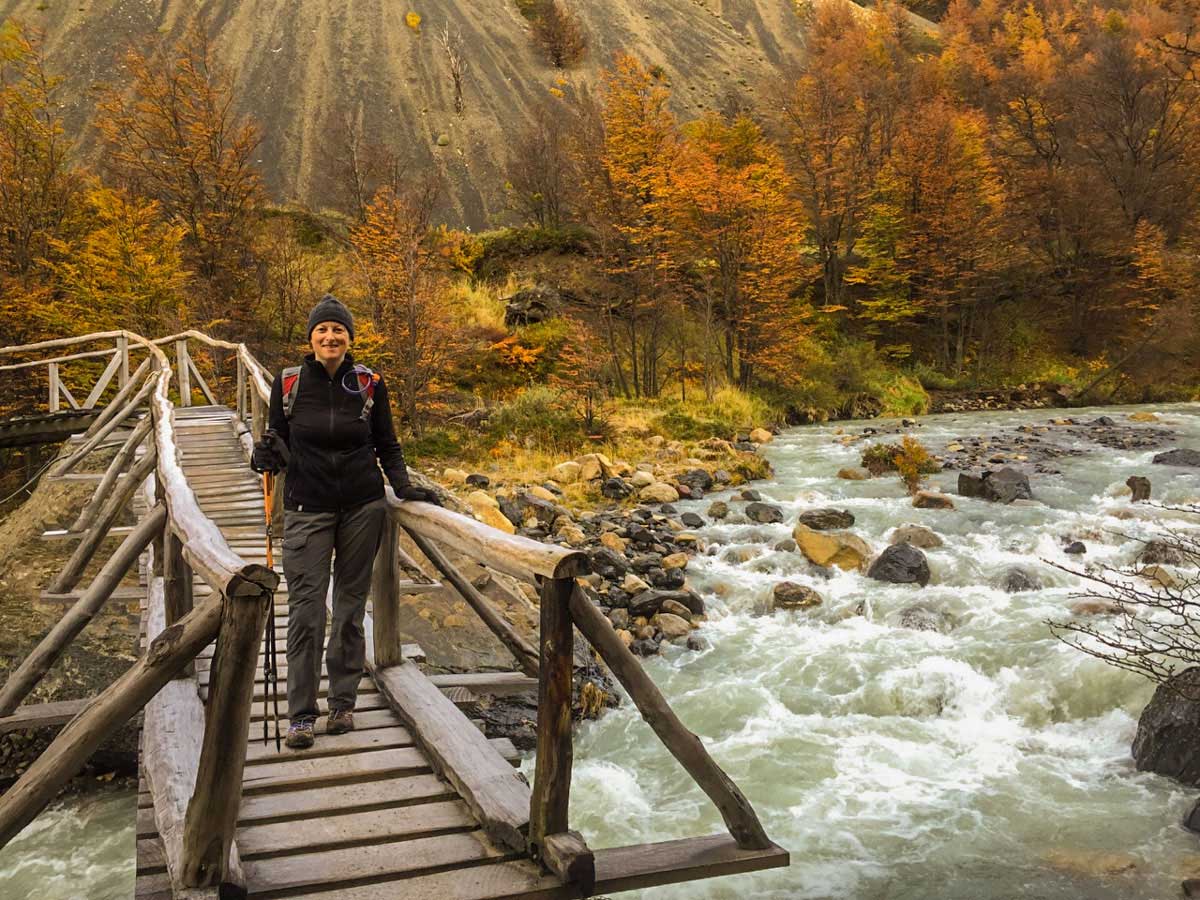 Duration: 7-8 hours
Best time to hike: Spring, Autumn
Pristine landscapes of majestic mountains, glacial lakes, and gleaming glaciers reward those who visit Torres del Paine National Park. This one day hike is challenging and rewarding in equal measures, and a highlight of our trip to Chile.
The hike is best started pre-dawn. An amble over fields, across a swing bridge, turns upwards shifting to a narrow shingle path. A sun-dappled forest-lined river a pleasant respite.
The challenge begins when you see the sign "45 minutes to the summit". One and half hours later and the longest kilometre of our lives clambering up an uneven staircase of rocks. Finally a boulder field, with rocks the size of small cars!
The first glimpse of the breathtaking granite spires jutting sharply above an icy lake makes it worth while. The light changing the complexion of the towers with each passing minute.
After a brief picnic, descend the same way exhausted and exhilarated.
Read more travel articles from Steve & Julie on 2checkingout.com and follow them on Instagram and Pinterest. 
Colombia: Laguna Guatavita
Duration: 2-3 hours
Best time to go: July-August
In the gorgeous countryside surrounding Colombia's capital of Bogota lies a mountain that is home to one of the greatest mysteries on earth. Laguna Guatavita is popular for it's stunning scenery. But what makes it so famous is its place at the centre of the Legend of El Dorado.
It is believed that the crater lake at the top of this short, but steep hike is where the native chief would throw piles of gold as part of an offering to the Gods.
While access to the lake itself is restricted now, due to unfortunate incidents involving treasure hunters, hikers to the site will be wowed by the lush greenery. And the views over the Colombian countryside are something that hikers won't soon forget.
Read more travel articles from Kevin and his family on www.wanderingwagars.com and follow them on YouTube and Facebook. 
Ecuador: Pichincha trail
Duration: 3-4 hours from the Teleferico base
Best time to go: June-August
I feel a little sheepish about writing about the hike up Pichincha volcano, near Quito, Ecuador. Because, you see, we didn't make it all the way. We wanted to, but the weather didn't cooperate. We got most of the way, until the hard part actually, but then a sudden storm came over the mountain, as they do in the Andes.
And, while my stubborn donkey brain said go on, my survival instinct kicked in. We turned back. The best way to start up Pichincha is to take the Teleferico (cable car) from the city up to the base of the hike at about 3950 meters.
From there, the summit is 10 kilometers away. In three or four hours, you should reach the top at just short of 4700 meters. Or, if the weather comes in, stop and turn around, and come back another sunny day.
Read more travel articles from Tom & Kris on Travelpast50.com , and follow them on Facebook and Instagram
Get inspired by more travel articles:
Guadeloupe: La Soufrière
Duration: 2 hours
Best time to go:January-May
The main island of Guadeloupe is shaped like a butterfly. The western "wing" is taken up by a large, jungle-covered volcano called La Soufrière, whose last eruption was in 1976. Still mildly active, It last caused an earthquake in 2004.
The hike up from 950 to 1467 meters should take about two hours. First gradual, then steeper, then a short distance of scrambling up some rocks, the path is very rocky, muddy and uneven. Watch your step and take plenty of water.
I hiked to the crater a few years ago and it's an experience I highly recommend. You won't see active lava at the top, but you will see lots of smoke and steam escaping from a deep crater called La Porte de l'Enfer, which means Hell's Gate. And the views, when the clouds part – which they often do because of the high winds – are spectacular.
Read more travel articles from Rachel on Rachel's Ruminations and follow her on Twitter and Instagram. 
Guatemala: Volcano San Pedro, Lake Atitlan
Duration: 5 hours
Best time to go: November – March
The lush green slopes of the string of volcanos surrounding Lake Atitlan in Guatemala's highlands have long been a draw for adventurers, explorers and nature lovers.
Not only are the views of the immense mirrored lake astonishingly beautiful but walking the ancient foot paths and hiking trails take visitors through 13 indigenous Mayan pueblos where the customs of colourful handwoven garments and traditional cuisine have been preserved since pre-conquest times.
One of the best day hikes is a guided hike up Volcano San Pedro, which rises to a height of more than 3020 metres, and towers above the village of San Pedro La Laguna, across the lake from Panajachel.
The trailhead begins at the Visitors Centre, a short ride by tuk tuk from town. An entrance fee to the park, a protect ecological area, includes the services of a guide. Begin your hike early in the morning to avoid rains and plan on 5 hours to complete the 8-kilometre round trip.
The beginning of the trail is an easy walk through verdant coffee plantations but the slope quickly becomes steep with a mix of jungle flanking the dirt trail and ultimately stone stairs for the final stretch. At the summit, you'll be rewarded by fantastic views of Lake Atitlan if the clouds permit.
Read 20 Tips for Safe Travel in Guatemala and more travel articles from Michele Peterson on A Taste for Travel and follow her on Twitter and Facebook. 
Maine: Cutler Bold Coast Trail
Duration: 45 minutes – 4 hours
Best time to go: July-August or September-October. Read full details in Naomi's article What's the Best Time to Visit Maine?
One of the most popular places to visit in Maine is Acadia National Park, but there are many hikes along Maine's coast that are just as stunning. If you're willing to drive a couple of hours from Acadia along a scenic byway, you'll find one of Maine's best coastal hikes: the Cutler Bold Coast Trail.
There are several trail options: through a maritime forest to the cliffs and back out (2.8 miles), a small loop with more hiking along the cliffs (5.5 miles), or the longer loop with a significant portion of the trail following the shorefront (9.2 miles).
The longer options are strenuous, while the shortest trail is fairly easy. There are also primitive campsites available on a first-come, first-served basis.
Read more travel articles from Naomi Liz on Roaming the Americas and follow her on Instagram and Facebook. 
New Hampshire: The Bonds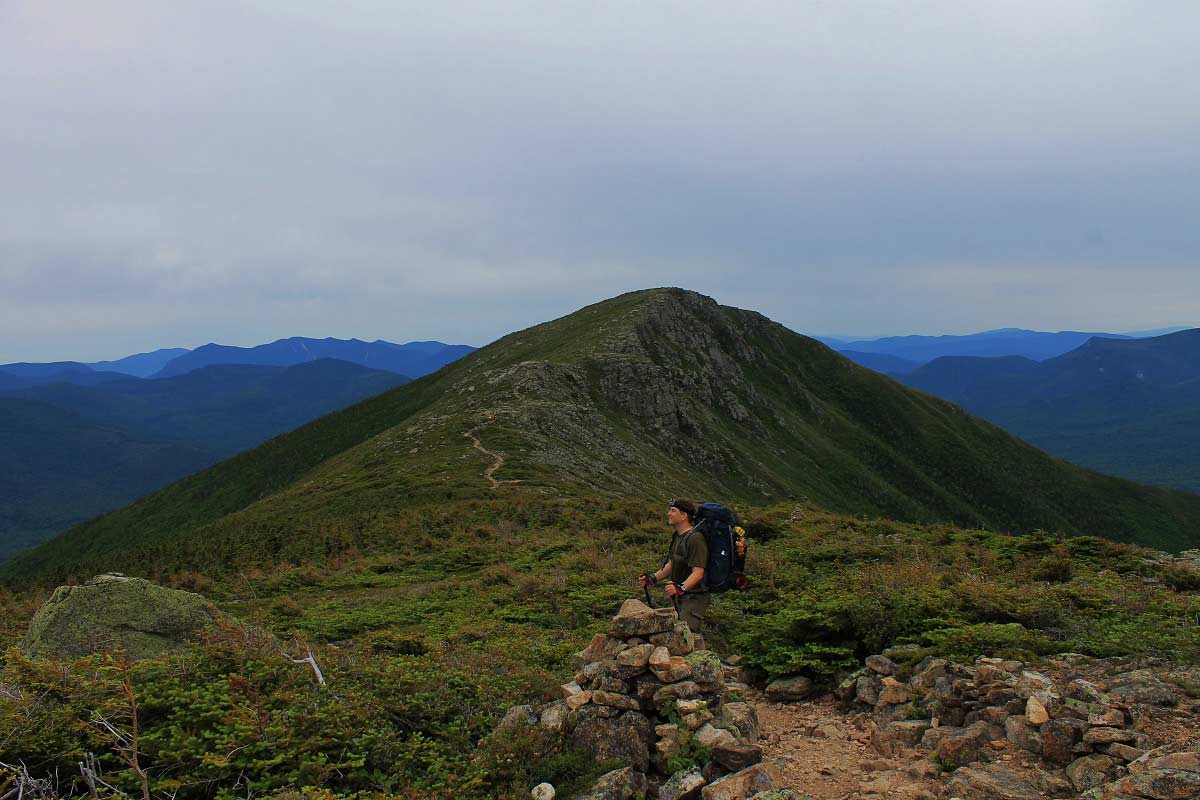 Duration: a day
Best time to go: fall
The White Mountains of New Hampshire are home to some of the best hiking trails in New England.
The Bonds are the nickname for a series of mountains (Mount Bond – 4698 ft., West Bond – 4540 ft., and Bondcliff – 4265 ft.) in the Pemigewasset Wilderness of New Hampshire. This difficult hike can be done in a day, but many hikers choose to make it a backpack and enjoy amazing views to the Zealand Hut or Guyot Shelter.
Speaking of amazing views, the pinnacle of the trip is the famed ledge at Bondcliff. The shear drop from edge will test your nerve and supply a photo to brag about.
For our hike into the Bonds, we took the Zealand trail which allowed us to summit Mount Zealand (another 4000 ft mountain), to Twinway, to Bondcliff trail. We crossed Mount Guyot to stay at Guyot campsite (bring cash – $10 ea).  Being able to catch the early morning sun on the peaks of the Bonds is amazing!
Read more travel articles from Cathy & Frank on Nothing But New England and follow them on Facebook and Instagram. 
North Carolina / Tennessee: Cades Cove Trail
Duration: 2-4 hours
Best time to go: spring
The Great Smoky Mountains National Park is a dream destination for outdoor lovers, especially hikers. The park is the most visited park in the US and is free all year round!
There are so many hiking paths but if I had to narrow down to one must see, I would choose the Cades Cove trail.
Cades Cove is an 11-mile one-way driving path with several spots to park your car and hike the trails. It is the number one best place to see wildlife in the Smoky Mountains and your best chance to see black bears and the scenery can't be beaten.
I highly recommend going in the spring for the cool, crisp weather or the fall for the foliage. Make sure to stay in the adjacent campground and start the loop at sunrise. You'll get to see the smoky look that the park is named for, deer, bears, turkeys and fewer people.
Read more travel articles from Ashley on A Southern Gypsy and follow her on Instagram and Facebook. 
Oregon: Misery Ridge, Bend
Duration: an hour
Best time to go: spring and fall
No worries, guys, the Misery Ridge Hike in Oregon causes happiness and sore legs, there will be no misery experienced at all! This awesome hike is located in Smith Rock National Park and can be done by anyone, just as long as you can walk up hill for about an hour.
You will need some stamina for this but it's not that difficult and people with even a rather pitiful or nonexistent workout routine could still get through it just fine (ehem… me). If you do make it up, you'll be rewarded with some pretty specular views of some crazy rock formations and a beautiful river below. People come out here to hike, rock climb, and even just stroll the lower paths around the river.
The hikes on top provide some pretty awesome views though and it's a must do while in the area. If you're around for more than a day there are more trails to discover in the park.
Read about 11 Things to Do in Oregon and more travel articles from Nina Ragusa on Where in the World is Nina and follow her on Instagram and Facebook. 
Peru: The Choquequirao trail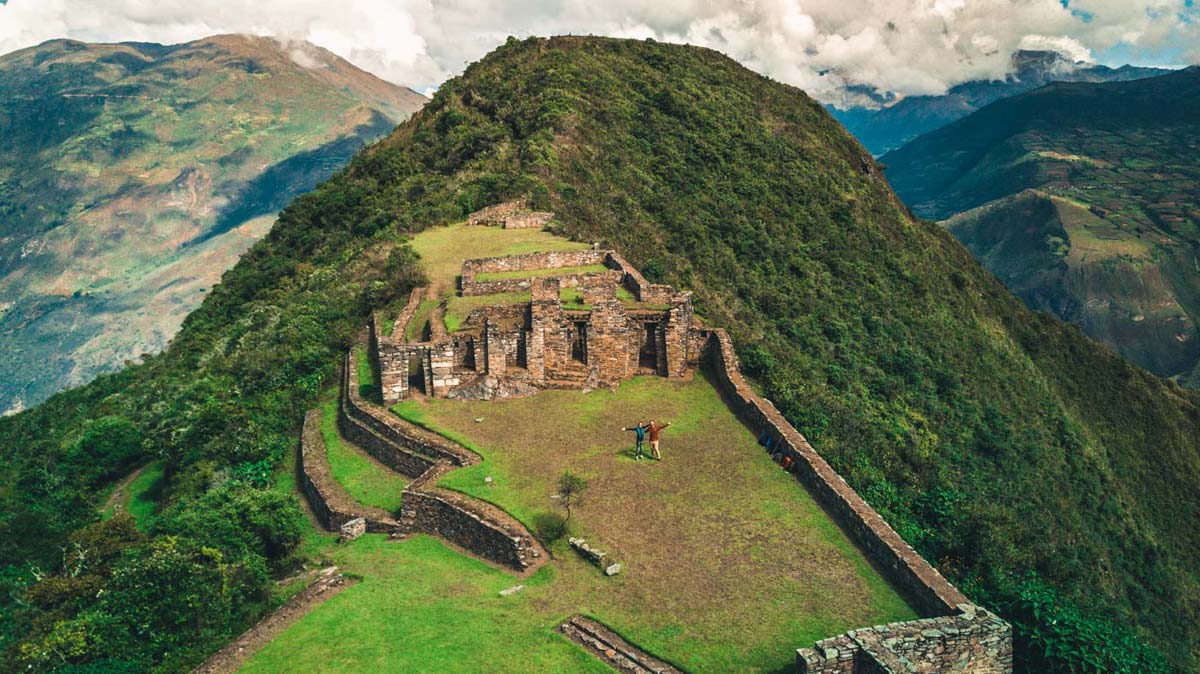 Duration: 5 days
Best time to go: May-August
On a recent trip to Peru we discovered an amazing hiking path that we can't stop raving about. The Choquequirao trail, outside of Cusco, stretches for over 40km leading to the Incan ruins of Choquequirao, known as the mini Macchu Picchu.
The trail is challenging, zigzagging along the sides of the Apurimac Valley, and takes about 5 days to complete. Luckily, the spectacular views along the way offer plenty of motivation to keep on going and the chance to explore the ruins of Choquequirao is a good enough reason to add this trip to your hiking bucket list.
The best time to hike Choquequirao is in the summer, May-August. Usually, this time of the year is very crowded at Machu Picchu, so Choquequirao is a great alternative for those looking for an off the beaten path hike.
Read more travel articles from Max & Oksana, eco-conscious nomads on Drink Tea & Travel, and follow them on Facebook and Instagram.
Texas: Big Bend National Park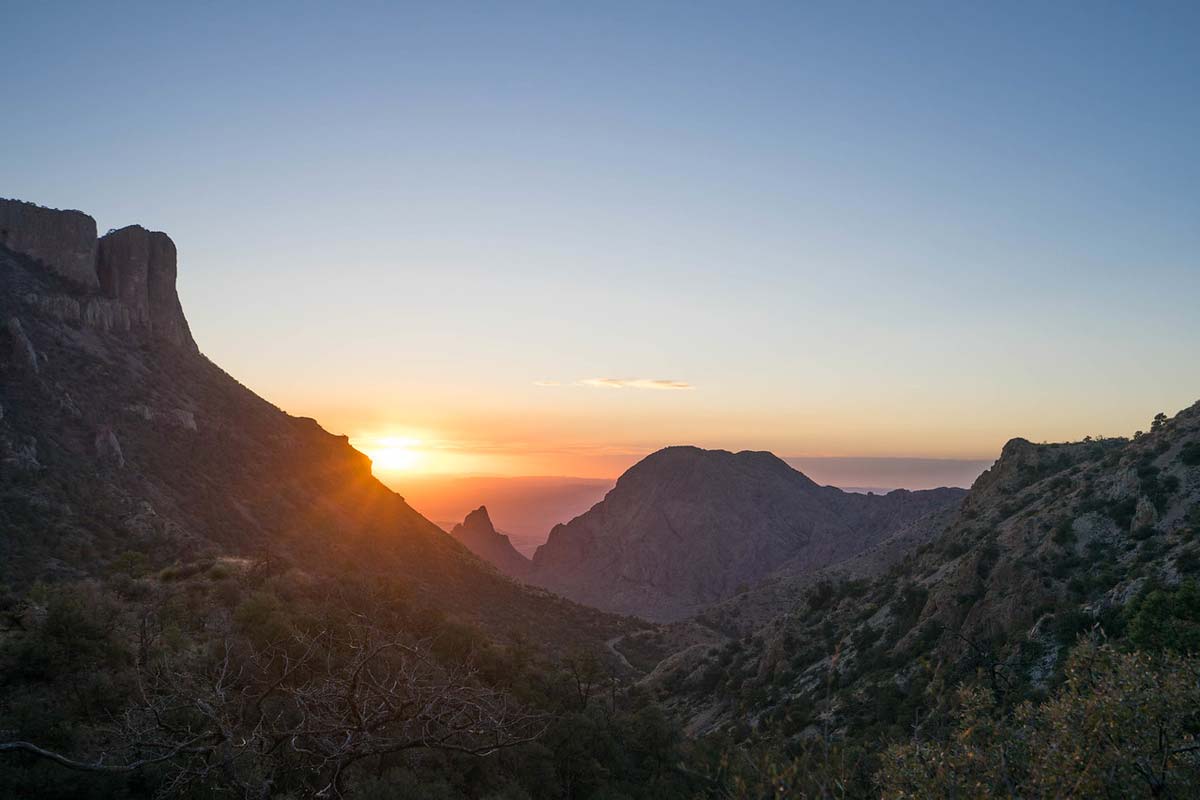 Duration: about 1.5 hour
Best time to go: October-March
Big Bend National Park is easily one of the United States' most underrated destinations, known for its rugged deserts and beautiful night skies. If you only have time for one hike in Big Bend, the Lost Mine Trail should be it. Situated on the only road to the Chisos Basin Campground and Lodge, you can't miss the trailhead.
The hike itself is about 4.6 miles (~7.5 km) out-and-back, and is a moderately difficult hike. Throughout the ascent, you'll walk on a dirt trail through typical Texas plant life.
Once you pass the switchbacks and reach the clearing in the trees, you've basically arrived. Don't forget to explore the whole viewpoint – if you continue walking ahead you can catch panoramic views of almost the entire park.
For prime viewing, this hike is best done right before sunset, so you can catch the entire area ablaze with shades of red and orange.
Read more travel articles from Kay Rodriguez on Jetfarer.com and follow her on Instagram and Facebook.
Utah: Angel's Landing
Duration: 1.5 hour
Best time to go: late spring-early fall
Angel's Landing is the iconic trail for Zion National Park in southern Utah, USA. The trailhead is only accessible via bus. The trailhead is Stop 6 – The Grotto.
This 5 miles round trip trail is one of the most popular hiking trails. The trail is only accessible from late spring to early fall. Avoid this trail if there is snow/ice one it.
Take the 6:00 am bus so you are the first up the trail. The first 2 miles of trail are a lot of switchbacks and just uphill hiking. The last 0.5 miles of trail is basically bouldering up a cliff with only a chain to hold on to.
It is the scariest hike, I have every done. It has 800 ft drops and people have fallen to their deaths on this trail.   The view when you get out on the landing makes the danger worth every second.
Read more travel articles from Jennifer Melroy on Made all the Difference Travel Blog and follow her on Facebook 
and Instagram.
Venezuela: Mount Roraima
Duration: 5-6 days
Best time to go: December – March
Mount Roraima, also known as Tepuy Roraima by the indigenous population, is a majestic table-shaped mountain located in the Venezuelan Sabana. It's the highest Tepuy in the region and also serves as the triple border point of Venezuela, Brazil and Guyana.
The hike to the top will take at least five or six days to complete, and you'll have to cross rivers, climb steep rocks and walk along muddy paths. Considered by many as one of the most impressive hikes in the world, it's certainly a challenging but also a rewarding experience.
Once at the summit, you'll find a vista of strange rock formations, endemic flora and fauna, dozens of waterfalls descending from 400-meter cliffs, and vertigo-inducing views in all directions.
The "dry season" runs from December to March, but you can expect rain at any time. However, even though the rain can make the trip more difficult, the waterfalls will look their best.
Read more travel articles from Miguel on Travelsauro and follow him on Facebook and Instagram. 
Liked it? Pin it!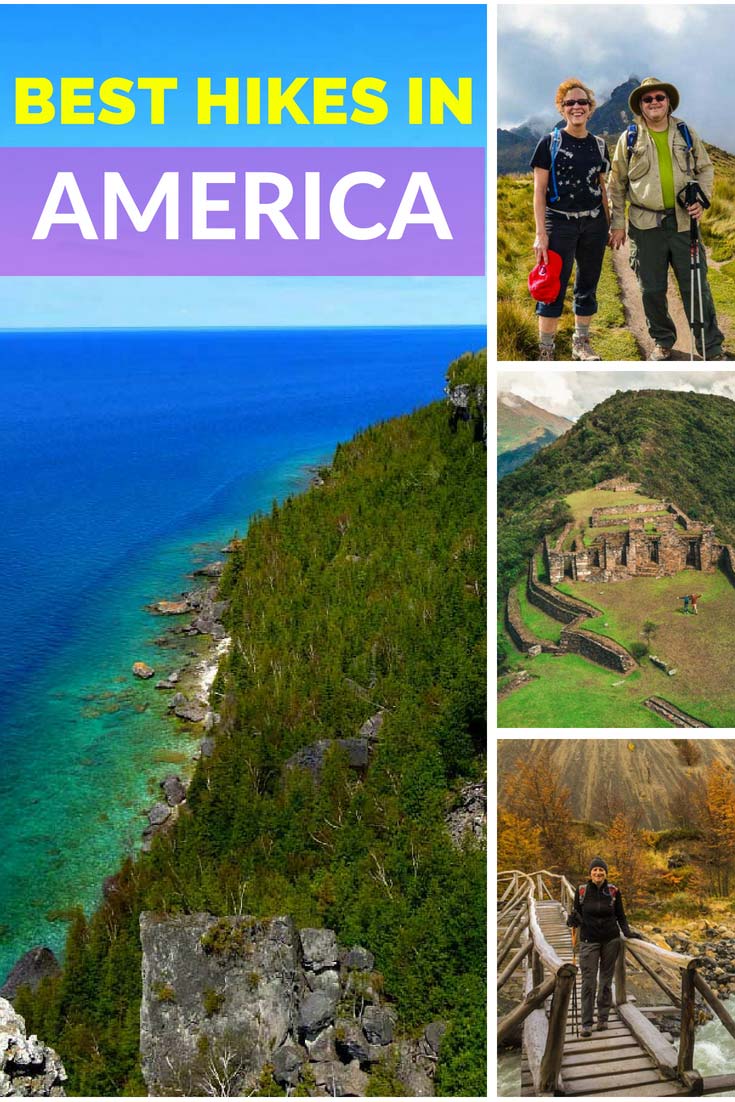 Join our travel community on Facebook and be part of an amazing group of people who love sharing their travel tips!
Get inspired by more travel articles: