The essence of Lisbon city is mirrored in its terrain. It has lots of "ups" in its stairs and hills to climb, as well as some "downs," which you as a traveller visiting Lisbon for a short time might realise only exceptionally, or potentially not at all.
The capital of Portugal totally embraces you in its narrow alleyways and tall buildings. It grasps you in its steep streets and old decorated walls with blue and white azulejos tiles hidden behind long rows of parked cars.
The voices and music from radio programmes coming out through the open windows, the smell of grilled meat, roasted potatoes, and other delicious Portuguese food will bring you back to reality while you walk silently, immersed in your thoughts and counting the never ending steps.
Souvenir sardines might overwhelm you. They can be made from wood, wool, ceramic or cotton. You'll see a sardine as a magnet, a pillow, a bookmark, and a sticker, on a badge, on a mug, on a bag, in a can. Luckily, you can turn to any side street, and take a break from all piscine shop windows and enjoy a coffee or a meal in one of local taskas where TVs play football matches all day long. Try out the Mouraria district, or one of many tiny squares in Alfama neighbourhood.
Lisbon is definitely getting more attention among travellers for a good reason. Its rich history full of multicultural impacts and recognisable contemporary culture mix together very well.
In this article, we'll take you around the places that we found the most captivating while visiting Lisbon, and where we felt the spirit of the city intensively when we escaped crowds of tourists.
See Lisbon from the top
It'll help you understand the layout of the city. You can see how it stretches from east to west; which direction the river flows in and out of the city, and how many streets you need to cross to the center from your hotel (if you can spot it from atop!)
Following the suggestion of our dear friend and great photographer Emanuele Siracusa we climbed to the Miradouro da Senhora do Monte on our first day in the capital. Well, the photographer's eye didn't disappoint!
We arrived at the highest viewpoint in Lisbon with serene atmosphere, free from cafes or pubs (if this is what you're looking for,) and its path was lined with benches under big pine trees where we got some of the best views of the city.
How to get to Miradouro da Senhora do Monte:
You can walk there from the Alfama neighbourhood, which can take about twenty minutes, or take tram #28 and get off at the Graça stop. From there it's only a five-minute walk to the viewpoint.
Miradouro de Santa Luzia
Located in Alfama, this view point will show you red roofed white houses of Lisbon from above, as well as some landmarks of the city: the São Miguel and Santo Estâvão churches, and the dome of the National Pantheon with the river Tagus.
If you're visiting Lisbon during a hot summer, there's a small pool near the lower level of the miradouro, just behind the colonnaded pergola, where you can refresh your feet.
How to get to Miradouro de Santa Luzia:
Walk from the Baixa district to the Church of Santo Antonio, head up via Rua do Limoeiro, direction to the Saint George's Castle. The route is quite steep, so if you don't feel fit, take the tram #12E or #28E and get off at the Largo das Portas do Sol and walk back a bit, or take the bus #737 to the Largo do Contador Mor bus stop.
For more viewpoints in the Portuguese capital, check this helpful list of some stunning spots in Lisbon.
Go for a graffiti-hunt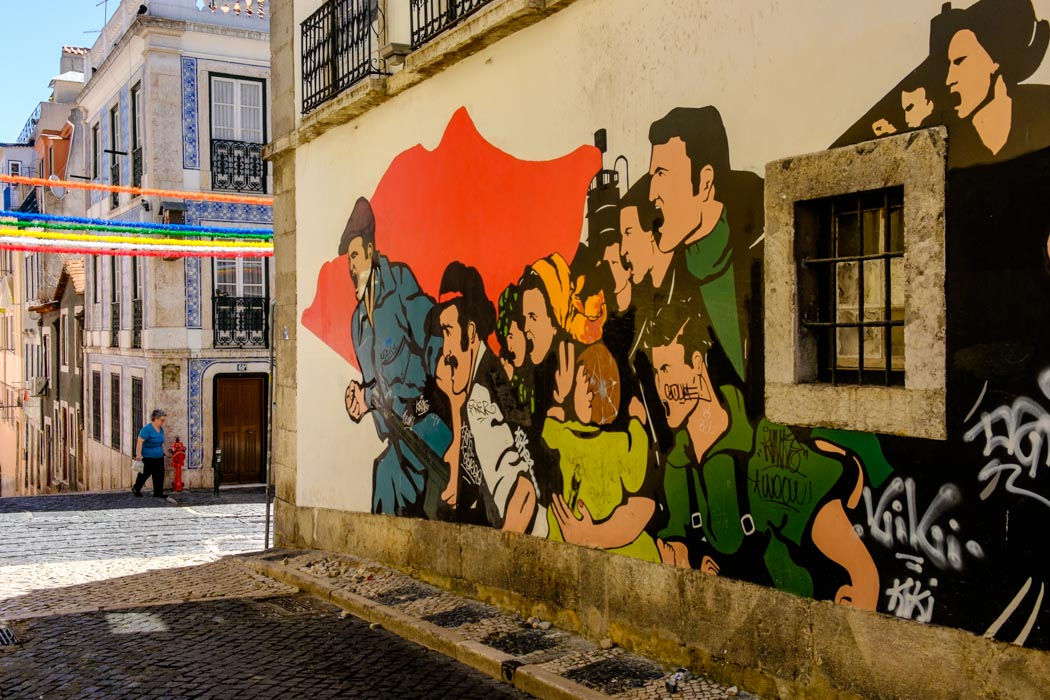 It's hard to imagine that Lisbon was once all-white buildings. It changed only after the earthquake in 1755 when the richer districts of the city started to use colours and tiles during the reconstruction of the damaged buildings.
From only a few impressive murals we saw in Lisbon, we can honestly say that the Portuguese capital can easily compete with London as one of the best places for graffiti and street art in Europe! (Consider that the local artists have been officially supported by a governmental division for street art, and the organisation Crono Project invites artists to renovate the neglected buildings in the city, so they can save them from ambitious developers.)
The Portuguese love for street art took it to another level. To prove that street art isn't only for crazy rebels who advocate an alternative kind of lifestyle, one of the LATA 65 projects organised a workshop for elders, where they taught history and some graffiti techniques. Way to go, Lisbon!
Note: One thing we found interesting in Lisbon and other cities in Portugal was that we never saw graffiti on the azulejos tiles.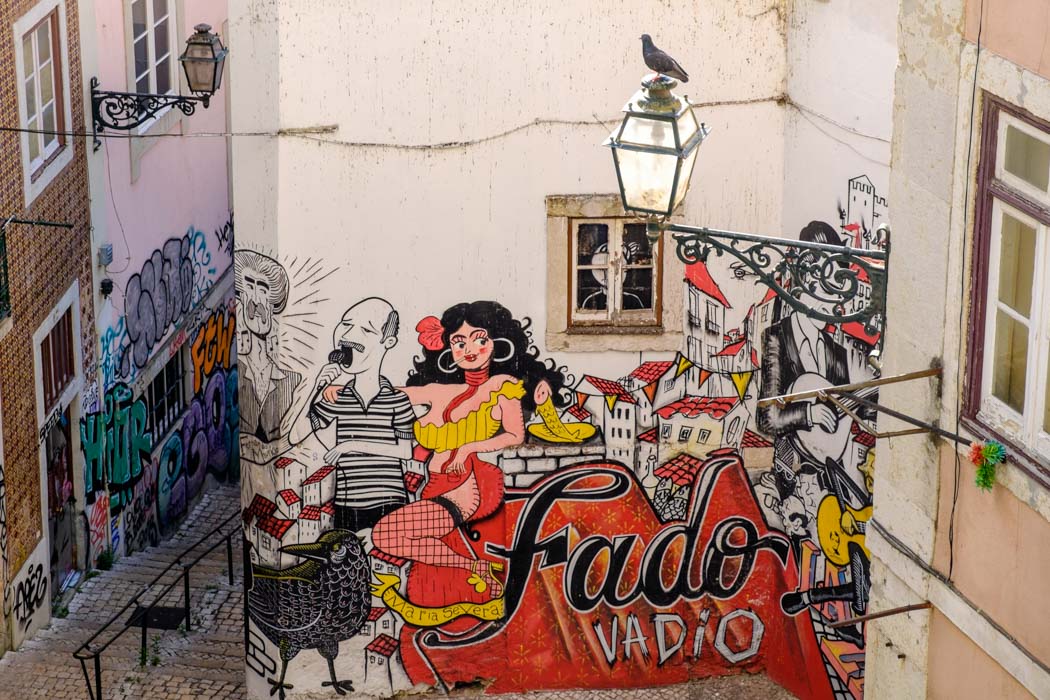 Where to find some cool street art in Lisbon
You'll see plethora of some remarkable murals and random tags and scribbles while wondering around the city. Our personal recommendations are: the huge art work of Aryz next to Av. Liberdade, Fado Vadio mural in the Mouraria neighbourhood next to Escadinhas de São Cristovão, a great piece at the corner of Rua da Vinha and Calçada do Tijolo streets in the Bairro Alto district, home to many other amazing murals.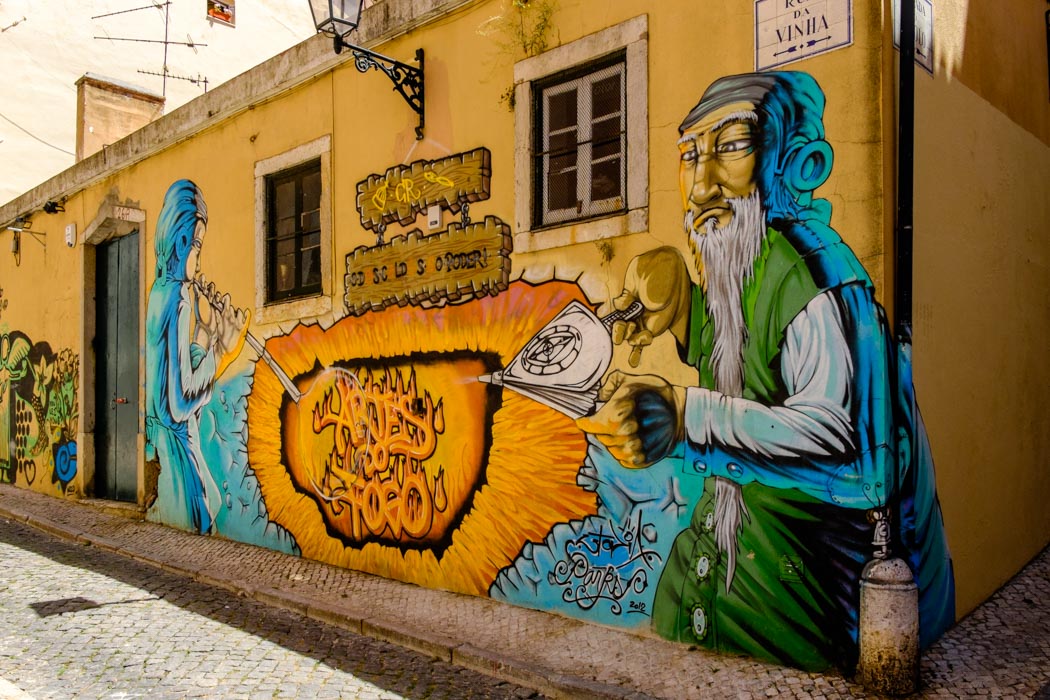 To get more inspiration and tips on where to go for street-art hunting in Lisbon, check this piece written by Rachel Dixon, or this one by Kathrine Ophshaug Bakke.
Spend a day in the Alfama
If you want to grasp the feeling of Lisbon's history, don't miss the oldest district of the city. The Alfama was settled by the Romans, Visigoths tribes and shaped immensely by the Moors who got the full credit for building the labyrinth of narrow streets that served as a defence system at that time and helped keep homes cool in summer.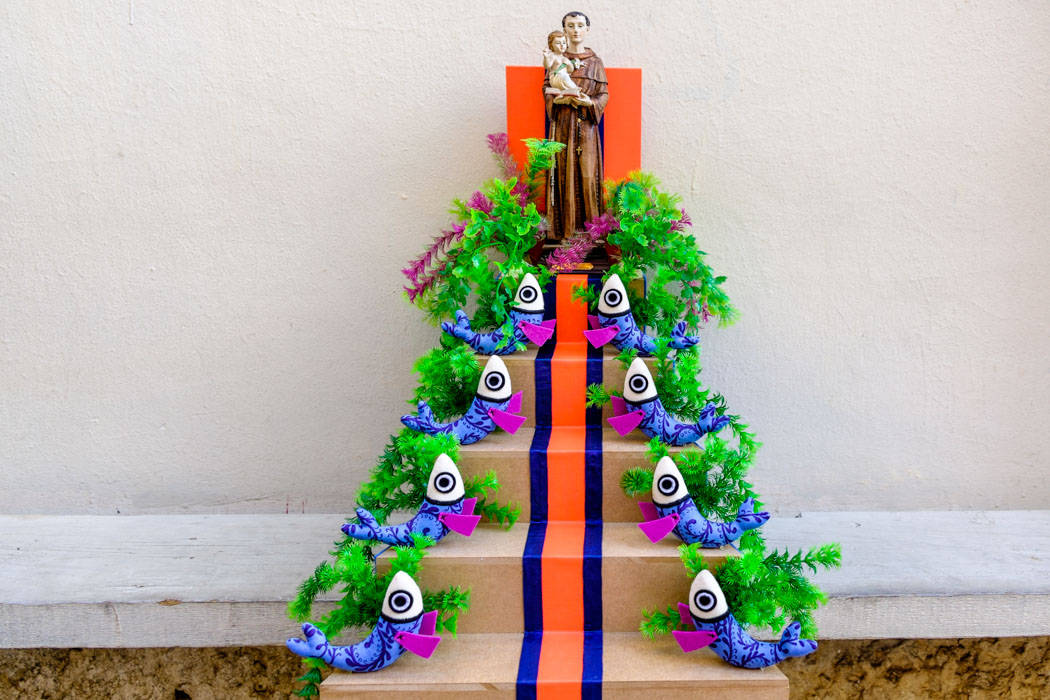 We were lucky enough to walk through the district during preparations for the Santo Antonio festival. You don't want to miss the atmosphere of this! Smoke from grilled sardines getting in your eyes, raucous pop songs teasing your ears, and locals and tourists queuing for the shots of local ginjinha liquor.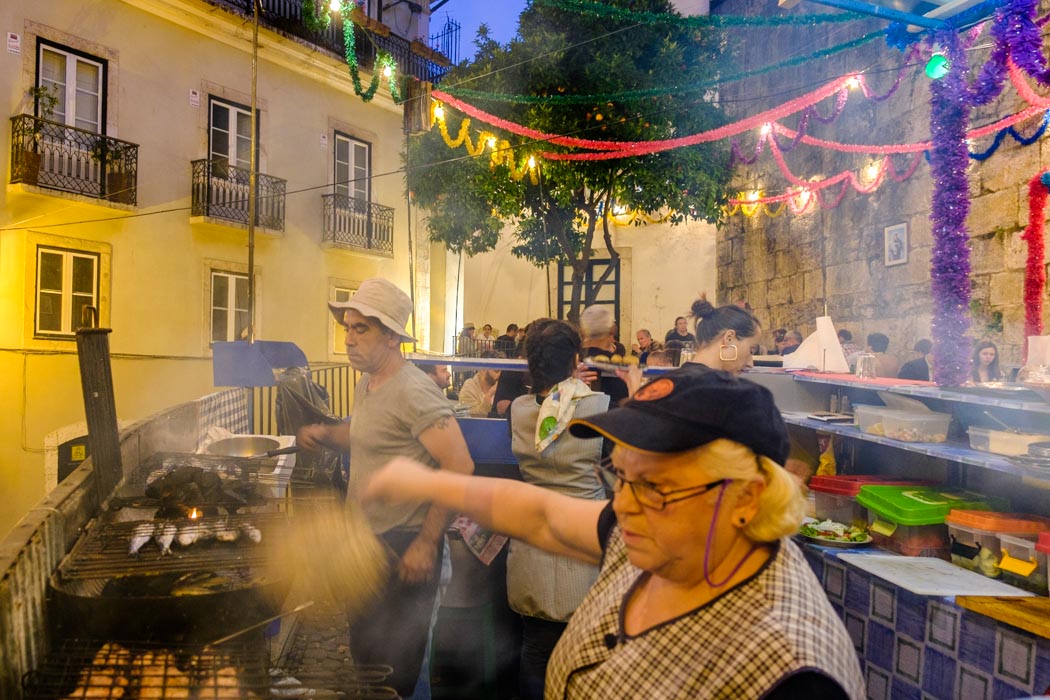 If you miss the festival, have no fear. The Alfama is gorgeous, hilly (yes, again!) aged, and with lots of stories to tell any time of year.
Note: For more interesting events in the town, here is a great map for the festivities in 2015.
Listen to fado where locals do
When visiting Lisbon, you'll be overwhelmed by flyers inviting you for a fado concert basically everywhere. If you are in the mood to listen to the Portuguese national song full of pain, desperation and love, head to the Alfama or Mouraria neighbourhood.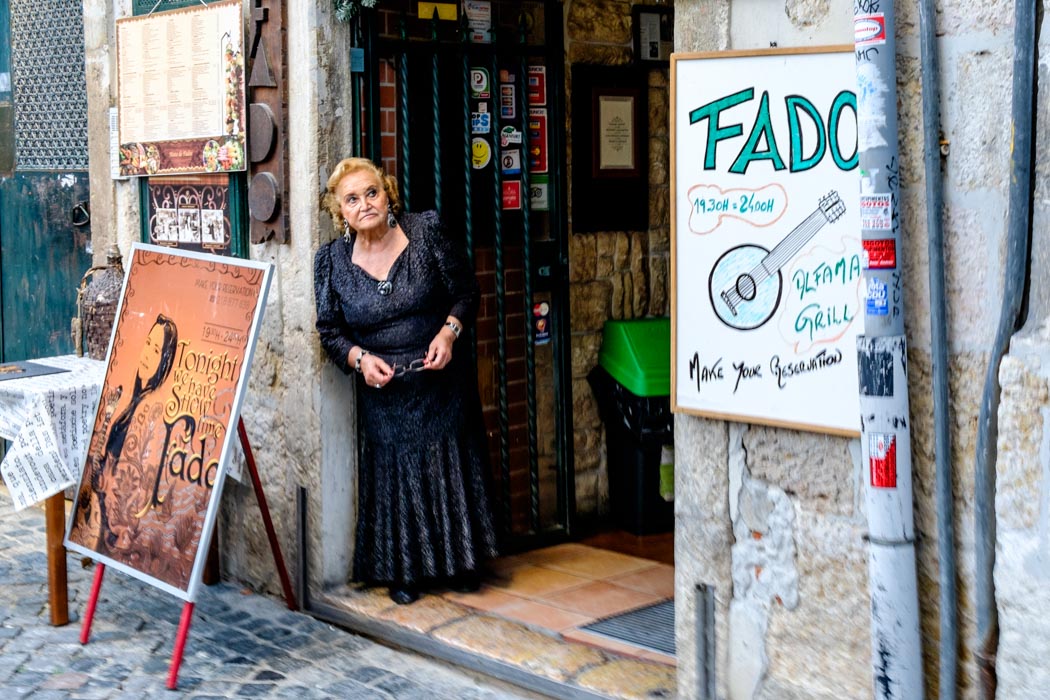 If you want to feel the original spirit of fado, check the Rua do Capelão Street. That's where the official berco do Fado (the cradle of Fado) is. Here you'll find also the permanent exhibition of portraits Retratos do Fado – Um tributo à Mouraria (Portraits of Fado – A tribute to Mouraria) by Camilla Watson.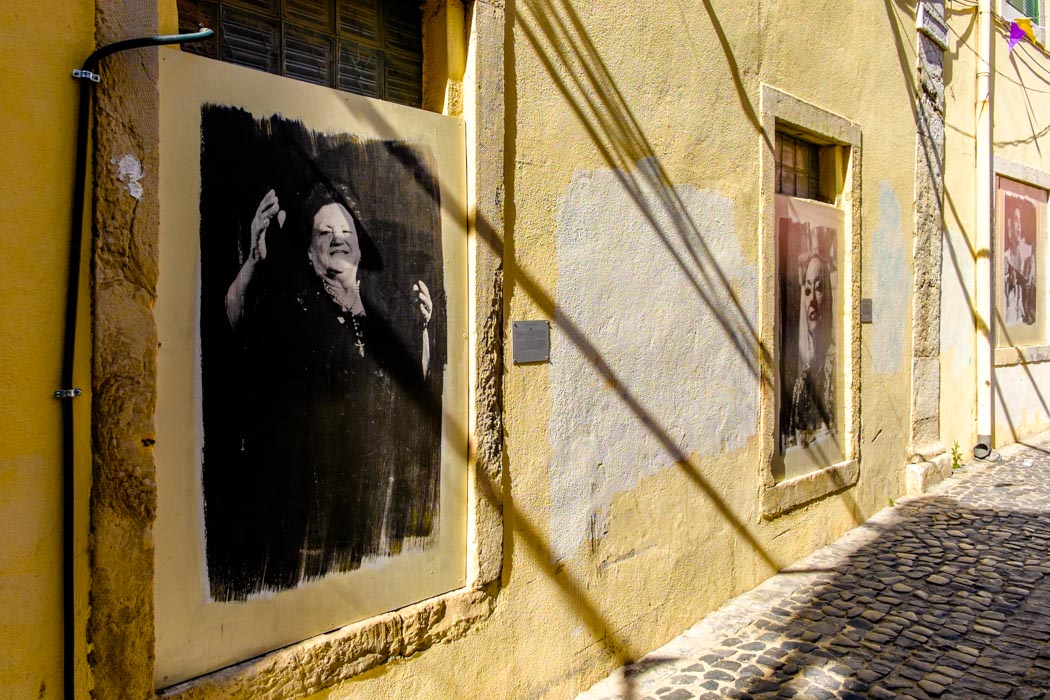 The impressive portraits that are printed on the wood on the walls will bring you back to the past of fadistas (fado singers) that mingle with the presence of a strong international community life here: an Indian hairdresser next to a 200 year-old Portuguese tavern or a popular fado house that isn't far from other Asian shops. No separation, no ghettos.
Our tips on where to go to listen to fado
Following the suggestion of Filipa, our food & culture guide, we went to a concert at the café Renovar A Mouraria community organisation (Beco do Rosendo, 8 e 10 Lisbon, Portugal.)
It had a great atmosphere shared with locals sitting at tables outside or on the stairs in a small yard, where the stage for two guitar players and a fado singer was build for the summer season. Loved it!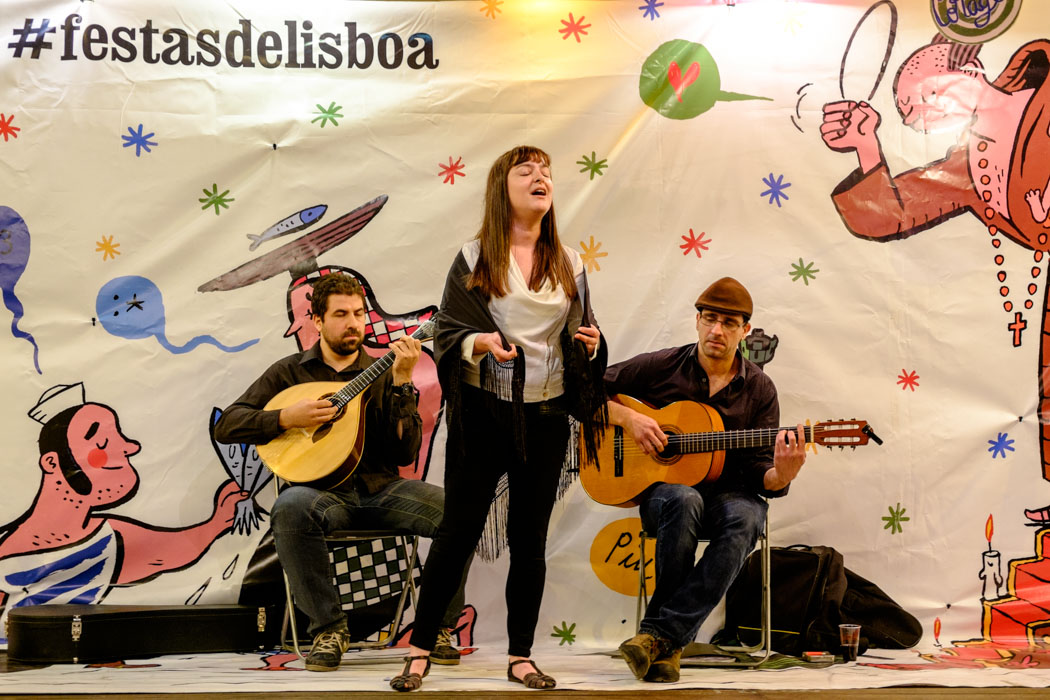 Another lovely place to have a dinner and listen to fado on a Friday night is Devagar Devagarinho tavern (Travessa Larga #15.) Unfortunately, we arrived too late to listen to the concert, but from the atmosphere we saw while hopelessly looking around for the seats… it was fantastic!
Have a stroll in the Bairro Alto
If you fancy more street art and a stroll among colourful houses with Hobbit size scuffed doors while listening to someone practicing a flute in the Music Conservatory, then the Bairro Alto is the right place.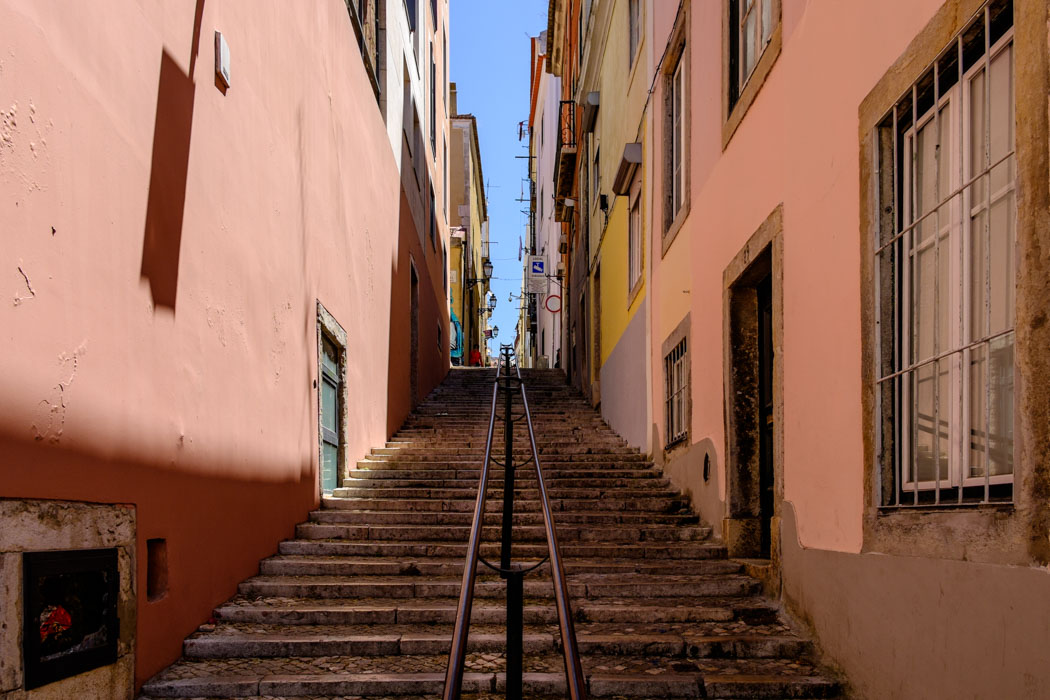 We have to admit that we didn't experience the district at a very good time. Climbing the stairs and spotting some cool graffiti wasn't bad, but the Bairro Alto is famous for is its vibrant night life, live concerts and clubbing, which you can't really experience at 2pm. Well, next time.
Honour the elders
My personal the most favourite and the hidden gem in the whole city; the touching street photo gallery is a brilliant project of the same artist of the fado portraits, Camilla Watson, who has been living in Lisbon for a few years now.
The photos on the walls of narrow Beco Das Farinhas street are "a tribute to the elderly who live here. They walk this beco daily and their spirit makes this corner of Mouraria special," says the artist.
Her work isn't just simply portraits; she captures the elders' soul while their faces look at you from windows, from doorsteps, and as they become one with the breathing walls. You can see them playing dominos, drinking wine, or sipping their coffee. This is an absolute must see when in Lisbon.
See more about the tribute and the author in this video (only in Portuguese) or read the interview with Camilla Watson here.
São Domingos Church
Coming to Portugal from Spain and being originally from Italy and Slovakia, we were kind of reluctant to visit churches in Lisbon…but while waiting for friends who we were meeting at a nearby square (and who were running late,) we entered to cool down and… our jaws dropped.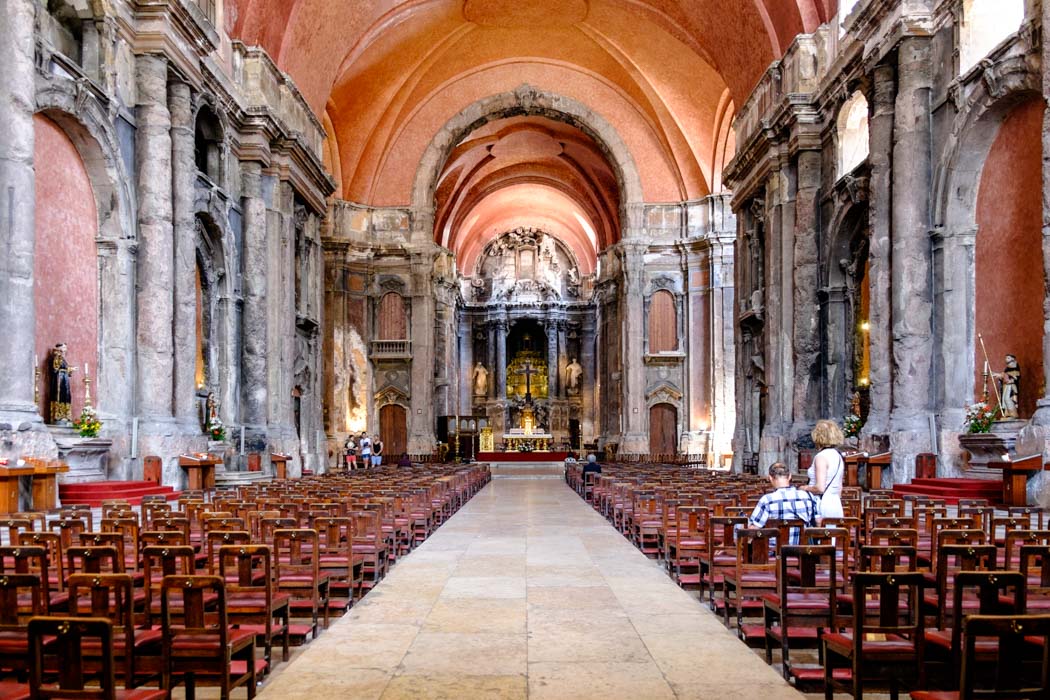 Maybe it's the harsh history that makes the space so special, since it was damaged by the earthquake in the 16th century, and again later on by another one in the 18th century, and then destroyed again by a fire in 1959. Even if you're not a believer, don't miss this church with salmon coloured arches; fire marks walls, and unbelievable pillars. Honestly, the church of São Domingo is one of the most unique in Europe.
Local taskas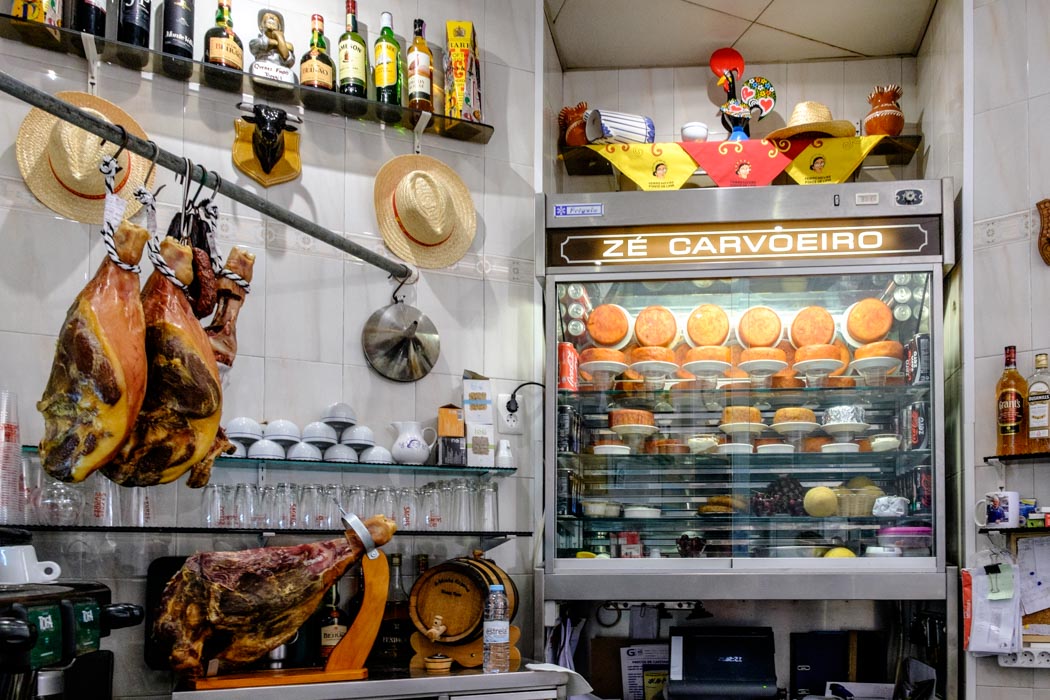 You don't need to spend half your budget splurging on restaurants where they charge double compared to small taskas. Unless you wouldn't mind skipping a dinner at a local restaurant where they prepare fresh and cheaper meals every day, where you'll watch a football match with locals and get a chance to chat with the owner about your holiday. (That is, if he is already having a conversation from the doorstep with other owner just across the street, of course.) We wrote a full article about the food in Portugal, see if you find something interesting in Lisbon for you!
Look up and look around
The architecture of Lisbon will probably be one of the things that stays in your memories for a long time. Look up and look around. Lisbon is a living place willing to share. Stop by at one of those small groceries, where you'll find everything from fresh fruits to washing detergent to fresh pastries. Challenge yourself to look for azulejos of farmers, saints and Moorish ornaments.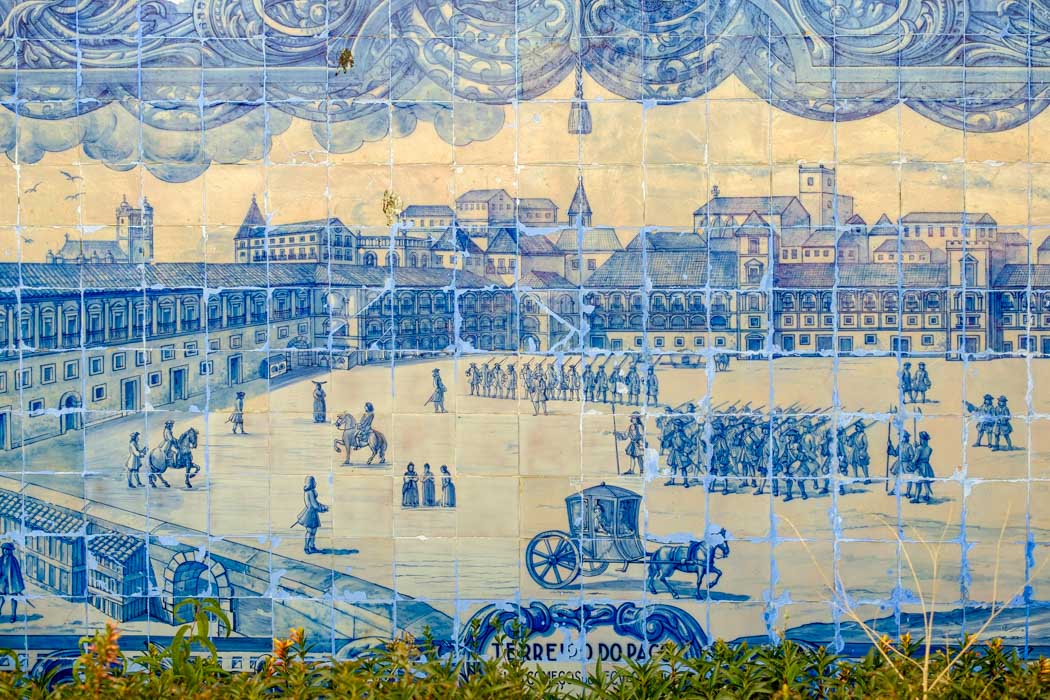 Check and see if there is a Fatima statue in a bar/taska where you're having an afternoon break. Skip the famous yellow tram that is actually not yellow anymore and walk. Check old-style doorbells; try spotting the balconies and windows where the grass found its way to grow between the ancient cracks.
Avoid the crowded center and head to the Largo dos Trigueiros square and its tiny outdoor library. Don't be shy to enter tavernas, where its elder regulars will sing fado for you if they are in the mood. Grab a coffee or a pint next to the local's playing cards outside old taverns.
Where to stay in Lisbon
If you visit Lisbon only for a few days and you prefer staying central so you don't spend much time commuting to town and you are environmentally conscious, then there is a place for you: the Inspira Santa Marta Hotel which is located a few minutes walking from Avenida da Liberdade and 10 km from the airport.
This five year-old hotel blends into a quiet neighbourhood and when you enter the main hall, a bright comfortable space opens in front of you with high glass ceilings and a great combination of colours and materials in the interior of the hall.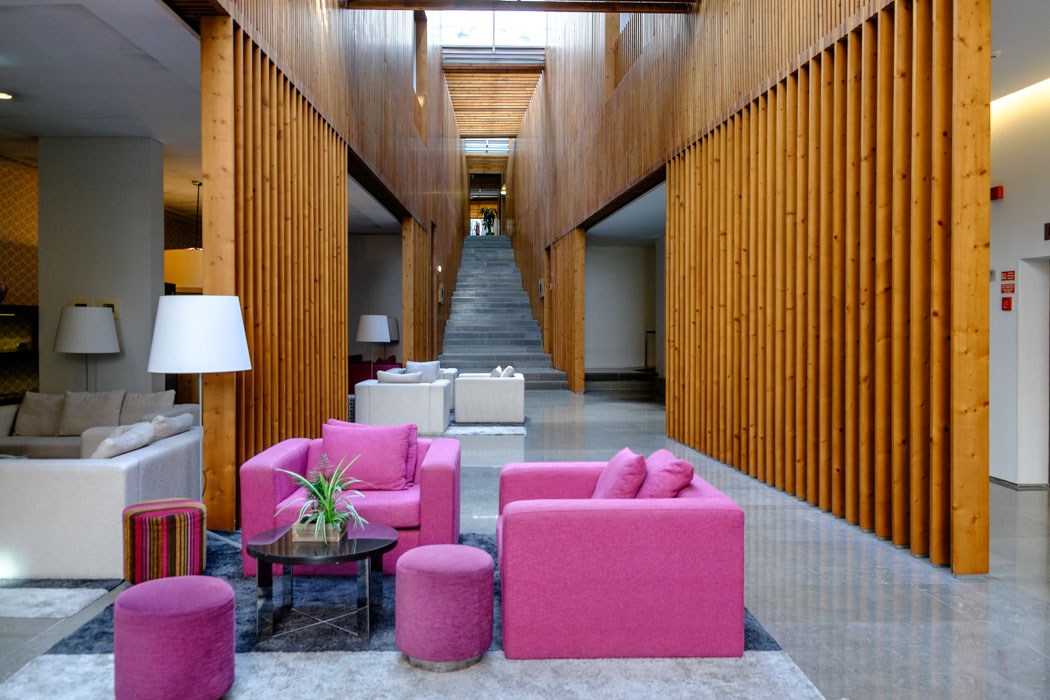 The original building of Baroque and civil Pombal architecture dates back to the 18th century and it's surrounded by some historically important properties in the Coração de Jesus district: the former Convent and Church of Santa Marta (now Santa Marta Hospital), Conde Redondo Palace and former Santa Joana Convent.
In all 89 rooms (two of them adapted to the needs of disabled people) and hotel facilities use the philosophy of Feng Shui, modern technology, and contemporary design using environmentally low-impact materials.
The communication between clients and customers is paperless and they use only electronic billing and contracts.
Apart from highly effective concept of sustainability (it's also certified by national and international organisations for good practice of sustainability and environmental consciousness,) the Inspira Santa Marta Hotel supports many non-profit organisations like Amara (monitoring of people in the end of life and their families,) Fundação Rui Osório de Castro (supporting parents, children and friends with the issues related to pediatric oncology,) Associação Laço (prevention, diagnosis and treatment of breast cancer in Portugal,) APPDA (association for autistic people) by selling the ceramics and handmade products created by their members (the total revenue goes to the NGO) or Pump Aid-Water For Life, which builds water pumps and sanitation facilities in Africa.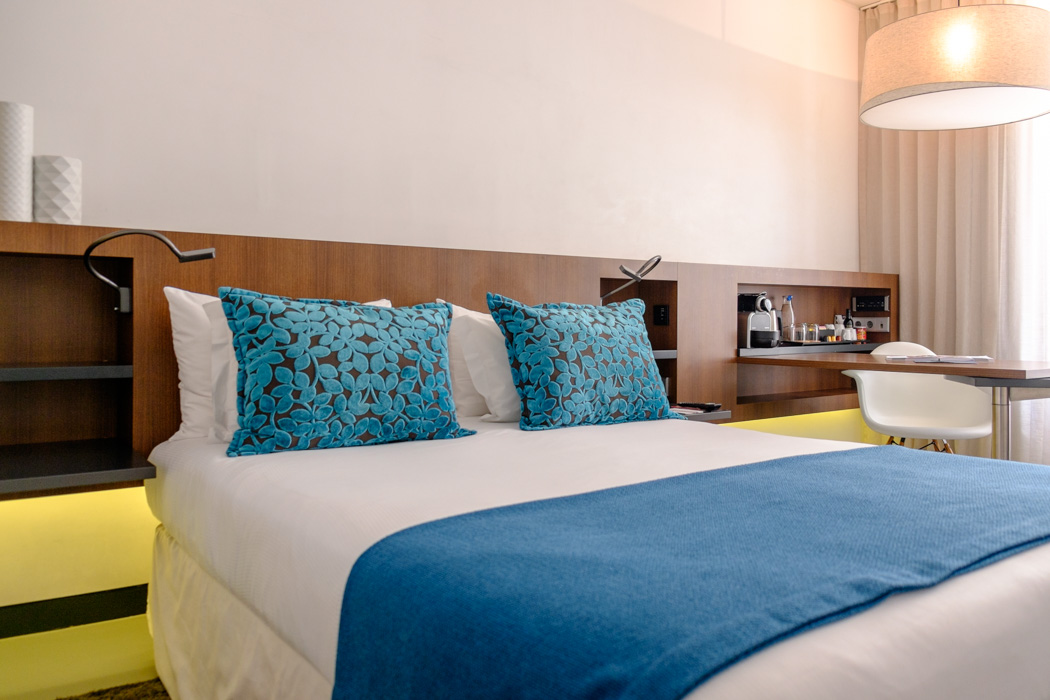 The hotel is equipped with solar panels, cork flooring room (saves energy,) water saving devices in all taps and showers, LED lighting, light sensors in corridors and public areas, and purchases 100% renewable energy. Well, it took us a while to figure the lighting system in the room, but you'll find a detailed brochure that tells you exactly how to use all facilities.
The Inspira uses seasonal food, fresh organic, and locally produced or purchased from suppliers of fair-trade whenever possible. Speaking of food, the hotel is involved in the Zero Waste Project, which means they give all unconsumed food (products close to expiration and food that was never in contact with public) to people in need. The restaurant of the hotel Open Brasserie Mediterrânica is also the only gluten-free certified restaurant in Lisbon, and it also offers vegetarian, vegan and lactose free options.
If you want to relax after walking up all those stairs around the city, you might especially like the spa or Jacuzzi in the hotel. Oh, I wish we stayed in the Inspira in colder weather so we could have enjoyed Jacuzzi. In the heat of 30C, we were happy to rest in our quiet room instead.
Note: If you're heading to Lisbon any time soon, we're happy to give you the promo code for the Inspira Santa Marta Hotel so you can get various discounts, depending on the season you pick.
Read more about Portugal:
How to travel to Lisbon
By flight
Currently, there are many airlines companies flying to Lisbon, including low-cost Ryanair and Easyjet. If you arrive to Lisbon via air, read how to get from Lisbon Airport to the city center.
By train
Since we were using the Interrail passes on our Europe trip, we arrived in Lisbon by train from Tavira town. In case you are already in Portugal and want to get to the capital by train, check the official website of Portuguese railways.
By bus
If you prefer travelling by bus, there are many coaches arriving to Lisbon from different countries or national bus companies. You'll have to use bus transportation especially when reaching remote areas since there were some major cuts of rural lines done in the 1990's.
Search for a particular connection on Eurolines website or national Rede Expressos or Renex (only in Portuguese.) Keep in mind there are plenty of other small companies that don't have websites, so you'll need to inform yourself at a bus station. 99% of personnel of bus & train stations in Portugal speak English, so no worries about the communication problem that you might have in Spain.
Conclusion
Lisbon welcomed us with a humble smile, and walked us out with a proud handshake, because it knew we were going to want to come back and stay longer.
We were positively surprised by the mixture of different cultures but also of different generations that co-exist in harmony near each other. The moment when an elder waiter awaits his clients outside the taska while some young smokers stand close by will happen more than you'd expect.
It all falls together like a puzzle. Separate pieces of people's lives would be just simple pictures of individuals, but when those pieces just fit into each other, they create a complete scene: the scene of current Lisbon.
Have you been to Lisbon? What is your favourite part of the city? 
Disclaimer: We were hosts of the Inspira Santa Marta Hotel for three nights and our trip to Lisbon was possible with the help of Interrail. All words and opinions here are our own.