Greece consists of thousands of different islands. Some are inhabited, while others are secluded. Many of these islands are home to some of the most stunning beaches. You will also find islands with picturesque villages dotted with ancient ruins.
When planning a trip to Greece, you may be overwhelmed by the choices. So, if you need suggestions on where to go, here's our take on the best islands to visit in Greece.
Best islands to visit in Greece
Mykonos
best islands in Greece
While Mykonos may be famous for being Greece's ultimate party destination, it offers many other things beyond the usual beach bars and clubs. The beautiful island is home to whitewashed villages, 16th-century windmills, and long stretches of fine white sand beaches, which give it a unique charm. 
Seeing the famous windmills should be on top of your list of things to do in Mykonos. These iconic sights are a must-see when sightseeing on the island. In the past, locals rely on windmills as a power source, making them an essential part of daily life. Nowadays, these windmills are a cultural reminder of the island's vibrant past.
After sightseeing, indulge in traditional Greek cuisines and seafood delights by the waterfront. Before calling it a day, soak up the local culture by checking out the shops and taverns lining the town's narrow winding streets. If you want to indulge in delicious cocktails and experience the island's famous nightlife scene, head to Paradise Beach, where world-renowned DJs perform and locals and visitors party until dawn.
Santorini
Like Mykonos, Santorini is part of the Cyclades Group of Islands and is among the most popular islands tourists often visit in Greece. It's more popular among honeymooners due to its romantic vibe, but it also appeals to adventurers, sightseers, and those looking to relax. As a popular tourist destination, the island offers numerous accommodation options. You will also find several luxury accommodation options in Santorini, perfect for those who want to enjoy a luxurious holiday.
While Santorini may not have plenty of white sandy beaches that its neighbouring islands have, it has historical hotspots, charming hillside villages with whitewashed houses and churches, and dramatic cliffside scenery. While most visitors to Santorini will spend most of their time on Thira, home to the island's major towns, including Fira and Oia, you can also take a day trip to the nearby island of Thirassia.
One of the best things to do on your visit is to hit its black and red sand beaches, where you can swim and try water sports. Next, indulge in the island's archaeological delights by exploring the well-preserved ancient Akrotiri or hiking to Ancient Thera to discover some fascinating ruins. While here, take the time to admire the breathtaking views of the caldera.
Corfu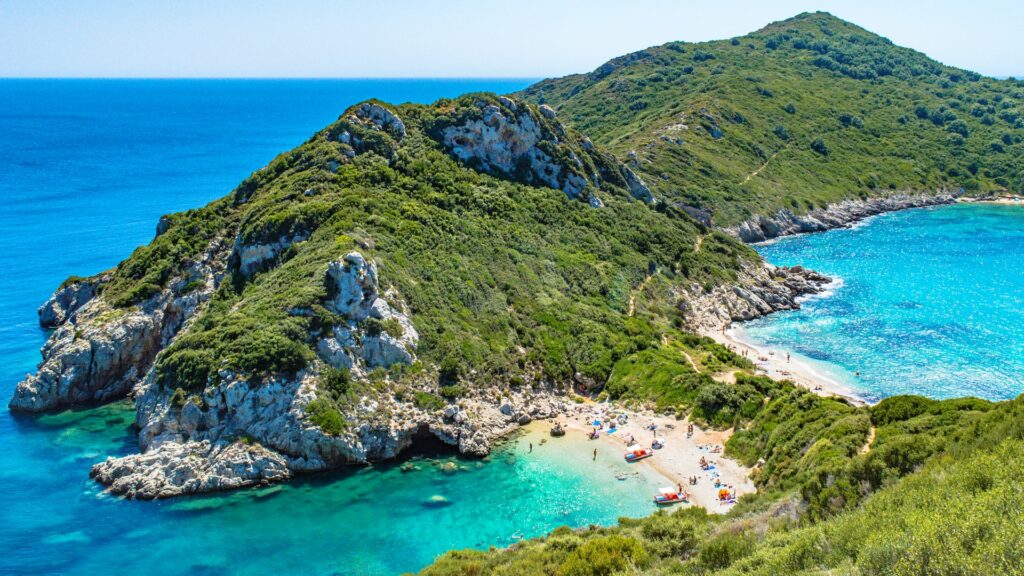 Throughout history, Corfu's natural charms have caught the eye of famous writers like Shakespeare and Home. It also lured ancient French, British, and Venetian armies who ruled the island for some time. Nowadays, Corfu attracts travellers seeking ultimate relaxation while soaking up its natural beauty.
The several miles of coastline home to picturesque beaches and secluded bays add to the natural splendour of Corfu. Whether looking for tranquil bays with calm waters or pebbly beaches with water sports amenities, you'll find a slice of paradise in Corfu. And after spending a few days under the sun, take the time to explore the island's unique historical and religious sights.
Many of the island's top attractions, such as the old fortress of Palaio Frourio and the Corfu Museum of Asian Art, are within Corfu Town. The UNESCO-listed old town is also home to hotels overlooking the Ionian Sea, restaurants, bars, and shops. There are also museums and palaces to keep you entertained the entire day.
Venture to the island's western side, where you'll find many other fascinating attractions, including the Paleokastritsa Monastery, a historic monastery perched on a hill offering panoramic views.
Crete
As the largest island in Greece, Crete offers something for every traveller, from nature lovers interested in hiking the Samaria Gorge to beach bummers wanting to relax at the island's stunning beaches and history buffs who want to explore historical sights and ruins like the Palace of Knossos and the Heraklion Archaeological Museum.
Regardless of the type of traveller that you are, you'll find Crete a lovely island to explore. In addition, there are many beautiful rental properties in Crete, suitable for those who wish to stay longer and make the most of their Greek holiday.
The island's biggest draws are its beautiful sandy beaches, hiding among soaring mountains and lush forests. If you only have the time to visit one beach, make it Elafonissi Beach. The stunning beach is renowned for its distinct pink sand, clear blue waters, and unique landscape.
The Palace of Knossos, an ancient city dating back to 7,000 BC, is a must-see, even if you don't consider yourself a history buff. You'll be in awe at its impressive size, architectural features, and use of luxury materials.
Traveling to Southern Europe? Read on!
Rhodes
Rhodes, the largest among the Dodecanese group of islands, is another island worth visiting in Greece. It is especially bustling with tourists in summer when the island's best bars and clubs attract thousands of partygoers. The island also has its share of fabulous beaches, offering peaceful retreats away from the bustling party crowds.
Thanks to its medieval charms and rich cultural heritage, Rhodes is a UNESCO World Heritage City, making it an ideal place for history lovers. Here, you'll see some of Greece's most fascinating archaeological sites, including the famous Acropolis of Lindos. The historic Old Town of Rhodes is a joy to wander around, where you'll find charming narrow streets, ancient churches, and the Colossus of Rhodes, a statue of the Greek sun god Helios.
Rhodes also boasts natural wonders. From hot springs to densely vegetated landscapes, the natural beauty of Rhodes is a delight for nature lovers. One of the best places to soak up the island's unique natural charm is at The Valley of the Butterflies. It's home to many butterflies and an absolute paradise with lush greenery and splendid waterfalls.
Pack & travel: