If you are planning a trip to the Balkans, you should definitely read this article filled with tips on the best things to do in Bulgaria. You will discover new itineraries and travel inspirations about all the hidden gems that make this country so fascinating. Take good note, get ready to enjoy your trip and be careful: you are going to love Bulgaria. Don't tell me I didn't warn you.
Things to do in Bulgaria
1. People Watching at the Women's Market in Sofia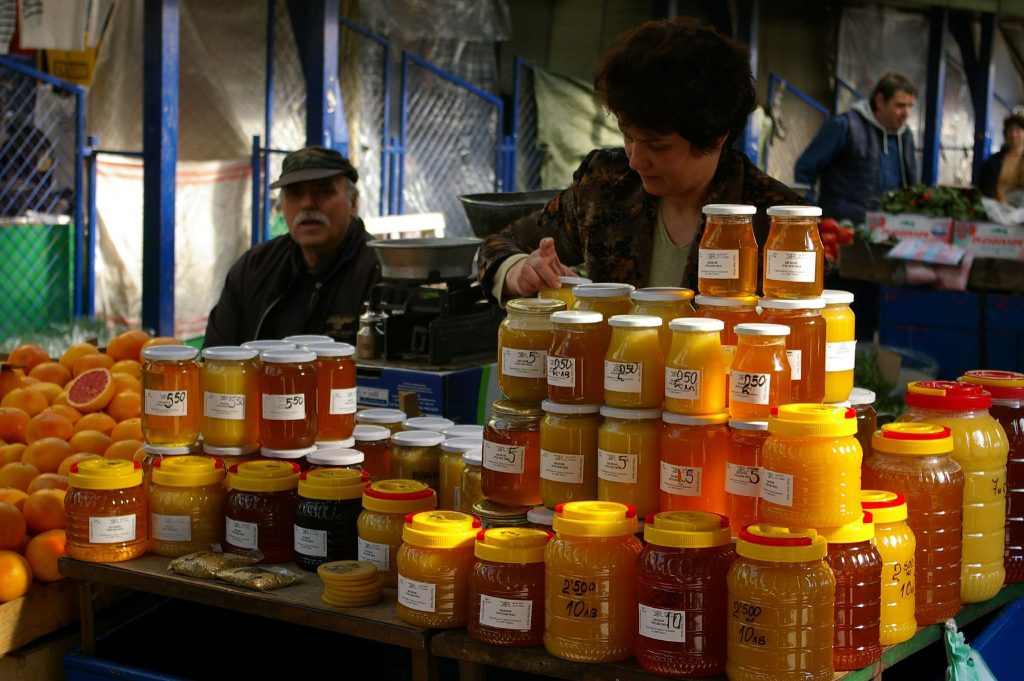 Known by the locals as Zhenski Pazar, spending some time at the Women's Market is one of the best things to do in Sofia. According to the legend, back in the days only women were allowed to trade their wares there. Nowadays, this chaotic market located in the heart of the city is still one of the landmarks of Sofia selling anything from fruit, nuts, spices, fish, cheese, cured meat, handcrafts, and whatnot.
Prices are affordable and ingredients are fresh – I actually did some shopping myself when I have been there. Women's Market is the right place to enjoy a coffee while sitting on a bench, witnessing the folkloristic and colorful skills of Bulgarian traders, and play with your camera with some click clicking. I dare you not to take pictures!
2. Enjoy the Snow Season in Bansko
If you are a snow lover, you will be happy to hear that Bansko is one of the best places to visit in Bulgaria. Located at the foothills of the Pirin mountains, it will take you only 1.30 hour by car to reach Bansko ski resort from Sofia. Dust your snowboard and get ready to enjoy the Bulgaria's premier ski destination.
If you are looking for tips about hotels in Bansko, and if you want to make sure to treat yourself to a great and relaxing spa after spending the day on the mountains, Hotel Lucky Bansko might be just perfect. Skiing in Bansko will be just as easy as drinking a glass of rakija: the hotel offers a free shuttle service to the ski slopes.
Speaking of rakija: don't over stress if you a had one (or two) many glasses: Bansko hosts the first Ayurveda Clinic in Bulgaria, where you can enjoy a complete body detox according to the most traditional Ayurvedic methods.
3. Hiking in Bulgaria
Among the best Bulgarian attractions, the Seven Rila Lakes must be part of your travel itinerary. The Rila Mountains are the tallest mountain range in Bulgaria and offer a number of hiking opportunities. If you are looking for a break from all the Sofia sightseeing, then you will be happy to know that the lakes are located just 1,30 hour away from the capital, which makes them the perfect one-day hiking tour from Sofia.
Each of the seven lakes is named after its main peculiarity and during the hike you will have the opportunity to explore them one by one, from the lowest to the highest. The hike will take around 2 hours each way.
4. Dive into history strolling around the streets of Plovdiv
During your holidays to Bulgaria don't miss the chance to visit Plovdiv, the sixth oldest town in the world which has been selected as European Capital of Culture in 2019. It won't take you more than just a few minutes to realize that Plovdiv is a special place.
Not only it is the second biggest city of Bulgaria after Sofia, but its old town is just like a history book screaming read me! read me! all over its pages. The area is pedestrian-friendly, so you will have plenty of calm and space to enjoy a nice stroll on its cobblestone streets.
Don't miss a visit to its famous Ancient Roman Theatre, one of the best-preserved ancient theaters in the world which is still used to host a number of entertaining performances.
5. Learn how to weave carpets in Chiprovtsi
Did you know that the ancient tradition of carpet weaving in Chiprovtsi was part of the UNESCO's Representative List of the Intangible Cultural Heritage of Humanity? Each handwoven carpet (known as kilim) is made by the women of Chiprovtsi, who use a special technique of weaving on a vertical handloom.
This fascinating tradition dates back to the 17th century and the knowledge is transmitted from grandmothers to mothers and daughters. The weaving process turned into a real and ancient ritual: the weavers make wishes and say prayers before starting weaving a new carpet and they entertain themselves by singing and sharing stories while working at the loom.
If you are debating about what to see in Bulgaria, visiting a local weaver in Chiprovtsi, learning about the meaning of the different figures on the rugs, and weaving your own souvenir may be the answer to your question.
6. Visit Melnik, the smallest town in Bulgaria… and in the whole world
Have you ever thought about adding a visit to Melnik on your "What to do in Bulgaria" list? Believe it or not, Melnik is not just the smallest town in the country, but it is also the smallest town in the whole world. Located in the south of Bulgaria, this historic settlement is located just 22 km away from the town of Sandanski.
It counts with only 280 inhabitants and a number of traditional-style houses and Melnik pyramids, which represent one of the main attractions of this town. There are thousands of them and they are all characterized by different shapes and sizes, some reaching a height of over 100 meters.
7. Take a day to visit the Rila Monastery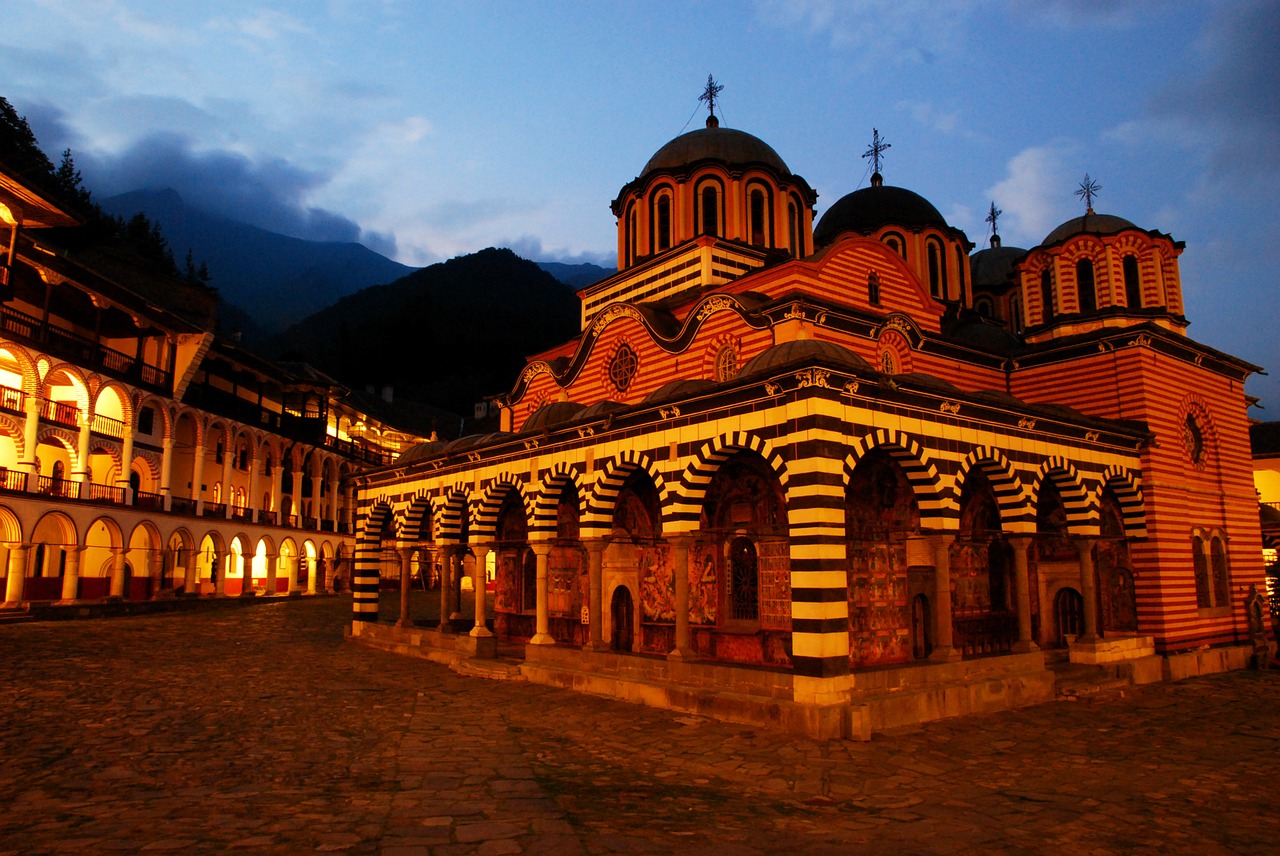 Considered by many the country's number one must-see attraction, if you decide to visit Bulgaria you can't skip spending a few hours at the Rila Monastery, one of the 9 UNESCO World Heritage Sites in Bulgaria.
The Saint Ivan Rilski monastery is located in 1147 meters altitude in the middle of the forests of Rila Mountain. During the passing of the centuries, the monastery has been 
rebuilt, destroyed and reconstructed.
The monastery was founded in the 10th century by the hermit St. Ivan of Rila, who lived in a cave free from any material possessions. The complex was built by his students who came to the mountains to receive their education. Today it still represents a huge touristic attraction, especially during summer months.
8. Treat yourself to a visit to Velingrad, an exclusive SPA experience
We are all well aware of the thermal water resources of the black sea, but did you know that Velingrad was the most visited spa destination in the whole country? Featuring 77 mineral springs, each one is characterized by its unique and even miraculous healing powers.
Located in Southern Bulgaria, Velingrad is the perfect choice for your spa and wellness gateway. The healing properties of this town date back to the past: ancient Thracians and Roman warriors healed their wounds here.
As time went by, its healing powers remained untouched and in 2009 Velingrad was named "Spa capitals of the Balkans". Its mineral waters, indeed, are characterized by a range temperature that goes from 420 to 88,50 C and they are perfect for treating a wide range of diseases and medical conditions.
These are just a few tips on the best things to do in Bulgaria. Of course, there are loads of other activities and things to do and see around the country. Just remember to dive deeply into the local culture and to allow it to seduce you. You won't regret it.
Like it? Pin it!