If you're in Croatia or anywhere near it, don't even think about not visiting its biggest peninsula, Istria! 
Full of hidden gems and small fishermen villages but at the same time the main tourist centre full of fun and unforgettable content, Istria is home to a town that has it all in one place. Yes, we're talking about Rovinj!
Just like Split is the centre of Dalmatia, Rovinj is the centre of Istria. Whether you love history and culture or you just want to have fun at the beach and go wine tasting, this town will fulfil all your desires. 
Take a tour around Rovinj with us and see for yourself!
Must-see places in Rovinj
Even though Rovinj is a small town, there's definitely plenty of places to visit.  Once upon a time, Rovinj was an island! Today, it's connected with the mainland so you can just walk right to the heart of the city. 
Every piece of its Old Town has its own story. It is the centre for restaurants, stores, cafes, but also historical ruins and museums. This is the best place to get lost. As the Old Town is made of tight streets and alleys, they create a maze – challenging for tourists but at the same time the best way for exploring and getting to know the city! 
While you're wandering, you'll probably run into many historical remains.  On top of the hill, St. Euphemia's church proudly stands and oversees the city. In the company of its bell tower, it offers a perfect opportunity to take a breath and enjoy the view. 
After this, get back to the streets and continue exploring. Another church worth visiting is the one within the Franciscan Monastery. They were built in the 18th century in the Baroque style. In the building, you can find a remarkable library and a museum of sacral artefacts!
Speaking of monasteries, The Castle on the island of St. Andrew was once a Benedictine Monastery. It was built in the 6th century, and now this space is being used as a hotel! Decorated with the Venetian lion of St. Mark, Balbi's Arch is a replacement for the old city gates. This spot used to be a starting point for everything that was going on in the city. 
Historical sightseeing continues with a little bit of Ancient Greek! Another iconic viewpoint, known as Istrian Mycenae, Monkodonja is a fort founded in 1800 BC. If you want to see all of it, take a walk to the Baptismal font of the Holy Spirit, a heptagonal-shaped Romanesque church from the 13th century!
Planning on traveling around Europe? Get inspired!
Things to do in Rovinj
Culture and museums
While you're still in the mood for sightseeing, let's take you on an art tour! Rovinj City Museum was established in 1954 in order to have a place where all the cultural wealth can be stored. It has permanent exhibitions – archaeological, maritime, contemporary Croatian art, a collection of works by old masters and the room of Alexander Kircher.
Batana House Eco-museum is listed on UNESCO's list of best preservations of intangible cultural heritage, while Batana Center of Visual Arts is focusing on photography popularization through exhibitions, activities and education. If you're in the heart of the city centre, make sure you visit Trani Gallery, Workshop and Ethno Collection, where the owner himself makes various-size wooden models of batanas. 
Along with batanas, here you can also see sculptures and paintings dedicated to fishermen. For a little different experience than usual, there's an outdoor gallery called Mini Croatia. Believe it or not, it has put everything you need to see about Croatia in one place and turned it into a half-an-hour tour. 
Food&Wine
After this many sites, everyone deserves to take a break! And what is a better way of doing that than with food and a sip of wine? 
Wherever you are, there's a big chance some restaurant is right around the corner. Every restaurant in this area is a place where you can try some new and creative dishes. For those who want nothing but domestic, the best specialities are Istrian fish, shellfish, truffles and prosciutto! 
Kantinon is a restaurant located on the main city's promenade, Puntulina and Monte are located in the Old Town, while Orca and Feral are a little further away. Something for everyone!
Just like anywhere else in Istria, Rovinj also has its own high-quality wines. Famous wines in Istria are Pinot, Teran, Malvazija and Cabernet Sauvignon. A perfect way of getting to know them is in wineries, so if you're interested in taking your taste buds on an adventure, don't bypass Spacio Grota, Dobrovan and San Tommaso wineries!
Read more inspiring articles:
It's time to head out to the beach!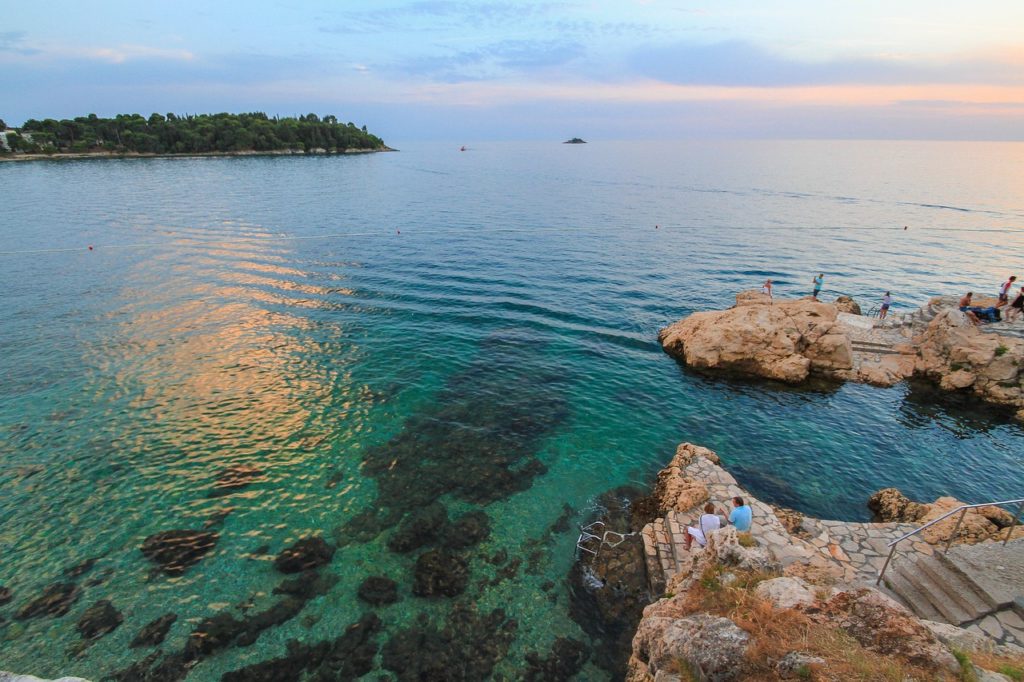 Ready for the sun? It's time for swimming and tanning! Whether you want to escape from the crowd or you want to visit popular beaches full of content, you'll find the one for you. 
If you want to stay in the city centre, right underneath the Old Town there's Monte beach, while if you're looking for a beach further from the city, beaches Polari and Amarin are waiting for you. Probably the most popular one is Punta Corrente, also known as the Golden Cape. Being a natural park, it offers an unforgettable time in nature where you can combine swimming and rock climbing!
For the ultimate beach time, travel by boat to the surrounding islands of St. Catherine or St. Andrew!
Where to stay in Rovinj?
Even though Istria is full of hotels, apartments, hostels and villas, you don't have to worry about getting here from any other part of Croatia. 
Whether you've found your perfect new home in Zadar, or you're only staying in some other city for a few days, you can get to Istria in just a couple of hours!  However, there's a great chance you're going to fall in love with Rovinj and other Istrian towns. This is why it is probably best for you to book a beautiful beachfront villa!    
Pack & travel: