"Cheap beer, a cool bridge and Kafka." That is what many people will say about Prague, but forget that! Pack up some hiking boots, and get ready! You're going to climb hills, stroll in the woods and be in awe of some amazing views during your day trips from Prague. If you are one of those travelers who enjoys the city, but loves to escape to nature, this article is for you! It's a compilation of day trips from Prague with a focus on the outdoors and for all fitness levels.
Most of them require good hiking shoes; some of them are great for a family trip with the kids.
Top day trips from Prague
1. Live your own fairytale of the Tisa Rock Labyrinth
Czech name: Tiské stěny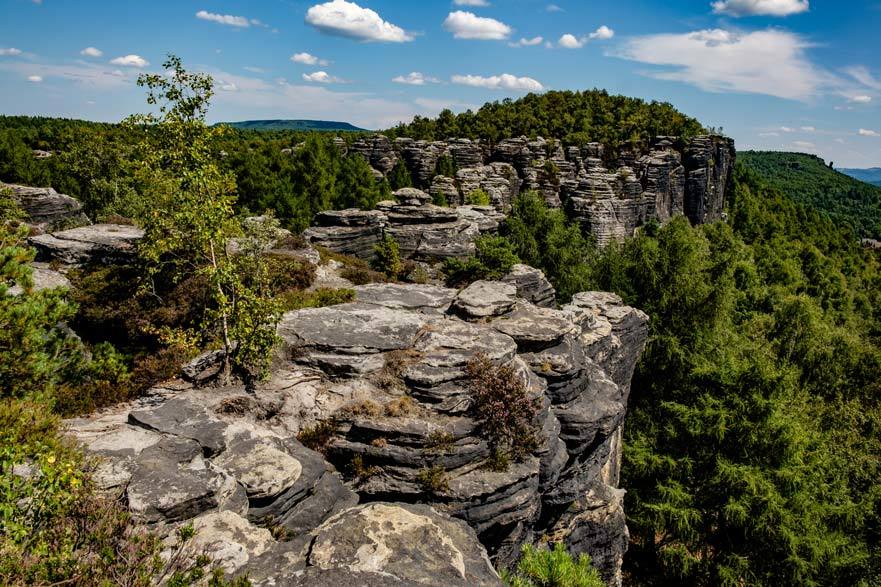 Get lost and be embraced by the monumental sandstone rocks with superb views.
You can hike here on your own, but we do recommend visiting the Tisa Rocks Labyrinth with a local guide who can tell you more about the landscape and show you some secret photography spots. I hiked with the guys from Northern Hikes, one of the most reliable outdoor companies that cares a lot about sustainable tourism in country.
For more details of the tour I did, check out Northern Hikes website.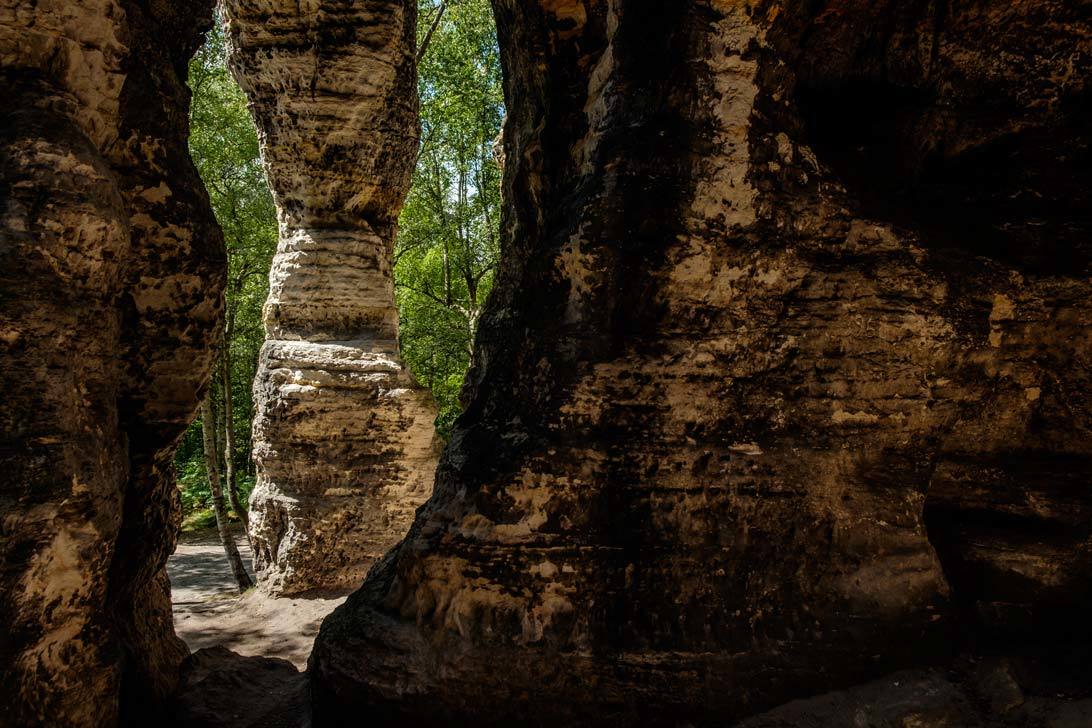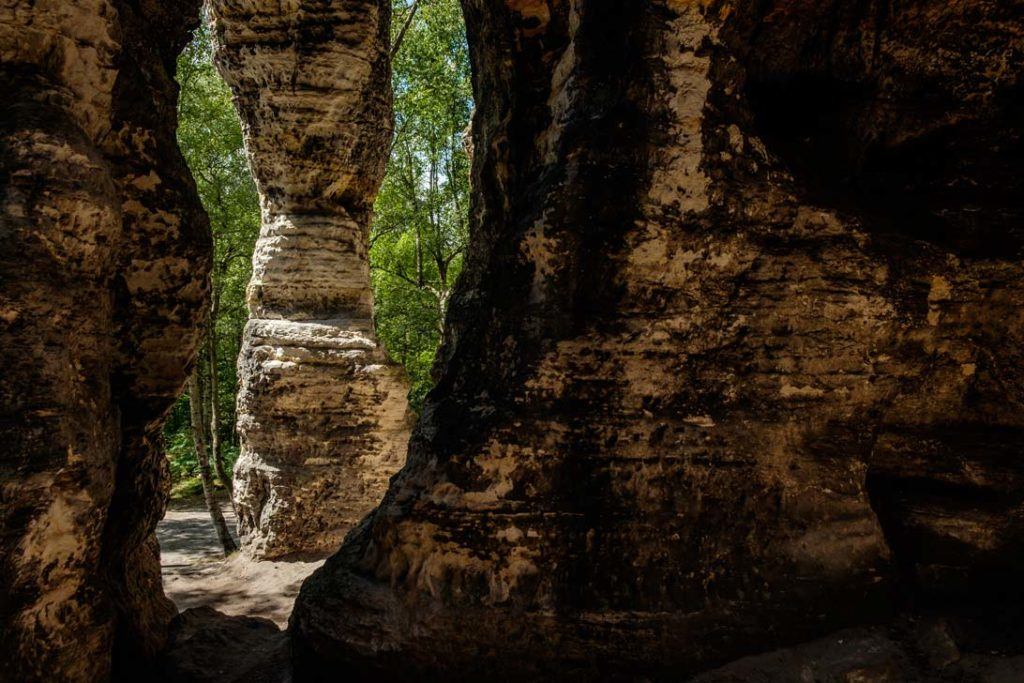 Location: Bohemian Switzerland, 1 hr 15 driving north-west from Prague
Level: moderate
Distance of hiking: 6 km (4 mi)
What else to do here:
visit Pivovar Falkenštejn, a brewery in the nearby town of Krásná Lípa, and get some pints of good Czech craft beer (1 hour driving)
learn about the 200 years old history of glass production at the Glass Museum in Kamenický Šenov (Sklářské muzeum Kamenický Šenov in Czech) or at another glass museum in the town of Nový Bor (45 minutes driving)
rock climbing
Get inspired by more articles:
2. Say "wow" at the Rose Ridge & get your cuppa
Czech name: Růžový hřeben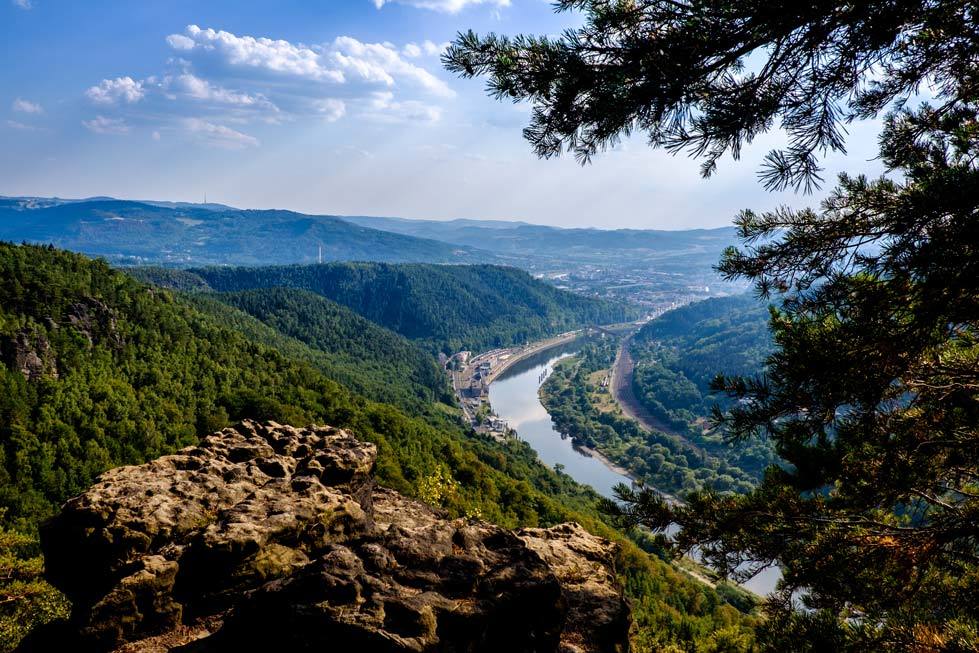 The views of the Elbe River Canyon will surely leave you speechless, and it doesn't matter which time of the year you visit.
That's not the end of "whoa" moments here! How about topping off your short hike to the viewpoint with freshly brewed specialty coffee? Absolutely! You can enjoy this delicious coffee at Bohemian Coffee House, owned by the Dužár family, an energetic son-father duo.
The Dužár family opened their coffee house in 2017 after an inspirational roadtrip in the US. One of their main priorities is to purchase only Fair Trade coffee and collaborate with local businesses that support sustainable and responsible tourism.
It's possible to just do a coffee tour in the Rose Ridge with Northern Hikes, check here for more details.
The area has become popular among tourists, and Czech tour operators, like Northern Hikes, have figured out different ways to avoid overtourism in particular tourist spots.
PS: Ah, have I mentioned a homemade strudel served with the "cuppa"?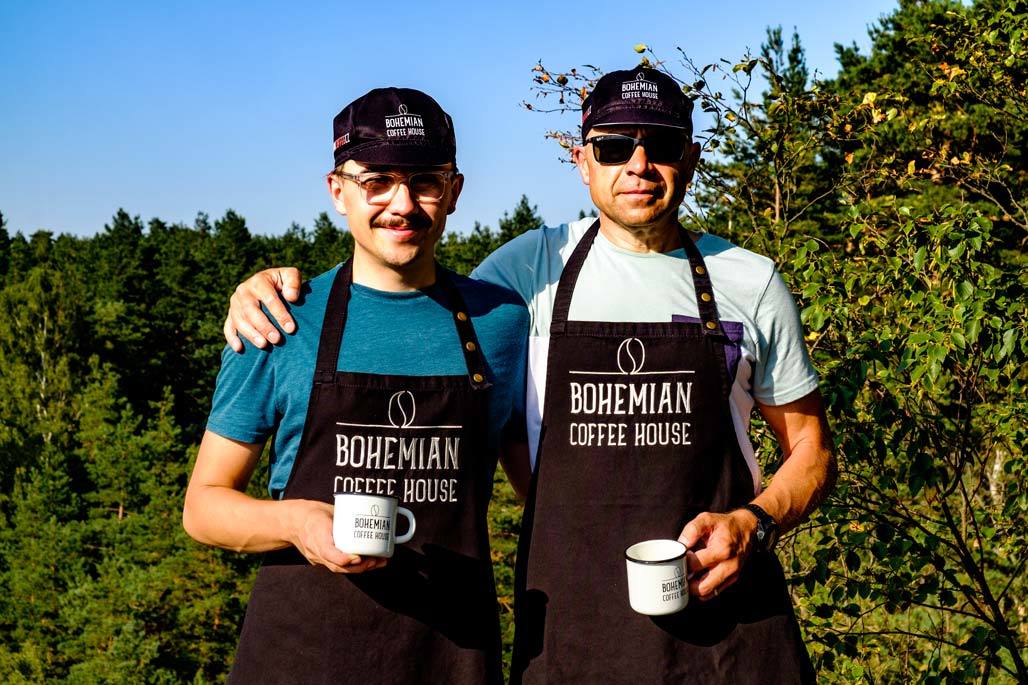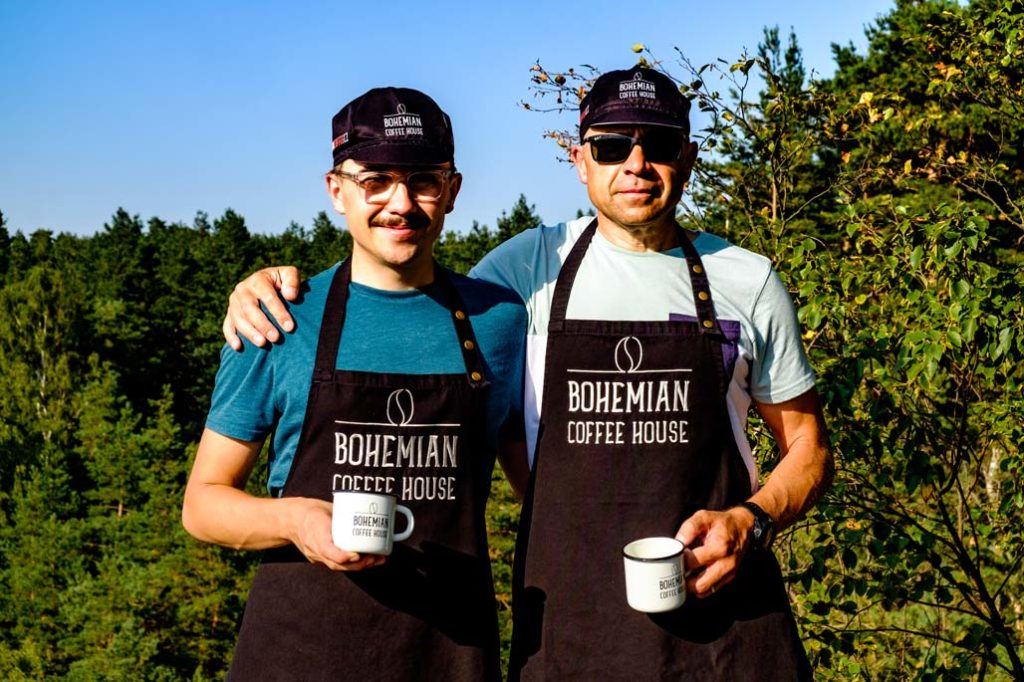 Location: 5 km north from the town of Děčín, 1.5 hr driving north from Prague
Level: easy
Distance of hiking: 3mi (5km)
What else to do here:
visit the noble Děčín Chateau
pack your gears and try via ferrata to see the town from another perspective
fancy another bite of Dužar's pastries and a cup of coffee before heading back to Prague? Stop by at their newly opened café, Kavárna Bohemian Coffee House, in the town of Rumburk.
3. Great Blaník and Small Blaník
Czech name: Velký a Malý Blaník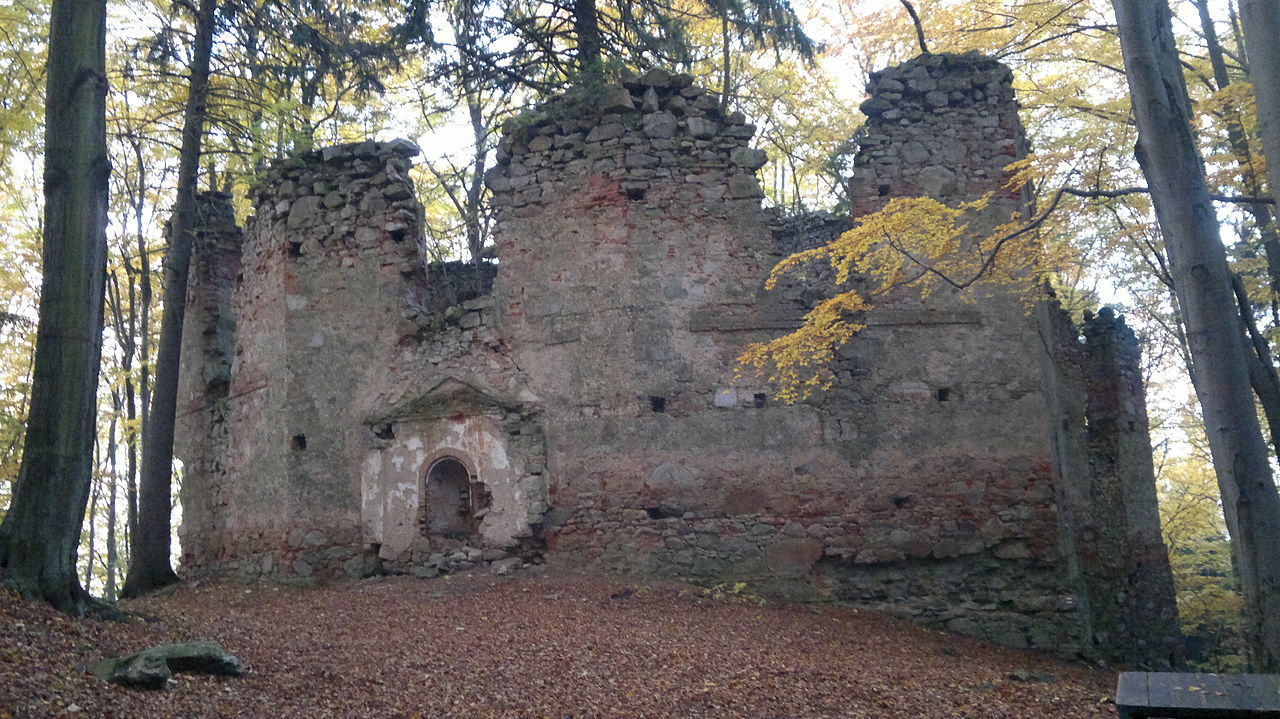 Two mythical places in the Sázava region that you should put on your list of day trips from Prague. The hikes are moderate level. The landscape of the area is serene and ideal for a road or bike trip.
To get to Blaník, you'll need to take a train from Prague to Louňovice pod Blaníkem. From there, it's a 1.2 mi (2km) hike up to Velký Blaník and/or to Malý Blaník. The distance between Velký and Malý Blaník is 1.86 mi (3km).
At Great Blaník, there is an observation tower. On top of Small Blaník are the ruins of the Chapel of St. Mary Magdalene from the 18th century, and it has a huge spruce called Big Monk (Velký mnich) in the middle of the remaining structure.
Both hills carry numerous legends of Blaník's knights and have particular charm. If you are fit enough and have enough time, then hike both of them. They are worth it.
If you travel by car, there is a paid parking lot in between the two hills.
Location: 1 hr 15 min driving south-east from Prague, or 2 hr 20 min by train
Level: moderate
Distance of hiking: 2.4mi (4km) from Louňovice to one of the hills and back, no matter which one you pick. 5.5mi (8.85km) from Louňovice to both mountains and back
What else to do here:
in case you travel with kids and/or you're renting a car, then make a short trip to the village of Roudný. There you can walk 2.8mi (4.5km) of the theme path of the gold mine, which made the area famous.
Pack and travel:
4. Pravcicka Gate, Bohemian Switzerland
Czech name: Pravčická brána, České Švýcarsko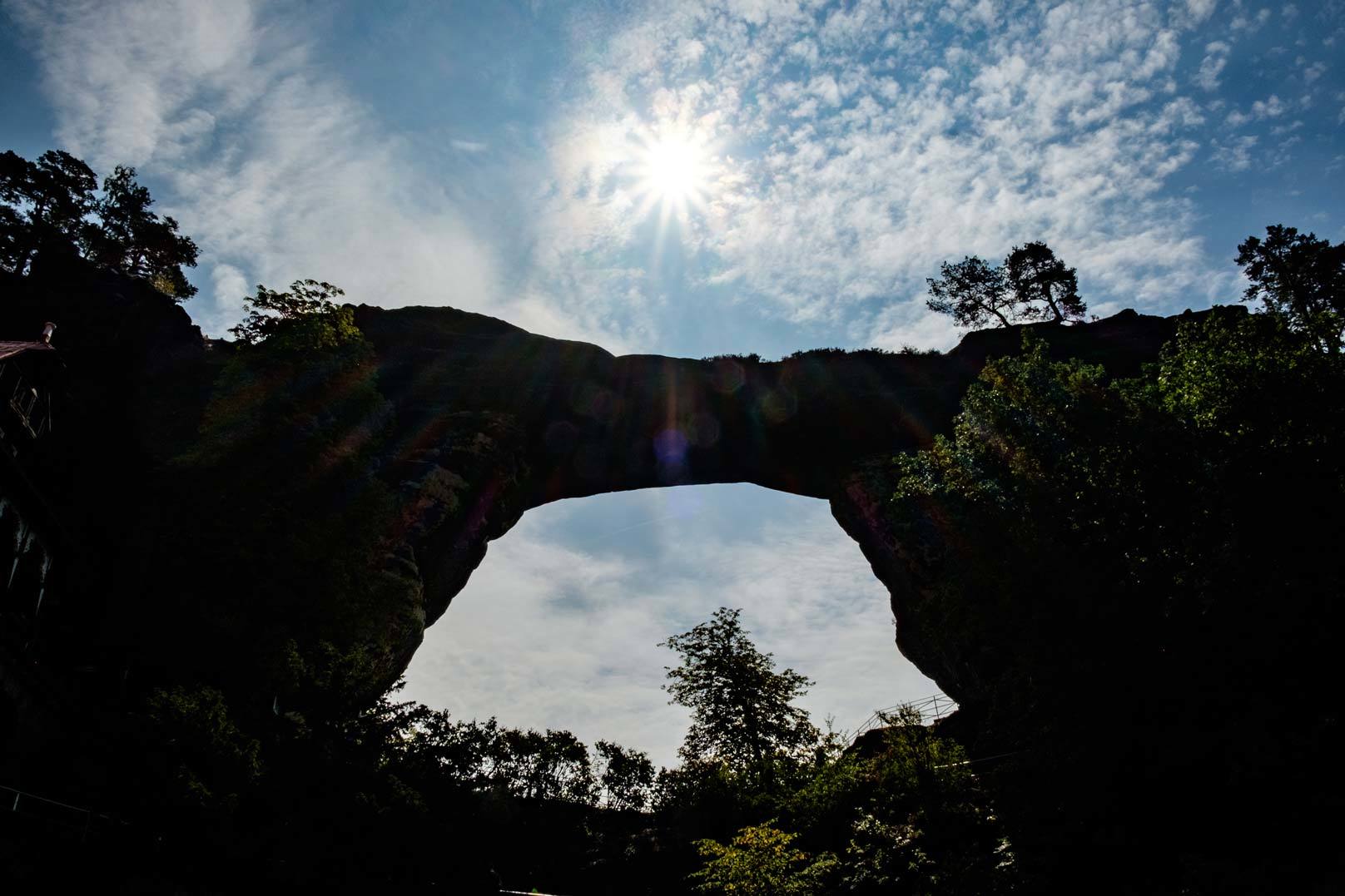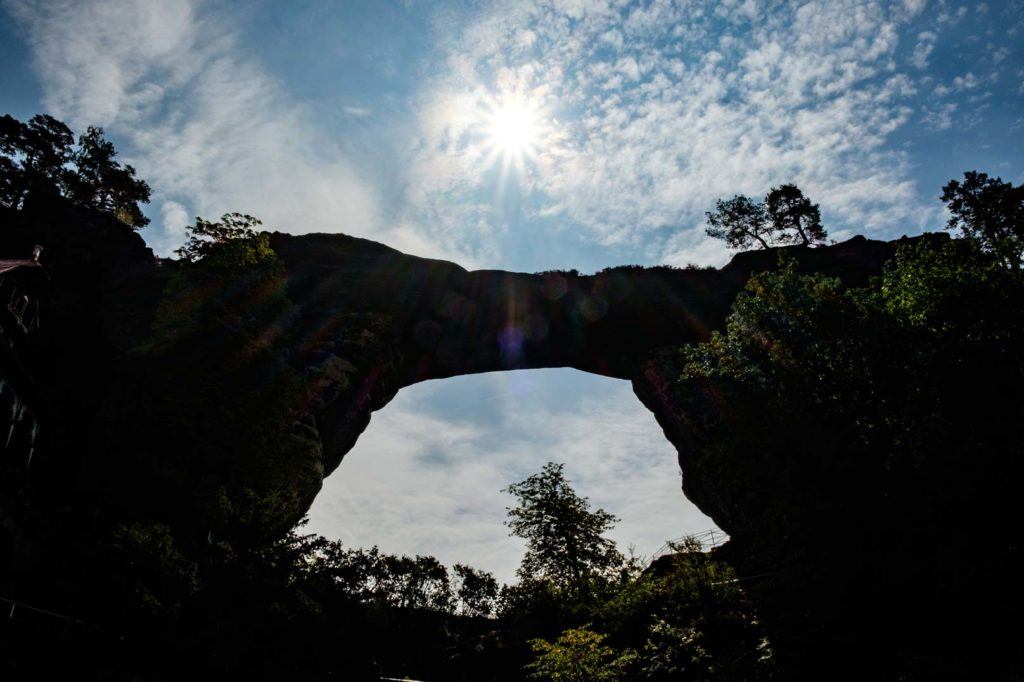 "One does not simply travel to Prague without visiting Pravcicka Gate!"
Warning! You won't be the only one who will come here to admire the sandstone pillars with the biggest stone arch in Europe. However, if you can handle the crowds at the Old Town Square in Prague, then it'll be easy-peasy to manage the tourists at the Pravcicka Gate.
The hike through the woods is of moderate level. After reaching the main viewpoint, you can continue an enjoyable hike on Gabriela's trail, as I did.
The Pravcicka Gate is a part of the Natural Park Czech Switzerland, and it made to the shortlist of the natural wonders of the world (New7Wonders) in 2009!
Does the arch remind you of a scene in the Chronicles of Narnia? It's the same one! Unlike in the movie, you won't be able to walk or run on the top of the gate anymore.
Due to a few cracks found in the structure, it's been forbidden to walk on it since 1982. In fact, the heroes of the movie never stood on the real gate because of this prohibition.
Not a Narnia fan? Watch this trailer to see what we're talking about (stop at 1:19).
To get the full experience accompanied with a fantastic local Czech lunch, join a tour with Northern Hikes. Check for the full itinerary here.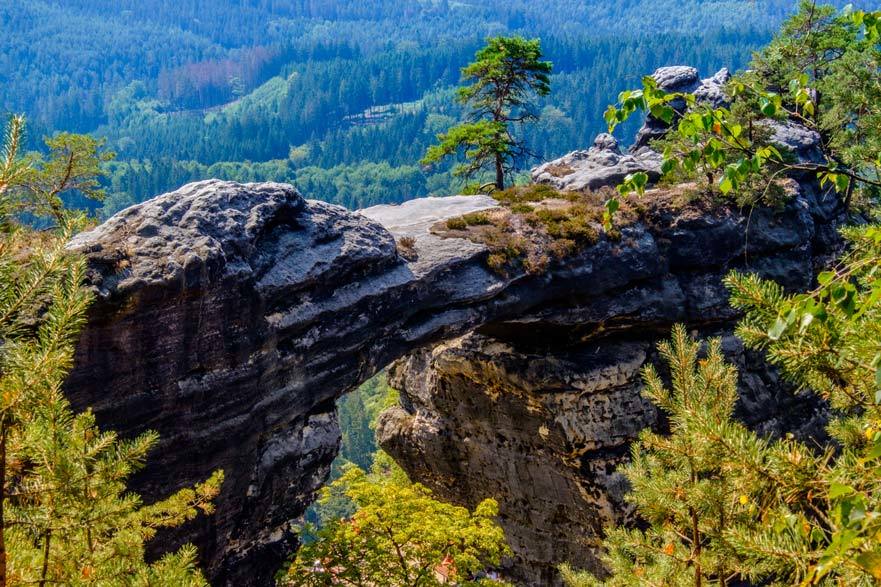 Location: 1.5 – 2 hr driving north from Prague
Level: moderate
Distance of hiking: 10mi (16 km)
What else to do there: see the tip below
5. Get some fresh air in the Gorge of Kamenice River
Czech name: Roklina řeky Kamenice
Once you're at the Pravcicka Gate, and if you still have some time, take a short ride on a dinghy. You don't want to miss out on the river landscape with stones, wild lush greenery and crystalline water, especially when the sun sets!
Similarly to the previous tip, you can plan a trip to the gorge with Northern Hikes.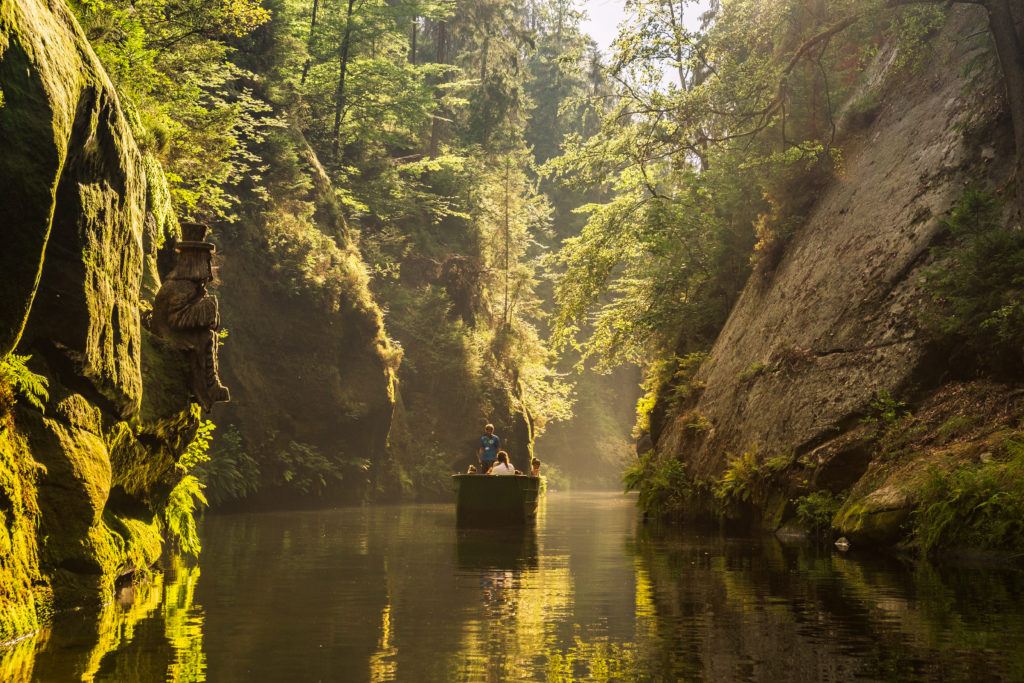 Location: 2 hr driving north from Prague
6. St. John Rock
Czech name: Svatojánska skála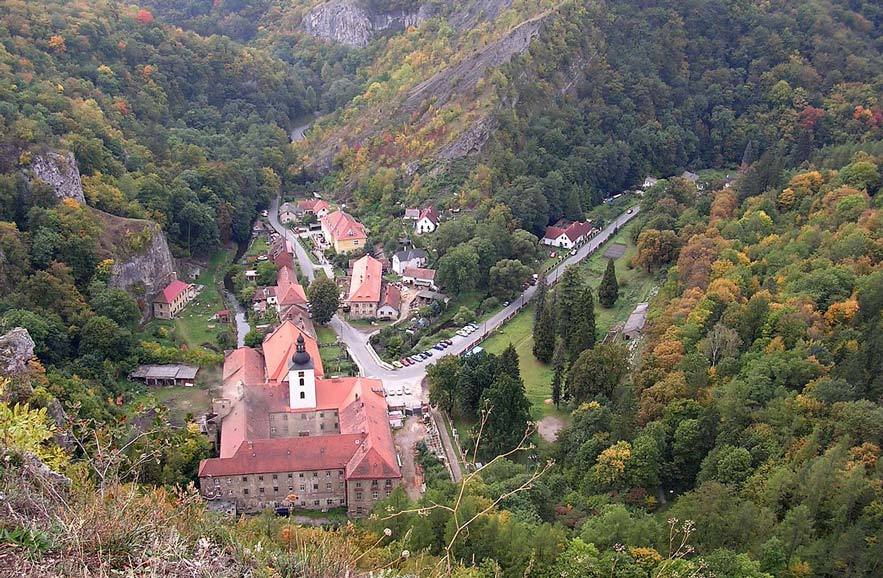 You've probably heard about the Czech Disneyland – the Karlštejn Castle. It's been receiving an influx of visitors recently. It's best enjoyed early in the mornings during the week.
After you end a tour (highly recommended) at the Czech iconic castle, we suggest you head to the St. John Rock via the red marked trail directly from the castle.
The trail is only for fit and well-equipped hikers. A pair of good hiking shoes is a must. Ivana hiked the route many years ago while living in the nearby town of Beroun, and she loved it.
Here is a great source of info about how to hike the trail from the Karlštejn Castle.
Location: 40 min driving south-west from Prague
Level: difficult
Distance of hiking: 7.5mi (12km)
What else to do there:
visit the Karštejn Castle
check out the cave monastery
7. Park Vlasim
Czech name: Zámecký park Vlašim
This tip is for romantic souls who fancy some strolls in nature. There is also a nice playground, a lovely pond, a Chinese pavilion and a café/restaurant with really good coffee and food. All paths are well maintained. Interested? Hop on a bus or train and head to the town of Vlašim.
The town itself doesn't have much to offer to tourists, but it can easily be combined with other places in the area.
Location: 1 hour drive south east from Prague
Level: easy
Distance of hiking: 3.1mi (5km)
What else to do there:
hike the Great and Small Blaník mountains (see tip #3)
visit Český Šternberk Castle
8. Nature reserve Divoka Sarka
Czech name: Divoká Šárka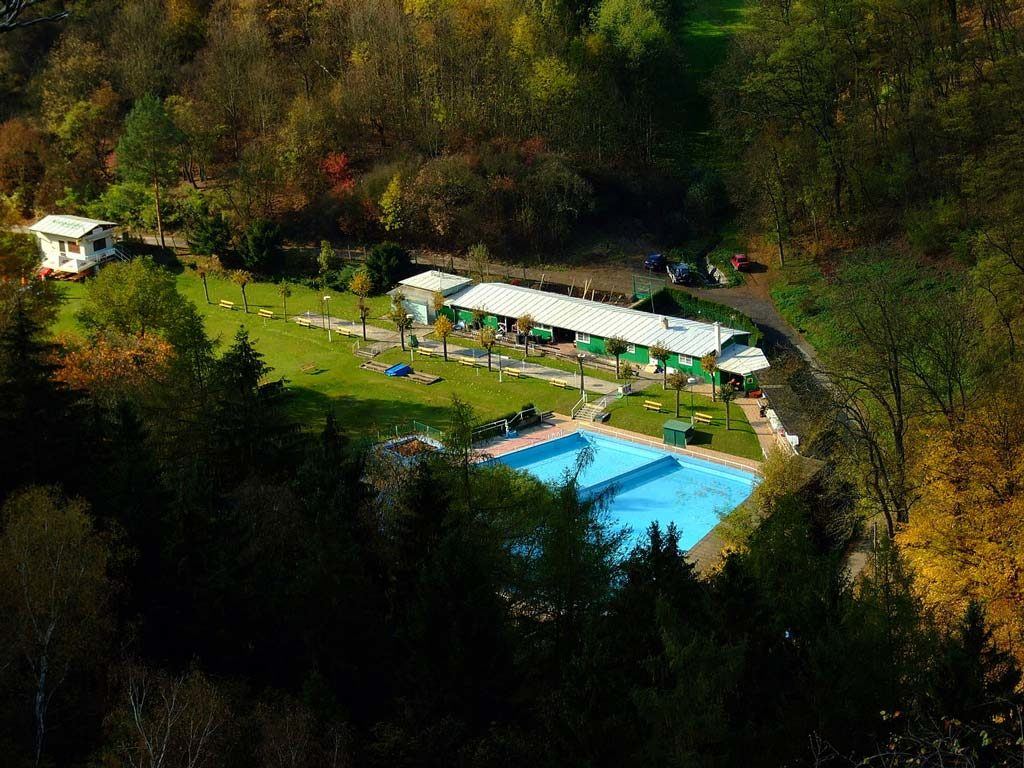 If all you need on your day trips from Prague is a hike to an awesome viewpoint, a bike ride and a refreshing dip in a pool, then the nature reserve of Divoká Šárka is your best pick.
The story behind the name of the site isn't the most romantic one, but the views on the top of the hill make it worth the hike.
Location: 9.3 mi (15km) north-west from the city center. Accessible by public transport
Level: easy-moderate
Distance of hiking: 5.4mi (8.7km)
What else to do there:
swim at the public swimming pool with fresh water from the spring creek (avoid weekends and public holidays)
9. Prokop and Dalej Valley
Czech name: Prokopské a Dalejské údolí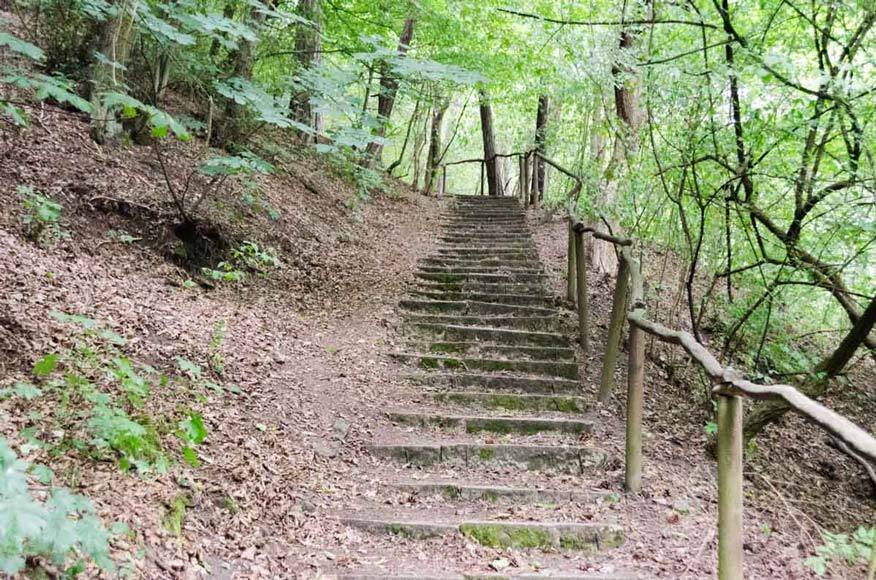 Love this place! We've spent lots of time here as Ivana's sister lives nearby, and we have seen some gems of the valley, too. It's great for walking, biking or having play time with your kids as the area offers a few playgrounds.
Prokop Valley is a former open-cast lime mine. You'll still be able to find a couple of old quarries filled with water here. The most famous is Prokopské jezírko (Prokop's Small Lake) where you can have a swim. Public swimming was forbidden a couple of years ago, so you'll have to check if it's open to the public again. Also, make sure to explore some of the old mills on the trail called Stará Mlýnská cesta.
The stroll in the valley is superb, and it has some benches to rest along the way. Keep in mind it gets filled with local families and bikers on sunny weekends and public holidays.
Location: 5mi (8km) southwest from the city center. Accessible by public transport
Level: easy-moderate
Distance of hiking: up to 5mi (8km) if you hike the trail from Hlupočepy to Řeporyje
What else to do there:
go for a tour in the Barrandov Film Studio: one of the oldest ones in Europe. Check here for more details
splurge on some great food at the fabulous restaurant Jelica (awesome vegan options available, kids friendly)
10. Quarry Great America
Czech name: Velká Amerika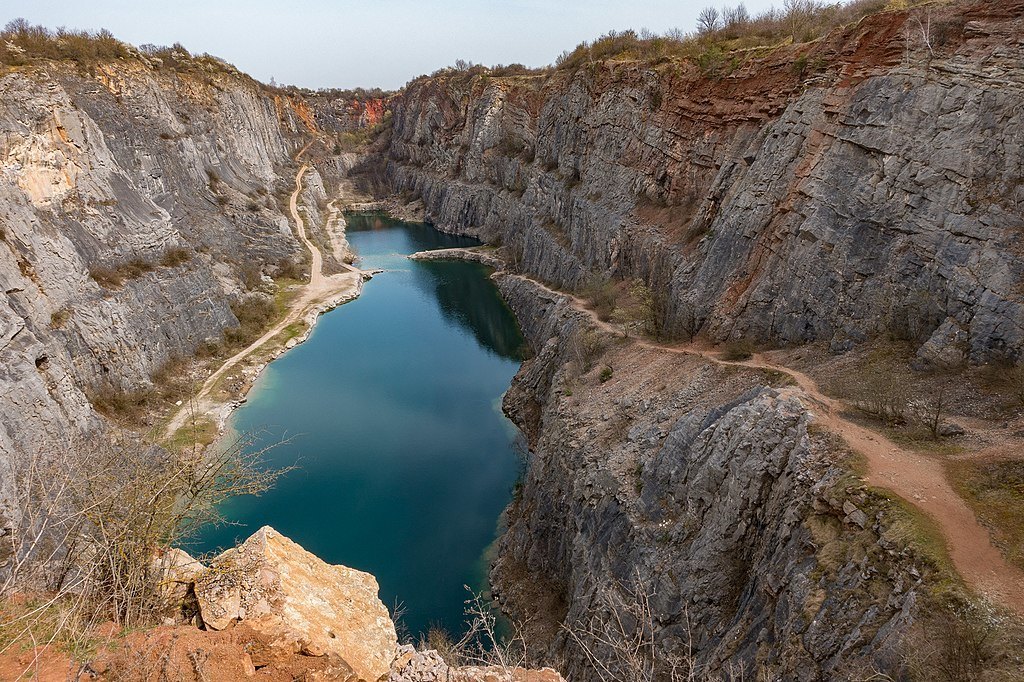 If you drive from the village of Svatý Ján pod Skalou (near the mountain St. John Rock) in direction to the Kalštejn Castle (tip #6), then stop by at the abandoned limestone quarry. This is a great pitstop on the way to/from the castle.
Warning: Some fatal accidents have happened on the site in the past. Therefore, be extremely cautious when hiking the trail along the quarry and avoid visiting during rainy season as the paths get very slippery.
For more photos and info, check out this article.
Location: 1 hour driving south-west from Prague
Level: moderate, yet be very careful while hiking
Distance of hiking: 2.7mi (4.5km)
11. Biking trip: Elbe River bank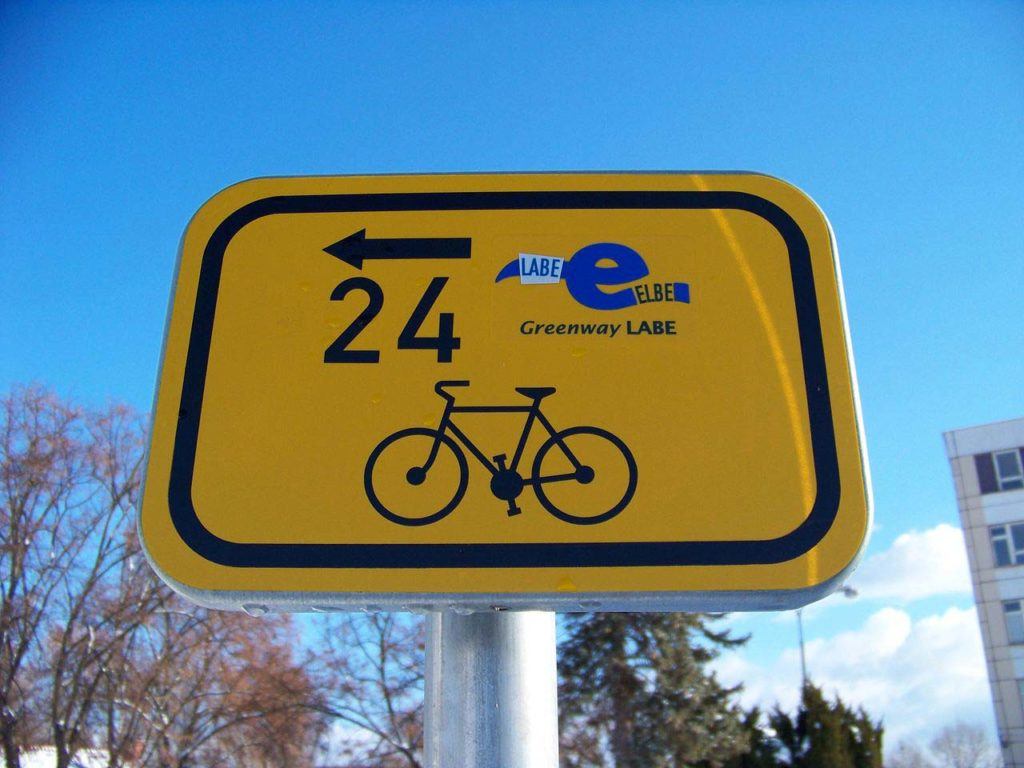 This is a bonus tip for cycling lovers who prefer easy rides on flat terrain. Ivana did the trip along the Elbe river many years ago and had an amazing time! The route is very well maintained, and it is easily accessible from Prague, which makes it a good idea for an outdoor trip.
Read more details about the route on this official website.
Protip: Get a pint of Postřižinské beer at the Nymburk brewery, where the Czech cinematographic classic, Postřižiny (Cutting It Short), was filmed (ideally after you've completed your bike ride).
That's a wrap, dear outdoor lovers! Hope this article helps you decide where to go on day trips from Prague.. Pick one or two that suit you the best, and have fun on your visit to Prague!
Like it? Pin it!
Disclaimer: I was invited to explore some of the mentioned tours with Northern Hikes. We visited the other places together or Ivana visited them alone while living in Prague and its suburbs years ago.
Get inspired by more travel articles: