Read some awesome local tips on places to visit in Latvia and explore beautiful natural laces and lovely small towns on your trip to the country.
Latvia, a country in Northern Europe, has been attracting more and more visitors every year. It's a small and very green country (forests cover 50% of the territory!) located between Estonia and Lithuania.
People around the world often confuse Latvia with Lithuania, just like Slovenia is confused with Slovakia. But not that much anymore since Riga, the capital of Latvia and one of the top places to visit in Latvia, was awarded European Capital of Culture in 2014.
Latvia is a budget friendly country. Unlike in Paris or Amsterdam, budget travelers can get more for the same amount compared to Western Europe countries.
If you are looking for a place to stay on your next trip, we recommend some of the best hotels for different budgets.
When we travel, we book our hotels through TripAdvisor, one of the best websites to compare prices.
We also use a lot AirBnB to book local apartments. If you have never used AirBnB before, you can have a $40 discount for your first booking through this link.
Always make sure you travel with travel insurance! Be adventurous, but not careless.
Check out some of the most reliable insurance companies out there: True Traveller if you're European and World Nomads if you're from elsewhere.
If you love animals and you prefer going local during your travels, try housesitting, which is an amazing way to travel the world while taking care of the pets whose owners are on vacation. If you use TrustedHousesitters with this link you'll get $20 discount on annual membership.
Like it? Pin it!
Places to visit in Latvia
Kemeri and Kemeri Bog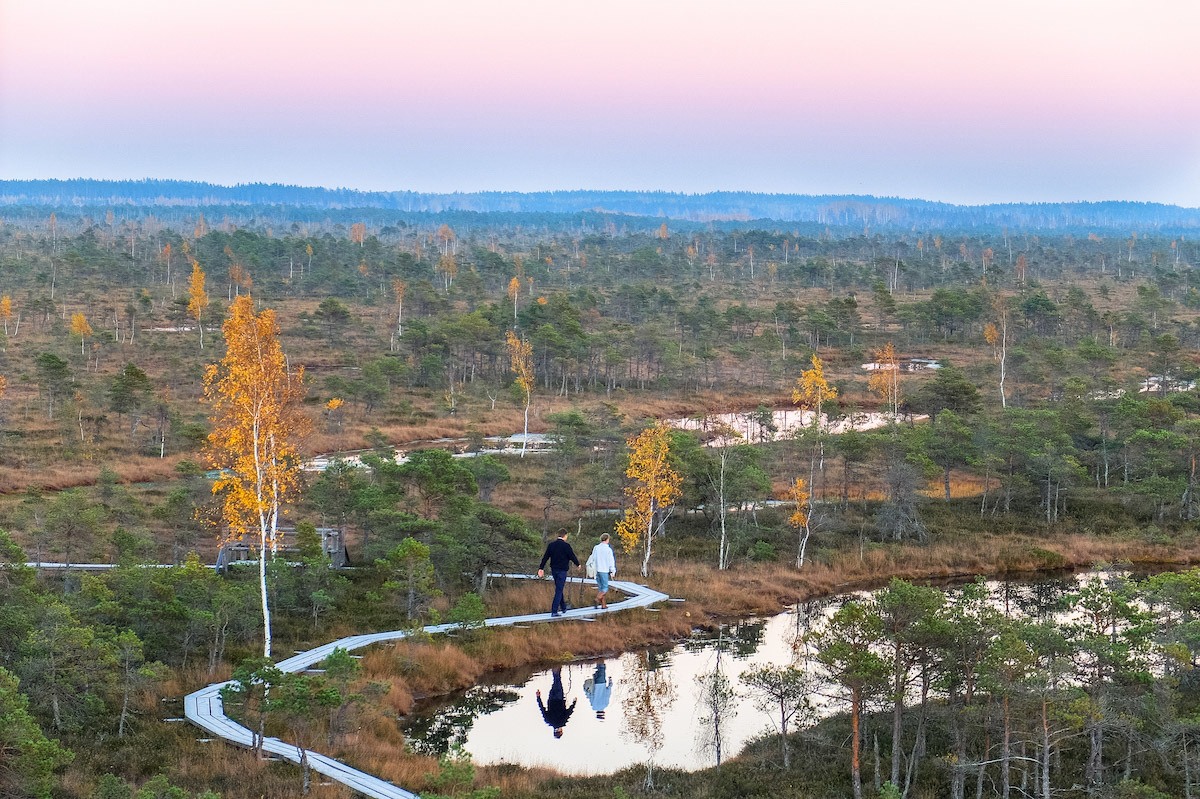 Kemeri (Ķemeri) is one of the most popular places to visit in Latvia, and deservedly so. In the early 20th century the town of Kemeri was known for offering visitors luxurious vacations, and its mud and thermal sulphur baths.
Now it has lost its splendour but it's still worth a visit because of the beautiful nature.
There are plenty of things to do in and around Kemeri. The most popular place in Kemeri is the Great Kemeri Bog boardwalk. The Great Kemeri Bog is one of the largest bogs in Latvia. I recommend taking the great boardwalk arc (3.4 km) and go up the observation tower.
The views are impressive, especially during and after the sunset when the bog is washed over with orange-pinkish-reddish light. The bog is better seen from above – all the little lakes, tiny pine trees and mossy ground.
Kemeri Sanatorium Park is worth a visit, too. The imposing Kemeri Sanatorium is the centrepiece of the park. It's a large building with rooms for around 300 patients. Now it's closed as it has being renovated.
Also there are a couple of nature trails that start in the Kemeri town. The trails go along the river Versupite (Vēršupīte; literal translation – the ox river), through marshes.
When you are visiting Kemeri, take into account that there are no ATMs. So bring some extra cash with you, just in case.
Jurmala (and Mangalsala)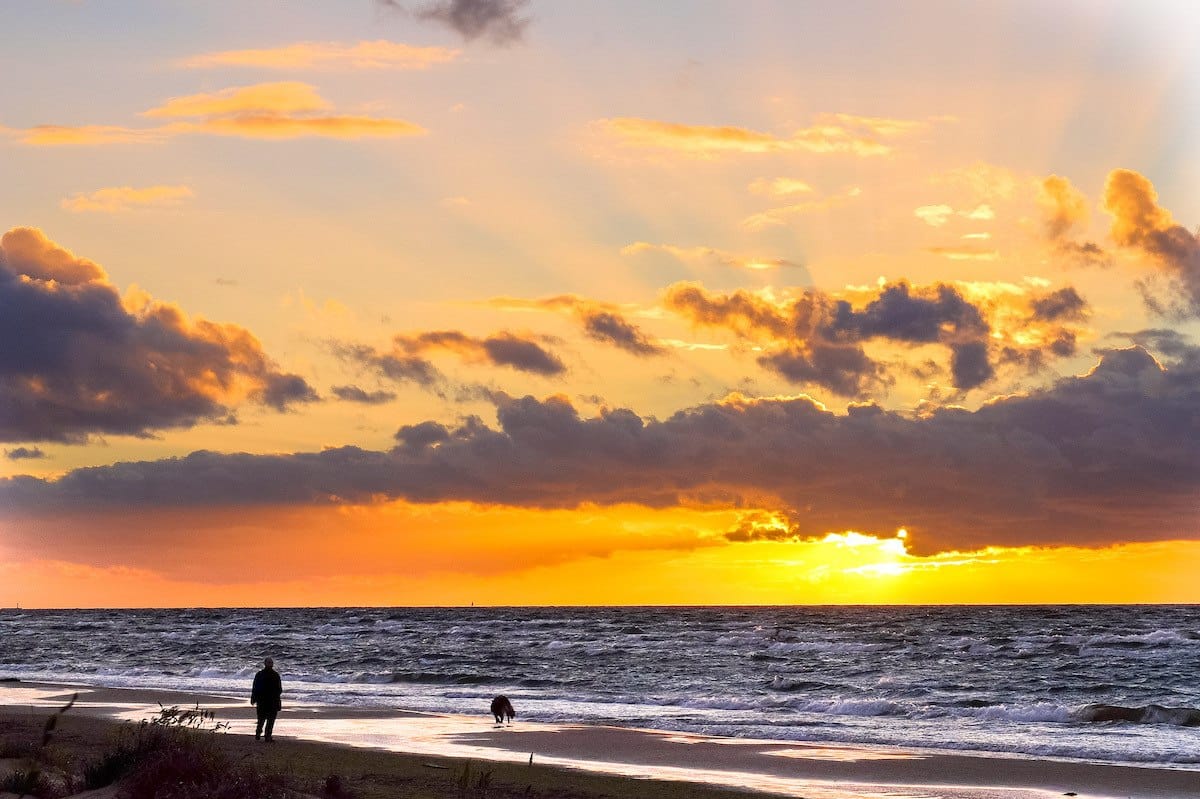 Latvia is not your usual beach destination but it offers a unique feel. My guess would be that 90% of Latvia's beaches are unspoilt virgin beaches with little to no visitors.
Latvia has more than 500 km of coastline. And most of it is sandy beaches. Unfortunately, the beach season is very short – some 8 weeks starting from July to late of August. But if you enjoy swimming in cold temperatures you can also have a dip during the winter as well when water temperature is close to 0°C.
Several beautiful beaches are located in and around Jurmala (Jūrmala) which is very close to Riga – mere 30 km away. If you don't have a rental car, the good news is – these beaches are easily accessible by train.
The ride takes just 30 to 50 minutes, and costs only 1 – 1.5 EUR (depends on which beach you are going to)! I told you Latvia is a budget friendly country for travellers!
By the way Jurmala is included in Tripadvisor Top 25 beaches in Europe! All of those people who voted can't be wrong!
The best beaches in Jurmala (Jūrmala) are: Bulduri, Dzintari, Majori and Dubulti.
Another great beach not far from Riga is Mangalsala beach (Mangaļsalas pludmale). It's unique because it's the place where Daugava flows in the sea.
There's also a pier, and you can walk on it until the end. Amazing feeling – the wind blowing in your face, and the sound of waves lapping against the pier…
You can get to Mangalsala by the public bus (no. 24). Actually Mangalsala is still in Riga – it's a neighbourhood of Riga's Northern District.
Heading to Europe? Get inspired by more articles:
Liepāja and Karosta Prison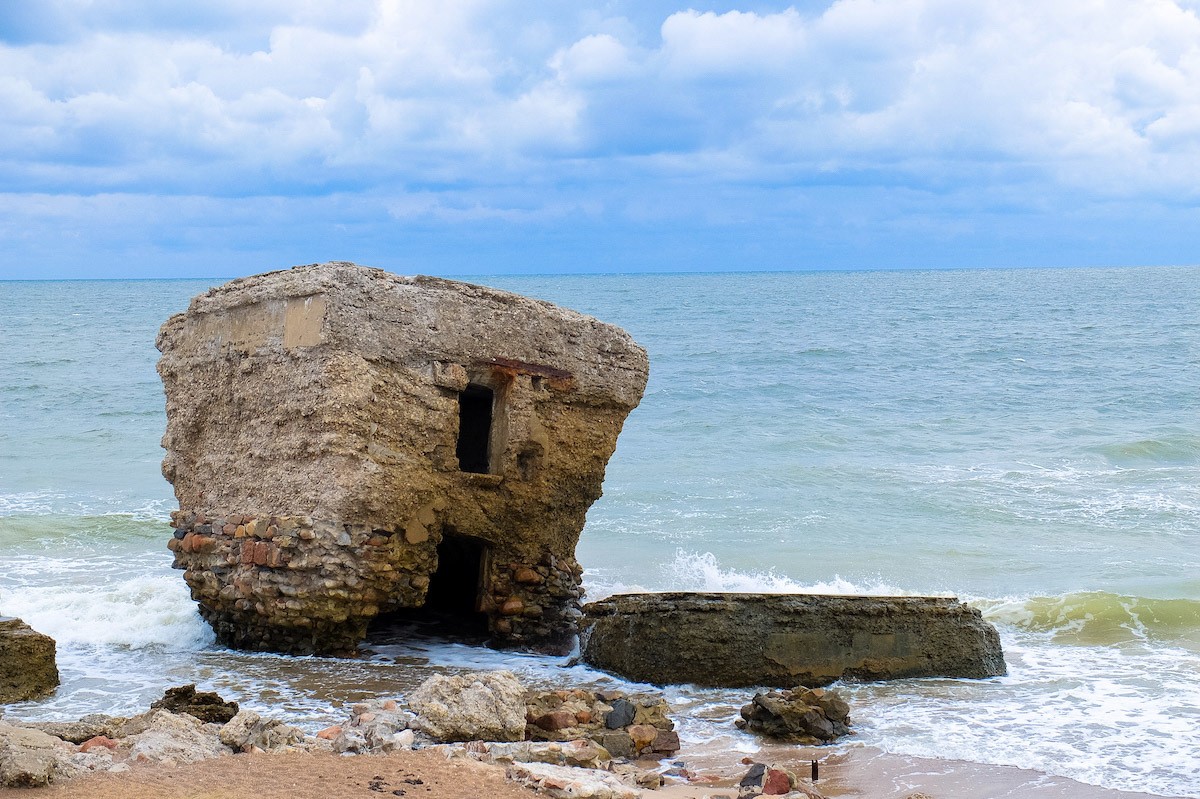 What to see in Latvia apart from Riga? Go to Liepāja. Liepāja (Liepaja) is one of the largest cities in Latvia, and also among the most beautiful ones.
As it is rich with sights and landmarks, plan at least one whole day for exploring Liepaja. First of all, go for a stroll along the beach and visit the beautiful Seaside park. Definitely visit Liepaja Fortress – abandoned bunkers on the beach.
Then head to the city centre and explore the beautiful streets of Liepaja. Do not miss the most famous landmark and attraction – Karosta Prison. It's an ex-military prison, now a museum. In fact it's the only ex-military prison in Europe open to visitors.
Go to lake Liepaja to savour peace and quiet and enjoy beautiful views from the observation tower.
Slitere National Park and Cape Kolka
Slitere National Park (Slīteres dabas parks) is a nature reserve in the Courland Peninsula. Nature there is diverse as this reserve is composed of bogs, forests and wetlands. Slitere National Park also contains a beach and coastal habitat.
There are several cycling paths and nature trails to choose from. The sandy beaches there are great for walks as well, by the way.
Don't miss Cape Kolka which is the northernmost point of the Courland Peninsula. It's also the place where waters of the Gulf of Riga and the Baltic Sea meet.
The distances between the landmarks in Slitere National Park are quite big. So, the best way to travel around Slitere National Park is by a rental car.
Jurkalne Seashore Bluffs
Jurkalne Seashore Bluffs is one of the most picturesque places to visit in Latvia. It's one of the few places where you can see this kind of cliffs, or bluffs. Majority of Latvian seaside is flat and sandy.
The height of Jurkalne bluffs is around 20 metres. It's really and impressive sight – untouched pristine beach and sandy bluffs towering over it.
Jurkalne Seashore bluffs are located 70 km north of Liepaja. It's an one hour-ride if you are traveling on a rental car. So, we would suggest to combine with the visit to Liepaja.
Riga Motor Museum
Riga Motor Museum is one of the best museums in Latvia. The museum is located in Riga, 9 km east of Riga Old Town. It can be easily reached by a local bus (no 5 and 15) or a rental car.
The Riga Motor Museum you can learn about history, automotive industry and the evolution of vehicles.
More than a hundred unique vintage cars and vehicles are displayed in the museum, including the ones made in Latvia during the early 20th century, and some iconic cult cars.
Admission fee: 10 EUR.
Pack and travel!
Rundale Palace
Is a grand baroque palace located in Pilsrundāle, 12 km west of Bauska. The large palace complex consists of gardens and museum. It's a very popular place for tourists and deservedly so.
The vast garden is beautiful, and the palace takes your breath away. Set amid the green plains, it is one of the largest palaces in Latvia.
The area of the whole complex is 850 000 square meters, and the total area of all the buildings in the complex (16 in total) is 14 249 square meters. Impressive!
Three halls of the palace (the White Hall, the Gilt Hall and the Great Gallery) are open to the public, as well as the park. If you are visiting Rundale Palace, stop by "Retro auto kolekcija Pilsrundālē".
It's a small vintage car museum 1 km from the palace.
Admission fee: 8 – 13 EUR, depending on the season.
Cesis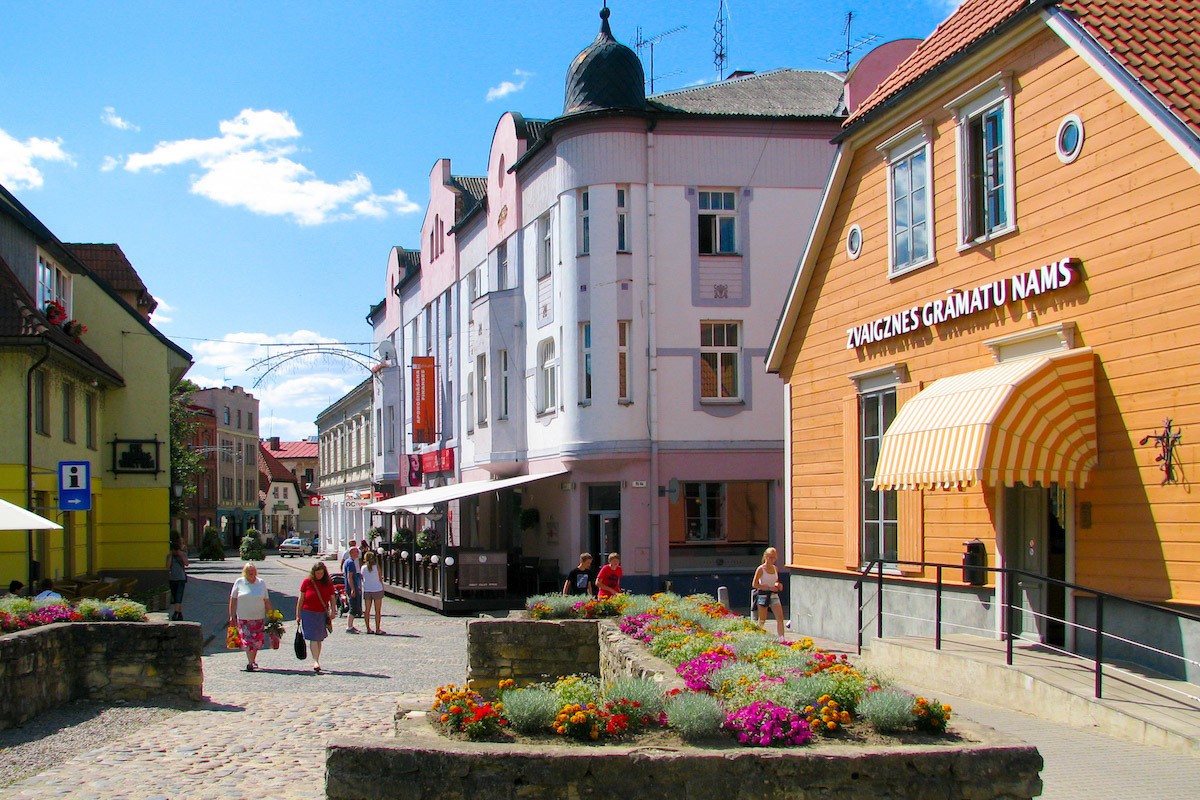 Cesis is a charming medieval town 90 km North-east of Riga. One of the most iconic and best preserved medieval castles is located there.
If you are looking for places to visit in Latvia during the winter, Cesis is one of the best places to go. Ski resort Zagarkalns (Žagarkalns) is located in Cesis.
Visiting Latvia: 7 Extra Travel Tips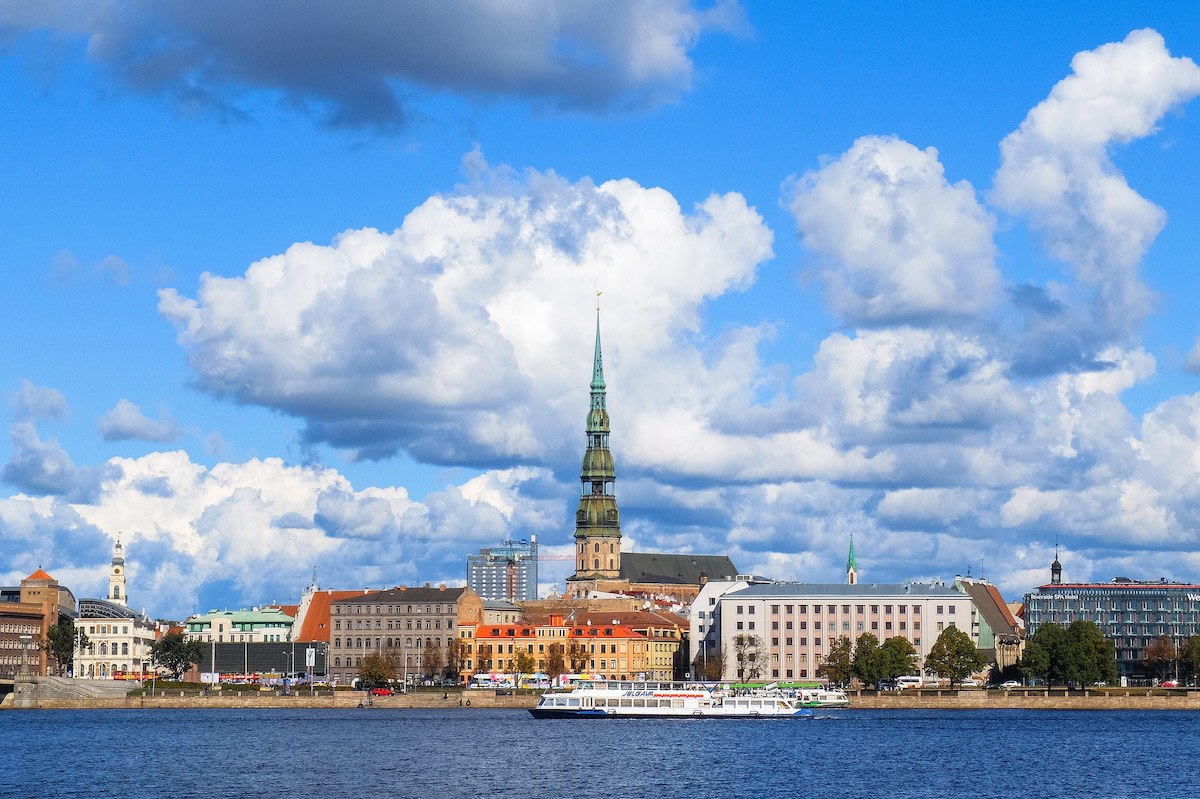 1. Renting a car in Latvia is the best way to see this beautiful country. That way you'll be able to visit not only the major tourist spots but also remote places where public buses and trains
don't go or go infrequently.
2. In Riga use ride-hailing apps such as Taxify or Yandex (Uber-like services). They're cheap and convenient. A 4 km long ride will cost you around 4 EUR.
3. Download the train app (iOS and Android) if you plan to travel by train in Latvia. Buy tickets and check train schedules via this app.
4. If you are traveling to Latvia during the winter and you own an iPhone, remember that it can turn off by itself because of the cold temperatures. Keep it close to you – in your breast pocket, for instance.
5. If you plan on hiking, please be careful. Not because Latvia is a dangerous place but because there are ticks in Latvia's forests! Yeah, you wouldn't expect that such a little country in northern Europe would have any dangerous critters out there but there are some.
Ticks are dangerous because they can be carrying encephalitis. There is vaccine against it but I am not sure if you can get appropriate vaccine in your country. To be safe, just don't wander away from a path and cover yourself fully.
Tuck your trousers in your socks (I know it looks awful but you aren't attending a beauty contest), wear sweater with a high collar. After the hike check your skin. Ask your buddy to check the areas not visible to you. Or use a hand-held mirror.
6. When you are visiting Riga, stay in a local neighbourhood Agenskalns ( genskalns). It's a historic area with old buildings and chilled atmosphere. During the last years it's been developed and now has turned into kinda hipster area.
Stay close to Kalnciema quarter where events are held almost every evening. It's a busy place especially during late spring, summer and early autumn. Also it's not far away from the centre – just 3 km from the old town. Buses to the centre run frequently.
7. Latvian food is quite heavy. So, if you are used to lighter meals, eat at Asian restaurants and eateries. However, we recommend you to have at least one Latvian meal.
Do you have a burning travel question? Join our Nomad is Beautiful travel community on Facebook and ask experienced travelers!