Determine the best things to do in Tokyo can be a big challenge, particularly if you've never been to the city. Japan's capital is home to nearly 40 million people, spread out over 23 wards and four prefectures, and literally countless attractions, activities, foods and more. You could spend a lifetime to Tokyo and still discover something new!
To be sure, this Tokyo travel guide isn't comprehensive so much as it is a detailed, informed starting point. Regardless of how well you know Tokyo, and no matter how many times you've traveled there before, here's where all your explorations should start.
When we travel, we book our hotels through TripAdvisor, one of the best websites to compare prices.
We also use a lot AirBnB to book local apartments. If you have never used AirBnB before, you can have a $40 discount for your first booking through this link.
Always make sure you travel with travel insurance! Be adventurous, but not careless. Check out some of the most reliable insurance companies out there: True Traveller if you're European and World Nomads if you're from elsewhere.
If you love animals and you prefer going local during your travels, try housesitting, which is an amazing way to travel the world while taking care of the pets whose owners are on vacation. If you use TrustedHousesitters with this link you'll get $20 discount on annual membership.
If your're looking for the best fares on flights to Japan, check out  some real deals if you plan to fly into Tokyo.
Like it? Pin it!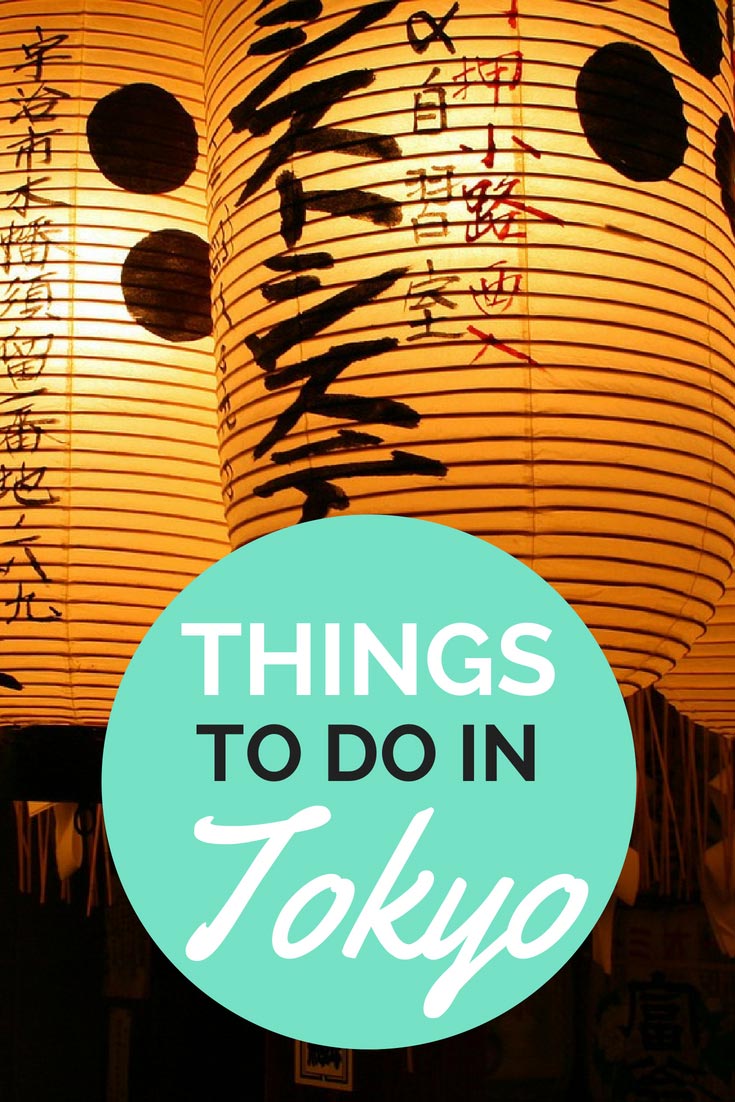 Top things to do in Tokyo
Watch a tuna auction
Many a Tokyo guide will recommend this popular activity, which begins before the crack of dawn as Tsukiji Fish Market not from the popular Ginza district.
Note that you'll need to leave most Tokyo hotels no later than 3:30 am in order to be one of the few admitted to the tuna auction, whose location will be moving from Tsukiji at some point between now and the start of the 2020 Olympics.
Visit an ancient temple
Tokyo's skyline is the picture of modernity, which is why you might be surprised that much of what to see in Tokyo is ancient.
The most popular Tokyo temple to visit is towering Senso-ji in historical Asakusa, but you can also visit the Meiji Shrine in Harajuku or Nezu Shrine, which you'll find near the entrance to popular Ueno Park.
Get inspired by more articles:
Stroll through a Japanese garden
Speaking of parks, some of the other Tokyo top attractions are green spaces. During cherry blossom season, the delicate gardens of the Tokyo Imperial Palace in Chiyoda are open.
Otherwise, two of the best spots to experience botanical serenity in Tokyo are Shinjuku Gyo-en Park and Koishikawa Korakuen, which sits just north of Tokyo station.
Take in a Tokyo night view
Many a Tokyo tour you see offered will advertise a night view, most probably the one from Mori Tower in Roppongi Hills.
However, you have many options, whether you ascend the underrated Tokyo World Trade Center (which offers the best view of Tokyo Tower), the sky-scraping Tokyo Sky Tree or Bunkyo Civic Center, which sees the skyscrapers of Shinjuku superimposed in front of Mount Fuji.
Dine in a quirky café
When it comes to fun things to do in Tokyo, they likewise run the gamut. One of the easiest ways to get in on Tokyo's weirdness is to dine in one of the city's quirky cafés.
This could take the form of Maidreamin, a maid cafe in Akihabara, or the cat or owl (yes, owl!) cafés in Ikebukuro.
Even seemingly ordinary Japanese cafés are sometimes themed to characters of the "mascot" culture which is so ubiquitous in Japan.
Places to go in Tokyo
Asakusa
When it comes to where to go in Tokyo, historical Asakusa is usually near the top of the list. Home both to ancient temples and ultra-modern skyscrapers, and navigable using traditional rickshaws pulled by young men, Asakusa perfectly encapsulates the duality of today's Tokyo.
Make sure to check out the stunning view from the free observation deck of the tourist information center!
Shinjuku
Another of the Tokyo destinations, Shinjuku is as famous for its train station (by some accounts, the busiest in the world) as it is the neon that illuminates its Kabukicho red light district at night.
Duck into tiny streets to enjoy cheap, fresh sushi and casual Japanese bar food at izakaya pubs that are popular among locals.
Shibuya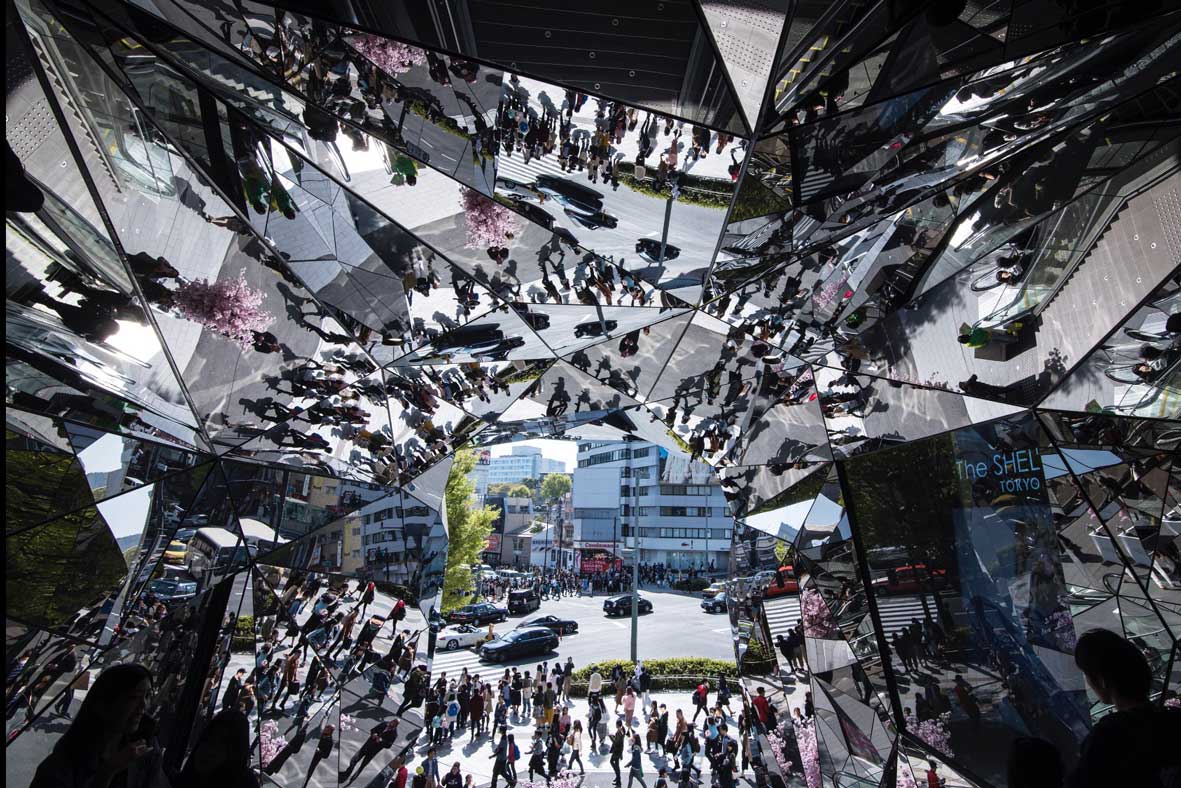 Shibuya is home to some of the most Tokyo sightseeing, from the wild Shibuya Crossing (the world's busiest pedestrian crossing), to the wild fashion of Harajuku's Takeshita Street, to the fancy shopping along Omotesando Avenue.
Shibuya is also near Yoyogi Park, which is one of the best places to enjoy hanami, or cherry blossom viewing, in the spring.
Ginza
Whether your Tokyo city tour includes Ginza will depend on a few factors, namely your proneness to believe in stereotypes.
It's tempting to associate the word "Ginza" with unattainable luxury (and, to be sure, many high-end brands have stores here), but this district is home to accessible shops, museums and restaurants that serve everything from ramen, to okonomiyaki, to Kobe beef served teppanyaki style.
Akihabara
Also known as "Electric Town," Akihabara could creep onto your list of places of interest in Tokyo for any number of reasons. Perhaps you want to buy cheap, tax-free electronics, or ride a Mario Kart through the streets of the city?
Maybe you just want to duck into an arcade and play video games all night, or get lost in the stacks of magazines in a Manga store. Akihabara is where you can really let your freak flag fly!
A sample Tokyo itinerary
Three Days in Tokyo
Everyone has a different pace and preference for Tokyo travel Tokyo, but I find that three days is a good amount of time to discover the city, particularly if you'll kick off a large trip to Japan otherwise.
Enjoy an easy first day, with one daytime activity followed by a nighttime one.
For example, daytime at Senso-ji Temple and the Tokyo Skytree in Asakusa, followed by night traipsing through neon signs in Shinjuku.
On day two, wake up early (this will be easy if you're jet lagged!) to see a tuna auction at Tsukiji; spend the afternoon along Takeshita Street and at the Meiji Shrine in Harajuku, before enjoying dinner in Odaiba.
On day three, take a day trip to Kamakura or Nikko, or continue focusing on things to see in Tokyo I've mentioned elsewhere in this article.
For more information, make sure to check out the three day Tokyo itinerary I recently published.
One week (or longer) in Tokyo
As you're probably guessing, enough Tokyo points of interest exist that you can easily spend longer than three days here. Might I suggest a month, or even a year?
In all seriousness, the longest most people are going to be able to devote is one week in Tokyo, which can either build upon the three-day itinerary I outlined above, or turn it on its head entirely.
For instance, the best things to do in Tokyo could be an afterthought, and you could focus on "living" in Tokyo for a week.
Rent an apartment in an outlying (but perhaps more "authentic") Tokyo neighborhood like Bunkyo or Nakano, and spend your week in Tokyo enjoying a glimpse into the everyday lives of Japanese people.
Get inspired by more articles:
When to visit Tokyo
Spring
Spring is without a doubt the best time to visit Tokyo, provided you can time your trip perfectly to correspond with cherry blossom season. All places to visit in Tokyo are more beautiful at this time of year, from Chidorigafuchi moat near the Imperial Palace, to Yoyogi Park in Harajuku, to Senso-ji Temple in Asakusa.
Summer
Summer in Tokyo is hot, wet and humid, which makes it a bit ironic that Tokyo tourist spots tend to be at their most crowded around this time of year.
There are some benefits to visiting Tokyo in summer, though, namely that the city experiences its greatest quantity of daylight during these months. On the summer solstice, you'll enjoy more than 14 hours of sun!
Autumn
Nearly all things to do in Tokyo are more pleasant once the cooler temperatures of autumn set in during the months of October and November, provided you get a sunny day instead of a wet one.
Most beautifully, a golden "tunnel" of ginkgo trees lines the paths of Meiji Jingu Gaien in Akasaka, where the Japanese imperial family makes their home.
Winter
If you schedule your Tokyo trip for winter, you should expect near-freezing temperatures, but not snow. If you want to experience true winter in Japan, take a day trip from Tokyo to the historical city of Nikko, or spend a couple of days in Tokyo before riding the Shinkansen to Nagano or hopping a flight to winter wonderland Hokkaido island.
The Bottom Line
Whether you're making a list of what to do in Tokyo or simply want to determine which neighborhood will make the best hub for your trip, information and preparation are the keys to a successful trip through Japan's capital.
You'll enjoy yourself no matter what you do, be that snapping selfies in front of Tokyo tourist attractions, dining and drinking your way through the city's diverse neighborhoods or marveling at seasonal phenomena like spring's sakura cherry blossoms and fall's yellow ginkgo trees. Enjoy your trip!
Do you have a burning travel question? Join our Nomad is Beautiful travel community on Facebook and ask experienced travelers!