In this article, you'll read how to visit Karen hill tribes in Northern Thailand, trek through a Thai jungle, wake up in pure serene nature, and reflect on the priority of privacy.
Visiting Karen hill tribes in Thailand
If you travel to Chiang Mai and include volunteering with the elephants, exploring the marvels of Thai massages, experimenting with local food, hunting for the best tea houses and yoga studios, you might want to add visiting Karen indigenous hill tribes in northern Thailand into your itinerary, too.
Yes, some of the hill tribes near Chiang Mai are becoming an infamous tourist attraction. They received the nickname, "the human zoo," and, "overpriced junk." Sadly, what often is promoted as a visit to an authentic hill tribe village turns out to be a massive organised group trip for tourists where they bring you to a few alleys with bamboo souvenir huts and begging children.
Maybe you are scared you would end up in one of those villages yourselves. But luckily not all of the hill tribe villages are the same, and there are places where people still live their lives as they have been doing for many generations, with their own customs, rules, beliefs, and… privacy.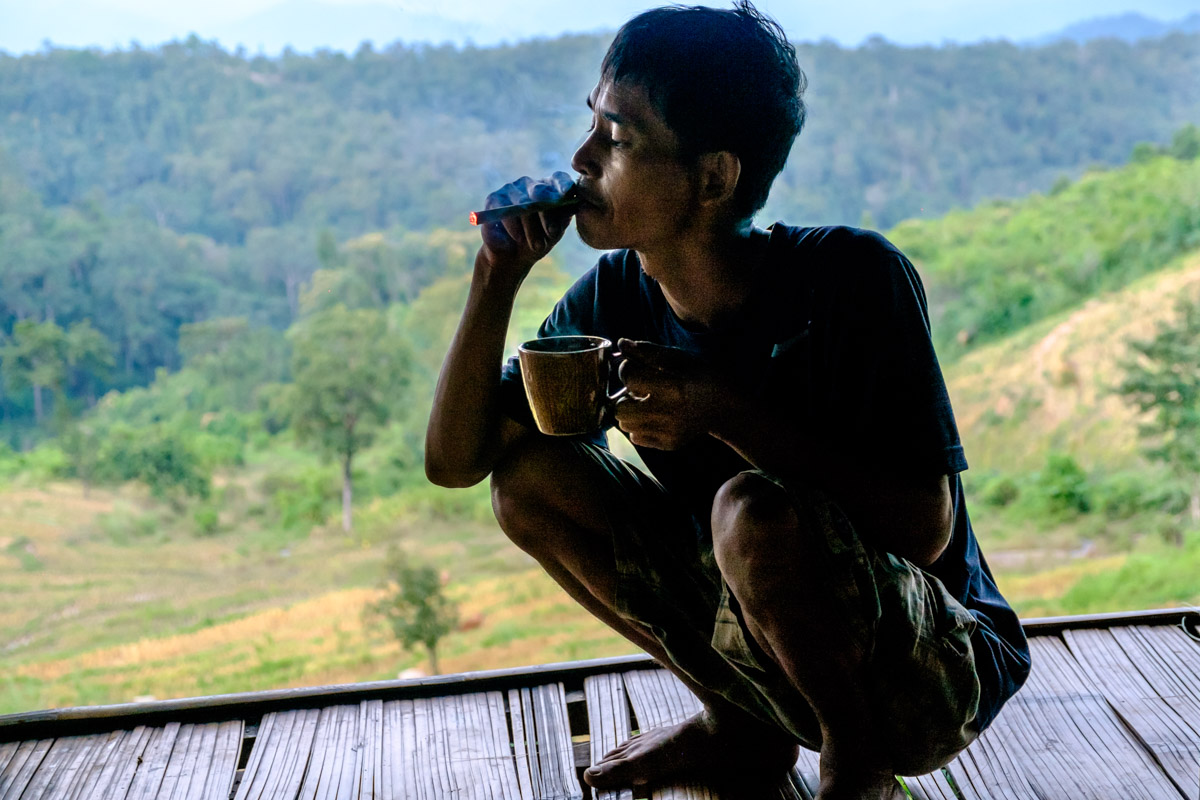 Now, how to get there? How to approach locals without interfering with anyone's private space? Would it be appropriate? Would they accept you?
If you love connecting with locals, you there is something fascinating about being able to observe, learn, and be part of local life when you travel. In the case of the White Karen hill tribes, you can visit them without disturbing their daily routines only with a local & responsible guide.
As a matter of fact, there are no marked paths in Northern Thailand. Moreover, locals don't speak English, and some of them don't even use proper Thai, instead they use distinct dialects.
White Karen hill tribes
If there were a single lesson you can learn on your trip to the White Karen hill tribes, then it would be about the priority of privacy. Being a responsible guest at someone's place isn't only about having a courteous conversation with villagers and being respectful to their environment, but it is more about admitting humbly that the locals will decide how much you will interact with them, and how much (if ever) you'll be able to learn about their lives.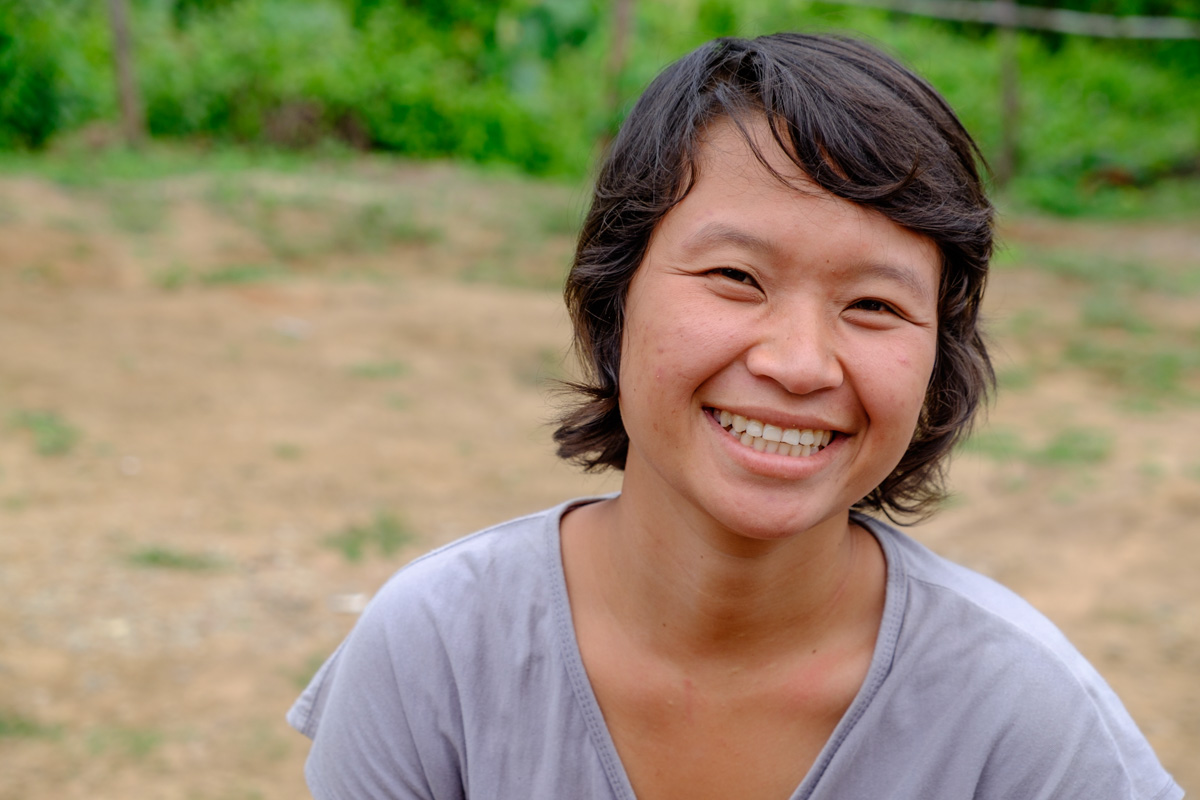 It's not up to you, your curiosity that drives you, or a guide who can translate everything, but rather the local people of the hill tribes who will set the rules you'll need to follow when entering their territory. And that's completely fine.
During the trek up to the hill tribes, you will be rewarded with simple bamboo mat for your sleeping, a bucket shower that's going to be a treasure after a day of biking and trekking, and the fireplace your hosts might give you to use at your disposal so the guide could prepare a dinner.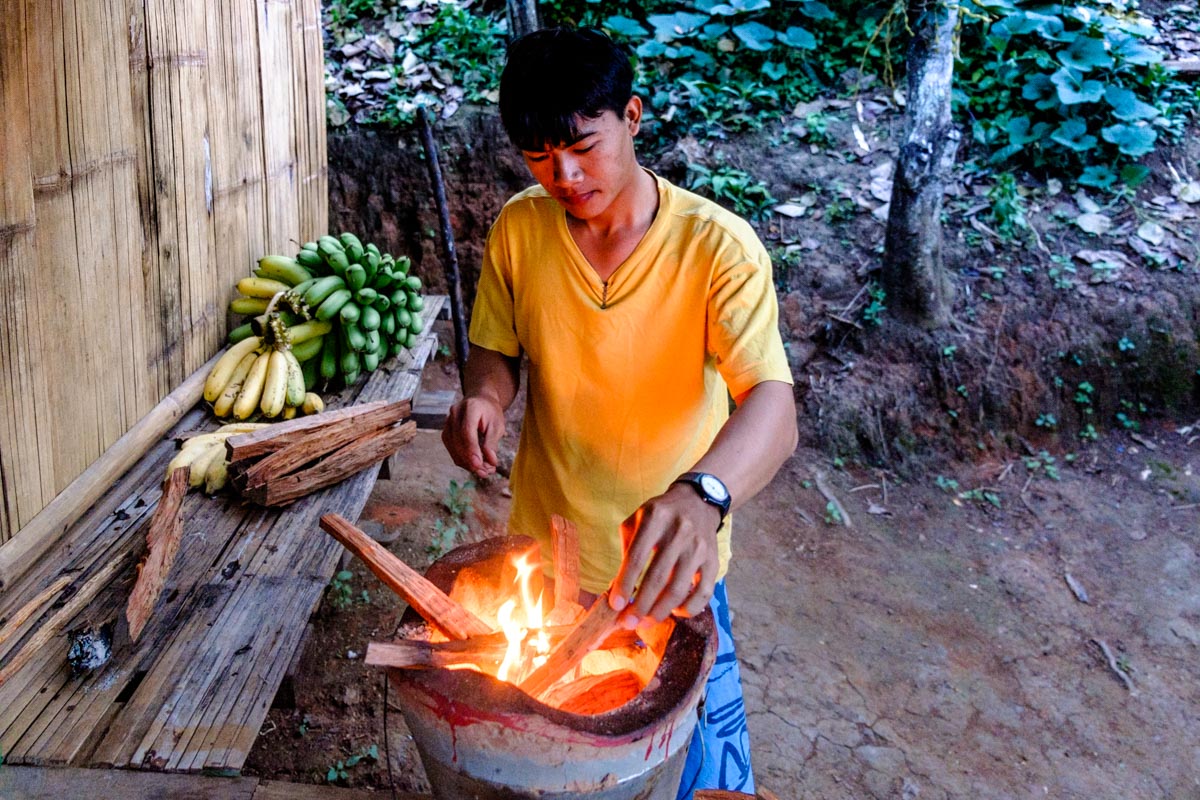 You will be only silent guests there. Get ready that when a hill tribe family decides to dine alone, you will need to put up with that and cook and eat your food alone, too. Do not get surprised when locals will not feel like sharing even their names with you. They are not being impolite, only shy.
Local life of hill tribes in Thailand
You will see local women wearing beautiful traditional clothes, and not because you are tourists and they want to show off. They put on their colorful skirts and dresses because this is what they do every day, regardless of whether there is a Caucasian stranger in their village or not. Actually, they never expect one there.
You meet busy farmers working on their fields, harvesting their rice, not because you pay an entrance fee for an outdoor attraction where somebody demonstrates life without machines. You see those people working hard because they are dependent on their crops, so they can maintain their families.
You might be lucky to watch elders playing with their grandchildren on a verandah, a lonely lady weaving on a wooden porch, a young mother hanging the laundry, a wife setting the fire while her husband is rolling a giant tobacco cigar …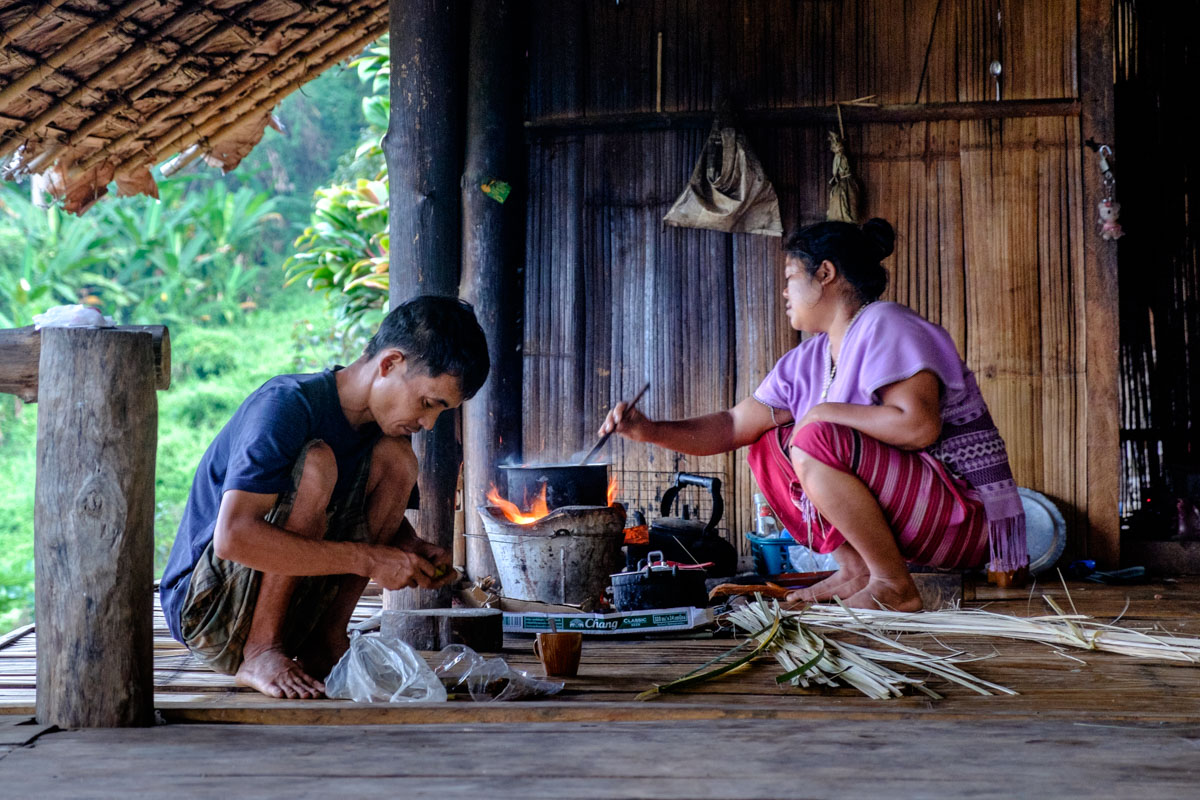 These are the precious serendipitous moments of travel. These are the moments where you feel connected to the local life immensely; you stand aside in silence when necessary, and talk to people only when they feel comfortable. The same happens with taking pictures and videos of them. And the Karens? Some of them aren't used to cameras, so they either hide behind the windows or giggled, which makes them so adorable.
Who are White Karens?
The origin of the Karen people remains a mystery. They say the original roots of the Karen hill tribes (Ka Nyaw Wah in Karenic) in Thailand go back to Tibet and the Gobi desert, although, many families living in Northern Thailand nowadays migrated from Burma when escaping the communist regime a few decades ago.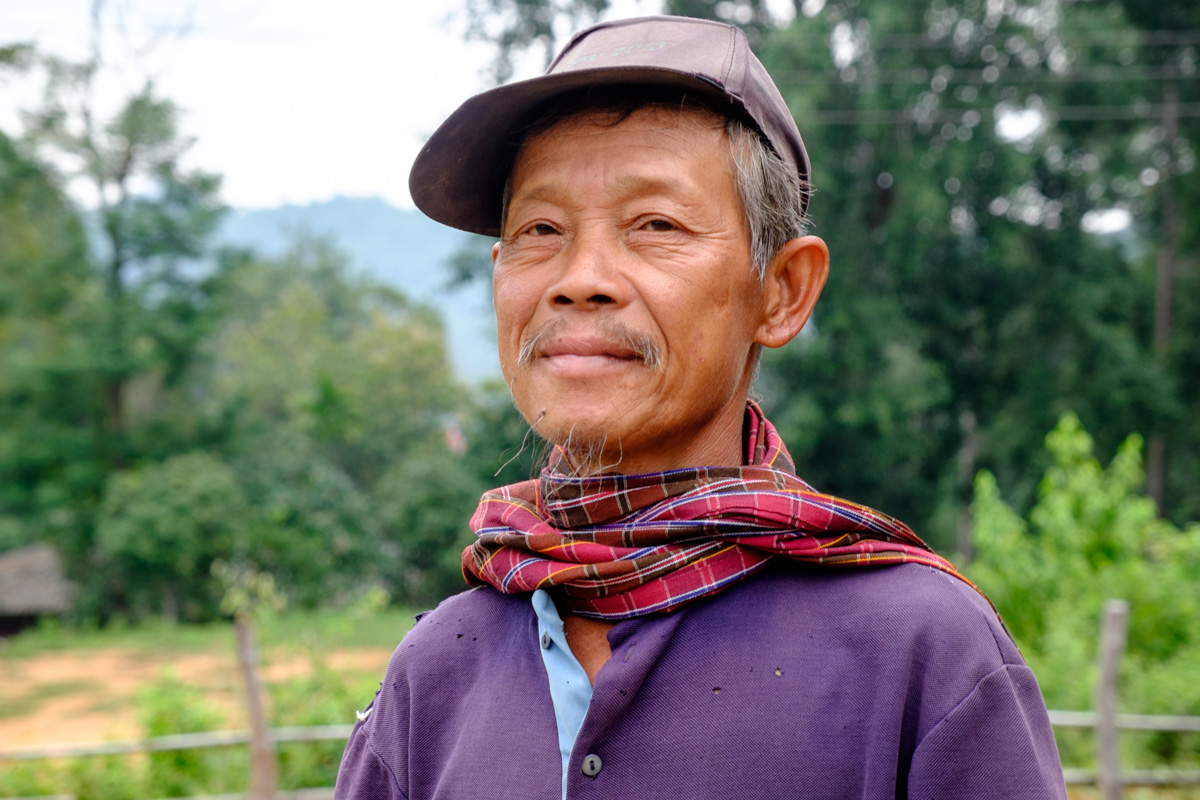 Why "white" Karen? It's a tradition that an unmarried Karen girl wears a long white V-neck tunic, the same that you can see in our video below.
Talking about traditions, Karen people were primarily animists. Nowadays, some of those families who live in the lowlands and are in contact with Thai people, started practicing Buddhism. Others converted to Christianity thanks to missionaries in the area. Honestly, to see a Christian Church among bamboo huts in far-flung hills in Thailand is … quite an unordinary view.
Land over everything
The families in Huy Huai and Huy Kao Leep villages have been hosting travellers only for the past few years. This area is still pretty untouched by tourism, as it's not easily reachable. Some families make money primarily from providing accommodation for tourists (although, this source of income is very limited since they can only accommodate only 4-6 people) and selling plums and chilies that they grow.
Another potential source of income for the Karens, is the option to join the Royal Project. They can work on organic farms supported by the government that help local communities exclusively with marketing. Farmers earn 50% from the sales, and half of this money they use for buying seedlings for the next planting season.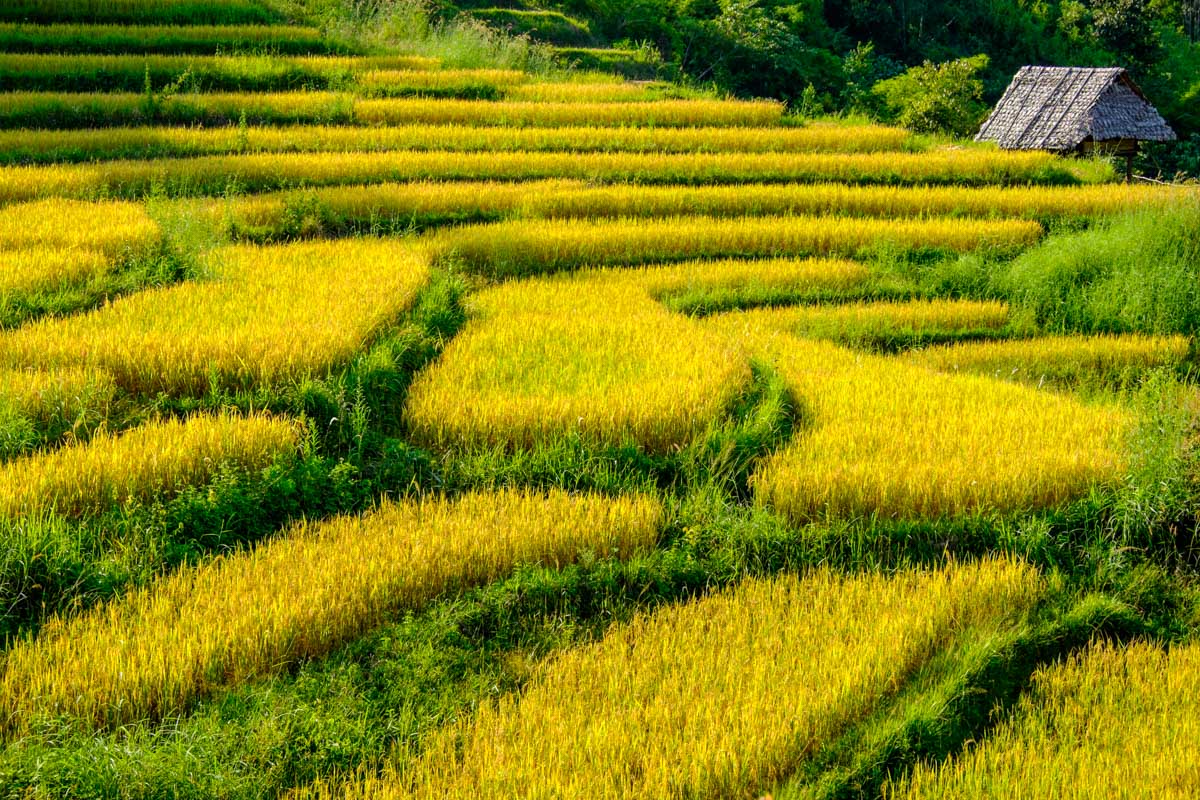 Karen people are very well known for rice cultivation and crop rotation. Basically they grow garlic, onion and rice in the same fields during different seasons; this is also how they keep the soil fertile and avoid soil erosion.
Visiting White Karens with a local guide
To be rewarded with the genuine experience of the White Karen hill tribes, you'll need to toil and moil, hike for two days to reach the families living in these remote uphill villages. Which also means that if you visit hill tribes in Thailand off the season, you might meet no other hikers in the jungle, apart from a few travellers at the waterfalls. The roads are quiet most of the time.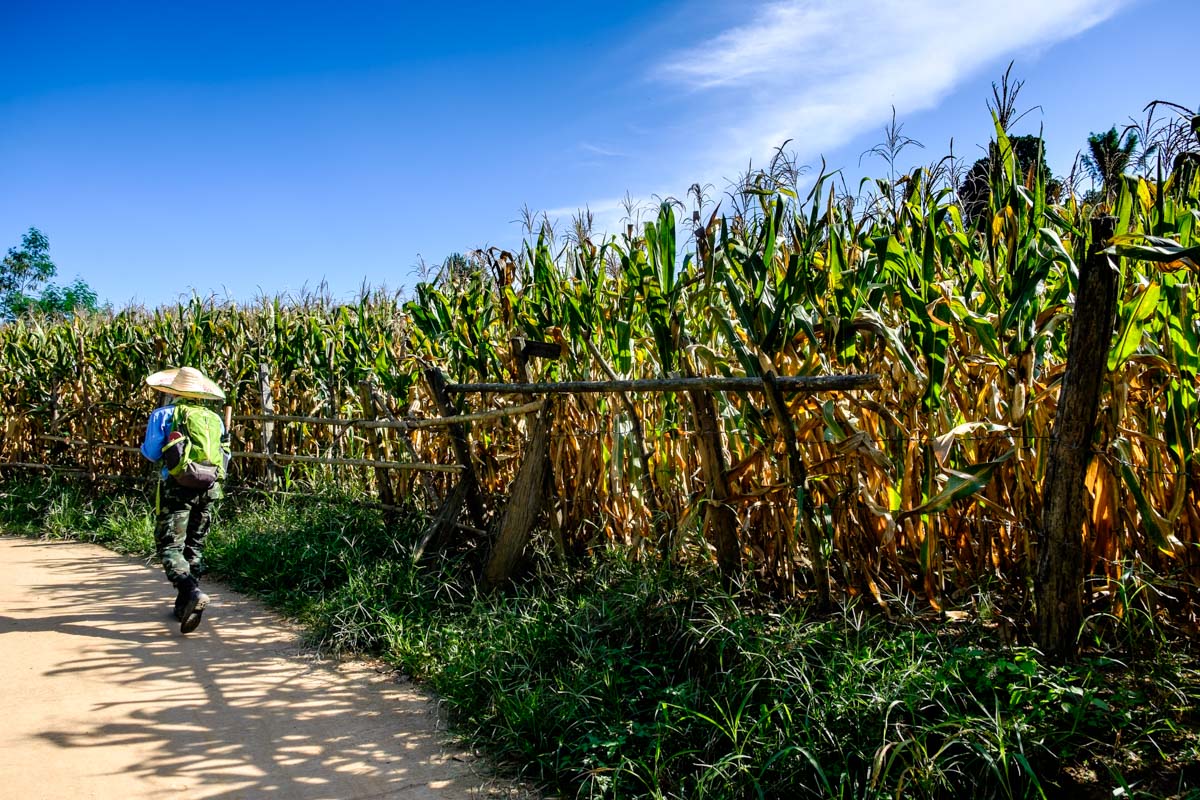 George, a guide we traveled with to visit White Karens, used to be a Buddhist novice for six years. George came from a poor family, so he entered a monastery to get free food and education. Later on, he had this dream about working in the tourism industry, so he went to study, got a scholarship in Canada, graduated with his studies in tourism from Chiang Mai, and now works as a free lance guide in Northern Thailand.
He indeed knew how to entertain and make us forget about the heat and tiredness. Whenever he noticed we needed a break, he stopped and talked about any plant he found around. That's how we learned to recognise a remedy for stomachache, fever, and a bubble tree with leaves you can blow bubbles through… He even made a bow and arrow from branches of a random bush, a helicopter, and bouquets of flowers from pandan leaves. Can you imagine the childhood of this guy?
What to expect from a trip to White Karen hill tribes with Rickshaw Travel?
* 2.5 hours of biking through Thai villages, longan and ginger plantations
* Visiting two Buddhist temples along the way
* Two days of trekking through a jungle
* Hiking via remote villages
* Learning about the agriculture of the Karen People
* Visiting a Royal Project organic farm
* Staying overnight in basic & clean bamboo huts
* Taking a refreshing dip in a cool waterfall
* Visiting a local cemetery that offers cultural insight into the local culture and its history
* A stop at a local community centre with various crafts made by village elders
* Bamboo rafting
* Shopping at a local food market
* Meals prepared by your guide
What to bring with you
* Good trekking shoes

You're going to trek in a wild jungle. Part of the path will be quite steep and not paved. We travel with Keen shoes and Teva trekking sandals, which are also great in hot weather.
* Comfortable convertible pants

You'll sweat a lot in the forest, but it might get colder in the evening and during the night.
We use NorthFace Convertible pants on our trips, and they are just perfect for varying weather conditions.
* Sleeping bag

If you visit White Karen hill tribes on a private tour like us, the guide will carry a sleeping bag for you (which we even didn't know at the beginning,) but if you do a tour with a small group, you'll need to bring your own. We slept in a comfortable silk sleeping bag, very light, yet it kept us warm at night.
* Mosquito repellent

Just pack it. You WILL need it.
* Headlamp

Homestays in the mountains come with little or no electricity. You'll need it mainly for using the toilette at night.
* Buff headwear

It'll keep your forehead dry while trekking; and you can use it as a scarf at night when sleeping in a colder place.
* Day backpack

Opting for a light daily backpack makes trekking easier.
* Waterproof bag

If you want to bring a mobile, your travel documents, or a camera with you on a bamboo raft, then consider bringing a reliable waterproof bag.
Insider tips for your visit to White Karen Hill tribes
* You will bike and do bamboo rafting WITHOUT your backpack. It will be stored in a truck and the driver will give it back to you at the point where you start trekking/finish rafting.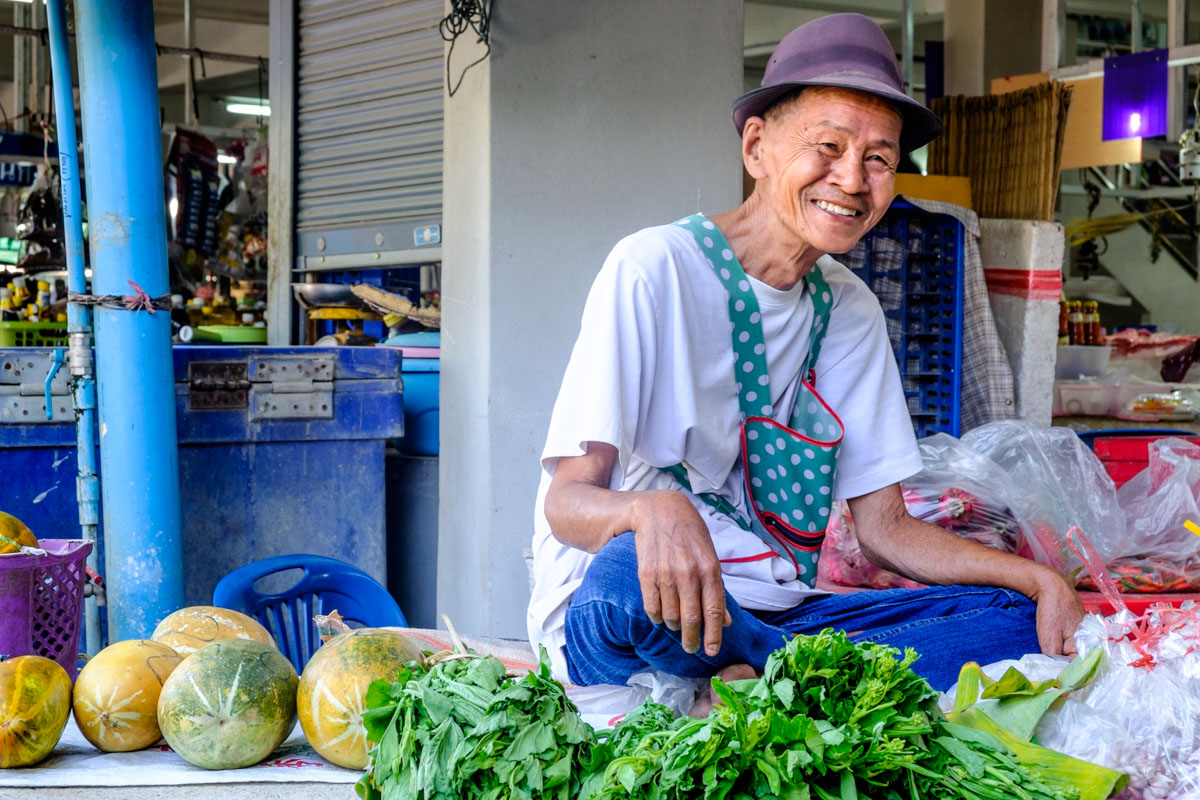 * Water is provided during the bike ride. For the rest of the trip, you will be able to buy it at the home stays.
* There will be a few groceries and a local market where you can buy some snacks before entering the jungle, and you'll find a small stall with some snacks also in Huy Huai village.
* You can buy water, soft drinks, and canned beer in all home stays and near the waterfalls.
*We suggest bringing small notes of 20-100 bahts ($0.60-2.80) to pay for water/snacks in the villages.
How to visit White Karen hill tribes in Thailand?
This is the most important question when it comes to planning your visit to the Karen hill tribes in Thailand. If you're looking for a genuine local experience with an expert who knows the area and the culture, then choose an agency that will be able to deliver it.
We partnered with Rickshaw Travel, a travel company based in Brighton, UK that collaborates with local guides. They highly support the idea of responsible travel, and create the itineraries that will take you off the beaten path all around the world, while also supporting local businesses.
We met their team personally in Brighton, and their passion for making authentic tours with a focus on helping the locals and small group travel was extremely admirable. Moreover, they recently cancelled all their elephant riding activities in all their trips. This is a huge step forward!
To learn more about the itinerary of this trip, have a look here. To check out all meaningful travel itineraries they offer, head to the official website of Rickshaw Travel.
Important note: The trips can be arranged as either a group trip (up to 10 people) or a private trip. Make sure you discuss both options with the Rickshaw Team.
Thanks to the fact that the Karens remain shy, yet extremely welcoming, and because they have kept their daily routines used for decades without the influence from tourism in close areas; they are who they are— The Native Tribe.
Like it? Pin it!

Disclaimer: Our trip to the White Karen hill tribes was possible thanks to Rickshaw Travel. All opinions, lessons about the tribe, jungle plants, and effort put forth to get through the woods are our own.
Some of the links above are affiliate links, which at no extra cost to you, will earn us a small commission and reduce the costs of running this site.