Let's face it, the beaches in Colombia are simply gorgeous. Colombia has the benefit of two coastlines, one on the Caribbean Sea and the other on the Pacific. Therefore, it is hard to know what the best beaches in Colombia really are.
I recently spent 6 weeks exploring Colombia, and in that time I checked out a lot of different beaches. In fact, some of the best places to go in Colombia are beach destinations!
Where are the best beaches in Colombia?
Amazing beaches are located throughout the country. While some people argue that the Pacific Coast is the best as it is less touristic and developed, it is harder to get to and is more dangerous than the Caribbean. For those reasons, in this post, I'm going to stick with beaches that are on the Caribbean side and more commonly visited by tourists.
Out of all of the different places to visit in Colombia, these are three amazing Colombia beaches (my personal favorite) that you will definitely want to check out! If you are interested to know where to stay in Colombia, we recommend some of the best hotels for different budgets.
When we travel, we book our hotels through TripAdvisor, one of the best websites to compare prices.
We also use a lot AirBnB to book local apartments. If you have never used AirBnB before, you can have a $40 discount for your first booking through this link.
Always make sure you travel with travel insurance! Be adventurous, but not careless.
Check out some of the most reliable insurance companies out there: True Traveller if you're European and World Nomads if you're from elsewhere.
If you love animals and you prefer going local during your travels, try housesitting, which is an amazing way to travel the world while taking care of the pets whose owners are on vacation. If you use TrustedHousesitters with this link you'll get $20 discount on annual membership.
Like it? Pin it!

1. El Cabo San Juan, Tayrona National Park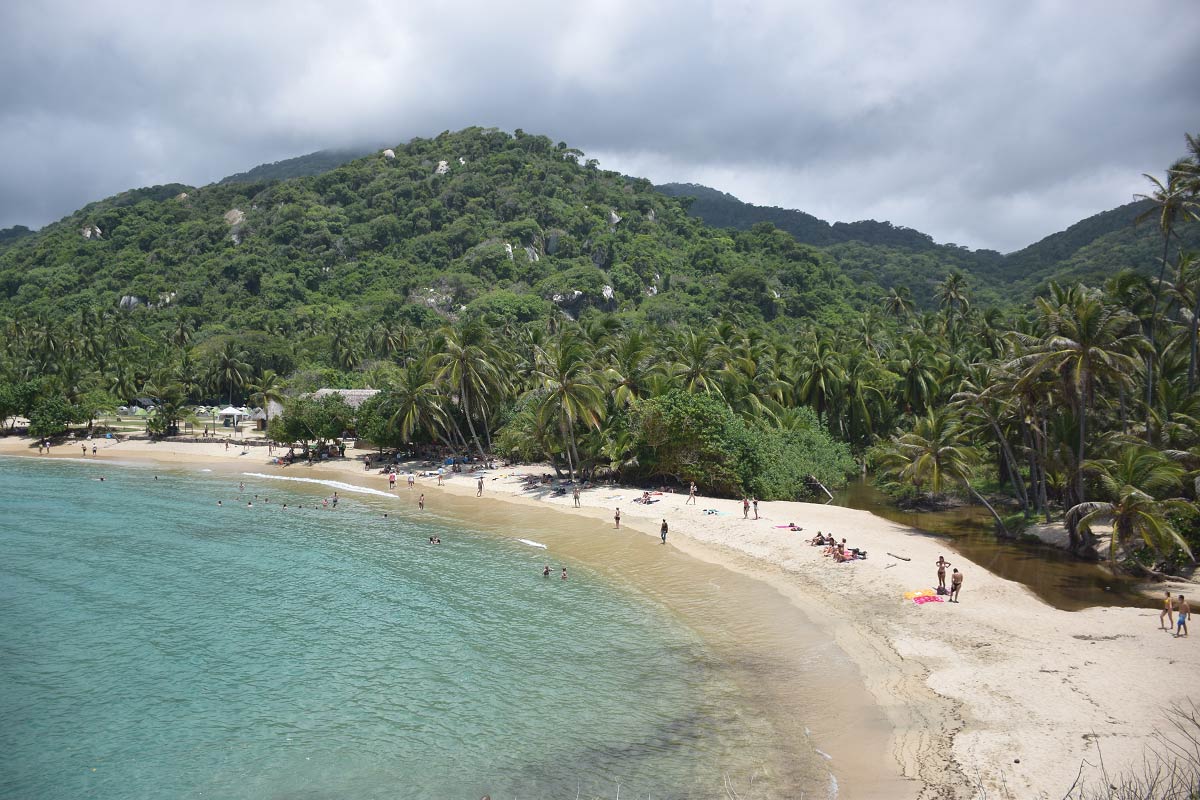 In terms of Colombia destinations, Tayrona National Park is one of the most popular. This is for good reason as it is an absolutely gorgeous park with walking trails through the jungle, along with the beach, and over rivers. Everywhere you look is picturesque.
Only two hours walking from the entrance of Tayrona National Park is a beach called El Cabo San Juan. El Cabo San Juan is made up of two different bays with calm turquoise water and fine white sand.
The special thing about El Cabo San Juan beach is that there is also a campground at the beach making it possible (and ideal) to spend a night or two there.
Hammocks, tents, and cabins are all available for guests. I must warn you, the accommodation is very basic and wouldn't make a luxury traveler very comfortable, but what is lacking in terms of accommodation is made up with such a gorgeous beach!
A basic restaurant and bar are also near the beach in case you get hungry or feel like enjoying the view with a "cerveza" in hand.
But besides the restaurant and campground, Cabo San Juan is isolated in the jungle and only accessible by walking or horseback. Visiting Cabo San Juan is truly a unique experience.
During the summer months in the afternoons, Cabo San Juan beach can get quite busy. I didn't find this to be a problem when I was there as there are actually two beaches and they are huge! There was plenty of space for everyone and it didn't feel too crowded.
If you feel like exploring, around Cabo San Juan there are some other amazing beaches too. Only 30 minutes walking from Cabo San Juan is a beach called La Piscina. It is smaller but often less busy and is similar to Cabo San Juan in the sense that it has very calm water, ideal for swimming!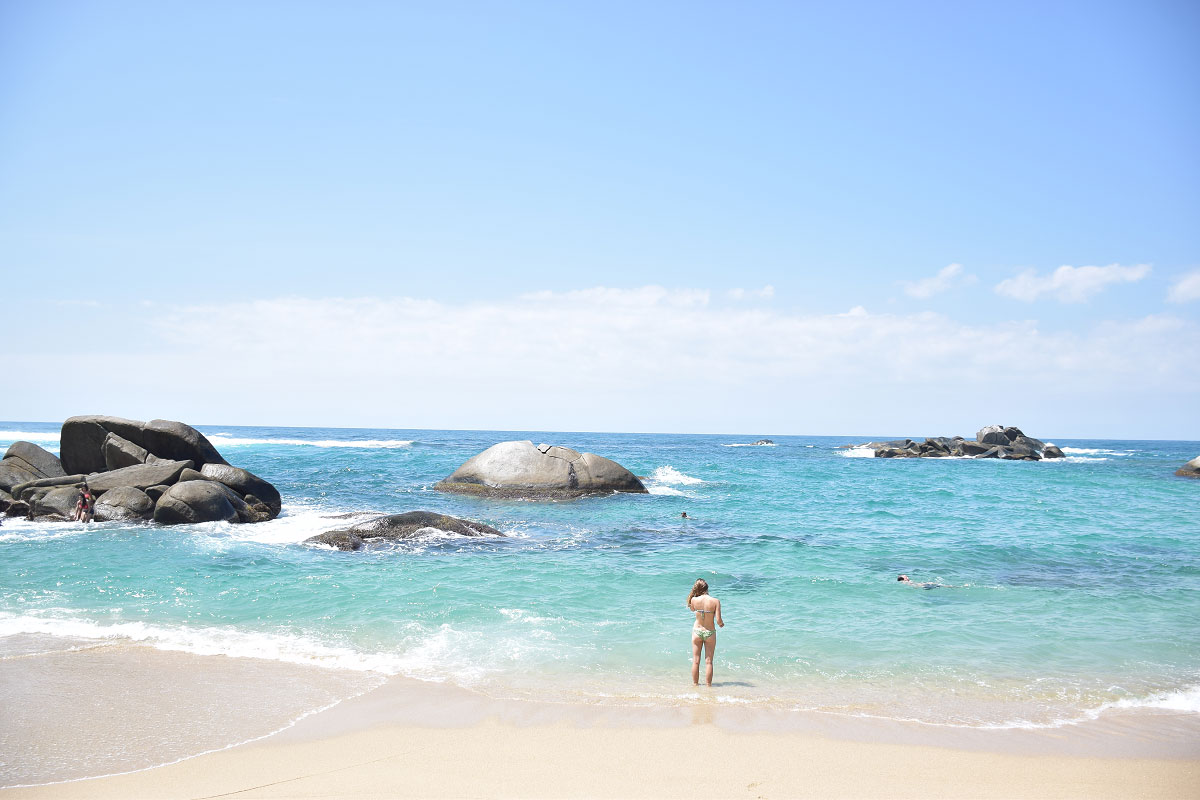 Where to stay in El Cabo San Juan
Luxury > Villa Playa Los Naranjos
Villa Tayrona Los Naranjos has 6 comfortable rooms with a capacity of 3 persons, with a double and single bed. Each room has their own private bathroom, ventilators, air-conditioning, a safe box.
They also have swimming pool, offers free parking, free Wi-Fi. All accommodation includes a free breakfast. Check latest price on TripAdvisor.
Playa Los Angeles offers a rustic accommodation with direct access to a private beach. The rooms feature hand-carved furnitures, they also have hammocks. Some of the rooms have shared bathroom and others feature an outdoor shower with landscape views.
Traditional and local cuisine are offered at the hotel´s à la carte restaurant. Fresh fruit juices are also available from the bar and a continental breakfast buffet is served daily. Free parking is also available on site and an airport shuttle service can be arranged, for an additional cost. Check latest price on TripAdvisor.
Budget > Kintari Eco/Adventure
Kintari Hostal boasts a shared kitchen, a terrace, provides guests with a barbecue and features a restaurant. Rooms are equipped with a wardrobe and their daily breakfast offers àla carte and American options.
Various activities are also available in the surroundings, including cycling and hiking. Check latest price on TripAdvisor.
Get more inspired by more articles from South and Central America:
2. Playa Blanca, Colombia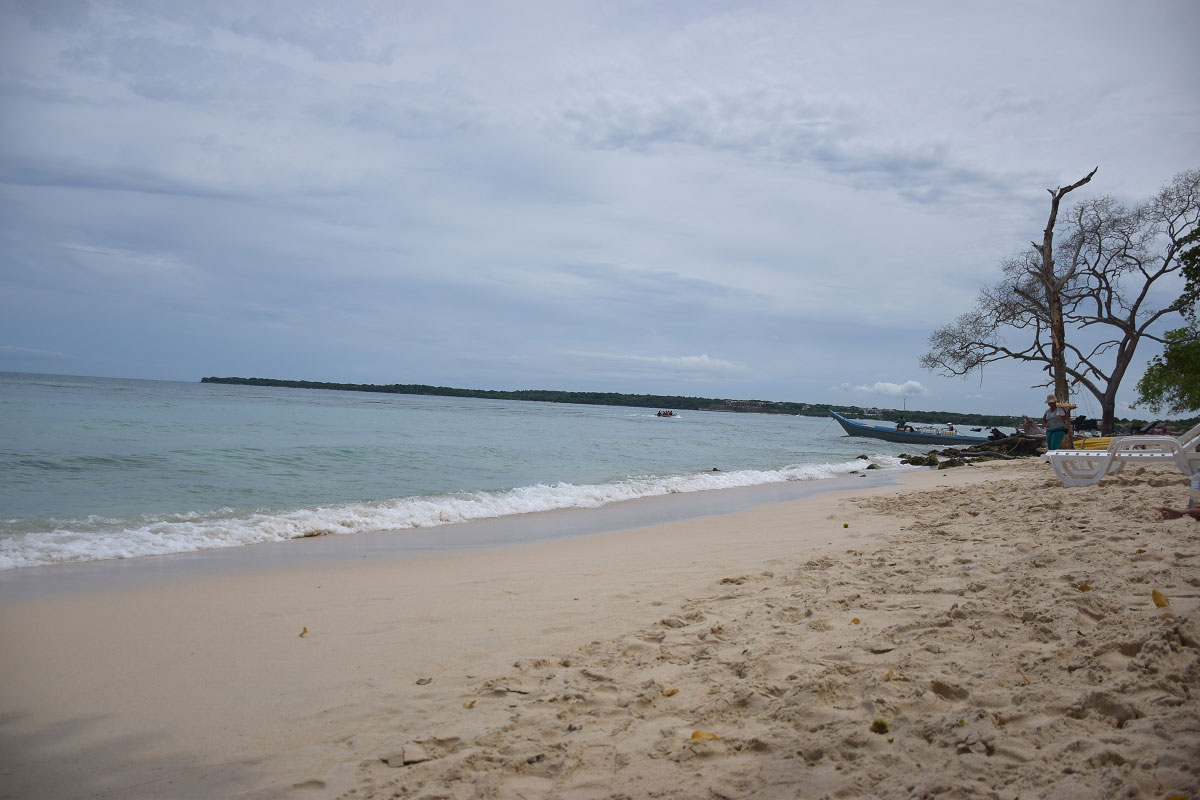 Playa Blanca beach is perfect for those who want a nice beach but don't want to travel, or walk, very far. It is located only a 45-minute drive from the city center of Cartagena. Playa Blanca is considered to be one of the most beautiful Cartagena beaches.
From your accommodation in Cartagena, a shuttle or day tour can be arranged to Playa Blanca. We went with the shuttle organized by Hostel Mamallena, it costs COP 50,000 and departs at 8:30 am or 1 pm, and returns to Cartagena at 11 am or 3 pm.
Playa Blanca is a long beach with a narrow area of sand due to the restaurants and hostels that have been built. Vendors walk along the beach trying to sell tourists various souvenir-type items, but if you pretend to be sleeping they ignore you.
Besides just swimming and taking in the views, there are boat rides, snorkeling, and jet skiing available at Playa Blanca.
The many restaurants make for a great place to have an affordable lunch and cocktail on the beach. The restaurants and hostels aren't fancy by any means, but have the tropical island laid-back vibe that fits in perfectly with the scenery.
For those who don't mind sleeping without air conditioning, the hostels at Playa Blanca are a good option if a day trip doesn't sound like enough time for you.
If you are just looking to relax without salespeople and restaurants around, walk along the beach to the right of where you get dropped off. If you walk far enough (20 minutes or so) you will find yourself in total peace and quiet.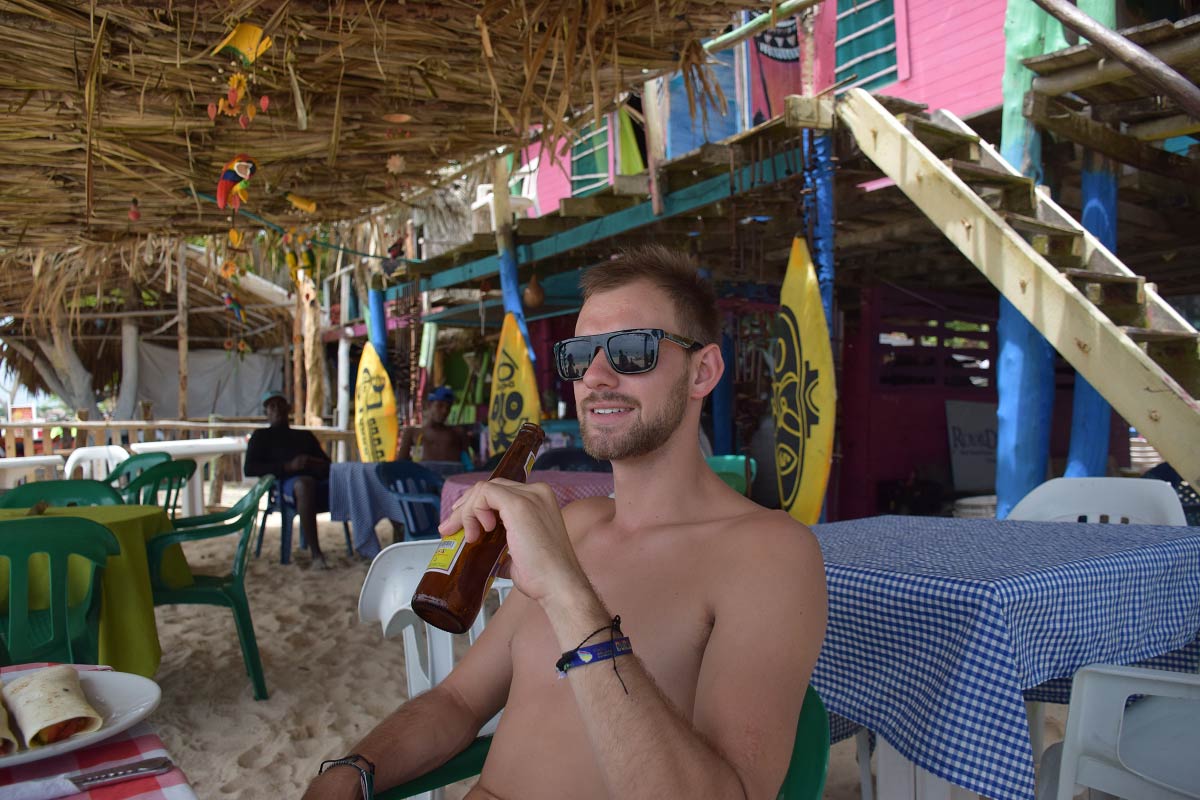 Where to stay in Playa Blanca
Luxury > Casa de Leda – a Kali Hotel
Casa de Leda is a botique hotel Colonial style with modern decor. They have a spa, a terrace with bar and an indoor pool. It boasts of their panoramic view of the Cathedral.
Their rooms and suites each have airconditioning, their own private bathrooms, flat-screen cable TV's, free Wi-Fi and free international calls. Check latest prices on TripAdvisor.
Aluna Casa y Cafe offers airconditioned rooms that are nice, clean, and spacious. WiFi is available but not all areas. Proper identification is required including children.
They have a 24-hour check-in. It is a non-smoking hotel and not pet-friendly. They have daily housekeeping and cook-to-order food. Check latest prices in TripAdvisor.
Budget > Tiki Hut Santa Marta Hostel
Tiki Hut offers a super relaxed atmosphere. They have clean and private rooms with great bathrooms. All rooms have their own bathrooms. Full breakfast is included in each accomodation.
There is also a common lounge space with a pool and pool table. Check latest prices in TripAdvisor.
And last, but certainly not least…
3. Rocky Cay, San Andres Island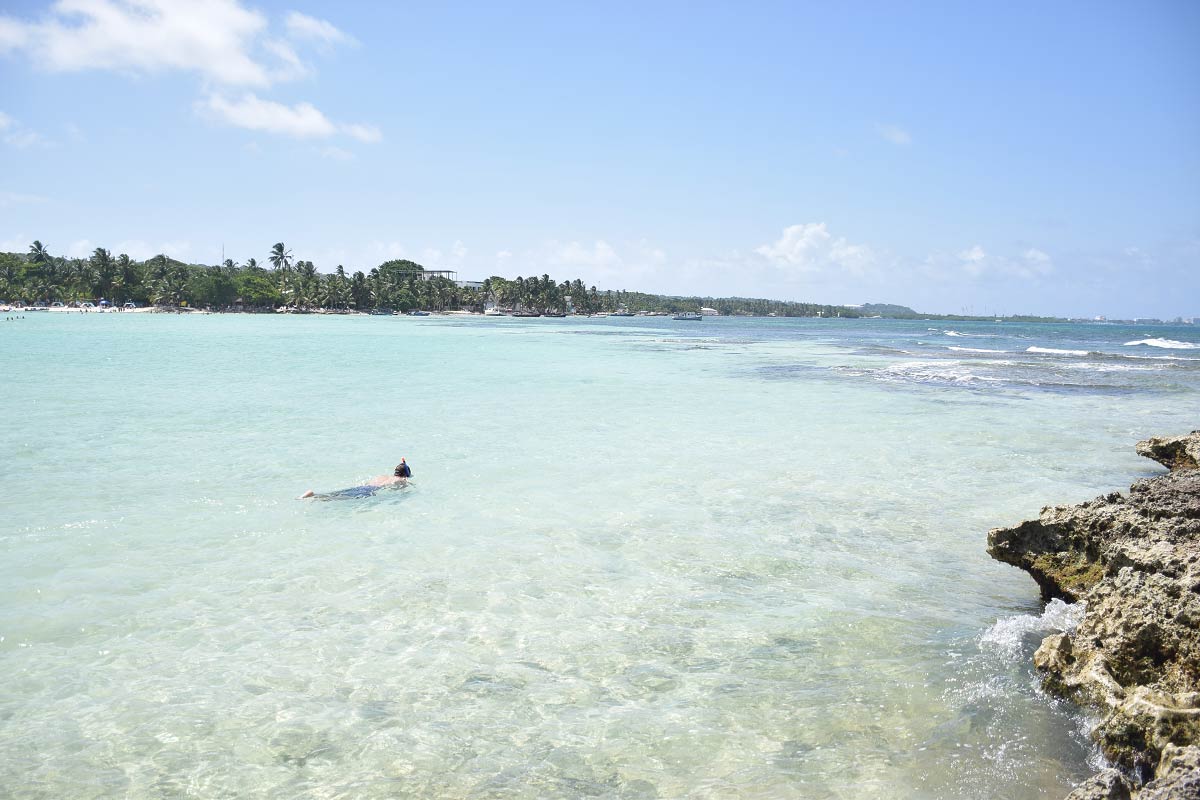 If someone were to ask me where to go in Colombia, a magic little island called San Andres Island would be the first thing I would answer. If you want a truly special beach location, then the island of San Andres was made for you!
This tiny island technically belongs to Colombia but it is actually closer to the coast of Nicaragua. Because of its remoteness, San Andres not only has pristine beaches, but a unique culture formed by the combination of Colombian and Jamaican people who live there.
Visiting San Andres Island in Colombia can only be done by plane. However, it is a short 1.5 hour flight from Cartagena and very affordable as well.
I paid COP 200,000 for a round trip from Cartagena with the airline Viva Colombia. If you have a few days to spare while in Cartagena I highly recommend making the trip to San Andres.
There are more than a dozen amazing beaches on San Andres, but my personal favorite was called Rocky Cay. Despite the name referring to it being "rocky" the beach is actually beautifully sandy.
There are many palm trees around for much-needed shade as well as cute little cocktail and coconut juice stands all around.
The thing that makes Rocky Cay so special though is that at low tide it is possible to walk across a sandbar to a super tiny island. You can relax on the island or go snorkeling around it!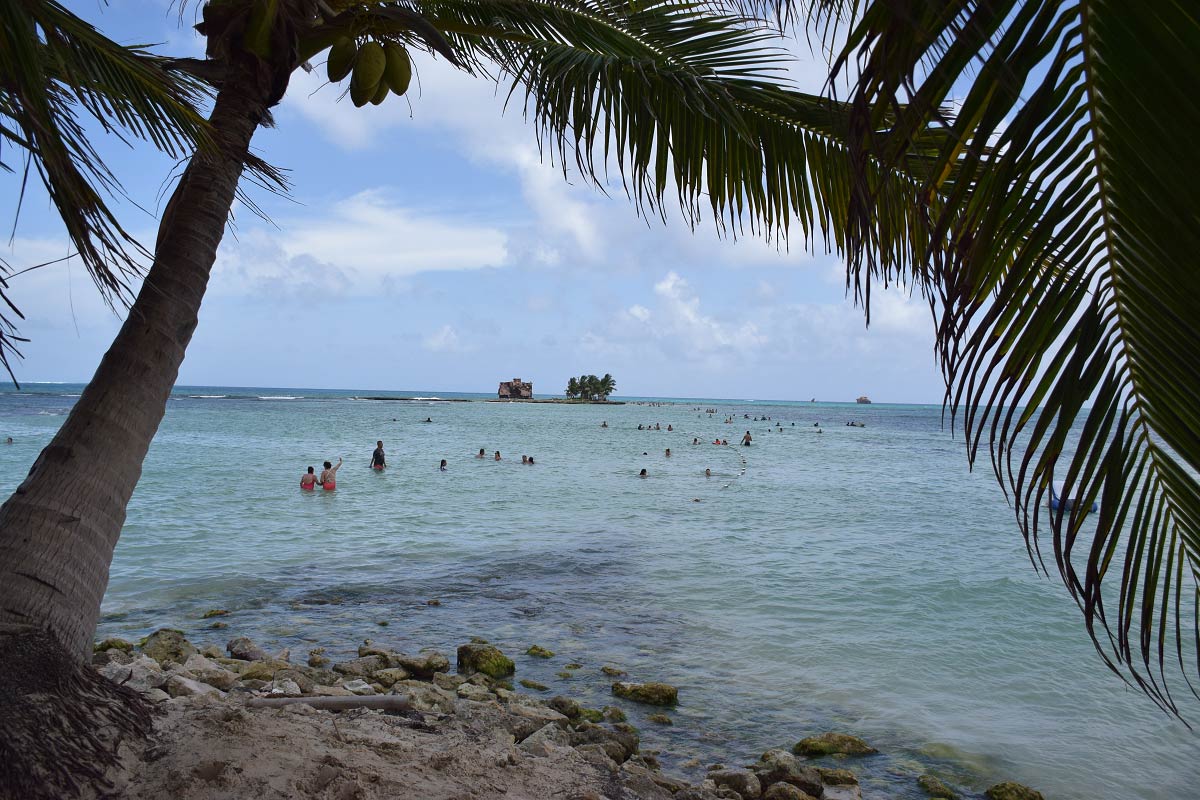 Where to stay in Rocky Cay
Hotel Arena Blanca offers rooms with balconies decorated with warm hues. Each room is fitted with seating areas and minibar, airconditioned, private bathrooms with toiletries. Breakfast is included in the accomodation including tropical fruits and fresh juices. Drinks from the bar can also be enjoyed by the pool.
Night shows are featured every night. Dance classes are also available. Massage services can also be requested with an additional fee. Check latest rates in TripAdvisor.
Sunset Hotel offers a tranquil environment, rooms are very well lit, have tiled floors, airconditioning and has a panoramic view of the sea. Breakfast is served daily with an option to order international dishes at their restaurant.
The hotel also has their own swimming pool open for guests. Transportation rentals like bike, motorcycle, and car rentals are available. Snorkelling gears are also available. There's free WiFi in common areas and alloted parking spaces. Check latest rates in TripAdvisor.
Budget > Hostal Mom Mariela

Hostal Mom Mariela is a country-style guest house that offers rooms with air-conditioning with free Wi-Fi and own private bathrooms. Services like luggage storage, bicycle rentals, tour vehicles are also available. The beach is just a 10-minute walk away. A more authentic stay on the island. Check the latest prices on TripAdvisor.
Travel inspirations here:
Like I said before, San Andres was just magic!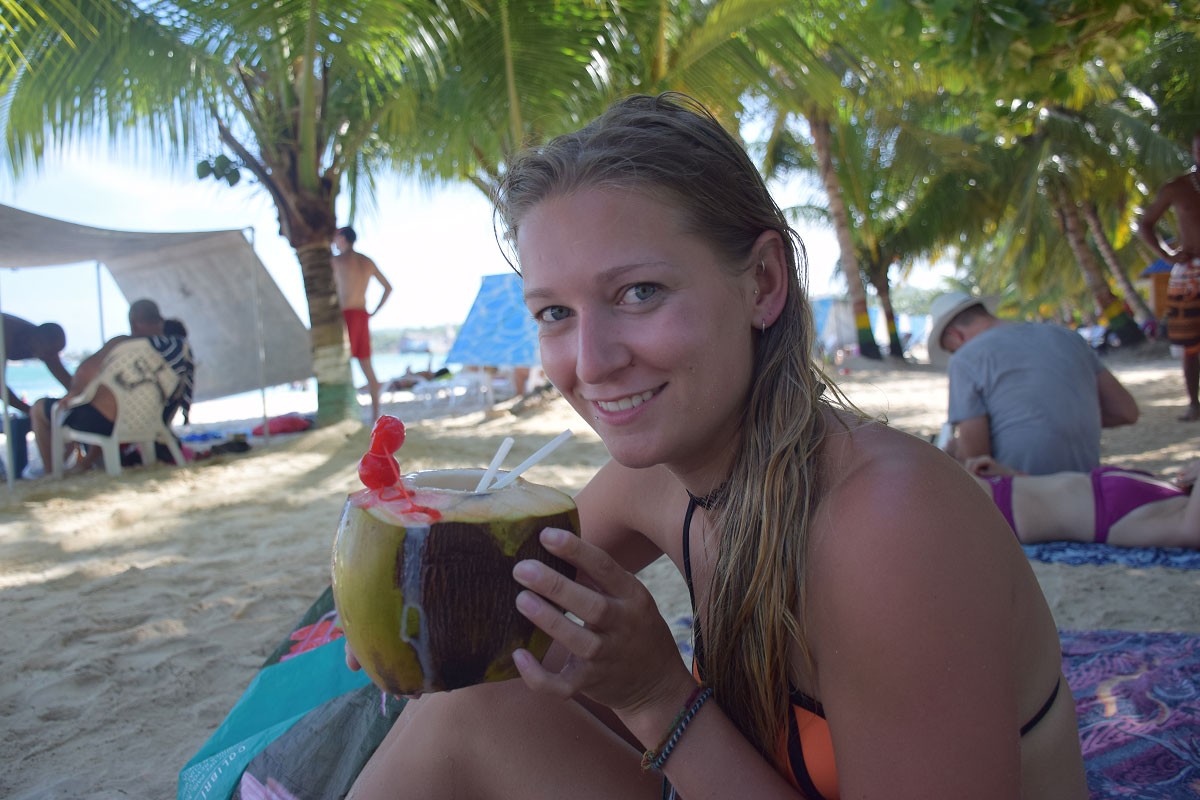 There you have it, what I think are the three best beaches in Colombia! Now you know all the best places for your Colombia beach vacation!
Pack you swim suit, a towel, and get ready to visit Colombia, one of the biggest up and coming tourist destinations in the world! With a mix of culture and incredible beaches, Colombia is sure not to disappoint!