Bali, the Island of the Gods, evokes dreams of idyllic blue oceans, beautiful sunsets, and verdant green rice paddies. It's a culturally rich and spiritual island full of friendly locals. With so many incredible possibilities to choose from, deciding where to stay in Bali is not an easy task.
Each of the five neighborhoods below has markedly different feels making the island a perfect paradise for so many; use this as a guide for where to go in Bali.
Bali has some of the most unique hotels in the world. There is a creativity that the Balinese have that sets them apart from the rest. It's one of the things that I like most about holidaying there so whenever I'm booking my Bali accommodation, I always look for the smaller, more unusual places.
However, I have added all types of lodgings here because the Island of the Gods has some incredibly opulent resorts not to be missed.
From cheap Bali villas to luxury hotels, Bali has something for every budget and lifestyle. Read on and find out the best places to stay in Bali.
If you are interested to know where to stay in Bali, we recommend some of the best hotels for different budgets.
When we travel, we book our hotels through TripAdvisor, one of the best websites to compare prices.
We also use a lot AirBnB to book local apartments. If you have never used AirBnB before, you can have a $40 discount for your first booking through this link.
Always make sure you travel with travel insurance! Be adventurous, but not careless.
Check out some of the most reliable insurance companies out there: True Traveller if you're European and World Nomads if you're from elsewhere.
If you love animals and you prefer going local during your travels, try housesitting, which is an amazing way to travel the world while taking care of the pets whose owners are on vacation. If you use TrustedHousesitters with this link you'll get $20 discount on annual membership.
Like it? Pin it!
Where to Stay in Bali: The Best Hotels and Towns
Where to stay in Ubud
Set in the middle of rice paddies, Ubud is considered the heart and soul of Bali. It's where you can let your inner freak flag fly, and no one will care. The town caters to the artsy set with every type of class you can imagine from jewelry making to balancing your chakras; it's all there.
It is a significant yoga hub, so you're as likely to see people wearing Lululemon gear as you are to see women in traditional garb walking to the temples for their daily prayers. Besides having some of the best resorts in Bali, the streets are lined with fantastic restaurants, museums and galleries.
Famous jewelry designer, John Hardy, lovingly restored 11 antique Javanese bridal homes and turned them into a boutique eco-hotel. Even the pool is all natural without the use of any chlorine or cement.
Have a cocktail at sunset overlooking the rice paddies, get a spa treatment or enjoy dinner from the organic garden, nothing has been spared to make this a luxurious place to stay. Check the latest price on Tripadvisor.
Luxury > Viceroy Bali
Just 10 minutes away from the hustle of Ubud, set on top of a ravine, amidst the jungle and rice paddies, the Viceroy Bali is the ultimate in luxury.
If you don't feel like making the drive from the international airport, a private helicopter can be arranged to pick you up and drop you on the resorts exclusive helipad. All 25 villas have private pools with a view of the valley below. Check the latest price on Tripadvisor.
Mid-range > Taman Rahasia
Taman Rahasi means secret garden, and it is hidden amongst the rice paddies near Ubud. The free-standing rooms are part of a traditional Balinese home compound with four-poster beds and open-air bathrooms. The owner of the property is a traditional healer and offers various treatments at the spa. Check the latest price on Tripadvisor.
Budget > Ubud Inn Cottages
Located right in the heart of Ubud, this small budget hotel is a clean and secluded oasis surrounded by tropical gardens. Spa, swimming pools and restaurant on site. Check the latest price on Tripadvisor.
Join a local tour in Ubud:
Where to stay in Seminyak
This stylish and upscale beach town is the shopping mecca of the island and also the most touristy. You can find everything from bikinis to furniture to unique art and anything else you can think of…or never knew you needed.
It's got a bumping nightlife with hectic and crowded streets but with spas on every block. The trendy restaurants and bars range from cheap and cheerful to five stars with white tablecloths. There are multiple beaches in the area to watch the sunset with a cocktail in hand or learn to surf.
Some of the best hotels in Bali are found in Seminyak but that doesn't mean you have to spend a fortune, there are affordable hotels as well.
My top pick > IZE
Super stylish with modern architecture right in the heart of Seminyak. Scandinavian designs meld with Balinese grace to give IZE its unique feel. The 20-meter rooftop infinity pool with a bar is perfect for watching the islands famous sunsets. Check the latest price on Tripadvisor.
Luxury > Katamama
This opulent hotel has gone to great lengths to balance traditional Balinese culture with today's modern amenities with mid-century style. All the furnishings are handmade from local artisans, and it took a nearby village three years to make the 1.5 million hand pressed temple bricks for the façade.
There is a 24-hour gym, a pool set amidst the gardens and guests receive priority bookings at the famous Potato Head Club/Restaurant. Check the latest price on Tripadvisor.
Mid-range > Bali Agung Village
Each room or villa has a traditional thatched roof with modern amenities like free wifi and a poolside bar. The smoke-free property has two cafes and a library and is only a five-minute walk to the beach. Check the latest price on Tripadvisor.
Budget > The Aswana
Budget but boutique hotel right in the center of Seminyak, just steps from all the restaurants, bars and shops and only a two-minute walk to the beach. Clean, safe and a great value. Check the latest price on Tripadvisor.
Join a local tour in Seminyak:
Traveling to Asia? Get inspired by more articles:
Where to stay in Sanur
I think of Sanur as Seminyak's older loungy sister that is over partying until the sun comes up and would rather hang out with good friends, drink good wine and listen to quiet but good live music. There are a couple of all night clubs in Sanur but not like in Seminyak.
It has a great small town feel with more people on bicycles than scooters. It is a little bit touristy but has retained its Balinese feel more than many of the other cities in Bali. Sanur is one of the best places in Bali to get a sense of the culture while staying in an area with all the amenities and without going off the beaten path.
Fishing and dive boats line the shore. The water is still and picture-perfect for swimming and paddle boarding. If you are into snorkeling, there are a few reefs right off the beach to explore the underwater world. The 5km boardwalk runs the entire length of the beach and is lined with eclectic restaurants and bars.
Some of the best villas in Bali are found in Sanur.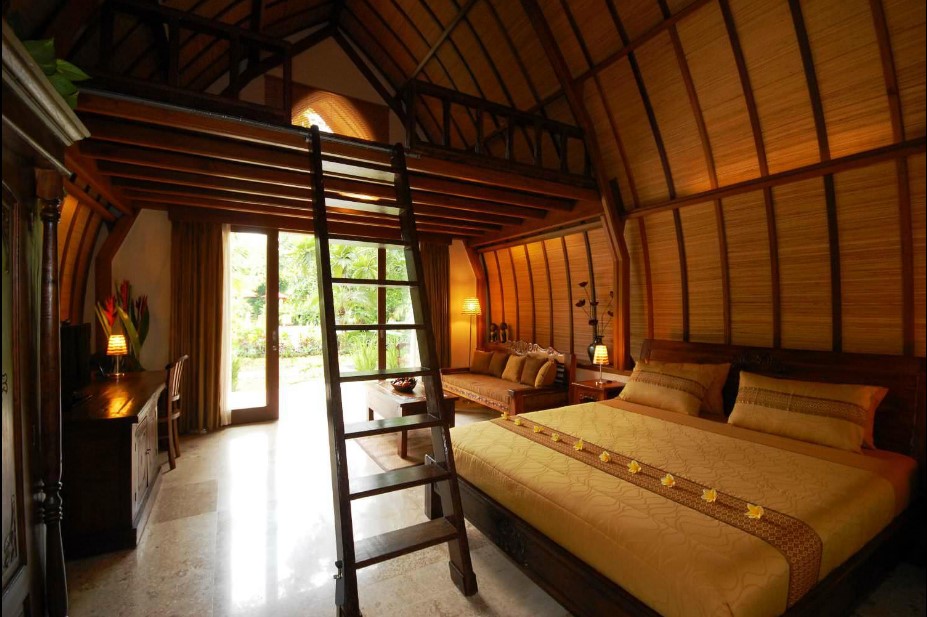 All eight romantic villas were handcrafted by local wood artisans and made in the traditional Sasak lumbung style with arched roofs and high ceilings. Loads of natural light filters in through the large glass windows and sliders. Relax in the lagoon style pool with waterfalls or at the spa. Check the latest price on Tripadvisor.
Luxury > Mahagiri Villas
Mahagiri Villas has 18 luxury villas within a traditional Balinese complex that offer the sense of complete opulence. Surrounded by lush gardens, each villa feels like a private sanctuary with your own pool and chef for hire. Check the latest price on Tripadvisor.
Mid-range > Artotel Sanur
Only a three-minute walk to the beach, Artotel incorporates Sanur's famous Kite Festival into its art and quirky interior design. With local and unique art in every corner, it's an ever-changing gallery to wander through. A large infinity pool on the roof overlooks the treetops. Check the latest price on Tripadvisor.
Budget > Puri Kelapa Garden Cottages
Puri Kelapa Garden Cottages have a spa and a pool with a swim-up bar. The rooms and bungalows are dotted throughout the garden giving the feeling of privacy. It's clean and comfortable and close to the beach. Check the latest price on Tripadvisor.
Join a local tour in Sanur:
Where to stay in Uluwatu
Uluwatu is a surfer's paradise where the deep blue ocean meets the steep, sharp limestone cliffs. There are secret beaches with outstanding surf breaks, so it's not the best place to learn to surf, but if you're seasoned, then you'll be spoilt for choice.
Peaking over the edge of a tall cliff, Uluwatu Temple is one of Bali's most iconic sites. Head there for a cultural dance performance that ends in flames as the sun is setting.
An eco-friendly resort that doesn't sacrifice luxury or comfort. Each of the 15 bungalows is decorated differently with an Indonesian flair and open-air bathrooms, so you get to shower under the stars. Free wifi in all the rooms. Check the latest price on Tripadvisor.
Luxury > Bvlgari Resort Bali
A stunning property at the edge of a cliff overlooking the Indian Ocean has 59 lavish villas all with ocean views from the bedrooms. It combines Balinese design and Italian opulence. Private access to the impeccable beach below is by funicular. It's only a five-minute scooter ride to the top surf spots in the area. Check the latest price on Tripadvisor.
Mid-range > Villa Pusha
The two-bedroom villa with a private pool has a full kitchen and a garden. When you rent here, it includes a lovely wooden bungalow for another guest or two. Dreamland Beach is only a two-minute drive. Check the latest price on Tripadvisor.
Budget > Jepun Sari
A fairly new small property with stand-alone private entry rooms and bungalows surrounding the pool. The traditional wooden cottages have terraces with pool views and an outdoor shower. Check the latest price on Tripadvisor.
Join a local tour in Uluwatu:
Where to stay in Canggu
Canggu is the latest up and coming neighborhood just north of Seminyak. With many surf camps to choose from this is a good place to hone your skills.
Chic bars and restaurants are popping up by the dozen, and the town is seeing rapid growth. Not as touristy as Seminyak, it's a great place to stay if you want to avoid the crowds but still have plenty to do.
A three-bedroom, three-bathroom villa is a stunner with bright white interiors with dark rich wooden accents. Secluded and quiet but still near the restaurants, surfing beaches and shops. Check the latest price on Tripadvisor.
Luxury > Hotel Tugu Bali
The owner of this hotel has the biggest collection of fine Indonesian art and antiques in Indonesia and uses the hotel as a gallery to display it all. From private plunge pools to sunken bathtubs, no detail has been forgotten. Check the latest price on Tripadvisor.
Mid-range > Lautan Kupu – Kupu Villas
Set 100 meters from the beach but with a view of the rice paddies, this laidback hotel has spacious rooms with outdoor bathrooms and a 19-meter pool. Book a cooking class in the hotel's kitchen or schedule a masseuse or yoga practitioner to come for a private session. Check the latest price on Tripadvisor.
Budget > Bali Full Moon Guest House
Bali Full Moon Guest House is only an 8-minute walk to the beach with a pool and free wifi. The large air-conditioned rooms are clean and bright with large windows that let in the light. Check the latest price on Tripadvisor.
Join a local tour in Canggu:
Hopefully, this Bali guide will steer you in the right direction when it comes to choosing where to stay in Bali. It's not always easy to find the best accommodation in Bali, so I've done the legwork for you.
Happy travels!
Liked it? Pin it!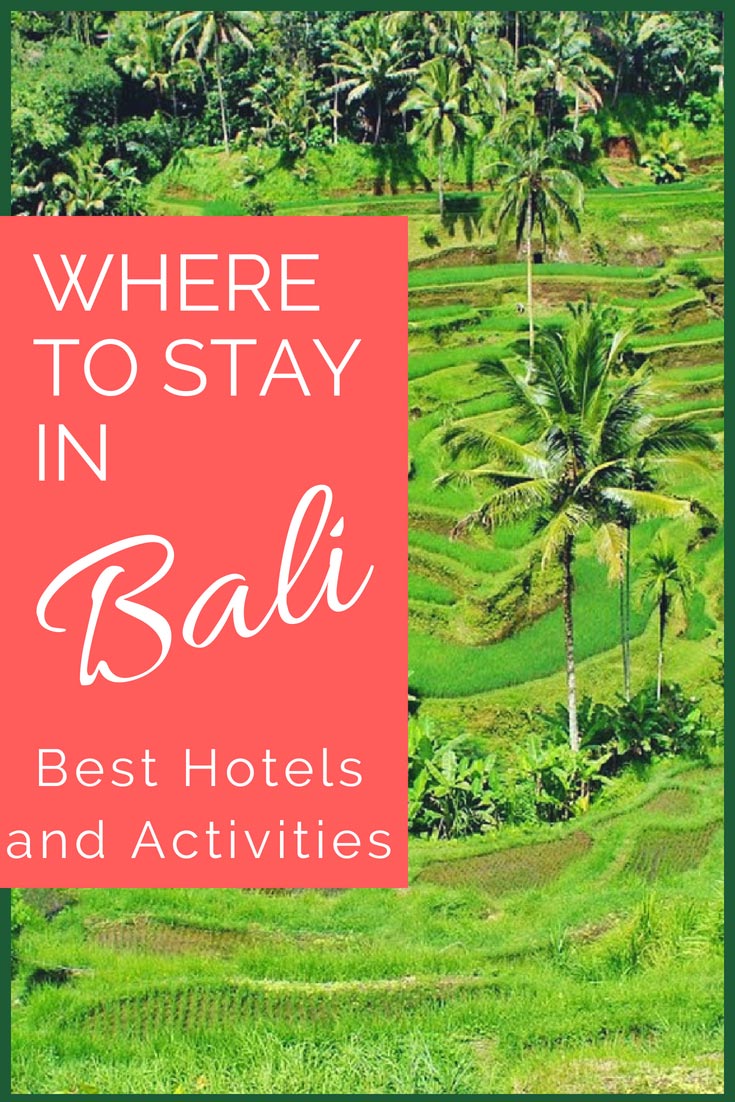 Disclosure: Some of the links above are affiliate links, which at no extra cost to you, will earn us a small commission and reduce the costs of running this site.