Greece is an incredible country full of historical sites, breathtaking islands, and delicious cuisines that will leave you begging for more. However, the country's best features are its beaches. Greece boasts hundreds of extraordinary beaches to explore, from pebbled and sandy beaches to secluded bays sprinkled across its many islands. Each beach exudes a unique charm, and some shine a bit brighter than the rest.
Best beaches to visit in Greece
Myrtos Beach, Kefalonia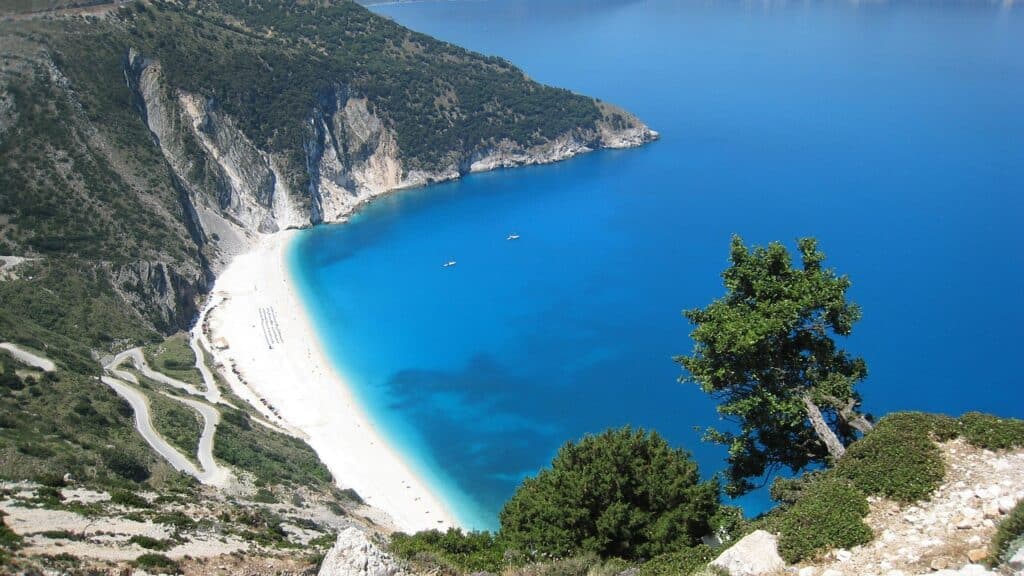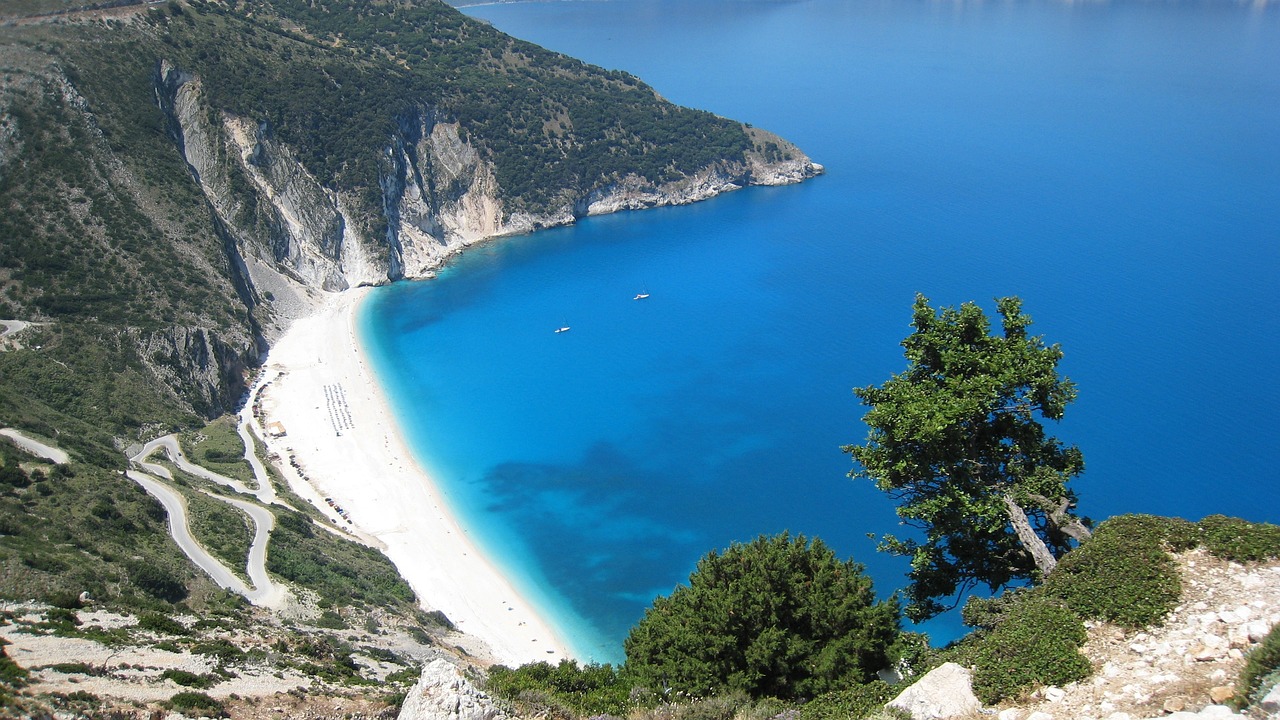 Kefalonia is one of the most delightful islands to visit in Greece. It has everything you can ask for – stunning landscapes, delicious food, and pretty towns and villages. But one thing that makes it stand out is its picturesque beaches. Of all the beaches in Kefalonia, Myrtos Beach is the most popular, considered one of the best beaches to visit in Greece.
Myrtos Beach is one of the landmarks of Kefalonia, famous for its tranquil blue waters and stunning sunsets. Hundreds of tourists come here every summer, lured by its beautiful views. In fact, it receives a blue flag yearly, an award given to beaches with clean waters and a well-preserved environment. It's on the north of the island, about 30 km from the city of Argostoli.
Myrtos beach is part of the municipality of Sami, about 45 minutes' drive from Argostoli. Even before arriving in Myrtos, you will notice the imposing views as you get close to the beach.
When you're in Myrtos Beach, look for a spot to relax, soak up the relaxing atmosphere, and admire the views. The waters are very clear, especially between May and October. It's a good idea to consider the weather forecast before visiting the beach, especially if you want to swim. The waters tend to be rough during windy days.
Platys Gialos, Mykonos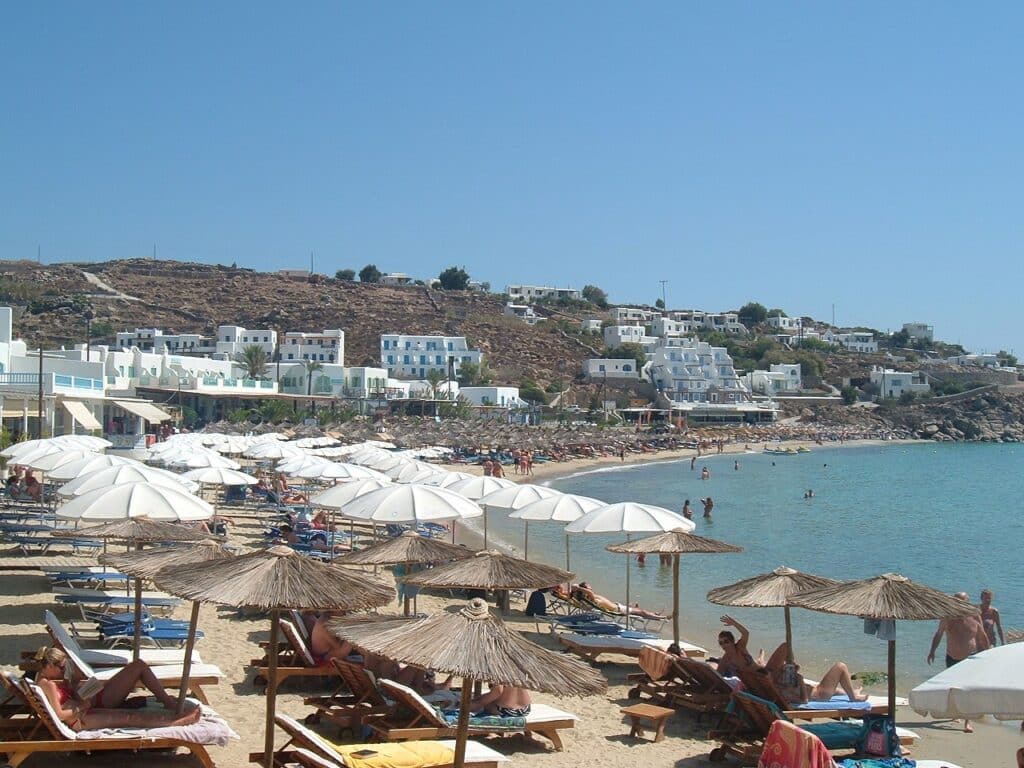 When going on a beach getaway to the Greek islands, the best way to explore the country is to join in a luxury tour of Greece. It's the best way to see more islands and beaches in one holiday. During your trip, make sure you head to Mykonos, where you'll find Platys Gialos, one of the best beaches in Greece.
Platys Gialos is a massive beach, quite popular with tourists, thanks to its several hotels, which you'll find almost everywhere along its long stretch of sand. The beach is well-equipped with amenities, including sun beds and parasols. Given its clear and shallow waters, Platys Gialos attracts visitors of all kinds, including families with young kids.
While you already have everything you need in Platys Gialos for a fun beach day, it's also worth exploring the nearby beaches. From here, you can hop on a water taxi to take you to the other famous beaches on the island, such as Super Paradise and Paradise Beach, the best places to party and experience the island's vibrant nightlife scene.
Perissa Beach, Santorini
Santorini's incredible volcanic setting makes it an ideal escape for a romantic beach holiday to Greece. As a popular honeymoon destination, couples love its whitewashed clifftop villages and breathtaking sunset views. Like the other Greek Islands, Santorini has its share of beautiful beaches. One of the most popular is Perissa Beach, also known as "Black Beach," due to its distinct back sand extending for several kilometres.
Perissa Beach is about 15 minutes away from the lovely village of Fira. You will find sun beds and umbrellas for rent along its shore. There are also several restaurants and bars where you can enjoy delicious food and refreshing drinks. If you feel like taking a walk, follow the trail to the neighbouring beach of Kamari, another lovely beach in Santorini.
The best way to get to Perissa Beach is to drive for about 15 minutes from the village of Fira. But if you don't have a car, you can check Enjoy Travel for affordable cars to hire. Alternatively, you can take the public bus departing from Fira and take you there after 20 to 25 minutes. It's also possible to reach Perissa Beach through a water taxi from the nearby Kamari beach.
Heading to Greece? Read on!
Plaka Beach, Naxos
Naxos may not be as famous as Santorini or Mykonos, but it offers plenty for travellers looking for pristine soft sands to lounge around. So, if you're looking to get off the beaten path, Naxos would be the perfect island to visit. It is home to Plaka Beach, one of the most beautiful beaches in Greece. In fact, a holiday in Naxos would not be complete without a trip to this beach.
Plaka lies along the southwestern coastline of Naxos, about 20 minutes from the port. Despite being famous, it remains quiet and secluded, perfect for those looking for a tranquil spot to enjoy a relaxing holiday. There are also plenty of exceptional rental villas in Naxos, alongside one of the largest beaches on the island.
If going on a day trip to Plaka, you should dedicate an entire day to the beach. Consider renting a car to drive to Plaka and visit other places on the island. You can park your car at the south end of the beach, where you'll find an unofficial parking spot. Come early to guarantee a sunbed with an umbrella.
St Paul's Bay, Rhodes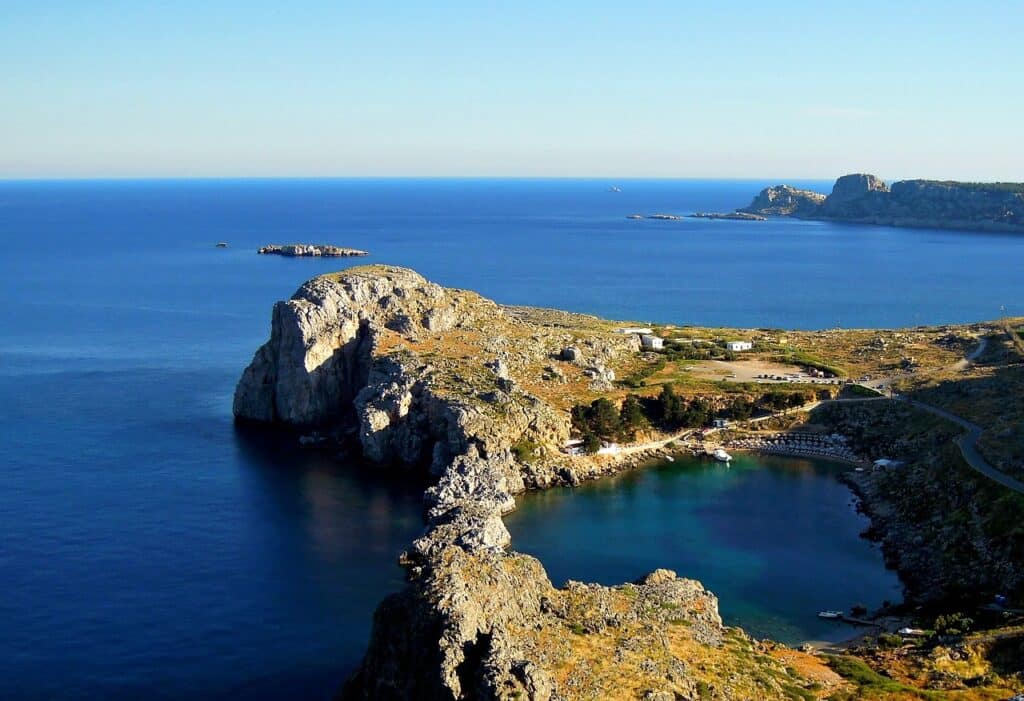 With crystal clear waters and fine golden sands, St. Paul's Bay, also known as the Bay of Aghios Pavlos, is one of the best beaches to visit in Greece. It's on the island of Rhodes, close to a small cave, a hundred metres south of the Acropolis of Lindos.
St. Paul's Bay has a unique shape and topography. It's circular and almost entirely surrounded by rugged cliffs and rocky outcrops. Many believe that Apostle Paul sailed to this bay in 43AD when travelling across lands to spread Christianity.
St. Paul's Bay consists of two beaches, and both have facilities like sunbeds and umbrellas for rent. There are also tavernas and beach bars for enjoying some meals and drinks.
Aside from relaxing on the beach, you can enjoy many water sports and activities. You can also take boat trips to the nearby islands. Some companies can organise fishing trips to the area.
Pack and travel: