Traveling to Greece and passing through the capital? If so, here is the ultimate guide on where to stay in Athens. We've visited the city a few times, and each time we've stayed in a different neighborhood so we could experience the variety atmospheres the capital has to offer: friendly Koukaki, the urban part near Syntagma, the central residential area of Thissio, or the quiet local neighborhood of Elliniko close to the seafront.
In this article you'll get a brief overview of the different areas with tips on things to do and see in Athens, and of course, our suggestions on where to stay in Athens based on our personal experience and the profound research we've done to make your holiday in Athens easier.
If you are interested to know where to stay in Athens, we recommend some of the best hotels for different budgets.
When we travel, we book our hotels through TripAdvisor, one of the best websites to compare prices.
We also use a lot AirBnB to book local apartments. If you have never used AirBnB before, you can have a $40 discount for your first booking through this link.
Always make sure you travel with travel insurance! Be adventurous, but not careless.
Check out some of the most reliable insurance companies out there: True Traveller if you're European and World Nomads if you're from elsewhere.
If you love animals and you prefer going local during your travels, try housesitting, which is an amazing way to travel the world while taking care of the pets whose owners are on vacation. If you use TrustedHousesitters with this link you'll get $20 discount on annual membership.
The majority of the places listed here are linked to the online site of Booking.com that we use for arranging our accommodation in Europe. If you book your accommodation in Athens through any link of this article, we'll get a small commission with no extra cost to you, which will help us to run this website and bring more awesome content for you.
Now, time to explore the city, its districts and some of the best hotels in Athens!
Where to stay in Athens
Koukaki
This residential quiet area in the southeast of Athens is one of our favorite neighborhoods in the city because of its serene atmosphere, pedestrian friendly sidewalks, and streets full of small cafes and local Greek restaurants. The area is defined as the new hip district of Athens, so you might want to hurry to stop by before it becomes too commercial.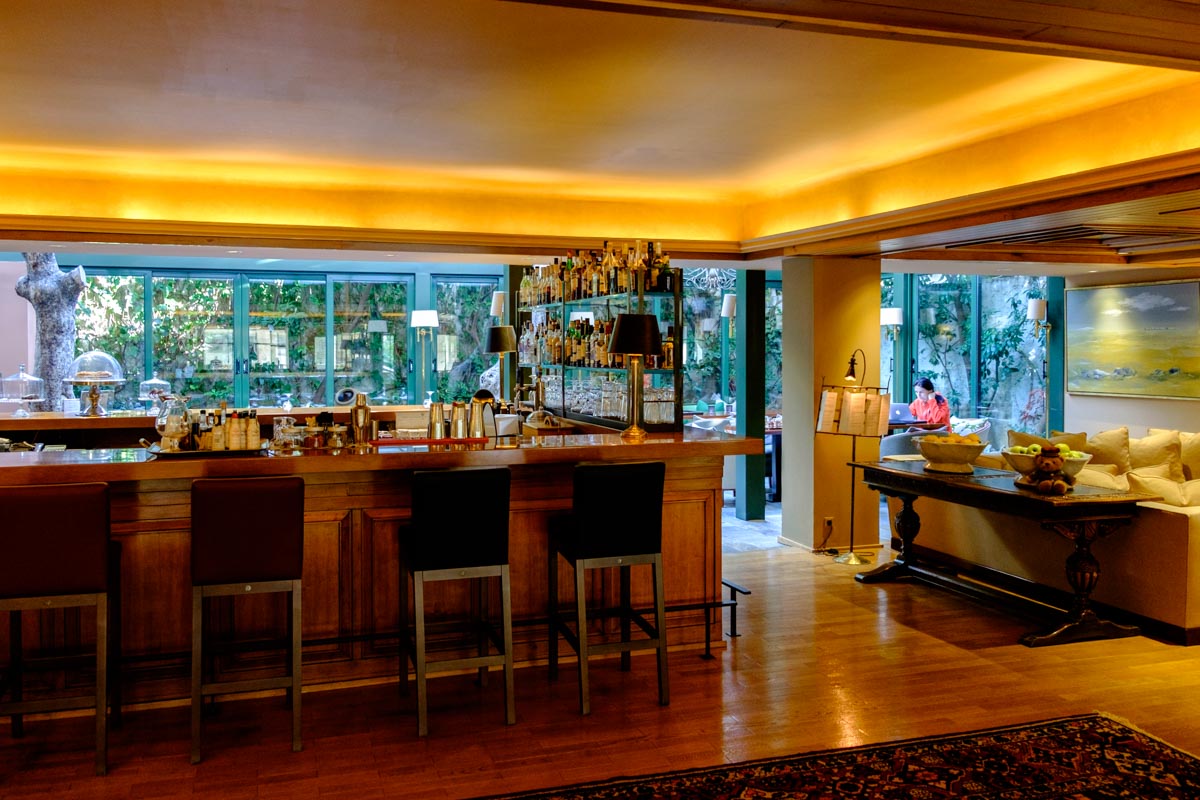 This is THE place to stay in Athens if you're looking for some extraordinary treatment, immaculately elegant rooms with super comfy beds, modern facilities, and a great buffet breakfast. The Herodion Hotel is only a few minutes walking from the Acropolis Museum. It features a lovely terrace garden with two hot tubs, which we unfortunately weren't able to test due to bad weather (next time)!
We did enjoy their beautiful green winter garden area, with real trees inside. You can grab a drink or enjoy some afternoon chess here. Highly recommended if you're looking for some luxury during your stay in Athens. Click here for latest prices
Luxury > Hera Hotel
Excellent central location with the views of Acropolis. Some of the suites feature a terrace and a bathtub. A boutique style hotel with buffet breakfast and free Wi-Fi. Click here for latest prices
Mid-range > NLH FIX | Neighborhood Lifestyle Hotels
Very bright, modern and elegantly decorated suites with a kitchenette. Clean, centrally located, with very friendly staff. Click here for latest prices
Budget > Koukaki Home
Great option if you prefer staying in a small apartment in the center. The place has a small kitchenette, a lounge with a sofa, a washing machine and ironing facilities. Click here for latest prices
Things to do and see in Koukaki
• Visit the Acropolis Museum
• Have a dinner in one of the small local tavernas
• Visit the National Museum of Contemporary Art
Thission
Thission is kind of an extension of the Monastiraki neighborhood. It's less crowded though, with a nice pedestrian zone, and more cafes and restaurants have appeared here after the area became more popular among tourists. Only a few minutes walking from the Phillipapou Hill and the Acropolis.
When the young spirit of locals gets creative, good things happen. Live in Athens, is a small chain of short stay apartments in various locations around Athens. We stayed a few nights in one of their places in the Thission neighborhood.
The loft apartment was crafted to feel like your home away from home.made with the aim to make you feel warm while you're away from home. Our place had a very bright bedroom with a double bed, private bathroom, a small kitchen with basic equipment, a lounge, and a huuuge terrace with some spectacular sunrise views of the Acropolis. At our apartment there wasn't a washing machine, but we were able to use laundry service at the Live in Athens main reception just a few minutes walking from the Thission apartment.
What makes Live in Athens special is that the apartments are located in the heart of the historical center, so all major attractions are reachable within a short walk, and at the same time you'll be able to stay in a residential building where local Athenians live. Click here for latest prices
Luxury > Acropolis Luxury Apartment
Stylishly furnished with antiques and modern furniture, soft colors, spacious and very clean 3-bedroom apartment. The place has a dining area with an equipped kitchenette. Click here for latest prices
Mid-range > Phidias Hotel
Located right at the pedestrian zone of the street of Apostolou Pavlou that leads to the Acropolis. Very simple rooms, clean, with breakfast included. Pets allowed. Click here for latest prices
Budget > Chameleon Youth Hostel
Excellent value for a bed in a dormitory or a private double bedroom in a quiet area. Lovely terrace, a small equipped kitchen available, too. Click here for latest prices
Things to do and see in Thission
• Climb up to Philopappos Hill and get a view of Athens and Acropolis.
• Go for an Alternative Athens Street Art Tour (the meeting point is from Thission metro station).
• Head to the Hill of the Nymphs to get some rare views of Athens.
• Check the daily craft market near the Thission metro station.
• If you visit Athens in summer time, visit the outdoor Cinema Thission (it's open from April to September, depending on weather conditions).
Monastiraki
One of the major shopping districts in Athens. Every Sunday there is a flea market, and you'll find plenty of souvenir shops and fashion boutiques, too. The side alleys near the Monastiraki square fill the air with the delicious aroma of fresh food, especially around lunch time and in the evening, when lots of tourists come to dine here. Fear not, you'll be able to find many local tavernas tucked between the busy streets.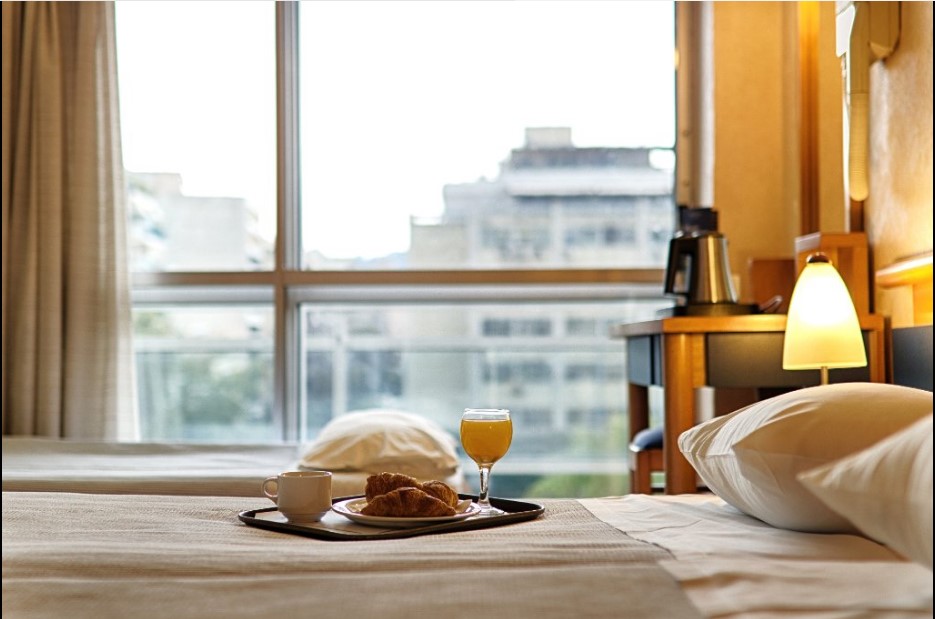 Stanley Hotel features a pool on their rooftop, they've got 2 restaurants, and 3 bars which includes an open-air bar. Their room's decors have modern decoration with earth theme colors, air-conditioned with free WiFi, satellite TV, and a balcony. Click here for latest prices
Luxury > 360 Degrees
Very central, with tasteful design, large rooms, and a nice terrace with panoramic view of the Acropolis and the city. (Serves delicious breakfast!) Click here for latest prices
Mid-range > Metropolis Hotel
A simply furnished 2-star hotel in the center of Athens with breakfast served on a rooftop terrace.
Offers family rooms. Click here for latest prices
Budget > Pella Inn Hostel
Great budget option for backpackers. You can stay in a private room or in a dormitory, with private or shared bathroom. Click here for latest prices
Things to do and see in Monastiraki
• Embrace the night life of Monastiraki square.
• Take a stroll through the ancient Hadrian's Library.
• Visit the Stoa of Attalos which used to be the major shopping center of Agora.
Traveling to Europe? Get inspired by more articles!
Plaka
If you're trying to avoid touristy areas during your travels, make an exception here. The area might get packed with tourists, but not if you come here before 9 am. Get lost in the labyrinth of Plaka's alleys and neoclassical buildings, and have an early coffee at one of outdoor tavernas.
Excellent value for the money. Clean, located in a safe area, and you can walk to the Acropolis in just 10 minutes. Minimalistic design with soothing colors. They offer family rooms, and pets are allowed too. Click here for latest prices
Luxury > Ava Hotel and Suites
Spacious and elegant rooms with a private terrace or balcony. If you prefer to prepare your own food, there is a fully equipped kitchenette at your disposal. Click here for latest prices
Mid-range > Athos Hotel
Athos Hotel is situated near the picturesque area of Plaka. Public transport is just walking distance and historical monuments are just a few steps away. Their rooms are air-conditioned, with high speed internet connection and features a mini-bar. Each have balconies that offer an enchanting view of the Acropolis. Click here for latest prices
Budget > Kimon Athens Hotel
Decorated with travel-style memorabilia, very simple, yet comfortable rooms with private bathrooms. The hotel has a rooftop garden. Great location near major historical attractions in Athens. Click here for latest prices.
Things to do and see in Plaka
• Climb up to the Acropolis.
• Get a glimpse of Greek history while walking among the ancient stone pillars of the Parthenon.
• Take a stroll through Anafiotika, the cluster of houses located above Plaka on the slopes of the Acropolis. To get there, walk the stairs between the Byzantine church of St Nicholas and Kouklis. Eventually you'll arrive to the road leading you to the Acropolis.
Kolonaki
An old neighborhood of Athens which is now considered very trendy. It's filled with cafes, boutiques, and classy restaurants where socialites come to eat, since many foreign embassies are located here. At the same time, it's a popular residential area.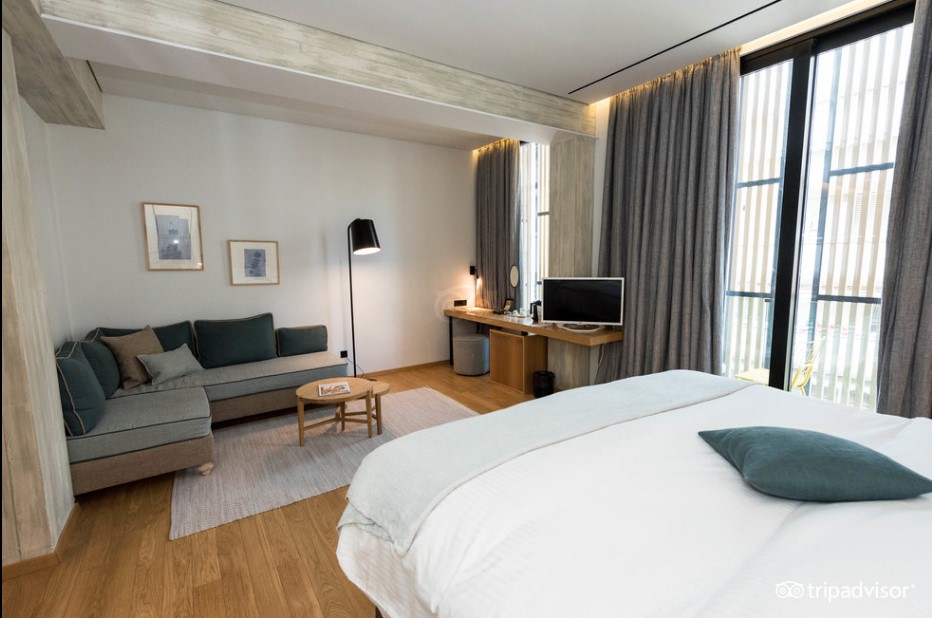 A fantastic choice for when you just need a break from the chaos of the city. Beautiful interior, tastefully designed luxury rooms with fully equipped kitchen and a lounge. The larger suite features an amazingly bright dining area. Click here for latest prices
Luxury > St George Lycabettus
This is the place to pamper yourself in the Kolonaki neighborhood in Athens. Each floor of the hotel features a different theme. You can relax in a Hamman spa, at an outdoor rooftop pool, or enjoy a workout at a gym. Click here for latest prices
Mid-range > Athinais Hotel
Located at the center of Athens, just 5 minutes walk from the Metro. Their rooms are elegantly designed with balconies. Rooms are air-conditioned, with WiFi, satellite LCD TV, and a minibar. Click here for latest prices
Budget > Lion Hotel Apartments
A budget apartment, spacious bedroom with free Wi-Fi. Conveniently located and fairly priced. Click here for latest prices
Things to do and see in Kolonaki
• Climb up to the Lycabettus Hill to get the best view of Athens.
• Visit Benaki Museum and see an impressive collection of Greek & Islamic art.
• Come and see over 110,000 volumes of Greek history, literature and art from Antiquity through modern times at the Gennadius Library.
Syntagma
Located in the center of Athens, famous for the Syntagma square which is the main transport hub of the city, and a meeting point for locals and expats. The square is recognized also because of the mass protests that happened here, right in front of the Greek Parliament.
This place is just splendid. Opened in January 2017, with modern and very cozy furniture. There is a kitchenette, dining and sitting area. Very tasteful design, bright and spacious room that can comfortably accommodate four people. Click here for latest prices
Luxury > InnAthens
A design hotel with all you need to feel good: high quality mattresses, clean rooms, excellent breakfast and a lovely courtyard to relax and have a glass of wine. Click here for latest prices
Mid-range > Athens Syntagma Apartment
A very good option if you want to stay in the city center for more than a night. The apartment is pretty big, it features a bedroom, a working table, and an equipped kitchen with washing machine. Click here for latest prices
Budget > Small Funny World Athens
Great hostel atmosphere, central location, and a clean dormitory. The hostel has a small kitchen in case you fancy preparing some food yourself. Click here for latest prices
Things to do and see in Syntagma
• Watch the Changing Guards ceremony at the The Presidential Mansion in front of the Tomb of the Unknown Soldier situated below the Hellennic Parliament.
• Relax in the beautiful Botanical Garden.
• Visit the ruins of the Temple of Olympian Zeus.
Psiri
An alternative, bohemian area with stylish tavernas, street art, and vibrant night life. Don't get intimidated by the rough image of the streets and graffiti walls in Psiri. The area is safe and very alive from the late afternoon and obviously, through the night.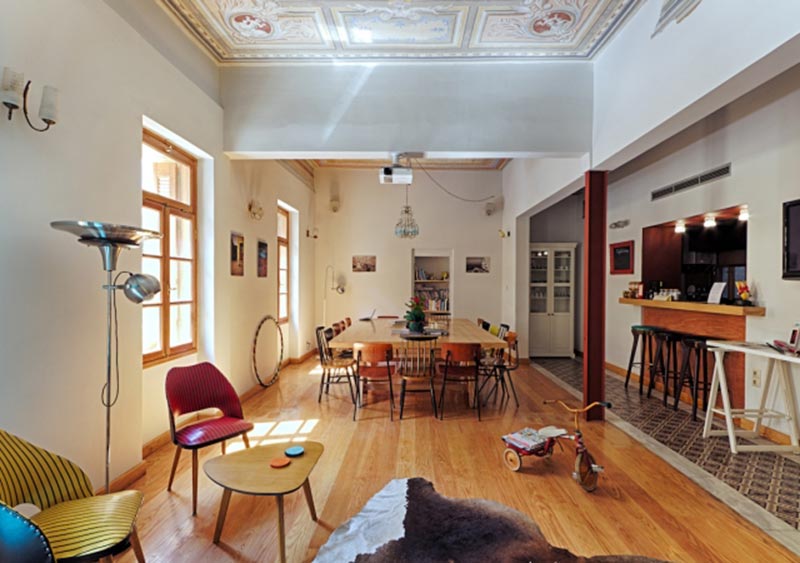 Funky design in the private rooms, simple furniture in dormitories, clean rooms with very comfortable beds, and a nice rooftop terrace. You can pick either a bed in a dormitory, a twin or double room, or a studio in the loft. The price includes breakfast. Click here for latest prices
Luxury > A for Athens
Big rooms with huge windows, hardwood floors, modern design, and a panoramic terrace with beautiful views. Fabulous breakfast included. Click here for latest prices
Mid-range > 18 Micon Str.
A new, stylish hotel equipped with handcraft furniture. Minimalistic decor, industrial style windows, and very tastefully decorated bathrooms. Click here for latest prices
Budget > Exarchion Hotel
Situated just 5 minutes walk away from the National Archaeological Museum and the Omonia Metro Station. They have a restaurant and a bar. Their rooms has a balcony and a private bathrooms, they are air-conditioned and equipped with TV, free Wi-Fi internet access, a minibar. Click here for latest prices
Things to do and see in Psiri
Psyri doesn't offer as much sightseeing as the other areas in Athens, but it's very close to the neighborhoods of Thissio and Monastiraki, where you'll find more attractions (see the tips above).
However, when in Psyri, dine at one of traditional tavernas or grab a healthy lunch at the Fallafellas or at the Pera: Oriental Street Food restaurant next to it.
Ellinikos
A southern area of Athens, very close to the beachside. The neighborhood is well connected to the city by metro and buses, and it's easy to reach the airport, too. It's a quiet residential area where you won't find any tourist attractions, but you can experience a local life of Athenians.
We stayed at the Veggie Garden a couple of nights on our last trip to Athens. Veggie Garden is a real homestay, where you'll share a house with locals, Majka and Dimitris.
We got a room on the ground floor with a small patio and entrance to a big terrace garden with lemon trees. The room was cozy, super clean, as well as the bathroom. We also got a kettle and a fridge to store some fresh fruits there, too. All rooms for guests are separated from the rooms of the family, with a private bathroom and Wi-Fi.
The metro station is about 5 minutes walking from the house. You'll find some restaurants and a grocery shop within 10 minutes of walking. If you don't feel going out, you can pre-book a delicious Greek dinner prepared by Majka for an extra charge of 12 euros.
The homestay might be a bit far from the city center, but if you're looking for a more local experience in Athens and a safe residential area, check out this place, where they welcome foreign travellers. Click here for latest prices.
Luxury > Emelia Maisonette
Pet-friendly luxury accommodation that features an outdoor pool, sauna and gym. The place opened only in December 2016, and the rooms are new and furnished in a modern style with soft colors. Click here for latest prices
Mid-range > London Hotel
A hotel just 2 minutes away walk from the beach. They've got rooms where ligth and air freely c omes in. A lounge bar and an alacarte menu is available on site. A buffet breakfast is served each morning. Click here for latest prices
Budget > Hotel Ikaros
Simply furnished and only a couple of minutes walking from the beach. Breakfast included. Click here for latest prices
Piraeus
Piraeus is the main port of Greece, and is an integrated part of Athens. Located only 12 km from the capital, it is very easily accessable to the center of Athens by train, subway, or a bus. You don't come to Piraues for sightseeing, but you can chill out on a beach. In case you arrive to the Greek port too late, or you want to catch an early morning ferry, there are plenty of options for places to to stay in Piraeus.
Fresh design with simple, yet modern furniture, super comfortable and clean rooms with breakfast included. You'll find a kettle and a small fridge in the room. A free shuttle to the port is provided by the hotel. Click here for latest prices
Luxury > Piraeus Theoxenia Hotel
The only 5-star hotel in Piraeus. Elegant decor, spacious rooms, a bathroom with a bath tub, and a few suites have a seating area. Quality bath amenities and breakfast included. The hotel features a gym, too. Click here for latest prices
Mid-range > Noufara
Located only 5 minutes from the port and about 10 minutes from the beach. Clean rooms with private bathrooms, breakfast included. Click here for latest prices
Budget > Lux Hotel
A good choice when you need to stay overnight in Piraeus before heading to/from Athens. Very basic rooms with private bathrooms, Wi-Fi, and optional breakfast for extra $5 USD. Click here for latest prices
Hopefully you've found our guide of where to stay in Athens useful and now have a better idea where to look for a hotel in the city. If you have any other questions or you want to share with us your favorite part of Athens, please leave a comment below. We'd be happy to hear from you!
Read more about Greece:
Greece Beyond the Beaches: the Undiscovered Epirus
Meteora, Greece: a Spiritual and Natural Wonder of the World