If you've got a pulse, two legs and a passport, you're likely going to look for the best travel shoes for men that money can buy before you hit the road – no matter where your adventure takes you. In this guide I'll break down what I think to be a collection of some of the best walking shoes for men who travel. After almost a decade on the road and countless miles, literally, under my feet, I've got some skin in the game.
And if you're of the fairer sex, you may also want to read our guide to the most comfortable walking shoes for women in a related post.
Features of the best travel shoes for men
The best travel shoes for men, in most cases, will be rugged and have varying levels of waterproofing, depending on what you're up to.
Fit, cushioning, and flexibility will also affect their comfort and durability. The longer you intend to wear them, the more fit and flexible they need to be.
For instance, formal shoes you wear for a few hours may not need to be the most flexible or close-fitting – however, if you plan to wear them for days at a time, climbing over rocks or staircases, then a flexible shoe that fits snugly will prevent blisters and ensure grip when wrapping your foot around a surface.
And finally, how lightweight they are will become more important the more strenuous the activity you'll be doing in them.
I chose the brands and styles that I did for the above reasons, but I also chose them based on price. When you're looking for men's travel shoes, you want the best bang for your buck – but you need to be pragmatic because you never know if you're going to have to purge anything at an airport to meet baggage weight requirements and luggage space, or have them get stolen, lost, misplaced, you name it.
Spend too much, they're theft-worthy. Spend too little, they'll fall apart. Choosing quality lightweight walking shoes for travel is a careful art.
Best walking shoes for men
Travel shoes for men abroad
When you're traveling the world, comfortable quality walking shoes can be hard to come by, so it's an imperative that you pick them up before you begin your journey.
The best travel shoes are those that are purpose-built for where you're headed. In Thailand, a good pair of jogging shoes will help you navigate their busted up sidewalks where traversing them is more akin to parkour than a leisurely stroll.
In more manicured urban environments like those of Amsterdam or Toronto where the walking is easy, you've got more choice for what you might consider the most comfortable walking shoes; just about anything will do in a properly paved city.
And then there's the great outdoors, with all the wild cards that go with it. In this part of the article let's look at what you'll be putting your feet on before we dive into what you're putting them in.
Shoes for rugged trails and hiking
Whether you're hiking or jogging through rugged terrain, on trails, or off – Saucony Peregrine 8 trail runners are a great choice.

They cover all the bases when looking for the most comfortable shoes to wear outdoors, on any terrain. These lightweight travel shoes are luxuriously padded inside, have plenty of room for your toes, and are quick-drying. Check it out on Amazon.
Shoes for water sports
Whether you're using them for aqua yoga, or you're spending the day swimming near sharp rocks and coral, these slip-on sock-style waterproof travel shoes by VIFUUR will do the job without costing an arm and a leg (or a foot!).
For under twenty bucks, these waterproof travel shoes come in over 40 stylish variations to choose from. They're quick-drying, durable, and are incredibly flexible. Check it out on Amazon.
Get inspired by more articles:
Shoes for urban exploration
Exploring the city for full days at a time will require the same level of ruggedness and comfort as hiking, but without looking like an eye sore.
The Cruz-v2 Fresh Foam Running Shoes by New Balance look stylish enough to wear on the town, while keeping your feet dry, comfortable, and blister-free.
New Balance is known for their quality and ankle support, but they never looked this good. With almost a dozen different styles to choose from, there's a pair of these walking shoes for any man's taste.
These are my personal choice as the best shoes for traveling Europe, although I do suggest that you go with a ½ in larger size than you normally would with New Balance shoes, as they're a little snug. Check it out on Amazon.
Travel dress shoe
If you are looking for something classy, here is your option for  travel dress shoe from OAKA, which redesigned dress shoe into travel friendly, comfy and zero drop shoes in order to improve your mobility and health. Check the latest models of OAKA.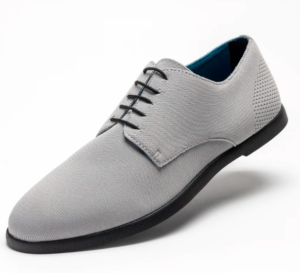 Comfortable, Zero Drop & Travel Friendly
At OAKA we redesigned the dress shoe from the ground up fixing all of the things we hated in order to improve health, mobility, and comfort.
Dress code
The average traveler isn't always going to want to look like a tourist, so I suggest packing along some fashionable and comfortable travel shoes –because men's travel shoes don't always have to look like you just got off a plane from another country.

I personally own these light walking shoes by Clarks, and they'll get you through the door of most places with a dress code. For those that won't allow any form of rubber sole showing, there's also these comfy travel shoes.
Clarks has a lot of different styles to choose from, don't just take my word for it. You can view a rather large selection of Clarks shoes on Amazon here.
They're not exactly haute couture, but they're incredibly comfortable walking shoes for travel and they look good enough to hit a supper club while not breaking the bank.
Fashion sandals for men
While we're looking at the best walking shoes for men that are pleasing to the eye, I'd be remiss if I left out some most comfortable sandals for travel that I've ever owned – Birkenstocks.
Birkenstocks are probably the best walking sandals for travel that men can find, although the leather may not be good for all environments. But look at these Arizonas -they're perfect for just about any occasion. Not too casual, not too formal, just don't wear socks with them because that was never cool. Check it out on Amazon.
Pack and travel:
Sports sandals for men
Teva sport sandals have been a go-to sandal brand since I was in high school and they're the best walking sandals for travel and all-day wear.
They fair well on any terrain, and they last forever. They're nothing to gawk at, but they do the job and they do it well. Check it out on Amazon.
If the ripping sound of velcro is a wee too boyish for your tastes, there's Teva Hurricanes with a cross strap buckle, instead.
Everything else
Sometimes shoes won't cut it at all, and neither will sandals. Whether it's an all-day motorcycle ride through the mountains, or a bumpy Tuk Tuk ride to our resort – I'll wear boots.
Perhaps the best boots for travel, ever, on this planet are my Blundstones. Gah, I love them. I harp on and on about them in Digital Nomad Escape Plan, Hobo with a Laptop, and a few times in our upcoming podcast.
They're insanely durable, they protect your feet in any weather, and they aren't very ugly. They slip on easily, and last forever if you oil them up with weatherproofing once or twice per year. Even in the tropics, they've held their own for almost a decade abroad. Check them out on Amazon.
That's a wrap
So, what do you think? Did I nail it, or do you have any better suggestions? My footwear collection is always evolving, but I hope you found something on this list of walking shoes for men that captured your interest.
If you've got a suggestion for the most comfortable men's walking shoes for travel, please let us know in the comments, and thanks for walking on by!
Oh yeah. Bad walking shoe pun. Over and out!
Get inspired by more travel articles:
Like it? Pin it