Read on a shortlist of the best coworking spaces and coffee shops in Denver, whether you're based in Denver or just visiting.
Denver continually ranks as one of the best cities in the US. It topped US News & Reports chart of the best cities in America in 2016. Located in the foothills of the Rocky Mountains, surrounded by fantastic nature, and offering many incredible career opportunities, it's no surprise that Denver is flourishing.
If you are looking for a place to stay on your next trip, we recommend some of the best hotels for different budgets.
When we travel, we book our hotels through TripAdvisor, one of the best websites to compare prices.
We also use a lot AirBnB to book local apartments. If you have never used AirBnB before, you can have a $40 discount for your first booking through this link.
Always make sure you travel with travel insurance! Be adventurous, but not careless.
Check out some of the most reliable insurance companies out there: True Traveller if you're European and World Nomads if you're from elsewhere.
If you love animals and you prefer going local during your travels, try housesitting, which is an amazing way to travel the world while taking care of the pets whose owners are on vacation. If you use TrustedHousesitters with this link you'll get $20 discount on annual membership.
Like it? Pin it!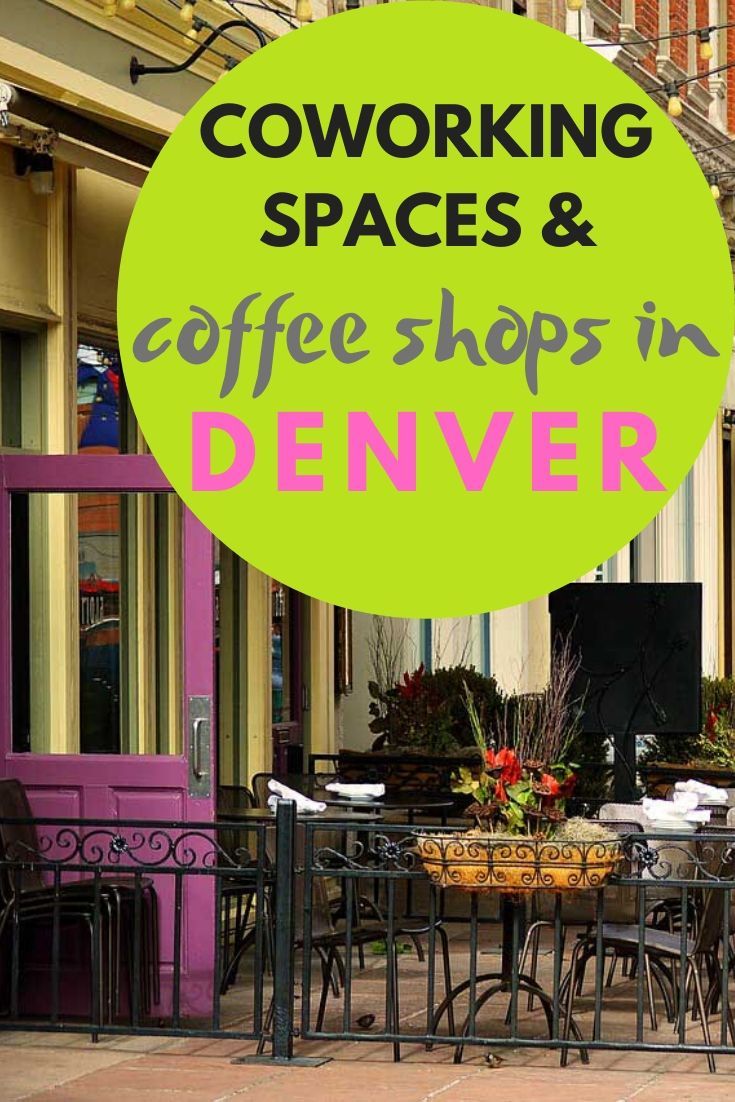 The Best Coworking Spaces and Coffee Shops in Denver
Denver is popular with freelancers who utilize its many great cafes, coworking spaces, and restaurants to meet new clients, host seminars, and get work done. So whether you're based in Denver or just visiting, be sure to check out one of these amazing places:
Modworks is one of the most popular coworking spaces in Denver located conveniently in downtown. It has an open, bright floorplan with some spectacular views of the city. Modworks is an excellent choice for professionals looking for amenities like fiber optic internet, privacy, complimentary printing, and other great perks. It's a little bit on the higher-end for pricing, but the benefits and networking opportunities make it totally worth it.
The smell of coffee, books all around, and a great menu of pastries and other snacks make Tattered Cover an ideal space for freelance work. The shop is huge too and has plenty of different nooks for you to find a great spot to get a little work done and enjoy the warm, friendly environment.
Join one of the local tours in Denver: 
Coworking spaces and cafes are great, but if you're looking for somewhere convenient, free, and with most amenities, go old school and head to the Denver Central Library. The library is large and offers a wide range of different spaces for you to utilize. Best of all, you can register online to get free internet access and other perks.
Plan your trip with more travel articles:
Grid is the perfect space for people who need a little space to work. It gives you more privacy options than cafes and coffee shops without being socially isolating. Grid is also highly flexible and offers a wide range of options from private suites to day passes that can match any budget.
It's just 35 minutes from the airport, making it a great option for business travelers. If you are looking for a great spot with a wide mixture of professional and creative types, Grid is an excellent choice for you.
Cheesman Park
Sometimes you just need to go outside and get a little fresh air. Cheesman Park is the perfect spot for freelancers who want a taste of nature. It's a peaceful place with a beautiful rose garden in the middle and plenty of tables and benches for you to get some work done. Cheesman Park is located right in the heart of the city so you can easily head to your next meeting after working there.
Join one of the local tours in Denver:
Founded in 2011, Creative Density is one of the original coworking spaces in Denver. It's the ideal spot for people looking to build their professional network. It features a mixture of both social and quiet focus areas to ensure your work always keeps flowing. Space is open 24/7 and includes a comfortable lounge for relaxation, ergonomic chairs, and other great perks.
Located near Cheesman Park, Thump Coffee gives you a perfect choice to have the best of both worlds. You can begin your day with a delicious cup of coffee and some breakfast at Thump before heading to the park. All while still being connected to WiFi, ensuring your productivity never slows down. They'll soon be roasting coffee in-house which will make the experience even more fantastic.
Get inspired by more articles about digital nomad lifestyle:
Making Sure Your Data Is Safe in a Coworking Space
Coworking spaces have become the working environment of choice for not just freelancers, but all kinds of workers, even those with standard office jobs. They are an excellent place to network, find new career opportunities, and, of course, work.
However, since so many people use these places and their WiFi connection, it's important to be careful with your data. Public WiFi is notorious for its security problems, so if you plan on using it, acquiring a VPN would be a smart choice.
A VPN or virtual private network encrypts and anonymizes your connection with the latest security technology. Thus, no matter where you work, your data will always be safe.
Do you have a burning travel question? Join our Nomad is Beautiful travel community on Facebook and ask experienced travelers!