San Francisco, California (SF, CA) is one of the coolest cities to visit in the U.S. With its dynamic neighborhoods, natural beauty, temperate climate, lively energy and myriad of activities and attractions, it's sure to please all kinds of visitors. Because the city itself is geographically small (only 49 square miles), it's possible to check off and enjoy many of the city's top sites by spending 3 days in San Francisco.
Whether you're returning to the Bay Area or visiting for the first time, it might seem overwhelming to figure out what to do in San Francisco.
Iconic San Francisco attractions include the Golden Gate Bridge, the Painted Ladies, Lombard Street and Mission Dolores Park. In addition to the previously mentioned attractions, there's much more to see and do.
Continue reading for recommendations on how to spend 3 days in San Francisco.
If you are interested to know where to stay in San Francisco, we recommend some of the best hotels for different budgets.
When we travel, we book our hotels through TripAdvisor, one of the best websites to compare prices.
We also use a lot AirBnB to book local apartments. If you have never used AirBnB before, you can have a $40 discount for your first booking through this link.
Always make sure you travel with travel insurance! Be adventurous, but not careless.
Check out some of the most reliable insurance companies out there: True Traveller if you're European and World Nomads if you're from elsewhere.
If you love animals and you prefer going local during your travels, try housesitting, which is an amazing way to travel the world while taking care of the pets whose owners are on vacation. If you use TrustedHousesitters with this link you'll get $20 discount on annual membership.
Like it? Pin it!
Itinerary for 3 Days in San Francisco
Day 1
See and Walk the Golden Gate Bridge
The Golden Gate Bridge is a majestic orange, Art-Deco styled beauty that spans the Golden Gate Strait and connects the Pacific Ocean with the San Francisco Bay. It's one of the most famous bridges and was once the longest suspension bridge in the world. The bridge spans 1.7 miles and is 220 feet above the water's surface.
It can be walked, biked or driven, and it's especially beautiful to cross on a sunny day without wind. It's also quite lovely to capture the bridge on a foggy day—Karl, the San Francisco Fog, is ever-so-present in the city, so you're very likely to experience a couple of foggy days while visiting.
There are plenty of great photo op spots, including the Golden Gate Bridge Vista Point. For more information on visiting the bridge, visit the official website.
Climb the 16th Avenue Tiled Steps
San Francisco's hilly landscape provides various high-elevation spots perfect for catching skyline views of the city and the bay. One of those spots includes the 16th Avenue Tiled Steps, a 163-step staircase featuring colorful, community-created mosaic tiles. Those who climb up to top are rewarded with sweeping panoramic views of the city.
Stroll through Golden Gate Park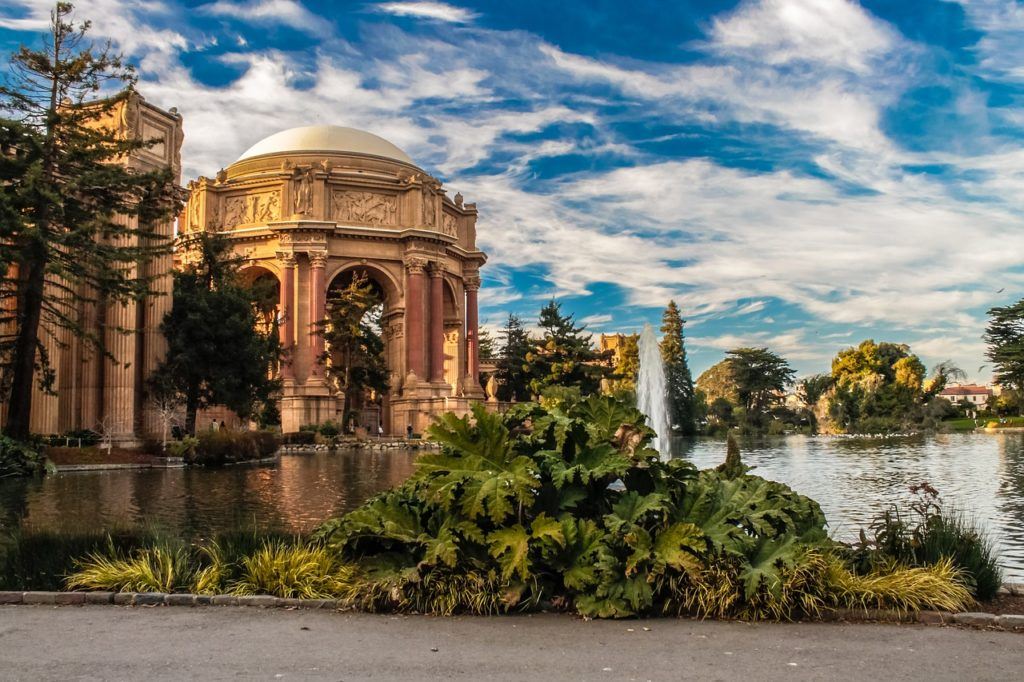 Inspired by New York City's Central Park (but bigger), the Golden Gate Park is a wonderful escape from the busy city. Get lost wandering through the park's winding paths, playgrounds, gardens and groves. The park is home to the De Young Museum, the California Academy of Sciences, the San Francisco Botanical Garden, the Japanese Tea Garden and the Conservatory of Flowers. It's possible to spend a whole day inside the park visiting its multiple attractions, so it's highly recommended that visitors plan ahead.
Get inspired by more articles:
Admire the Palace of Fine Arts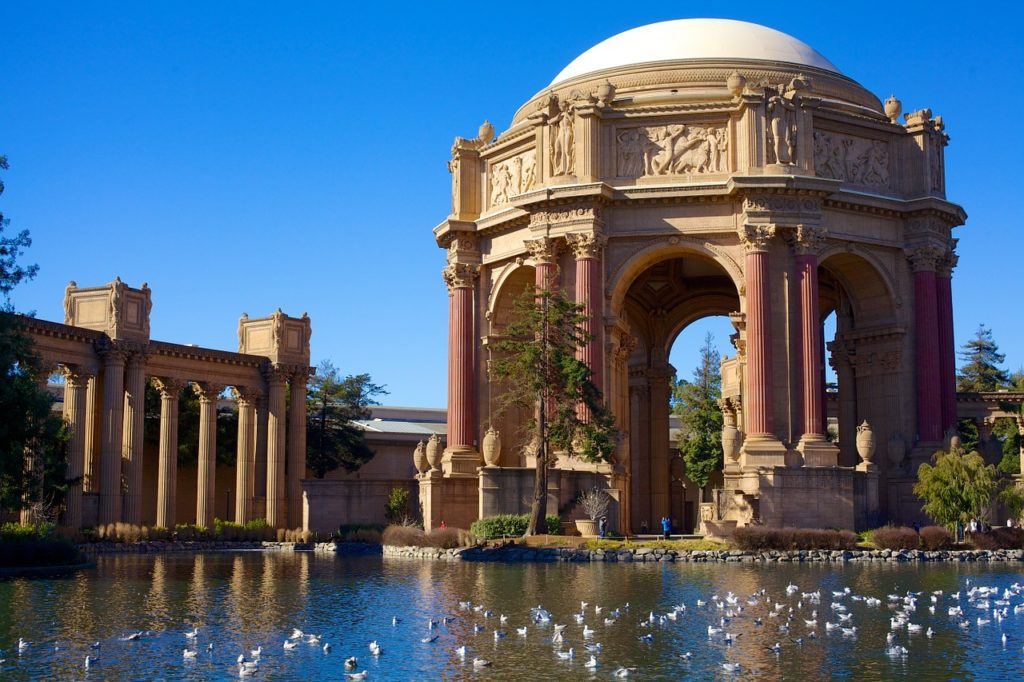 The Palace of Fine Arts was originally opened as part of the 1915 Panama-Pacific International Exposition. It was inspired by ancient Greco-Roman architecture and was too beautiful to tear down. Today, it hosts a variety of art exhibitions and features Greek-style colonnades, a central rotunda and a calm, swan and duck-filled lagoon.
Day 2
Ride on a Cable Car
It might be a bit cliché, but riding on a cable car is one of the most fun things to do in San Francisco. They're actually not often used by locals because of their limited travel routes and high fare, but they're worth a ride at least once. You can ride the 2.1-mile route or just hop on and off at certain spots. If you are short on time, then try to find a stopped cable car and ask to hop on for quick photos.
To learn more about one of the city's most iconic symbols, visit the Cable Car Museum.
Eat, Drink and Play at Fisherman's Wharf
Fisherman's Wharf is the touristic center of the city. You can ride a cable car on either the Powell-Hyde line or the Powell-Mason line, and then hop off to explore the waterfront.
In this area, visitors can find Pier 39, museums, parks, a diverse array of restaurants, including fresh seafood, souvenir shops, sidewalk food stands and sunbathing sea lions!
Pack and travel:
Expand Your Knowledge at the Exploratorium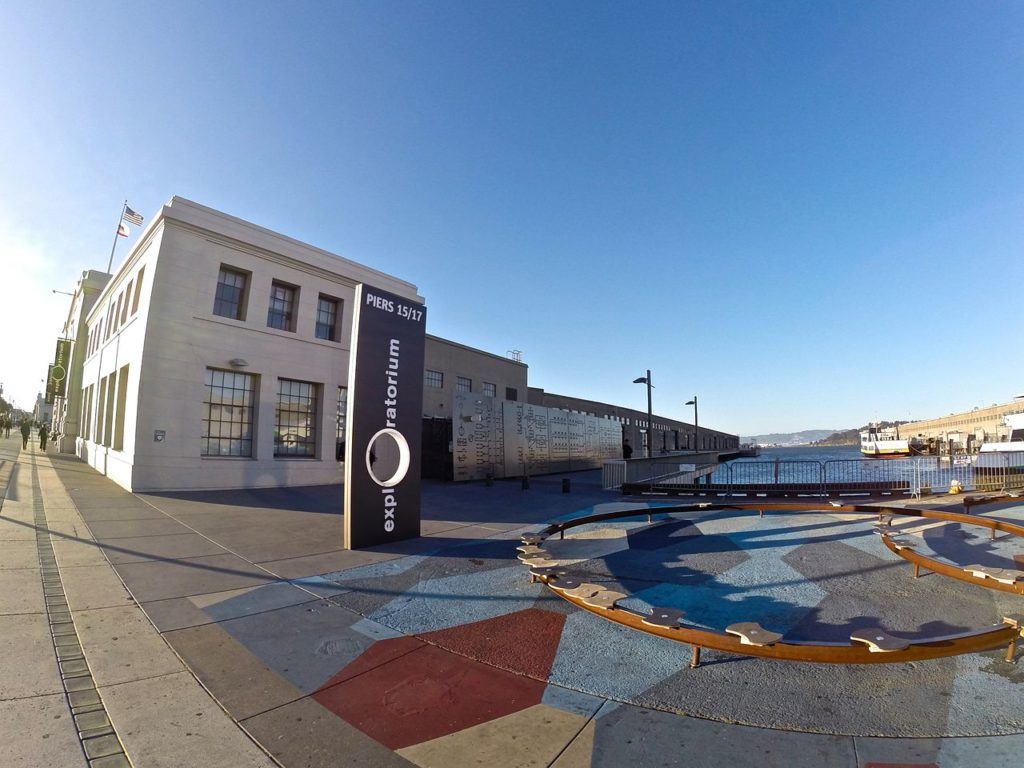 The Exploratorium is an interactive museum dedicated to changing the way the world learns. Located at Pier 15 in Embarcadero, this is a unique science-based attraction and one of the best things to do in San Francisco with kids.
This museum is sure to ignite every visitor's curiosity with its 600 hands-on exhibits on science, art and human perception. It also offers incredible views of the city and bay from the glass and steel Bay Observatory. For more information, please visit the museum's official website.
Drive/Walk Down Lombard Street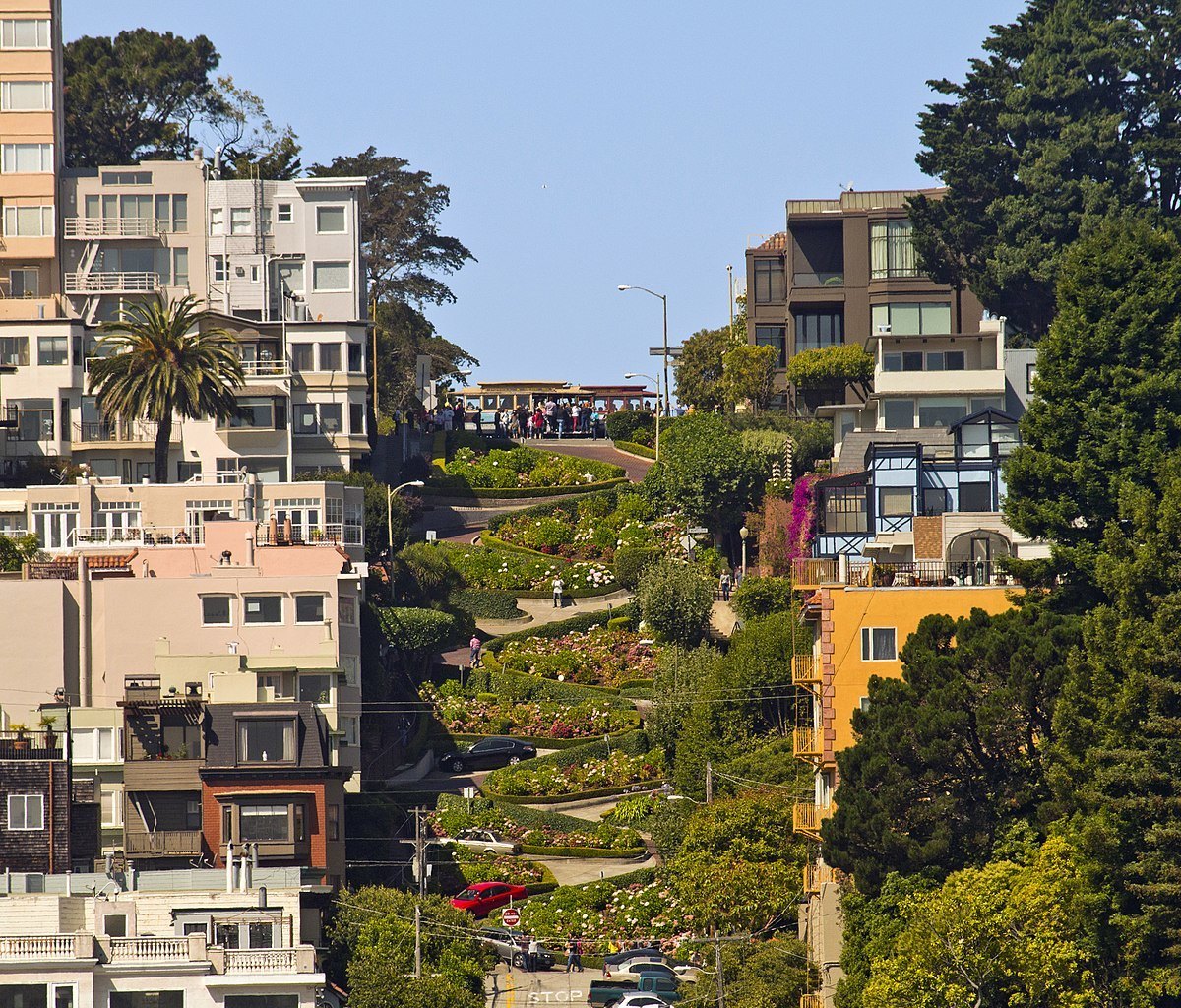 Lombard Street is known as the "crookedest" street in the world. The street runs across town, but the section most famously known is a steep block between Leavenworth and Hyde. The block has eight hairpin turns and is bordered with blooming flowers, beautiful greenery and really nice homes.
Reminiscent of a playground slide, driving down Lombard Street is one of the most fun things to do in San Francisco. The best photos are taken from the bottom of the street where you can capture most of the street and its turns. Arrive early in the day to avoid the hordes of tourists.
Wander Through Chinatown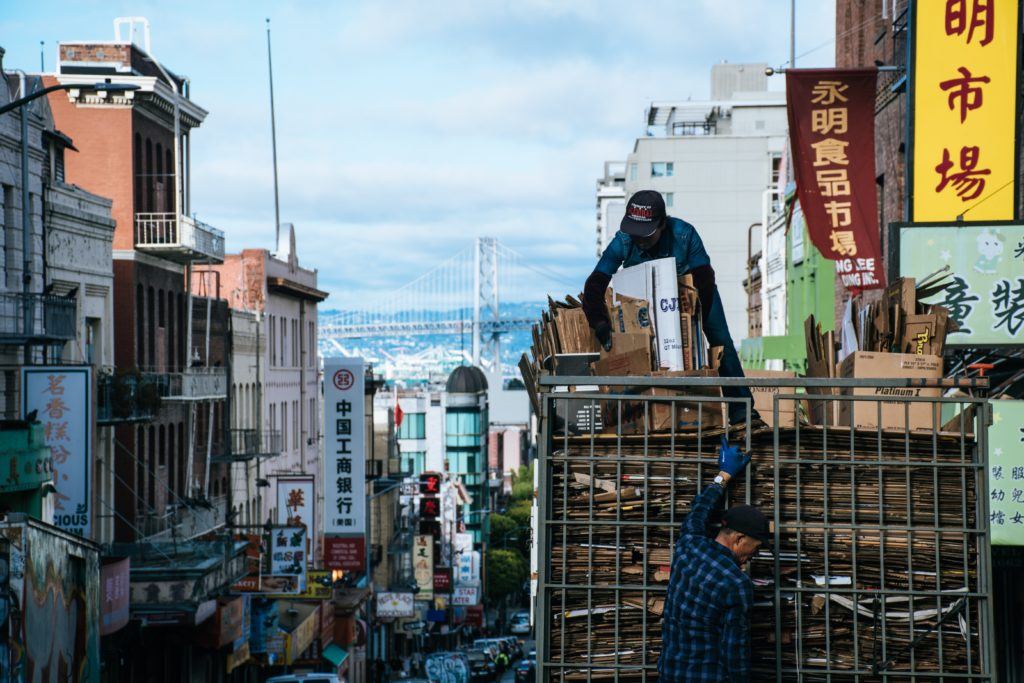 After visiting Lombard Street, visitors can visit the nearby Chinatown. It seems like every major city in the U.S. has its own, but San Francisco's Chinatown is one of the largest in the country and is home to America's oldest operating Chinese temple, Tin How Temple. The neighborhood is filled with Chinese markets, restaurants and souvenir shops. Visitors can also learn about and see how fortune cookies are made in the Golden Gate Fortune Cookie Factory.
Day 3
Picnic at Alamo Square Park & Photograph the Painted Ladies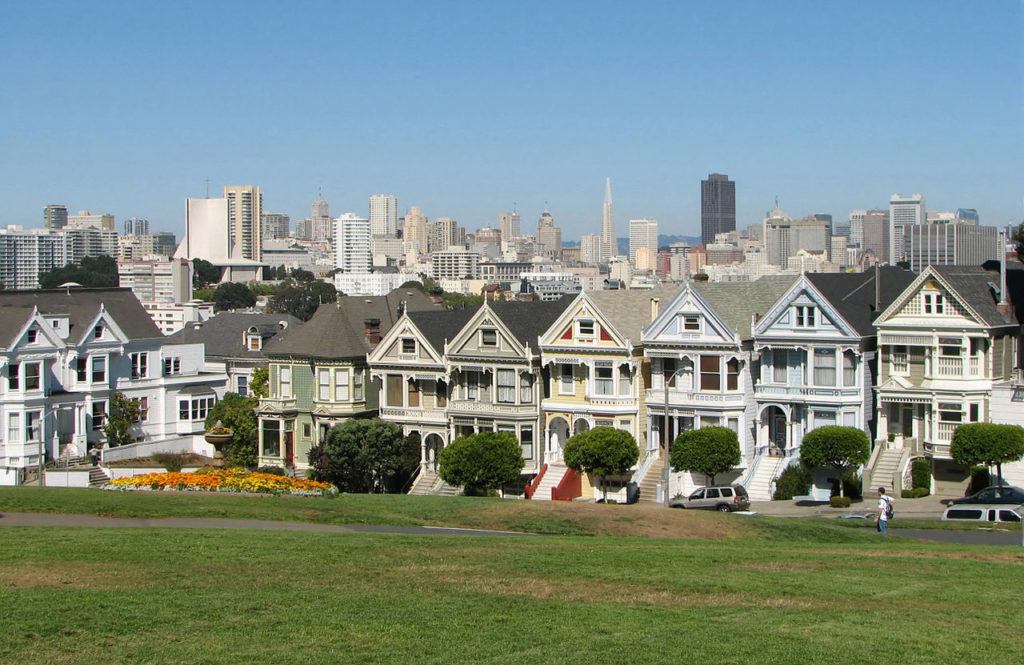 Whenever I think of the Painted Ladies, I automatically think of the opening sequence of one of my favorite childhood sitcoms, Full House. Fun fact: The actual house from the show is down the street.
The Painted Ladies are six Victorian-style houses built from 1892-1896 and uniformly painted in pastel colors. They are located across the street from Alamo Square Park, where you can enjoy a picnic and get great photographs of the Painted Ladies—you can't actually enter the houses as real people live in them.
Visit the Vibrant Mission District
The Mission District is an eclectic and cool neighborhood known for its Latinx culture, amazing eateries and bars and concentrated selection of street art.
Check Out the Mission District Murals
Wherever you turn in San Francisco, you'll run into street art. Mission District has a large concentration of large-scale murals in its alleyways, and many reflect the the neighborhood's Latinx heritage and social justice themes.
Head to Balmy Alley, Clarion Alley and Orange Alley to admire and photograph some impressive works. You can learn more about the art pieces by visiting SF Mural Arts or taking a walking mural tour with Precita Eyes Mural Arts and Visitors Center.
Sunbathe in Mission Dolores Park
Grab a blanket, snacks and head to Mission Dolores Park for a relaxing hang-out spot. Whether it's a week day, the weekend, a sunny or cloudy day, you'll always find people enjoying this park. Head up to the southwest slope for great views of the downtown skyline.
Appreciate Diversity in Castro District
San Francisco was the first U.S. city to legalize gay marriage. It was the birthplace of the rainbow flag and home to Harvey Milk, the country's first openly gay public official. Castro District is the epicenter of the LGBTQ community.
Visitors and locals can enjoy Castro's vibrant, friendly and laid-back atmosphere. It's home to the Castro Theatre, a big, independent theater that shows lesser-known films and has costume contests and sing-alongs. Castro also has a high-spirited dining and nightlife scene.
Other Things to do in San Francisco
Overdose in Chocolate at Ghirardelli Square
Ghirardelli Square is located on the Fisherman's Wharf. It's home to the first Ghirardelli chocolate factory, where you can find some of the best chocolate in the world. Today, the square includes a variety of shops, restaurants and galleries.
Shop 'til You Drop at Union Square
Union Square is one the best places to visit in San Francisco for shopping. It's a busy and touristy area with tons of hotels, designer stores, upscale boutiques, major department stores and restaurants.
Eat Your Way inside the Ferry Building Marketplace
Located inside the Ferry Building Marketplace is a massive and bustling public food hall with large and small specialty food shops offering cheese, wine, coffee, fresh produce and other delectable treats. Go hungry and eat your way through the market.
Take a Hike to Twin Peaks
One of the best views of San Francisco can be seen from Twin Peaks. Visitors can drive or hike up to the top and take in the beauty of the rolling hills, ocean views and the distinct neighborhoods and bridges that make up San Francisco.
Explore North Beach
North Beach, the city's Italian quarter, is not an actual beach, but rather a neighborhood of lovely European-style restaurants, cafes, jazz clubs and boutique shops. The main attractions in this neighborhood include the Coit Tower, which sits atop Telegraph Hill and features WPA murals and panoramic city views, and Washington Square Park, a popular urban oasis.
Watch a Giants Game at AT&T Park
AT&T Park is home to the San Francisco Giants baseball team. Whether you're a baseball fan or not, you'll enjoy the buzzing energy of the fans, the picturesque views of the San Francisco Bay and the quality food options available at the park.
Celebrate the Night
San Francisco offers all types of nightlife scenes throughout its different neighborhoods. Whether you like to drink fancy cocktails in Union Square, let loose in Castro or get immersed in the Exploratorium After Dark, you are sure to find fun things to do in San Francisco at night.
As you've read above, San Francisco has a lot to offer. Now, it's time to book your trip to the Golden City and embrace the chill, open-minded vibe of San Francisco.
Get inspired by more travel articles:
If you have any suggestions on other things to do in San Francisco or would like to share your experiences in the city, please leave a comment below.
Do you have a burning travel question? Join our Nomad is Beautiful travel community on Facebook and ask experienced travelers!