The transport in India might get a tad tricky compared to other popular destinations in Asia. The distances between the cities are long, the railway system in India is huge, the trains might get delayed or cancelled, and some buses depart only a few times or once per week. That said, don't underestimate the planning part of your India trip.
Transport in India
In this post you'll find an overview of transport in India based on our own experience and some practical tips that might help you to move around and save lots of time, money and energy.
Like it? Pin it!

Airplanes in India
Whether you travel in India long term or you visit the country for two weeks, you'll most probably take a flight or two. The reason is simple. India is a vast country, distances are far more bigger in real than they seem on a map.
So if you desire to see more places in shorter time, then opt for a low-cost domestic flight.
We planned to avoid flights in India at all cost so that we could "go green", but there were situations where taking a flight and skipping an attraction in a remote area saved us many days of travel… and money. Don't push yourself. Go with the flow rather than ticking off all major must-see places.
Buses in India
Buses in India might have not the best reputation because of their safety, but they aren't that bad. We traveled by buses in the states of Rajasthan and Uttarakhand, and they were OK. But the truth is, we always took a day bus, never a sleeper, which we were told we should avoid for the crazy driving via curvy roads at night. However, taking a night bus will be sometimes the only option how to cross the mountainous areas in India.
Some routes offer a first class couch, which is usually a Volvo bus with a/c and reclining seats. Otherwise there are local buses with padded, though pretty old seats and no seat belts, mind you.
Buses in India usually depart on time and arrive with minor delays.
How to buy a bus ticket in India: We bought our bus tickets always at the bus stations either a few days in advance (for long-distance journeys), or directly in a bus, from the driver's helper (for short-distance trips). Other option is to book a ticket online via redbus.com In this case you might travel in a minivan with a/c, not a regular bus. Both buses and minivans have toilet and snack/lunch stops.
Read more related articles:
Trains in India
A train trip might become one of the most memorable adventures in India. You'll be able to watch the Indian landscape, see village life waking up at the dawn, interact with local Indians, and… test your patience occasionally. Trains in India have huge delays. It happened to us that trains were late 3, 6, 8, and 13 hours.
If you plan to travel by train at night, opt for an AC2 class (air-conditioned 2 tier), FC (1st class) as they are more comfortable. Avoid Sleeper class at night as the berths aren't comfortable and the train wagons of the Sleeper class tend to be crowded.
For day trips we recommend taking the reliable Shatabdi Express trains. The seats are very comfy, and breakfast, water, tea are included.
Tip: always bring a warm hoodie with you as the air conditioning in Indian trains is quite strong. .
How to buy a train ticket: Although there is an option for foreigners to book a train ticket online through the official Indian railways system, it didn't work for us, as it failed in approving our account.
We found that the best way to purchase the tickets is to do it directly at the train stations. The staff has been always friendly and helpful with filling up the forms. Often there are special windows for foreign tourists, so you can avoid long queues of locals.
Safety tip: bring a chain to secure your luggage below the seat or on your upper berth.
For more information, the website seat61.com will be your "train bible" when exploring the world by train.
Auto rickshaw in India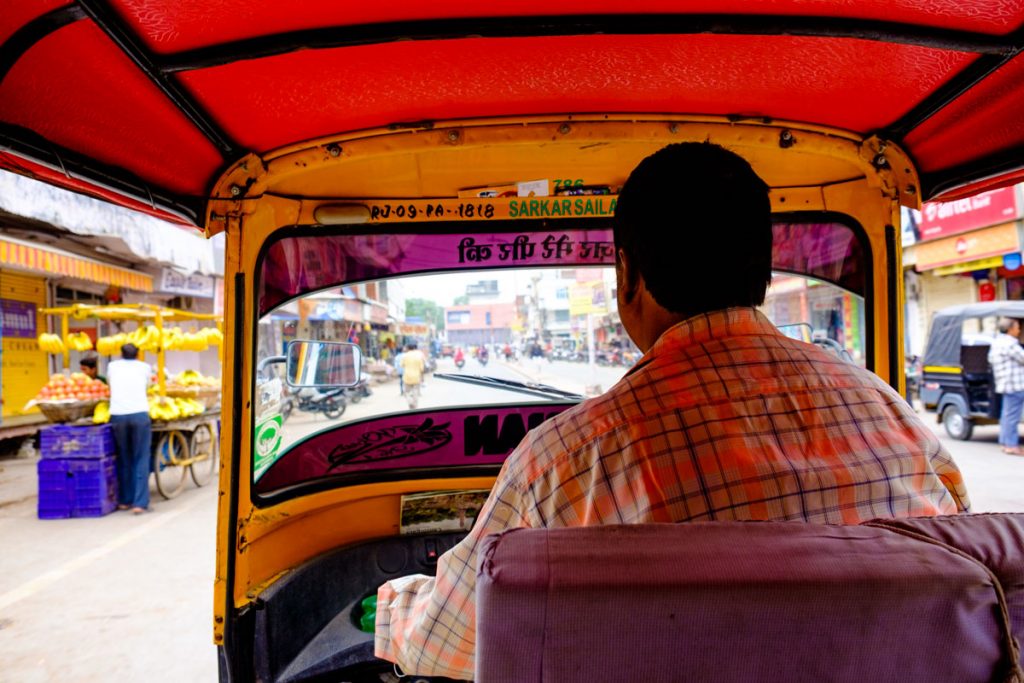 Speedy, authentic, and an unforgettable way to venture around the cities in India. In some cities you won't find any metered rickshaws as they try to set their own prices and the only way how to deal with them is to use your charm and bargaining skills.
Tip: if you are not sure how much to pay for a ride, ask a local friend or hotel owner how much they usually pay and stick to this price when dealing with a driver. Or, when there is Uber or Ola available in town, check how much they would charge you for a trip and then offer lower price to a rickshaw driver. In most cases, you'd pay 10-15 Rs per kilometer, but in cities like Rishikesh the prices are higher since it's a mountaineous area. Get ready to pay also 30-40 Rs per kilometer.
Uber or Ola taxi in India
Very popular in India, also among locals. While Uber is considered to provide more professional service and the drivers speak a bit better English compared to Ola competitors, we found Ola a better option if you need a ride from/to a remote area, and a driver cannot find a pick-up point.
With Uber, you can't cancel a ride (we even paid for a cancelled ride after a driver never arrived). With Ola, after we wait for the assigned time and a driver doesn't appear, it's always easy to cancel a journey without any extra fee.
Ola offers a rickshaw taxi in smaller towns.
Private car in India
If you prefer exploring regions and cities in India at your own pace and with a great comfort, then a private car will be the best option. We hired a private driver in Mumbai for half day for 1200 Rs to bring us to a Natural Park that was hard to reach with public buses.
We got a shared private car from Jodhpur to Pushkar with our friend Mariellen. The price for two of us was 4400 Rs.
You'll find companies offering private car services in any touristy place. If you travel in India in low season – negotiate the price.
That was a basic overview of transport in India. Hope you've found it helpful, and if you have any other tips, or you want to share your own travel experience, please leave a comment below. We'll be happy to hear from you!