The first time in Bangkok or Southeast Asia in general might be overwhelming. Surprising smells, new sounds, a different culture you've never encountered before can bring more challenges that one would wish. Or not. Maybe you're a person who jumps into a new environment easily, adjusts to a new timezone, cuisine and embraces new traditions without any hesitation.
In any case, if you're heading to Thailand and looking for some practical Bangkok tips, you're coming to the right place.
This Bangkok blog is based on our personal experience in the city which has become our second home during our travels.
Bangkok tips for your first time in the city
Choose the best time to visit Bangkok
Want to have a pleasant weather and no rain? Then number 1 Bangkok travel tip would be traveling there between November and end of February. If you are not confident to travel to Asia independently, start looking for Thailand holiday packages in March or early April. You'll get better chance  to pick the best place and activities for early bird price.
Find the best hotel in Bangkok
If you haven't booked a room, do it now. Not sure which are the best areas to stay in Bangkok? Here are three of the most tourist-friendly districts and hotels in Bangkok you might want to consider.
We stayed in the area many times and honestly, it's one of the best areas to stay in Bangkok. Get ready for a commercial atmosphere here. Many of the main shopping malls are located in Siam Square and it's easily accessible by sky train, too.
The nightlife in Bangkok doesn't concentrates only in Khao San road. If you are for the first time in Bangkok and you like some fancy clubs and looking for some of the best hotels in Bangkok, you should check the Sukhumvit district.
This is one of our most favourite parts of Bangkok and it's on the top of the list of our Bangkok tips. If you're a street food lover, this is the place you have to go! Find a vendor with a steamy stall with grilled food, grab a beer, find a free table on the pavement and indulge in the street vibes of Bangkok.
Check out our ultimate Thailand Travel Guide and plan your trip independently! 
Get a new SIM card
At the Suvarnabhumi International airport you will find a stall offering you mobile packages with top-up or 3G data for tourists. Go for Happy Tourist SIM card from DTAC (great deal of 299 THB for 7-days with unlimited data and 100 THB calling credit). If you plan to stay in Bangkok and Thailand longer, we suggest AIS SIM card with good monthly deals.
Thanks to the advance of technology, now you can access the Internet seamlessly and hassle-free with just a QR code – eSIM. With Thailand eSIM, visitors can simply purchase a data plan through an eSIM app or website, load it onto their phone, and start using data immediately upon arriving in the country.
This bypasses the need to search for a local SIM card at the airport or elsewhere. With Thailand eSIM, travelers can choose from a wide variety of flexible data plans and options from various providers to suit their budget and data requirements.
Get a free map of Bangkok
If you're a paper map person, grab one at the airport or at your place of accommodation.
How to get around in Bangkok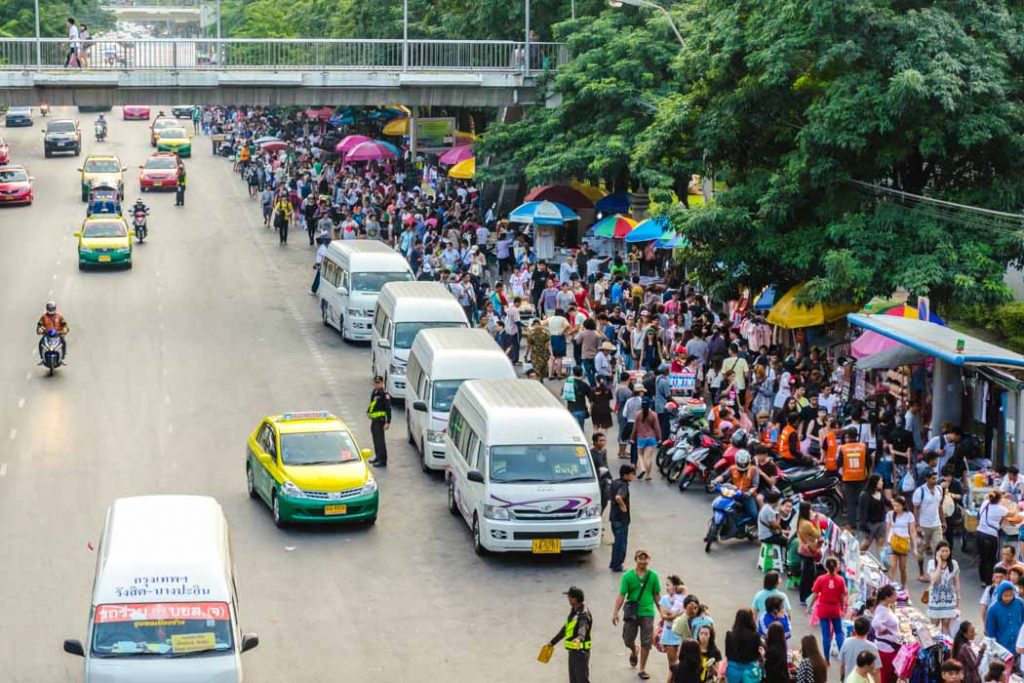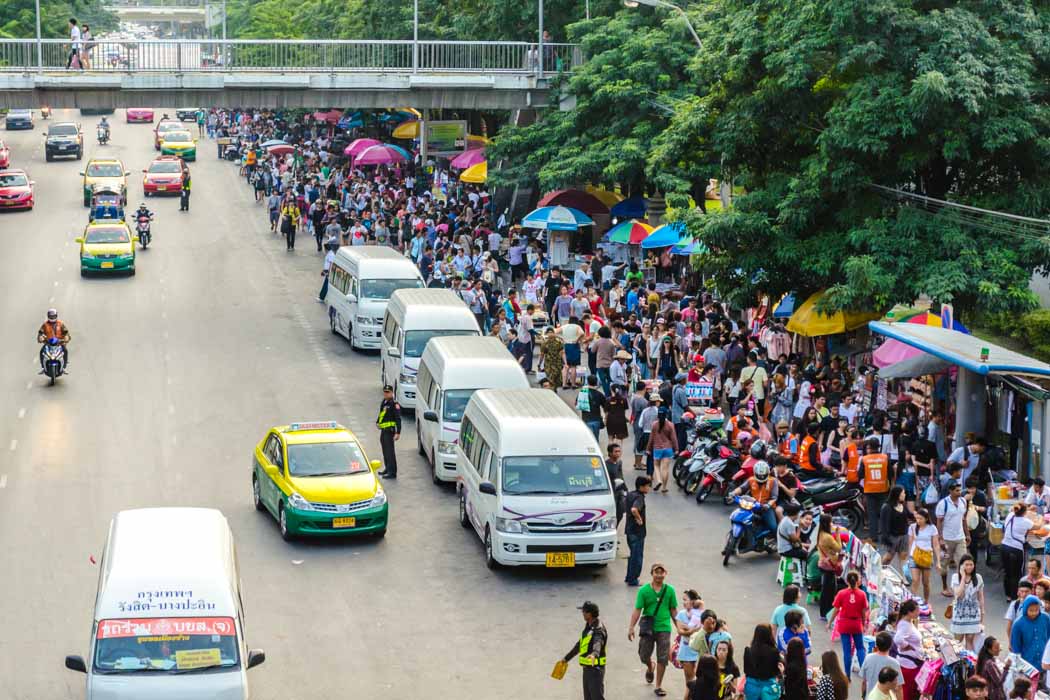 Use public transport. This is the best way to get around Bangkok. From the airport you can take the Airport Rail Links: City Line or Express Line and then use one of BTS skytrains or the MRT (metro train). Check out the routes at the official website of transport in Bangkok.
Vending machines at the metro stations are user-friendly, as there is an English language option. In any case, you can ask for help from a staff member at the station.
The majority of the staff speaks English and is very helpful. By the way, all trains are fully air-conditioned… sometimes even 'over'-conditioned.
Taxi in Bangkok are very affordable and safe. Pink taxi are very reliable. Just agree with the driver that he switches on the taximeter.
Local public buses are super cheap. You just have to figure out which number will bring you to your destination as the schedule on the bus stops is either in Thai, or you won't find it at all.
Ask for directions at the hotel and explain you wish to take a bus, as they would most probably advise you to call a taxi.
Check out our comprehensive Thailand Travel Guide – How to Travel to Thailand Independently
Check activities and tours to do in Bangkok
Change your money outside the airport
A wise option is to change a small amount of cash in your departing country so you can pay transport, first small refreshment, etc. But if you need to change your cash in Bangkok then we suggest to use Super Rich exchange company as their rates turned out absolutely great.
Get some great street food in Bangkok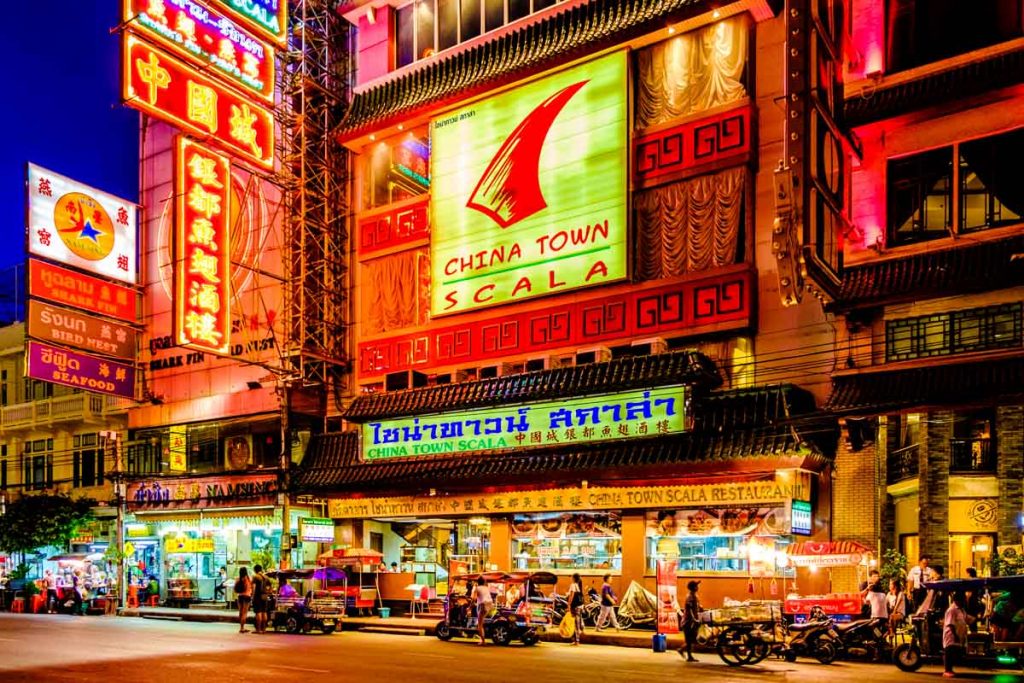 Street food in Bangkok is absolutely safe, and we encourage you to explore the night markets in Bangkok and sample exotic dishes at different stalls.
Head to the Yaowarat district, check out JJ Green market, Suan Lum Ratchada, Siam Gypsy Junction, or new Talad Neon night market.
You MUST visit Chatuchak market with thousands of stalls and some great street food, too. Open on Saturday and Sunday from 9am-6pm and Friday from 6pm-midnight. Once you're at the Chatuchak, don't miss out the Or Tor Kor market with some good food.
Read more articles about Thailand
Where to Stay in Bangkok: The Best Hotels and Neighborhoods
15 Things to Do and Best Hotels in Koh Lanta
What to Pack for Thailand: the Ultimate Packing List
Discover the Marvels of Thai Massage
Things to Do in Chiang Mai: Your Ultimate List of Awesome Experiences
Where to Stay in Chiang Mai: The Best Hotels and Neighborhoods
What to Pack for Thailand: the Ultimate Packing List
Get your first Thai massage
This will be sooooo good after a full day of walking or a long flight. Find a spa or massage parlor, and let the Thai professionals do their job. If it's going to be your first Thai massage ever, ask for "bao bao", which means gently. Read more about Thai massage in our article.
Explore the city independently
You don't really need a tour guide in Bangkok. Check the landmarks you want to visit in advance, save them in your Google Map or in offline map Maps.me on your smartphone, and venture around the city by your own. The public transport will take you everywhere you want to go.
Go shopping at the Bangkok malls
In case you've forgotten something at home and you need it urgently for your vacation in Thailand, we recommend MBK Center, Central World, Siam Paragon, Platinum Fashion and funky Terminal 21.
Watch a Muay Thai boxing match
Great stuff! Get a ticket and watch a real Thai boxing match. The best place to do it is the Lumpinee Boxing Stadium, Ratchadamnoen Stadium, or Channel 7 Stadium.
Check activities and tours to do in Bangkok
Check out the real floating market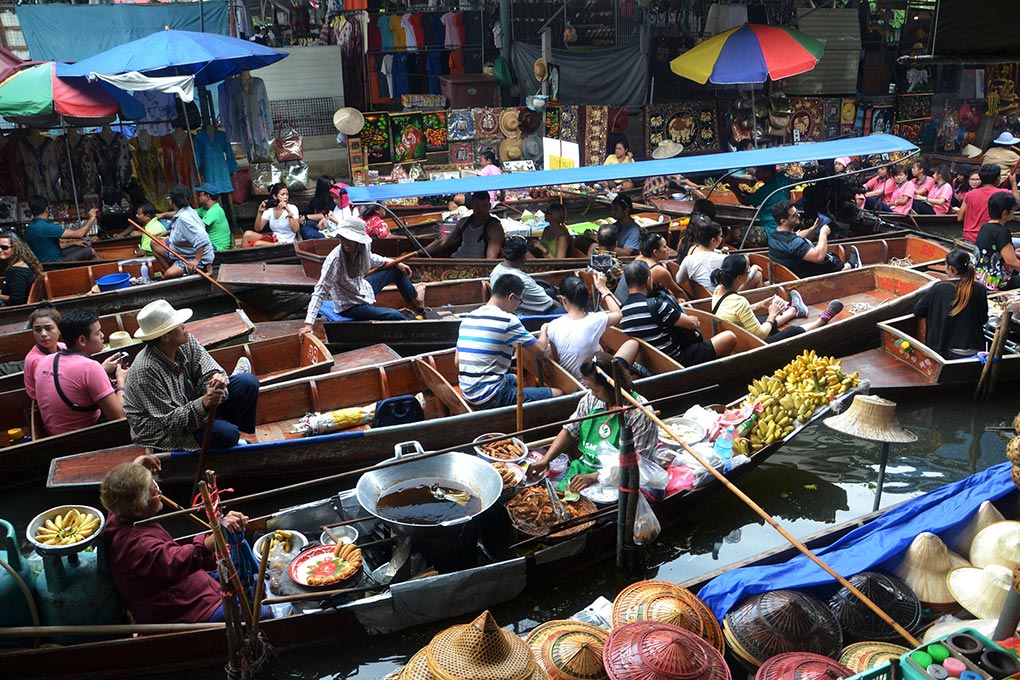 There are many floating markets in Bangkok, but only a few of them are real and not for tourists. We visited Khlong Lat Mayom Floating Market and loved it!
You'll be able to have some of the best Thai food here. Go for a short ride on a river with smiling local ladies selling fruits & veggies.
Avoid a trip on a bigger boat at the floating market. A cruise lasts nearly 3hr, they'll take you to a place along the river to buy souvenirs, you'll visit a random temple and they'd encourage you to eat at their friends. Not worth.
Go jogging or have a walk in the Lumpinee Park
If you come early in the morning, you might see locals and expats practicing yoga, tai-chi, or just running in the "green lungs of Bangkok" as they call the park.
Have a drink on a rooftop bar
Sightseeing is perfect, but watching the city of angels from above is a must. You might want to check Sky Bar, Above Eleven, Vertigo or Octave.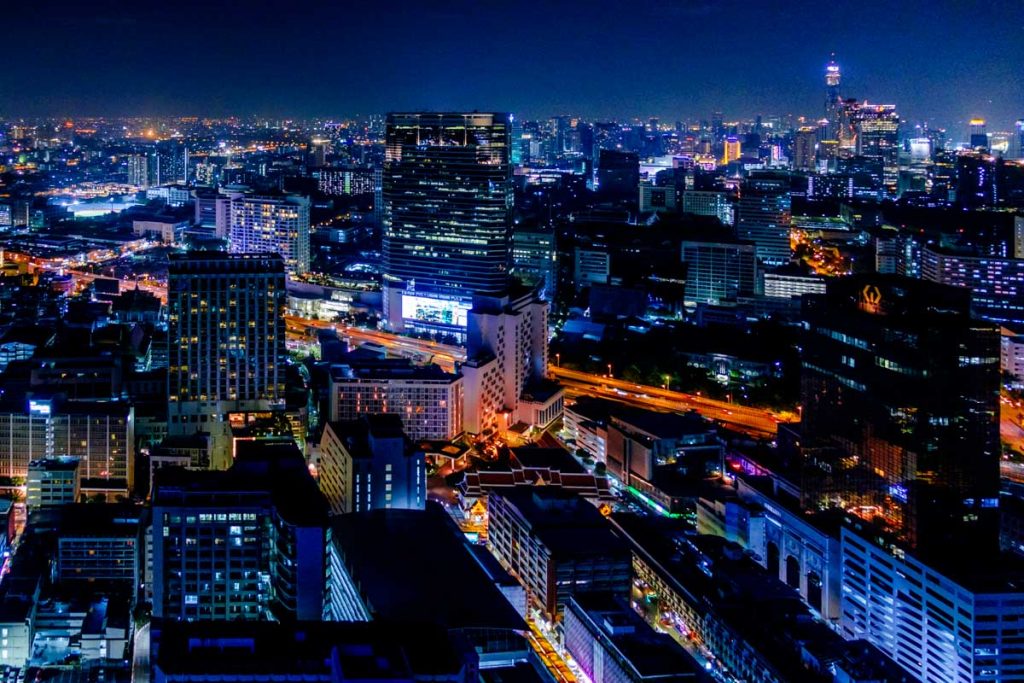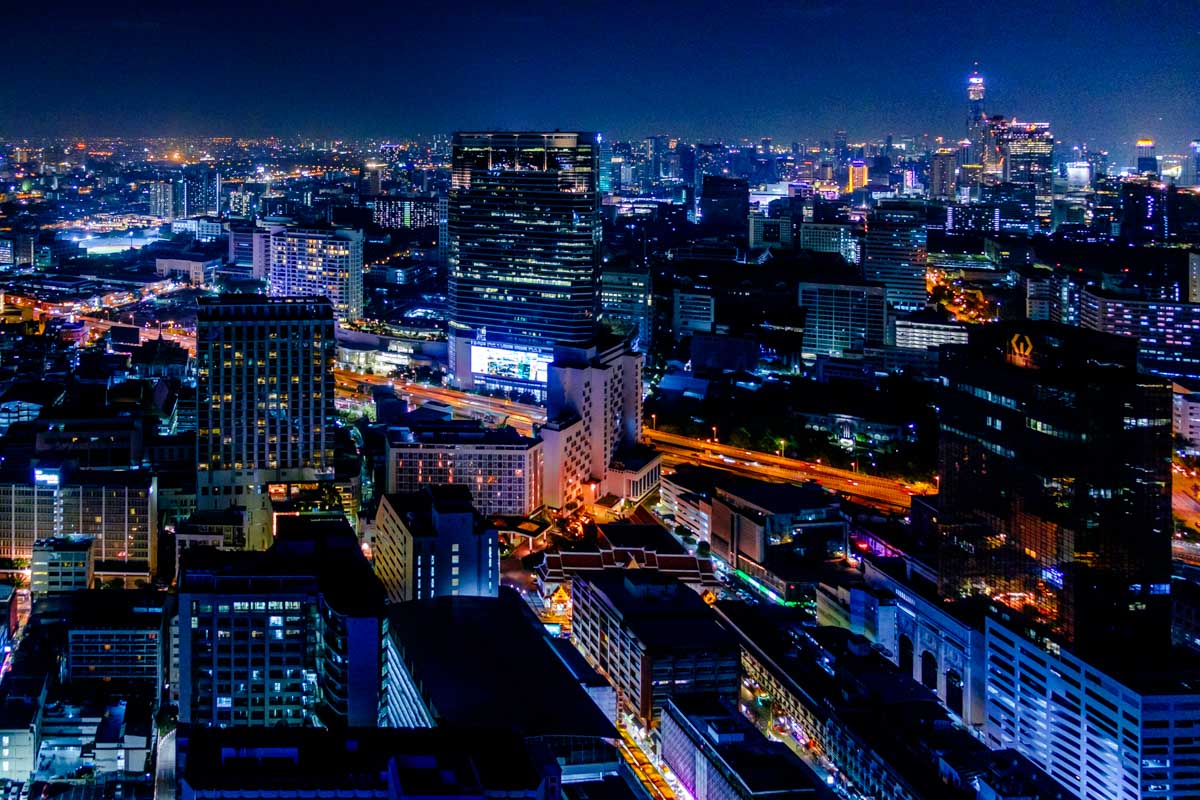 Avoid scams
Generally, Bangkok and Thailand is a very safe country. But when visiting Bangkok first time, there will be situations when you'll need to be more attentive.
Avoid getting on a tuk-tuk that approaches you as drivers charge insane prices. If you must take a tuk-tuk because there is no other option, agree on a price before you jump in.
Don't agree on any guiding tour from a random person on a street. They tend to promise to show you the main landmarks, but will take you for a tour to souvenir shops instead. Needless to say, they would overcharge you for that.
In case you'll need some professional legal advice, you can contact this law firm in Thailand.
Looking for more tips on how to travel to Thailand independently?
Check our Ultimate Thailand Travel Guide!
Get on a taxi only after a driver agrees to switch on the taximeter.
Be careful when buying gold in Yaowarat district as it might happen to be fake.
Hopefully these suggestions will help you to make your Bangkok trip great. Enjoy Thailand!
Like it? Pin it!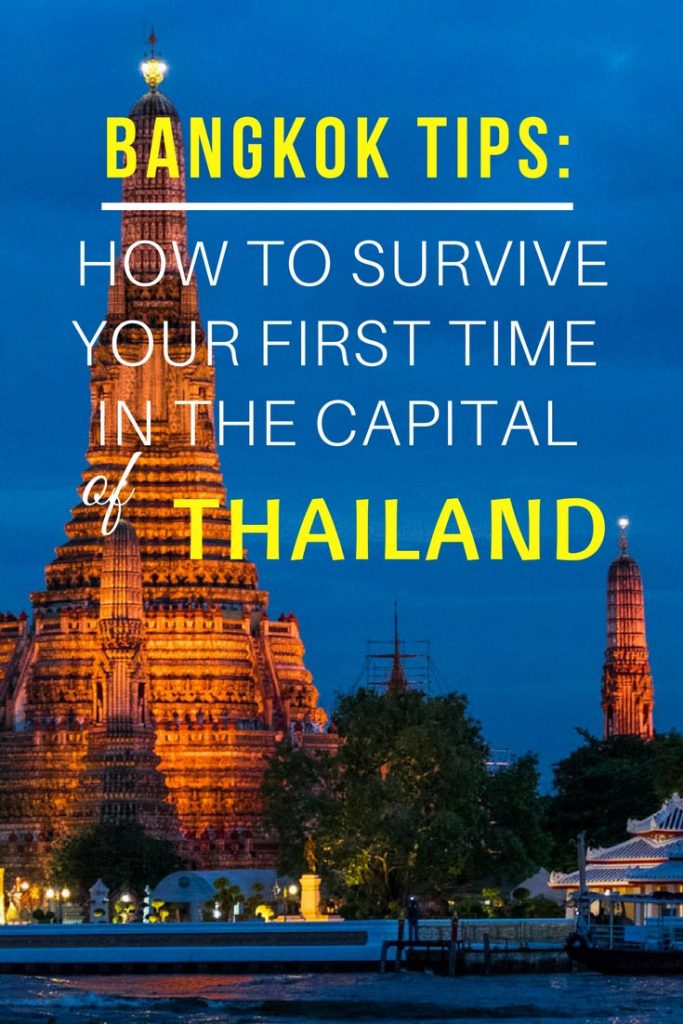 Get inspired my more articles about Thailand
Need an escape from busy Bangkok? Visit Bang Krachao Island!
Ayutthaya Day Trip from Bangkok
Ecotourism in Southeast Asia: Tips on Destinations and Activities
Digital Nomad Guide to Thailand: Taking Your First Steps
What to Wear in Thailand: Tips for Your Urban and Beach Vacation
Disclosure: Some of the links above are affiliate links, which at no extra cost to you, will earn us a small commission and reduce the costs of running this site