If you're wondering where to go in Vietnam, this article will help you plan your trip, spend your time wisely and help you find the best places to visit both on and off the tourist trail.
During the last few years, my husband and I have spent a total of six months visiting the best Vietnam destinations, lounging on some of the best beaches in Vietnam and going on a few terrific Vietnam tours.
These are our favourite places to see in Vietnam, some are well known while others will get you off the beaten path. In each destination, we also recommend our choices of the best hotels for budget, mid-range, and luxury travel to Vietnam.
Enjoy this Vietnam travel guide and then get packing!
Where to go in Vietnam

Visit Sapa for trekking and cultural experiences
In the far north of Vietnam, the mountainous region of Sapa calls to nature-lovers and people who want to immerse themselves in the culture of the Mountain Hmong people. The best way to see the staggering beauty of Sapa's Hoang Lien mountain range is on foot. My two-day trekking tour in Sapa, guided by a feisty and often hilarious Hmong woman was one of the highlights of my Vietnam travels.
Where to stay in Sapa
Avoid staying in the town of Sapa itself — it's a tourist trap extraordinaire, with rows of tacky hotels and restaurants offering 2-for-1 cocktails. Instead, enjoy a few nights in a homestay or pamper yourself at an eco-friendly resort with spectacular mountain views.
Luxury > Topas Ecolodge
On a secluded hilltop 45 minutes from the town of Sapa, Topas Ecolodge offers accommodation in private bungalows, each with its own unobstructed mountain view. Guests can trek or cycle from the lodge or just spend the day luxuriating in the salt water pool.
Topas Ecolodge is committed to sustainable and responsible practices such as training and employing people from the local villages, sourcing the food for their restaurant locally, and conserving resources. Check the latest prices.
Mid-range > Tavan Ecologic Homestay
Several kilometres from Sapa Town, Tavan Ecologic homestay overlooks a dramatic valley of terraced rice fields and offers accommodation in traditional wooden huts. Guests can explored the surrounding countryside by bike, visit the local village, or just enjoy the stunning scenery. Check the latest prices.
Budget > Mao's Homestay
A day's trek up the mountain from Sapa Town, Mao's homestay is a no-frills family home with a couple of private rooms and two long dorm equipped with mattresses on the floor and mosquito nets. Mao's family will welcome you with huge smiles and lots of jokes. The evening meal is varied and delicious, while the after-dinner rice wine flows freely! You can book a trek to Mao's Homestay through Lily's travel agency.
Heading to Asia? Read more related articles
Visit Hanoi for history and culture
As Vietnam's capital city, Hanoi is the first stop on many Vietnam itineraries. The buzz and hum of Hanoi's narrow winding streets, where even crossing the street can be an adventure, is an exotic thrill for even the most intrepid travellers.
Make sure to plan your stay in the Old Quarter for a weekend, when the streets are closed to traffic, making wandering the alleys of Hanoi a much more pleasurable and safe experience. If you're wondering where to go in Vietnam first, make it Hanoi.
Don't miss this complete guide to finding the best Hanoi vegetarian food.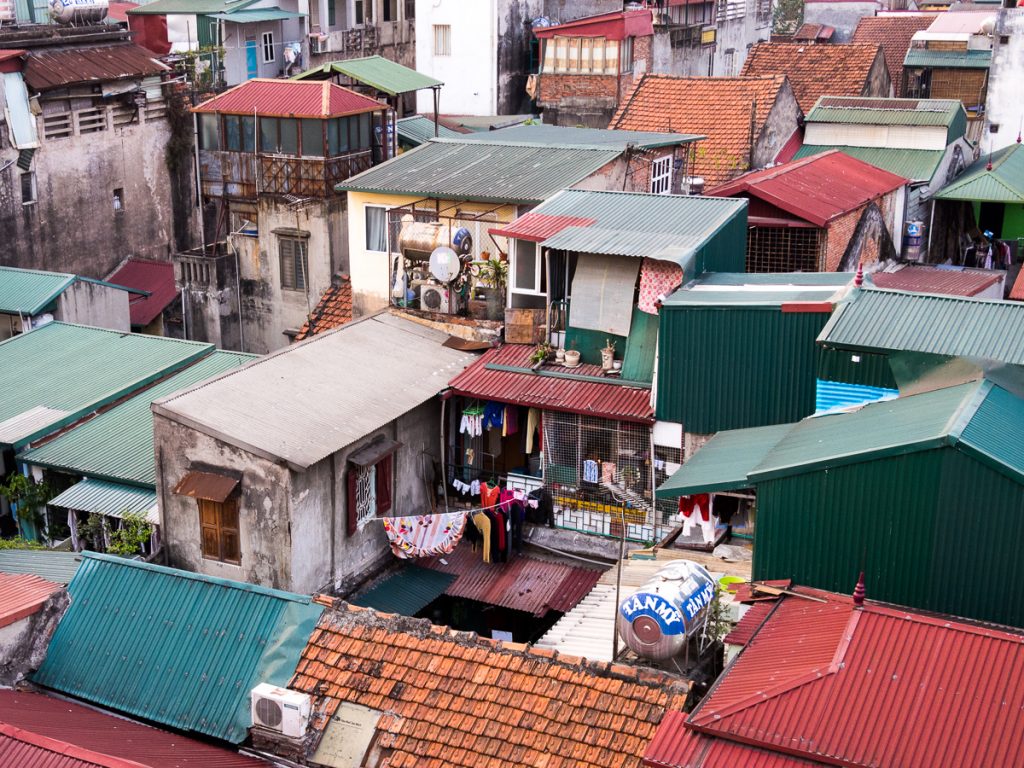 Where to stay in Hanoi
Most of the hotels and hostels in Hanoi are centred around the city's Old Quarter which is where you'll find the highest concentration of restaurants, bars, and shopping as well. Stay in this lively quarter to get the full-on Hanoi experience.
Luxury > Elegance Emerald
The small chain of Elegance boutique hotels in Hanoi really stands out from the crowd, consistently offering outstanding service, comfortable rooms, and delicious made-to-order breakfasts. The Elegance Emerald is the best of the bunch, offering a true luxury experience in the heart of Hanoi's Old Quarter. Check the latest prices.
Mid-range > Hanoi La Selva Hotel
With modern spacious rooms featuring wall murals of nature scenes, Hanoi La Selva provides a peaceful retreat from the madness of Hanoi's Old Quarter. The staff are exceptional, too, providing everything you'll need for a comfortable stay in Hanoi. Check the latest prices.
Budget > Old Quarter View Hanoi Hostel
With modern bunk beds, private storage lockers and plenty of space in the rooms, Old Quarter View is the best place to stay in Hanoi for backpackers and budget travellers. They offer a range of dorm rooms and a few private rooms for those who need a little more privacy. Check the latest prices.
Visit Mai Chau for a taste of Vietnamese village life
While it's not as popular as Sapa or Ha Long Bay, a visit to Mai Chau is one of the best things to do in Vietnam. While it's easy to take a day trip to Mai Chau from Hanoi, I recommend opting for a few nights in the village instead. The streets of the small villages near Mai Chau are lined with traditional stilt houses. Renting a bicycle will take you out into an endless series of rice fields where you can enjoy the beauty of this stunning valley.
Although it's not a completely authentic experience — the village has been re-developed specifically for tourism — it still retains a rural charm, with the added benefits of Wifi, mosquito nets and modern toilets.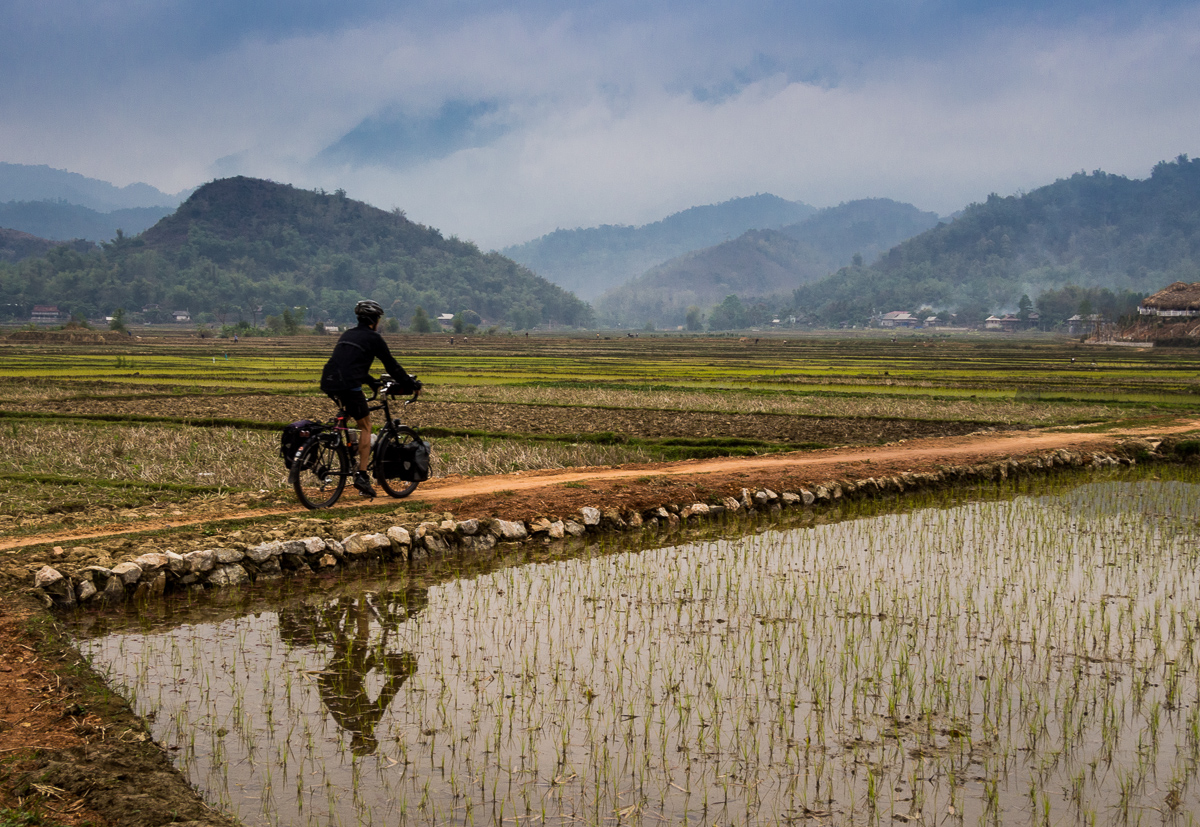 Where to stay in Mai Chau
Most of the best home stays are not actually in Mai Chau, which is a fairly unappealing little town. Instead, just a kilometre away, nestled between the rice paddies, three small villages welcome tourists into a wide range of accommodation.
Luxury > Mai Chau Ecolodge
Surrounded by bright green rice fields, Mai Chau Ecolodge seems a world away from the frenetic streets of Hanoi. Accommodation is in private villas and guests can walk and cycle through the rice fields or even help the locals with a bit of farm work! The luxurious pool is the perfect place to cool off after working up a sweat in the fields. Check the latest prices.
Mid-range > Mai Chau Nature Lodge
With family rooms and dorm accommodation available, plus a barbecue, a children's play area, and free bicycle use, Mai Chau Nature Lodge is an excellent choice for families or small groups. Check the latest prices.
Budget > Mai Chau Family Homestay
The rooms here are arranged in typical Vietnamese homestay style, with mattresses placed on the floor of wooden stilt houses. The comfortable rooms are arranged around a small fishing lake and the onsite restaurant provides free breakfast and delicious meals later in the day. Check the latest prices.
Visit Ninh Binh for dramatic karst landscapes
An hour by train south of Hanoi lies the small town of Ninh Binh, where narrow waterways wind lazily through a breathtaking karst landscape. Though it is possible to take a day trip here from Hanoi, spending at least two nights is a much better option.
Hop on a row boat first thing in the morning before the tourist crowds arrive and enjoy a peaceful trip through some of the world's most beautiful landscape. Ninh Binh is also an ideal place for cycling and hiking, with plenty of pagodas and tiny villages to make you fall in love with rural Vietnamese life.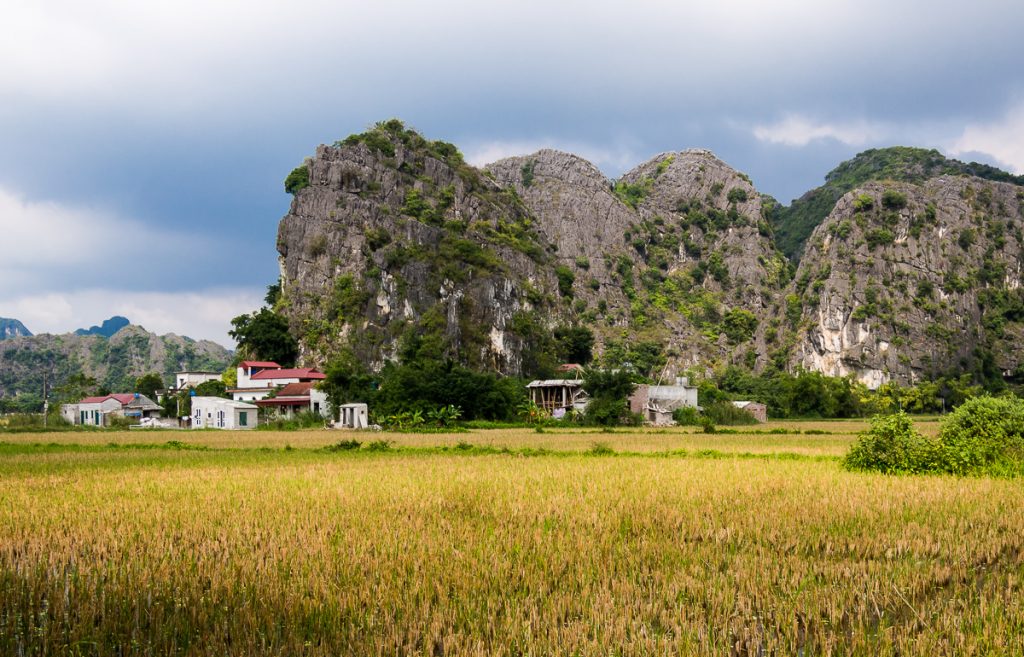 Where to stay in Ninh Binh
Like Mai Chau, the town of Ninh Binh doesn't have much going for it. Most of the most attractive places to stay are a few kilometres down the highway in Tam Coc or hidden in secluded spots under the karst formations.
Luxury > Ninh Binh Hidden Charm Hotel & Resort
You can expect large, beautifully designed rooms and first-class service at Ninh Binh Hidden Charm Hotel. The onsite spa and pool are perfect for relaxing after a day cycling the backroads of Ninh Binh. Click here for the latest prices.
Mid-Range > Nguyen Shack
The bamboo bungalows at Nguyen Shack are arrayed around a small lake and offer private balconies with hammocks. With excellent food in the onsite restaurant, guests will want to reserve at least a day for just lounging around the property, enjoying the tranquility. Nguyen Shack also hosts free English lessons for the local children and guests are welcome to participate. Check the latest prices.
Budget > Tam Coc River View Homestay
You can't beat the location of Tamcoc River View Homestay, an easy walk for Tamcoc Village and right on the river. Guests eat breakfast riverside while row boats filled with tourists float lazily by. The dorm room is a tight squeeze but the bungalows are excellent value for money. Check the latest prices.
Visit Hoi An for old world charm
This UNESCO site is a Vietnam must see and features on most travellers' Vietnam vacation bucket list, yet, despite the hordes of tourists, Hoi An somehow manages to retain its old-world charm. It may just be my favourite place in the entire country.
The narrow streets of Hoi An's old quarter feature well preserved ancient houses, all painted a rich yellow which just adds to the dream-like nature of the town. Hoi An is a living museum but also features some of Vietnam's best restaurants, cafes, and boutique shopping. If you're in the market for new clothes, Hoi An's famous tailors will make anything you want in just a few days.
Where to stay in Hoi An
The attractions of Hoi An are clustered around the central ancient town, so accommodation prices increase the closer you stay to the center. However, most of the budget hotels and hostels offer free bicycle loans, while a motorbike trip into the centre will only cost you a few dollars.
Luxury > Lantana Boutique Hotel Hoi An
Right on the riverside in Hoi An and just five minutes' walk from the ancient city, Lantana's location couldn't be better. The modern rooms are spotless and guests love relaxing in the spa after a long day of sightseeing in Hoi An. Check the latest prices.
Mid Range > Quynh Chau Homestay
This clean and comfortable homestay offers an excellent location just a few minutes' walk from the Hoi An Ancient City. Some rooms feature private balconies and free bicycle rental is available for exploring a further afield. Check the latest prices.
Budget > Tipi Hostel Hoi An
A friendly and clean hostel, Tipi is centrally located near several excellent restaurants and only 10 minutes' walk from Hoi An Ancient City. The breakfast room and lounge area is the perfect place to get to know fellow travellers. Check the latest prices.
Visit Ho Chi Minh City for fast-paced modern life
After exploring the northern and central parts of Vietnam, a trip to Ho Chi Minh City will make you feel like you've rocketed forward in time at least half a century. The city is modernizing at such a pace that it's hard to recognize it from year to year. A metro system is currently being built and new skyscrapers seem to pop up like mushrooms after a rainstorm, while trendy restaurants open at a frantic pace.
That's not to say Ho Chi Minh city doesn't have its charms. You can still duck down an alleyway and find yourself in the narrow alleyways of Saigon, peeking into family homes that have been there for decades.
Where to stay in Ho Chi Minh City
Ho Chi Minh City is divided into districts with District 1 at the center, where most hotels and restaurants can be found. There is a buzzing backpacker area with endless budget accommodation that lies between the somewhat tacky but interesting Bui Vien street and touristy Ben Thanh market. Higher-end hotels tend to be nearer to the city centre which is where you'll also find more upscale restaurants and boutiques.
Luxury > Chez Mimosa – Boutique Hotel
This family-run hotel features spotless, freshly decorated rooms, with modern comfortable beds. The owner and staff will go out of their way to make you feel completely at home. Check the latest prices.
Mid-range > Beautiful Saigon Boutique Hotel
One of the few hotels with a pool in Saigon's backpacker district, Beautiful Saigon offers clean well-designed rooms and a poolside breakfast with made-to-order noodle soups and eggs. In the center of the action, guests have easy access to the bars and restaurant around Bui Vien street. Check the latest prices.
Budget > Della Boutique Hotel
Backpackers and budget travellers will feel spoiled at this unusual boutique hotel and hostel where the dorm rooms are designed with the same thought and care as the luxurious private rooms. Each dorm room features private lockers, extra space between bunks, and a balcony with a spectacular view of the city. Check the latest prices.
When's the best time to go to Vietnam?
Vietnam has such varied landscape, coastline and climate that you don't have to worry too much about the best time to travel to Vietnam. We have been there in February and March, October and November and June and July, and have enjoyed each trip equally. Depending on your schedule, just about any month can work for your holidays in Vietnam.
If you are heading north, to Sapa and Ha Long Bay, avoid November through February, unless you like to be cold and damp! Winter is the perfect time to visit Ho Chi Minh City and the southern parts of the country, since the rain eases off and the temperature cools (very slightly). February through May is perfect for visiting the UNESCO World Heritage city of Hoi An, while the temperatures are relatively cool and the rainy season has ended.
Do you have other favourite places in Vietnam that you would add to the list? If so, please share them in the comments below. We'd love to hear your suggestions!