Your decision about where to stay in Bangkok can determine the outcome of your experience in the Thai capital. Especially if it's going to be your first time in Asia. Bangkok is a vibrant metropolis that welcomes you with a generous portion of intensive urban vibes, amazing history, an incredible food scene, and genuine local life freed from overwhelming touristy glitter.
All you need to do is to learn where to stay in Bangkok, pick the right neighborhood, find the best accommodation in Bangkok, and then just surrender to what the city offers you.
We've been traveling and living in different areas around Thailand for more than a year since 2013, and we've spent some decent time in Bangkok overall. Honestly, it was not love on the first sight. But the more we visited the city, the more we started to love it.
Now we consider it our second home; a place we always look forward to coming back to. All this happened thanks to the fact that we explored different areas in Bangkok, and we didn't stick to simply the famous backpackers' neighbourhood, Khao San.
In this article, we'll suggest the best districts in Bangkok where we stayed ourselves. We're going to add some tips on what to do in those areas, but most importantly, we'll suggest some of the best hotels in Bangkok. You'll find our "top pick" of each district, plus different budget options of accommodation in Bangkok, varying from 5 star hotels to clean and safe hostels.
Where to Stay in Bangkok: The Best Hotels and Neighborhoods
Where to stay in Chinatown, Bangkok
Chinatown is one of the oldest, and our most favorite district in Bangkok. If we'd fly to Bangkok tomorrow, this would be the first place where we'd probably head.
Here, amidst perpetual Bangkok traffic, bright neon lights, traditional Chinese architecture, beautiful temples, street vendors lining along the main Yaowarat road and the side streets, among steamy carts with fresh local specialties and stalls with fruit juices, you'll feel very alive and connected to the city.
The district of Chinatown in Bangkok is also a place for gold shopping. If hunting for the best jewelry is not your thing, Chinatown will charm you with its 200-year-old tradition of Chinese community. You'll be able to watch the prayers of locals at beautiful shrines or peak into some traditional Chinese pharmacies.
Our top pick
 > Centra by Centara Central Station Bangkok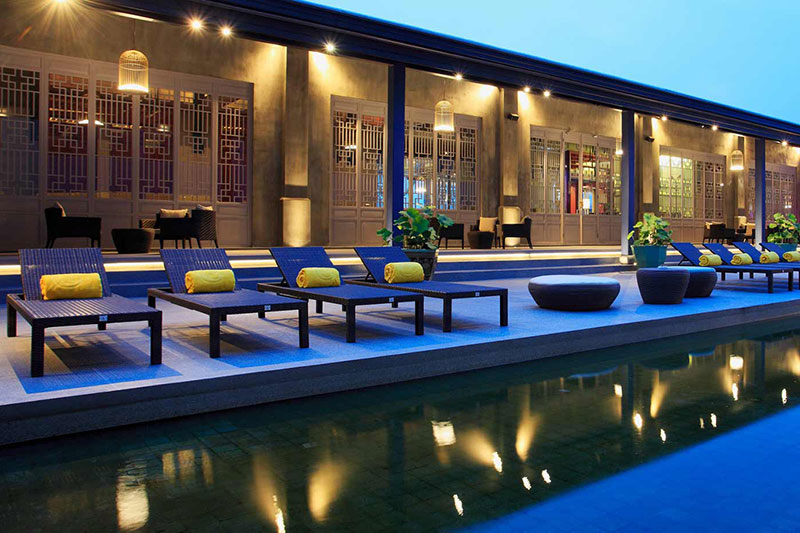 Incredible value for a 4 star hotel! Located opposite the train and subway station, with modern design and very clean rooms. The hotel features also an outdoor pool, sauna, and a gym.
Luxury > Grand China Hotel
This first class hotel is located in the heart of Chinatown. You'll be able to be pampered here in their spa, get active in the gym or relax in the sky pool.
Mid-range > 2W Bed & Breakfast Bangkok
Perfect for solo travelers, couples, but also families (family rooms available). You'll find an on-site restaurant and bike rental here.
Budget > Loftel 22 Hostel
Clean, safe, and quite new. Walking distance from Chao Phraya River. There is a coffee shop and on-site bar on the ground floor.
What to do in Chinatown/Yaowarat in Bangkok
Come after sunset to experience the night streets of Chinatown.
Visit some of the Chinese temples and shrines in the area (Guan Yin Shrine, Li Thi Miew Temple, Wat Mangkon Kamalawat, Wat Traimit).
Do some jogging and workout at the Romaneenart Park.
Plan your visit at the Chinese New Year, if possible.
For more tips on Thailand, check out our comprehensive
Thailand Travel Guide – How To Travel To Thailand Independently
Traveling to Asia? Read more related articles
Where to stay in the Pratunam, Bangkok
The area is famous for the Pratunam market, which is the busiest and one of the cheapest wholesale areas in Bangkok. If you miss Chatuchak weekend market while visiting Bangkok, and you want to do some serious shopping, Pratunam market will satisfy your retail therapy.
The neighborhood is recognized also for its landmark and one of the main attractions of Bangkok – Bayoke Tower, the tallest skyscraper in Thailand.
Our top pick
 > Amari Watergate Hotel
A top-notch hotel in Bangkok! We stayed at Amari Watergate a couple of nights and we didn't want to leave! They serve an excellent breakfast with THE view, and you can enjoy a drink at the same place in the late afternoon.
Amari hotel features a big gym, an outdoor pool, and a spa. The rooms have super comfortable beds, and you'll be able to pick your favorite pillow. The hotel is right opposite the Central World shopping mall. If you want to be pampered in Bangkok, this is the right place to do so! For us this is one of the best hotels to stay in Bangkok.
Luxury > VIE Hotel Bangkok – MGallery by Sofitel
Elegant rooms, with well-equipped gym and spa centre. Close to shopping malls and transport.
Mid-range > K Maison Boutique Hotel
Incredible homey decoration, super bright rooms with fresh feeling. The hotel has a spa on site.
Budget > KC Place
We've stayed at this place for a few times as it's located just near the metro station so we could catch a train to the airport early in the morning. The hotel is on a quiet side of the street and close to the night market. Rooms were always clean and comfortable.
Things to do in Pratunam, Bangkok
Grab your wallet and head to the Pratunam market. It's supposed to be open 24/7, but it's better to go there between 11am – 8pm. Some of the vendors are gone by 4 pm though.
For all kinds of electronics, go to Prantip Plaza.
Get a bird's-eye view of Bangkok from Bayoke Observation Desk.
Visit Suan Pakkad Palace, which is a small museum that displays 4,000-year-old Thai antique pottery.
Check more activities and tours to do in Bangkok.
Where to stay in Silom, Bangkok
Some people call Silom "Thai Wall Street," because the area is famous for the financial institutions there. Yet, you won't feel lost in a concrete jungle of bank towers as you might feel in other world finance metropolises. We stayed in Silom a few times, and we loved the area a lot!
It's safe, it has a great train system, and in the evening it turns into a live and colorful market party! Obviously, you can also enjoy some good street food nearby.
Our top pick
 > SO Sofitel Bangkok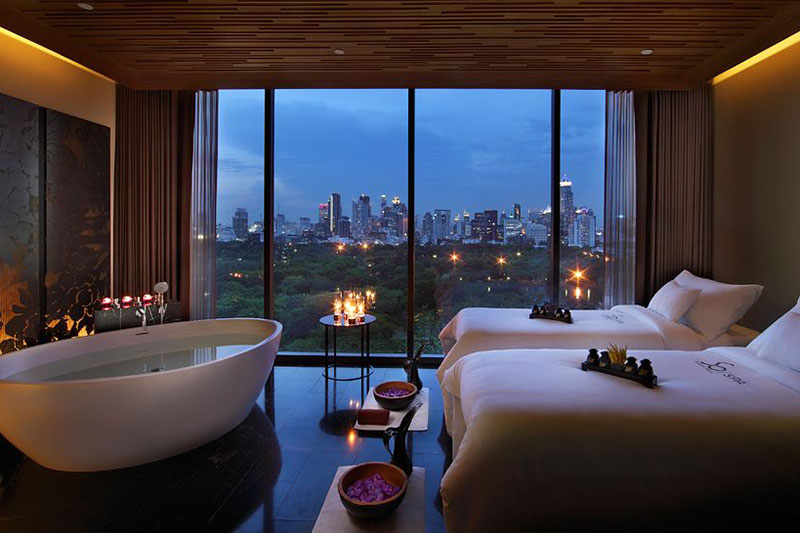 You're going to love this one! Thanks to the full-length windows the rooms are very bright, clean and spacious. Some of them feature also a bath tub with the city or view of Lumpini park. Of course, with a spa, gym, and sauna on the site.
Luxury > Tower Club at Lebua Hotel
A great 5 star hotel in Bangkok with incredible views. It features an outdoor pool, a spa, and a gym. Dining at the rooftop restaurant is the cherry on top.
Mid-range > Le Siam Hotel
A boutique hotel, located only a minute from the Sky Train station. Clean rooms with modern bathrooms, outdoor pool on site.
Budget > iSanook Hostel
Funky, modern, clean, and with a great location. 
Things to do in Silom, Bangkok
Have a stroll or try some Tai-Chi in "the lungs of Bangkok" – the Lumpini Park. Open from 5am – 9 pm.
Get a drink with a view at the Vertigo and Moon Bar, which is located on the 61st floor of the Banyan Tree Hotel.
Visit Sri Mariam Man Hindu Temple, one of two Hindu temples in Bangkok.
Go for a Muay Thai box match at the Lumpini Stadium.
Shop at the Patpong Night Market. The place might be a tad touristy, but it's worth it just for the sake of experience.
Looking for more tips on where to go and what to in Thailand? 
Check out our Thailand Travel Guide – How To Travel To Thailand Independently
Where to stay in Siam, Bangkok
Siam is the heart of Bangkok— the main hub of shopping malls. Siam station above the Siam Square is considered to be the busiest one in the capital. Here you'll find the massive MBK Center focused on electronics.
There are more exclusive malls like Siam Paragon, Siam Center, loads of cinemas, cafes, classy designer shops, and of course, some luxury hotels in Bangkok.
Our top pick
 > LiT BANGKOK Residence
Luxury > Pathumwan Princess Hotel
Spacious rooms with floor-to-ceiling windows and panoramic views of the Bangkok skyline. The hotel features an outdoor pool, spa, rooftop tennis court, and a gym. Perfect location, right next to MBK shopping mall.
Mid-range > Happy 3
Located within a 5-minute walk from National Stadium BTS Skytrain Station in downtown Bangkok, this hotel has an indoor pool and comfortable rooms. Free WiFi is available in all areas.
Budget > Siam Stadium Hostel
The Siam Stadium Hostel features a shared lounge, free WiFi and very spacious dorms.
Things to do in Siam, Bangkok
Visit Bangkok Art & Cultural Center.
If you want to make your kids happy, take them to Kidzania Bangkok, a family entertainment center.
Have a drink at the Heaven Bangkok rooftop bar (it's located on the 17th -20th floor of Zen Department Store, which is a part of the Central World Shopping Mall), or at the Red Sky Rooftop (part of Centara Grand Hotel). For more rooftop bars check this useful guide.
Pay a visit to Jim Thompson House, a museum dedicated to an American who helped to build up Thai silk industry.
Go see Thai boxing at the National Stadium, or some Thai boxing fights in front of the MBK Center (the event takes place each Wednesday and there is no admission fee compared to the official fights at the stadiums).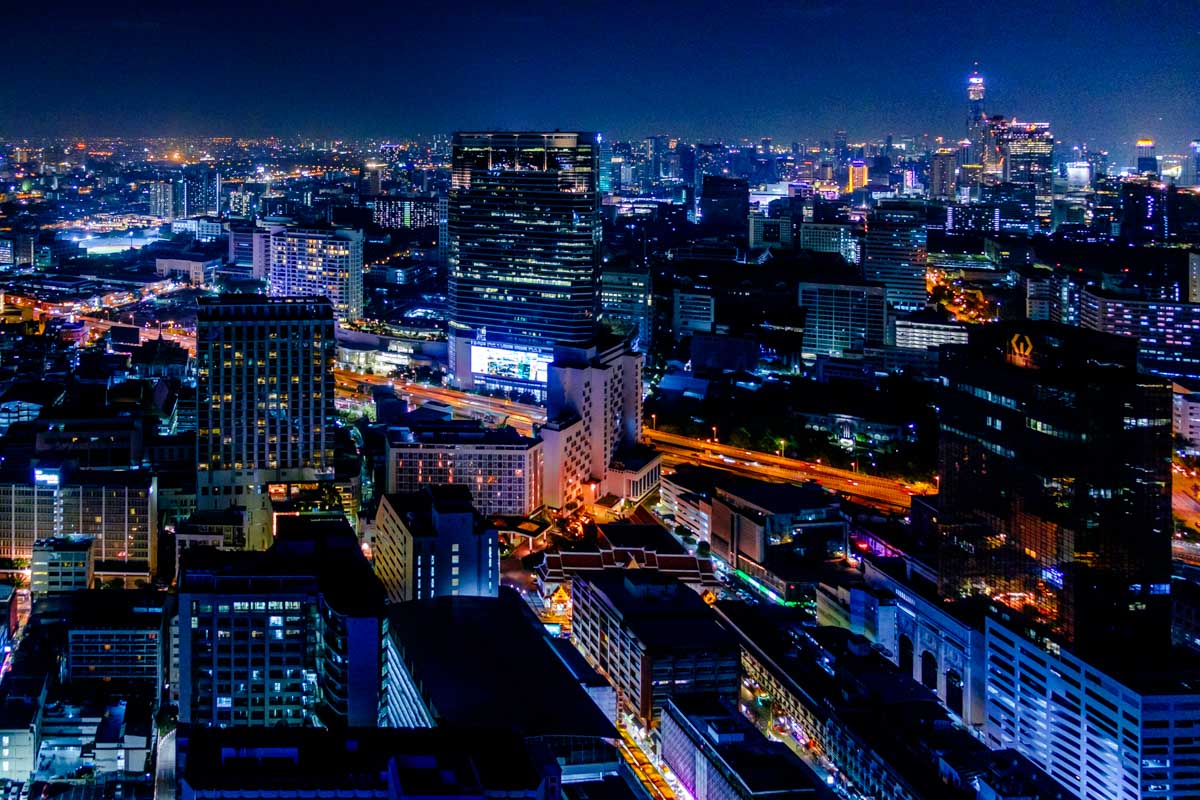 Where to stay in Sukhumvit, Bangkok
This part of Bangkok is truly cosmopolitan! High-class restaurants, luxury hotels & spas, modern architecture, an incredible number of bars, cafes, shopping malls… and nightlife! This is a place where you party, splurge on accommodation, and enjoy Bangkok's groovy facet.
You won't find any major sightseeing in Sukhumvit district. However, skipping out on this modern commercial area of Bangkok would be a blunder.
Our top pick
 > Ad Lib
This place is an oasis amidst busy part of Bangkok. Soft colours of interior, simple and stylish design. The hotel features also an outdoor pool, gym, and a serene lounge.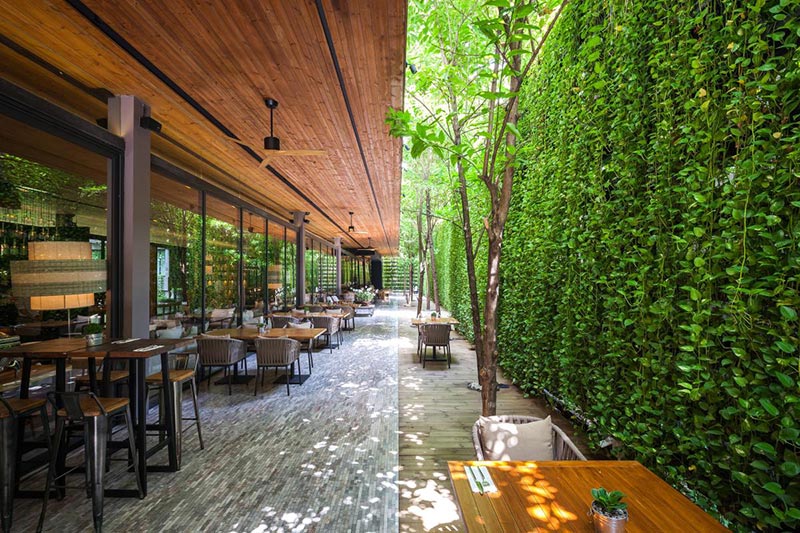 Luxury > Valia Hotel
Very elegant hotel in the centre of Bangkok on Sukhumvit 24. The rooms are elegantly furnished with stunning views of Bangkok City.
Mid-range > Volve Hotel Bangkok
Smart modern design, very clean and very well situated.
Budget > 3 Howw Hostel
This hostel offers private and dormitory rooms with free WiFi. Coin-operated washing machines and a movie room are available at the property.
Things to do in Sukhumvit, Bangkok
Visit Thailand's Creative & Design Centre (known as TCDC), with a cool library and exhibition space.
Relax in the Benjasiri Park near the Emporium shopping complex.
Learn something new at the Museum of Thai Pharmacy.
Get a Thai massage in one of the spas in Sukhumvit.
Check out Terminal 21 shopping mall and its funky interior designed with the famous landmarks of different cities of the world.
Check more activities and tours to do in Thailand.
Where to stay in Khao San road, Bangkok
Although Khao San Road is only 400m long and used to be a huge Bangkok rice market, nowadays it's a world famous backpackers' hub packed with hostels, bars, massage parlours, and food hawkers. At night, the area turns into a colourful jungle as the stalls and pubs light their lamps.
Recently, there are more and more hotels built in the area, that offer more comfort than budget hostels or guesthouses. You don't need to be afraid that you'll be trapped in a cheap backpackers' neighbourhood here.
Our top pick
 > Villa Bangkok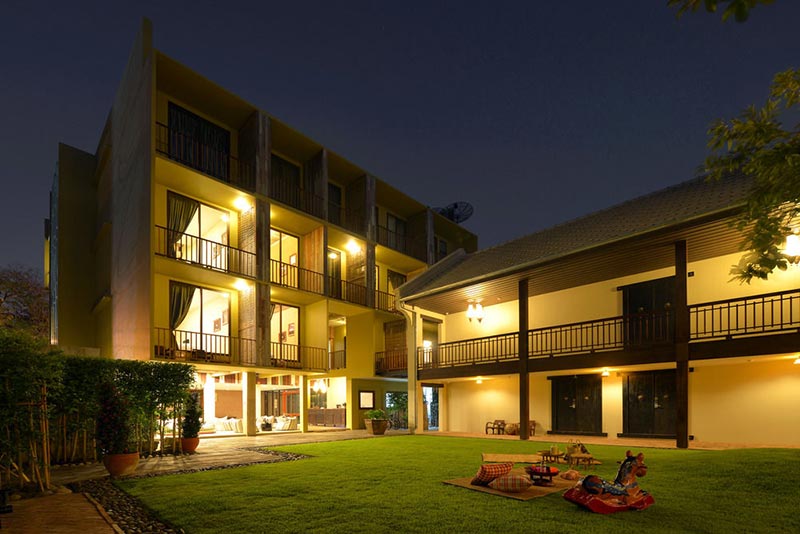 Ideal for families and those who would like to chill out in a green yard after touring around busy Bangkok. There are 18 rooms, all finely decorated and some with a stylish bathtub.
Luxury > Riva Surya Bangkok
Simple elegance, comfortable beds, an outdoor pool, and great location.
Mid range > Baan Chart
Simple, yet beautiful design. Very close to the Khao San road, but you won't be disturb by noise of night life here.
Budget > Tales Khaosan
Offering air-conditioned rooms in the Bangkok Old Town district of Bangkok, Tales Khaosan (Cafe & Hostel) is 300 m from Khao San Road.
Things to do in Khao San Road, Bangkok
It might not look like it, but this area is one of the oldest in Bangkok. Explore the side streets to discover old buildings and do some people watching.
Check the food night market in the Khao San Road. You'll find some great & fresh Thai local dishes there.
Visit Phra Sumen Fort, a white landmark built in the 18th century that was constructed to defend the city from the potential naval invasions.
Spend some time at the Buddhist temples Wat Chana Songran or Wat Bowonniwet.
Visit Bangkok National Museum with the largest collection of Thai art in the country.
Where to stay in the Riverside area, Bangkok
This is definitely one of the best areas to stay in Bangkok, where the past and present meet in one place. Ancient temples near the Chao Phraya River oppose modern corporate towers, and you'll be able to reach both by a local ferry.
The Riverside part of Bangkok is the place where you can relax at your hotel, explore the main historical attractions in Bangkok, and get some stunning sunset views.
Our top pick
 > Chakrabongse Villas
This is Thai style luxury. Awesome views of Wat Arun, very close to all landmarks in the area. This boutique hotel is a green paradise as you'll be able to chill out in a beautiful garden here. Don't miss out a dinner on the terrace!
Luxury > Riva Arun Bangkok
Modern and smart design, fantastic views of the Wat Arun from the terrace. Some suits feature an outdoor jacuzzi with a river view.
Mid-range > Sala Arun
Cozy rooms with a warm touch, walking distance to Khaosan Road and the Flower market. The Temple of Reclining Buddha is only 100m away from the property.
Budget >Decordo Hostel
Decordo Hostel is a 5-minute drive from Krungthonburi BTS Skytrain Station and a 10-minute walk from Sathorn Pier . It offers air-conditioned rooms with a balcony and free Wi-Fi.
Things to do in the Riverside area in Bangkok
Make sure to visit Wat Arun before sunset. The views of the temple with night-lights are very impressive.
Visit the Grand Palace early in the morning or a couple of hours before it closes.
Have a walk from the Grand Palace to the temple of Reclining Buddha (Wat Pho).
Check out Royal Barges Museum in Bangkok.
Get a massage in one of the spas near the river or near the Grand Palace.
Well, these are some of the best places where to stay in Bangkok. Hopefully you've got a better idea which district would best fit your stay, and that you'll be able to pick the right hotel.
If you are visiting the rest of the country check this guide about the best places to visit in Thailand.
One more quick note before you start planning your trip to Bangkok. Links in this post are affiliates, which means by booking your hotel in Bangkok through our site, we'll get a small commission without any extra cost to you. This helps us run our website and bring you more awesome travel tips!
Safe travels and enjoy Bangkok, the City of Angels!
Like it? Pin it!