Why to travel to Tibiao
In Tibiao daily life concentrates mostly around the main road or along the shore. Locals socialize in front of their houses, in bamboo huts near the beach and younger ones run around the sea or they play their favourite basketball in the court.
This place is a proof that as a traveller you don't need a luxury destination with hundreds of tour operators with overpriced packages to relish the attractions in the area. If you are not a big fan of organized tours or packages at all, you'll be very glad that your time in Tibiao will be well-planned, but not strictly controlled.
If you want to experience local Filipino life and get to know lesser-known places, contact Flord, a very helpful young man and the owner of Fish Spa in Tibiao, who will gladly suggest some activities and places that would match your interests and tickle your curiosity.
Things to do in Tibiao
Fish spa
Hold on, this is not a kind of spa where small fish tickle your feet. The idea is the same, but the species of fish is much bigger and it's more fun to resist and to let them do their job!
Price: P 100/$ 2.3/pax/30 min.
How to get there: contact Flord ([email protected]) for more details.
Boat production
The majority of the families in Tibiao own a boat and we were lucky to bump into a workshop, where about fifteen men were constructing a boat. To build one takes about two months.
Natural salt production
One of the most interesting things you will be able to witness in the Philippines is the process of natural salt production. It looks simple, but as one of the producers explained to us, it's a very demanding job and sadly, it's also dying out slowly.
They use only natural ingredients like seawater and sand to produce salt from March through June. They are able to make 25 kg of salt in three days, which requires three proper filtrations.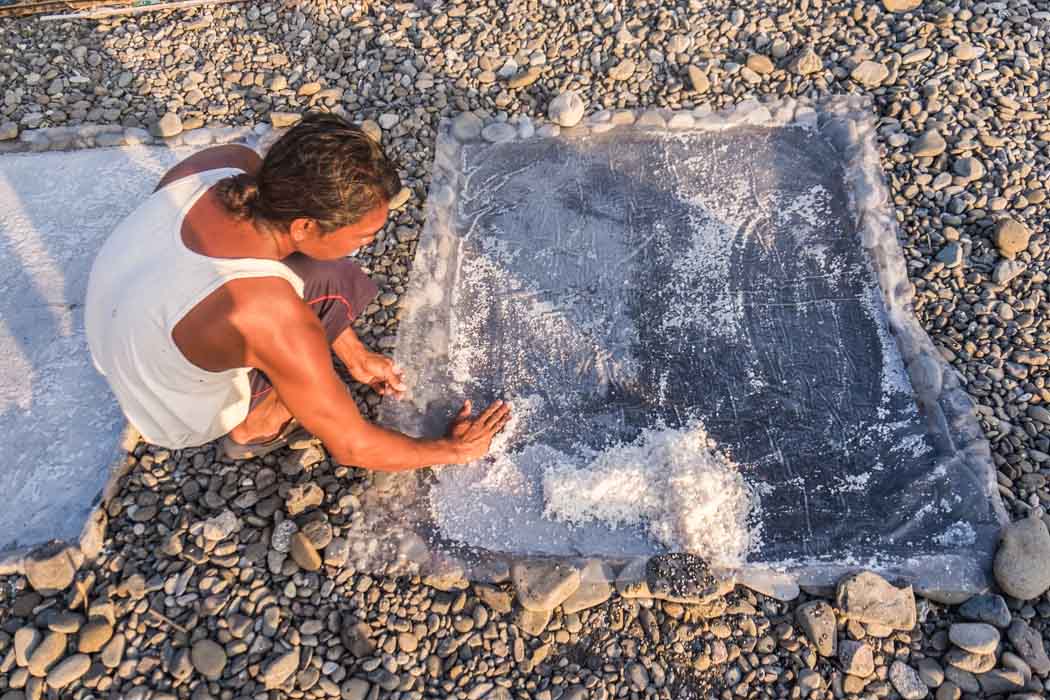 Join some of the local tours in the Philippines:
Meeting a local healer
If you're interested in alternative medicine, Filipino countryside might be a good spot to look for a local healer. We were lucky to get to know Karmila, a young Filipino girl, thanks to whom we visited Remidios Maniba, a woman who showed us that miracles are possible.
Pottery and brick making
Not far from Tibiao, in Bandoja you can see the process of brick production and possibly learn how to make a clay brick or a flowerpot. Ivana got her hands dirty and was very happy about her first hand-made brick!
Price: P 70/$ 1.6/pax
Plan your trip to Asia:
Zipline
Simply an awesome and one of the best things to do in Tibiao, if you're into adrenaline sports.
Price: (1-km trip): P 300/$6.8/pax + Tibiao Eco-Adventures Park entrance fee: P 50/$1.1/pax
Zorb
Okay, this kind of entertainment is invented for crazy people and (from my own experience) short people. You get into a HUGE, plastic ball with another brave person and an assistant ties you there. Ready! Steady! Go!
They push the ball down the hill and you scream for a long, seven seconds because this is one of the kookiest moments in life when you need to let out all the mixed emotions you're feeling at the moment.
Price: P 300/$6.8/pax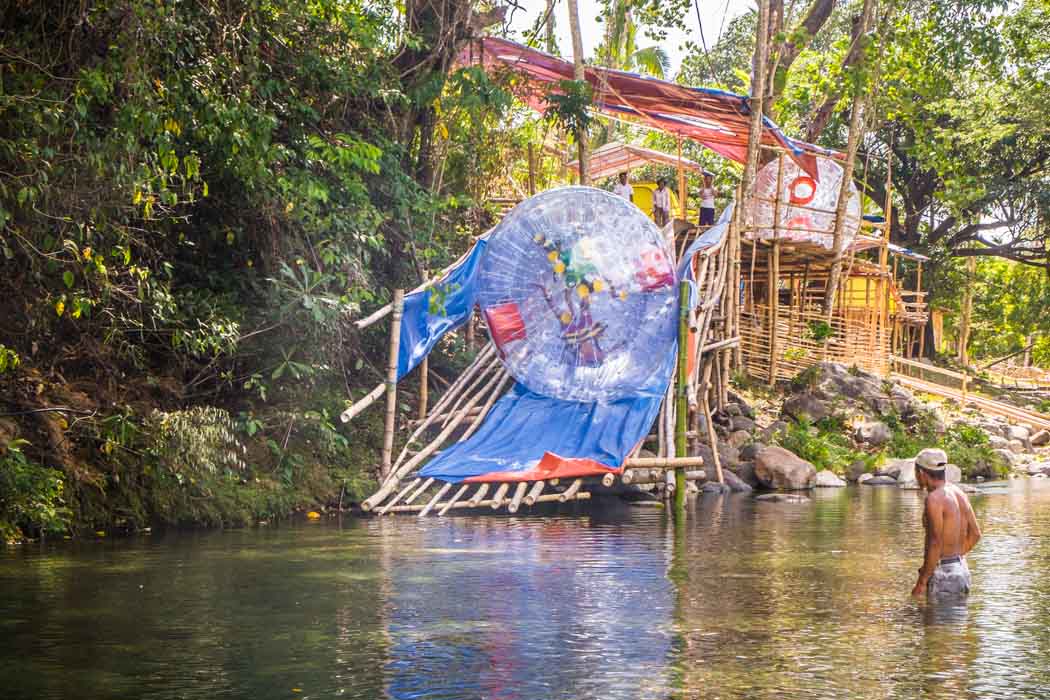 Trekking
Once you are in Tibiao, arrange a transport, a so-called habal-habal, i.e. a local with his own motorbike who will bring you to a Tuno village. From there you arrange another guide at the main gate who will lead you through a lush forest and rice-fields with banana and coconut trees around. You'll also cross hanging bridges, which requires a bit of courage too.
The views are spectacular and the air is so thick and hot that you feel you're in the right place to experience the tropical climate in Asia!
Price: a local guide we arranged in Tibiao: P 300/$6.8/day + P 100/$2.3 for a waterfall local guide/5 pax, motorbike, gasoline & driver: P 200/$4.6/day, entrance fee for trekking and waterfalls: P 100/$2.3/pax including a guide, too.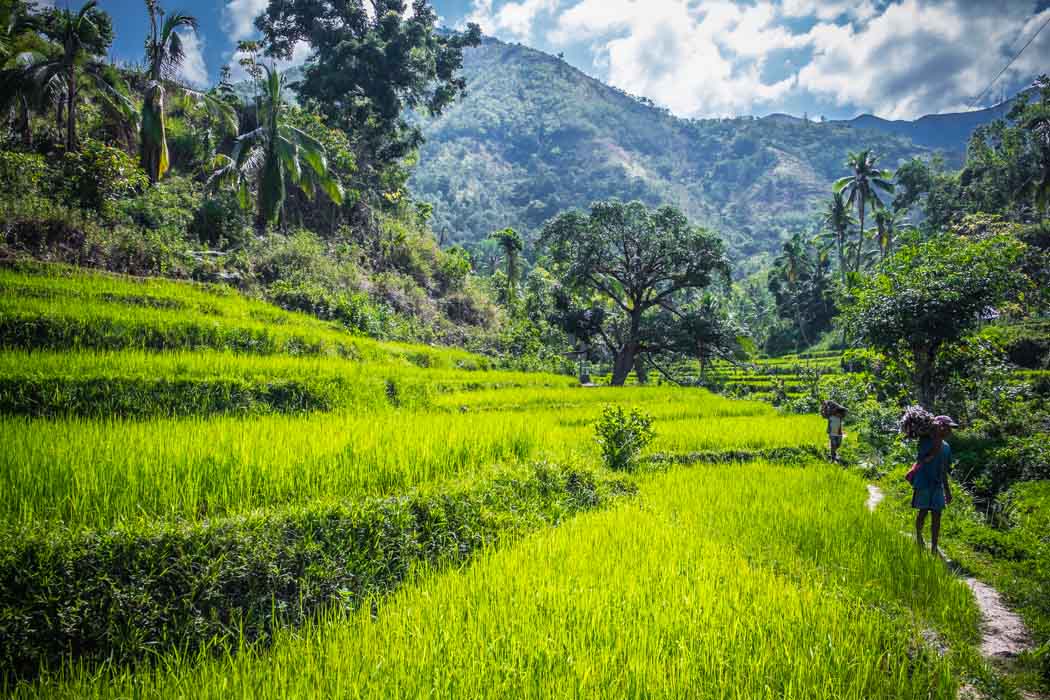 7-tiered cascades of the Bugtong Bato Falls
After about one hour of hiking you can refresh yourself in the cool water of the waterfalls (you can also reach it within 30 minutes if you don't take out your camera or chat with locals along the way).
If you still have energy and you are up for another new adventure, then you will definitely love to climb to the third cascade with the rope.
Well, if zipline pumped you full of adrenaline, then climbing the cascade will be a moment for overcoming fears and practicing focusing on your breath and coordinating your movements mindfully.
Pack & travel:
Kawa
An absolutely great way to relax after cool waterfalls, Kawa is a hot tub that used to be a wok in the past. You can relax in the hot water with fresh herbs and flowers that will make your bath a soothing pleasure. We suggest having a Kawa bath in the evening or early morning, when the air is still fresh. A lodge for overnight is available there.
Price: Kawa bath: P 200/pax/$4.6/hour; P 1500/$34/room with fan or P 2500/$57/cottage Contact: Peter's Lodge: (0920) 499-6903 and (0939) 492-8554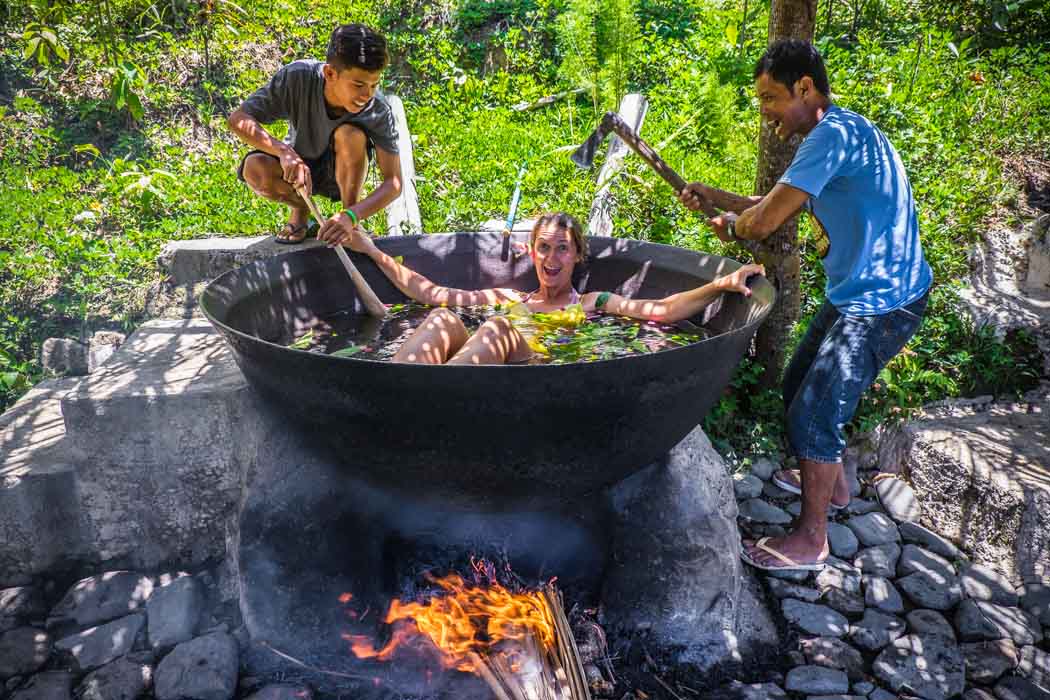 Join some of the local tours in the Philippines:
Tibiao whitewater river
We love this place! Although it's better for kayaking than for swimming, we jumped into the river every time we came from a forest. It's a wonderful place for meditation, too, as during the dry season you can easily sit in the water and let the stream of the river flow around you.
Ever Land Inn
After all the activities you do in Tibiao and Tuno village, you can treat yourself with a Swedish massage in Ever Land Inn, a great example of eco-tourism! We stayed there for two nights sleeping in a tent under a hundred-year-old mango tree. Hearing the Tibiao River, concerts of night and early morning cicadas' and geckos', with no electricity, no internet connection… what else could you wish for a body and soul retreat?
Price: P 250/$5.7/pax, breakfast included; lunch, dinner: P 200/$4.6/meal, massage: P 350/$8/pax/hour Contact: 0947-5719488
We got more than we wished for, saw more than expected, tried more than we had planned and left more relaxed and connected with nature than we could have imagined. And that's what Tibiao is all about: an active, meditative and eco-friendly place for replenishing your spirit and raising your adrenaline!
Where else to stay in Antique