In this article you'll find an ultimate list of things to do in Chiang Mai. We've lived and explored the city for over a year during our multiple stays since 2013 and have thoroughly enjoyed all of it.
Chiang Mai has certainly gained some world hype over the past years. If you'd been to the city before 2015, then you might not recognize the new face of a touristy vibrant city full of instagrammable cafes, stylish boutique hotels, and rising numbers of shopping malls and residential condominiums.
Things to do in Chiang Mai
We've divided this post into a few major sections, so you can orientate better and pick those activities that match your preferable desires.
If you plan to visit Thailand and you're looking for more tips on traveling across the country, we have published a Thailand Travel Guide which covers everything for your trip to Thailand, from booking your flight, choosing activities, picking places to see, avoiding cultural faux pax, an overview of prices, lists of food to sample, and much more.
Food in Chiang Mai
Thai, Japanese, Korean, Italian, Mexican, Indian, Chinese, you name it. Chiang Mai definitely doesn't lack anything in world cuisines. You can eat what you fancy within a vast range of prices.
Sample street food at the night markets
Snacks, soups, skewers, sushi, gyoza, desserts. This is only a fraction of what you can taste at the night markets in Chiang Mai. Check out the Saturday Night Market, Sunday Night Market, or the Night Bazaar.
Note: You might find outdated information on the internet, stating that the ice in Thailand isn't safe to consume; this doesn't apply to the current hygienic standards of the country anymore—ice is safe for consumption!
Learn to cook Thai cuisine
The chances that you'll become slightly addicted to Thai delicacies are very high. So why worry about missing your favorite dishes once you return from your holiday?
Sign up for a cooking class and let the experts explain the preparation of traditional Thai meals and learn how to substitute different ingredients you might not find in your hometown.
After a lot of research, we've chosen Thai Akha Cooking School for three reasons. One: small group classes where each participant has their own station. Two: a visit to a local market with some insights and explorations on unusual Thai ingredients and veggies. Three: The Akha community that runs the school preserves their culinary heritage through the classes with passion and amusing way.
We did a half-day morning course where we learned how to prepare 11 original dishes (yes, 11!!!) and received a very practical cookbook so we don't make any excuses to not to cook Thai food anymore.
We loved the final part of the class when we learned about the Akha people, their village life, and their wedding rituals. It made the main concept of the school more authentic and deep rooted.
JJ, our guide and great cook made sure throughout the class that everyone understood what he was doing. He tasted our sauces, dishes, made suggestions, and joked around, which made the class so much more fun than simple fast cooking and eating as might happen in big groups where the instructors cannot control the cooking process.
If you're a vegan or vegetarian, you won't miss out on any meal, as Thai Akha Cooking School accommodates every dish to any dietary preferences. Absolutely recommended! Check times and rates at their website.
Get inspired by more articles:
Explore cafés
Chiang Mai has literally exploded with the number of different cafés, many of which serve specialty coffee. No matter which corner of the city you'll stay in, we can assure you there's going to be a local cafe, often serving pretty cakes as well.
Out of many, here are our most favorite ones: Nine One Coffee, Roast8ry Lab, Akha Ama Cafe, Barisotel (warning: a super instagrammable place, and during the weekend it might be filled with selfie sticks), Graph, Maled, .fresh Cafe, or Barn Eatery.
Splurge on vegan food
Not a vegan? Well, you might become one if you visit places like Good Souls Kitchen, Free Bird Cafe or Salad Concept with their amazing variety of fresh veggies and new takes on traditional Thai recipes.
Sip a high quality tea
If you're a tea person, then we can suggest that you get your fix at one of the charming teahouses in Chiang Mai. Vieng Joom On Teahouse with the nickname, "Pink House," (thanks to its interior) serves some good tea and pastries, all everything is presented with proper "sweet" decorations and instagrammable props.
The other place where you can get decent tea is Raming Tea House Siam Celadon with its Victorian Era interior and serene atmosphere.
Culture in Chiang Mai
Visit the temples
You'd need probably a month to explore all 300 temples in Chiang Mai. If you're fine only with only a sample of the most interesting ones, here are our tips: Wat Chedi Luang, Wat Phan Tao, Way Suan Dok, Wat Phra Sing, or Wat Lok Molee (called also Wat Lok Moli). These are certainly some of the most gorgeous Chiang Mai points of interest.
Take part in festivals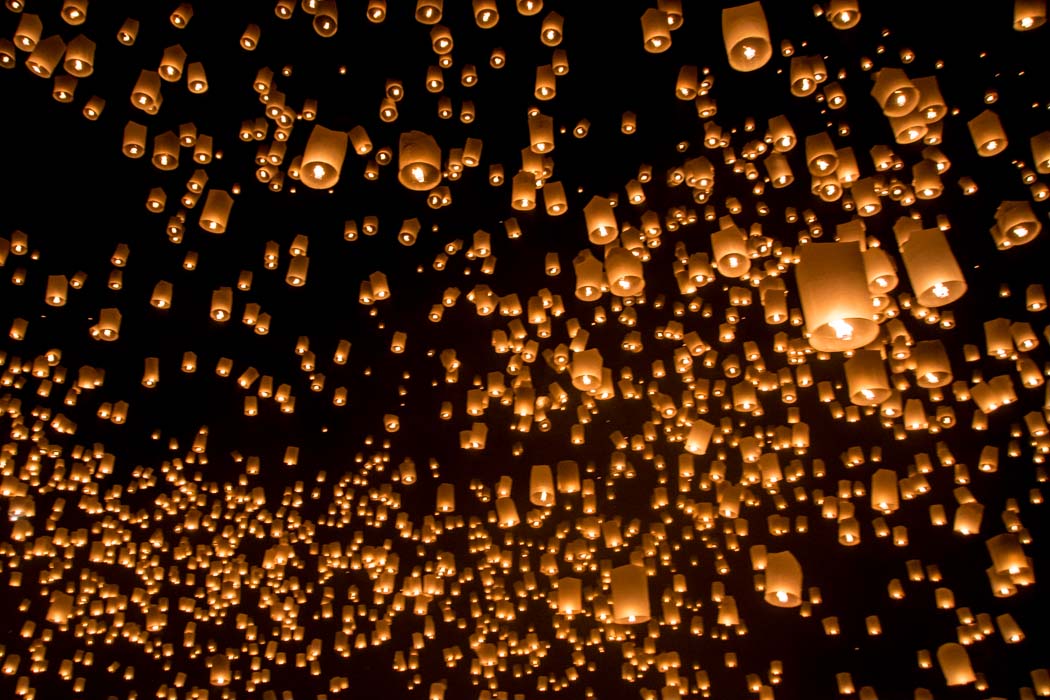 Chiang Mai is a cultural hub in Thailand, and no matter which month of the year you visit it, there will be most probably be an interesting event happening. We suggest planning your visit around Loi Krathong, Yee Peng (check our post with more photos) or Songkran water festival.
See the sunrise at Doi Suthep
Lots of tourists visit the Doi Suthep mountain and temple during the weekend or at peak hours during weekdays. If you want to experience the place without crowds, apply an old golden rule: always arrive early in the morning. Definitely one of the best Chiang Mai attractions.
Venture to the less known temples
Check out some peculiar temples outside of the city: Wat Umong with its tunnels, Wat Pha Lat with beautiful waterfalls nearby, or a complex of the temples at Wat Jet Yod.
Take part in a Monk Chat
Talking about temples and religion, you might want to join a Monk Chat, which is exactly what the name says. You're going to chat with a Buddhist monk about your or his life, beliefs, worries, daily routines, world problems, or his favorite books.
This is one of the ways the monks and novices practice their English, and you can get some interesting insights about their life. Monk Chat takes place at Wat Chedi Luang from 9am till 5pm daily.
Get inspired by more articles: 
Wellness in Chiang Mai
Pamper yourself at a spa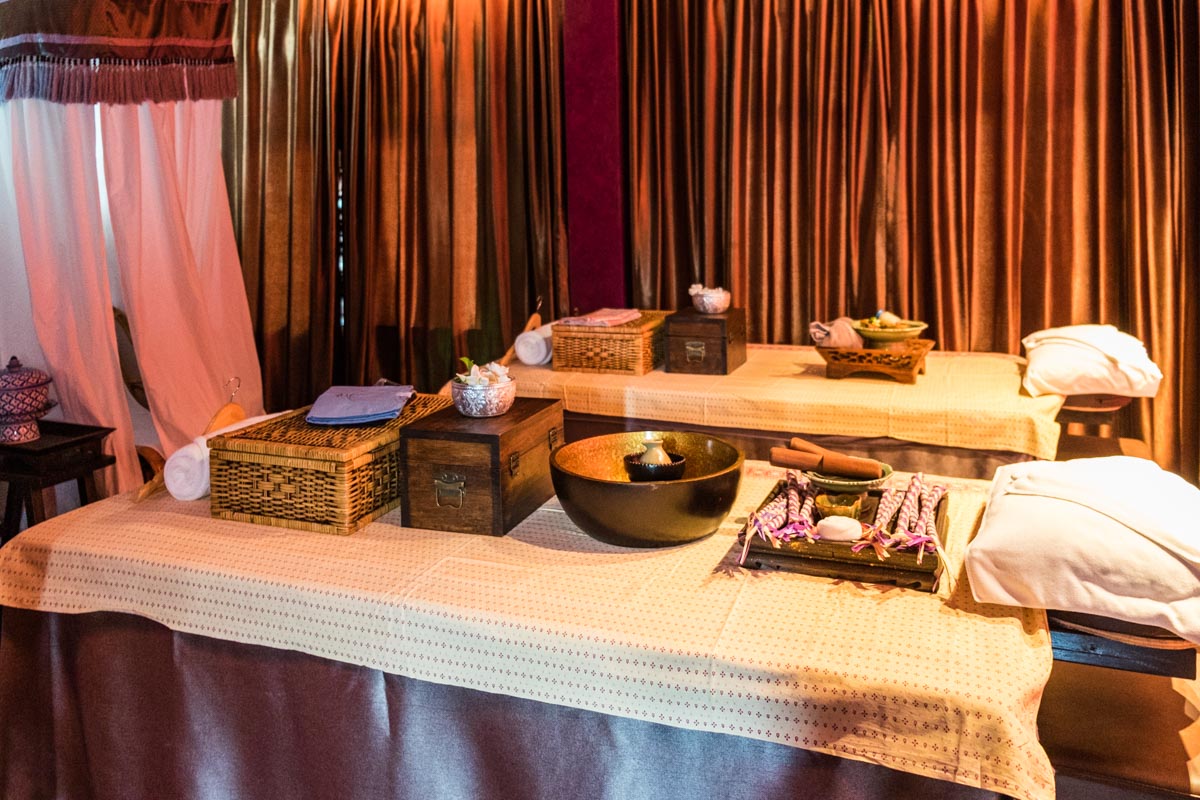 We've already written a full guide to the best massages in Chiang Mai. And we'll gladly remind you again – go for as many massages as you can.
Two reasons to do so: One: the quality. Hardly anywhere else in SE Asia has such good Thai massage as in Thailand, obviously.
Two: price is unbeatable. You'll pay from 160 THB for a massage in temples like Wat Pan Whaen, and up to 4000 THB for a 4-hour package of fantastic treatment.
If you plan to treat yourself, head to the fabulous Zira Spa located in the city center. The premises of the spa are just amazing with a lot of attention to details. Lanna architecture will surely impress you.
They offer anything from a single Thai massage, to a comprehensive massage and beauty treatments for males and females in separate, beautifully decorated rooms. The masseuses are professionally trained, very kind, and they always make sure you're feeling comfortable.
Don't miss out herbal hot ball massage, tok sen massage, traditional Thai Lanna massage and their beauty treatments (masks, wraps, and facial massage). Absolutely recommended!
Take a yoga or dance class
Chiang Mai has developed into a healthy lifestyle hub of Thailand, which means you'll have many options of yoga studios with different classes. We love Chiang Mai Holistic.
Go for a weekend to a spa resort
If time allows, spend a couple of days surrounded by nature, unplugged from sightseeing and shopping. We can suggest Baan Sabai Village Resort a few kilometers from the city center, or Panviman Resort with some amazing landscape views.
Nature and adventure in Chiang Mai
Hike via the Monk Trail
This is our favorite trek near Chiang Mai that you can do independently. It takes about 2 hours to hike up to the Doi Suthep Mountain via the jungle trail marked with orange stripes the same color of monks' robes (hence the name Monk Trail) tied around the trees.
Protip: start trekking early in the morning, as it tends to get very hot around 10 am.
Trek to the White Karen Hill Tribes
This might be one of the most memorable activities to do in Thailand. Read full details how to do it in our article Visiting Indigenous White Karen Tribe in Chiang Mai.
Climb the sticky waterfalls
A fun thing to do in Chiang Mai where you literally climb up waterfalls! Thanks to its surface, you can go up holding onto the roots of the trees.
Protip: avoid visiting the place during the weekend and public holidays, as it gets crowded.
Pick your own tea leaves
Did you know that there are some beautiful tea plantations in the north of Thailand? In some of them you can pick your own tea, like at Araksa Tea Plantation.
Check out some others where you can sample some great oolong tea: Choui fong tea plantation, Ban Rak Thai in Mae Hong Son, 101 Tea Plantation or Singha Park (Boon Rawd Farm) near Chiang Rai.
Visit a coffee plantation
Not a tea person? Then join one of the tours to a coffee plantation and learn about the process of growing coffee beans and roasting from the professionals. Ask for more details at the wonderful Nine One Coffee in Nimman Soi 11 and watch this video done by our friend Matouš who paid a visit to the coffee farm.
Venture with a scooter
Depending on how much time you have, rent a scooter in the city and head up to the hills. We loved our ride through small villages near Mon Cham a few years ago.
You can also go for a multi-day trip to Doi Inthanon and sleep in one of the small local bungalows, or pick of the scenic loops in the north. This might be easily one of the most memorable things to do in Chiang Mai!
See the rescued elephants
We've already written a full article about why you should opt for a rescue center rather than riding an elephant. Make your choice mindfully and avoid any animal attractions in Thailand.
For the elephant rescue centers, do your research and pick only those that don't offer elephant rides (Elephant Nature Park, Chiang Mai Elephant Legend, Boon Lott's Elephant Sanctuary, Wildlife Friends Foundation Thailand).
Go for a cycling tour
You'll see the genuine local village life with no touristy traps, and bike through the longan, ginger, and pineapple plantations with a professional English-speaking guide.
Transport and water provided. Contact George from Inchai Trekking Tours for more details.
Nightlife in Chiang Mai
Have a drink with a view
Sunsets from any rooftop in Chiang Mai are amazing. It might be too early for strong cocktail as the sunset in this part of the world is around 19-ish, but check some of these places: Rise Rooftop Bar, Woods bar with a pool, or any bar on the 6th floor of MAYA shopping mall.
Dance and live music
Party animals, head to Zoe in Yellow club yard in the city center, or check Thapae East for live concerts and cool events.
Get your jazz fix
Go to the one and the only: The North Gate Jazz Co-Op! One of the best places for live jazz in Chiang Mai!
Shopping in Chiang Mai
Night and day markets
For local food and craft souvenirs, visit some of the most popular night markets in Chiang Mai: Saturday Night Market near the south gate, Sunday Night Market near the Thapae gate (it stretches out to different side streets), and the Night Bazaar Market.
Foodies, you might enjoy the Bumrumburi Market, where it's interesting to come in the morning when locals sell their fresh produce.
Shop at the Warorot Market
Warorot is a bit off the grid, situated about 15 min walking from the Thapae gate, but it's worth the visit. It's part of the Chinatown district in Chiang Mai, and you'll find fabulous food, fresh veggies, fruits, nuts, dried fruits, mushrooms, and a great selection of tea, clothes, souvenirs and gold.
Shopping malls in Chiang Mai
Walking in an air-conditioned space while shopping in Chiang Mai is always a good idea considering the hot and humid climate here. For western brands and movie theatres, check out Central Festival Chiang Mai (the most choices of brands and 4D cinema), MAYA Lifestyle shopping center, or Central Plaza.
Liked it? Pin it!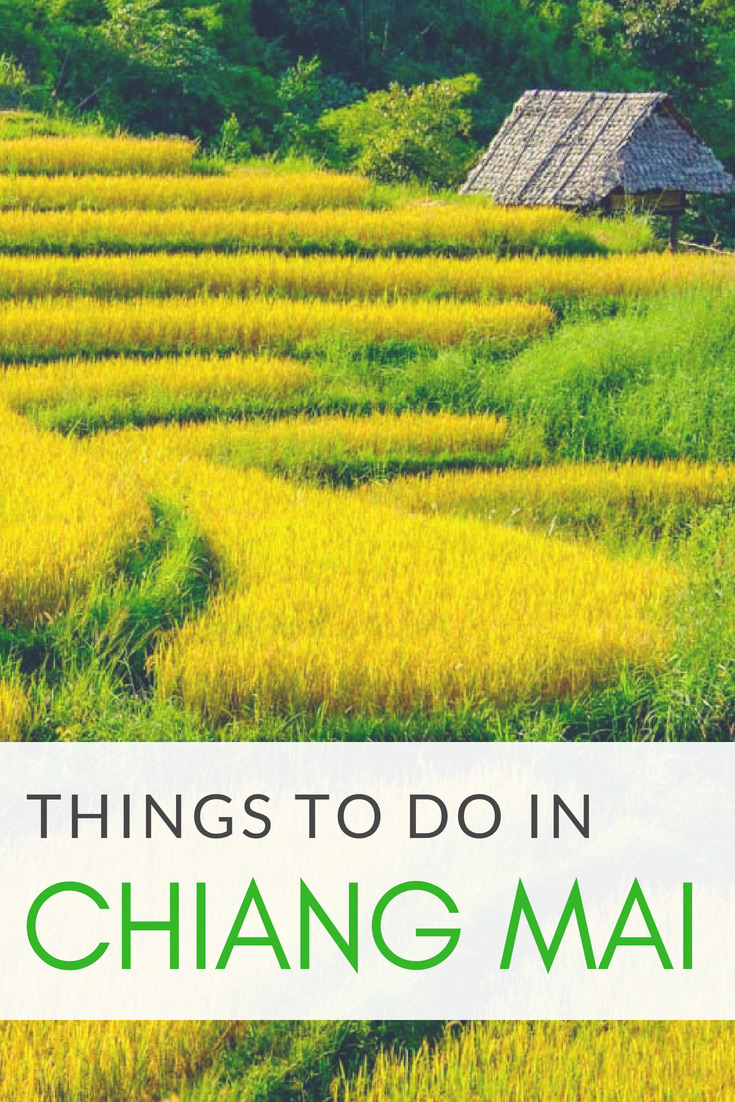 Disclosure: We were kindly invited to join a cooking class at the Thai Akha Cooking School and get our sore muscles relaxed at the Zira Spa. All words are our own, as always. 
Some of the links above are affiliate links, which at no extra cost to you, will earn us a small commission and reduce the costs of running this site.