Berlin offers some of the most funky and stylish rooms in all of Europe, but it can be a challenge to navigate your way around the city because of the diverse array of districts. In this article, we'll help you decide where to stay in Berlin, and you'll get an overview of the character of each neighbourhood with a few basic tips on what to do there.
We've stayed in some of the hotels ourselves, and others we picked after our thorough research.
If you are interested to know where to stay in Berlin, we recommend some of the best hotels for different budgets.
When we travel, we book our hotels through TripAdvisor, one of the best websites to compare prices.
Always make sure you travel with travel insurance! Be adventurous, but not careless.
Check out some of the most reliable insurance companies out there: True Traveller if you're European and World Nomads if you're from elsewhere.
If you love animals and you prefer going local during your travels, try housesitting, which is an amazing way to travel the world while taking care of the pets whose owners are on vacation. If you use TrustedHousesitters with this link you'll get $20 discount on annual membership.
Ready? Let's visit Berlin and some of the best places to stay there!

Where to stay in Berlin Charlottenburg-Wilmersdorf
If you're looking for an area that has remained the most authentic to the Old Berlin, Charlottenburg-Wilmersdorf is the right place to explore. The area used to be an independent town until 1920. Thanks to the native Berliners who managed to preserve the spirit of the neighbourhood and keep it as it used to be years ago, the area has become a hub for intellectuals and artists.
In one part you'll find posh venues with luxurious western branded shops, but if you venture into the side streets, you'll find local vendors, old buildings, family-run shops, and unique restaurants with international cuisine and cafes.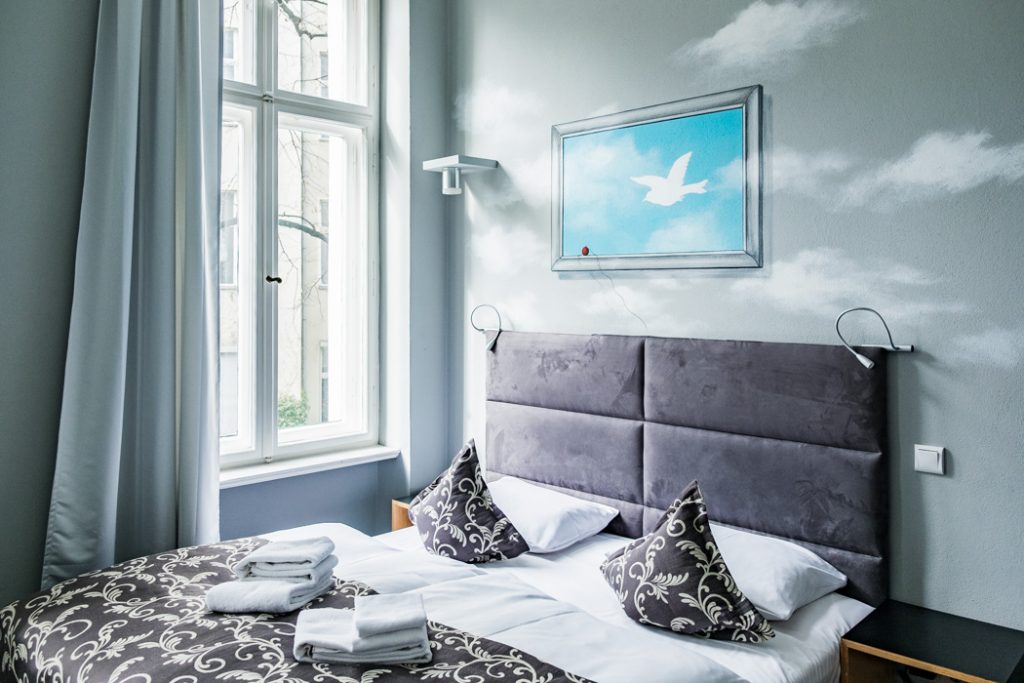 This is probably one of the best hotels in Berlin.
We do love hotels with a story behind them, and Hommage à Magritte is definitely the kind of place where you'll feel like you're a part of something bigger.
Roman and Aurelia, a charming Polish couple, have been living in Germany for almost 40 years, but only four years ago they decided to open their own hotel, which is now a family-run businessAs Aurelia said, "We wanted to create something we were looking for while traveling around the world ourselves."
Truly, Hommage à Magritte is one of the most extraordinary boutique hotels we've ever stayed at. The hotel is located in the heart of Charlottenburg, in a historical building from the 19th century.
It has an incredible combination of art, stylish design, hospitality, and luxury. The rooms and common area are very bright thanks to big windows and high ceilings. Walking via the corridors of the hotel is a visual pleasure thanks the wall paintings, which are a combination of the Magritte style and trompe l'oeil technique. Kudos to the Polish artist Jull who did a fantastic job here!
What makes the place so special is the individual approach of the owners who care immensely about their guests. They will gladly help you with local tips on where to eat, which places in Berlin to visit so tourists do not overwhelm you, and they are sincerely interested in their guests.
Super clean minimalistic rooms with private bathrooms; free Wi-Fi, and a fantastic buffet breakfast. In case you're a vegetarian, vegan, or a celiac, let them know. They will make sure to make your tummy happy. Absolutely recommended. Click here for room prices & contact the owners for more info and help to pick the best room for you.
Luxury >Hotel am Steinplatz, Autograph Collection
A classy boutique hotel with a panorama gym and a spa. Spacious rooms, and breakfast in the stylish inner yard of the hotel. Click here for latest prices.
Mid-range > Hotel Elba am Kurfürstendamm – Design Chambers
Modern hotel with spacious rooms, very clean. Good breakfast served on a lovely garden terrace. Click here for latest prices.
Budget > Minihostel 12Monkeys
A tiny hostel with two small dormitories (6 bunk-beds in total), a lounge with a small kitchen, and a shared bathroom. Click here for latest prices.
Things to do and see in Berlin Charlottenburg-Wilmersdorf
• Visit the Charlottenburg Palace, the biggest and the oldest palace in Berlin
• Learn about the history at the Kaiser-Wilhelm-Gedächtniskirche
• Check out some great exhibitions at the photo gallery C/O Berlin
Read more articles to get inspired!
Where to stay in Kreuzberg
One of the most diverse districts in Berlin. While the eastern part is booming with hipster cafes, Turkish restaurants and an alternative scene, the western part has become an upper-class residential area.
The neighbourhood is famous also for the Berlin's quintessential landmarks like the Topography of Terror museum, Checkpoint Charlie, and the Jewish Museum. A must-see quarter in Berlin.
And as Kathrin, the owner of a hostel in Kreuzberg where we stayed said, "If there is a protest or a peaceful march happening in Berlin, it's happening here, in Kreuzberg," and off she went for a march to support women's rights.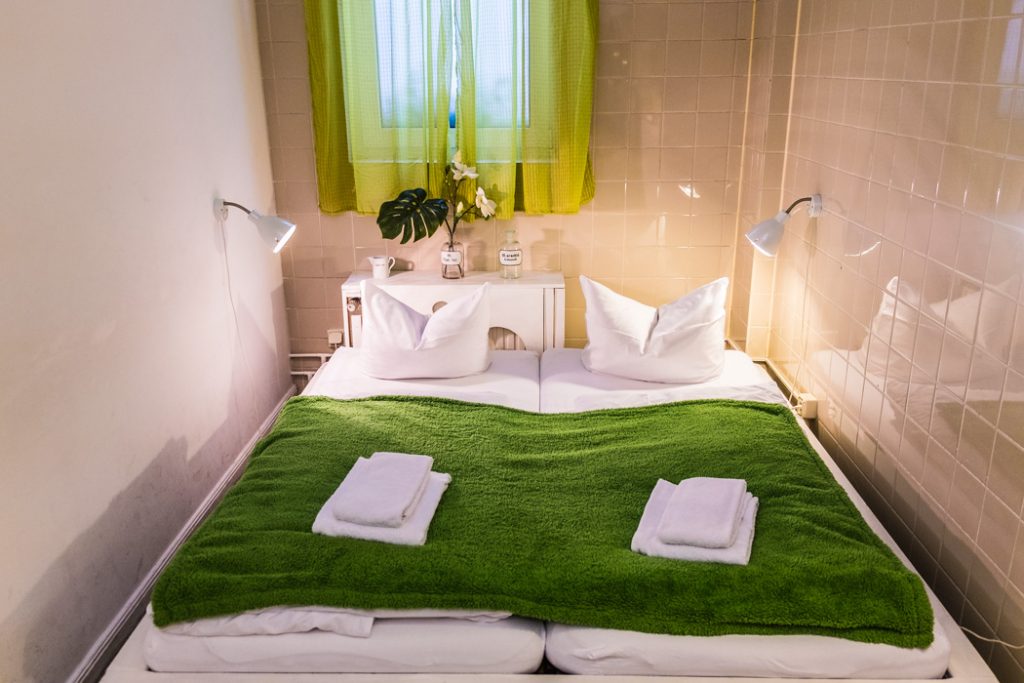 A super cool hostel in the alternative neighbourhood of Berlin. We stayed at LekkerUrlaub for four nights while staying in Berlin. The hostel used to be a medical station in the past, and Kathrin, the owner, re-constructed the property and created a very cosy ambience while keeping some of the original interior features.
Lekker Urlaub is a hostel, but you won't find dormitories or backpackers here. Lekker Urlaub has only 8 rooms (single or double), and spotless shared bathrooms. The atmosphere of the place is very serene and friendly, especially in the morning, when the owner prepares the buffet breakfast in the common area.
Clean rooms with different themes, good Wi-Fi, a grocery store nearby, and affordable restaurants and Turkish deli bars only a few minutes walking. Close to two metro stations. Click here for latest prices.
Luxury > Angleterre Hotel
If you love hotels in historical buildings, head over here. The hotel preserved the old façade and some internal parts of the building, including impressive staircase. Very spacious rooms with a gym and sauna. Click here for latest prices.
Mid-range > Hotel Sarotti-Höfe
Spacious, stylish ambience of the rooms, some of them feature a chic bathtub. Situated in a former chocolate factory, close to various restaurants of Kreuzberg. Click here for latest prices.
Budget > The Cat's Pajamas Hostel
Fantastic budget option for a bunk in a dorm or a private room. All with nice wooden furniture, very light design. Features shared equipped kitchen and a lovely minimalistic common area. Click here for latest prices.
Things to do and see in Kreuzberg
• Learn about the troubling past of Berlin at the Topography of Terror museum.
• See Checkpoint Charlie – a former crossing point between East & West Berlin.
• Educate yourself at the Jewish Museum.
• Go for a concert at the legendary music club SO36.
Where to stay in Neukölln
This neighbourhood is also known as "Little Instanbul" thanks to the high density of Turkish immigrants that makes the area come alive. Turkish kebab deli bars mingle with some uber vegan restaurants, but Neukölln is more than that: it's a district buzzing with music bars, dimly lit retro cafes, designer shops, and unique architectural rarities like Hufeisensiedlung, the horseshoe-shaped estate from 1920-30's. Stay around here, if you're looking for an area with fewer tourists.
Very clean rooms with private bathrooms and a shared kitchen. Great location just near the station, and very helpful staff. Both double rooms and dormitories available. Optional breakfast for 7 euros. Click here for latest prices.
Luxury >Minitel
Minimalistic and very bright apartments, some of them with an equipped kitchen. Click here for latest prices.
Mid-range > Hotel Alt Tempelhof
Simple, clean rooms that has a minibar, a tea/coffee maker, and private bathroom. WiFi available in each room. Click here for latest prices.
Budget > Ambiente Hotel
This family-run hotel offers classically furnished rooms, all with free Wi-Fi. This a great choice for travellers interested in nightlife, shopping and convenient public transport. Click here for latest prices.
Things to do and see in Neukölln
• Be stylish & have a swim, a massage or a sauna at the impressive Stadtbad Neukölln
• Relax at the Gritzer Garten Park. GREAT for children!
• Get some fresh veggies, fruits, and homemade products at the Schillermarkt
• Check out the Hufeisensiedlung, the horseshoe-shaped estate
Where to stay in Mitte
Although Berlin doesn't have a city centre per se, Mitte, which means "centre" in German, can be easily seen as substitute for the kind of centre that you might be used to in other European cities, as it's centrally located and close to major tourist sites (Reichstag, Brandenburg Gate, Fernsehturm TV tower), and Haubtbahnhof, the main station in Berlin.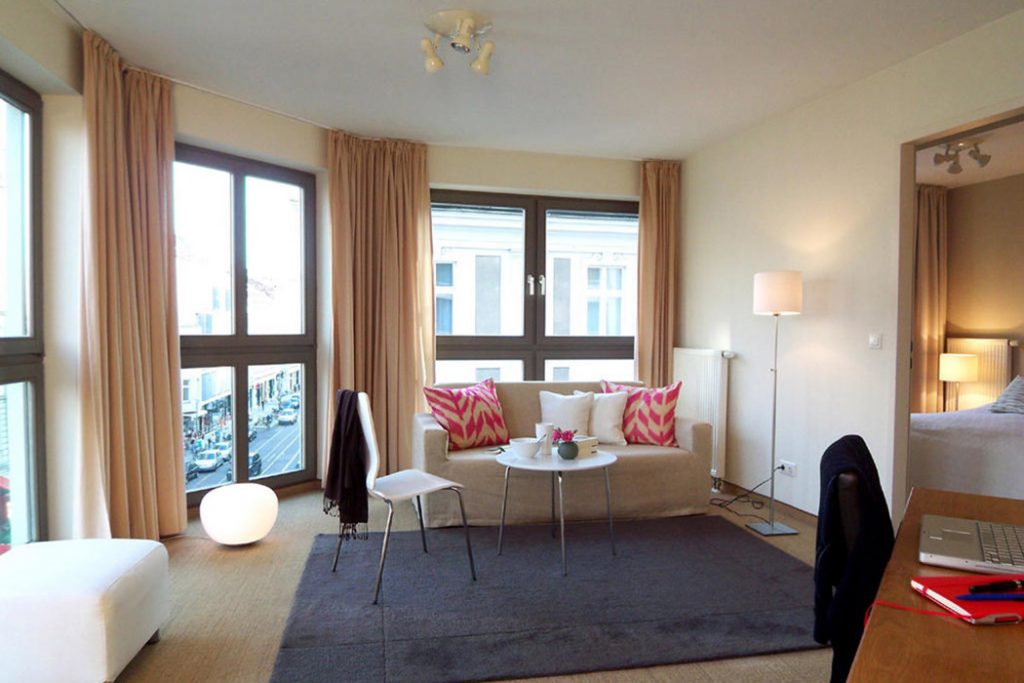 Peaceful, very bright apartment with a homey touch. There is an equipped kitchen, seating area, but if you feel the need to eat out, there are plenty of restaurants and bars nearby. Click here for latest prices.
Luxury > Gorki Apartments
Now this is what they call luxury. Great design, extremely comfortable rooms with an equipped kitchen, great bathrooms, and seating area. Click here for latest prices.
Mid-range > AMANO Home
Trendy and very minimalistic design, bright and big rooms with a basic kitchenette and a comfortable seating area. Click here for latest prices.
Budget > Wombat´s City Hostel
A cool, affordable, and clean hostel. Dormitories or double bedrooms available. Check out their rooftop bar with a view of Berlin's skyline. Click here for latest prices.
Things to do and see in Mitte
• See the Reichstag, German's Parliament building from the inside and the outside.
• Walk silently via the labyrinth of concrete blocks of the Holocaust Memorial
• Chill out in the most popular inner-city park Tiergarten
• Get a photo of the Berlin Cathedral Church at blue hour
• Get to the symbolic & impressive Brandenburg Gate
Where to stay in Tempelhof-Schöneberg
This borough is a mixture of modern, industrial, commercial, and alternative vibes. It's also one of the main hubs of LGBTQ community in Berlin. Here you'll find open-air markets, antique shops, parks for outdoor activities, and the best place to come for summer festivals and parades.
It's also the area where you can see pre-war architecture mingling with buildings from the 1950' s-60.

Incredibly clean and spacious air-conditioned rooms. They have a modern restaurant that serves a rich breakfast buffet. They also have a bar and restaurant that serves international and German cuisine with a selection of ine wines. The facility also has a spa are. Click here for latest prices.
Luxury > Crowne Plaza Berlin City Centre
A luxury 4-star hotel that features a free gym, sauna, and indoor pool. Vast range of breakfasts including healthy vegetarian, and gluten-free options. Click here for latest prices. 
Mid-range > STARS Guesthouse Berlin
Stylish and spacious guesthouse located in a quiet green residential area. Pet friendly. Click here for latest prices.
Budget > Acama Hotel & Hostel Schöneberg
Very simple and clean rooms. You can choose a bunk-bed or a double room with a private bathroom. Click here for latest prices.
Things to do and see in Tempelhof-Schöneberg
• Go for a run, a bike ride, BBQ party, or watch the sunset at the Tempelhof Airport
• Visit the Naturpark Schöneberger Südgeländ— the former rail yard
• Check the Rathaus Schöneberg where John F. Kennedy uttered the famous words "Ich bin ein Berliner."
• Attend an event at the ufaFabrik cultural centre
Where to stay in Prenzlauer Berg
Once an alternative hub, now a serene area with cool cafes, beer gardens, and lots of greenery. 80% of the buildings in the Prenzlauer Berg were constructed before WWII. The neighbourhood escaped the devastating bombing compared to other parts of the city, which makes it the best-preserved pre-war area in Berlin.
Great area if you travel as a family. It's safe, with nearby parks to run in, and close to the Mitte neighbourhood if you fancy some Berlin sightseeing.
Modern rooms with wooden floors and floor-to-ceiling windows. Studios have also an equipped kitchen. Click here for latest prices.
Luxury > Adele Designhotel
Stylish rooms in art-déco style. Very clean and small hotel with good breakfast. Click here for latest prices. 
Mid-range > Pension Absolut Berlin
Very bright & spacious rooms, tastefully designed. You can use a shared kitchen, too. Close to the public transport. Click here for latest prices.
Budget > EastSeven Berlin Hostel
A fantastic place to meet other travellers! Clean rooms with lots of space, dormitories and private rooms. There is a fully equipped kitchen and a beautiful garden ideal for meeting new friends! Click here for latest prices.
Things to do in Prenzlauer Berg
• Check the events at the cool Kulturbrauerei – the former brewery
• Go shopping in the organic heaven of Ökomarkt at the Kollwithzplatz
• Be a part of the melting pot at the Mauer Park
• Visit the Gedenkstätte Berliner Mauer – a memorial site that commemorates the Berlin division
Where to stay in Friedrichshain
Welcome to one of the most artistic hubs in Berlin! A place full of galleries, museums, pubs, bars, and creative people. Here you can come for the unceasing nightlife. Here is where one of the main landmarks of Berlin is located: the East Side Gallery, or at least what has remained of it.
Minimalistic modern hotel. Each room features a beanbag chair, yoga mat and rosewood furniture. They serve organic vegetarian breakfast, and use natural materials in the rooms. Sauna and massages are available. Click here for latest prices.
Luxury > nhow Berlin
The first music hotel in Europe! Original interior, super comfy beds, a gym, two saunas, and huge terrace next to the Spree River. Bonus: you can borrow an electric guitar for free! Click here for latest prices.
Mid-range > MOXY Berlin Ostbahnhof
Contemporary-style rooms, good breakfast. Also has a lobby and public areas with modern ergonomic seats. Click here for latest prices.
Budget > Kiez Hostel
A groovy hostel with bright & cosy dormitories and funky decorated private rooms with an original bamboo or a straw-bale design bed! Click here for latest prices.
Things to do in Friedrichshain
• Head to the East Side Gallery, a mile-long stretch of Berlin Wall
• Visit Volkspark Friedrichshain – the oldest public park in Berlin
• Soak in the bohemian atmosphere at the Simon-Dach-Straße full of bars and terraces
• Have a stroll via the famous Sunday RAW Fleamarket
Hopefully this list of Berlin's neighbourhoods, hotels, and brief tips on things to do made your decision where to stay in Berlin easier. In case you've already been to the city, which is your favourite area and why? Please, leave a comment below. We'd love to hear from you!
Note: The links in this post are affiliates. Which means that by booking a room through our site, we'll receive a small commission that will help us to create more awesome content with no extra cost to you.
LIKED IT? PIN IT!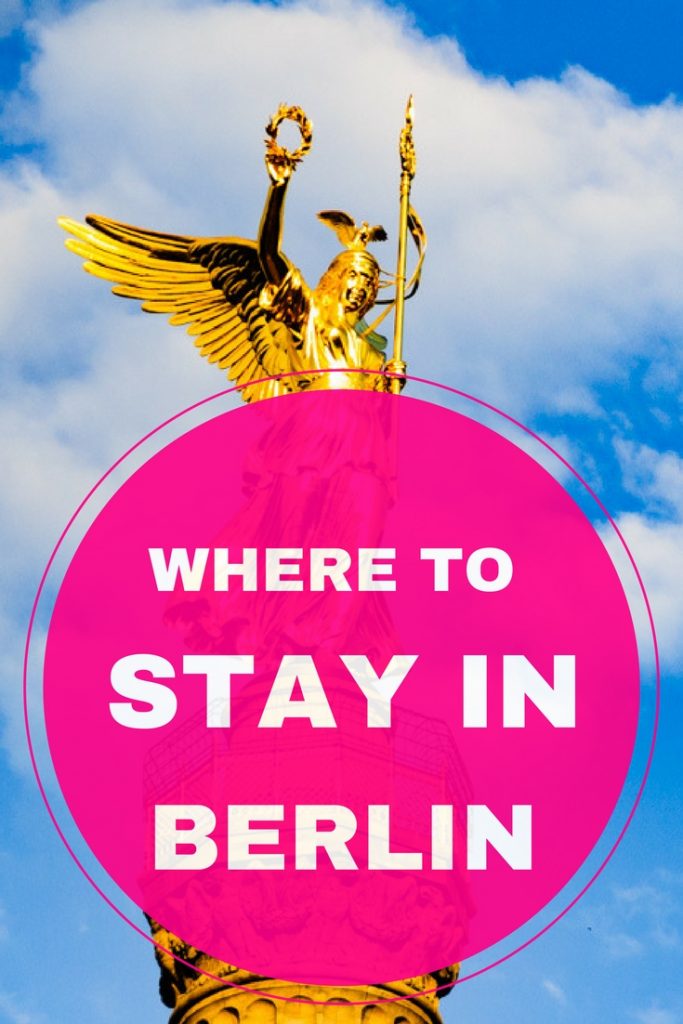 Disclaimer: We were kindly invited to stay at the Hommage à Magritte and LekkerUrlaub. All opinions, words, and impressions are our own.