In this article you'll read about train travel in Europe with Interrail Global Pass in Portugal, Spain, France, Italy, Germany, and the Czech Republic.
We'll give you some suggestions on which places to visit in every of these European countries, too. This blog is based on our own experience and it's definitely not an ultimate guide on all places worth visiting in Europe.
"I have seldom heard a train go by and not wished I was on it."
Paul Theroux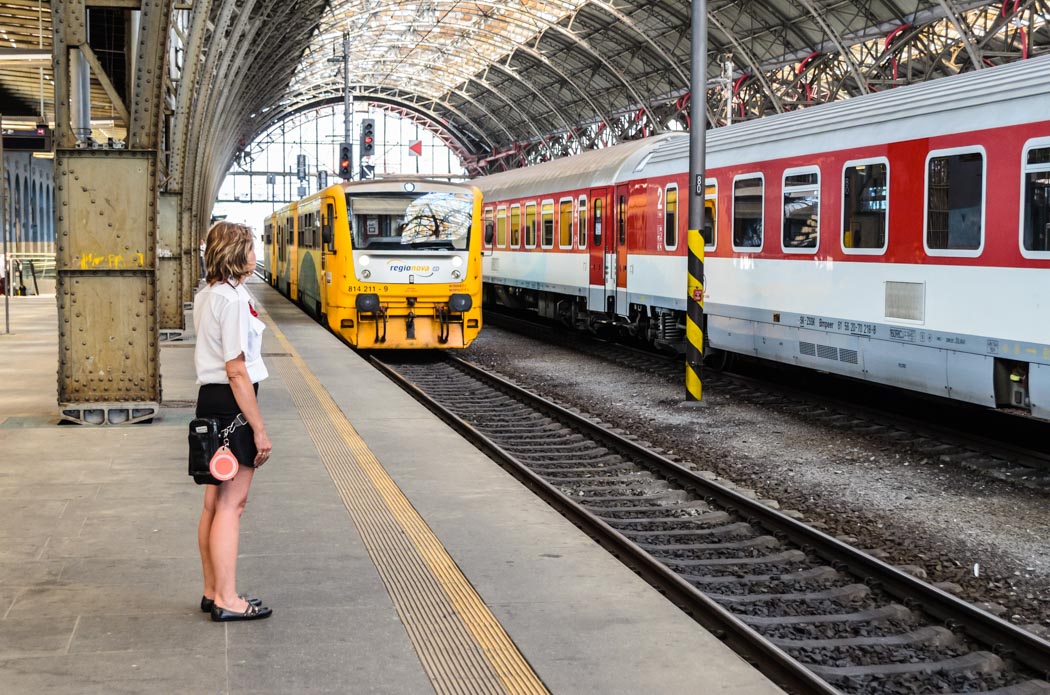 "The trains in any country contain the essential paraphernalia of the culture."
Paul Theroux
When we were planning a trip to Europe after staying in Asia for six months this year, we were sure about two things:
1. We wanted to travel around Europe by train and
2. We wished to explore a few new countries like Portugal and Spain (new only for me).
After two months of our tour of Europe we visited 6 countries, took 42 trains, 5 buses, a ferry, and a boat in Venice.
Since we wanted to explore more than one country and not to rush too much, we chose the Interrail Global Pass that allowed us to travel for 30 days continuously.
With this kind of pass, you can pick as many countries as you wish from the list of 30, and it gives you the freedom to decide when you want to have a travel day and when you want to stay longer in places that you like.
Interrail passes are only for European citizens, so if you are a non-European citizen, you'll need to go for Eurail Global Pass.
Important note: You're not allowed to travel with Interrail in your country of residence.
"Most travel, and certainly the rewarding kind, involves depending on the kindness of strangers, putting yourself into the hands of people you don't know and trusting them with your life."
Paul Theroux
5 Tips on Train Travel in Europe with the Interrail Global Pass
First things first, ask yourself a few questions:
* How much time do you have for your train trip to Europe?
* Do you like to wake up every day in a different country? (Yes, we met a Mexican who visited 14 countries in Europe within 17 days!!!) Maybe you'd prefer going with the flow and deciding spontaneously how long you stay in a place?
* Do you want to see what all the fuss is about in Venice, Prague, London and Berlin, or do you prefer venturing to more off beat places?
Your answers will be the best advisor. If you only have two weeks of holiday, you might want to get a 5-day pass and use it within 10 days.
If you don't mind travelling in 2nd class and you choose to travel mostly to smaller towns where there's no 1st class anyway; you can save a few hundred bucks by purchasing a 2nd class pass.
For example, if you're over 26, a 1st class Interrail Global Pass for 30 days costs 983 EUR/1,054 USD, but if you take the 2nd class you'll pay 626 EUR/671 USD and spend the money you save for better accommodation, food or activities. Check the latest prices of Interrail.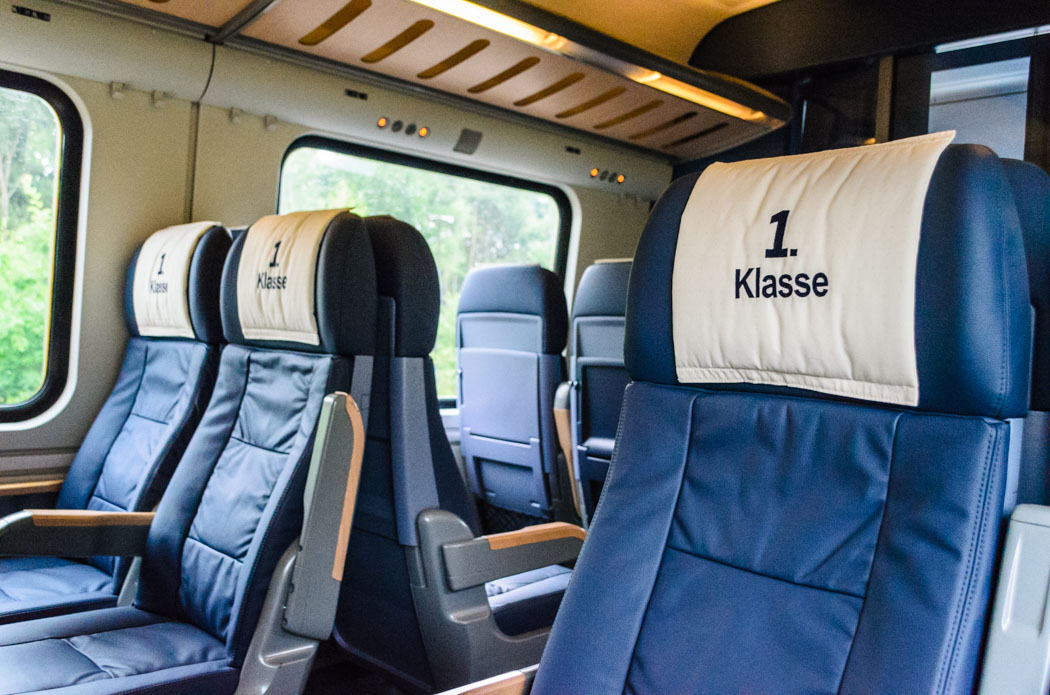 On the flip side, 1st class is classy and in some countries like Germany, Spain and England you'll feel really pampered in comfortable seats with a/c, snacks, Wi-Fi, and sometimes even newspapers.
Note: 1st class passes are valid also in the 2nd class trains/wagons.
You can purchase your Interrail pass online and it'll be delivered to you via mail. If you choose the Interrail Global Pass, you'll need to decide on your first day of travel, which will be written on your pass along with your personal data.
Once your pass is sent to you, the date cannot be changed. The passes are not transferable.
2. The best places to travel by train in Europe with the Interrail Pass
This is not an easy decision. If you're on a tight budget, then you might re-consider travelling to the countries where the majority of trains require additional reservation fees (Spain, Portugal, France and Italy). If you can, choose a different period to explore train routes in Europe.
June-August trains are full of kids on school trips, local vacationers, and tourists.
Also, try to avoid traveling by train in Europe on weekends or before long holidays in general.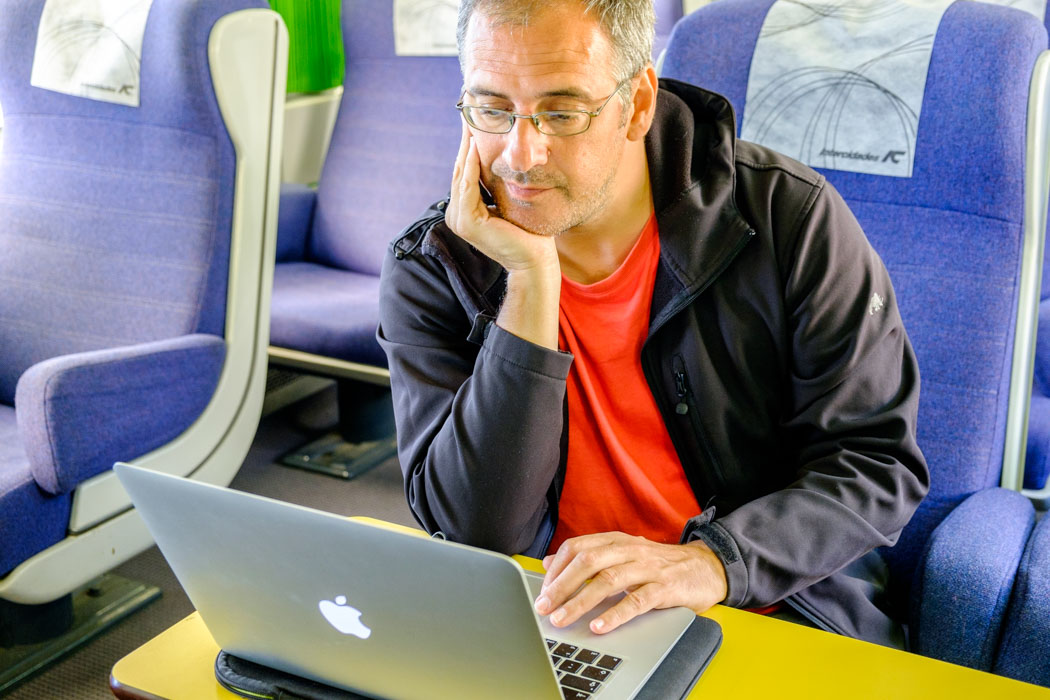 3. How to book a reservation with the Interrail Pass
The easiest way to get your reservation is to do it directly at the station that you plan to depart from (at least 30 minutes prior to departure).
Although, during summer holiday the seats for Interrail pass holders in the 1st class are sold out very quickly, and you'll need to book your seat a few days or weeks in advance (for example in France).
That being said, having a 1st class Interrail Global Pass doesn't always guarantee you a seat in a 1st class wagon either because they might be sold out, or you'll have to take the regional trains which have only 2nd class coaches.
If you'll have a 2nd class pass and you decide to travel 1st class on a certain journey for some reason, you can do it. The only thing you'll need to do is to pay a difference at a ticket office before getting on board.
(In Italy you can use a self-service machine, although we didn't try it.)
You can also book your reservation online 3 months to 10 days before the departure; but you'll have to receive the original document of reservation. The receipt of payment or a screenshot of your payment is not valid.
You'll pay extra for this, but it will assure that you'll get a seat, which might be very useful especially in the high summer season (Jun-August).
Here you can find a guide to train reservations.
4. Get the Rail Planner App
This is a fantastic help and time saver! The Rail Planner App looks up departures and arrivals of trains, and helps you to find (not only) high speed trains in Europe without compulsory reservations.
It really saves you a lot of time, especially if you don't speak the language of the country and nobody speaks English at the station. The app works offline and is free.
It happened only once that the assistant at the station suggested another train that didn't appear in the app and was more convenient in the end.
5. Travel light
Packing wisely is one of the tricks you'll need to learn to enjoy the journey around Europe by train. You'll need more layers of warm clothes if you decide to travel in autumn or winter, but if you go for an Interrail trip during your summer holiday, a few changes of clothes and a couple of shoes will be completely sufficient.
Leave your hairdryer, towel and other two pair of shoes at home, and spare some space in your luggage for some high quality olive oil or good Port wine.
Speaking of food, bring some snacks with you if you take a long distance trains. Restaurants in trains are not the cheapest ones.
You don't pay any fee for your luggage in trains in Europe, but why pull a 25 kg suitcase behind you if you can feel lighter with a backpack half that size? If you go this way, backpacking Europe will be much more fun!
"Anything is possible on a train: a great meal, a binge, a visit from card players, an intrigue, a good night's sleep, and strangers' monologues framed like Russian short stories."
Paul Theroux
Train Travel in Spain
Traveling by train in Spain was the fastest way to move around for us. Not that we were in a rush, but having only two weeks to explore the country, we were happy to spend less time in transit and have more hours to roam around the cities, take a food tour, or catch up with friends.
Fast trains in Spain can speed up to 290km/h and departed and arrived almost always on time.
We were glad we had installed the Rail Planner App before the trip and Gianni could communicate in Spanish. 99% of the assistants at the stations in Spain don't speak English, so get ready to dust off your Spanish or use your hands, map, or the translator on your phone.
Tips and observations from traveling by train in Spain
* All trains except regional ones require reservations that we always made at the stations.
* In the majority of trains there are no English announcements of the upcoming stations. We suggest checking the names of two-to-three stations before yours so you don't miss your stop.
* In big cities and main tourist destinations they'll ask you to check your luggage through an x-ray machine.
* The price of tickets for 1st class can sometimes be two or three times more expensive than buses, but it'll save you half or more time on your journey.
* Most of the trains in Spain have no Wi-Fi, but you'll find computer sockets, and in some long distance trains you might even get to watch movies on your private screen.
Our favourite places to visit in Spain
BARCELONA
I know we're not the only ones who didn't fall in love with this city instantly. It's easy to feel overwhelmed by the Gaudi's mosaic patterns covering souvenirs, and by the organized groups that block the views on all monuments you want to see.
Once you step away from the busy centre however, and have a stroll via side streets, you'll meet only a few scooter drivers and tourists who opted for a more local experience, and you might see the capital of Catalonia with different eyes.
If you fancy a more adventurous way to explore the city, go for a Segway tour in Barcelona! It's fun, you'll learn something new, (it's actually easier than it looks) and you'll meet with other travelers while getting a great overview of the capital's history and its contemporary urban life.
Our guide Karina, who has been studying and living in Barcelona for many years toured us through medieval palaces in the Gothic quarter and down narrow streets to Barcelona city beach.
We would definitely recommended it if you like being active while discovering new places. The groups of Segway tours in Barcelona are small, they provide safety training, and you'll get a helmet and a bottle of water!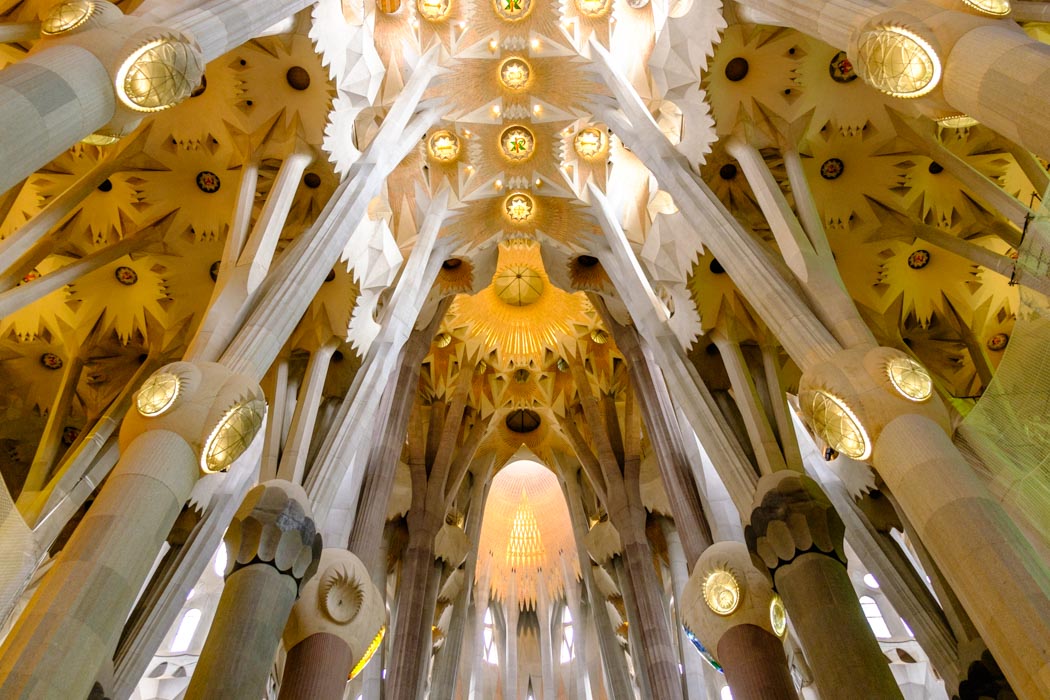 Coming to Barcelona and not seeing any of Antoni Gaudi's work is like coming to Thailand and ignoring the Buddhist temples.
Yes, the places where you can marvel at Gaudi's work are often packed and the queue to Sagrada Família might look intimidating, but how often do you visit a place with mind-blowing stone tree columns and the other architectonic details echoing the shapes of nature?
If you're looking for some savvy tips how not to spend a fortune, read the post of Anglo-Italian travel blog. They put together a list of 20 things to do for free in Barcelona.
Where to stay in Barcelona
We partnered with OK Apartment of Barcelona who offer many different places to stay all over town. You can book your room/apartment online according to your budget and location preferences. We recommend getting in touch with their staff at the local office in Barcelona, as they will be very eager to help you with suggestions on which places to visit in the city.
GIRONA
Girona is charming and we loved taking our time while walking through its narrow streets through the Jewish quarter, where you could just close your eyes (not while walking down the steps!) and step into the Middle Ages.
Turn down the side streets in the centre or while climbing to the Cathedral of St. Mary. From there walk to the city walls.
We recommend continuing from the main view-point and walking through the gardens of John Lennon to the northern part of the wall. There you'll get some of the best views of Girona's cathedral and the old part of the town.
Speaking of the old walls, looks like Girona's going to be on the top of the list of places to visit in Spain once the 6th season of Game of Thrones is released and fans of King's Landing and Braavos will want to walk along the same walls, climb the same stairs, and look at the same church towers as people in the show's scenes.
CUENCA
To arrive to undisturbed Cuenca town after a tawdry beach near Tarragona was a big relief. Not so much for our muscles though. Steep, curvy cobble stone streets reminded us we'd gone too long without any proper exercise.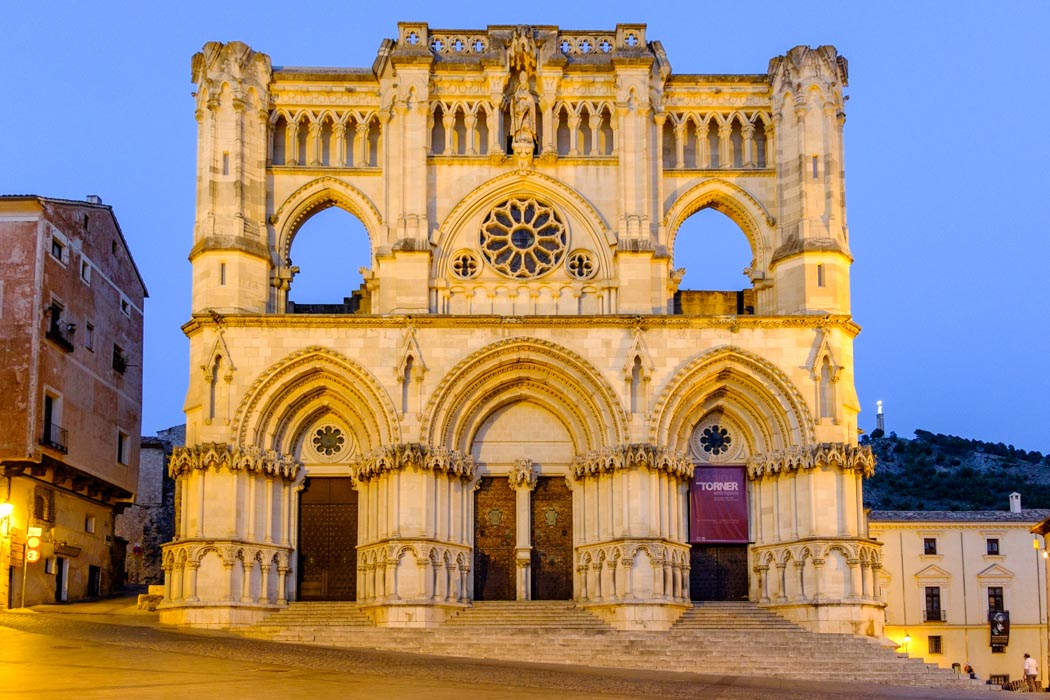 In Cuenca, expect lots of history that seems to breathe down on you from hanging houses, hobbit sized gated buildings, and streets that come to life only after the sun sets and the old lamps turn on. Don't miss the ancient walled city, a walk through the Saint Paul Bridge, and the Cuenca cathedral at dusk.
If the hilly city centre isn't stimulating enough, put on your hiking shoes and go for a half-day hike around the city to take in some great views.
Where to stay in Cuenca
We opted for an Airbnb room right downtown. It was simply furnished in retro style with reliable Wi-Fi.
TOLEDO
You can easily explore Toledo in one full day. We'd have left Toledo after two days, but two Couchsurfing hosts in two different neighbourhoods accepted us, so we decided to stay for two more days. Definitely a good decision!
Thanks to our host Virginia's suggestions, we got to see some of the best views of Toledo: the top floor of the public library Biblioteca de Castilla-La Mancha. The entrance is free and you get there by taking an elevator from the reception. There's also a small coffee shop on the top where you can grab a coffee or a sandwich.
You can take a photo of the colourful sunset with a panoramic view of Toledo, or have a walk via the ring road along Tagus River up to the Mirador del Valle viewpoint.
Our second hosts, Mamen and María José guided us through night Toledo and gave an interesting lecture on the art scene there. They were quite knowledgeable, as they had been working in the theatre and visual art field.
That said if you have a chance, get in touch with locals while travelling in Europe (or elsewhere.) It's such an enriching experience to hear the native perspective on the changes, growth, or decline of a particular place.
GRANADA
We admit that it was thanks to our gorgeous Airbnb apartment that we rented in Granada, that we had such a splendid time there! Who would complain about the view of the Alhambra palace right from their bed, or preparing your own meals after half a year eating street food in Asia?
If you question whether it's worth waking up at 5am to queue to enter the palace complex, (in case you haven't booked your tickets online) we can assure you it definitely is.
The Moorish architecture of the Alhambra palace and fortress is like nothing else we've seen before in Spain. It might get crowded around 9-10 am, but the complex is huge and you'll certainly find a peaceful spot to rest in one of the gardens there.
If you want to read more, check this post about Granada's things to do.
CORDOBA
Cordoba is the city where Muslims, Jews and Christians have been blending together for centuries to form this modern day melting pot.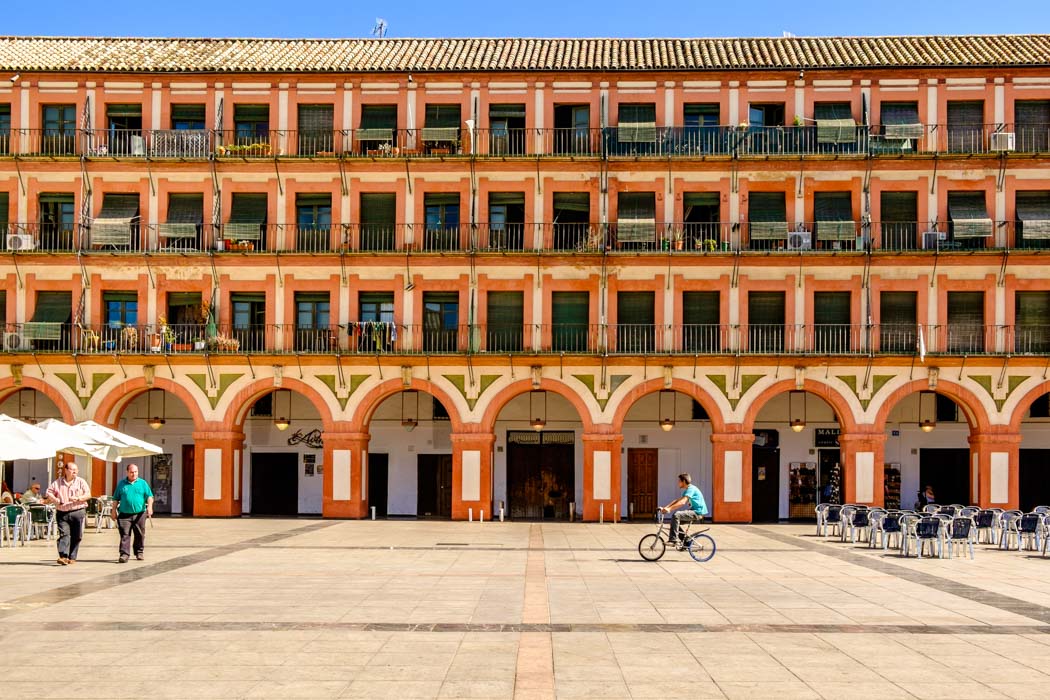 We wanted to learn more about the mixture of cultures, religious influences, who were "cordobesas," why some parts the roads in town are made with cobble stones, why the streets of Cordoba were so narrow, why the narrowest alley is only 70 cm wide, and we wanted to listen to the many legends of the city… so we took a Free Tour Cordoba!
Recommended places to visit in Cordoba: St. Francisco Church, medina (the center of the town and the richest part of Cordoba), La Mezquita.
Pro tip: If you want to save some bucks and avoid crowds in the La Mezquita, visit it early in the morning, when the entrance is free of charge for the public from 8.30-9.30 am.
Where to stay in Cordoba
You can always tell when the owner of a hotel/guest house is a seasoned traveller. They welcome guests with a warm smile and open arms. Manuel Luque, the owner of Casa de lo Azulejos, was roaming around the world for a while and a few years ago he opened a beautiful hotel in Cordoba and put his all love for details in it.
The place is a real oasis in the middle of the urban hustle, and when you rest in a hammock on the green patio at the reception, you'll see what I mean. The rooms are bright and they have their private terraces. Manuel who uses local organic products prepares the buffet breakfast himself.
Oh, and the handmade ceramic shower in the Casa was the most artistic and powerful shower we've ever seen.
SEVILLE
So many times we were asked whether we've found a place where we could imagine settling down. Okay, Seville is not the place we'd stay forever, but we can definitely picture ourselves staying there for a few months.
Again, our fantastic experience in Seville was greatly influenced by a local Couchsurfing host Antonio. From the moment he picked us at the train station in Seville, we knew this was going to be a cool local experience.
We wandered with Antonio through the town for hours and hours, listened to the stories about a tobacco factory, how the growing tourism industry has changed the city centre, and we ended up in a quintessential tapas bar where they signed our order with a chalk on a wooden desk!
Recommended places to visit in Seville: Plaza de España at dusk! No tourists, the lights are just great, and you'll most likely have the square (almost) to yourself.
If the food is the reason you travel, then you'll be in culinary heaven in Seville. We took a food tour with Devour Seville and surrendered to all Spanish delicacies starting from jamón, sandwiches with french-fry stuffed bread, traditional Andalusian tomato soup, seafood, pastries from convent, and Italian gelato!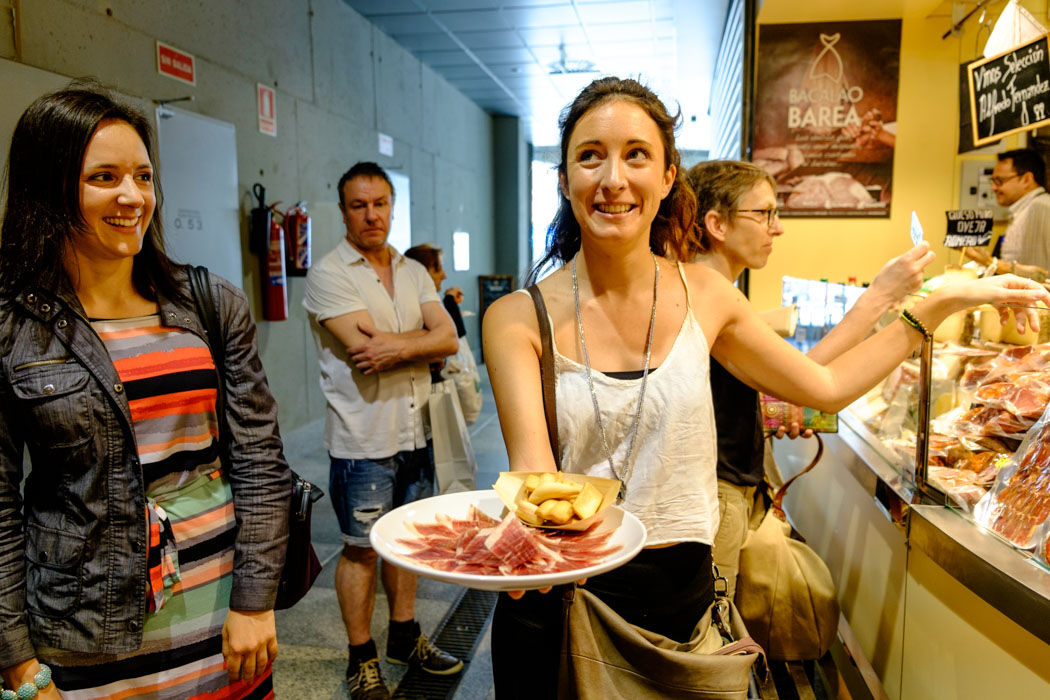 Oh, did we mention we wouldn't mind going back to Seville and staying for a while?
Train Travel in Portugal
Trains in Portugal are similar to those in Spain. They are fairly punctual with departures and arrivals.
We travelled around Portugal for two weeks, and trains were again the best options to get from one place to another while getting some work done in between napping on comfortable seats and looking out the windows to watch the summer countryside landscape of, olives, cork, and orange tree plantations. Besides, some of the train connections were also cheaper than buses. After all Portugal is still one of the cheapest destinations in Europe.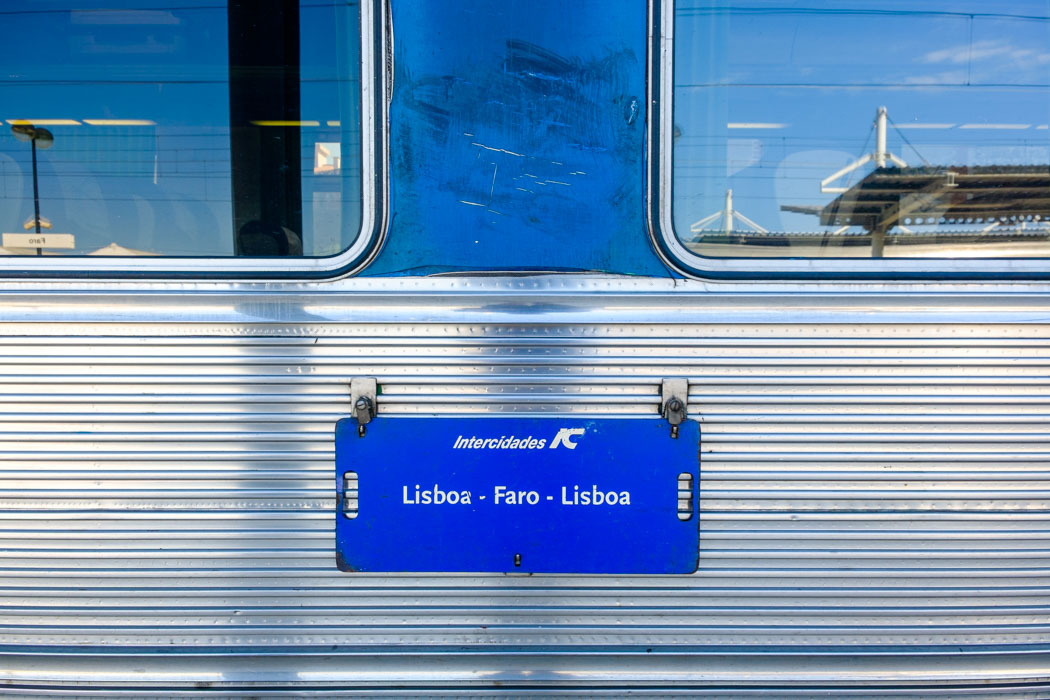 A few times we had to take a bus to get to more remote towns like Borba or Lousa, since the railway network hasn't been working there for over 15 years.
The only issue we had in Portugal was with booking a night train from Porto, Portugal to Lleida, Spain. Online booking didn't work. Neither did the booking system at the train station in Porto and when we came back two hours later, (as the assistant at the ticket office suggested), there was only one seat left.
We tried to book a day train, but we were only able to purchase the ticket from Porto to Vigo in Spain, but not the train from Vigo to Lleida, which was the connection between cities in Spain, not Portugal, which was the main issue.
Pro tip: get your reservation for a night train in advance or take a day train from Portugal to the closest city in Spain where you can buy a reservation and travel to other cities in Spain.
So, we changed our plans and travelled to Spanish Vigo, where we were able to book a train to Zaragoza.
* Like in Spain, there are no announcements in English on the trains, although you'll usually find an electronic board with the next stop and final destination.
* There were English-speaking personnel at almost every station where we booked our reservations, which was very helpful.
* All trains except some regional ones require a reservation, but they're cheaper compared to Spain. Usually they cost only 5 EUR (5.37 USD)/pax for the 1st class with Interrail pass.
* You can use the Interrail Global Pass for free in some buses in Portugal, especially if they go through towns where the train connection no longer exists.
Our favourite places to visit in Portugal
CABANAS
We were warned, "Algarve is super touristy nowadays!" Sometimes though, you just need to go and visit yourself. After doing this you'll realize that travel tips are very subjective. That's how we ended up in Cabanas de Tavira, a former fishing village that is a great spot to enjoy some beach time if that's why you travel to Portugal.
Cabanas is only 7 km (4.3 miles) away from Tavira town, which is worth visiting if you don't mind taking a stroll among whitewashed buildings, taking pictures of Moorish style doors, old azulejos tiles and getting some delicious chick peas stew with boiled bacalhau fish in a local restaurant after you climb up to the beautiful Santiago church.
In Cabanas village you'll be surrounded by nature that will replenish your body and spirit. The Cabanas beach is only a few minutes away by a boat taxi (a round ticket costs 1.3 EUR (1.37 USD)/pax, and when we visited it in May, it was almost empty.)
Pro tip: rent a bike in Cabanas and explore the village. The traffic is minimal and it's the best way to explore local life there.
Where to stay in Cabanas de Tavira?
Have you ever slept among 20.000 orange trees? Okay, maybe not exactly under the trees, but in a rural, chic, and eco-friendly hotel surrounded by oranges?
We stayed at the Quinta dos Perfumes near the citrus plantation that used to be a mallow factory where they extracted plant essence for perfume production. This was in the 50's and 60's of the last century.
Ten years after, the family of Pedro Estrela, a current owner of the hotel, started growing grape vine but the business didn't develop the way they wished. Later on, Pedro came up with an idea to cultivate citruses there, which is now a tradition of the Algarve region.
Now he has transformed the orchard into a beautiful tree oasis, and once you taste the fresh fruit or a freshly squeezed juice for breakfast, your taste buds will experience all the dedication and passion Pedro puts into his work there.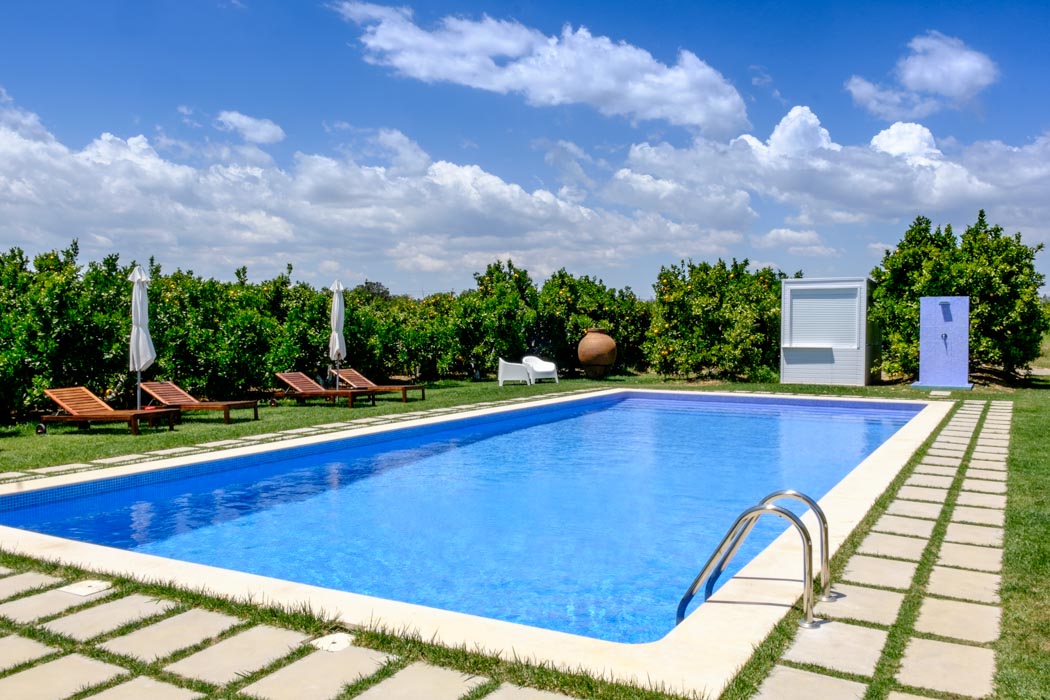 Apart from the bright rooms furnished with delicate style, you can chill out near an outdoor pool among the orange trees, naturally.
LISBON
We've already written an ode to Lisbon in the article about what to do and see in Lisbon. Read the post to get more tips on where to get some spectacular sunset views, why to head to Alfama district, where to go graffiti hunting, or where to listen to fado singers while ordering a glass of Porto wine.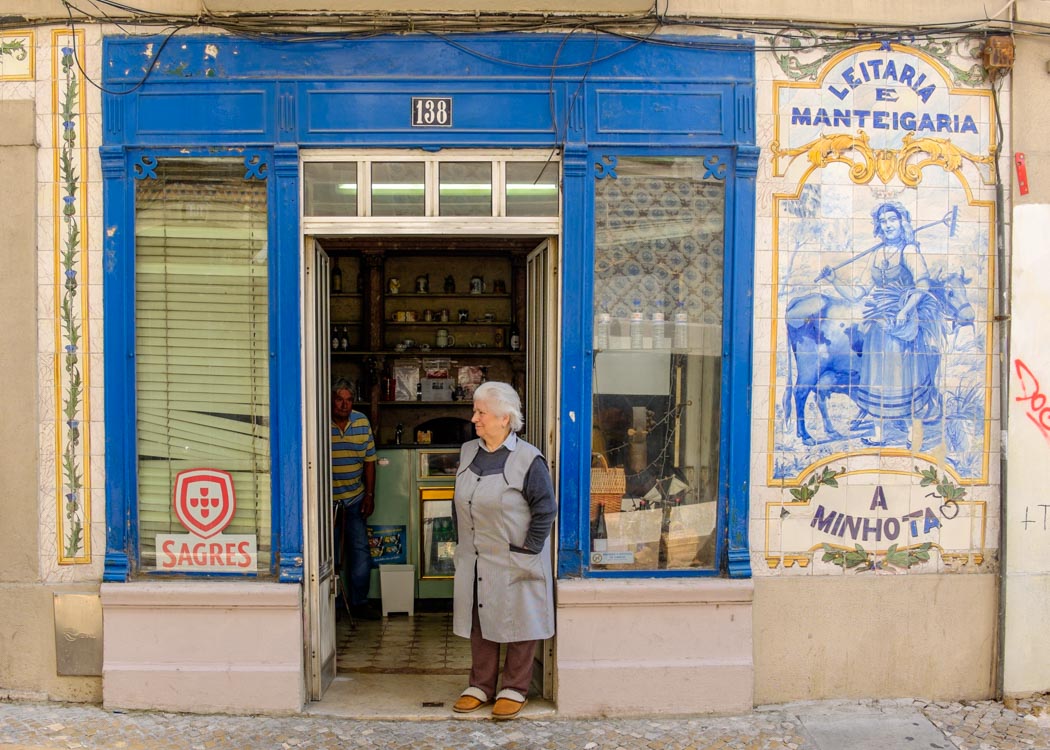 If the food is the reason you head to Portugal, read our blog about traditional Portuguese cuisine to prepare yourself for all the food indulgence the country has to offer.
Where to stay in Lisbon
We opted for the environmentally conscious hotel Inspira Santa Marta in the city center. You can get more information about the rooms and sustainable concept of the hotel in the same article about Lisbon we mentioned above.
PORTO
If you're having doubts as to whether it's worth it to travel south from Lisbon to "just another Portuguese city," don't. If you miss Porto, you'll miss out on a lot.
We suggest ignoring all touristy "must-sees," and surrendering to the vibes wherever the road takes you. Porto will lead you through its hilly terrain; it'll show you seemingly abandoned buildings that are still occupied with locals.
Porto will also invite you take a break in churches decorated with white and blue azulejos, as well pointing out a street that you might want to avoid at night.
Walking through the streets and squares of Porto is like jumping into a movie set; you listen to a conversation between a loud boss and his louder waiter in a small local restaurant, you look at the elderly ladies peeking out from antique windows, you'll watch what's happening below, and expect to hear a director's, "cut!" at any second so you can cross the street without disturbing the invisible film crew.
Recommended places to see: Definitely Dom Luís I Bridge after the sunset. If you're a photographer or interested in the history of photography, pay a visit to the Portuguese Center of Photography built in a former prison. Free entrance.
Out of the many churches in Porto, our favourite were Igreja da Nossa Senhora das Carmelitas Igreja do Carmo, or "Carmo Church," and Church of Saint Ildefonso for their spectacular architecture.
Where to stay in Porto
Airbnb was a winner for us in Porto. We stayed in a cool retro apartment 5 minutes walking from the train station. It wasn't very central, and we walked for about 20 minutes every time we went to the town.
We liked the neighbourhood we passed by though, and were able to find some cheaper restaurants compared to those in the city center.
Oh, and the hospitality of our host was way beyond the usual service of Airbnb! Luis went every morning to bring us fresh pastries. He also served us some bread with organic marmalade, cheese, fresh orange juice, and fantastic rooibos tea!
PENAFIEL
The reason why we stopped in Penafiel is simple: hiking. We combined city trips to Lisbon and Porto with some hikes while travelling in Portugal, and Penafiel was a base for the rural experience in the small villages of Galegos, Alvite and Santo Ilos. You can get more insider tips in our article Outdoors in Portugal: Some of the Best Hiking Paths.
Where to stay in Penafiel
To start your rural landscape experience right from the heart of Penafiel, we suggest staying with the Vinha family, of Solar Egas Moniz hotel who will take great care of you while you discover the nearby countryside. You can read more about their hospitality and see some pictures of the hotel in the same post about hiking we mentioned above.
Train Travel in France
All trains but regional ones require a reservation in France. The prices vary a lot, starting from 4.5 EUR (4.8 USD) up to 132 EUR (141 USD).
We took only a few trains in France so we can hardly write a comprehensive guide on traveling with the Interrail Global pass in France. From our experience we can conclude that English is well spoken at train stations, although there were no formal announcements in English on the trains.
Most of the trains we took had computer sockets but no Wi-Fi. If you take the route from France to Italy during the day, you'll be rewarded with some beautiful views of the Alps and national parks.
Places to visit in France
CARCASSONNE
A day or two will be enough to see the main highlights in Carcassonne which include a visit to the medieval citadel on the hilltop of the town, (for stunning photographs of the fortified city get to the bridge in front of the main gate at dusk) and exploring the old center.
Go ahead and mingle with locals, have a coffee at the central square Place Carnot, and if you are in the city on Saturday, don't miss morning food market in the square where you'll find some of the finest fruits, veggies, breads, and different kinds of French cheese.
For outdoors lovers, there is an easy 7 km long walking/biking path along the Aude River. You can start your trip opposite the Hotel des Trois Couronnes (Bastide side of the Pont Vieux) and follow the path that will take you to a road bridge on the opposite bank of the river.
If you belong to the group of "I-don't mind-seeing-another-church" travellers, visit the Romanesque-Gothic Basilica of Saints Nazarius and Celsus situated in the citadel of Carcassonne.
Where to stay in Carcassonne
We wanted to avoid staying in the touristy centre, so we opted for Couchsurfing and stayed in an old house with a view of vineyards through the windows. We arrived in mid May, which was too early to taste the grapes, but we stuffed ourselves with sweet black cherries right from the trees behind the house.
TOULOUSE
I wish we were luckier with the weather in Toulouse. Most of the time we stayed there it was raining so we managed to see only a bit of the town.
Our favourite spot for the view of the city was on the roof top terrace of the Galeries Lafayette shopping mall, (accessible with escalators) the Saint-Pierre Bridge, and Les Carmes district, where famous pink coloured houses turned red after the rain.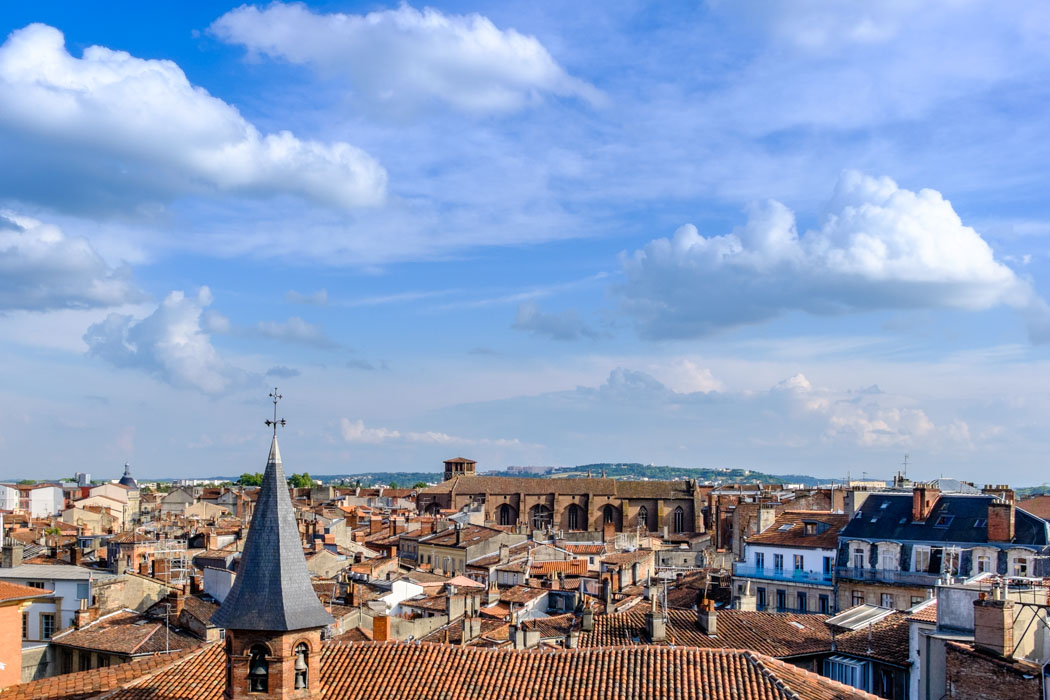 Hope you're more fortunate when visiting Toulouse so you'll get to the magnificent Church Les Jacobins de Toulouse. We arrived too late to enter and the photos of the interior we'd seen before made us feel even sadder we didn't manage to visit it.
Train Travel in Italy
Trains in Italy are quite popular and there are lots of daily commuters, too. Generally, the Italian railway network is extensive and besides the national Trenitalia, there are many small regional companies that actually cover all 20 regions in Italy with 16,723 km of active lines!
My favourite route is with the Sud-Est network via the Puglia region, where trains take you through olive trees fields, vineyards, and along the magic trulli houses.
Tips and observations when traveling by train through Italy with Interrail
* The regional and IC trains don't require a reservation for Interrail Global pass in Italy, and we managed to save quite a lot of money by picking only regional connections between cities we visited.
* There are no announcements in English or Italian in most of the trains, so be sure you know the time to get off and find out the name of one or two stops before
yours.
* The trains depart and arrive punctually.
Our favourite places to visit in Italy
MILAN
I was a bit sceptical about Milan. Many Italians told me there's nothing to see apart from the historical center, but at the same time I could vividly remember my mum's excitement about the city every time she got back from a business trip to Milan.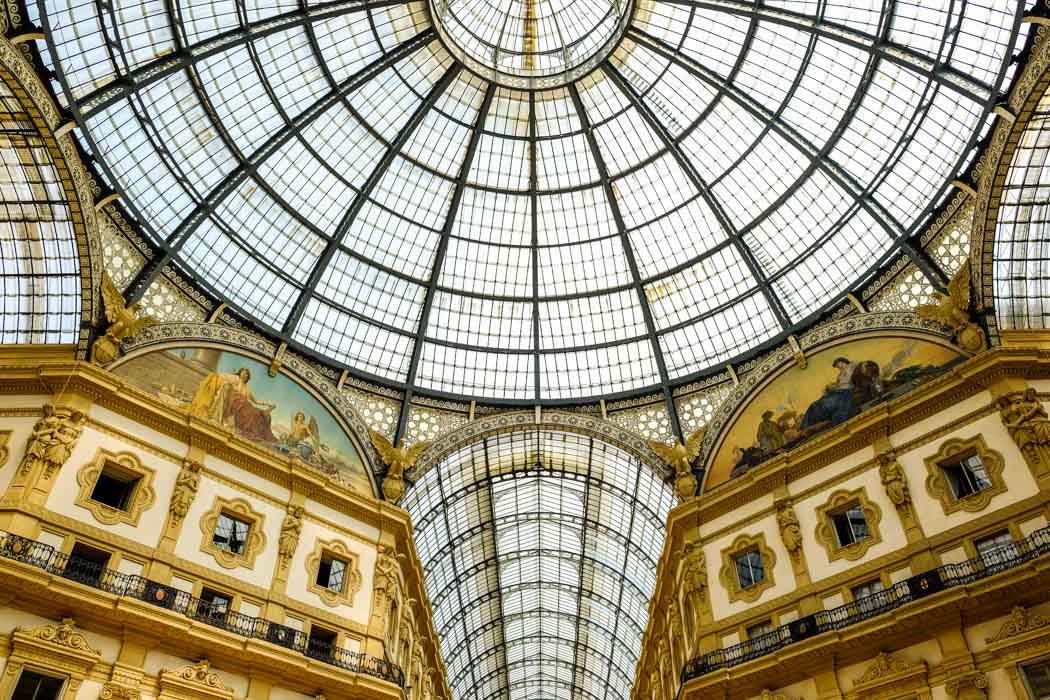 In the end Milan impressed me as much as any Italian town I'd visited before. Not only with its incredible architecture, but also with its insanely scrumptious fresh pastries with pistachio-chocolate filling for breakfast, beautiful stylish women riding bikes in high heels, and men so voguish that you feel like half of the city heading for a catwalk casting.
We stayed in Milan for four days with a close friend, Annamaria, who graciously looked after us, by which I mean she took us to the best pizzeria, best gelateria, the finest Ethiopian restaurant in town, and walked us through the Navigli district at night.
Recommended places to see in Milan: We'll let the experts speak: Margherita and Nick from The Crowded Planet lived in Milan for many years, and wrote a beginner's guide on things to do in Milan with some useful insider tips on free things to do in Milan. Hopefully this helps! To find accommodation check the best airbnb in Milan.
MODENA
Modena is a small town. It's easy to walk around or get lost between streets full of cafes and secluded squares with colourful houses that embrace you and let you enjoy the silence of the yards while sitting on an iron bench.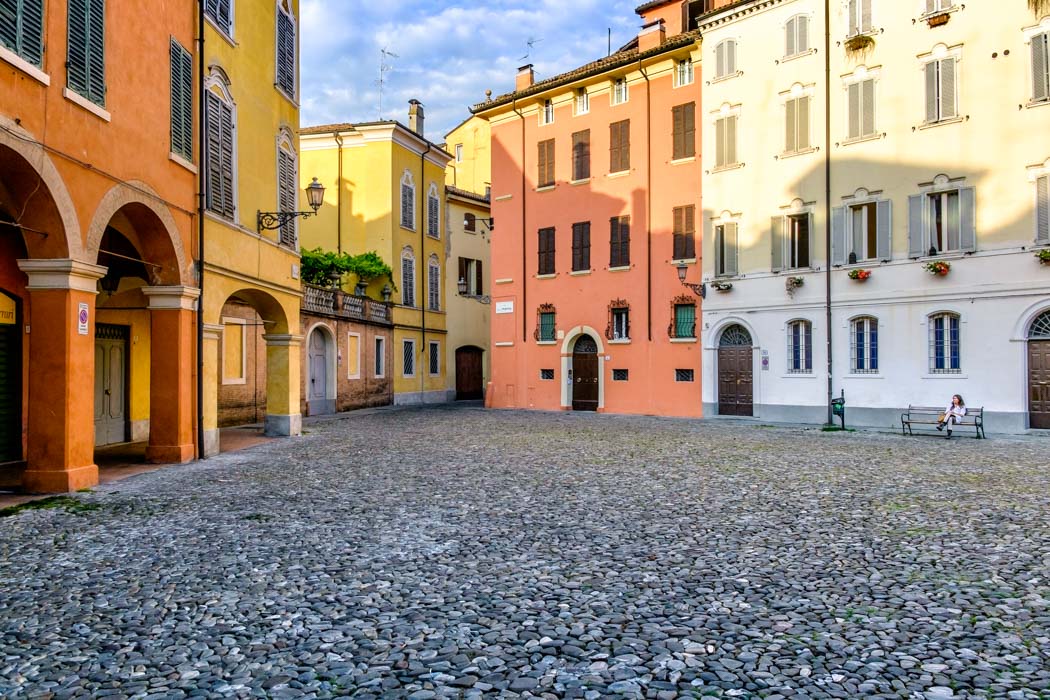 You'll be protected from the harsh sun by stone arches and ancient columns typical for Emilia Romagna region.
Modena might be less popular among travellers, yet the town is absolutely worth a visit for a couple of days when travelling through Italy by train, especially if you're looking for a laid-back place to rest when heading south from Milan to Bologna or Florence, or other way round.
VENICE
I can feel your hesitation about visiting Venice. So many travelers complain about Venice being overrated, crowded, and say that the town is made only for tourists nowadays.
Well, after staying in the capital of Veneto region for five days, I can tell you that if you go for a walk at 10 am with a guide book ticking off all famous spots, dine in the centre, visit Piazza San Marco in the afternoon where hundreds of tourists take pictures of hundreds of pigeons, and then fight for the best spot to take picture on the Bridge of Sighs… then yes, Venice can be overwhelming.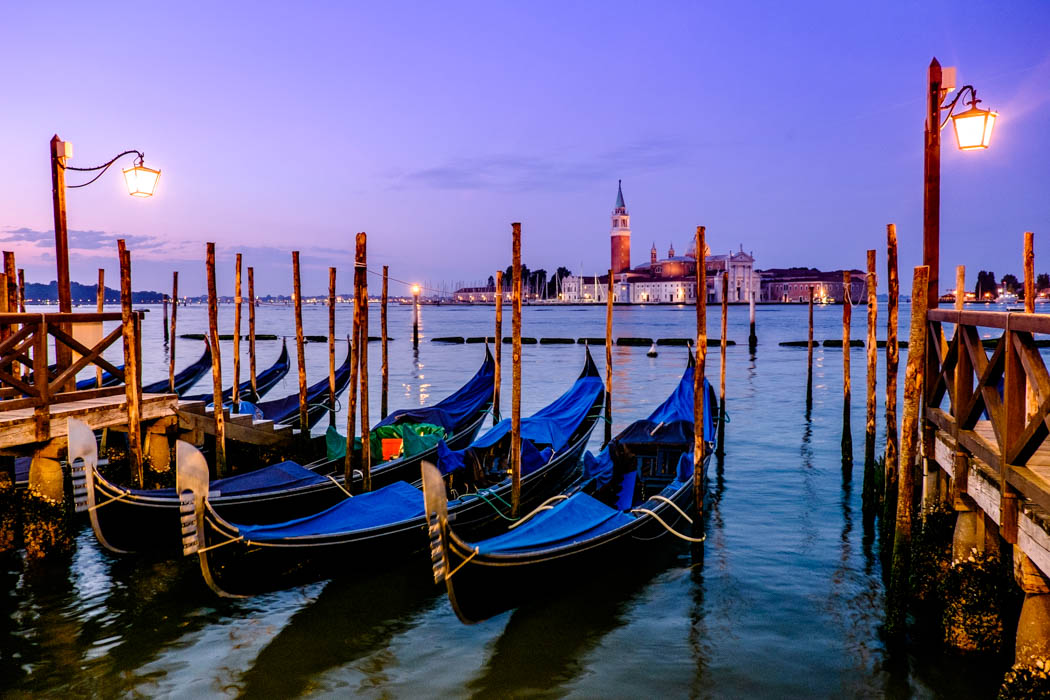 The only thing you need in Venice is a map so you know how to get back to your hotel/Airbnb.
Start exploring the city earlier. Wake up at 4 am and be at the Square of San Marco and the Riva Degli Schiavoni promenade before the sunrise. We were at both places at 4 o'clock in the afternoon and 4 o'clock in the morning and they're two different worlds.
The fact that there are no cars in the city is pretty unique, and it's easy to detour to side streets and tiny squares that might not be included in the top 10 "musts."
If you're not a morning person, walk in the city later in the evening when most of the tourists are back in their hotels in Mestre – the mainland gateway to Venice where the prices for hotels are much lower compared to the old city.
Recommended places to visit in Venice: Head to the Cannareggio district in the north if you want to see real local life in Venice and grab some good seafood. Needless to say, you'll have the views of the bridges over the canals almost all to yourself.
Once you're in Venice, take a ferry to the Burano Island, where bright colours of houses create, "an urban rainbow." Don't stay only near the main canal with the bridges. Head further away and explore parts other than those from the postcards. All you need to do is to turn left or right from the main square with souvenirs.
Read more in this five day Venice itinerary.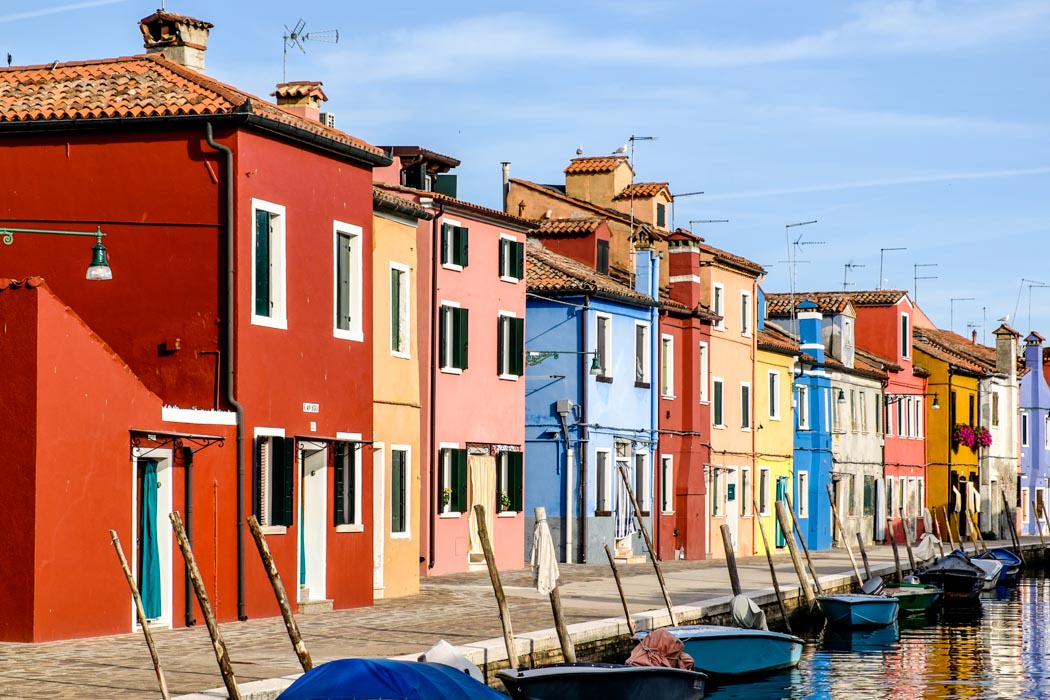 Where to stay in Venice
If you stay in Venice only for a few days and you prefer staying central, go for a local B&B. We stayed at B&B La Terrazza Dei Miracoli, in a beautiful room right in the heart of the town, with an amazing rooftop terrace where our host Antonella served us hearty breakfast every morning.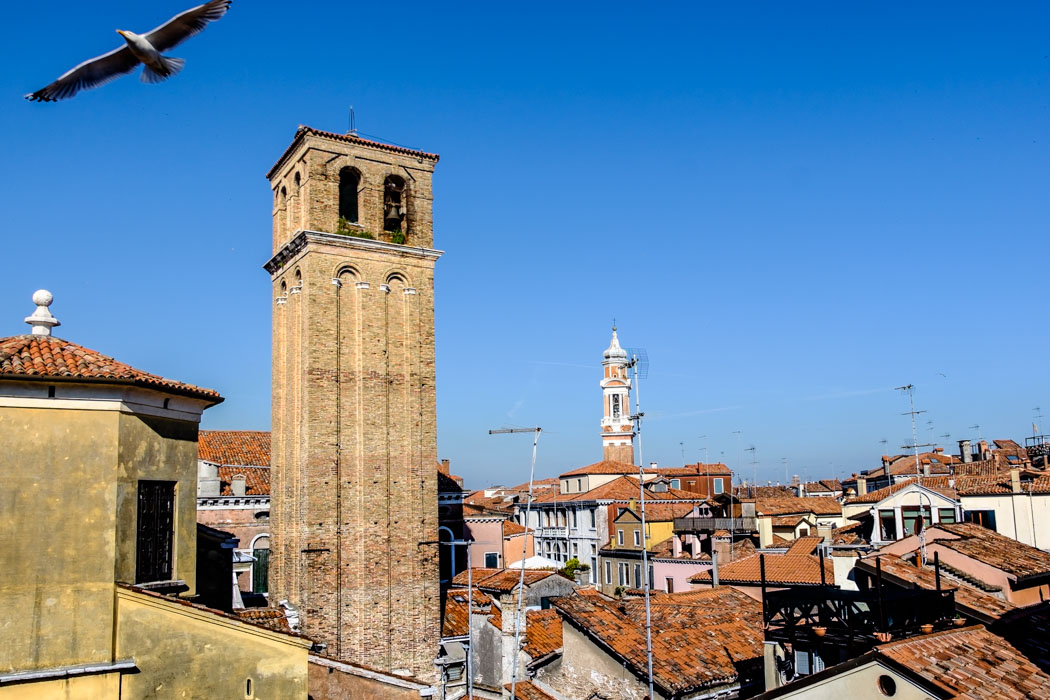 The rooms were stylish and very clean and attached to two shared bathrooms. The apartment had a washing machine and a well-equipped kitchen (which is great, as you can buy groceries in the nearby supermarket and prepare a fresh salad with pasta yourself.)
LECCE
Oh Lecce, dear Lecce. There must be something in you that more and more visitors come to see your Baroque monuments, limestone buildings, ancient open air theatre, hang out in local clubs to listen to live jazz, get stuffed with orecchiette pasta, and buy some of the best olive oils on the Earth.
ITRIA VALLEY
Every time people ask where exactly in Italy Gianni is from, he answers "Puglia." Then they try to picture which part of "the boot" he is talking about. Well, time to invite you to the bottom of the heel — the valley with terracotta coloured soil, rough landscape, hundred year old olive trees, sweet figs, white walled towns, and some of the best beaches in Italy.
If the Pugliese food or the white sand beaches haven't convinced you to come to the Itria Valley while travelling in Italy by train, then trulli — the unique ancient stone round houses with a conical roof that you'll find only in Puglia might do the trick.
Recommended towns to visit in Itria Valley in Puglia: Martina Franca, Cisternino, Locorotondo and Ostuni.
Read more about Italy:
Train Travel in the Czech Republic
I'd traveled by train in the Czech Republic while living in the country for four years, and have to say it was and still is a comfortable and scenic way to travel. Especially if you go to the countryside, there are remote towns that are well interconnected as well as access to neighbouring countries.
Expect landscapes of fields, castles and ruins of the castles atop hills, lakes, forests, and bike paths along the rails.
Note: Czechs love biking and many trains have special wagons for bikers if you want to go for a bike trip along the Elbe river or in the South Moravian region where the paths are excellently marked.
Tips and observations from traveling by train in the Czech
* It's quite common in the Czech Republic that there are minor delays caused by railway reconstruction.
* The majority of trains (including international) don't require a reservation, except some private companies like RegioJet.
* Avoid traveling by train on Fridays and weekends. At the end of the week, a lot of foreigners visit Prague for stag parties. (You don't want to spend three hours with young "singing" lovers of Czech beer dressed in their national costumes in the same wagon, and then be there at the moment, when they find out it's "happy hour," and all drinks are 25% off. Trust me…)
*In bigger cities, the staff at the stations speak English and you'll hear English announcements of upcoming stations in some trains.
* If you want to step back in time, go for a ride to remote places in Central Bohemia region, i.e. Znosim or Vlasim, from where you can hike to the Great or Small Blanik legendary mountains.
Our favourite places to visit in Prague
Those of you who receive our newsletters regularly might remember that Gianni and I split our travel paths for six weeks last summer. He travelled to visit his family in Italy, while I went to see my relatives and close friends in the Czech Republic and Slovakia.
Many travelers who visited Prague confessed they felt disappointed and overwhelmed by crowds of tourists and pricy restaurants.
Well, I'm not sure what people expect if they go to the city center for lunch, wait below the Prague astronomical clock to see "The Walk of the Apostles," from behind hundreds of smart phones, and afterwards walk via Charles Bridge to the Prague's Castle back to their hotel.
There's nothing wrong with exploring the historical Prague center, but you might want to get there before 8am when there's less eager photographers and souvenir shoppers and to look for more local restaurants and cafes in side streets.
If you want to leave Prague with more than a post card picture of the iconic Charles Bridge and John Lennon's wall, walk farther to get different views of the city, for example head to Vysehrad or Letna Park, and grab a pint in one of beer gardens in Riegrovy Sady or Stromovka.
Check any current exhibition at DOX Center for Contemporary Art, spend a couple of hours in the vineyards of St. Clare in the Botanical Garden, or find some controversial sculptures of David Cerny in the city.
In case you're an outdoor person, go for a hike or bike ride to Divoka Sarka, Prokopske udoli (Prokop Valley) or Kunraticky Forest.
Prague definitely has quite a few spots you haven't seen in your travel guide. For those of you who consider staying in Prague for a longer period, read the post of our friends Michael and Randi – Prague – An Affordable Travel Guide to find more savvy tips on living in the city as an expat.
Train Travel in Germany
If there is any country in Europe where traveling by train is super comfortable, then it's Germany. If you choose the Interrail Global pass because you want some comfort, clean coaches, and good service on board, you'll get it in German trains for sure.
Naturally, not all trains will have the 1st class, but those that do usually provide computer sockets, generally fast Wi-Fi, snacks, and newspapers. You'll find there also is an electronic screen board with an overview of your journey and the upcoming stops. Expect some delays however, as they're quite common in Germany.
Tips and observations from traveling by train in Germany
* Lots of trains in Germany don't require a reservation fee, although you'll fine exceptions.
* It might happen that one wagon of the train goes to your destination, but the others separate from the train at some point of the route and go somewhere else. Make sure you get on the right wagon!
* There's always pretzels to grab at every station in Germany!
Our favourite places to visit in Frankfurt
I can see your faces. "Frankfurt?! Duh, there's nothing to do there!"
Well, it's all relative, and it depends how long you're staying there. I wouldn't be afraid to spend a couple of days in Frankfurt, especially if you love nature. A green area called the Green Belt surrounds the city of Frankfurt in a 70 km-long circle.
You can start your outdoor experience in Frankfurt in one of its parks, e.g. Niddapark (great for biking and jogging), Ostpark (a lovely place for a BBQ) or the Grüneburgpark near the botanical garden where you'll find also a Korean garden with a couple of pagodas.
If you prefer having a stroll through a forest rather than a city park, we highly recommend the beautiful Oberschweinstiege forest, that is only 20 minutes by tram from the city center and a great place for walking around serene lakes, jogging or bird watching.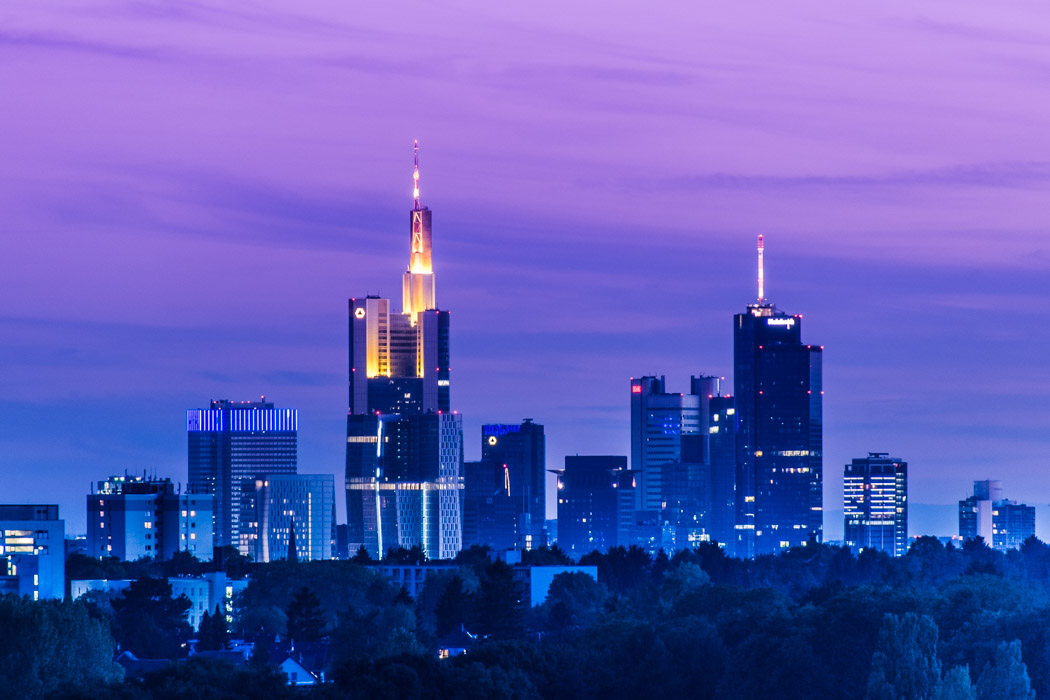 To get further from the town, you can take a metro train that brings you to the Taunus mountain range with different paths for hikers and bikers. Once there, visit the Forellengut Restaurant where they serve absolutely amazing fish dishes. Fairytale atmosphere guaranteed.
Tips for city lovers: pay a visit to, the Main tower which is the only skyscraper in Frankfurt open for public. After you see the city from above, explore the old town that blends with the modern architecture, and head to the riverbank that is very live especially in summer when concerts happen and many people come to chill out and grab some apfelwine.
Not a hiker or beer drinker? Then Frankfurt has so many museums and some of them are free on particular days each month.
Is the Interrail Pass Worth It?
If your plan is to visit as many cities as possible on your holidays in Europe, then Interrail Global Pass would be a perfect option, and your money would be well spent.
However, if you prefer a slower mode of travel, where you move from one place to another only every 4-5 days, then it depends more on the countries you choose to visit, because you might end up paying more for the pass itself than for the total amount of money you would spend on tickets without the pass.
To give you a better picture, here is a financial overview of our two-month trip with Interrail Global Pass in Spain, Portugal, France, Italy, Germany and the Czech Republic.
1st month
Countries travelled: Spain, Portugal
How many trains did we take? 16
Total spent on reservation fees: 106 EUR/115 USD/per person
Total of original prices of the 1st & 2nd class tickets without Interrail Global Pass: 613 EUR/665 USD/per person
2nd month
Countries travelled: France, Italy, Germany, and the Czech Republic
How many trains did we take? 26
Total spent on reservation fees: 77 EUR/83 USD/per person
Total of original prices of the 1st & 2nd class tickets without Interrail Global Pass: 937 EUR/1016 USD/per person.
That was it. Our long train travel in Europe took us to lots of new places and allowed us to go back to familiar ones too. Once again we were daydreaming while we listened to the noise and vibration of the wheels, while we passed foreign lands and left them behind undiscovered… Beyond any doubt, trains gave us freedom of choice.
It's up to you when you hop on and hop off, whether you go fast, or dawdle for hours in local trains.
There's also this particular feeling when you enter a train station and you have to do the same, "train ritual" you've done many times before. You check the departure, you queue to get a ticket, you wait on the platform, and you get on, look for your seat and finally set off.
No matter how many times you repeat the procedure, it's never the same, because every train venture is as different as the landscapes beyond the train windows.
More Tips and Resources on Train Holidays in Europe
Eurail Pass For Families: Is It Worth It? by Erin & Josh Bender
How to Travel Italy by Train – A First Timer's Guide Incl. Things to Do and Places to Stay by Sabrina Iovino
Interrail Ticket, Eurail Pass? A Simple Guide to Train Travel in Europe by Margherita Ragg & Nick Burns
Travel With Eurail Pass » 7 Reasons why you should do it [or not] by Natalie Deduck & Robson Cadore
Switzerland by Train: A Mother-Daughter Journey by Audrey Scott
10 Tips for Travelling on a Eurail Pass by Audrey Bergner
Train Travelling Thoughts: "Interrailing" Across Europe by Elena Paschinger
Traveling by train in other parts of the world? Read this great article of Nellie Huang:
Great Rail Journeys around the World
Watch the video of our train travel in Europe
During two months traveling by train in Europe we also took a lot of footage. And this is the video on our YouTube Channel. If you like, don't forget to subscribe.
Note: When we didn't do Couchsurfing or Airbnb, we booked our accommodation with HotelsCombined which we highly recommend as we have always found great deals there. Also, some links in this post are affiliates and by booking your room or purchasing your Interrail Pass via our website we'll get a commission that will help to maintain this blog and bring more helpful posts with no extra costs for you.
Disclaimer: Our epic two months trip around Europe by train was possible thanks to Interrail.eu who kindly provided two Interrail Global Passes for each of us. Thanks goes also to the Barcelona tourism board that helped us visit the Sagrada Famíglia and Park Güel. As always, our opinions, tips and observations remain our own.