Phuket is one of the most legendary islands in Thailand; known for its salacious nightlife and picture-perfect beaches. What most people don't know is that there are so many different neighborhoods to stay in that making the right choice of where to stay in Phuket can be daunting. Each beach town is entirely different, so it all depends on the vibe you are looking for.
There is a lot to do other than lounge at the beaches in Phuket, but that is what most people go for. It's understandable since the Andaman Sea is and its surrounding beaches look like a postcard, you know the ones that you think are photoshopped, but Phuket is proof that those places exist.
When it comes to Phuket accommodation, there is a range of budgets; from the ultra-luxurious celebrity type villas to the most basic of hostels and everything in between. In this post, I'm going to help you find the best place to stay in Phuket, period.
Some of the best beaches in Phuket are along the western and southern coast of the island, so that is where I have focused. I started in the north by the airport heading all the way to the southern tip of the island. Looking for Phuket hotels on the beach? Read on!
Where to Stay in Phuket: The Best Hotels and Neighborhoods
Where to stay in Nai Yang, Phuket
Nai Yang one of my favorite places to stay in Phuket. It is only ten minutes away from the international airport and is worlds away from the partying southern beaches that Phuket is infamous for. There aren't any throngs of tourists, in fact, when we were there, we were the only people on the beach other than the two ladies that were massaging us.
A portion of Nai Yang beach lies within the Sirinath National Park which is part land and part marine and includes 13 kilometers of coastline. From November to February sea turtles lay their nests on the beaches. The waters are clear and calm and perfect for snorkeling.
Along the beachfront are a few small hotels, bars, and restaurants but no high-rises, just small establishments. The beach is fringed with bright green casuarina trees to sit under and read your book.
If you're looking for a party, there is a bar or two to hang out at and play pool, but the most alluring part of Nai Yang is the mellow vibe.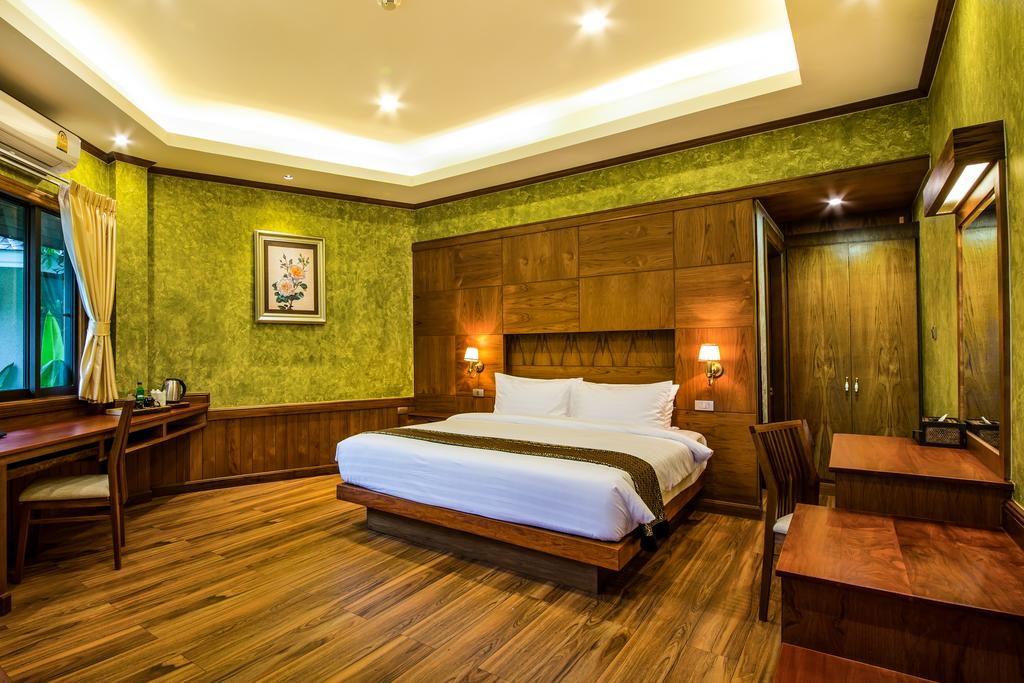 This adorable little resort has private bungalows tucked away amidst the lush green gardens, all connected by wooden walkways. The large cottages have wooden floors and porches for relaxing with a morning coffee.
Luxury
 > The Slate
This top-notch, five-star resort is one of the top hotels in Phuket. It has beachfront rooms that are appointed to the nines! Nothing has been forgotten down to the very last detail. Each suite is decorated differently with original art pieces and locally crafted furnishings. When it comes to pools you are spoilt for choice; 2 adults pools with bars and 1 for families.
When it comes to pampering yourself, the Coqoon Spa is the ultimate in indulgence. The Tree Nest is a private treatment room tucked into the garden and suspended in mid-air.
Mid-range
 > Himaphan Boutique Resort
This small boutique resort only has nine villas surrounded by beautifully manicured gardens. Each has a patio with big sliding glass doors to bring the outside in. The resort has free wifi, a restaurant on site and a pool.
Budget > TT Nai Yang
These garden bungalows are right on the beach. Just step out of your simple abode, and within steps, you'll have your toes in the sand. The spotless rooms are basic but have everything you need for a comfortable stay.
Where to stay in Bang Tao, Phuket
Bang Tao has one of the second largest beaches in Phuket. The southern area is a local fishing village, the middle is a massive resort called the Laguna Complex complete with a golf course, and the north is relatively undeveloped.
There are a few beach clubs and top-notch restaurants along the beach, but it's a pretty calm area to stay in. The street running perpendicular to the beach is lined by shops, restaurants and condos. Boat Avenue is a container mall that has a few good restaurants and bars as well as a couple of grocers.
These luxurious villas come with private infinity salt water pools, stunning gardens, a full kitchen and a dining area. It's only five minutes to the beach and has an onsite spa. There are free yoga, pilates, and Zumba classes Monday through Saturday.
Luxury >  Banyan Tree Phuket
These spacious tropical villas are located right on Bang Tao Bay and only a five-minute walk from the beach. One of the top golf courses on the island is just a few minutes away. Each low-rise Thai villa has floor to ceiling windows to take advantage of the exotic landscaped gardens and has an outdoor terrace for dining. Breakfast is made to order and served in the villa daily.
Mid-range > Pai Tan Villas
This small boutique resort has 11 villas built around two swimming pools. It has free wifi and a large garden full of local exotic flowers. Some rooms have direct pool access. This zen-like oasis rents bicycles to peddle around town.
Budget > Hill Myna Condotel
This part condo-part hotel has a large pool and modern fitness center at a budget price point. Each room has a balcony and a kitchenette with two hobs for cooking to keep the budget low. It's like having your own home by the beach.
Traveling to Asia? Get inspired by more articles:
Where to stay in Surin Beach, Phuket
Surin Beach is one of the more exclusive areas to stay in on the island and where you'll find some of the best hotels in Phuket. This is where the celebs and multi-millionaires own homes and come to vacation, but that doesn't mean you can't find affordable accommodation there.
The beach is idyllic; fine, white powder sands which contrast the turquoise water that is fabulous for snorkelling along the northern edge. There's not much in the way of nightlife, Surin Beach is best for a paradise getaway with the possibility of seeing Madonna.
This lifestyle boutique resort  is only a two-minute walk to the beach. Modern and classy interior design. Relax with a glass of wine in your private suite terrace and watch the sunset. Unwind at the spa or get your sweat on at the fitness center.
Luxury > Twinpalms Phuket
Luxury at its finest! Private terraces, beautiful pools and delish breakfast.   Duplex loft features a private pool. The beach is just a step away, 175 m from the hotel.
Mid-range > Norn Talay Surin Beach Phuket
A modern beachfront hotel with minimalistic design, outdoor pool and terrace facing the sea. After intense workout in their fitness center you can pamper yourself with a massage and spa treatment.  The hotel features an indoor kids play room.
Budget > 
AM Surin
A great location on a quiet side street makes this a perfect budget hideaway. A four-minute walk to the beach, each room is minimally decorated and large with free wifi.
Where to stay in Patong, Phuket
This is where the party is at. All the debauchery and madness you've ever heard about Phuket comes from Bangla Road in Patong.
If you are in any way conservative, straitlaced, or offended easily, avoid this street. It could be a little shocking to see the girls dancing on poles or have the street vendors try to sell you tickets to a ping pong show so beware. But if you are ready for a crazy night, head to Bangla road.
Patong is more than Bangla Road; there is a happening beach with swarms of tourists, tons of bars and great restaurants as well as fantastic shopping.
This fully furnished four-star modern apartment is only a five-minute walk from the beach, but it's worlds away from the madness of Patong in a quiet area. It's well furnished and elegant with a rooftop pool and free wifi.
Luxury > Amari Phuket
This property is only a stone's throw from its private beach. Each bright and airy room has a balcony, most overlook the breathtaking Andaman Sea. When you are through being pampered at the spa, you have your choice of two pools to lounge at.
Mid-range
 > Sleep with Me
Hotel is a four-star property at two-star prices. It is only a three-minute walk to the beach and has all the amenities of a luxury hotel; including a spa, a sauna and an on-site restaurant. Each modern room has a private balcony.
Budget > Lub d Phuket Patong
It's a stylish hostel that offers private or dorm style rooms. Both are air-conditioned and tastefully decorated. There is a co-working and games area when you're not relaxing at the pool.
Where to stay in Karon Beach, Phuket
Karon is like the little sister of Patong. It isn't as outrageous and still has plenty going on. If Patong is too crazy for you, head to Karon for a more relaxed beach experience but with plenty of nightlife.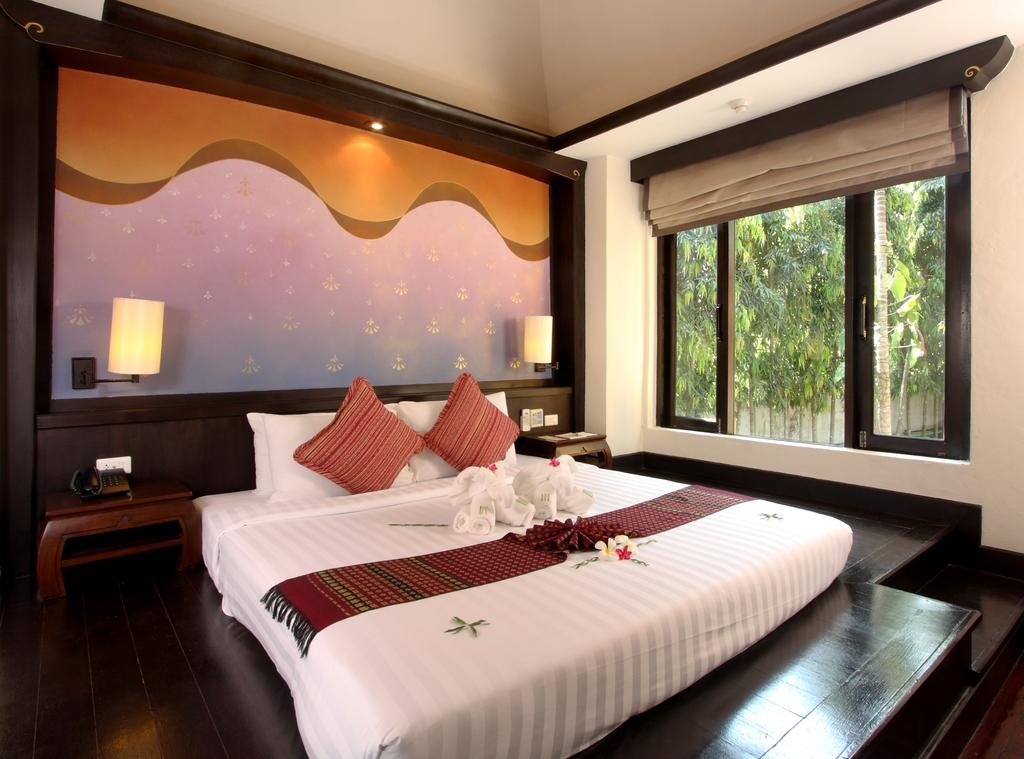 A four-star resort with 34 villas built around lavish gardens. Each villa has a separate living area as well as a private terrace with table and chairs. Take in the mountain views in the hot tub or hang out in the pool with a swim-up bar. Some villas have direct pool access.
Luxury > Karon Beach Walk Villa
Two-bedroom, two-bathroom villa is perfect for a getaway if you don't want to think about a thing. There is a personal chef on site to take care of all your food needs and a full staff to make sure you don't lift a finger. Each bedroom has sliding glass walls that open into the private pool. Massages can be arranged at the villa. If you decide to leave, the beach is only a few minutes away.
Mid-range > Pacific Club Resort
Built on the top of a hill for superb views of Karon. A five-minute walk to the town and another five to the beach. The rooftop pool has a 360-degree panorama with plenty of lounge chairs, so you won't have to fight for one. Bar and restaurant on site.
Budget > Kata Tranquil Villa
Small budget hotel with seven villas and four deluxe rooms. Most rooms have private balconies or terraces, some with kitchenettes. They provide a shuttle to the beach, but it's just a 9-minute walk.
Where to stay in Nai Harn, Phuket
Nai Harn Beach is the southernmost beach on this list; it's practically at the tip of the island. It's mellow and tranquil and a great spot for mixing with the locals. Not a lot of big hotels around, so it isn't as touristy as the other areas. There isn't much nightlife or shopping to be had, it's all about the beach and finding little coves to snorkel in.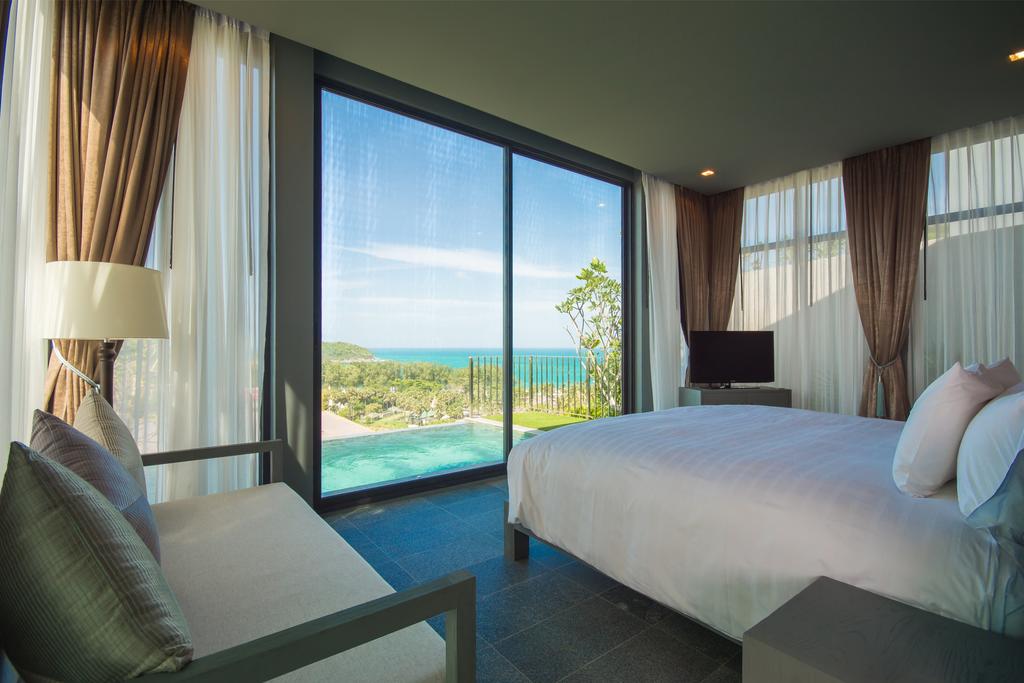 Located in a secluded area surrounded by untouched nature and just off the beach, you'll have breathtaking views from this hillside position. Rooms have large private balconies. Five swimming pools with a waterfall and free bike rental for exploring this remote area of the island.
Luxury > The Nai Harn
Stay at one of the best resorts in Phuket, and you'll never want to leave. Large ocean view rooms have an oversized bed and a hot tub. If the Press for Champagne button doesn't impress the modern interiors with warm woods and rich textiles will. Large private terraces with four-poster shaded daybeds have panoramic views over the bay. Feel like having a BBQ? The veranda is large enough to invite some new friends and have a catered BBQ provided by your very own BBQ butler.
Mid-range
 > Baan Krating Phuket Resort
Thatched roof bungalows with terraces are tucked away in the trees making this midrange resort feel luxurious. The views of the forest or the ocean are unmistakably Thai. Enjoy the billiards table, the onsite restaurant or the pool. Only a 5-minute walk to the beach for snorkeling or lazing.
Budget > Alphabeto Resort
Small resort with 22 rooms and eight villas, all with free wifi. Each bright and clean room is decorated differently with the Thai alphabet painted on the walls. Choose from a pool view, direct pool access or a villa with a garden and a private pool.
Hopefully, this post has offered some guidance on where to stay in Phuket. Phuket resorts are renowned for luxury, but even the budget places provide fantastic amenities. You don't have to spend tons of money to stay there unless you want to, and then it's there in spades.
Like it? Pin it!