Creating your packing list for Europe can be a daunting task, and may be a challenge to even decide where to start. Rest assured that the best key to preparing for your journey is to think minimalist and multifunctional.
This packing list for Europe covers the absolute basics that you'll need to start your journey, without overloading your bag, and while still leaving room for those treats and treasures you might pick up along the way.
If you are interested to know where to stay in Europe, we recommend some of the best hotels for different budgets.
When we travel, we book our hotels through TripAdvisor, one of the best websites to compare prices.
We also use a lot AirBnB to book local apartments. If you have never used AirBnB before, you can have a $40 discount for your first booking through this link.
Always make sure you travel with travel insurance! Be adventurous, but not careless.
Check out some of the most reliable insurance companies out there: True Traveller if you're European and World Nomads if you're from elsewhere.
If you love animals and you prefer going local during your travels, try housesitting, which is an amazing way to travel the world while taking care of the pets whose owners are on vacation. If you use TrustedHousesitters with this link you'll get $20 discount on annual membership.
Like it? Pin it!

Packing list for Europe: the ultimate preparation guide
Travel bag for Europe trip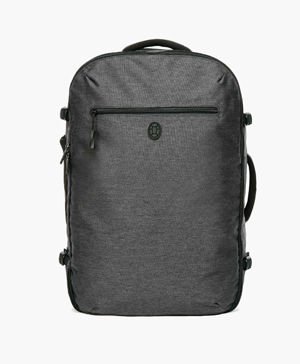 Before you even get started your packing essentials, you'll need to have the perfect pack to carry it all.
There are two main travel bags that work best for European travel: a backpack or a rolling bag. There are pros and cons to each, so depending on your style of travel you can find the best travel bag for Europe for you.
I would personally recommend a backpack, as the stairs, cobblestones, and public trains throughout Europe make rolling luggage extremely difficult. Keep in mind, as with any backpack, whatever you pack, you'll haul on your back, so be cautious overloading yourself! Check the latest price. (let me check the link to Tortuga affiliates here. Will update you.)
Check out this article on the best backpacks for Europe to help you make your decision.
Or, if you prefer a rolling bag check out this collection of the best rolling bags for Europe.
It is also worth it to note that a raincover would be extremely helpful in addition to your backpack, especially during shoulder season in Europe (spring or fall).
Clothing for Europe trip
European style is a bit more refined than other parts of the world, so if you're looking to fit in, it's more than worth it to carefully select the items you'll bring along, and keep your color palettes neutral and remember fabrics that dry quickly and don't wrinkle easily.
Here are the best clothing options for your packing list for Europe:
Pants

These are perfect for formal outings, cooler days, or if you're exploring religious buildings. Check it out on Amazon.
1 pair of comfortable slacks or hiking pants


These can be dressed up or down for different occasions. Check it out on Amazon.
Shorts are also becoming more and more popular in Europe, so if you're exploring a warmer part of the country, feel free to rock your favorite pair of shorts or a skirt for a bit a variation. Check some models on Amazon.
Shirts
Always remember to pick shirts that you can mix and match, and keep in mind that quick drying materials will save you on laundry days or during sudden showers, or hot and sticky afternoons.
It's always a good idea to work with a neutral color scheme that will allow you to mix and match with everything. Another option is to choose shirts that can be dressed up or down depending on your adventure for the day.  Check it out on Amazon.
This is a great option for a night out, exploring a music venue, or attending a holiday event in Europe! Check it out on Amazon.
2 moisture wicking or workout tops
This is important especially in the summer months, if you take a bike trip through the countryside, or are traveling light and want outfits that can be washed and re-worn frequently. Check it out on Amazon.
Get inspired by more articles:
Dress outfits
This is one of the best dressy outfits for Europe and could be taken to a museum, restaurant, or even out dancing! Check it out on Amazon.
Shoes
1 pair of dressy shoes or comfortable sandals
These would be perfect for walking and exploring while still keeping you looking fresh. Check it out on Amazon.
1 pair of sneakers or walking shoes
These incredible shoes can trek through cities, jungles, or even head out on a light jog around town. Read our full review of Vivobarefoot shoes.

Flip flops are always mandatory for a beach holiday or as extra protection in a shady hostel. Check it out on Amazon.
Note: Just avoid wearing them cities, or you'll surely stand out as a tourist.
Outerwear
For cooler days, overpowering air conditioning, or just to mix up an outfit. This sweater comes in a massive range of colors and will work with almost any look. Check it out on Amazon.
An absolute necessity for those who want to continue exploring regardless of any type of weather. Check it out on Amazon.
Pack and travel:
Accessories
In your European travel pack, accessories can be kept to a minimum for simplicity's sake. You might want to bring along a few personal items to mix up your outfits, or use your lack thereof as an excuse to pick up a few small local items to bring along with you.
I love this one because it can be used not only as a scarf, but a travel shall, picnic blanket, or beach sarong! It's honestly an absolute must for your packing list for Europe. Check it out on Amazon.
Invest in a quality pair of sunglasses before your trip and protect your eyes. These fold up and take up almost no space at all. Check it out on Amazon.
Toiletries
Most common toiletries can be found in drugstores and pharmacies all over Europe, so don't make the mistake of over packing liquids for fear of running out. A few essentials are however worth packing in advance.
This can be difficult and expensive to find. It's worth it to take an extra bottle of your favorite product and avoid any hassle while traveling. Check it out on Amazon.
Seriously one of the best travel investments to make. Shampoo bars last longer, don't take up space in your liquids pouch, and are great for the environment. Lush makes a wide range of products for every type of hairstyle. Check it out on Amazon.
Sunscreen is extremely expensive in Europe, especially in beach towns (where you'll need it the most)! Save yourself time and money, and pack your own bottle beforehand. Check it out on Amazon.
Travel Gear
This is always a great idea in shared rooms or public lockers. Check it out on Amazon.
A quick drying version is the perfect towel for travel. (Spoil yourself with the XL version…it's worth it!). Check it out on Amazon.
Always research in advance what kind of outlet adapter you will need. This one allows you to switch depending on where you're traveling, and also has USB ports for quick charging. Check it out on Amazon.
This is the future of travel packing. Keep your things categorized, organized, and easy to access. Check it out on Amazon.
One of the best ways to ensure a great night's sleep, even in new places. This has been an absolute travel game-changer, and I can't imagine hitting the road without it. Check it out on Amazon.
Technology
Don't get caught on low battery! This charger is small enough to fit in your pocket, and keep you fully charged in any new city. Check it out on Amazon.
Digital camera

Whether you're crammed on a long distance train, or just out for a jog on the city streets, investing in a quality pair of headphones will inevitably make your journey more enjoyable, as well as allow you to keep up with your podcasts, tunes, and newscasts. Check it out on Amazon.
There is your packing list for Europe! It is always important to remember that packing simply will always save you in the long run. Invest in a few quality items that will last the duration of your journey and help you avoid making expensive or low quality purchases while on the road.
Get inspired by more travel articles:
Do you have a burning travel question? Join our Nomad is Beautiful travel community on Facebook and ask experienced travelers!