In this article, we'll take you glamping in Slovenia: A rather unique vacation in Europe.
The combination of luxury and nature is not a common thing when it comes to traveling. We all might have enjoyed camping under starry skies in our teens; waiting for morning fog to disappear so we could see the mountain views while warming our hands with our breath outside our tent… Some of us probably remember weekends at an older cottage, playing a guitar near a fireplace in our twenties. Or maybe all you can recall from the camping adventures, is the freedom you felt while being far from urban the hustle.
Regardless of age, our memories of being connected with nature, replenishing our bodies and spirits in green silence remain vivid and soothing no matter how old you are. However, how often do we associate nature with luxury? And I don't mean luxury resorts built in the middle of a lush jungle that was destroyed because of a concrete base of an opulent villa, an outdoor pool, or a golf course used only by seasonal tourists. Luxury and green can get on very well also without doing any harm to Mother Nature.
Glamping in Slovenia
One of the answers is the concept of "glamping," which is a smart combination of camping and luxury, or as the word indicates— glamorous camping. "Glamorous," in a way that you don't have to worry about carrying and pitching your tent, looking for a safe place to wake up in the morning, and, ladies, great news… while glamping, you'll have a private bathroom! I know, the adventure of seeking the right place to take care of your morning hygiene in the woods is unbeatable, seriously would you say 'no' to an indoor toilet with a hot shower while camping?
Big Berry glamping experiment
Glamping in Slovenia is not an entirely new idea. More and more glamping cabins have appeared around the country, and you can enjoy your Slovenian holidays while trying something different, whether you travel as a couple, a family, or as a group of retired friends. Glamping has no age limits.
The Big Berry luxury resort near the Kolpa River is a contemporary home concept with modern design, eco-friendly materials, and promotes a healthy lifestyle, too. The glamping camp experimented with the luxury of comfort and freedom of nature, and the result is striking.
The newly built glamping site is located in a small village of Primostek in the region of Bela Krajina, which is an hour and half from the city of Ljubljana. The owners of Big Berry strategically picked the location. Amidst beautiful nature, and close to bigger towns.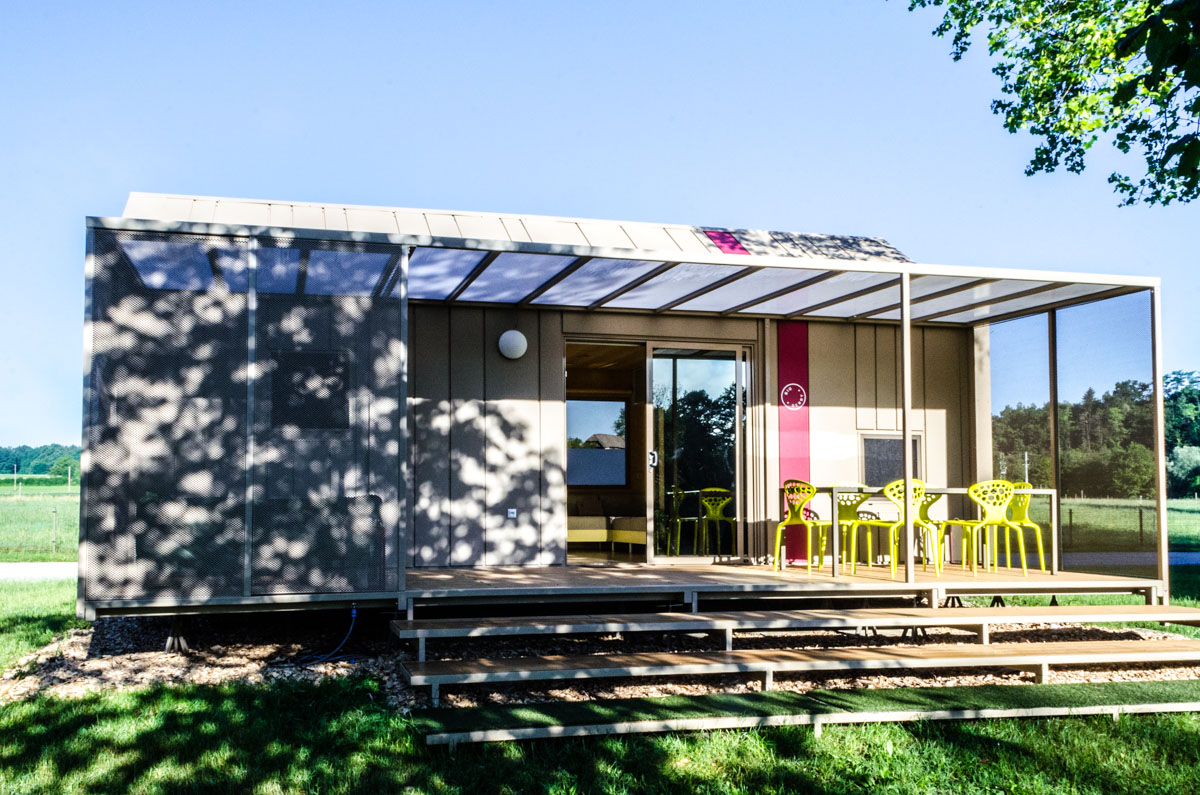 The Kolpa River that divides Slovenia from Croatia adds some spry energy to the luxury accommodations at Big Berry. At dawn it soothes you with the slow misty motion of fresh water, and it surprises you with its wilderness via an afternoon kayaking adventure, when the river turns into a gaily playground full of swimmers. By the way, they say Kolpa is one of the clearest and warmest rivers in Slovenia.
The cabins of Big Berry, which are actually mobile houses, are equipped with high-quality furniture from Bloomingville –a Danish interior designer brand with a touch of Nordic trends, combined with the classy contemporary design textiles of Kvadrat, also a Danish company. All the cabins feature a kitchen, bathroom, and voilà – a hot tub on the terrace of each cabin!
Aimed at local products
One of the main principles of Big Berry glamping in Slovenia is supporting local businesses by using their homemade products, starting from breakfast treats from a local bakery (traditional round flatbread called Belokrajanska pogača is a must!), dairy products from a neighbour village, unforgettable ghee butter spreads made by young enthusiasts of Zlati Ghee, and fresh fruit juices.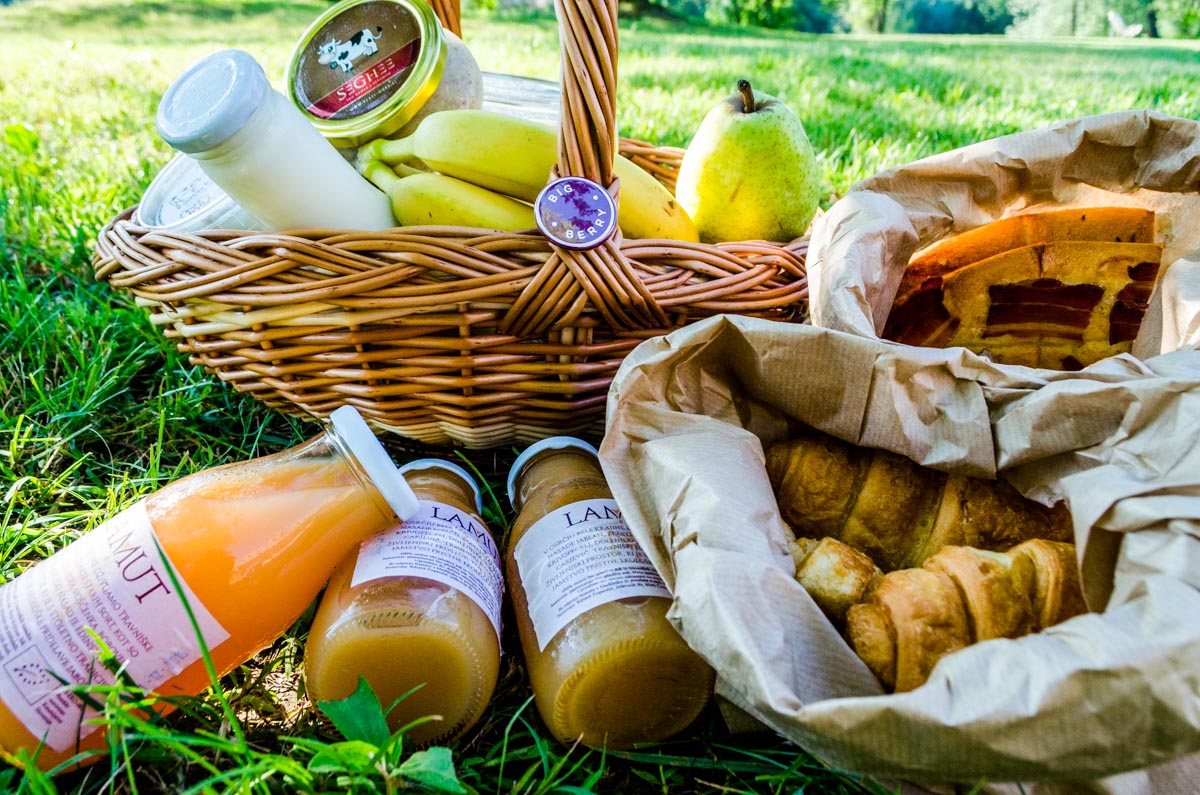 Splurging on local goodies doesn't end with your morning feast. Big Berry will spoil you with classy branded wine from the Šuklje Winery, and local wines from the Jakljevič Winery, which are both family run businesses. You'll continue with sampling some extravagant chocolate and liquors from Berryshka Manufactory, or treating your body with natural oils from a local oil producer, Pečarič.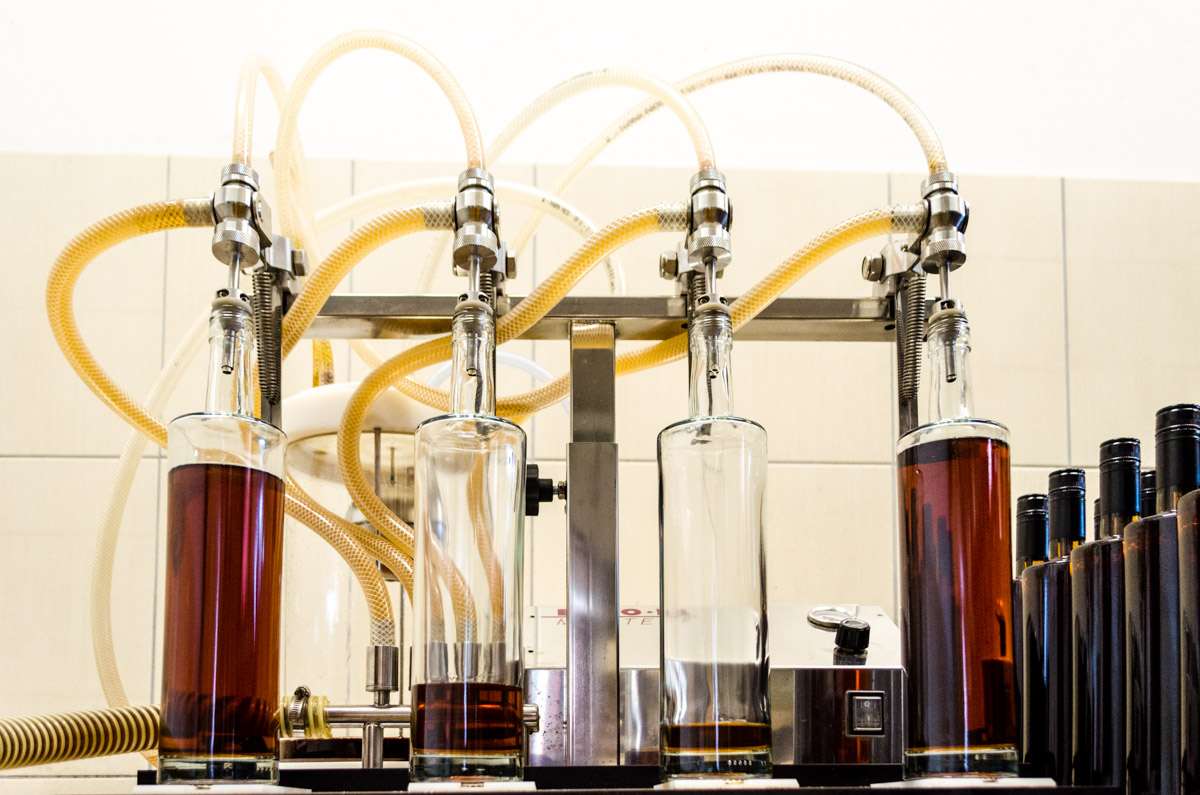 Even if Big Berry glamping in Slovenia focuses mainly on holiday-makers and potential customers interested in purchasing a mobile house, the site is not isolated from the village community at all. Locals come swimming in the Kolpa river near the camp, they attend events organized by Big Berry, and guests of the glamping resort become a part of village life, too, since the site is located close to the village houses, meadows, and fields of locals.
Bela Krajina experience
"But where are all people?"
I remember very clearly the question of Modestino, a traveller from Italy who I met in Bela Krajina. He had a point. We passed through a few villages, some lakes, small towns, and we met only a few locals. Despite the fact that it was July, a peak holiday season in Europe, there was not a single foreign tourist around. Welcome to the off the beaten path Slovenia!
It was not the first time I was left in awe by the untouched nature in Slovenia and I realized how little is known about the region. I had the identical realization that this place deserved more attention than it had, while visiting the Lake Bohinj and beautiful Jezersko and Logar valleys a couple of years ago.
Bela Krajina means "a white land" in Slovenian, and the origin of the name lies likely in the unspoiled countryside full of white birches and traditional white folk costumes that locals wear on special events. The region of Bela Krajina utters its character through the traditions people have been following for many generations.
Nowadays, new generations of craftsmen combine the preserved traditions with modern technologies, and extend their services making the region more accessible for visitors. Thus, old wineries also offer accommodation, local manufactories organise a tour through their premises with tastings (kudos to Berryshka who serves some incredible fresh chocolate!), and oil producers also let you indulge in some insanely new tastes of cold pressed oils (who knew pumpkin or raspberry oil taste like heaven on a piece of bread?).
Families who've been weaving linen clothes and painting a pisanica, a coloured Easter egg decorated with beeswax, will let you create your own piece of art by teaching you the old techniques.
This sustainable model of tourism is proliferating in Slovenia, and that's something to be very happy about!
Pieces of history in Bela krajina
While staying at the Big Berry glamping resort in Slovenia, make sure you visit Metlika town, which is only five minutes driving from the camp. Although there aren't many points of interest in the town, there is the National Museum of Firefighting in the city center, which I do recommend visiting, even if you aren't into museums.
The one in Metlika has a very interesting exposition that explains a lot about culture of the region, rural life in Bela Krajina, as well as the history of the first fire brigade in Slovenia, which was by the way founded in Metlika in 1869.
Day trips from Big Berry glamping in Slovenia
If the village of Primostek, where Big Berry glamping camp is located, is too small for you, there are plenty of places to go for a day trip:
* Ljubljana city
Ljubljana is quite the capital city! It's small enough to get around by bike or on foot, and big enough to offer all of the aspects of a city. Read more in our article about things to do in Ljubljana.
From Primostek village, you'll get there via A2 motorway within 1,5 hours.
* Vintgar Gorge
You MUST visit this place. The turquoise color of the river is mesmerizing, and the gorge in the valley is simply stunning for nature photography. Great for an easy hike.
* Lake Bled
Once you're at the Vintgar Gorge, pay a visit to one of the highest rated places in Slovenia. Have a stroll through the Bled Castle for some beautiful views, or hop on a boat to get a different perspective of the lake.
* The Krupa River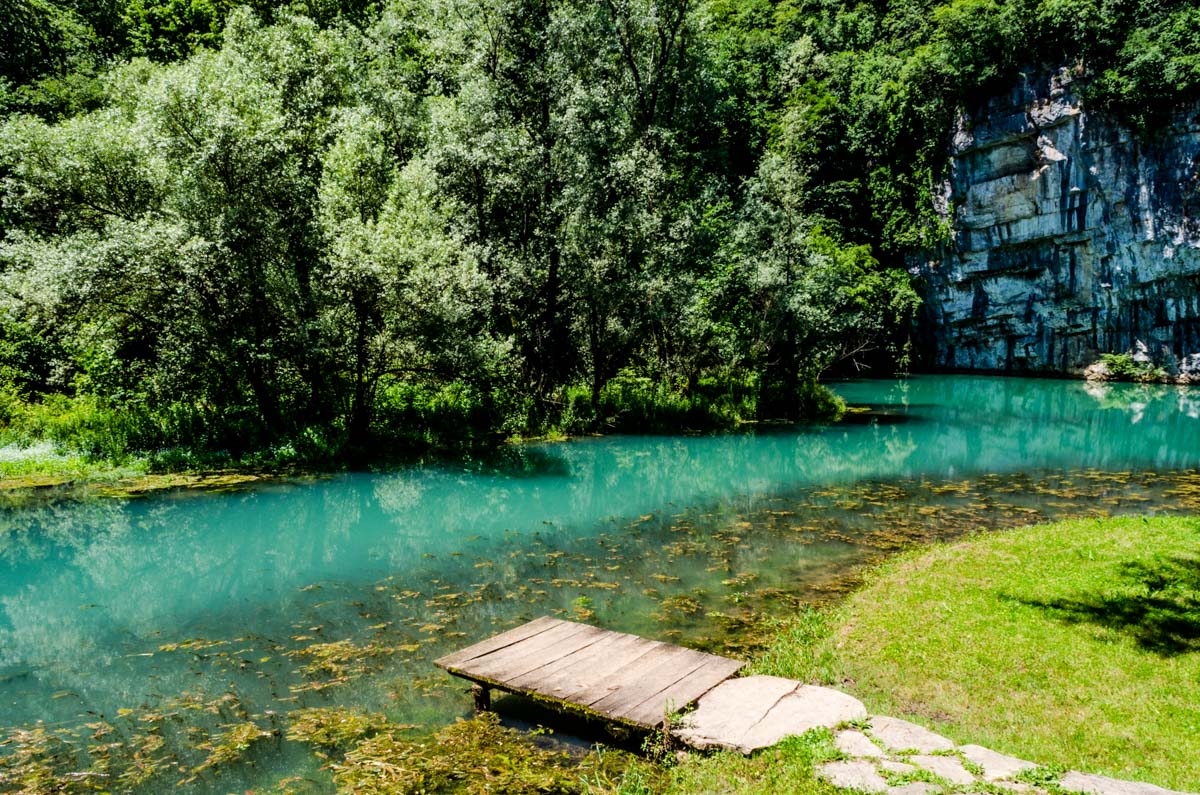 Go to its source. Literally. The source of the Krupa is actually a karst spring with some incredible shades of blue and green. It's located below a rock wall in the village of Krupa.
* The Tri Fare Pilgrimage center at Rosalnice
It's a peculiar complex of three Gothic churches built between the 14th and 16th centuries. The history of the site isn't very clear since, proper written historical documentation is missing. Definitely an interesting place to explore.
* Biking to the nearby villages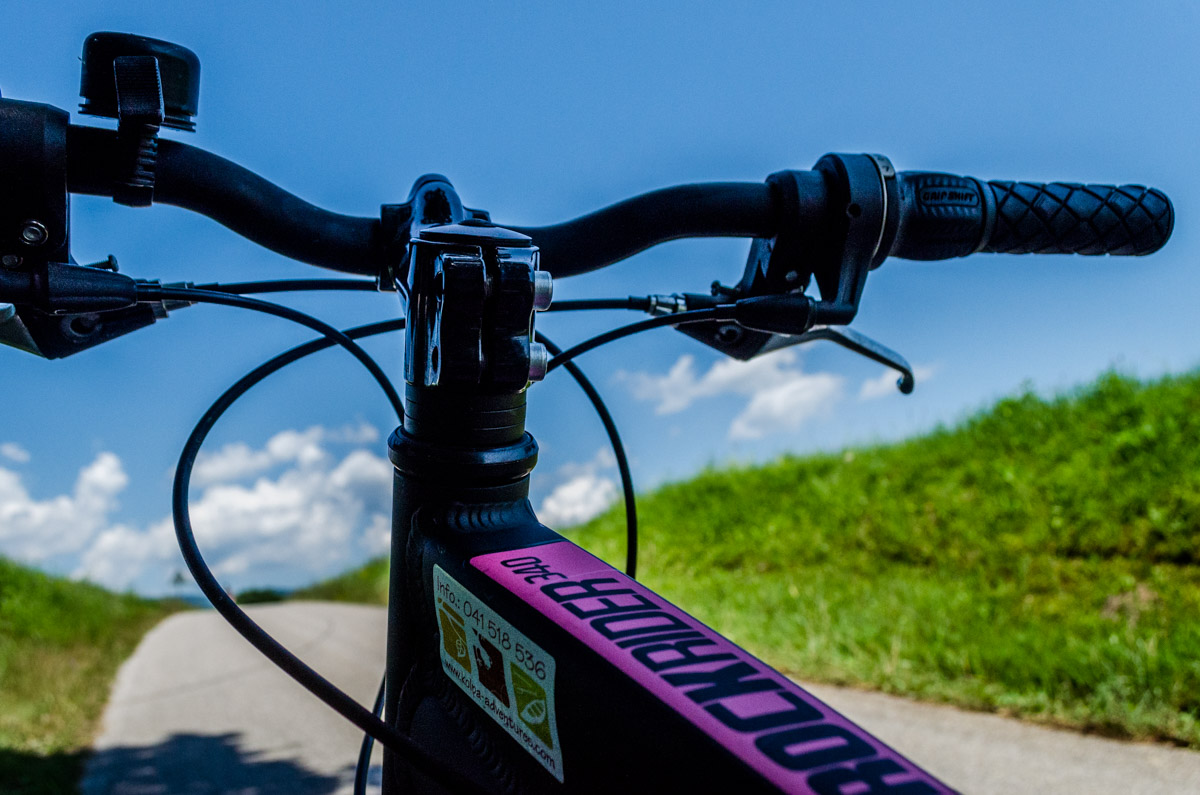 Hop on a bike and explore the villages of Bela Krajina. The region isn't flat, so get ready for steep hills, and for some beautiful views of Slovenian countryside, especially before sunset.
Bela Krajina might be not the most well known part of Slovenia. However, it's begun to promote itself via alternative ways of travel like glamping in Slovenia, world famous local wineries, and homemade products that are exported abroad. Still, the most precious element that makes the region so attractive is the pure nature that has remained unspoiled by tourism. For now.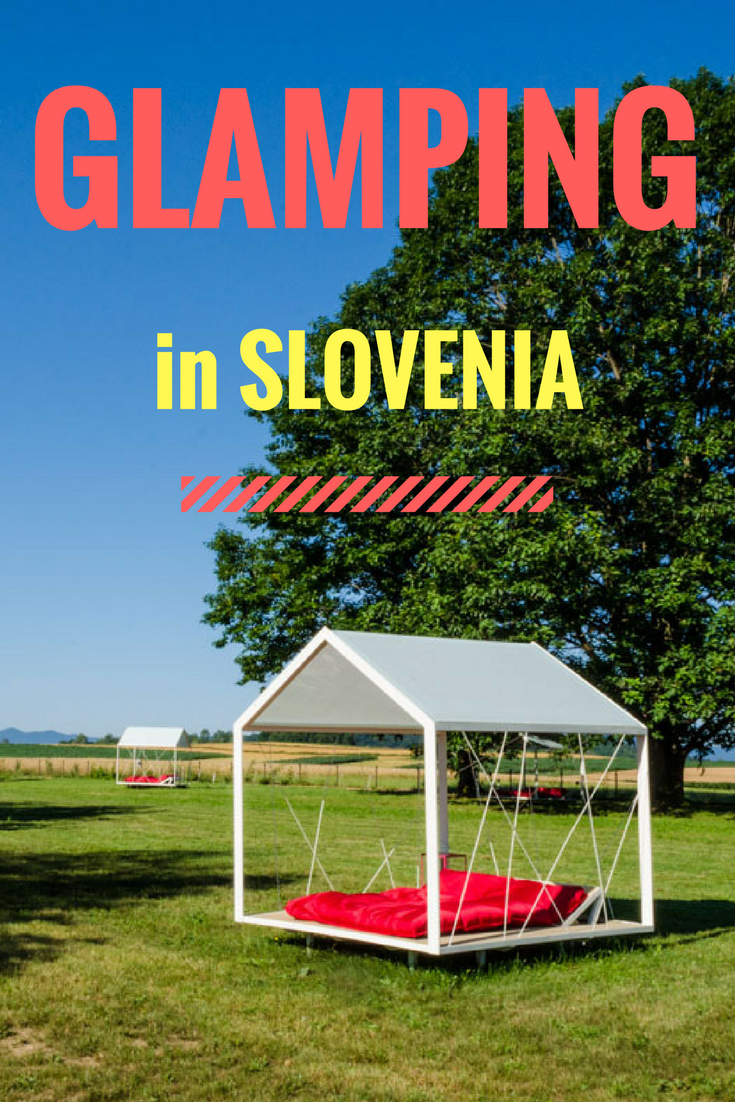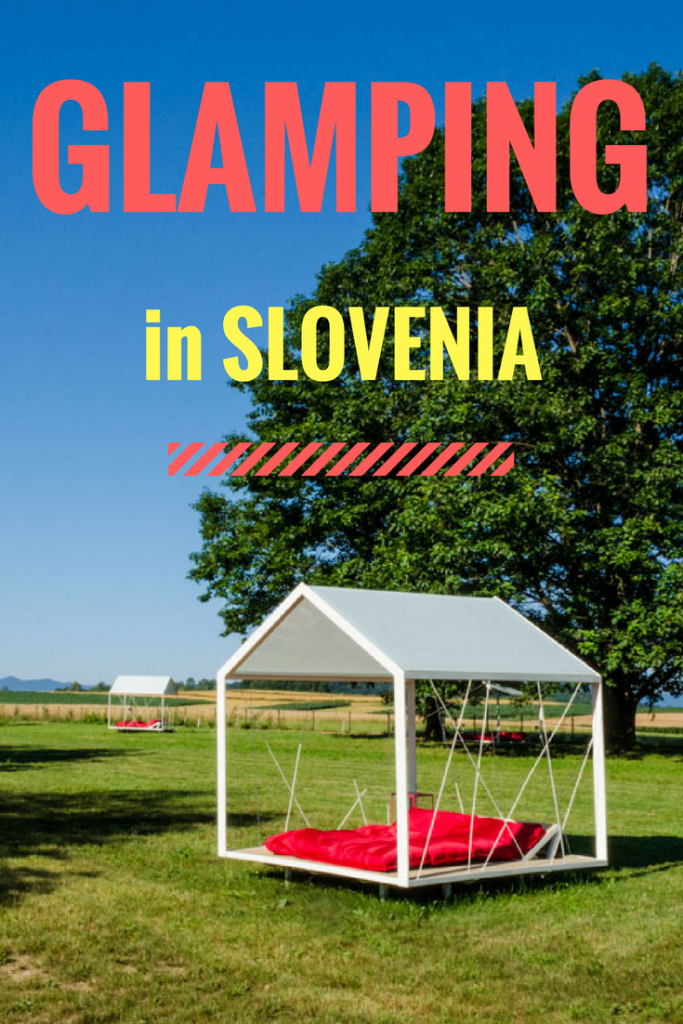 Disclaimer: We were invited to spend a week in Bela Krajina by Big Berry. As always, our opinions are our own. No matter how much chocolate and wine we tasted there.