Have you heard of the land where trees grow into bridges? Do you remember Pandora, the moon of Jim Cameron's Avatar film, where humans and nature lived together in harmony? Such a place exists in the Indian state of Meghalaya, near the Bangladeshi border.
Living root bridges will be the highlight of your trip to Meghalaya, but there is much more to keep you busy. Waterfalls, rivers, and villages will pack your travel calendar with even more adventure.
If you are looking for a place to stay in India, we recommend booking it through Booking.com, Hotelscombined or TripAdvisor, one of the best websites to compare prices. 
Always make sure you travel with travel insurance! Be adventurous, but not careless. Check out some of the most reliable insurance companies out there: True Traveller if you're European and World Nomads if you're from elsewhere.
If you love animals and you prefer going local during your travels, try housesitting, which is an amazing way to travel the world while taking care of the pets whose owners are on vacation. If you use TrustedHousesitters with this link you'll get 25% off on annual membership.
Traveling to Thailand? Get our Complete Guide to Thailand Independently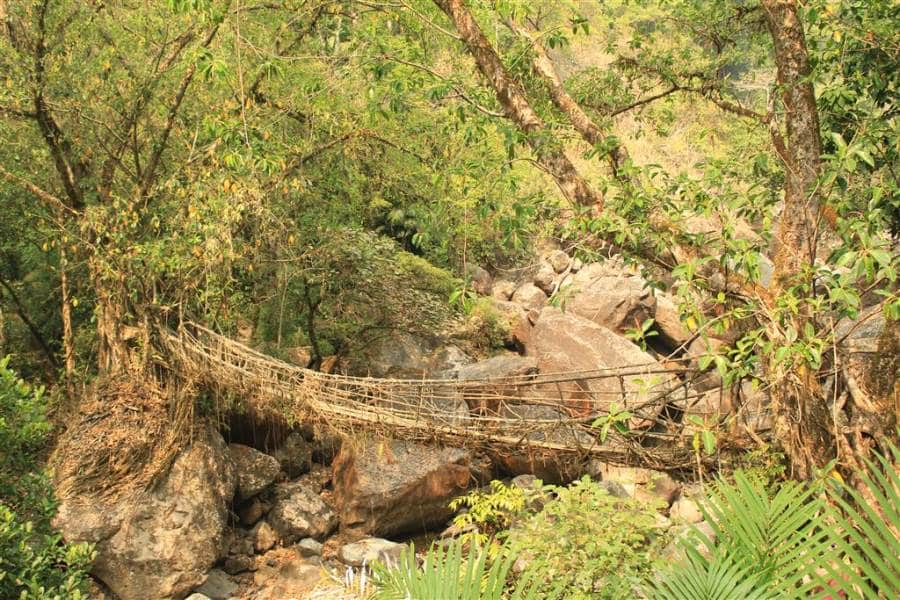 Things to do in Meghalaya
Here are top 3 things you want to see while in Meghalaya
Dawki, the cleanest river in India
Plus, there is a funny place known as "The Cleanest Village" that draws curious Indian tourists to visit. What does a clean village look like? they wish to learn. For a traveller from a western, ecologically minded country, cleanliness is just a norm, so you won't be amazed. Indians are. Good thing Mawlynnong is "on the way" to other highlights, so check it out if you have a spare hour.
Root bridges
Living root bridges represent the unique cooperation of human and nature. Two Ficus Elastica trees are planted at the opposite sides of the river valley and for a couple of years, Khasi slowly thread tree roots across the river to connect the gap.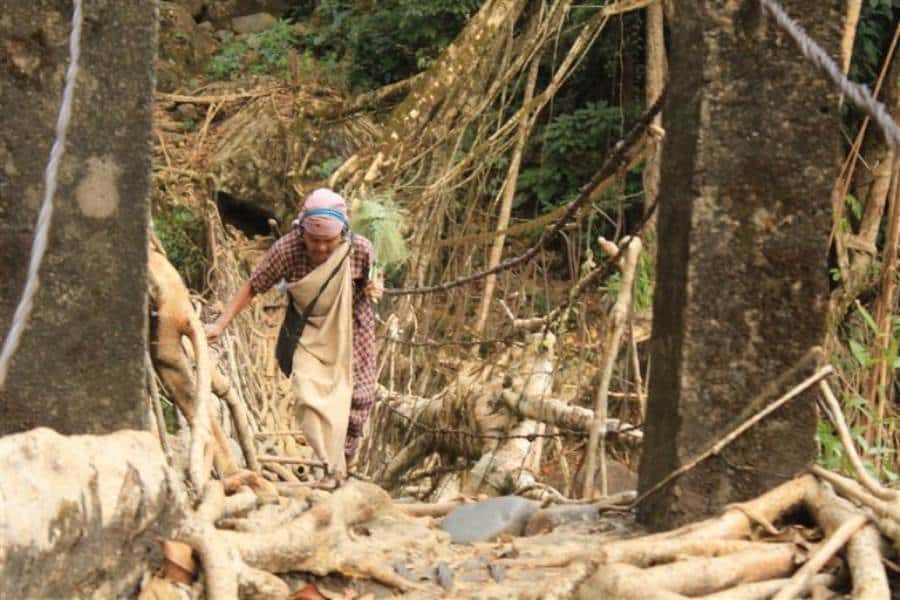 Once the roots connect, they grow stronger and stronger.
A human can safely cross the living root bridge after 15 to 30 years. Patience is needed in this remote area. They are the reason why you will want to visit. Moreover, the scenery trekking to living root bridges is stunning. A handful of root bridges are scattered around the hills near the Bangladeshi border.
Riwai Living Root Bridge
The Riwai Living Root Bridge is often also referred to as Mawlynnong root bridge, as "The Cleanest Village" is nearby. Riwai root bridge is worth mentioning because it does not require any trekking effort to reach.
Your bus or taxi will drop you in Riwai village, and then it is just an easy 10-15 minute walk until you touch your first living bridge. You will be amazed and will want to see others. Being so easy to approach, it is the most visited root bridge. You will be accompanied by dozens of Indian tourists while visiting it.
If you are fit and ready for some trekking, you can skip this one and check the more serene and remote alternatives.
Join one of the tours in India:
Double Decker
Many travellers dream of reaching Double Decker, the most famous living root bridge. As the name and photos suggest, this is really a double bridge. Inhabitants of Nongriat village planted a second bridge above the original one, making this living root bridge especially unique.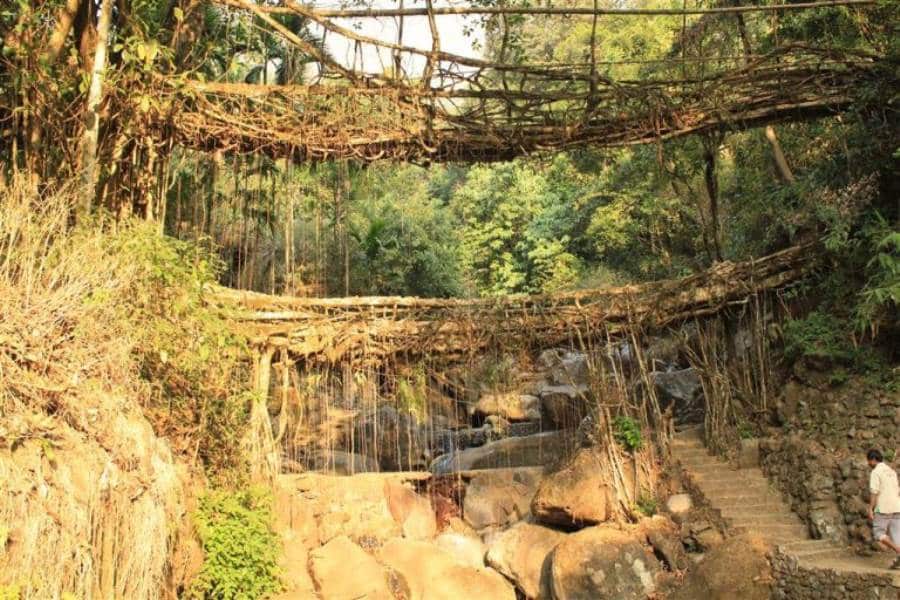 Reaching Double Decker is only possible via a steep downhill stairway path. Nongriat is some 700 elevation meters below Tyrna, the last point where wheeled transport can drop you off. Prepare for quite a demanding descent and an equally demanding return for the next day(s).
Check three more root bridges in this article.
Read more inspiring articles from India:
Waterfalls
It seems like there were waterfalls everywhere around Meghalaya. There must be tens of them. I will mention 9 that are either easily reachable or on the way to other highlights.
3 waterfalls you can experience around the capital of the state (Shillong) are: Elephant Falls, Spread Eagle Falls and Sweet Falls. All these are easily reachable within 8-12 km from the capital.
There are really impressive waterfalls you will find in East Khasi Hills around Cherapunjee town (also known as Sohra). Nokhkalikai falls and Nohsngithiang Falls (also known as Mawsmai falls) are the most impressive.
Dainthlen falls, Khoh Ramhah (also known as Motrop) and Kynrem Falls will easily fill your day around Cherapunjee. Check with your local driver or hostel to see which falls are actually worth visiting during the season you travel to Meghalaya. During the rainy season, waterfalls will be the most powerful, however, views may be spoiled by clouds.
During the dry season, views are perfect, but waterfalls shrink to a trickle. This brings me to the conclusion that the best time to visit Meghalaya is just after the monsoons have ended.
The real gem is Rainbow falls. Located at the end of the valley, the sight of Rainbow falls will reward you after a multiple hour trek. Perhaps it is the remoteness and beauty of the trek, that makes this waterfall stand out in my mind. No cars, no people, just you and the falls. Rainbow Falls can be reached as a continuation of the Double Decker trek.
Join some of the local tours in India:
Dawki, the cleanest river in India
Dawki is a low lying border village located on the river of the same name. The water is really clean and refreshing. Activities here are swimming, boating, and admiring the amazing Dawki bridge. I cannot understand how they built the bridge attached into two steep, almost vertical, river banks!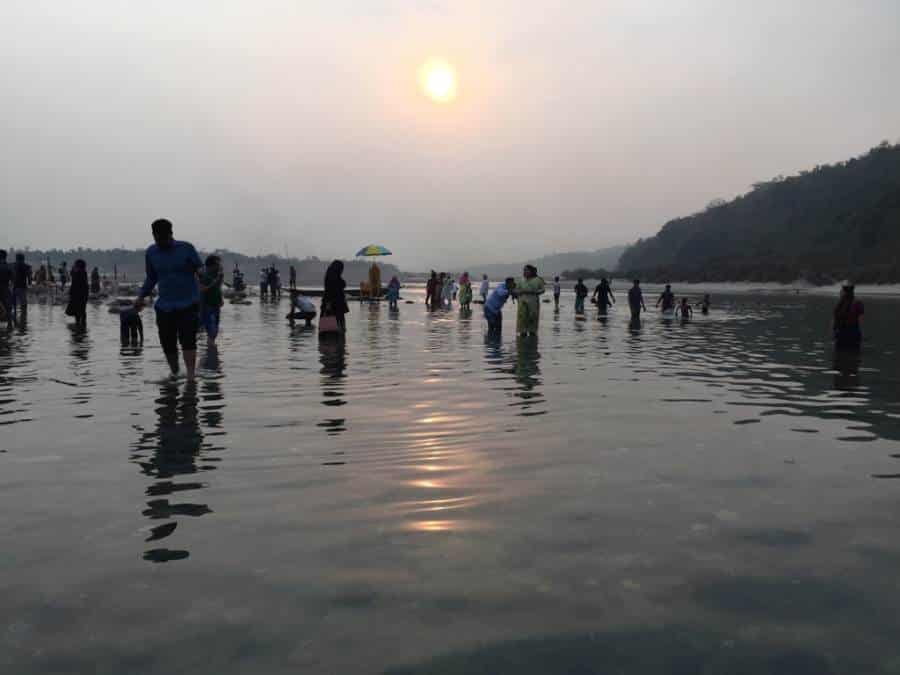 The most interesting part of the Dawki trip is taking a boat to Bangladesh. Well, you actually are not allowed to set foot on the Bangladeshi soil, but you can float around hundreds of Bangladeshis, who come to take a dip in what probably is also the cleanest Bangladeshi river.
Getting there and getting around
Shillong is small and off the main radar airport and only 2 companies fly there from Calcutta. Guwahati, the capital of neighbouring Assam state is a typical gateway to the region. Shillong is a 4-5 taxi or bus ride from Guwahati airport.
Meghalaya is in many aspects different from the majority of India as you know it. First, being located in elevations between 1500 and 2000 meters above sea level, it is pleasant, sometimes even a cold place to be. Being rather sparsely populated, it is quite clean and neat, compared to anything you might have been used to in the rest of India.
All these advantages come at a cost. Forget efficient trains or cheap busses. A taxi driver is your best bet in Meghalaya. You will be glad and lucky if you can find a shared taxi or jeep to your destination and you can share the cost with others. If not, you will have to pick up the bill yourself.
Sure, there is some public transport, but it's not really heading your way. Remote villages are not important transport hubs. Thus, most of the travellers local and foreign alike, budget 2000 Indian Rupees per day to hire a taxi and do day round trips from Shillong.
Two most typical trip loops around Meghalaya are:
Mawlynnong, Riwai Root bridge and Dawki, and perhaps taking Elephant falls in if time permits.
Cherapunjee with a few waterfalls on the way, plus Mawsmai caves. If you took an organized tour, instead of returning to Shillong, get dropped in Cherapunjee. From there continue to Tyrna village and trek the 3500 stairs down to the famous Double Decker living root bridge.
An alternative to a taxi, as many of you travel alone, is to use some of the tourist busses. A seat in the tourist bus sells at 350-500Rs, and the itinerary is quite similar.
For more details on how to get to root bridges, please check the detailed guide here.
Places to stay in Meghalaya
Most of the visitors will just need two places to stay. One in Shillong, which creates a base for day trips around the state, and one while trekking in the Khasi Hills.
If you are heading for Double Decker and Rainbow falls, I would recommend spending 2 nights in Nongriat. It actually is the only village with any accommodations around. There are 4 or 5 small homestays in the Nongriat and there is nothing else within a 3-hour trek around.
As the capacity of those is limited, book your homestay ahead. And forget Booking.com or similar. None of the homestays are listed there, and you are better off contacting them directly. Serene homestay is the only one with a web page, and you can call, email, or WhatsApp them.
Otherwise, there is plenty of accommodation in Cherapunjee and some homestays will save you in Tyrna if you need.
Things to eat in Meghalaya
Did I mention that Meghalaya is different? Oh, my dear non-veg traveller, yes it is! First, Meghalaya is a predominantly Christian state. Thus you will find quite a lot of good quality pork meat in the markets.
Once you're fed up eating red, green, yellow, or brown Indian-something-veg with chapati or rice, fly to Meghalaya and you will bite your teeth into a proper piece of meat. We have mastered a grill from the old 10l oil can and indulge in proper shashlik feast.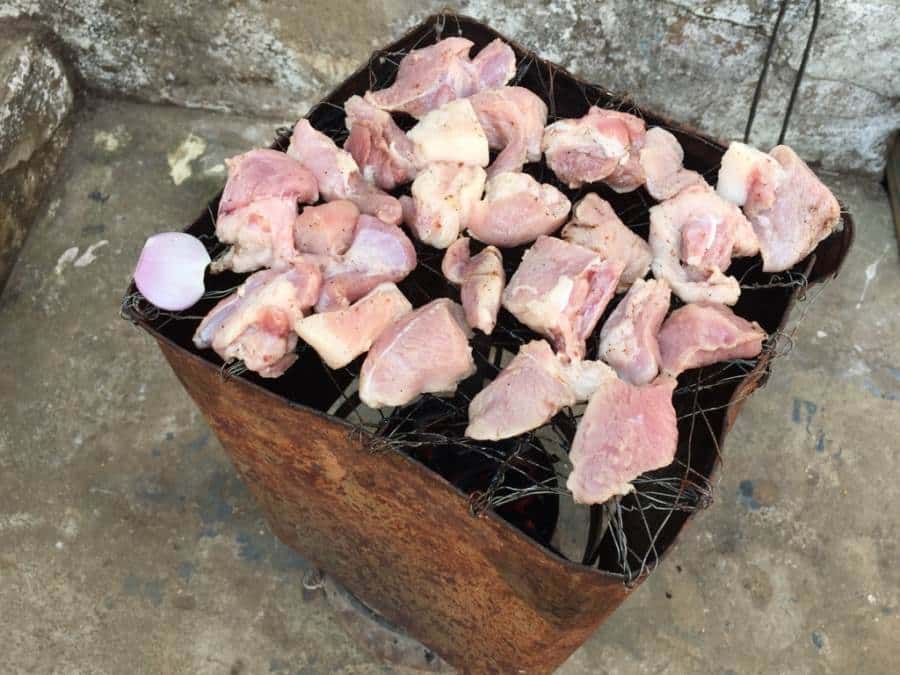 Believe it or not, you can even buy beef here. Unfortunately, the beef we got was rather hard and chewy. However, if you are from Vietnam and your stomach is struggling without a Pho Bo, or you are from Central Europe and you miss some Beef Broth, you can cook some here.
Where to go next
Next, you will most like head to neighbours. If Bangladesh is on your "next" list, then cross the border at Dawki border crossing. If not, the usual suspect here is visiting Assam. Kaziranga National Park is the place I would strongly recommend to visit in Assam. Did you know that the biggest population of Rhinos on the planet actually lives in Assam? You are guaranteed to see one there.
Join some local tours in Bangladesh:
Pack and travel: