A comprehensive guide to where to stay in Jaipur, known as the Pink City.
Jaipur is one of the most vibrant places you'll see in India. It'll embrace you with various ancient monuments to explore, some incredible street food to sample places to try out your own cooking skills (check out a fabulous cooking class with Payal!) and in between, you can just chill at a cozy homestay or impressively extravagant heritage hotels in Jaipur.
Talking about comfort and luxury, we suggest that you check out the website RARE India. They specialize in finding hotels with unique owners; imagine staying with passionate writers, film makers, conservationists, architects, poets, you name it!
We stayed a few nights at the impressive Khas Bagh, one of the boutique hotels of RARE, only ten minutes drive from the Amber Fort. It's nestled in a secluded suburb of Jaipur, in a totally tranquil natural environment.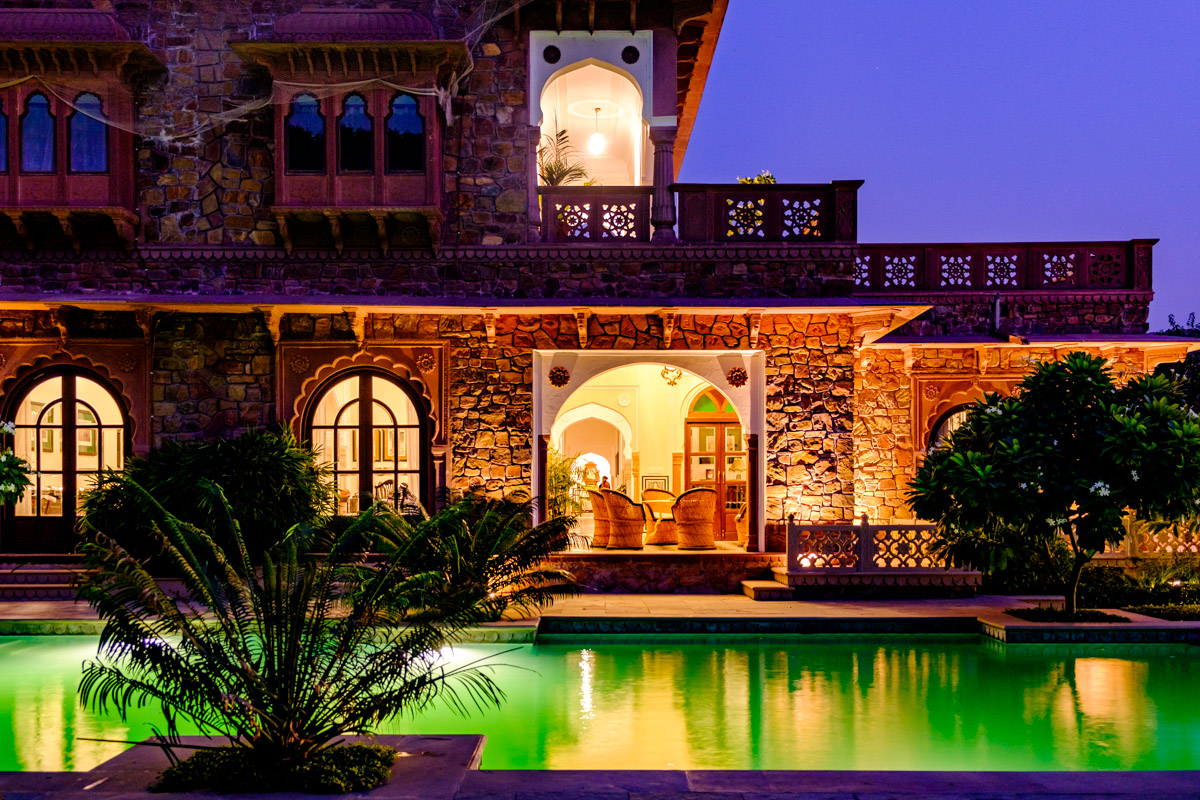 The owner is a polo player, which you can tell from the interior of the hotel. The rooms and common areas are tastefully designed with deluxe furniture and with an acute sense for detail.
The rooms are super spacious, bright, and very comfortable. There are beautiful and cozy window seats facing the garden, a writing desk, and a big bathroom. The hotel features an outdoor pool with a lavishly decorated polo lounge.
Check for more details and rates here.
If you are interested to know where to stay in Jaipur, we recommend some of the best hotels for different budgets.
When we travel, we book our hotels through TripAdvisor, one of the best websites to compare prices.
We also use a lot AirBnB to book local apartments. If you have never used AirBnB before, you can have a $40 discount for your first booking through this link.
Always make sure you travel with travel insurance! Be adventurous, but not careless.
Check out some of the most reliable insurance companies out there: True Traveller if you're European and World Nomads if you're from elsewhere.
If you love animals and you prefer going local during your travels, try housesitting, which is an amazing way to travel the world while taking care of the pets whose owners are on vacation. If you use TrustedHousesitters with this link you'll get $20 discount on annual membership.
Like it? Pin it!

Where to stay in Jaipur
Bani Park
Bani Park is probably one of the best neighborhoods in Jaipur.
It's peaceful, safe, and one of the most prominent residential neighborhoods in the Pink City.
It's very well connected, and close to the railway station Jaipur Junction. The majority of the accommodations are budget and mid-range options with a superb value for the price.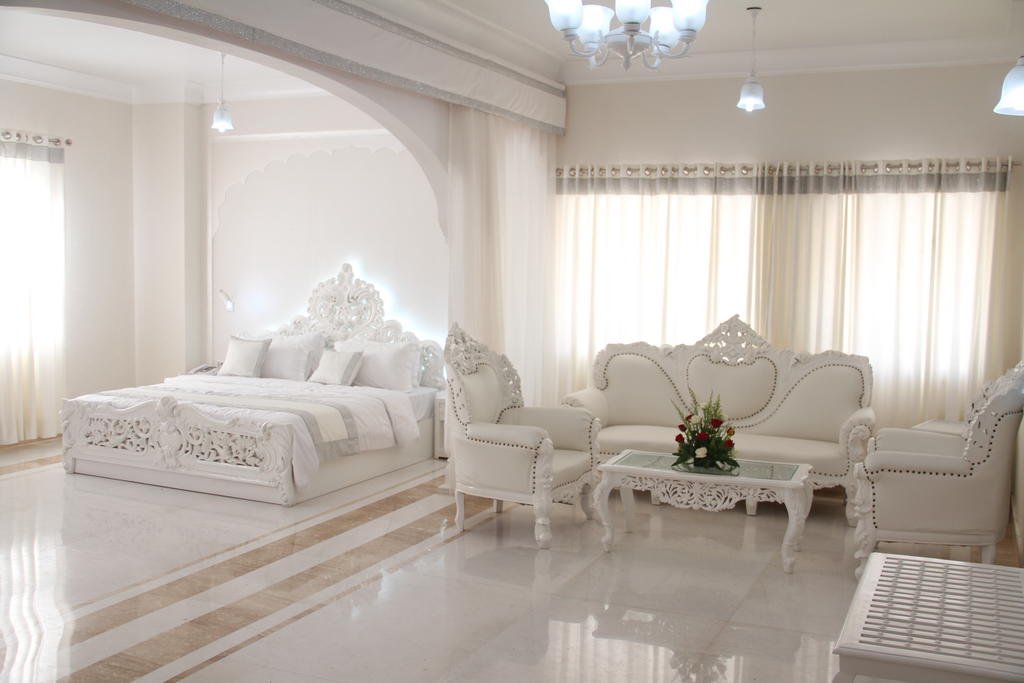 One of the most affordable heritage hotels in Jaipur. Not only will you be surrounded by amazing traditional architecture, but also you can chill at the pool or get pampered at their spa and wellness center. Breakfast included. Check the latest price.
Luxury > N/A in the area.
Mid-range > Shahpura House
A very charming hotel with an outdoor pool. The rooms are spacious with stylish traditional wooden furniture. Ideal for couples or those who need to unplug. The place features a spa and wellness facilities. Check the latest price.
Budget > Hoztel Jaipur
Not a "dirty cheap" hostel where you go only to sleep. Hoztel Jaipur is a great place if you want to socialize and rest after a hot day. There is a movie room, and they organize morning yoga sessions for the guests, too.
The rooms are super clean and you can choose a twin, double room, or a bunk bed in dormitories. Check the latest price.
Get inspired by more articles:
Mirza Ismail aka M.I.Road
M.I.Road is only 1km from the Bani Park. It's one of the main roads in the city that stretches along some of Jaipur's major landmarks like Ajmeri Gate and Sanganeri Gate, a few cinemas and museums: Albert Hall Museum, Indian Murti Museum.
The road is quite busy during the day, so make sure that you ask for a room facing the quieter side.
There are lots of street food options in the late afternoon and some some very good Indian restaurants, too.
Our favorite one where we returned a few times was Midtown Multicuisine Restaurant. We had the best (and the biggest) garlic naan bread in our lives! Check the latest price.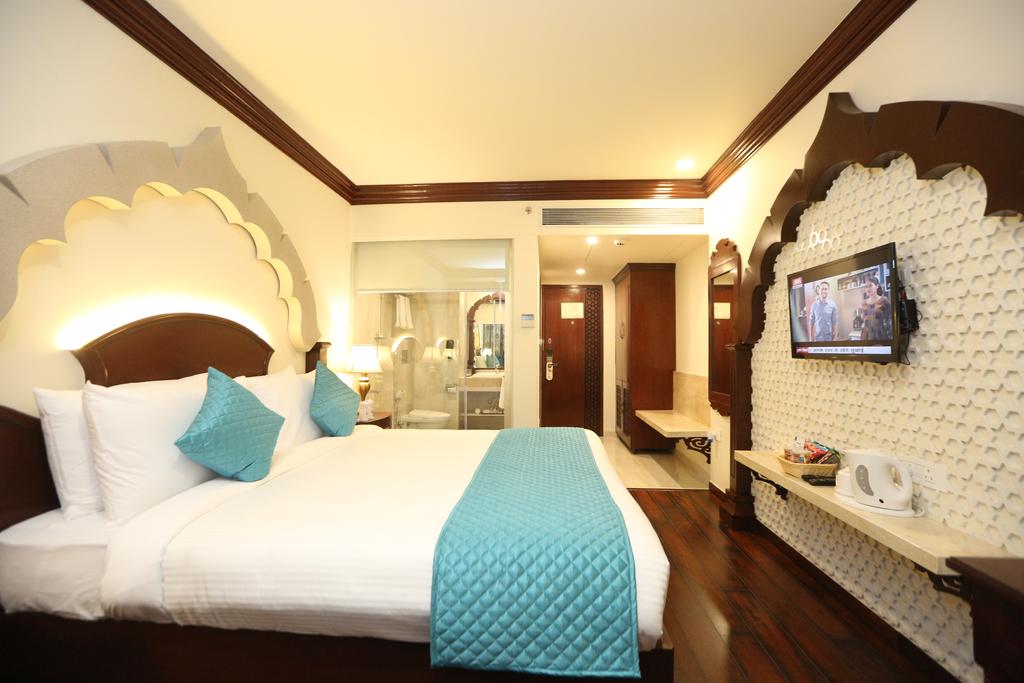 As the name suggests, the place is indeed comfortable, especially the beds. The rooms and suits with A/C are big enough and quiet with lots of amenities and private bathrooms. You can dine at one of their two on-site restaurants. Check the latest price.
Luxury > N/A in the area
Mid-range > Leisure Inn Grand Chanakya
Modern, clean and comfortable rooms. There's a kettle, iron, and a safe box featured in each room. The hotel offers their services at a spa, gym, and a rooftop restaurant. Check the latest price.
Budget > Atithi Guest House
One of the best budget options in the area. The rooms are very basic, yet neat. Guests can relax in a lovely rooftop area or lounge. Each room comes with a private bathroom with hot shower and a balcony. Air conditioning or fans available. Check the latest price.
Amer Fort Road
The area stretches from the Hawa Mahal palace in the south up to Kanak Vrindavan garden in the north. There are quite a few public parks, gardens, and loads of Hindu temples in the neighborhood.
It's a great location for those interested in monuments and lesser know places situated in the northern part of Jaipur: Veer Hanuman Temple, Jal Mahal, or Kanak Vrindavan garden, particularly for the sunset.
An elegant upscale hotel with traditional Indian royal design. The rooms and suites are very spacious, with a seating area and a private bathroom with a bathtub. You can relax at the outdoor pool or let their masseuses take care of you at the wellness center. Check the latest price.
Luxury > The Raj Palace
If you plan to "go big", this is one of the most impressive 5 star hotels in Jaipur. Luxurious bedrooms and private bathrooms, high ceilings in a palace from the 18th century. Oh, have we mentioned an outdoor pool, gym, and fabulous massages? Check the latest price.
Mid-range > Trident Jaipur
Ever stayed in a 5 star hotel in Jaipur for $60 USD per a double room? Well, this is Incredible India! Trident Jaipur is a wonderful place with antique Indian-style furniture. It features a gym, a huge outdoor pool, and spa. They also provide childcare service. Check the latest price.
Budget > Hostel Bagpack Village
This is a backpackers' heaven! Clean and simple rooms with shared or private bathrooms, great common areas, A/C, free drinking water, and very friendly owners. Check the latest price.
Pack and travel:
C Scheme
Welcome in one of the most posh and safest areas in Jaipur! It's green, well connected to the other parts of the city, has a couple of hospitals, and most importantly, it's the financial and authorities' district (Rajasthan High Court, Income Tax Department etc.). (Which is the main reason behind the safe reputation of the area.)
Great area for shopping and café lovers. The neighborhood offers both luxury and budget hotels in Jaipur.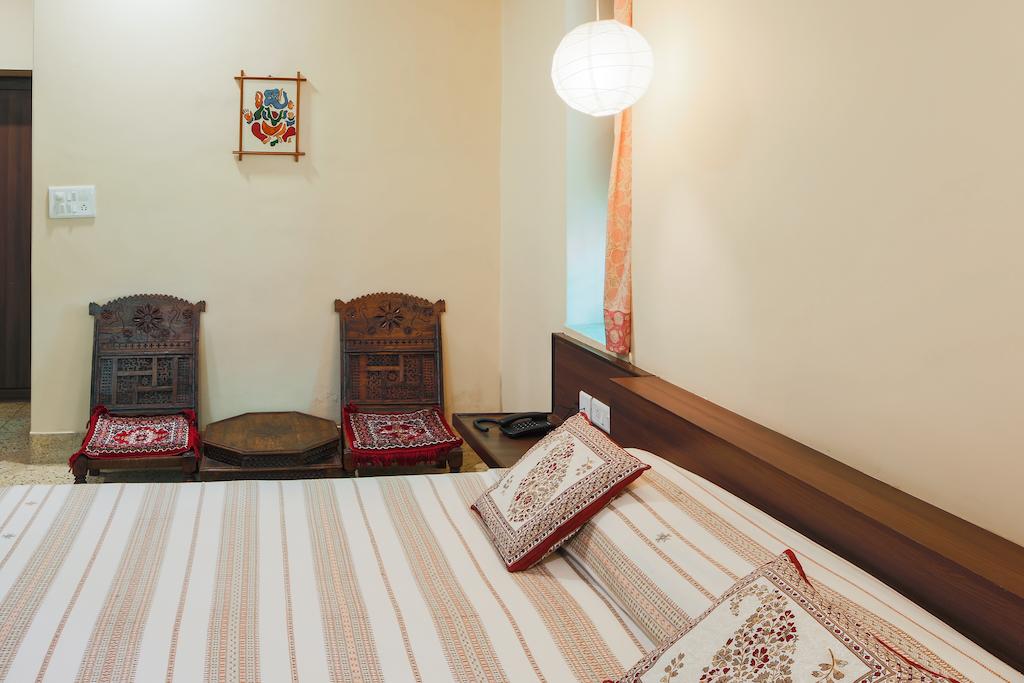 Very neat, basic and clean rooms. A small homestay nested in lush greenery. There is a washing machine, library, and kitchenette at customers' disposal. Check the latest price.
Luxury > Shakun Hotels And Resorts
Very affordable comfort and luxury. A modern hotel with basic rooms, a fitness center, and a refreshing pool. Note: the place serves only vegetarian food. Check the latest price.
Mid-range > Golden Tulip Essential
Modern, spacious, very clean, and fancy hotel rooms with A/C, desk, seating areas and private bathroom. There's a fitness center for the guests, too. Check the latest price.
Budget > The Big Mooch
Colorful, simple, and clean family run hostel. Female and mixed dormitories with a fan available. Serves à la carte breakfast. Check the latest price.
Amer
The closer to the Amber palace you get, the more impressive hotels and resorts in Jaipur you'll find. This area offers high-end type of accommodation where you can easily spend days indulging in their services in beautiful environment.
The neighborhood is situated in the north of the city. It's a great location if you prefer to stay in the suburbs of Jaipur, closer to the palace and other sightseeing.
Don't miss out on the step well close by the palace! We were lucky to have it only to ourselves despite the peak hour in the Amber Fort only a few hundreds meters away.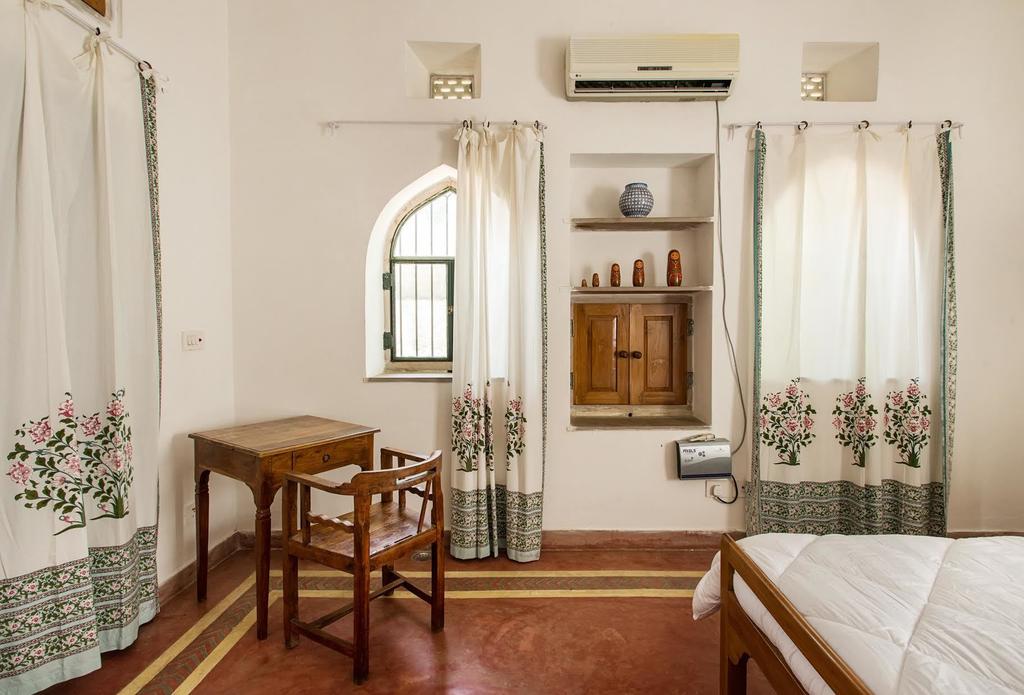 Artsy place with lovely interior run by an Indo-French family. There are only three rooms available, and a common space where the international artistic workshops are organized. Breakfast included. Check the latest price.
Luxury > Fairmont Jaipur – AccorHotels Brand
If you're looking for quintessential luxury in Jaipur, this is the place you should be looking at. Pompous luxury at its best. Huge and greatly designed rooms, very well equipped gym, spa, and incredible outdoor pool area. There are four on-site dining options. One of the best luxury hotels in Jaipur city. Check the latest price.
Mid-range > Umaid Residency – A Regal Heritage Home
Pleasant interior resembling a palace. The rooms come with A/C and private bathrooms. Serves local and continental breakfast. Check the latest price.
Budget > R G Palace Hotel & Restaurant
One of the best budget options near the Amber Fort considering the quality and location. The place is very new (opened in April 2018). It has bright and spacious rooms with A/C, bathtubs, and some come with a mountain view. Check the latest price.
Civil Lines
Another upscale and safe neighborhood in Jaipur where some prime politicians live. This is the heart of Jaipur city, with a metro station opened in 2015, lots of places to eat, ATMs, and many religious places to visit.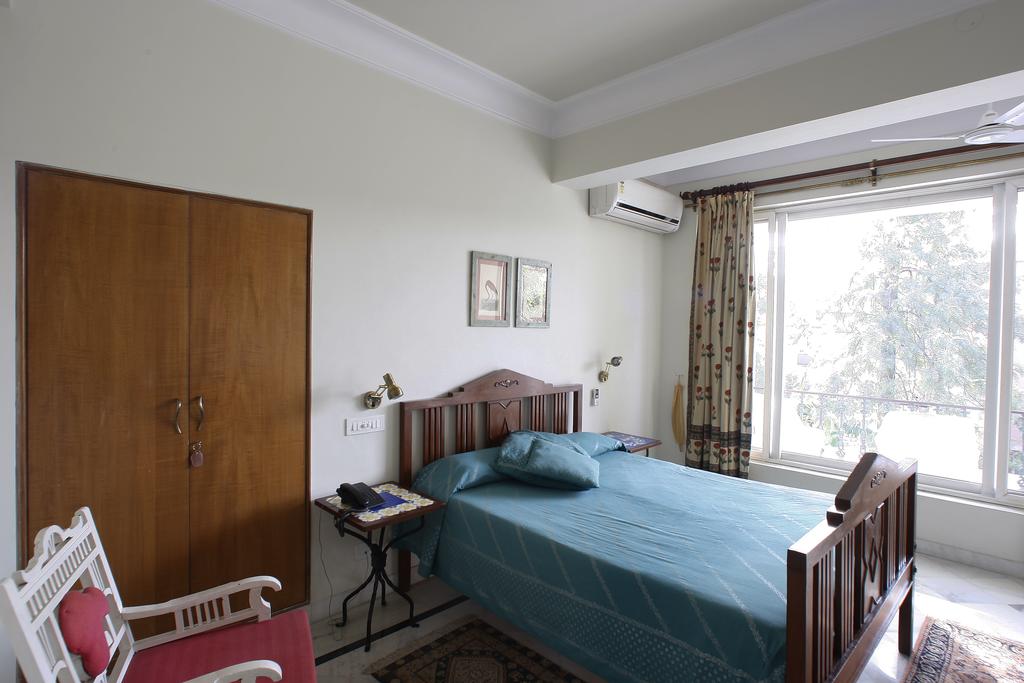 The place is a reconstructed royal residence, featuring Colonial-style furniture. Serving Indian and Western breakfast. All rooms have a writing desk, A/C, and private bathroom.
You can get your afternoon tea or coffee in their beautiful and very well maintained garden. Check the latest price.
Luxury > N/A in the area
Mid-range > Palm 34
Modest, yet very clean and safe. The rooms come with A/C, a fridge, and TV. Breakfast included. Guests are allowed to use a shared kitchen. Check the latest price.
Budget > CrashPad Jaipur
Opened in December 2017 in a great location and with very accommodating owner. Dormitory and double or twin rooms bedrooms available. The place is pet-friendly, with a nice common area and colorful wall paintings throughout the property. Check the latest price.
Vaishali Nagar
A nice area in the western part of the city. It lacks the touristy monuments, but it's good for travelers who seek a quieter neighborhood. There is no direct metro line, so you'll need to take a cab to arrive to the closest metro station.
The luxury options here are limited, but you can find a clean and comfy room here for very affordable prices.
A family run homestay with super clean rooms, comfortable beds and scrumptious homemade breakfast included. There is also a very nice green garden for chilling out. Check the latest price.
Luxury > N/A in the area
Mid-range > Treebo Hotel R41
Simple rooms with large beds and basic amenities provided (TV, kettle, fridge, toiletries). Wonderful quiet location. Check the latest price.
Budget > Abode Deluxe Homestay
A clean place with basic interior. The rooms are equipped with a kitchenette and private bathrooms. Some of them also feature a balcony. Guests can rest on a nice terrace with city views or at a common lounge. You can opt for a room with a fan or A/C. Check the latest price.
Where to stay near the airport in Jaipur
The area of Malviya Nagar and Tonk Road is the best place to stay near the airport in Jaipur. You'll find lots of food options, parks for resting or taking a morning run, some amazing monuments to explore (Jawahar Circle Garden with a playground), or go to the First Cinema to check out new Bollywood releases.
A real oasis to relax after or before your flight. Opened only recently (April 2018). Immaculate rooms come with A/C and private bathrooms. The biggest perk of this 3 star hotel in Jaipur is an outdoor pool. Check the latest price.
Luxury > N/A in the area
Mid-range > Pink City Home Stay
Big bedrooms and bathrooms in a cozy homestay. Clean rooms with A/C, private bathrooms (some with a big bathtub) with a garden or a city view. Great breakfast included. Check the latest price.
Budget > Nadya Homestay Jaipur
Very basic type of rooms, ideal for solo female travelers. Fabulous local host Nadya makes sure you'll feel welcome. Homemade meals available. Check the latest price.
Hope this comprehensive guide has helped you to decide where to stay in Jaipur on your next holiday in India. Enjoy, and make sure you stay at least a couple of nights at some heritage hotel in Jaipur!
Get inspired by more travel articles:
Do you have a burning travel question? Join our Nomad is Beautiful travel community on Facebook and ask experienced travelers!