It must be said, there are few places in Italy more romantic than Florence. The city is rightly one of the most popular destinations for visitors to the country. Florence is home to so many sights and attractions, from inspiring museums to majestic churches and lavish palaces.
But it's also an ideal place to base yourself if you want to get out and see more of the country. There are so many fantastic day trips from Florence that allow you to explore more of Tuscany and other neighbouring regions of Italy. Located quite centrally in the Italian countryside and with ample transport connections, reaching other towns and cities in a couple of hours is no problem at all.
When we travel, we book our hotels through some of the best websites using TripAdvisor or Booking.com.
Always make sure you travel with travel insurance! Be adventurous, but not careless.
Check out some of the most reliable insurance companies out there: True Traveller if you're an European and World Nomads if you're from elsewhere.
If you love animals and you prefer going local during your travels, try TrustedHousesitters, which is an amazing way to travel the world while taking care of the pets whose owners are on vacation.
Check out this website if you're looking for some accommodation in Florence. 
Day Trips from Florence
These trips from Florence include destinations in Tuscany, as well as regions such as Emilia-Romagna and Liguria.
Like it? Pin it!

Tuscany Day Trips from Florence
Pisa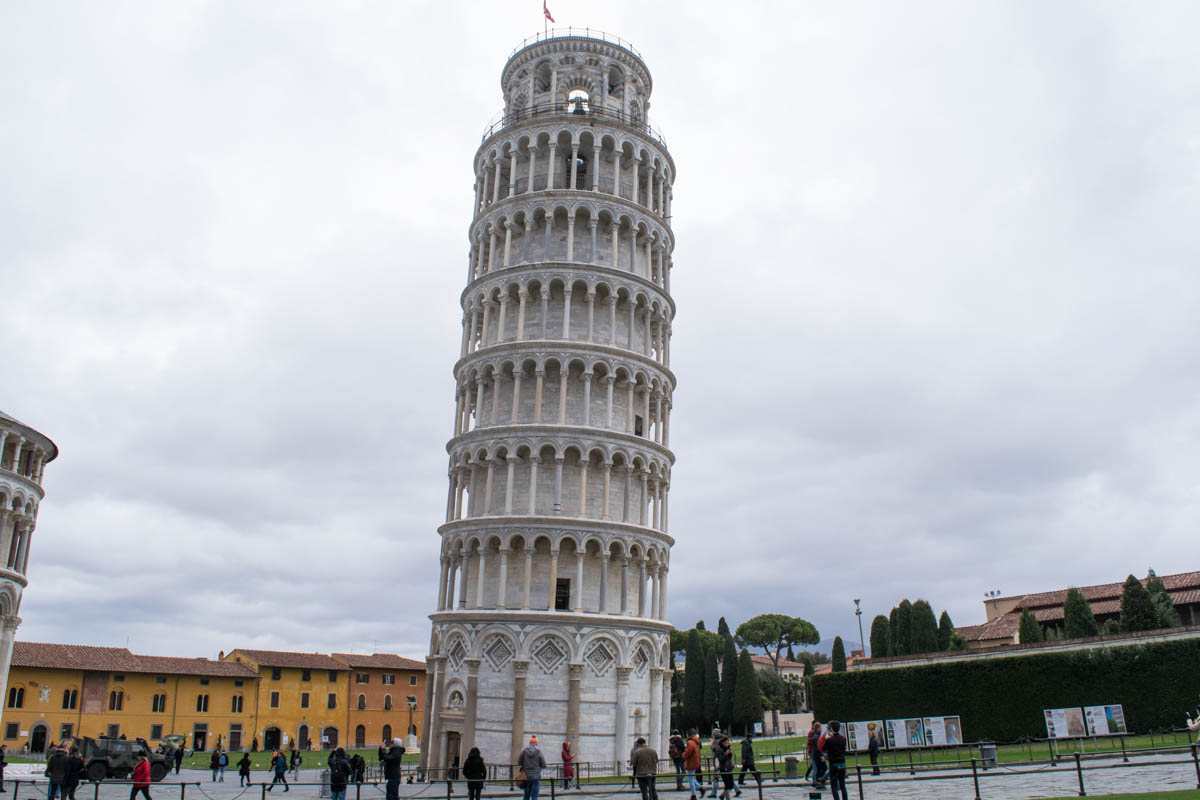 Without question, if people have plans to venture out of the city then heading on a Florence to Pisa day trip is almost a given. Pisa and its Leaning Tower are just as recognizable to people as the Colosseum or canals of Venice.
It may surprise people to know though that the city of Pisa has plenty more to offer. Similar in many ways, when you compare Florence to Pisa you'll likely come away with the sense that Pisa has a far more lived-in feel to it.
Places to see in Pisa
• Grand old palaces along the banks of the River Arno
• Renaissance architecture in Piazza dei Cavalieri, the Knight's Square
• The sgraffito facade of the Palazzo della Carovana
• Getting "that" photo with a quick visit to the Leaning Tower of Pisa
• Beautiful elegance of the Pisa Baptistery and Cathedral, both next to the Leaning Tower
• The remains of Pisa's town walls
How to get there
An hour by car or train, Florence to Pisa is easy to manage and a great way to realise the depth that Italian destinations can have beyond their main highlight.
Read also Train Travel in Europe with Interrail
Check out some of the local tours in Pisa:
Lucca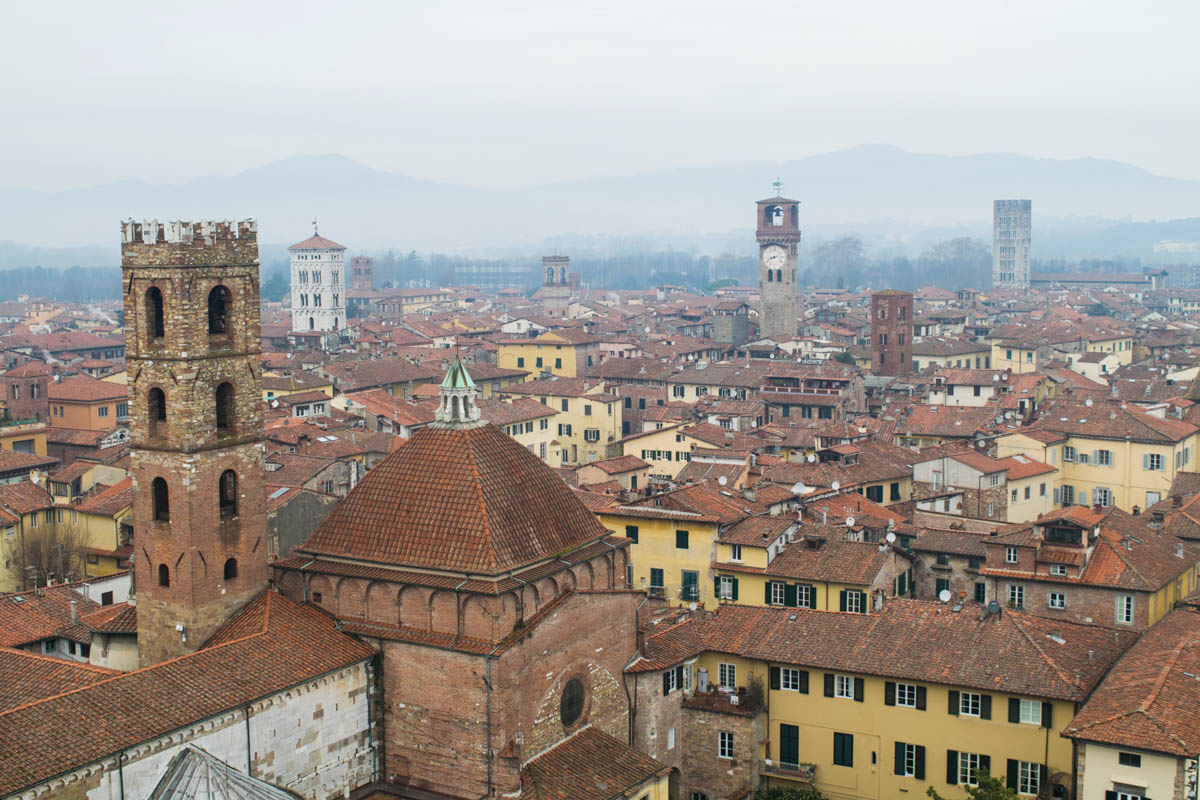 With imposing town walls designed by Da Vinci and an epic cityscape, I personally think Lucca is one of the best day trips from Florence.
The city has managed to preserve its medieval atmosphere, without a hint of modernisation inside its high city walls, which you can walk (or cycle) right around.
Places to see in Lucca
• Lucca's historic pedestrian streets that link up the city's many landmarks
• The Piazza Anfiteatro, a roman amphitheatre that is now simply a ring of houses around the square
• The city's many churches, including the impressive Chiesa di San Michele in Foro
• Lucca's many distinctive old towers that break through from the rooftops, including the memorable Torre Guinigi with its medieval rooftop garden of olive trees
• The Bell Tower of the St Martin Cathedral or the Torre delle Ore to see the entire city
How to get There
Taking a train from Florence to Lucca is a simply journey of about 80 minutes and totally transports you to another time.
Check out some of the local tours in Lucca:
Siena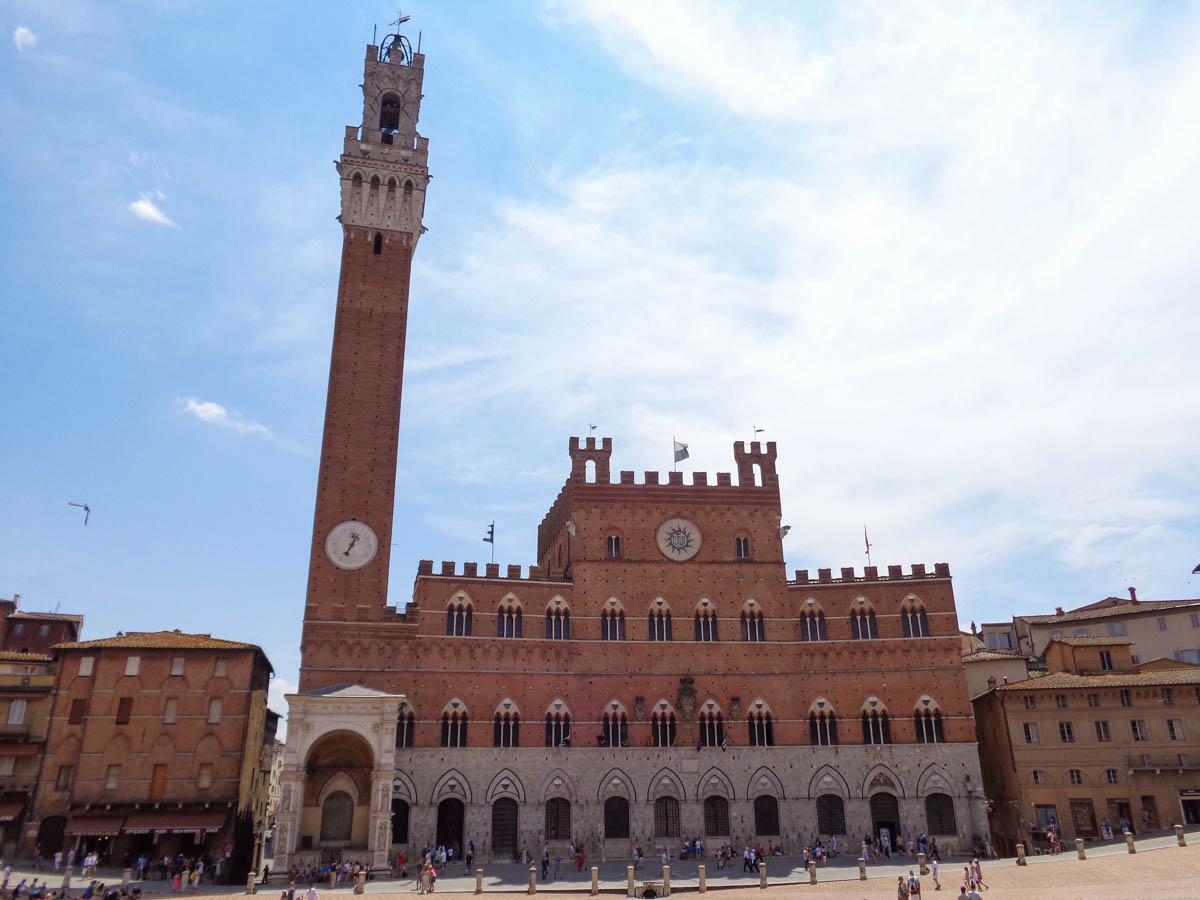 Few Italian place names conjure up romantic notions as much as Tuscany, but Siena might come close. A city with a UNESCO recognised historical centre and even more eye-catching medieval cityscape, it's no wonder that Siena is one of Italy's most popular tourist destinations.
Flowing across three hills, the city of Siena still retains much of its medieval character. An independent republic for centuries during the Middle Ages, is still looks quite like it did during its golden age.
Places to see in Siena
• Reminders of the city's prosperous past like the Siena Duomo Cathedral
• The many viewpoints that let you admire Siena's undulating cityscape
• The curved, sloping square of Il Campo Piazza, where the famous Palio horse race is held
• Palazzo Pubblico and Torre del Mangia tower which dominate Il Campo
• Noble architecture found within the Piazza Salimbeni
How to get there
Given how easy it is to get from Florence to Siena, it makes sense that it is one of the more common day tours from Florence. By train, Florence to Siena takes roughly 90 minutes, whereas going by bus is only roughly 50 minutes.
Check out some of the local tours in Siena:
Arezzo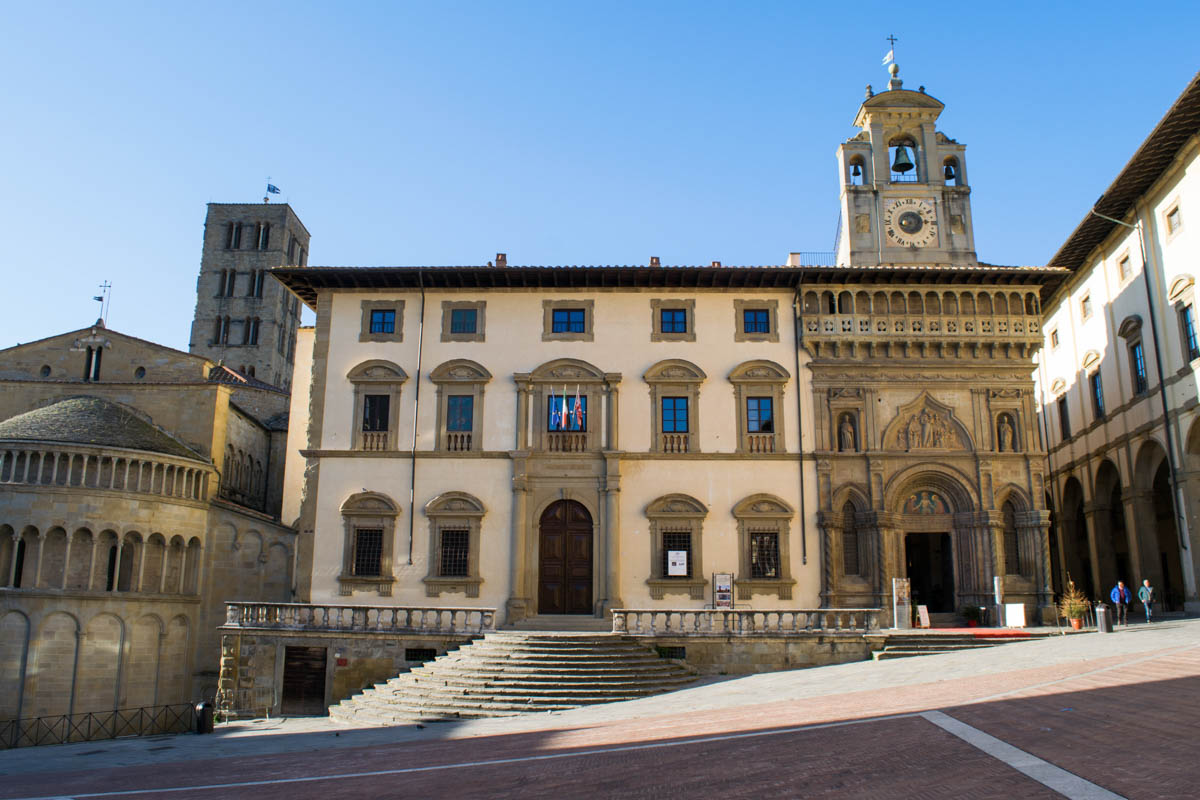 Get inspired by more articles:
If there's a city in Tuscany that is vastly overlooked, it must be Arezzo. This is somewhere you wouldn't normally see on tours of Tuscany from Florence, which is a shame in my opinion.
Arezzo has plenty of Roman and Etruscan reminders like the city gates and amphitheatre, but for the most part, the city has a clear Renaissance look to it. The city sits on the slope of a hill with the heart of its old town near the summit.
Places to see in Arezzo
• The angled Piazza Grande and admire the Palazzo della Fraternita dei Laici, home to the twice annual Saracen Joust
• Medieval summer event inside the Palazzo Dei Priori
• The city's many Renaissance palaces, including the city library
• The gardens surrounding the Medici Fortress, blessed with some superb views, over the city's rooftops and surrounding landscapes
• The city's maze-like streets
How to get there
Just an hour away, Arezzo must be one of the more enlightening day trips from Florence.
Check out some of the local tours in Arezzo:
Other Regions of Italy
Cinque Terre, Liguria
A little further than most places on this list, you'll want to visit nevertheless. The Cinque Terre are five scenic villages that straddle the Italy's coast of the Ligurian Sea.
Charmingly idyllic, each village is prettier than the last. A Cinque Terre day trip from Florence is a perfect way to get out and see some gorgeous coastal scenery.
Places to see in Cinque Terre
• Unparalleled views of the villages nestled between the hillside and the water
• Hiking trails connecting the villages through vineyards and along coastal paths
• Houses stacked upon each other on the steep hillside in villages like Riomaggiore and Manarola
• Serene little harbours with fishing boats below the villages, which bring in fresh seafood for the restaurants
• Beaches, like the one at Corniglia, to lounge out on and enjoy the water
How to get there
Visiting all of Cinque Terre thoroughly in a day trip is a bit of a stretch. However, there are plenty of tours from Florence to Cinque Terre and given the distance, they're a stress-free way to make the most of a day witnessing the beauty of these seaside villages.
Read also Where to stay in Cinque Terre, Italy: The Best Hotels and Neighborhoods
Check out some of the local tours in Cinque Terre:
Bologna, Emilia-Romagna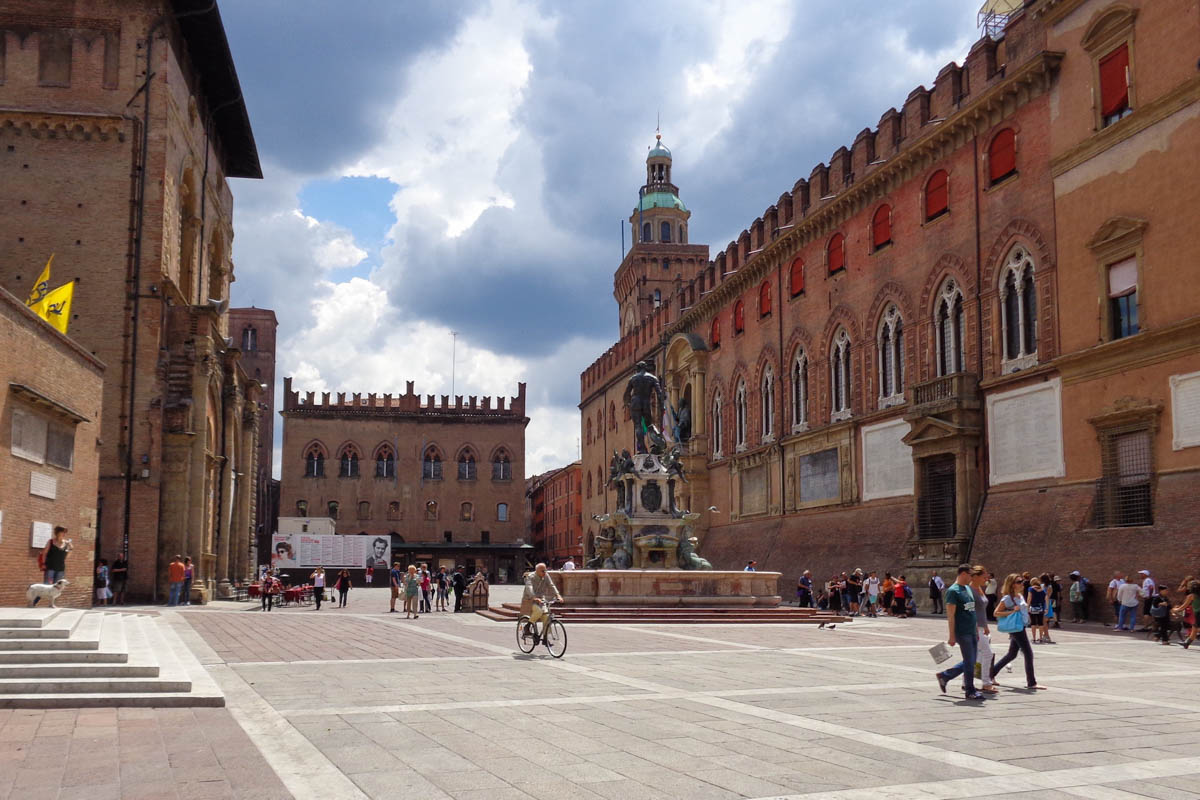 People never seem to agree when it comes to liking Italian cities. And yet, everyone seems to be fond of Bologna. The city, whose name is forever linked with spaghetti bolognese, offers visitors something different by having a firmly medieval feel.
Plus, at its core, the city of Bologna is a university city with the world's longest running university built in 1088. If you're looking for Florence day trips with a real contrast to the city, then in Bologna you find it.
Places to see in Bologna
• University buildings like Archiginnasio of Bologna, a library & anatomical theatre with a large array of coat of arms and frescos inside its courtyards
• Grand buildings that surround the emotive Neptune fountain, a popular meeting place
• An icon of Bologna the city's Two Towers, two popular leaning towers that are some of last remaining Bologna towers
• Undercover portico arcades that line many of the streets in Bologna, connecting landmarks and giving the city a more intimate, confined feel
How to get There
As day trips out of Florence and Tuscany go, this one is super easy with just a 35 minutes train trip.
Check out some of the local tours in Bologna:
Ferrara, Emilia-Romagna
If visiting Florence has got you obsessed with all things Renaissance, then one of the best excursions from Florence is the city of Ferrara. Somehow Ferrara manages to balance grandeur with humility, inviting you in to uncover its qualities.
You may be thinking that because of the name this is where Ferrari hails from, but no that's not the case. Instead, the story of Ferrara is more closely tied to the Renaissance and the Este family.
Places to see in Ferrara
• Castello Estense home to the Este Family, surrounded by a moat dominating the city centre
• The noble residence of the Ex Palazzo della Ragione by the cathedral
• Palazzo dei Diamanti that hosts a renowned art gallery inside its unusual façade
• The National Archaeological Museum of Ferrara lets you learn about the Etruscans, local inhabitants that pre-date the Romans
• The city centre's outskirts and be surprised by the size of the city walls
How to get there
Off in Emilia-Romagna about 1.5 hours away by car and train, this modest city has an undeniable charm to it.
Check out some of the local tours in Ferrara:
Well, that should give you a great place to start planning your time in Florence. With these destination ideas you're bound to come up plenty of possibilities for Tuscany tours from Florence and day trips around this part of Italy.
Liked it? Pin it!