Heading to Scandinavia and planning on things to do in Finland? Experiencing a Finnish sauna in the land of its origin (did you know that the word "sauna" comes from Finland?) will certainly be one of the highlights of your trip! 
Finnish sauna: what's so special about it?
The feeling! The time you make just to you sit there and have a good, purifying sweat. All the while, the steam you inhale and the sauna 'ritual' itself is held in a very casual, natural way so you feel you are having relaxing fun with some healing effects as a bonus.
The tradition of Finnish sauna goes back to the fifth century, when Scandinavian nomadic tribes settled down. It's assumed that up until then, they carried a portable sweat lodge, similar to the ones of Native Americans.
Unlike in Sweden and Norway, where the tradition of a hot steam bath disappeared because of sicknesses whose proliferation was mainly blamed on the saunas, partly because of prostitution connected with them, Finland developed saunas as a quintessential part of their culture and has remained a leader of sauna culture even today. The Finnish proverb, "One should behave in the sauna the way one behaves in church" explains a lot.
Join some local tours in Finland:
Tradition of the Finnish sauna
Sauna is one out of many traditional and interesting things to do in Scandinavia. Finnish sauna used to be a very particular, often considered a sacred place. There you could find a woman giving birth (the environment was sterile and she did it when the sauna was not heated), a person dying or a person performing a healing ceremony.
Sauna was one of the first things Finns built when they moved and became how they were recognised among the other Scandinavian nations. In the past, people in Finland considered the sauna to also be a place to wash and clean themselves and traditionally they used to do it every Saturday. Nowadays, every Finn visits a sauna on average once per week too, but naturally, with a different purpose.
There are almost 3 000,000 saunas in Finland, meaning that each household contains one on average. Theoretically, the saunas in Finland can accommodate the whole country's population. In case a family doesn't have its own sauna, it's common to use a shared, public one in an apartment building. As a resident, you just need to check a schedule and book it in advance.
As a traveller, you can check out if your hotel has one (which is very probable), or ask your Finnish host. We guarantee they'll have some good tips. If you fancy a special experience, there are even saunas integrated in some buses or ferries!
Different types of Finnish sauna
There are different kinds of this blissful and healthy procedure and you can choose between the traditional smoke sauna (savusauna), wood stove, electric saunas. We tried the first two types and we can honestly say that after spending an afternoon in a smoke sauna in Vierumäki, we were hooked. No, nobody has a pipe inside, and no bacon is smoked there either.
The main principle of smoke sauna is that you do the all sweaty detox in a dark room with no chimney and no windows, just by candlelight since there is no electricity. The room is heated up by burning wood in a kiuas (stove) for 8-10 hours in advance.
Since there is no chimney, all the smoke stays inside until the room is hot enough. Then the doors is open so smoke goes out and the sauna is ready for you to enter. While sitting on a small, wooden chair or a platform, in both cases with a disposable tissue, you pour some water over the coals from time to time with a loylykauha (ladle) from a kyulu (wooden bucket) and inhale the steam mixed with the tar that remains in the wooden walls.
The traditional room also contains two big buckets with hot and cold water to mix in the third, small bucket, from which you take the water with a small ladle to wash yourself with at the end of your Finnish sauna experience.
The other type of sauna you might enjoy a lot is the peat sauna, where you go through the same basic process as in the normal sauna, but you cover yourself with a thick layer of peat all over your body. We tried the peat sauna in Hartola while staying at the Linna Hotel where they use natural products.
Get inspired by more travel articles:
How to have the best Finnish sauna experience:
* go with a local
If you're planning to visit a Finnish sauna for the first time, go there with a person who has some experience already. There is no "big science" behind the sauna experience, but to know a few tips and tricks from a local makes a difference.
* go nude 
We admit that we didn't do this ourselves, since we were in a sauna with other bloggers in our group and none of us was exhibitionist enough. But we can imagine how great it must be to do it the way all Finns (and most Europeans) do.
On that note, to go to a hot room with a swimwear is not only impolite, but also dangerous. When chlorine from the swimming pool that remains on your swimwear vaporises in a hot sauna, it can cause breathing problems to people suffering from asthma or allergies.
* go to a sauna near a lake
This is the best possible way how to get an awesome Finnish sauna experience. There is nothing better than jumping into a cold lake after each round in the sauna. We had a chance to freeze our bones twice: in Lake Mustalampi near Vierumäki and in Padasjoki near Päijänne National Park.
To say it was exhilarating is an understatement and just from that evening, when we jumped into the lake to join swans swimming nearby, we cannot imagine having a Finnish sauna any other way! Not only is it refreshing (to put it mildly), but you also do something you would have never expected you'd do with such pleasure (Gianni) and courage (Ivana).
If you visit a Finnish sauna in winter, then rolling in snow after a hot room is the way to go!
* have a shower before
Having a short shower before entering the sauna is not only a matter of your personal hygiene, but it's also a polite gesture of respect to the people who are going to share a hot room with you.
 * find the best spot
To get the best of the steam and heat, you might want to sit on a laude (an elevated platform), preferably on the top where the hot air circulates the most intensely. But if you think you'll need to adjust to the heat or you take your children to the sauna with you, a lower platform will be the better option.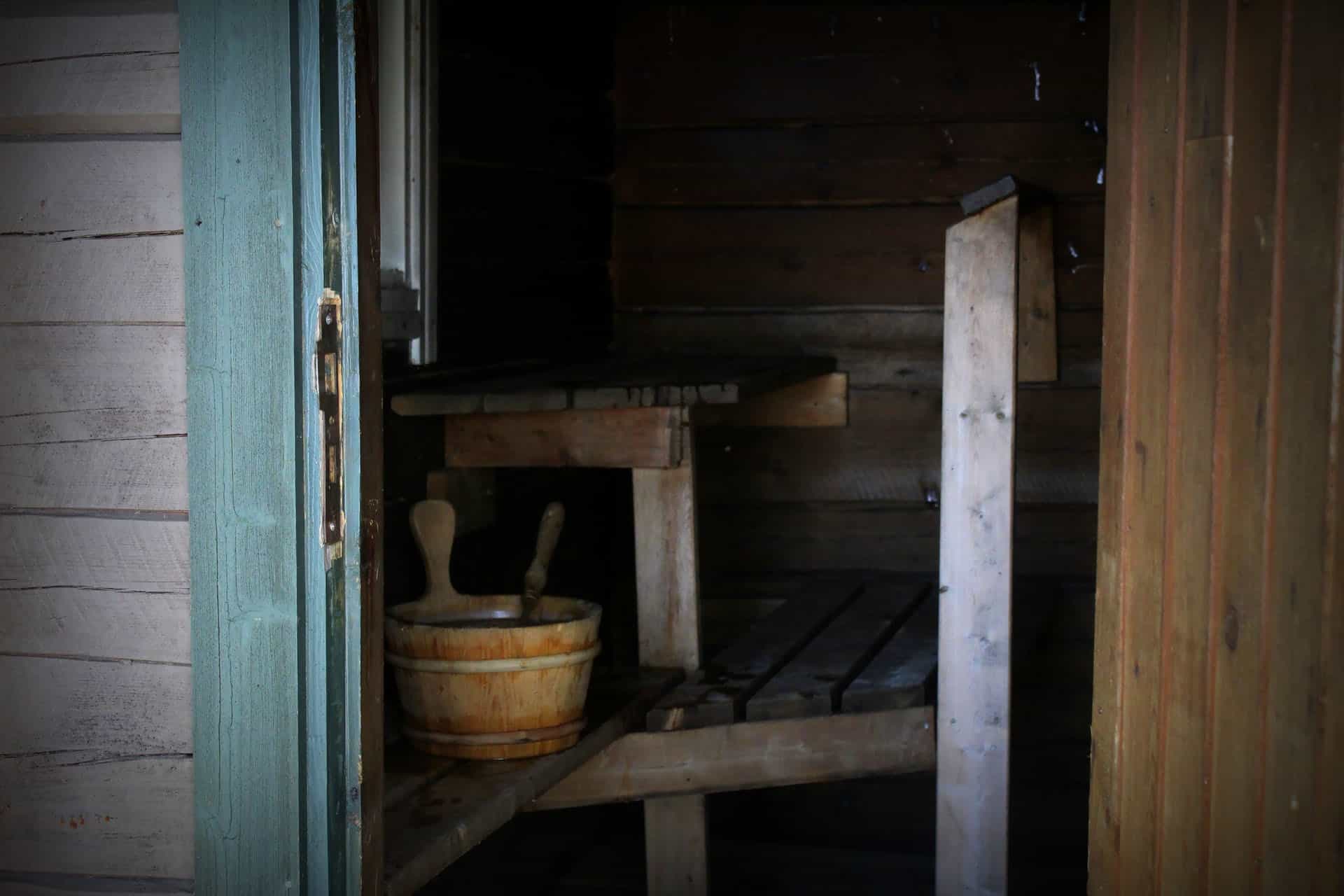 * use a towel or perfletti
The temperature in the sauna goes usually up to 80-100C, so if you want to avoid burning your bum, you better use either a towel or disposable tissue called a perfletti to sit on. The latter one is specially designed to tolerate heat.
* have a chat
Compared to public saunas we visited in Europe, here, in Finland, people talk about casual things (also to a stranger), which creates great, relaxing atmosphere. Sauna for Finns is a place where you socialise and have a good time, not meditate and suffer from the heat with your own thoughts.
* drink, drink, drink
In Finnish saunas, you lose a lot of water, so make sure you drink a lot of non-alcoholic liquids before, during and after the sessions. We filled ourselves with water and soft drinks, although, while enjoying steam, Finns will most probably offer you a beer or two, as it's one of the most common drinks to bring with you into the sauna.
* whisk yourself
This was the part we had to skip, since the birch trees from which we were supposed to make a vihta (sauna whisk), had started losing leaves at that time. Now it might sound that Finnish sauna is nothing but a sado-masochistic event, but to get the best out of it, it's highly recommended to whisk yourself or your friend with a bouquet of branches of a birch, eucalyptus or an oak tree to help relieve muscle and joint pain, release stress or heal your respiratory problems.
* no additional fragrance
There are no additional essential oils added to the water you pour on the stones or the stove. Pure steam and the smell of tar are what you'll smell during your sauna session.
* jump!
Finns know very well what they do if they build saunas near lakes. There is nothing better than jumping into cool water after using a hot room. You don't jump to swim in the cold water for minutes. It's enough to stay in the water until you feel refreshed, which might take only 30 seconds to a minute. Moreover, the more times you repeat this cooling-off procedure in the same day, the less cold you'll feel.
* wash up in the end
After all the sweating you do, you'll want to wash off all the dead cells and toxins that come out of your skin. One of most traditional ways in the smoke sauna is to mix hot and cold water from two huge buckets into a smaller one and then use a ladle to pour the water over yourself.
Join one of the local tours in Finland:
* go with a half-empty stomach
As with any sport or wellness activity, it's better that you only have a light meal before entering a sauna. You'll let your body get rid of toxins much easier that way.
 * know your limits
Make sure your first Finnish sauna experience will be not the last one. Don't overestimate your condition; do more short rounds in a hot room rather than a long one. Begin with a 10-minute round (or less, if you feel like it) and go refresh yourself in a lake, have a shower or roll in the snow afterwards.
* leave a shot of vodka for later
To have a shot of alcoholic beverage or mixed soft drinks with alcohol before or while sweating is really not the best idea. Not only because you might find it difficult to jump in a lake or find your way back to the sauna. Bear in mind what you drink is going to evaporate through your skin, and it's not very pleasant for the other people to inhale alcoholic fumes while detoxifying in the sauna.
In the end, enjoying a Finnish sauna is all about feeling great, and it's something you definitely shouldn't miss on your trip to Finland. Just keep in mind a few basic rules and go with the flow once you are inside. Remember, Finnish sauna is a neutral "territory" where we are all equal. And equally sweaty.
                                                                                                                                       Like it? Pin it!
Pack & travel:
Disclaimer: Our sweaty adventures were supported by Outdoors Finland and Visit Finland. All opinions and experiences are our own.