Tucked away in the "mostly ocean" part of the world is my home country, New Zealand. It is considered by many to be a dream travel destination. But, it takes most people in the world between 12 and 28 hours to fly there. So not a lot of people make it. You spend 4 of your holiday days travelling, you're going to want to make the most of those remaining days. So you're going to want to know where the best places to visit in New Zealand are.
Today I'll be your New Zealand travel guide as we travel from the very tip of the North Island over 1,600 kilometres (990 mi) to the depths of the South Island.
It's a country rich with stunning natural beauty. You can snowboard a volcano after breakfast, recover in a natural thermal bath on the way home and finish the evening with a sundown surf. All within 2 hours drive of one another.
So let me show you the best places to see in New Zealand from someone who's spent the better part of his life there. It's a truly magical country that will leave a lasting impression on anyone who is lucky enough to make it there.
If you are interested to know where to stay in New Zealand, we recommend some of the best hotels for different budgets.
When we travel, we book our hotels through TripAdvisor, one of the best websites to compare prices.
We also use a lot AirBnB to book local apartments. If you have never used AirBnB before, you can have a $40 discount for your first booking through this link.
Always make sure you travel with travel insurance! Be adventurous, but not careless.
Check out some of the most reliable insurance companies out there: True Traveller if you're European and World Nomads if you're from elsewhere.
If you love animals and you prefer going local during your travels, try housesitting, which is an amazing way to travel the world while taking care of the pets whose owners are on vacation. If you use TrustedHousesitters with this link you'll get $20 discount on annual membership.
Like it? Pin it!

Places to visit in New Zealand
North Island
We start on the North Island. Known for its world-class beaches, urban culture, geothermal activity and (or course) volcanoes, rest-assured, you're starting in the right place.
Chances are if you're booking a trip to New Zealand you'll arrive in Auckland. From here you can take a flight down to the South Island and join the other tourists doing the "Greatest Hits" tour, or you can rent a car and take the beautiful road less travelled, like the locals do.
That gets my vote. It's an incredibly fun way to explore this beautiful region and there'll be time to get to the South Island tiki tour later.
Bay of Islands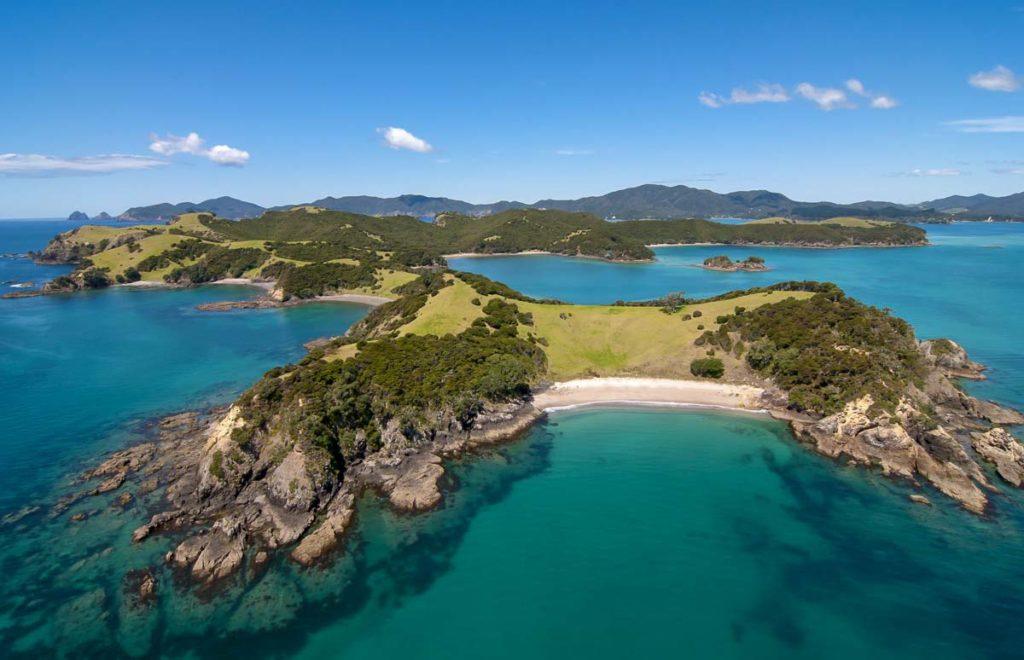 Three hours drive north of Auckland is the aptly named Bay of Islands. You'll start to realise that a lot of the best places in New Zealand either have a Maori name or are quite literally named after what they are. This is one of the latter.
The Bay of Islands consists of over 140 small islands to explore and to maybe even make one of them your home for the day!
There's plenty to do in the Bay of Islands. You could comfortably spend 1-2 nights here or even a week if you truly want to relax and soak in the surroundings.
There are walks, sailing trips, waterfalls, abundant sea life and some historic Maori landmarks that you can visit. When planning your trip, you will want to check ahead to see the weather forecast and look for places to stay near Kerikeri and Paihia.
Get inspired by more articles:
Hot Water Beach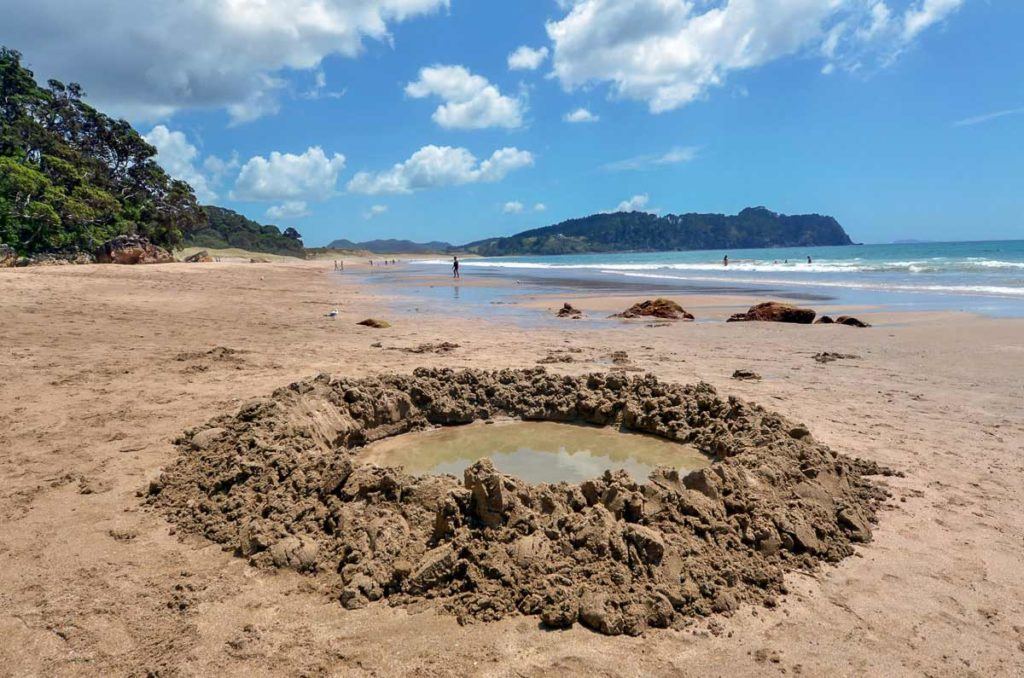 This gem is the eighth wonder of the world! Even if it might make you feel like Joe Pesci in "Casino", you should take a shovel to a beach and dig a hole somewhere along the shore.
The resulting pool will then fill up with warm water, bubbling from underneath you. You then mix in some of the Pacific ocean until the temperature is just right.
Then, just like that, you've got yourself a free hot tub with one of the finest views in the world. If you forget to pack a shovel on your trip from Europe, never fear, you can hire one from the locals!
Hot water beach is one of my favourite places to travel in New Zealand. It is situated in the Coromandel (2.5-hour drive from Auckland). It is close to Whitianga is you're searching for nearby accommodation.
It is also a fantastic surf beach that has an active lifeguard on patrol during summer. There are plenty of cafes and galleries nearby to visit and on the way out of town (5 min away) is Cathedral Cove, another absolute must see if you're in the area.
Tongariro National Park
As we move down to the centre of the North Island, all roads lead to Tongariro National Park. This is where we hide our active volcanoes. This National Park is a UNESCO World Heritage Site and one of the best places to see in New Zealand.
It covers around 800 square kilometres and encapsulates three active volcanoes, Mt. Ruapehu (2800m), Mt. Narahoe (2300m) and Mt. Tongariro (2000m). Each of which has grumbled at least once within the past 50 years.
The best way to spend your time here is to do the Tongariro Alpine Crossing. This is one of the best day walks in New Zealand, if not the world. This 19.4Km hike takes you past the summit of Mt Narahoe and across the cratered summit of Mt Tongariro.
If you are looking to do the walk, you should book accommodation in National Park (that's the name of the town, no joke) and make sure to get walking as early in the day as possible. 20 km might sound easy, but it gets daunting quick when you're at the bottom of a mountain.
Lake Waikaremoana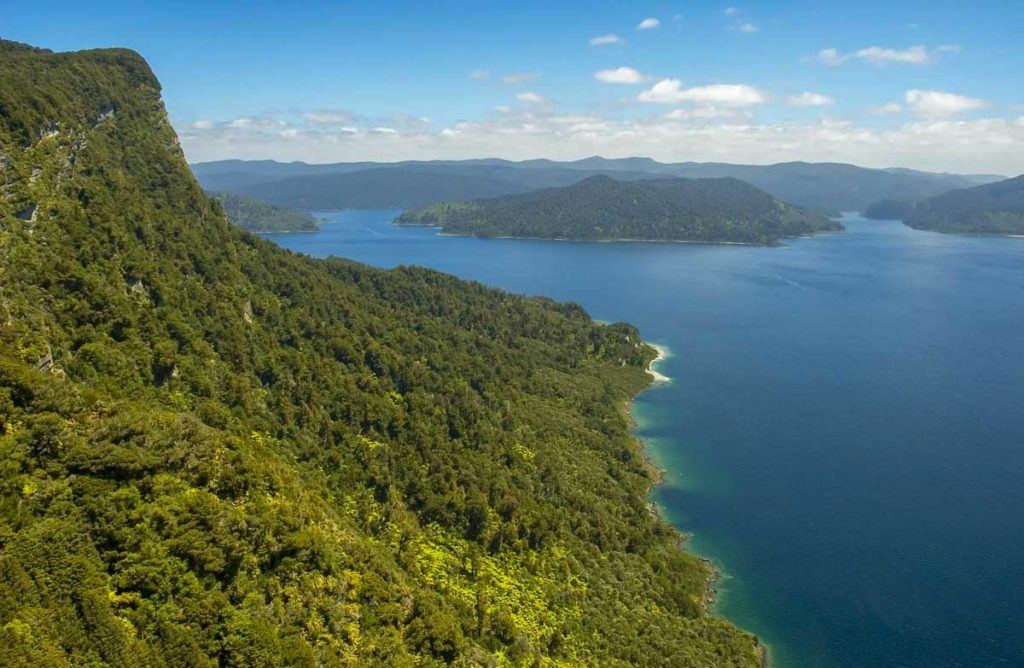 As we make our way across the North Island, we'll have one last stop at my favourite place in New Zealand. I've got a sneaking suspicion it will be yours too.
Lake Waikaremoana is home to one of the finest multi-day walks in New Zealand. The Lake Waikaremoana Great Walk is a 44-kilometre track that typically takes 3-4 days to complete.
Very few tourists make it here as the road in and out is largely unsealed and can make you pretty car sick. But, once you arrive, you are greeted to a view of the North Islands deepest lake (250m). It is filled with gin clear water and surrounded by lush native forest. If nature is your thing, you won't want to leave!
Pack and travel:
South Island
As we cross into the South Island, the volcanic activity slows down, but the stunning scenery keeps on keepin' on. If you have less than one week to spend in New Zealand, just book a flight to Queenstown and start driving around.
It's stunning – but – that's what all the tourists do. If you have a little extra time and want to see true beauty, check out these spots.
Abel Tasman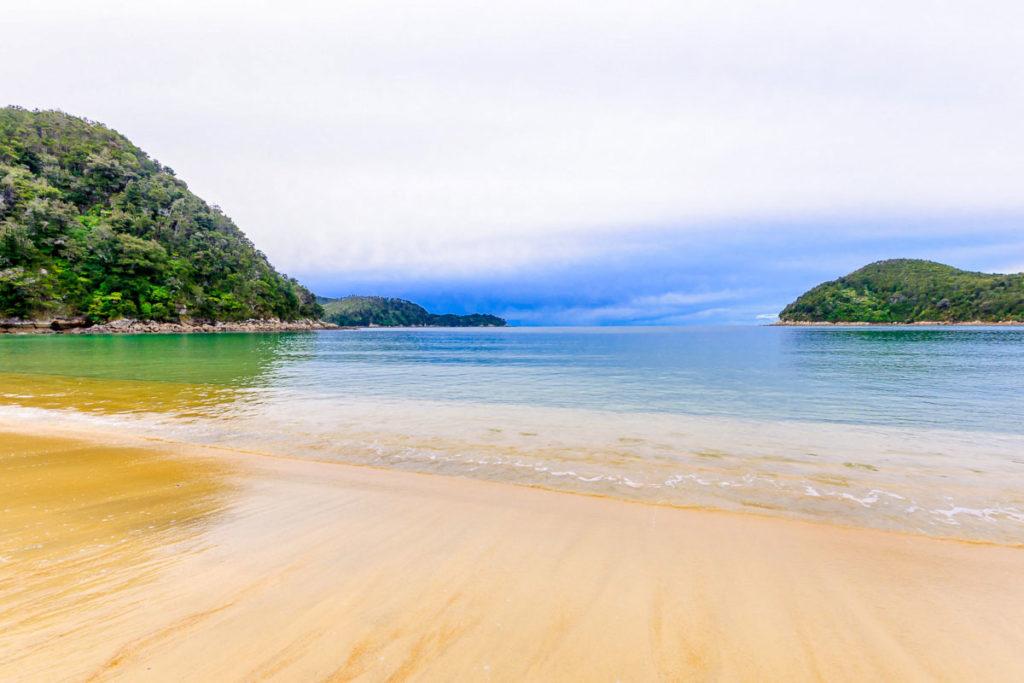 If I was to choose one place to spend the rest of my life it would be Abel Tasman national park. Located at the top of the South Island, this national park is another one where you'll need a chin strap to keep your jaw from dropping.
It's New Zealand's smallest national park but is filled with breathtaking landscapes. Golden sand beaches hemmed by cliffs and yet another world-famous walk for you to indulge in.
If you're planning on visiting Abel Tasman, you're going to want to book accommodation in Motueka.
From there, it's a short drive to the park where you can take incredible walks and sailing trips of the kind that you'll recount to your grandchildren on your deathbed.
Pancake Rocks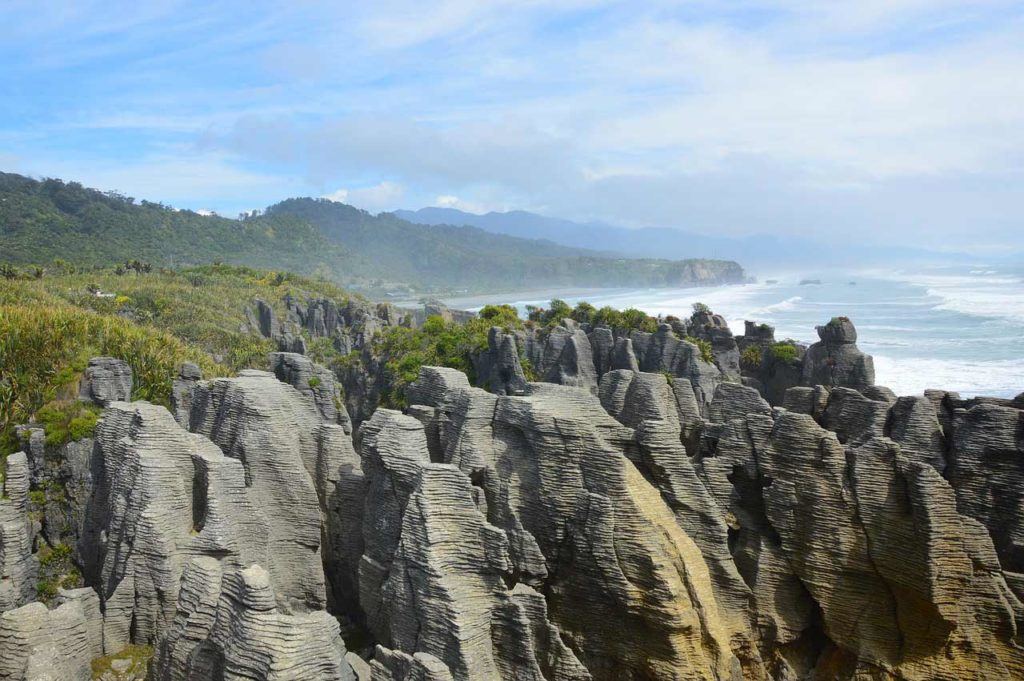 Punakiaiki Pancake Rocks is one of the few places in New Zealand that mix a Maori name with the "what it sounds like" name.
Here, you'll find a cluster of giant layered rocks that extend out of the ocean. Dotted in between these sea stacks are impressive blowholes that are best visited when the seas are rough.
You can park your car and take a short 20-minute walk that will blow you away. Pun intended. It is located at near the small settlement of Punakaikim, a 50-minute drive south of Westport that is a must visit.
Just make sure to check that it is high tide when you are there and check the swell forecast, if it is over 2 metres, you're in for a treat!
Lake Pukaki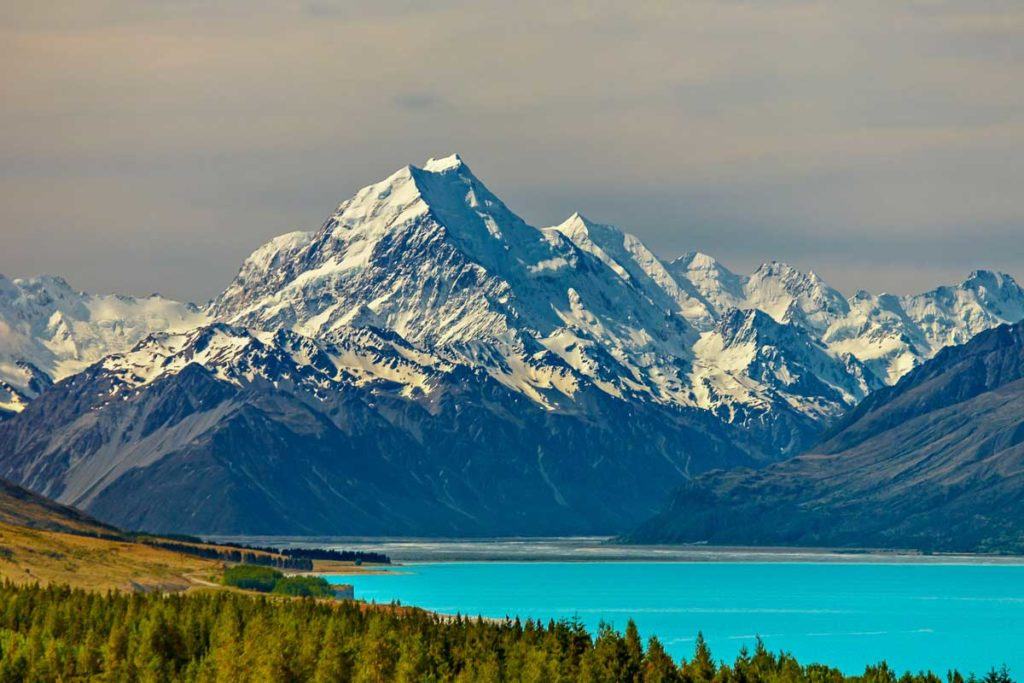 There are a lot of lakes in New Zealand but one stands out amongst the rest. Lake Pukaki is one of the largest in the South Island and is filled with glacial meltwater.
This gives the lake an extraordinary pastel blue colour that seems to defy reality. As you look across Lake Pukaki you're greeted by world-class views of New Zealand's tallest mountain Aoraki / Mt. Cook (3760m).
It is an easy stop to make on your way down through the South Island. Situated along State Highway 8 you can't miss it.
There are a number of small accommodation options at the foot of the lake, or you could head into the nearest town of Twizel if you need a break from nature. Lake Pukaki is without question one of the most beautiful places to go in New Zealand.
Te Anau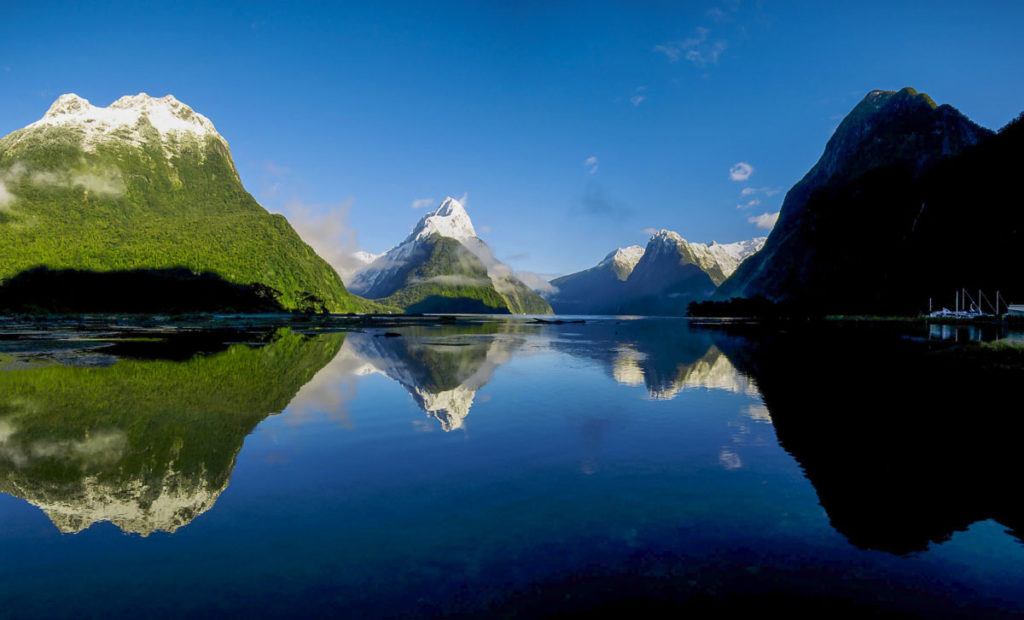 Saving the best for last, Te Anau is one of the most understated towns in the world. It is the gateway to the Fiordland National park which includes Milford Sound, Te Anau Caves, Doubtful Sound – which sounds like a 80s synth pop band, I know – and is close to the start of the world renown Milford Track.
There are a number of accommodation options here, as it is one of the tourist hotspots in New Zealand, and for good reason. You can take a short, 2-hour drive from Queenstown to Te Anau and use that as your base to explore this beautiful corner of the world.
If you can only visit one place in New Zealand, you'll want to come to Te Anau.
Final words
So that's it, my rundown of the best places to visit in New Zealand. It's a truly fantastic country that everyone should try to visit at least once. There, you'll be treated to stunning nature on your journey from tip to tail.
I hope that this short guide could plant a seed in your mind and get you thinking about taking that flight to New Zealand. Trust me, it's worth it!
Get inspired by more travel articles:
Do you have a burning travel question? Join our Nomad is Beautiful travel community on Facebook and ask experienced travelers!