This digital nomad guide to Thailand will teach you everything you need to know about settling in to the country. From groceries and laundry to mobile data and co-working spaces, this guide's got you covered.
Digital nomad guide to Thailand: taking your first steps
First let's talk about the cost of living in Thailand. It's important that you have the right expectations so you know exactly how much to save and what kind of lifestyle you'll live on.
This guide is ideal for digital nomads who plan on living in Bangkok, or living in Chiang Mai.
Cost of living in Thailand
The cheaper cost of living is one of the main reasons why digital nomads choose Thailand. It's easier to set up a business or side project without sacrificing lifestyle thanks to goods being more affordable in Thailand.
For a big city, the cost of living in Bangkok isn't outrageous. And the cost of living in Chiang Mai is a little sweeter if this is your first rodeo.
However, don't make the mistake of not budgeting ahead. It's already challenging enough to move to an entirely new country. You want to be prepared for whatever unexpected expense might come up.
How much money you want to prepare before moving here depends on your level of comfort. Are you comfortable with just having a $1,000 in your pocket while here? That's equivalent to more than 30,000 baht in Thailand which can last you at least a month and half and would include rent, food, transportation, and some leisure.
If you're really thrifty, $1,000 might even last you two months but then again, it's all about comfort level. Decide how much you are comfortable living with and work with that.
Here's a sample breakdown of the daily costs you'll incur while living as a digital nomad in Thailand:
Mobile data (monthly) – 800 baht
Apartment (monthly) – 5,000 to 50,000 baht
Taxi (1 km) – 10 baht, base rate is 35 baht
Train pass (monthly) – 1,100 baht
Coworking space (daily) – 300 baht
Meal at an inexpensive restaurant – 40 – 60 baht
Meal at an expensive restaurant – 400 to 600 baht
Water (1 litre) – 20 baht, 1 baht (from the water filling stations)
Coffee – 80 to 120 baht
Beer (500ml) – 50
Gym membership (monthly) – 1,100-2,000 baht
Shampoo (400ml) – 55 baht
Toothpaste – 55 baht
Toilet rolls (6 pack) – 79 baht
Deodorant – 30 baht
Cinema – 200 baht
Cigarettes – 120 baht
Moving to Thailand
Before moving to Thailand, figure out first how long you will be staying.
Weeks? Months? Years?
This is important because it will determine what kind of visa you will need to be able to stay in the country for long periods.
(Hint: Get your first visa in your home country, you won't be able to get much more than a single entry visa once you're in Asia -unless you've got a lot of extra capital for an METV).
It'll also help you pack smarter. If you plan to stay longer, it may not be worth it to bring so much clothes and toiletries since you can buy most of that stuff at a cheaper price in Thailand.
If you find yourself staying in Thailand beyond the allowed number of days of your first entry, you can extend it by visiting the immigration office in the city you're in. Make sure that you apply for an extension before your current visa expires otherwise, you'll be paying a hefty late fee of 500 baht per day. Ouch!
These are the addresses of the immigration offices in Bangkok and Chiang Mai:
Bangkok Immigration Office
Immigration Division 1 Office
Chalermprakiat Government Complex
Chaengwattana Rd (soi 7), Laksi, Bangkok.
Chiang Mai Immigration Office
G/F, A Building
Promenada Resort Mall
Tambon Tasala, A. Muang, Chiang Mai
How to save money in Chiang Mai, Thailand
Check out this infographic Mike put together on Hobo with a Laptop – it's for Chiang Mai, but much of it applies to the entire country.

Taking care of your basic needs
Apartment
There are plenty of apartments, condos, and living spaces to choose from in Thailand particularly in digital nomad dense cities like Bangkok and Chiang Mai. It's all a matter of picking one that best fits your needs. We are all different and what may be the perfect place for you might be a nightmare for someone else.
Before picking an apartment, write down your list of priorities e.g. near a grocery store, coworking space, has a kitchen, walking distance from the BTS, etc. Writing down what you're looking for in a living space will help narrow down your choices because trust me, there will be plenty of options to choose from. You want to prioritize places that meet you needs and budget.
Once you have listed down your non-negotiables, it's time to do some apartment-hunting. The best place to start doing that is through the Internet. A quick Google search will give you thousands of results for apartments in the city that you will be living in.
You can also join Facebook groups where property owners list their place if they have an available room, apartment, or condo for rent.
Rent Buy House Apartment Condo Chiang Mai
Then there's digital nomad Facebook groups where you can ask fellow nomads on where to find apartments. Some of these members have stayed in the city for years so you'll be able to get some good insight on the best areas and neighborhoods to live in.
Bangkok Digital Nomads
Chiang Mai Digital Nomads
There's also search engines in Thailand specially designed to list only apartments and residences for those who are interested in renting:
9Apartment
Hipflat
Perfect Homes
Then there's Craigslist. It's a more known website and has advanced filters that helps you find that one perfect place that fits your budget and style.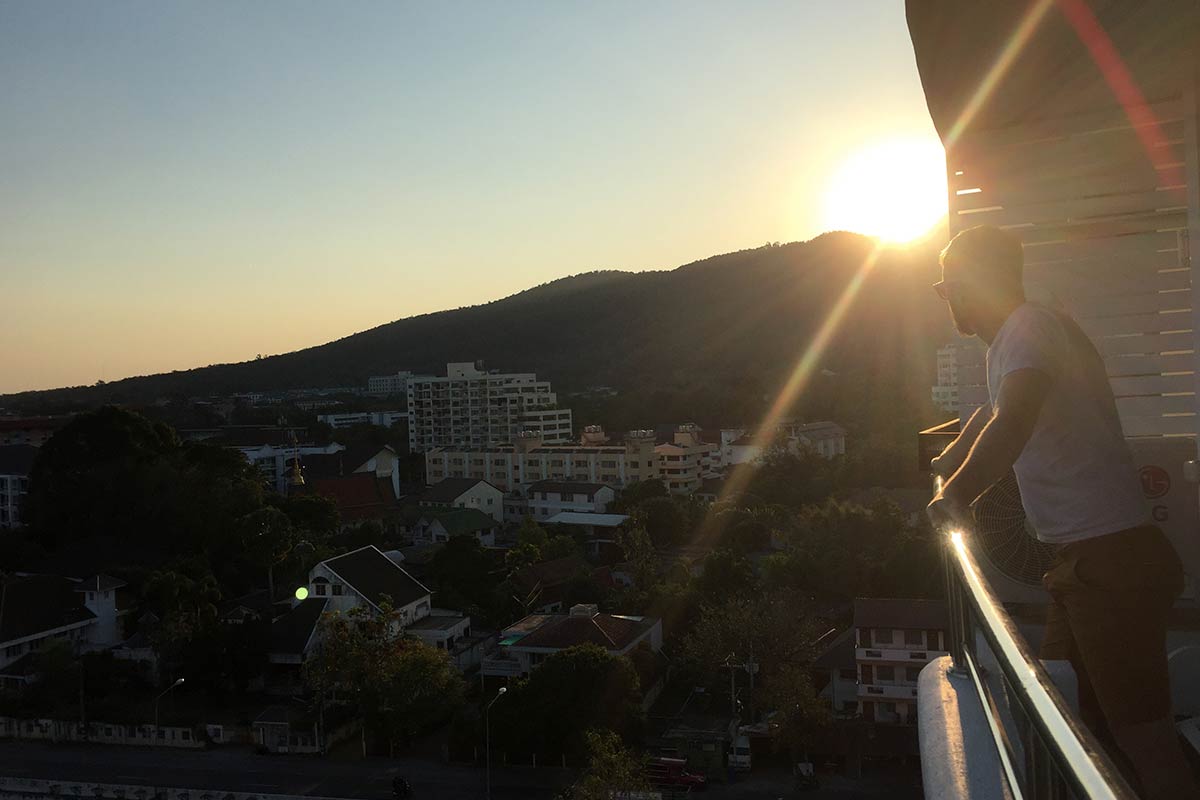 We usually begin researching for places at least two weeks before we arrive at a new place. I will scour the internet for potential places we can stay at and take note of the location, address, and phone number. This will come in handy later when we we're ready to see the place in person. The listing photos will not always be accurate so it's best to see the location and place before putting down a deposit.
Then, when we arrive at the new place, we stay at a hotel for a few days or a week before settling into an apartment. This gives us time to feel out the place first and see which location works best for us.
The funny thing is that after having done all that extensive research on the internet, we always end up someplace with a better deal that was never part of our list. Call it fate, I don't know. But for some reason, it just always works out. But if you're OC like me, it never hurts to do some research ahead of time. That way, you know exactly what to do and where to go the moment you land in Thailand.
Transportation
Tuktuk
For short-distance travels, you have tuktuks. They're found everywhere in Bangkok and Chiang Mai and carry at most 3 passengers.
Songthaew
A songthaew is a small pickup truck which can accommodate more people (10-15). To make a stop, simply press on the buzzer on the roof of the vehicle and the driver will stop for you. Fares for songthaew start at 10 baht.
Bus
There are two types of buses in Thailand: ones owned by the government and ones that are run by private companies. These travel on longer distances and if you'd like to travel city to city, you can ride one of the VIP or sleeper buses which has more legroom to accommodate longer periods of sitting.
Train
Thailand has a series of railway networks that run throughout the country. You can easily get to one city to another for just a couple hundred bahts. For example, riding the overnight train from Bangkok to Chiang Mai will only set you back 800 baht. It's a great way to travel and see the country's rural areas.
Taxi
Taxis in Thailand run by meter starting at 35 baht and then increases by 2 baht for every 2 kilometers passed. In some places where taxis are rare, drivers will ask for a fixed price which is often way too high than what the real price should be. Always agree to use the meter before getting in the taxi.
Certain cities will have Grab available too. So if you'd like to get a ride conveniently, just download the app and book away.
Motorcycle taxi
An alternative to beating the heavy traffic in urban cities is the motorcycle taxi. Rates can range from 10 to 100 baht, depending on the distance.
Motorcycle
For places where taxis are not as common, you can rent a motorbike on a daily or monthly basis. Most of these motorbike rentals will require a passport or a certain cash amount (1000 baht) as deposit. Rates for renting a bike daily start range from 120 baht (automatic) to 600 baht (off-road). However, if you rent a motorbike monthly, you can get discounts and get the bike for as low as 3,500 baht (automatic) or 10,000 baht (off-road).
Food and groceries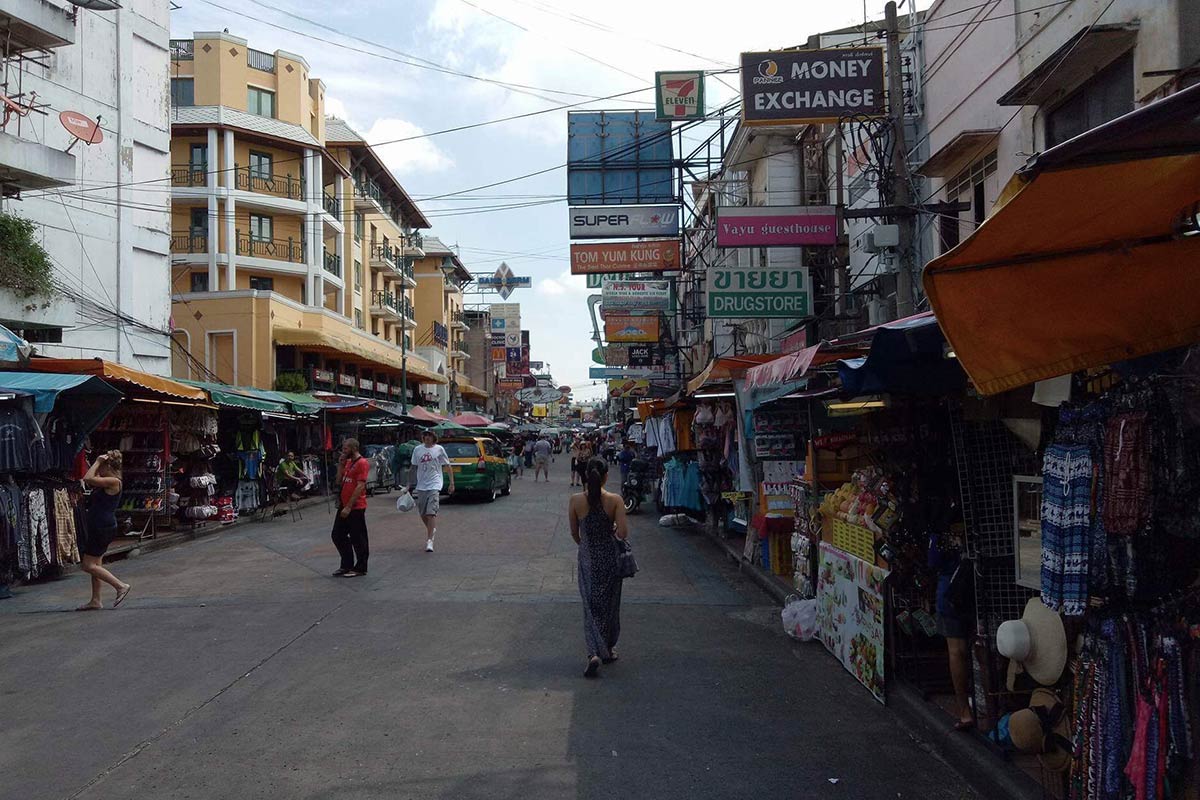 Food in Thailand is wonderful. You won't have a hard time looking for a favorite food spot no matter where you may be located. There are cheap food stalls everywhere, each serving delicious meals that'll satisfy the foodie in you. Vegetarian? No problem. The country is also known for serving vegetarian-friendly meals that are just as satisfying.
You'll also have access to other cuisines such as American, Burmese, Italian, Chinese, Mexican, Japanese, and more.
If you prefer cooking at home, you can buy your goods at local Thai markets. There will be at least one in your neighborhood so keep an eye for those. These places are great for buying cheap produce and meat. If you can't find one in your area, there are also supermarket chains which offer a comprehensive selection of foods at budget-friendly prices.
Big C
A one-stop hypermarket which has everything including housewares, electronics, and more.
Tesco Lotus
Tesco Lotus has both large and small, express locations which offer a variety of Western and Thai goods.
Makro
Makro is great for buying items in bulk.
Foodland
Foodland sells goods from the UK, US, Australia, New Zealand, Germany, and more. Known for their superb meat department.
Tops Market
Top Market offers mostly Thai food along with a variety of Western favorites.
Maxvalu 
A 24-hour Japanese supermarket offering a range of options including produce
If all else fails, you can always go into one of the thousands of 7-Eleven and Family Mart sprawled across cities like Bangkok, Chiang Mai, Phuket, and Koh Pha Ngan . Thailand convenience stores stay true to their name in a sense that you will literally find everything in there.
Laundry
Most apartment complexes will have their own laundry service. They can be more expensive compared to regular laundromats but really, you're just paying for the convenience.
If you don't mind stepping out, a quick search on Google Maps will show you several laundry service shops that will take your laundry for a cheaper price.
These places charge by piece (around 10-20 THB) or by kilo (40-50 THB), and will already include wash, dry, and fold. You can drop your laundry off and pick it up the next morning. Some will even deliver it at your residence (for a additional fee of course!).
Another option is to do it yourself at one of those coin-operated self laundry facilities (30-40 THB). These places won't show on Google Maps but you are sure to find one within your neighborhood.
Simply put your clothes in the drum, add the detergent powder (10-15 THB), and then put in 10 THB coins in the slot. You can then leave your laundry and come back for it later or just wait there and kill some time.
The only problem with these places is that they don't have a dryer so be sure there is some place in your apartment where you can hang your clothes after washing them.
Water
Avoid drinking tap water in Thailand and opt for bottled water instead. You don't need to haul in large batches of bottled water but instead, you can have large jugs of water delivered to your place. Most vendors will deliver this on schedule or refill it whenever you run out.
The most common way to get water using these jugs is through a water dispenser but sometimes that can be a challenge especially if you are a female living alone. The delivery guy will be happy to do it for you but if they're not around, you can use a water pump.
Mobile data
Thailand has pretty good internet connection across the country. Most food establishments, malls, and hotels will have a Wi-Fi connection that you can connect for free or for a small fee.
However, if you just arrived in the country, the best way to enjoy consistent, stable internet connection is by subscribing to an internet plan. Currently, there are hundreds of plans offered by top mobile operators in Thailand. Don't worry. We'll help you pick the best one later.
There are three big cellular companies in Thailand to choose from: True, AIS, and DTAC. AIS is known for providing consistent 3G/4G signals anywhere in Thailand, even on the islands.
True is also great since they have Wi-Fi networks available in big malls, cafes, and airports which you can access for free. DTAC tends to have more expensive plans but they have great coverage and offer fast internet speeds.
To get started, get your SIM card (49 baht) from the airport, the mall, or one of the many 7-Elevens in your area. The teller will assist you in setting up your SIM card. Take note, you will be required to show your passport when buying a SIM. Also, don't forget to indicate what size of SIM card you need. SIM cards in Thailand come in three sizes: normal, micro, and nano.
Now it's time to sign up for a plan. Most tellers will try to sell you on the tourist sim card but this only lasts for a week or two. The best package to get are the monthly plans. These offer more data which gives you reliable internet anywhere you go.
Plans can range from 199 baht to 599 baht. It all depends on how much data you think you need. If you're a heavy Internet user, you may want to opt for the most expensive plan.
However, most people can get by with the 399 baht plan which already offers around 2.5 GB to 4GB of data.
AIS 4G Plans
DTAC 3/4G Plans
TrueMove's 4G Plans
Prices of data plans depend on how much data you need and at what speed. Don't stress too much about getting the perfect plan. If you're about to run out of data, the provider will notify you so you have time to top up.
This is where you add more credit on your phone to get more data. You can get this done at convenience stores, phone kiosks, or directly from the official store of the mobile operator. Whenever possible, connect to the Wifi provided in establishments so you can save data.
If trying to get work done in a cafe that doesn't have Internet, no worries. You can simply tether your device to your smartphone. Just go to the settings on your phone, search for "tethering", "hotspot", or "transfer data". Once turned on, you can now use the internet.
Medical care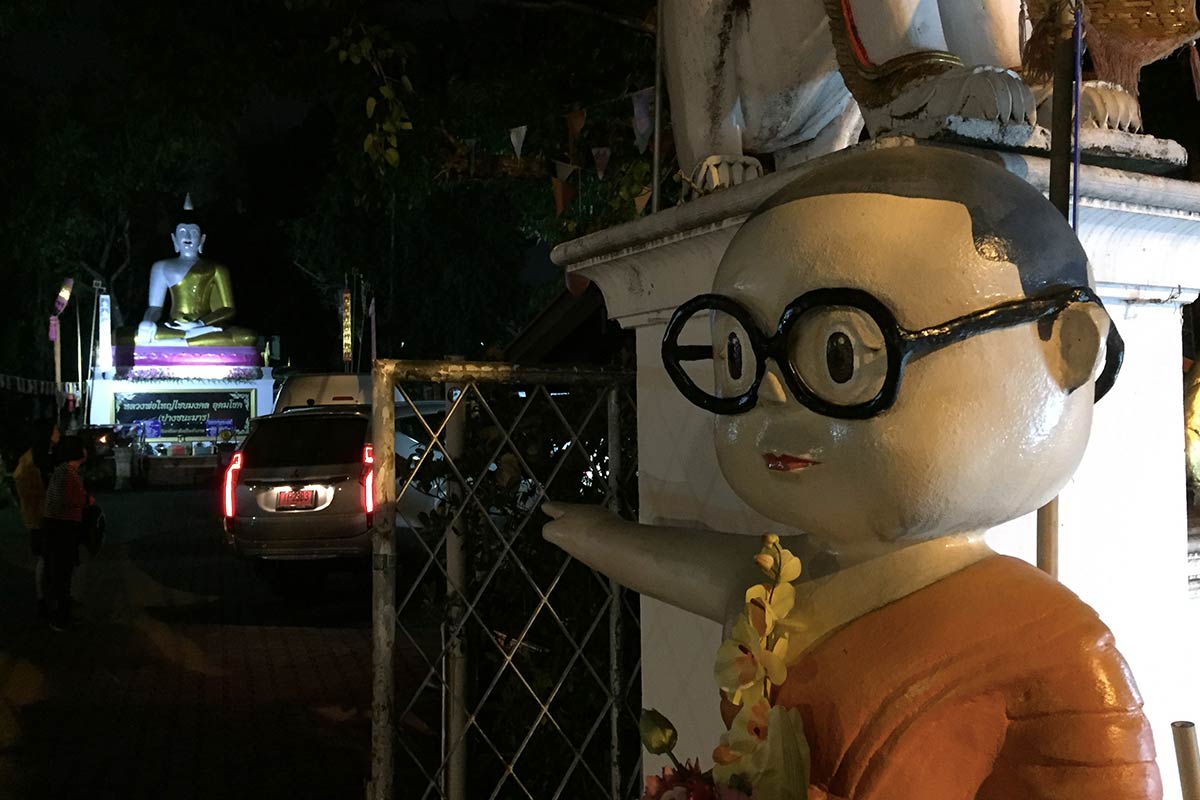 Lower costs for treatments are another reason why many westerners visit Thailand. If you plan to live here as a digital nomad, it's worth looking at reputable hospitals within the city you will be living at.
Here's a list of great hospitals in Bangkok:
Bumrungrad International Hospital – has the best facilities across Southeast Asia and staff are multi-ethnic which can mean, they only hire the best of the best, regardless of race
Bangkok Hospital – part of a network of hospitals across the country and has state-of-the-art equipment
Siriraj Hospital – the largest hospital in the city and is the official hospital of the Thai Royal family. This place holds up to 2,000 patients and offers specialized treatments
Yanhee General Hospital – is more well-known for their cosmetic procedures; all staff in this hospital can speak English
Samitivej Hospital – one of the best hospitals in Thailand that's able to perform advanced, complex surgeries
And here are some great hospitals in Chiang Mai:
Chiang Mai Ram Hospital – has several locations in Chiang Mai with most of the staff able to speak English
Bangkok Hospital Chiang Mai – offers a wide range of specialized services and has been accredited by the Joint Commission International
Sriphat Hospital – one of the popular hospitals in Chiang Mai offering a range of medical services at friendly prices. Less waiting time here since the hospital is staffed by over 200 medical professionals who can accommodate you even without an appointment.
Lanna Hospital – a hospital with English-speaking staff and airlift facilities for patients that need to be transferred to other hospitals in Thailand. They also specialize i obstetrics and gynecological services.
Rajavej Hospital – the hospital features state-of-the-art diagnostic facilities and is staffed by over 40 medical professional
How digital nomads get things done in Thailand
Co-working spaces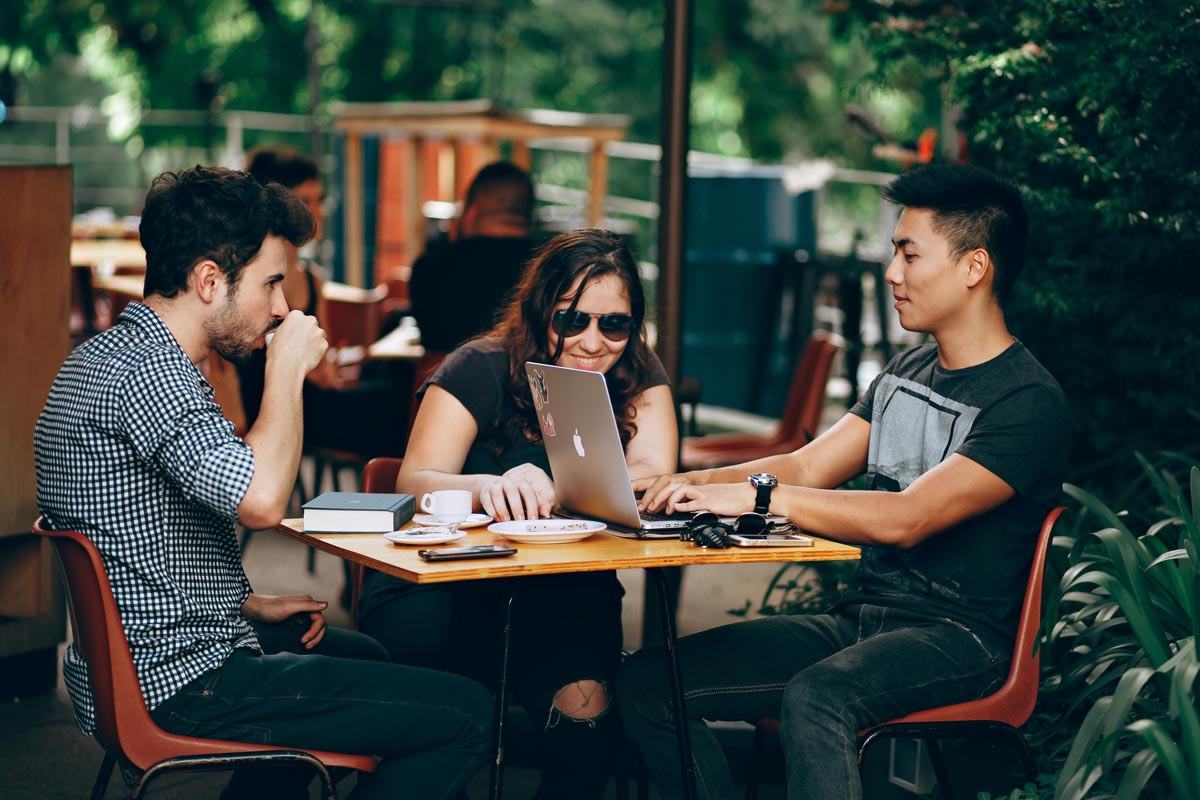 Due to the huge influx of digital nomads coming to Thailand, it's not surprising to see many coworking spaces popping up in every corner of a major city. Even in certain islands like Koh Phangan, Koh Samui and Koh Lanta, you will find coworking spaces available for expats.
The obvious benefit to working in these places is the great high-speed internet. You also get to meet a lot of like-minded people. Working in your home or apartment in Thailand the whole day can get too monotonous so coworking spaces serve as the perfect alternative. You get a change in scenery and network with people who are doing the same exact thing as you.
Each coworking space is different. Some have private rooms for Skype calls, some offer unlimited free coffee, and there's also ones that open for 24 hours. Here are some coworking spaces in Bangkok and Chiang Mai to help you get started.
Coworking spaces in Bangkok
Hubba
299 baht per day, 2,990 per month.
Hubba is one of the first coworking spaces in Bangkok. Since then, it has expanded and has now two more locations in the city each having their own lounge area, bean bag chairs, meeting rooms, and an outdoor terrace. They also have extra additions to help you unwind such as a boxing bag, a trampoline, and even shower rooms!
Wolf
290 baht per day/5,200 baht per month
Wolf is one coworking space that is more suited for digital nomads. It has comfortable chairs, free coffee, kitchen, an outdoor terrace, and a library. Everything about this place has been designed to make the everyday digital nomad productive.
The Hive
250 baht per day/5,500 baht per month
The Hive is a coworking space set in a 6-storey loft-style building. All the office basics are available here with the added bonus of a rooftop bar and garden in case you want to grab a drink after a long hard day's work.
Draft Board
250 baht per day/5,900 baht per month
Draft Board is an industrial-inspired coworking space that's mainly targeted towards designers and creative freelancers. You can easily collaborate with other freelancers thanks to its open-space concept complemented by natural light.
Launchpad
260 baht per day/5,400 baht per month
Launchpad is a huge coworking space boasting 20mbp/s high-speed internet. They have ergonomic chairs, bean bags, private offices, and a recreation area. There is also a coffee shop selling a variety of caffeinated drinks and sweet pastries.
Get inspired by more travel articles about Thailand!
Coworking spaces in Chiang Mai
Punspace
289 baht per day/ 3,899 per month
Punspace is one of the most popular coworking spaces in Chiang Mai featuring three locations that are all open 24 hours. They have plenty of comfortable chairs and lockers where you can leave your belongings. In addition, they also have complete office equipment, a meeting room, and webcam.
CAMP
CAMP is a cross between a cafe and a coworking space. It's sponsored by AIS, so you can be assured that you'll enjoy stable internet all throughout your time here. They have an ample number of desks and chairs as well as a library and outdoor terrace. If you want to feel more at home, you can sit on the floor cushion or lean in one of the wooden steps. You only need to purchase anything above 50 baht from their cafe and you can use their Internet for two hours.
The Brick Startup Space
250 per day/3,700 per month
The Brick Startup Space is one of the more sophisticated coworking spaces in Chiang Mai featuring sleek furniture and comfortable chairs. They have three meeting rooms, a snack bar, call room, and lockers. It's easy to meet like minded people here since they do community events every month.
Yellow
For digital nomads, remote employees, and traveling IT expats, Yellow Connect provides shared and private office spaces, conference rooms, event spaces, soundproof Skype booths, YouTube streaming rooms, recreational zones, and other co-working amenities.
For digital nomads, remote employees, and traveling IT expats, Yellow Connect provides shared and private office spaces, conference rooms, event spaces, soundproof Skype booths, YouTube streaming rooms, recreational zones, and other co-working amenities.
The ones I mention here are considered to be the top in their respective areas. Of course, where you work will depend on your location and preferences. Personally, we like ones that are near our apartment.
The one you find may not necessarily be a part of this list. What is more important is that your budget allows it and you are happy with the amenities offered by the coworking space. It pays off when you can be productive without interruptions.
In Conclusion
That sums up our digital nomad guide to Thailand. I hope the tips we provided here will help you expedite the process of you settling to work as a nomad in this beautiful country.
Got any more insights about living here as a digital nomad? Share your thoughts in the comments below.
Like it? Pin it!