Costa Rica is a destination that can surround you with rainforest, beaches, river valleys, and biodiverse wildlife. When visiting Costa Rica it is hard to decide between the jungle adventures or the beach vibe. Why not do both?
You can choose this as your itinerary or take pieces of this to create your own. Either way, you will fall in love with Costa Rica.
If you are looking for a place to stay on your next trip, we recommend some of the best hotels for different budgets.
We researched our information on TripAdvisor, Booking.com and HotelsCombined where you can compare some of the best deals when booking a place in Europe.
Always make sure you travel with travel insurance! Be adventurous, but not careless.
Check out some of the most reliable insurance companies out there: True Traveller if you're an European and World Nomads if you're from elsewhere.
If you love animals and you prefer going local during your travels, try housesitting, which is an amazing way to travel the world while taking care of the pets whose owners are on vacation. If you use TrustedHousesitters with this link you'll get 25 off on annual membership.
Like it? Pin it!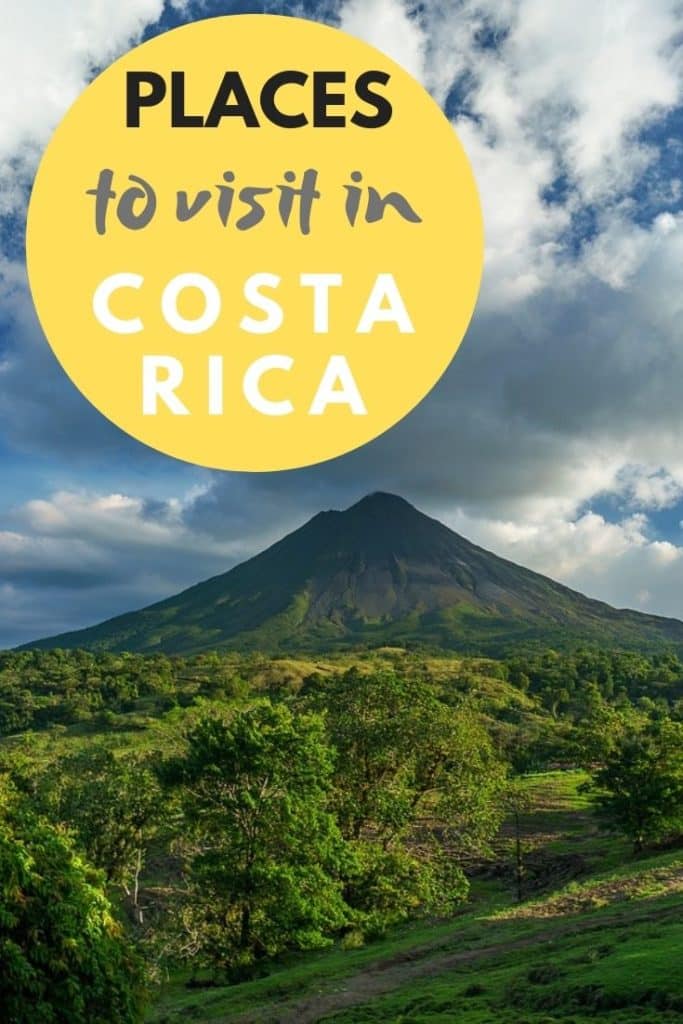 What to do in Costa Rica
La Fortuna
La Fortuna is about 3.5 hours from Liberia or San Jose airports. La Fortuna is known as the adventure capital, offering rainforest and volcano experiences. It is easily accessible, very tourist friendly and has a wide range of adventure activities.
Arenal Hanging Bridges Park
The Mistico Arenal Hanging Bridges park was created by a native La Fortuna couple and then opened to the public as part of an eco-tourism project. The hanging bridges can be experienced on your own, or you can opt for one for the many group Costa Rica tours
A self-guided tour of the bridges is roughly $25/per person.
The trail is 2 miles long and consists of 16 bridges, a tunnel, and a waterfall, taking about 1.5 hours at a pace including some excitement. The tours of the bridges will take longer. Being in the canopy of the rainforest produces an awesome view. Standing on swaying bridges, looking out over the trees and skyline is beautiful.
Read more travel articles:
Arenal Oasis Frog Night Tour
A private naturalist walks you through the jungle paths at nightfall. You will have the opportunity to see glass frogs, leopard frogs, red eyed tree frogs and an eye-lash viper snake (which is extremely poisonous!).
This is the only frog sanctuary in the area. The Rojas Bonilla family maintains the native plants of Arenal to create the habitat needed for frogs in their private wildlife reserve. There are 28 frog species that have made their home in these ponds.
Mi Tierrita is a restaurant on the property of Arenal Oasis Eco Lodge & Wildlife Refuge. Frogs are nocturnal so you will be here at night, making this a very convenient dinner stop. At Mi Tierrita you can taste delicious Costa Rican dishes with a taste of local cuisine that includes many organic ingredients.
Check out some local tours in Costa Rica:
Proyecto Asis Wildlife Institute
The Proyecto Asis Wildlife Institute rehabilitates wild animals who have been injured, who are sick, poisoned or confiscated as they are kept as illegal pets. The animals are cared for until they can be released. In such cases that they can not be released, the animals remain at the shelter.
The shelter provides many volunteer opportunities to the public, from a 2 hour tour to a "homestay" where you and your family will volunteer for a day at the wildlife sanctuary and then stay with a local family.
We were part of the 3 1/2 hour tour and volunteer program. Our guide was enthusiastic and informative. It was obvious he had spent a lot of time with each individual animal and was passionate about his work. All of the volunteers helped in preparing the food for all of the animals.
On this tour you are able to go into the cages of many different animals to feed them. The guide provided a background of each animal and a different individual was chosen to go in to care for this animal at each cage. This was an educational and hands-on activity for any age!
Power Wheels Adventure ATV Tour
The Power Wheels Adventure ATV tour is a 100% off road, private adventure tour. The guides will custom design your tour based on your ages and desires. You can choose between various locations, length of time, and how covered in dirt you wanted to be by the end.
You can choose between waterfalls, rivers, and private farms. A private farm of over 4000 acres in the foothills of the Arenal Volcano is available for any tour where you will find cattle, sleeping sloths, and poison dart arrow frogs. Power Wheels Adventure ATV offers 7 different tours ranging from 2 hours to an all day Venado Caves tour.
Nosara
Nosara is a popular destination among surfers, yogis, and nature lovers. Located in the Nicoya Peninsula it is considered one of the 5 blue zones of the world. Nosara has consistent surf, many towns, and beautiful beaches.
See more local tours in Costa Rica:
Sea Saw Fishing
The fishing boat leaves from Playa Garza which is about a 25 minute tuk tuk drive from Playa Guiones. Sea Saw Fishing arranges to meet at a local grocery store near the beach. Juri will meet you with his green pick up truck and smile.
Pass through a local property to a beautiful beach with about 10 fishing boats anchored off shore. A small boat with an outboard engine will pick you up and drive you to Juri's boat where his mate is waiting for him.
Juri captains the boat while Dari takes care of rods and bait. Juri goes out of his way to build confidence in his groups' fishing skills. If you stay near shore, you will catch black tuna (skipjack), mahi mahi and jack cravalle. Bring your fish to Pacifico Azul restuarant for Chef Carlito to cook it for your group.
Get inspired by more travel articles:
Playa Ponies
Playa Ponies is a family owned and operated business. Playa Ponies offers vacations, tours, retreats, horse boarding, and riding lessons. You can choose between a guided 2 hour tour, 1.5 hour tour, and half day tour. The guides will match your riding skills and size to a specific horse. You will walk through the jungle monkey trails to the beaches.
The shorter tour takes you to Playa Pelada while the longer tours will pass through 3 beaches. You can customize your tours to stop for gelato or even cerveza on the beach.
Sibu Sanctuary
SIBU sanctuary, a 50 acre jungle preserve, takes injured animals into their care to provide a permanent home with ongoing care if needed, or a place to be rehabilitated and released back into their natural environment. Deforestation and development has caused many injuries to wildlife due to electrocution and being hit by cars. SIBU Sanctuary offers around the clock care through the founder, Vicky, and volunteers.
SIBU Sanctuary provides tours to the public. You can not touch the animals but will get a detailed history of the animals and how they are cared for. This is such an inspirational place!
Have fun on one of the local tours in Costa Rica:
Where to stay in Costa Rica
Rancho Margot is an amazing 400 acre self sustainable ranch that was started by Juan, a former fast food CEO. All the furniture is made on site, the food is grown and raised there, waste is composted and used as fertilizer as well as turned into soap, the electricity comes from hydroelectric generators, and the roofs are all living. If you fly from above you can't even see the structures!
The tour of the property is amazing and inspirational. The tour demonstrates all the work that is done to keep the ranch sustainable and off the grid. There are opportunities to live on the ranch to learn Spanish while working.
Although the bungalows are private, there is a family feel to this special place. Most of the people who live there, work there and are eager to speak with you at all the meals they help in preparing. After the local school lets out, some locals bring their kids for a soccer game which you have the option to join.
The Gilded Iguana is the original surfer spot since 1988. It has been recently updated to include beautiful pools, bars, restaurant, yoga, surf club, and contemporary hotel rooms. Upon arriving at the hotel, you will be greeted with fresh coconut water and a tour of the property.
The Gilded Iguana is an amazing hotel at the end of a 5 minute walk that leads to Playa Guiones, a famous surfing beach with unspoiled, protected landscape. This surf hotel is located in the town of Guiones (Ge-oh-nays), a jungle beach town located in Nosara in the Guanacaste Province.
You won't find crowds, paved roads, or high rise hotels. Unlike Tamarindo, this laid back beach & surf town has not been taken over by tourist shops and loud nightlife.
Playa Guiones is 200 meters from the hotel, with the surf club in between the hotel and beach. A Surf Club membership gives you full access to all surf equipment- SUP's, boogie boards, skim boards, beaters (hybrid between boogie and surf boards), and surf boards for all skill levels and sizes.
Members have access to the lockers, showers, bathroom, surf storage, juice bar, ping pong table, foosball, lounge, and changing stalls. Members receive a 20% discount at the juice bar, restaurant, surf lessons, hotel store, spa, and tours.
Pack & travel: