If you are a person who loves organic vegetarian and raw food as we do and you are passing by Ubud in Bali (Indonesia), then this post about vegetarian organic restaurants is going to be the perfect Ubud guide for you.
We spent three weeks and three days in Ubud, tried almost all of the organic vegetarian raw dishes in town and we were feeling heavenly and healthy! Well, with all its yoga studios, spas, budget guesthouses, luxury resorts, wellness facilities and the amazing , no wonder Ubud is literally PACKED with restaurants that serve some excellent vegan, vegetarian and raw food. So, how can you not try a bit of everything that you see on the menus?
For those of you who want to stay healthy on the road, we've created a list of the best organic vegetarian restaurants and cafes in Ubud. We've been to eighteen of them, tried a lot of healthy, delicious meals, drank several liters of juices, coconut water and super boosting smoothies. Nobody paid us for a single meal, all opinions are our own, or, of our foodies' tongue, to be more precise.
We've created a list of raw and vegetarian friendly restaurants and rated them from our most favourite to our least preferred one.
Note: Keep in mind that in some restaurants additional taxes apply.

Read more on this guide If you have only 48 hours in Bali.
CLEAR KAFE
Do not be shocked by the more posh environment on the ground floor. Just go ahead and find your comfortable chair or a mattress on the first floor. Dim light, great music, a gorgeous staff, and so much beautifully presented and mouth-watering food. That's right, this is our top choice of vegetarian organic restaurant in Ubud!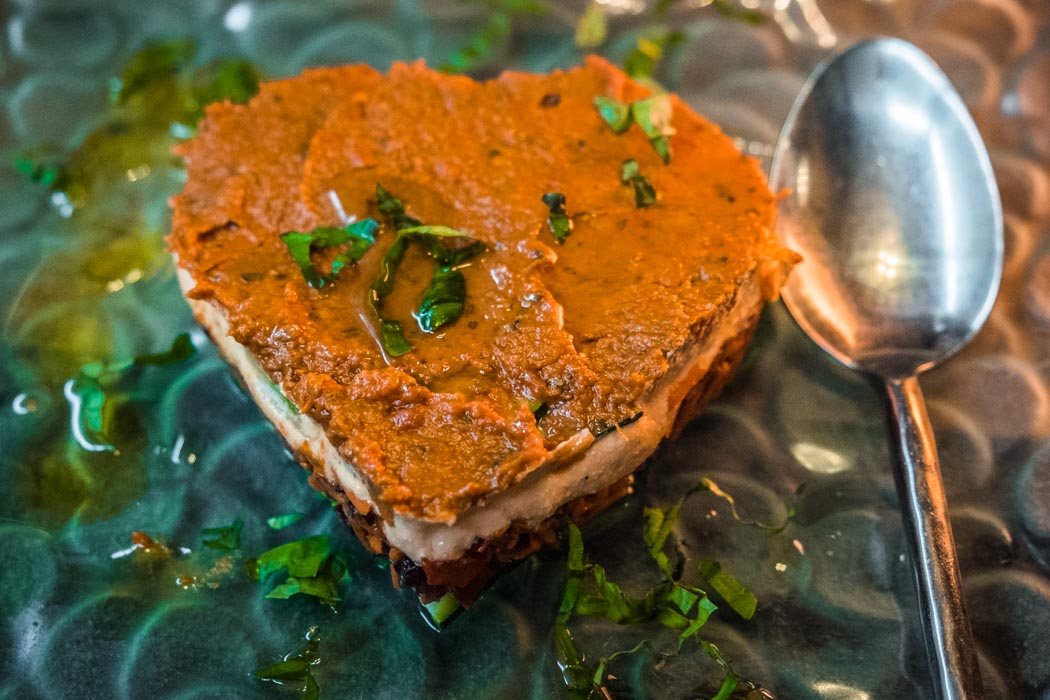 Raw love lasagna.
Location: Jl. Hanoman No. 8
Food: raw, vegan, vegetarian, fish, meat
We recommend: definitely go for Majestic Mushrooms (stuffed with feta, sun-dried tomatoes, garlic & herbs) love lasagna, electro berry
Check their website.
DAYU'S WARUNG
Sadly, we discovered this place one day before we left. A cool little hippie restaurant with a nice staff, comfortable cushions and most importantly, great organic food! Dayu's warung only has a few tables, and serves a range of Balinese, Indian, Mexican and Italian dishes. Prices are quite reasonable, too. Dayu, the owner, has a long history with cooking and was trained by nutrition experts. As she says, "Food is life," and after eating in her local vegetarian restaurant, you will indeed feel revitalized.
Location: Jalan Sugriwa 28
Food: vegetarian, vegan, raw, fish, meat
We recommend: Shakti Chai, mung bean spinach burger, quinoa tacos
SOMA
A wonderfully peaceful, open space, with a lovely atmosphere of sharing within a community. You can either chill out on a cushion on the ground floor or sit at a table looking out upon a small, green yard. In case you need WiFi, you can go upstairs.
A bit pricey for Indonesian standards, Soma is worth it once you are in Ubud. Here you find good quality food and high vibes, as they proudly claim on their welcome sign.
Location: Jl. Gautama( Gootama)
Food: raw, vegan, vegetarian
We recommend: excellent elixirs, smoothies and healthy shots, raw salads
Check their website.
Join some of the cooking classes or food tours in Bali: 
WARUNG SEMESTA
This environmentally friendly place will charm you with its simple yet cool furniture. You will find various modern, wooden chairs, both massive and small tables, with a view of one of the main roads. Or you can just sit, work online and enjoy your meal and fresh, healthy smoothie or fresh coconut inside. The place is suitable for group meetings and working online. The reliable internet connection, reasonable prices and very friendly staff made us into regulars.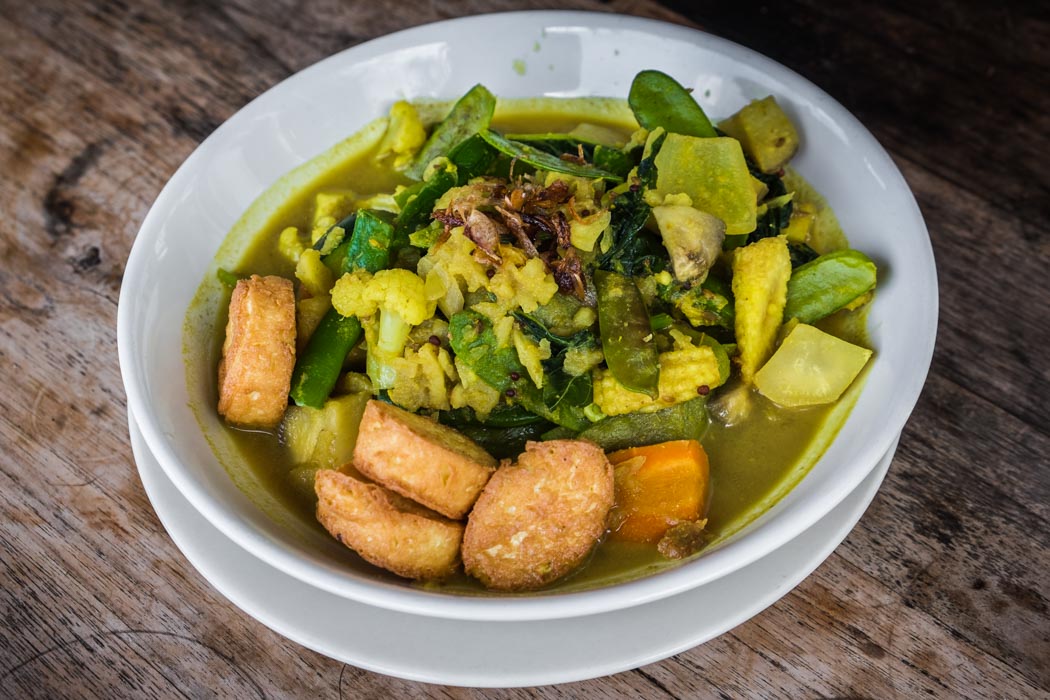 Location: Monkey Forest Road
Food: vegetarian, vegan, fish, meat
We recommend: beetroot, pineapple, lime, celery and honey juice, traditional Balinese dish nasi campur
Check their menu here.
KAFE
Despite the fact that this lovely, two-floor restaurant is located in one the busiest streets of Ubud, you'll find your peace here thanks to comfortable chairs, very friendly staff and, of course, wonderful, healthy food for your tummy! The only single thing that put a minus point for this popular organic restaurant was the slightly frozen raw cake we tried here.
Location: Jalan Hanoman 44B
Food: raw, vegan, vegetarian, fish, meat
We recommend: kitcheree, vegetarian pasta primavera, pineapple passion juice, jamu.
Chek out their website.
Plan your trip to Bali:
THE SEEDS OF LIFE – Raw food cafe and tonic bar
What looks from the outside to be a commonplace, small restaurant is actually a heaven full of pure tastes of dishes prepared with love. You can enjoy your meal either at your table or on a comfortable cushion, inside or outside. We were happy to eat there while some British music floated through the air.
Location: 2 Jalan Gutama (Gootama)
Food: raw
We recommend: banana caramel cream pie, Rainbow salad.
Check their website.
BALI BUDA
A lovely restaurant with various organic vegetarian options on the menu. Wooden furniture and lamps hanging above you give you a comfortable feeling, either you sit on a cushion, couch, or at the table on the first floor. A small play corner with toys is available for kids.
We loved the menu, but a couple of times we were not able to order what we wanted and we wished the staff had been more organized.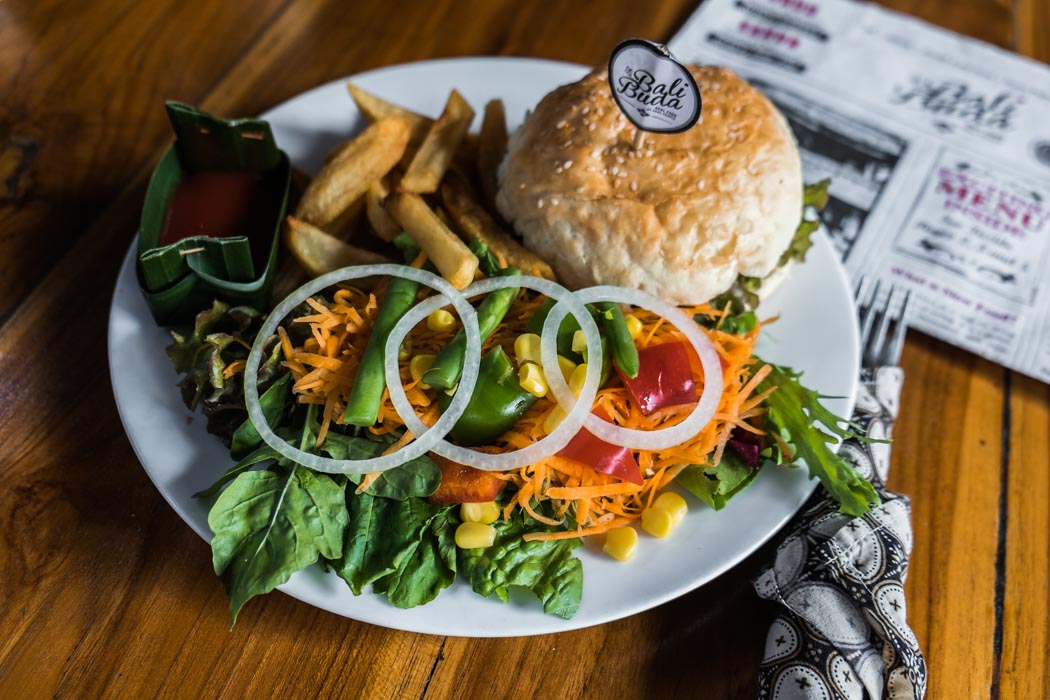 Location: Jalan Jembawan, opposite the post office in Ubud.
Food: vegan, vegetarian, raw, fish, meat
We recommend: rice crust pizza (must be eaten hot, otherwise becoming tough), Sunshine lentil stew, green superfood smoothie (the best shake ever!)
Check their website.
ALCHEMY
Very bright inside with a cozy, outdoor area to get a big dose of vitamin D. It's a place where a lot of people from yoga, alternative medicine and different spiritual workshops gather for a good, organic meal or a chat.
Location: Jalan Penestanan Kelod No 75, Penestanan Ubud
Food: raw
We recommend: fermented coconut water, smoothies, raw cakes
Check their website.
Plan your trip to Asia:
YOGA BARN GARDEN KAFE
Welcome to the first raw restaurant in Ubud. The garden cafe, which is actually a big, beautiful patio, is literally nestled in a green garden of the Yoga Barn complex. This is the place where people from the yoga scene of Ubud go to dine. You can find raw, organic dishes, but also very tasty, cooked vegetarian meals, including an Ayurvedic menu.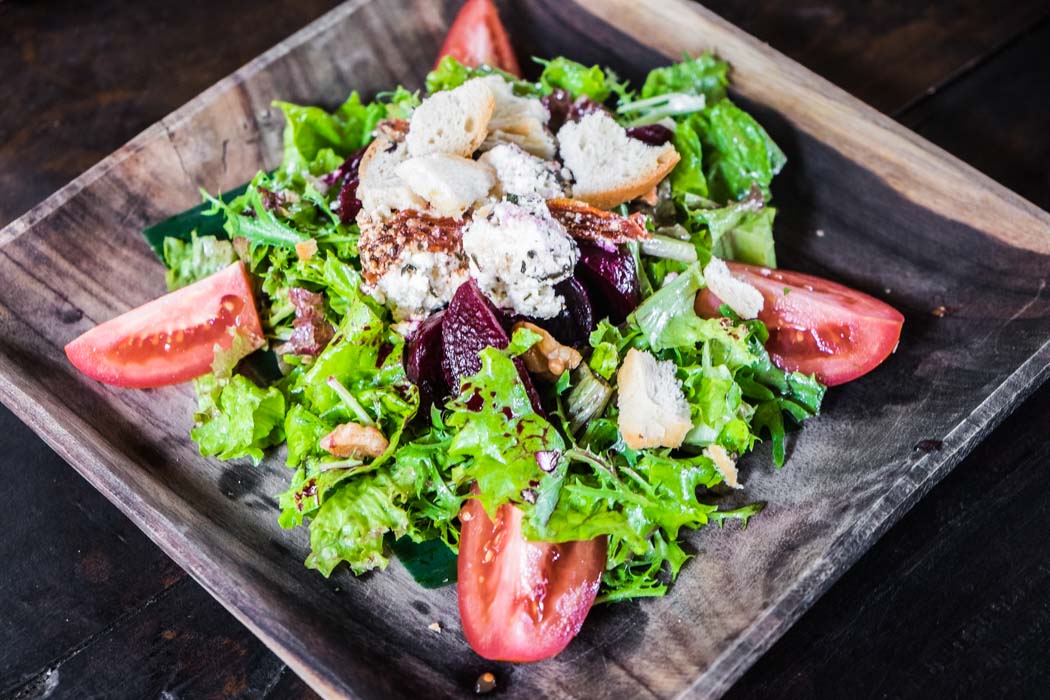 Location: Jalan Raya Pengosekan
Food: vegan, vegetarian, raw
We recommend: crunchy beetroot & walnuts salad, vegan tofu pesto wrap
Check their website.
ATMAN KAFE
Very pleasant little cafe with nice music and a friendly staff. However, Atman Kafe might be a bit noisy as it's located just next to the Hanoman road. We tried the watermelon salad, which would have been better with vinegar aside.
As they state on their menu, they use organic where it's possible, so make sure to ask not to add soy sauce or salt, which is likely from a common manufacturer.
Location: Jalan Hanoman 38
Food: raw, vegan, vegetarian
We recommend: raw chocolate
Check their Facebook page.
THE ELEPHANT
Here at The Elephant you will dine with an amazing view of the surrounding fields.
There are a few couches, but otherwise you can sit at the simple, black, wooden table with paper lamps swinging in the wind above you.
The restaurant is a bit far from the center, but worth paying a visit for the delicious and nutritious food they will serve you. The place is more suitable for a lunch than a dinner, so you can enjoy the sunny view.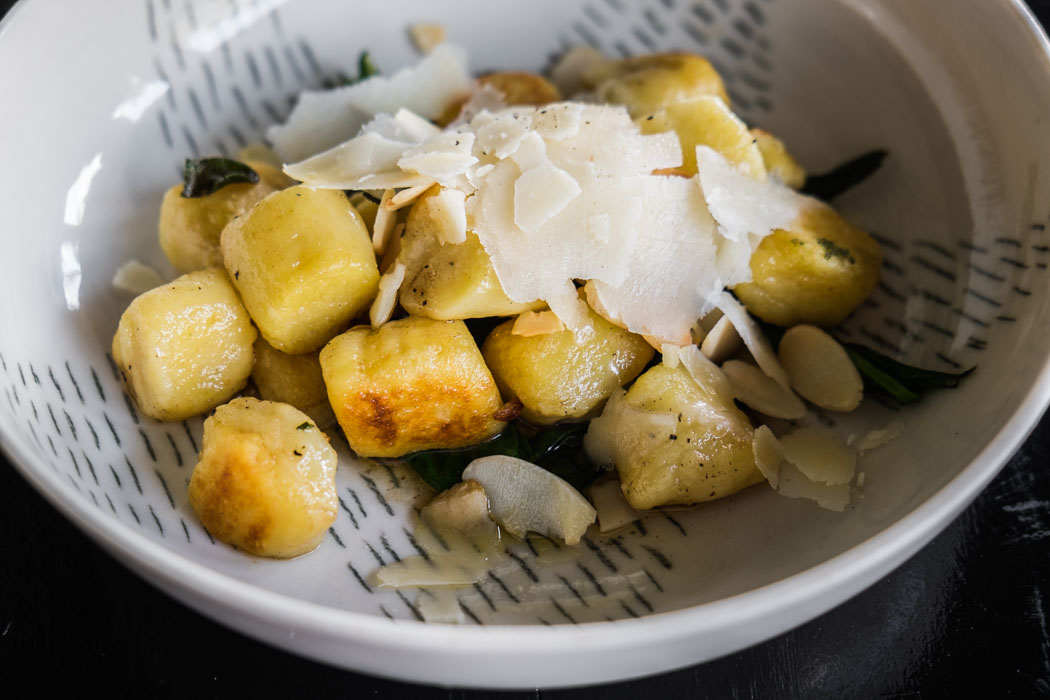 Location: Hotel Taman Indrakila, Jalan Raya Sanggingan
Food: vegan, vegetarian, raw
We recommend: hand-made potato gnocchi, tofu puffs, ginger kombucha
Check their website.
JUICE JA CAFE
Settled in one of the 'night life' streets of Ubud. Quite a nice place with tables on the ground and first floors. You can find a small corner with lots of eco and bio goodies. We were quite happy with the food and wheatgrass shots here. However, we couldn't help but notice that the staff looked a bit tired.
Location: Jalan Dewi Sita
Food: raw, vegan, vegetarian, fish, meat
We recommend: humus with raw vegetables, wheatgrass shot
Check their website.
Pack & travel:
SOPA
A simple, local vegetarian restaurant and a friendly place to eat. You can create your plate either from the buffet options, or simply order a meal from the menu. We visited this place only once and the food was not exceptional, as it was sweeter and more cooked than we prefer.
Location: Jl. Sugriwa 36
Food: vegetarian
We recommend: Bali curry
Check their menu and reviews on Tripadvisor.
LIVING FOOD LAB
This place serves fresh salads, sandwiches, snacks, and absolutely delicious raw cakes. We ate there twice and have to say that salads were a bit over salted and the quinoa was not that fresh. Once you're there, check out their green smoothie instead!
Location: Monkey Forest Road 88
Food: raw, vegan
We recommend: chocolate raw cake, green smoothies
Check their website.
TAKSU RESTAURANT
This place was one of the biggest disappointments for us when talking about the organic vegetarian food in Ubud. Unlike Taksu Garden Cafe, which is located in a beautiful garden on a ground floor, Taksu restaurant is a generic space with no artistic taste between its first and second floors. We were also not crazy about the food that we ordered (grilled vegetables were not grilled at all and the wild mushroom ravioli stuck to each other).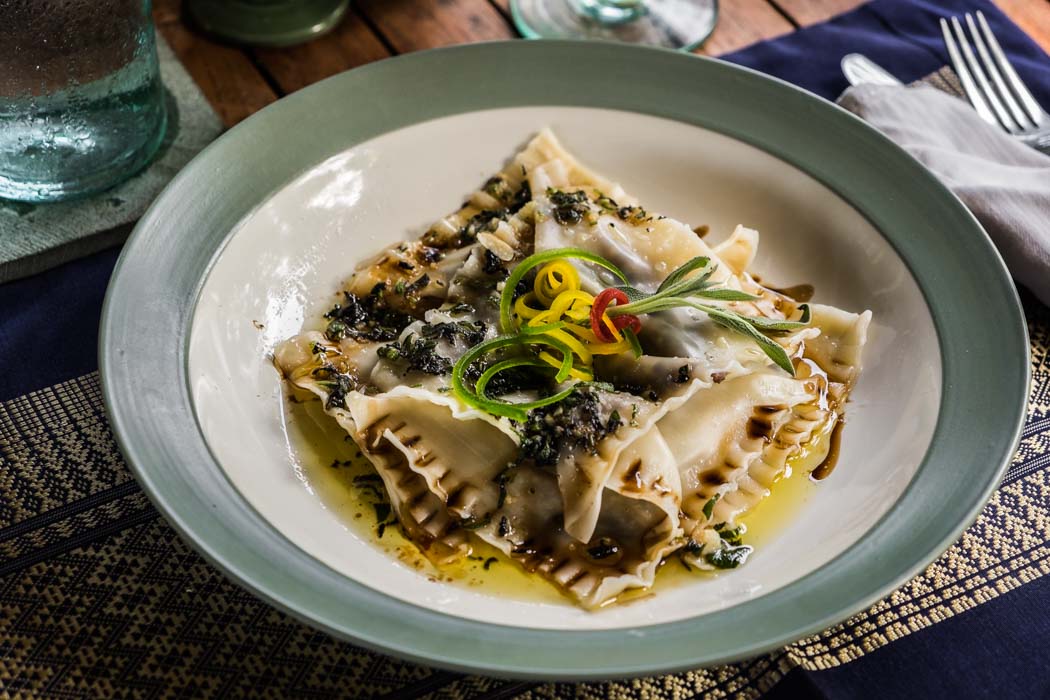 Location: Jalan Gautama Selatan
Food: vegetarian, vegan, raw, fish, meat
We recommend: De Light full green wheatgrass smoothie, original superfood smoothie.
Check their website
We hope this guide will bring you to some inspiring, organic vegetarian restaurants that will fill you up in the healthiest of ways.
LIKE IT? PIN IT!