Since our first visit to Chiang Mai in 2013, we have returned numerous times, explored various districts, and stayed in accommodations of differing budgets. In this article, we're breaking down our experiences and recommending where to stay in Chiang Mai, including tips on the best neighborhoods and hotels.
Recently, Chiang Mai has been experiencing a boom in tourism. The city has developed into a popular destination filled with hundreds of historical sights, incredible food, a thriving coffee scene, a plethora of outdoor activities, and last but not least, some unforgettable spa treatments.
The Old Town is the most visited part of Chiang Mai. The area is walkable and offers a wide range of accommodations starting from funky, low-budget hostels to upscale resorts with tranquil ambience right in the heart of the city.
If you prefer staying further away from the touristy attractions in Chiang Mai, then there are a few other districts where you can stay. .
Before you start scrolling down, here are a few insider tips you should consider when deciding on where to stay in Chiang Mai:
Proximity to the city's attractions. The further away you are from the downtown area, the more likely you'll need to take taxis–this may not be an issue if you prefer the serenity of the suburbs.
Proximity to the walking street markets.
A pool to cool off from the humidity in the city!
Air conditioning. Opt for a place with A/C as it can get way too hot during the day.
If you are interested to know where to stay in Chiang Mai, we recommend some of the best hotels for different budgets.
When we travel, we book our hotels through TripAdvisor, one of the best websites to compare prices.
We also use a lot AirBnB to book local apartments. If you have never used AirBnB before, you can have a $40 discount for your first booking through this link.
Always make sure you travel with travel insurance! Be adventurous, but not careless.
Check out some of the most reliable insurance companies out there: True Traveller if you're European and World Nomads if you're from elsewhere.
If you love animals and you prefer going local during your travels, try housesitting, which is an amazing way to travel the world while taking care of the pets whose owners are on vacation. If you use TrustedHousesitters with this link you'll get $20 discount on annual membership.
Like it? Pin it!

Where to stay in Chiang Mai?
Here it comes! The ultimate guide to where to stay in Chiang Mai. This guide will help you choose the best place to stay in Chiang Mai according to the location, value and amenities you need.
South Gate / Pratu Chiang Mai
We lived in the area for two months and loved it! The neighbourhood is vibrant, particularly in the early morning and late afternoon/evening thanks to the Bumrung Buri market.
There are loads of affordable lodging options hidden in side alleys and stretching along the main road leading from the South Gate to Wat Chedi Luang. The area is full of small cafés, Thai restaurants, massage shops and lesser-known temples. It's only a few minutes walk to the main city attractions in the Old Town.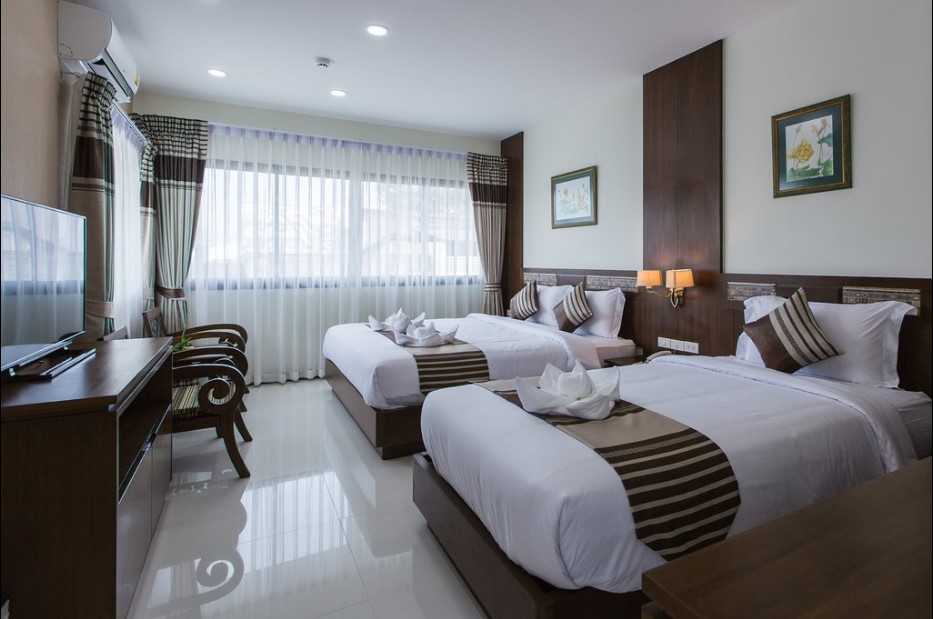 Super clean, with spacious rooms and an outdoor mineral pool. Serves Thai and Western breakfasts. Centrally located, yet in a quiet area. Check the latest price.
Luxury > Kodchasri Thani
A superb 4* boutique hotel with traditional Thai wooden furniture. Luxurious interior with a beautiful internal courtyard, two lovely pools (indoor and outdoor), a well-equipped gym and a cozy lounge. Check the latest price.
Mid-range > Wealth Boutique Hotel
Exceptionally comfortable and has great breakfast. Rooms are very modern and nicely designed. It features a small outdoor pool, ideal for a refreshing afternoon dip. Check the latest price.
Budget > Mickey House
This is one of the most affordable accommodations in the area for backpackers. It's very clean and offers single, double and triple private rooms with shared bathroom. The staff is very friendly and helpful. Check the latest price.
Get inspired by more articles:
Hai Ya
Hai Ya (or Haiya) is a neighborhood further south from the South Gate. It feels very local there and is perfect for those looking for peace and quiet. To get to the center, you can rent a bike, take a Grab (only about 40 THB/$1.20 USD) or a shared red truck called songthaew for about the same price.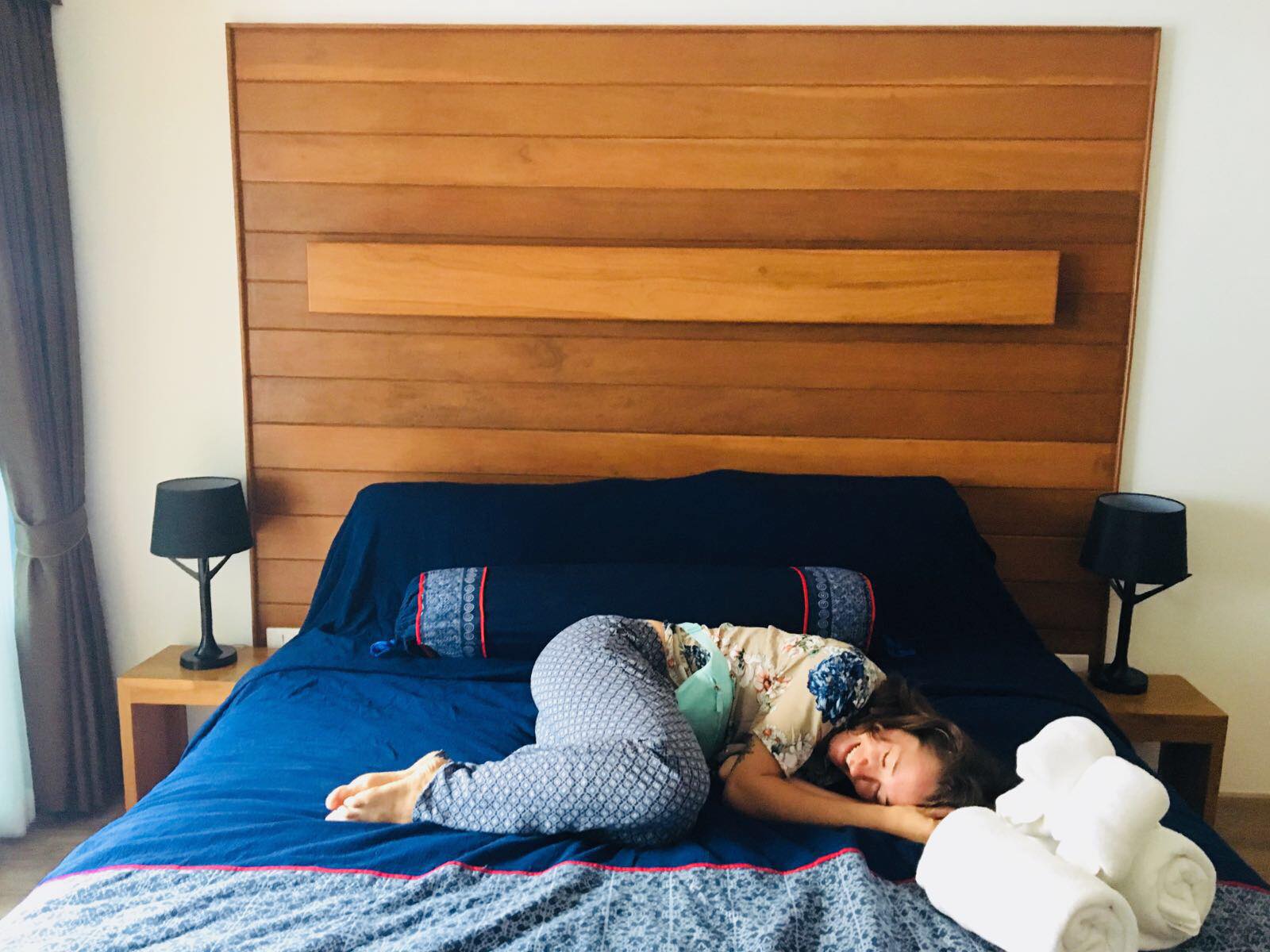 Sugar Cane Chiang Mai is a brilliantly refined hotel tucked away from the city center in a lovely residential neighborhood, yet still walking distance from main roads and attractions. The rooms are extremely elegant, with large comfortable beds, massive bathtubs, and balconies overlooking the quaint pool in the center of the hotel.
Each morning breakfast is served with a spread of fresh local fruits, hearty bread, and incredible Thai coffee. Dinner also offers a variety of options and caters to vegan and vegetarian needs as well.
I was also very impressed with the attentive and kind staff. They can arrange airport transfers, tours, and transportation around town. Everyone was extremely friendly and always offered such a warm daily welcome.
Overall Sugar Cane was an amazingly comfortable and unique stay and would be an excellent choice for a bit quieter option during one's stay in the city. Check the latest price.
Luxury > Golden Bell Hotel Chiangmai
A small boutique hotel located just 5 mins away by foot from the old city area and the weekend market. Very accomodating staff with fantastic customer service. Totally worth the money. Check the latest price.
Mid-range > iWualai Hotel
A mixed modern hotel situated just 5 mins from Chiang Mai's International Airport. Each room feels like home with its own mini bar, work area and private bathroom. Some rooms have their own balcony and garden view. Choices for breakfast include continental, Asian and vegetarian. There's also a lovely small outdoor pool. Check the latest price.
Budget > To Bed Poshtel
Perfect choice for travellers interested in markets and street foods as the hotel is situated just 5 mins walk away. They have shared and private rooms, free Wi-Fi and breakfast. Check the latest price.
The Old Town Thapae Gate
The Old Town, especially the area near the popular Thapae Gate, is the most touristy neighborhood, buzzing from morning till late night. There you'll find major Buddhist temples to visit, lots of souvenir shops, massage shops, spas, cafés and restaurants (Thai and Western).
It's a neighborhood that covers all budgets when it comes to accommodation in Chiang Mai. Here you'll find dirty, cheap hostels, plenty of boutique mid-range hotels and high-end hotels ideal for splurging.
On Sunday, make sure you visit the Sunday Walking Street Market (5pm-10pm). Go with an empty stomach, cash and a spare bag for souvenirs or some chic Thai clothes!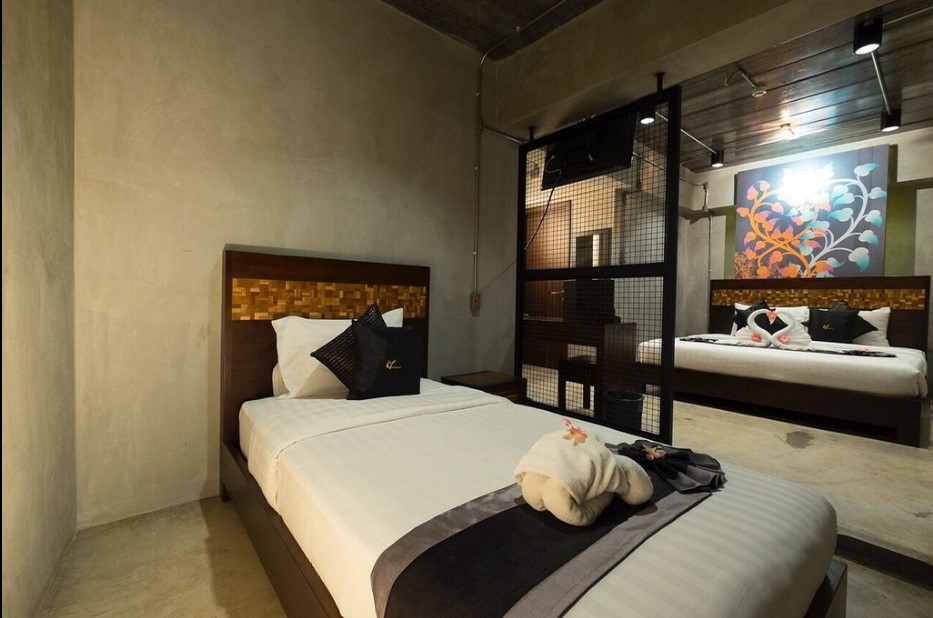 Thapae Loft is conveniently located in the heart of the city and features a restaurant and an indoor pool. Rooms are modern and stylish. Free Wi-Fi access available in all areas. Complimentary coffee and tea are provided. Check the latest price.
Luxury > Tamarind Village
Tamarind Village features rooms decorated with tribal patterns. The hotel is surrounded by tamarind trees. They have their own spa, an outdoor pool and a poolside restaurant. Free Wi-Fi is provided all over the residence. Check the latest price.
Mid-range > Viangluang Resort
Rooms are very spacious, each fitted with a desk, private bathroom and free toiletries. Staff is very accommodating and helpful with creating your itinerary if you don't have one yet. Continental breakfast is served each morning. Check the latest price.
Budget > Stay With Me Guest House
Tourist spots and restaurants can be reached by foot. Rooms are comfortable, clean and have A/C. They have a nice garden to relax and chill in. Check the latest price.
Pack and travel:
Night Bazaar
All shopaholics who fancy some nightlife – head to the busy Night Bazaar area! It lacks sightseeing, but it's a good location if you travel with friends, and you're in a party mood.
The night market is open daily from late afternoon till late night. There's a plethora of hostels, affordable hotels and luxury hotels and resorts.
The rooms have A/C, private bathrooms with showers. Rooms all include a seating area and a fridge. The beds are equipped with mosquito nets. Check the latest price.
Luxury > Le Meridien Chiang Mai
Le Meridien Chiang Mai is the perfect luxurious choice for business or leisure trips. The 5* hotel has a mix of modern design and traditional Lanna culture. The elegant rooms come with spacious ensuite bathrooms with bathtubs and hot-water facilities. Check the latest price.
Mid-range > Dusit D2 Chiang Mai
DusitD2 is an affordable 5* accommodation with a uniquely styled interior. It's a lovely combination of modern and traditional Thai. They feature an outdoor pool, restaurant, an award-winning spa, city and mountain views and a gym. Check the latest price.
Riverside
We really loved hanging out in this area. Nearthe Ping river, there is the lesser-known (yet amazing!) Warorot market in Chinatown (street food spoiler alert!). The area behind the NakhonPhing Bridge is quieter and filled with cozy and elegant cafés, restaurants, galleries and art crafts.
This area becomes super busy during the big Thai festivals, such asLoy Krathong and Yi Peng. These festivals bringhousands of locals and tourists to the city, where they can release rice paper lanterns into the night sky.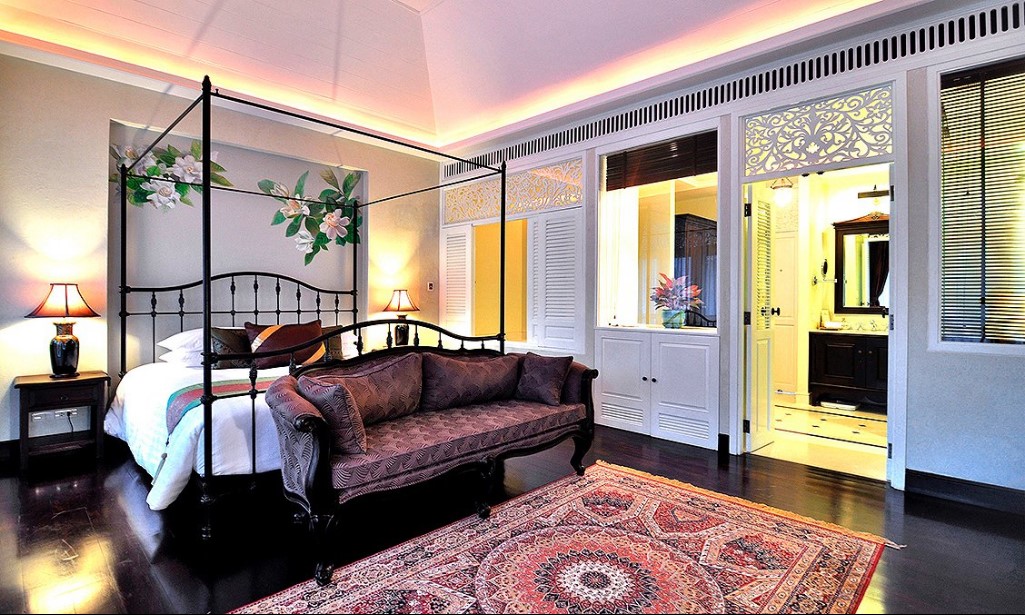 Ping Nakara Boutique Hotel And Spa offers you the classics. It's like being taken back to colonial times. Rooms feature hand-crafted furniture, air-conditioning, a cable TV, minibar, and DVD player.
The hotel has an outdoor pool, a lobby bar, and a restaurant where you can enjoy Asian food, including traditional Thai cuisine. It is absolutely beautiful.
During our stay there, we had an Ayurvedic spa treatment on the premises and ate at their restaurant afterwards. Top quality experience when you want to pamper yourself. Very recommended! Check the latest price.
Luxury > Anantara Chiang Mai Resort
This place offers a very beautiful and peaceful ambiance. It is situated along the Mae Ping River and overlooks Suthep Mountain. Minimalistic style with teak floorings and muted tones. You can rest at the private courtyards and balconies. The resort features a spa and pool. Check the latest price.
Mid-range > I-River Chiangmai
A 3* hotel with beautiful interior and a mixture of modern and Thai designs. Guests have access to the garden and terrace. Rooms include a microwave, desk and TV. A continental breakfast is served each morning. Check the latest price.
Budget > Mapping Hostel
This property offers both private and shared dormitory rooms with fan or A/C. They also have a bamboo hut or chalet with mosquito nets. All guests have access to shared bathrooms. They also have a snack bar and shared lounge. Check the latest price.
Nimmanhaemin
Nimmanhaemin, or Nimman for short, is probably the fastest growing area in Chiang Mai. It hosts lots of expats, Thai students (several universities nearby), digital nomads, as well as a lot of tourists. Nimman is full of bustling streets with cafés of various designs and oodles of local and high-end Thai restaurants. It's about a 10 minutes ride to the Old Town.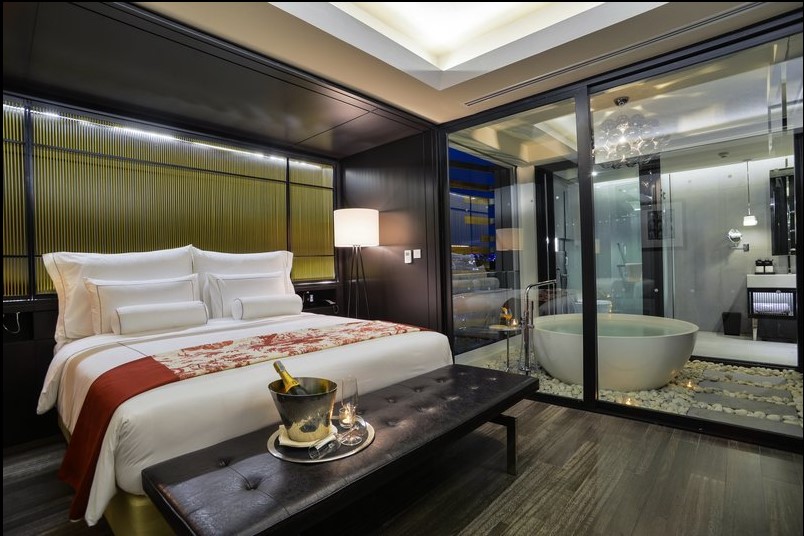 A wonderful 5* intimate all-suite hotel. Each suite comes with a courtyard-in-a-room concept. The property boasts a rooftop infinity swimming pool. The urban suites are air-conditioned and provide a living area, LCD TV, and an outdoor spa bath.
They serve Italian meals in their unique show kitchen, and drinks can be ordered in their rooftop bar. American breakfast available. Check the latest price.
Luxury > X2 Chiang Mai Nimman Villa
X2 Chiang Mai Nimman Villa features a modern retro-style townhouse villa with free Wi-Fi. Each villa has A/C, a spacious living room, a dining area and a fully equipped kitchen. Check the latest price.
Mid-range > Sanae' Townhouse Chiang Mai
You can hang-out in the terrace or the shared lounge or have a meal or drink at the on-site restaurant and bar. There's an outdoor swimming pool and a garden within the property. Check the latest price.
Budget > One Night Zleep
It features a garden and a shared lounge. Just a few minutes walk from shopping centers and a few tourist spots. All units have their own seating area. Check the latest price.
Santitham
Only a few minutes walk from Nimmanhaemin, and you're in a completely different world. Welcome to Santitham! A serene and very local neighborhood. It is ideal for a long-term stay if you don't mind walking, driving a scooter or taking a taxi (or Grab) each time you need to go to the town.
You won't find any tourist attractions here. However, if you seek local markets and quiet alleys, then Santitham is waiting for you.
A beautiful boutique hometel with cable tv, ensuite bathrooms, and shared kitchens. The owner is very accommodating and helpful with tips and suggestions on things to do and places to go. The famous coffee shop, Akha Ama, is situated next to the property. Check the latest price.
Luxury > no luxury options in this area
Mid-range > Saengpanya Home Boutique Hotel
Big spacious rooms with beautiful decorations, a private bathroom, A/C, flat-screen TV and fridge. Some of the units have their own balcony, terrace, and dining area. Asian breakfast and local cuisine is served here. Check the latest price.
Budget > Varada Place
Perfect for travellers interested in mingling with locals. Place is nice and clean. Each room is furnished with simple decoration, cable TV, microwave and fridge. Check the latest price.
Chang Phuak
Chang Phuak is a mountainside neighborhood nested between the Suthep mountain range and the Old Town. It's very tranquil and perfect for families with kids. It's also close to Chiang Mai University and has plenty of small local bistros and street food in the evening. For more options of things to do and places to eat, you'll need to make your way to the Nimman area nearby or to the town.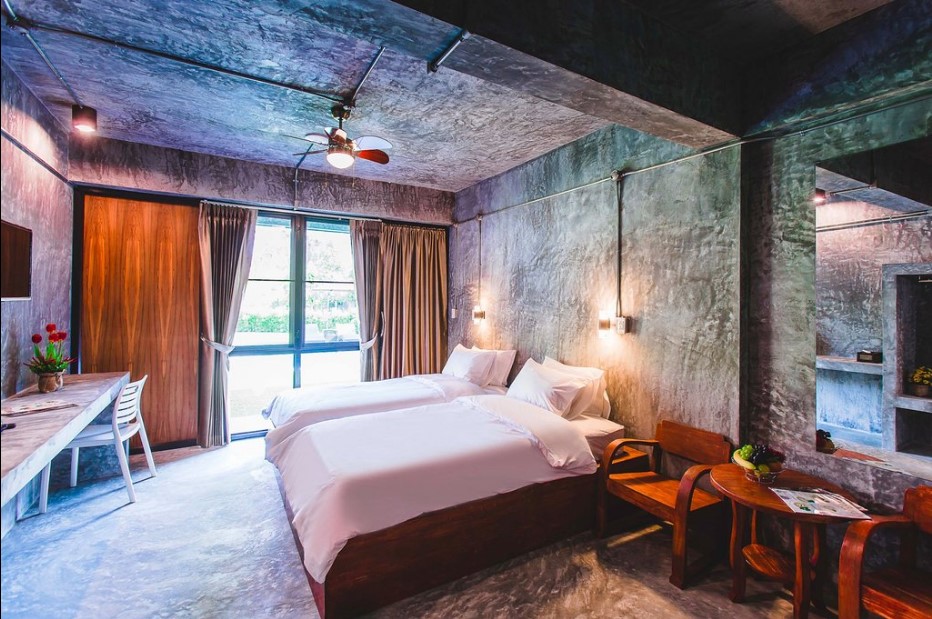 Rooms are spacious, neat and comfortable with garden views. Staff is always available to assist. The hotel has an in-house restaurant serving à la carte or American breakfast. You can chill at the outdoor pool after a busy day of sightseeing. Check the latest price.
Luxury > Sireeampan Boutique Resort & Spa
Offers a very luxurious atmosphere with exceptional service. They have an outdoor pool and a spa wellness center. Air-conditioned units with flat-screen cable TV and fridge. An on-site restaurant is open all day serving Thai and European dishes. Check the latest price.
Mid-range > Hotel Mayu
Rooms are air-conditioned,come with a sofa, cable TV and have their own private bathrooms. An on-site restaurant is available and serves local specialties, Indian, and Chinese cuisines. Check the latest price.
Budget > Get Zleep Premium Budget Hotel
A pet-friendly hotel that provides premium and quality accommodation. Great location. Some rooms come with a balcony and features a stunning view of the Suthep Hill. Check the latest price.
Chang Khlan
Chang Klan stretches from Thapae Gate in the west of the city moat to Chinatown to the Ping River and down to the south. It's outside of the main city attractions but still quite busy due to the markets on Thapae Road. Chiang Khlan is calmer near the river though.
This area is perfect for those who love good food, markets and less crowded places.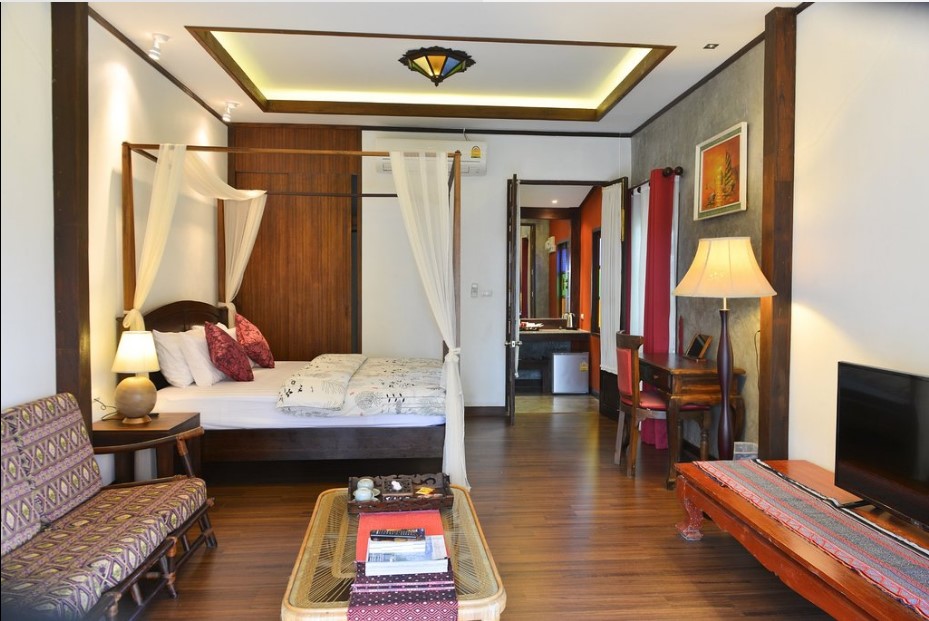 A Lanna-style boutique resort that's painted with different tones of white and genuine teak furnish. Their rooms are beautifully equipped, have A/C, flat-screen satellite TV and private bathroom.
They also have a garden and outdoor pool. Resort's staff is genuinely great. Complimentary coffee and tea and breakfast available. Check the latest price.
Luxury > Aruntara Riverside Boutique Hotel
A very elegantly decorated boutique hotel. Rooms have a flat-screen TV, CD/DVD Player, and a minibar. You'll love their sundeck and garden! There's an indoor, outdoor pool and a gym. There's an on-site restaurant offering traditional Thai and Western food and a bar. Check the latest price.
Mid-range > Old City Wall Inn
Very comfortable beds, private bathrooms, a desk, flat-screen TV, A/C and free Wi-Fi. Some of the rooms have a view of the garden. Breakfast à la carte is available. Wonderful staff. Check the latest price.
Budget > Ban Changklan hostel
Clean and comfy hostel with a kind and friendly owner. The hostel features a terrace and free bikes and cars for rent. It also offers a shared kitchen and washing machine. Check the latest price.
Wat Ket
This is the most off-the-beaten path neighborhood in our list. It's situated between the Ping River and the Superhighway. Wat Ket area will suit you if you plan to stay in Chiang Mai long-term or if you prefer a quiet neighborhood. It doesn't have a lot to offer in regards to touristy attractions; however, you'll be able to find good street food and lovely riverside restaurants.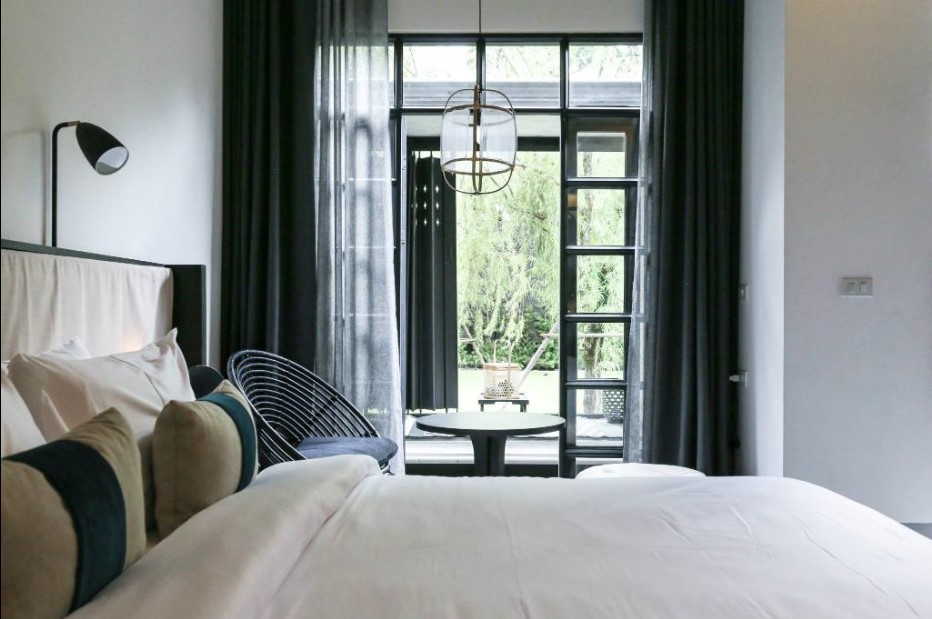 Incredibly stylish and modern with an oriental touch. Gorgeous design with a great sense of details. Rooms come with a balcony, private bathroom and flat-screen TV. Some rooms have their own terrace. The place offers a lovely outdoor pool. Check the latest price.
Luxury > X2 Chiangmai Riverside Resort
Marvelous choice if you're looking for a luxurious stay in Wat Ket. Modern suites are beautifully decorated and fully equipped with amenities. The property has its own courtyard, spa and fitness facilities, fine dining, bar and tea lounge. There's both an indoor and outdoor pool. Check the latest price.
Mid-range > Rimping Village
Rooms are spacious and super comfortable, with A/C, private bathrooms, cable TV, DVD player, and a mibi bar. The property has an outdoor swimming pool and a terrace. Check the latest price.
Budget > Kittawan Home & Gallery
Clean and simple rooms, very well maintained with comfortable beds, A/C, flat-screen satellite TV, fridge, and free Wi-Fi. The property has a relaxing garden.
That's all, friends! Hopefully you've found this post useful, and it'll make your planning easier. Chiang Mai certainly has lots to offer regarding accommodations. Check the latest price.
Safe travels and have a great time in Chiang Mai!
Get inspired by more travel articles:
Disclosure: Some of the links above are affiliate links, which at no extra cost to you, will earn us a small commission and reduce the costs of running this site.
Do you have a burning travel question? Join our Nomad is Beautiful travel community on Facebook and ask experienced travelers!