Planning to visit Laos? Read on our tips on little-known things to see and do in Laos so you can get the best of your trip there.
Many travelers to Southeast Asia pass through Laos, but most cases are simply for a short visa renewal trip. You can find out more about the Laos visa with a service like Byevisa.
Famous places in Laos, including Luang Prabang, Vang Vieng or the infamous,Vientiane, haven't got the best reputation among travelers. They can be touristy, full of party lovers, lacking character, you name it.
But fear not—Laos has much more to offer, and if you plan your travels according to the density of real hidden gems, this article is for you. You're going to find here a shortlist of little-known things to see and do in Laos, including natural, architectural, cultural, and historical spots.
If you are looking for a place to stay in Vietnam, we recommend booking it through Booking.com, Hotelscombined or TripAdvisor, one of the best websites to compare prices. 
Always make sure you travel with travel insurance! Be adventurous, but not careless. Check out some of the most reliable insurance companies out there: True Traveller if you're European and World Nomads if you're from elsewhere.
If you love animals and you prefer going local during your travels, try housesitting, which is an amazing way to travel the world while taking care of the pets whose owners are on vacation. If you use TrustedHousesitters with this link you'll get 25% off on annual membership.
Planning on combining traveling to Laos with a trip to Thailand? Check out our comprehensive travel guide THAILAND INDEPENDENTLY.
Like it? Pin it!
Little-known things to see and do in Laos
Villages in the north
Head about 60 km (37 mi) north of Luang Namtha. There, close to the border with the Chinese province Yunnan is the small town of Muang Sing. Nowadays it is popular among trekkers who arrive here to explore some of the routes in the jungle forest and visit a former opium market in the town. (All of this is pretty amazing, and also full of beautiful Laotian textiles)
If you're planning to include learning about hill tribes during your travel in Laos, leave Muang Sing and venture to the villages like Muang Long. Should you be interested in learning more about the local traditions, you can visit the famous khao soi noodle village of Ban Sili Heuang or check out the production of rice whiskey in Ban Patoy village.
The Rediscovered Buddha Cave with around 300 statues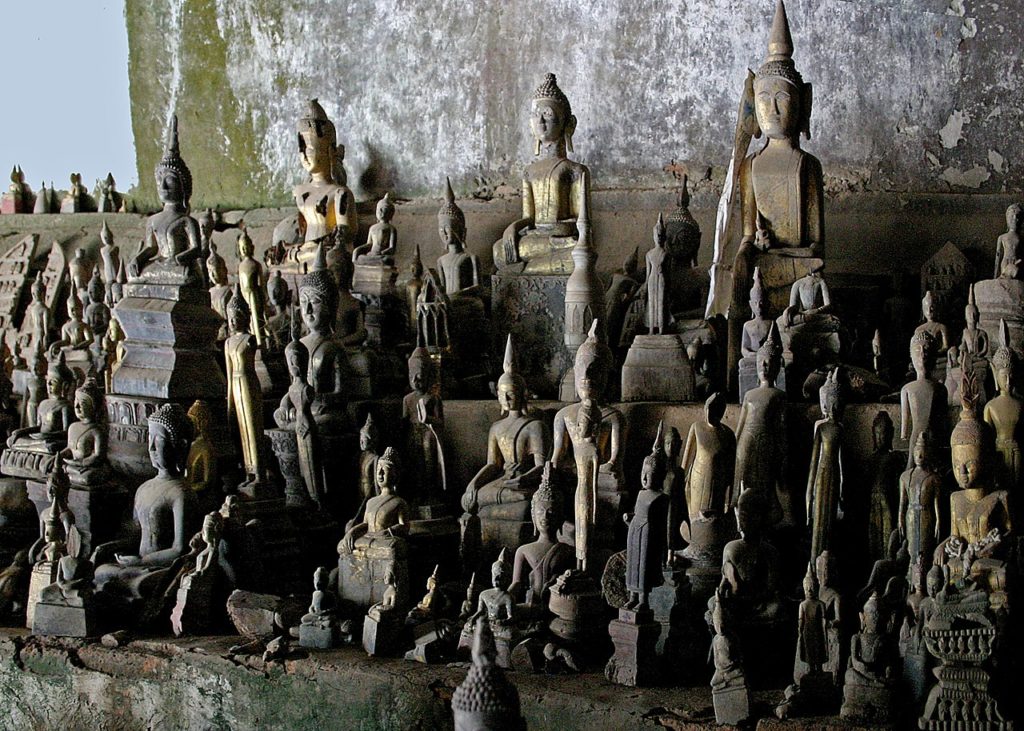 Thakhek? Well, even though this sleepy border village between Laos and Thailand has nothing exciting to offer, if you are willing to spend more than half a day here, you'll be able to visit a very unique place.
The rediscovered cave, Tham Pa Fa, or the Buddha Cave, was found by a local villager in 2004. There are a few legends about how he discovered a hidden cave with hundreds of statues, which you'll hear about on your visit. The cave is now accessible for tourists and worth a visit.
Join one of the local tours in Laos:
Songran in Laos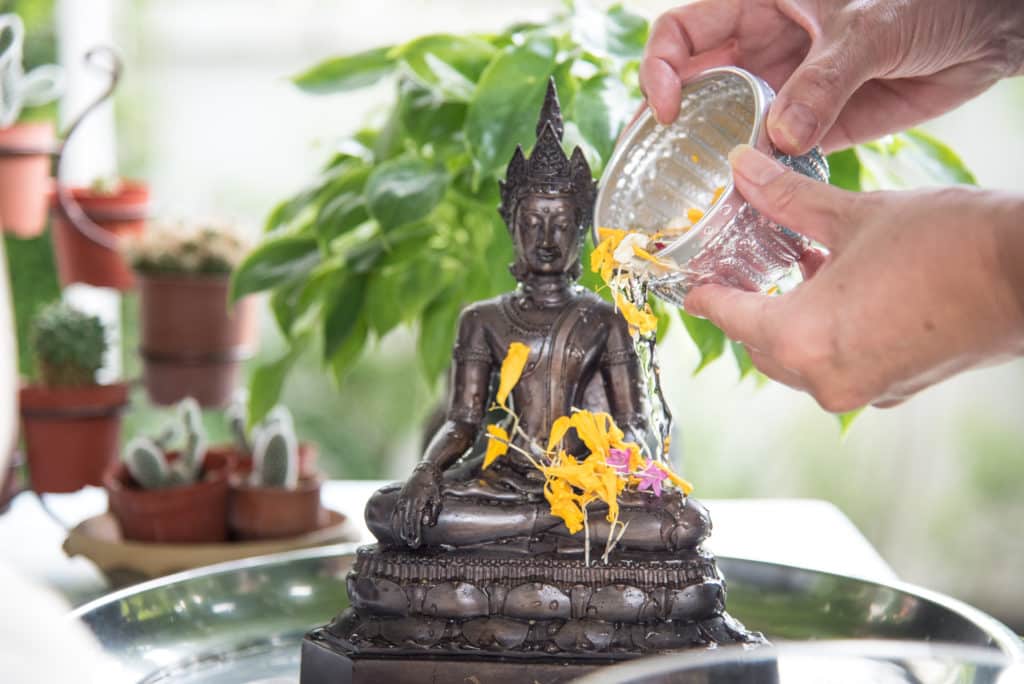 You might have heard of the New Year celebration aka "water festival" in Thailand, which tends to turn into a few days of splashy madness, especially in bigger cities. Given that Laos is a Buddhist country, the tradition of celebrating New Year is the same, however, with less chaos in the streets.
Here, you'll be able to experience the religious ceremonies in a more intimate atmosphere, with respect to the traditions. Water-gun fun on the streets is not completely absent here, but it's nothing compared to Thailand.
Coffee fields
Once again, Thailand might overshadow Laos when it comes to coffee tourism, but interestingly enough, Laos has a rich coffee history that dates back to the 1900s, during the colonial era of the country.
Nowadays, thanks to the Bolevean Plateau and other areas in Laos, there are plenty of local tours that can take you to a plantation and explain the cultivation and production process. Check the local agencies in the town of Paksong.
Vieng Xai caves
Forget exploring a dark hole among the karst stones while being on a boring boat tour. Vieng Xai is a phenomenal complex of caves, where thousands of civilians and the leadership of Pathet Lao resided during the 'Secret War' (1964-1973).
The caves are not attached to each other, so you'll need either to rent a bike at the entrance, or hire a driver who can take you around. There is the option of getting an audio guide, which is highly recommended so you can fully understand the purposes of particular caves and the extensive underground system.
Heading to Asia? Read on!
Wat Phu complex
If you're trying to escape Luang Prabang and its perpetual overflow of foreign tourists, you're going to immensely enjoy Champassak. Despite the fact that it has been on the radar of many travelers recently, this southernmost province of Laos has kept its peace and beauty intact.
You'll not only appreciate its laid back vibes, but also the stunning Khmer remains of the Wat Phu complex from the 5th century. To get there, you'll need to get to the town of Pakse, which is a great place to spend a few days.
Bokeo Nature Reserve
Waking up to a stunning tree top view, watching layers of mist floating below your feet…. You can experience this and much more in the Bokeo Nature Reserve, which is a protected area where black gibbons, who had been considered extinct, were discovered in the late 1990's.
At the moment there are a few wooden huts where you can observe the jungle forest. If you feel like getting more adventurous, you can check out some trekking options here as well. Keep in mind that the shorter hikes (2-3 hours) will include more zipline activities and less trekking,. The longer routes will take you deeper into the forest.
Join some of the local tours in Laos:
Tat Kuang Si Bear Rescue Centre
At first glance, it might look like a small zoo. However, the caged black bears in the open enclosures have been rescued from poachers who would hunt them to use their different animal components on the black market; they are used mainly in Chinese medicine.
The center is situated only 30 km from Luang Prabang, and if you plan to visit (crowdy) Kuang Si waterfalls, you won't miss the bears, as the enclosures are right at the bottom of the trail leading to the falls.  
Planning on combining traveling to Laos with a trip to Thailand? Check out our comprehensive travel guide THAILAND INDEPENDENTLY.
COPE Museum (Cooperative Orthotic and Prosthetic Enterprise)
Laos isn't a country where you'd want to roam freely around in the jungle with no professional guide, not to even mention taking some unmarked paths. Why? 80 million unexploded submunitions out of 270 million ones that were dropped by the US army between 1964-1973.
The COPE center supports victims of these unfortunate explosions, including providing rehabilitation services, prosthetics, etc. The entrance is free, but you can leave a donation, which is very welcome considering it will be used for a good cause.
Hopefully you've found these tips inspiring and now have a better idea about some of the lesser known places in Laos worth visiting. This landlocked country can easily compete with its neighbours, especially if you're into revealing untouched natural spots.
Pack & travel: