In this article, you'll find a list of some great things to do in Antwerp, Belgium. Get ready to change your travel plans and spend more time in the city than you might have ever imagined!
Antwerp is fresh. It's funky, and it'll surprise you. Or, at least, it sure took us by surprise. Until recently, this port city was overshadowed by picturesque Bruges and touristy Brussels (which is becoming a popular pit stop during transatlantic flights).
The tourism board, Visit Antwerp together with creative minds, students, and owners of new food establishments and stylish accommodation have transformed the city into a superbly vibrant, active, and fun city.
Their marketing slogan created in 2015 is pretty simple: Atypical Antwerp. It surely is. That being said, take a few more days and explore this lesser popular (for now!) Belgian cultural hub on your own.
The best time to visit Antwerp is from late April to September, when the weather is more pleasant and you won't need to spend your holiday in Antwerp wrapped in a raincoat.
How much time should you spend in Antwerp? We'd say four days as a minimum if you want to fully embrace the refreshing and artistic vibes of Antwerp.
If you are interested to know where to stay in Antwerp, we recommend some of the best hotels for different budgets.
When we travel, we book our hotels through TripAdvisor, one of the best websites to compare prices.
We also use a lot AirBnB to book local apartments. If you have never used AirBnB before, you can have a $40 discount for your first booking through this link.
Always make sure you travel with travel insurance! Be adventurous, but not careless.
Check out some of the most reliable insurance companies out there: True Traveller if you're European and World Nomads if you're from elsewhere.
If you love animals and you prefer going local during your travels, try housesitting, which is an amazing way to travel the world while taking care of the pets whose owners are on vacation. If you use TrustedHousesitters with this link you'll get $20 discount on annual membership.
Like it? Pin it!

Getting around Antwerp
Whether you visit Antwerp for one, two, three days, or longer, and your plan is to see some art, history and culture, then we highly recommend purchasing the Antwerp City Card.
You can choose a 24-hour card for 27 €/$31 USD, a 48-hour one for 35€/$41 USD, or a 72-hour card for 40€/$47 USD, which is an insanely great deal considering how much you can squeeze in during three days in Antwerp.
With the Antwerp City Card, you'll be able to use public transport for free, as well be able to visit the major museums, the Cathedral of Our Lady, and, wait for this—a local brewery!
Check the full list of benefits of the Antwerp City Card. We used a 72-hour card and managed to see majority of what was included in the card. The fact Antwerp is relatively small and super easy to move around also helped a lot.
Things to do in Antwerp
If you're not sure where to start, don't shy away and stop by at the tourist information center at the Grote Markt 13. The staff is very helpful and can assist you with planning your daily itinerary if needed.
Here are our tips on places to visit and things to do in Antwerp.
Explore art & culture scene in Antwerp
FOMU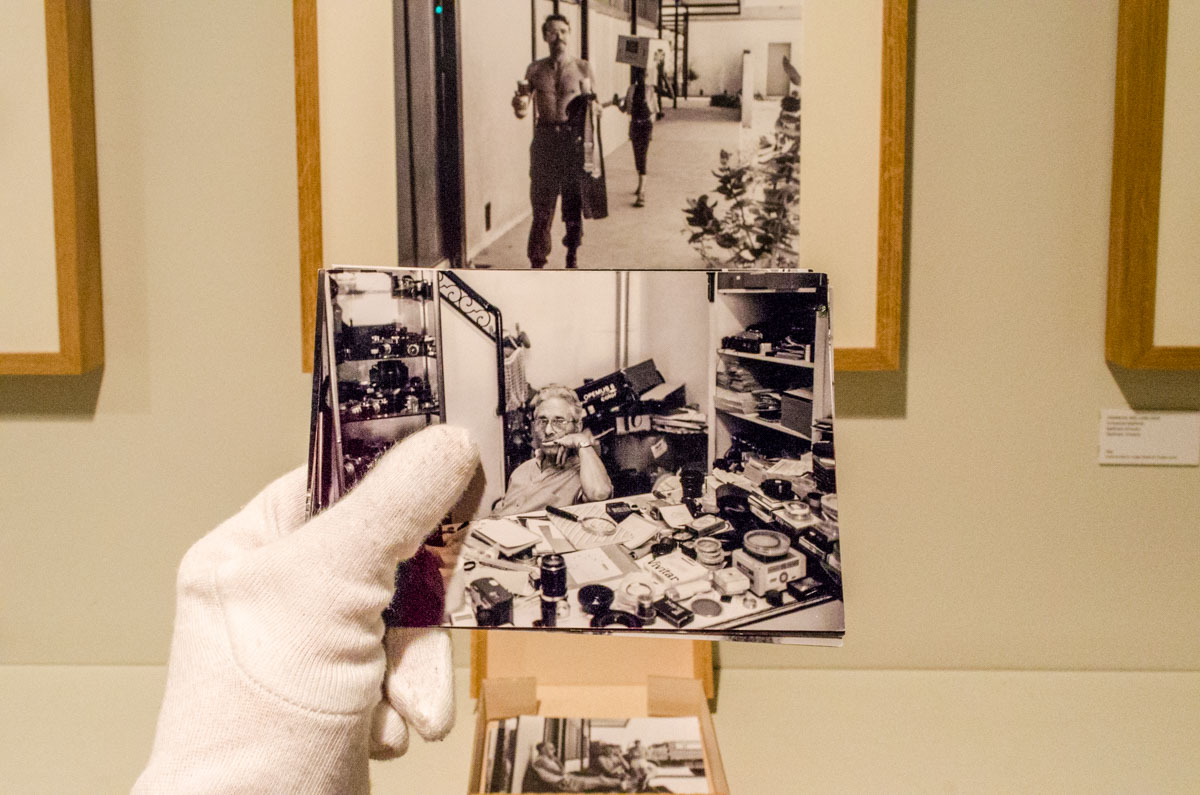 This is probably one of the most impressive photography museums in Europe and a total must-see Antwerp attraction. The place is located in the neighborhood Zuid (South). Previously an industrial area, nowadays it is a vibrant artsy neighborhood.
FOMU consists of a few reconstructed warehouses. The space is beautifully minimalistic. You'll find here photograph exhibitions of some distinguished Belgian and international artists.
The displays change once per quarter. You can complete your visit at their Pixel café, check out their cinemas, or learn something at their workshops.
M Hka
Museum of Modern Art in Antwerp is only a few blocks away from FOMU. M Hka was established by the Flemish Community and is worth visiting if you're into contemporary arts, especially audiovisual works.
When we visited, part of the museum was under the reconstruction, but from what we could see, as well as seeing their current updates on the official website, the museum hosts some great exhibitions.
In case you get overwhelmed or tired from the installations, you can sooth your body and soul at a yoga class organized right in the museum.
Park of Middelheim open-air gallery
If you are not into strolling around the huge halls, yet you love art, Antwerp has an alternative for you. An open-air gallery where you can throw your own picnic, bring a dog, or play badminton. Yes, that's how Antwerp plays with art!
Cartoon murals
Check out this cool project called Muurvast. We explored a similar comic strip in Brussels and had a lot of fun exploring new neighborhoods.
Learn about European cultural heritage
Red Star Line Museum
If we can recommend a single Antwerp attraction you must see, it would be absolutely Red Star Line Museum! An amazing concept developed to document the process and stories of the European migrants to America between 1873 -1934.
You'll "embark" on the ship and emigrate from Europe through a multi-medial installation, powerful photos, real objects, testimonials, and letters… It's truly touching to follow the stories of migrants departing for the unknown.
If you want to learn more and step into the shoes of European emigrants, join an organized tour in the museum that takes place every second Sunday.
You'll enjoy the museum especially if you love a modern approach to crucial historical events.
Museum Plantis Moretum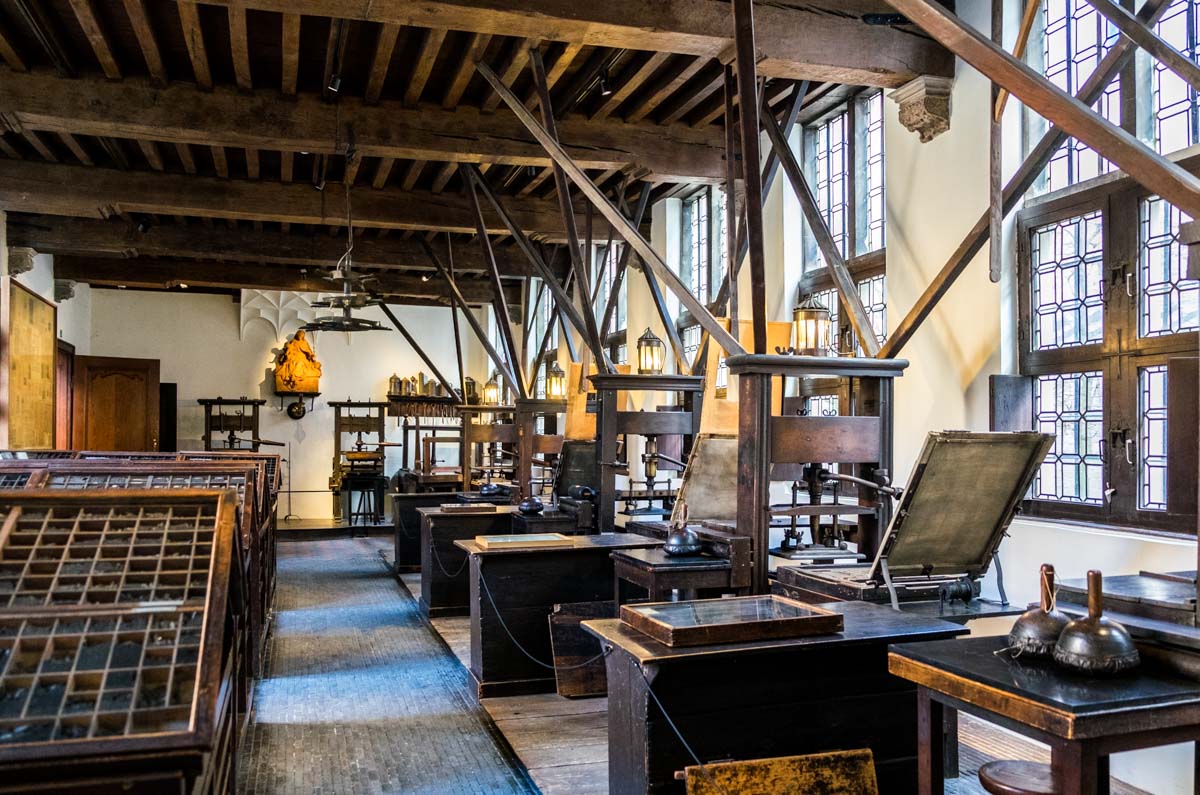 The fact that the museum is the only one in the world that is included in the UNESCO World Heritage list says it all. A spectacular exhibition of the print workshop displaying the two oldest printing presses in the world and thousands of prints.
The owners of the Museum Plantis Moretum count on the fact you might get hooked on the craft and have you covered! You can try typesetting your name in mirror image or print your own bookmark all by yourself. Antwerp wants you to leave their city and remember what you've created, not only what you've seen.
Hendrik Conscience Heritage Library
Another amazing place that takes you back in time is the Hendrik Conscience Heritage Library which highlights the city's Dutch literature and Flemish cultural heritage.
When we visited, there was a preparation for an evening event going on so we couldn't see much. Yet, thanks to a very friendly employee we could enter the splendid Nottebohm Room from 1936 with the original two-story book repository, which was quite an experience.
Rubens House Museum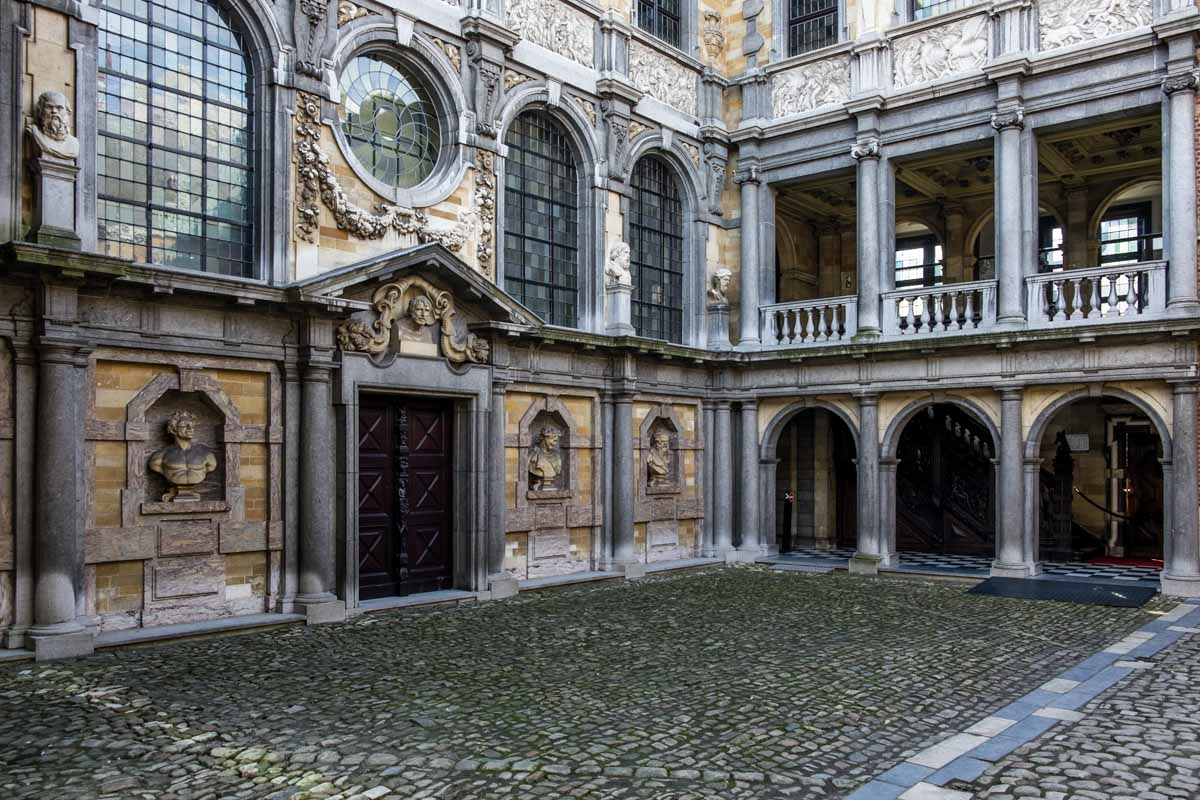 Worth visiting even if you're not into art. The Italian Renaissance city palace the artist designed himself will impress you immediately upon entering.
You'll love the pompous halls filled with Rubens' works as well as paintings of Anthony van Dyck. It's a remarkably well-preserved museum that used to serve as an equestrian facility and a prison after the Rubens' death. Check more details before your visit.
Get inspired by more articles:
Stand in awe of Antwerp architecture
Zaha Hadid
The works of Zaha Hadid are mind-blowing, and the Antwerp Port House is no exception. Come at sunset to get some awesome reflections.
The New Palace of Justice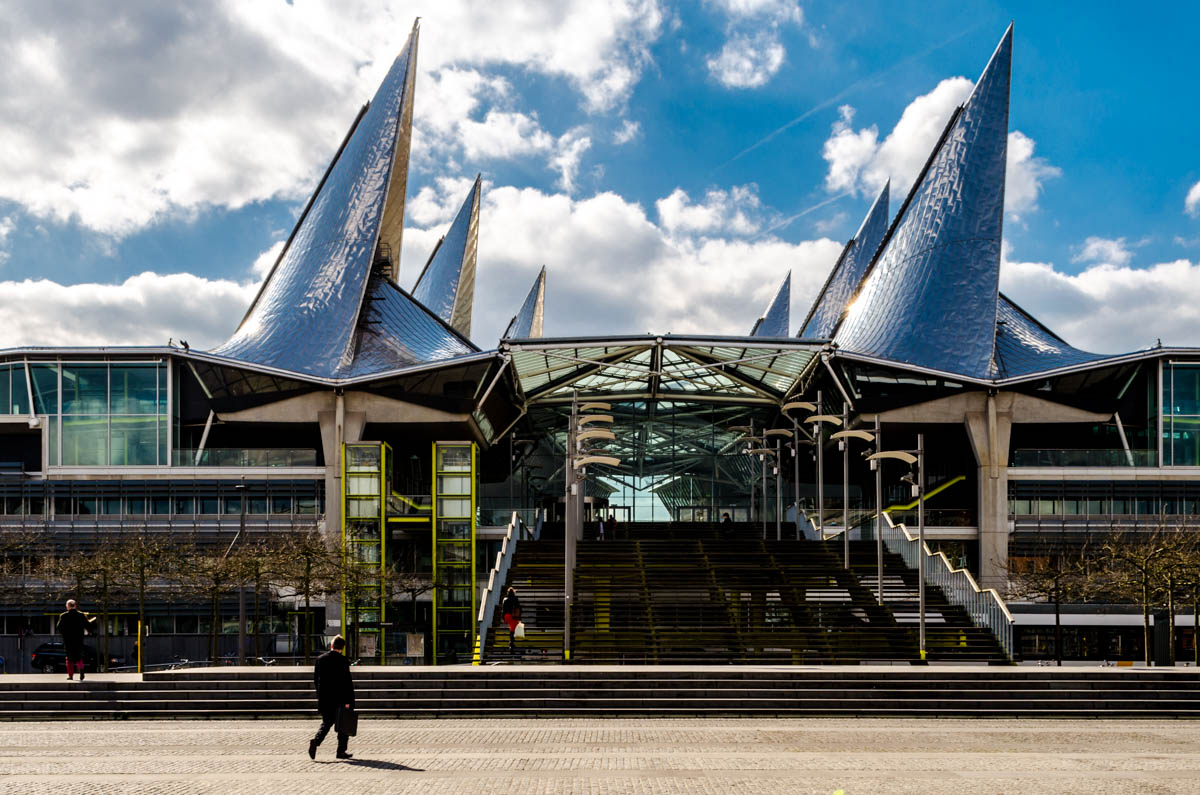 Hop on tram #4 or #8 and take it to the end stop (Antwerpen Bolivarplaats) to see the new dazzling Palace of Justice known as the Butterfly Palace thanks to its butterfly shape with open wings, which you can see only from the aerial view.
Richard Rogers, the architect who's behind the Pompidou Center in Paris and O2 Arena in London, designed the palace.
Warning: if you come at midday, bring strong sunglasses. The glass and steel may literally blind you. By the way, the glass material of the building is meant to represent the transparency of judicial system in the country.
Cathedral of Our Lady
If you are not impressed by the contemporary architecture, then head to the Gothic & Baroque Cathedral of Our Lady from the 16th century located in the main square.
Antwerp Central Station
If you happen to arrive in Antwerp by bus or by plane, pay a visit to the central train station. One of the most "wow" train stations in the world!
Indulge in good food and even better beer
Fish and seafood lovers, get ready for a good feast here in Antwerp.
We can't really recommend any particular place as we were eating vegan in Antwerp, but from a few looks at the menus of the restaurants in the city, there are plenty of choices.
There is a good pizzeria, Da Giovanni near the Cathedral of Our Lady that we tried one night. If you fancy some healthy food, we can recommend the chain Exki or Rosenobel near the Main Square for good vegan buffets and yummy cakes.
Get a pint
You know that feeling when there are so many options that it becomes hard to make a decision? Well, Antwerp and Belgium overall will give you a hard time. The number of pubs with outstanding drafts is beyond your imagination.
Now, to make it easier for you, our tip for the best pub in Antwerp would be, Ultimatum, which is located in the center. It's a tiny local pub with nice staff and great jazz music.
If you're looking for something more extravagant, not far from the Ultimatum, there is a popular quirky place called Bezemsteeltje. Go and check it out even if you're not a beer person. Also check out the small pubs in the South neighborhood. The area comes alive, especially in the evening.
More beer, please!
Take your beer experience in Antwerp to another level and see how it's produced. If you have a city card, then you'll get free entrance to the De Koninck City Brewery.
We'd done some brewery tours before, but this one in Antwerp was just awesome! Belgians have a great sense of humor, which you'll be able to see for yourself during a self-guided tour in the De Konnick City Brewery.
Needless to say, the final part of sampling their drafts is truly a wonderful experience. The staff is very cheerful and the place has some fresh design. Oh well, you're in Antwerp after all.
Pack and travel:
See old and modern Antwerp from above or afar
MAS I Museum aan de Stroom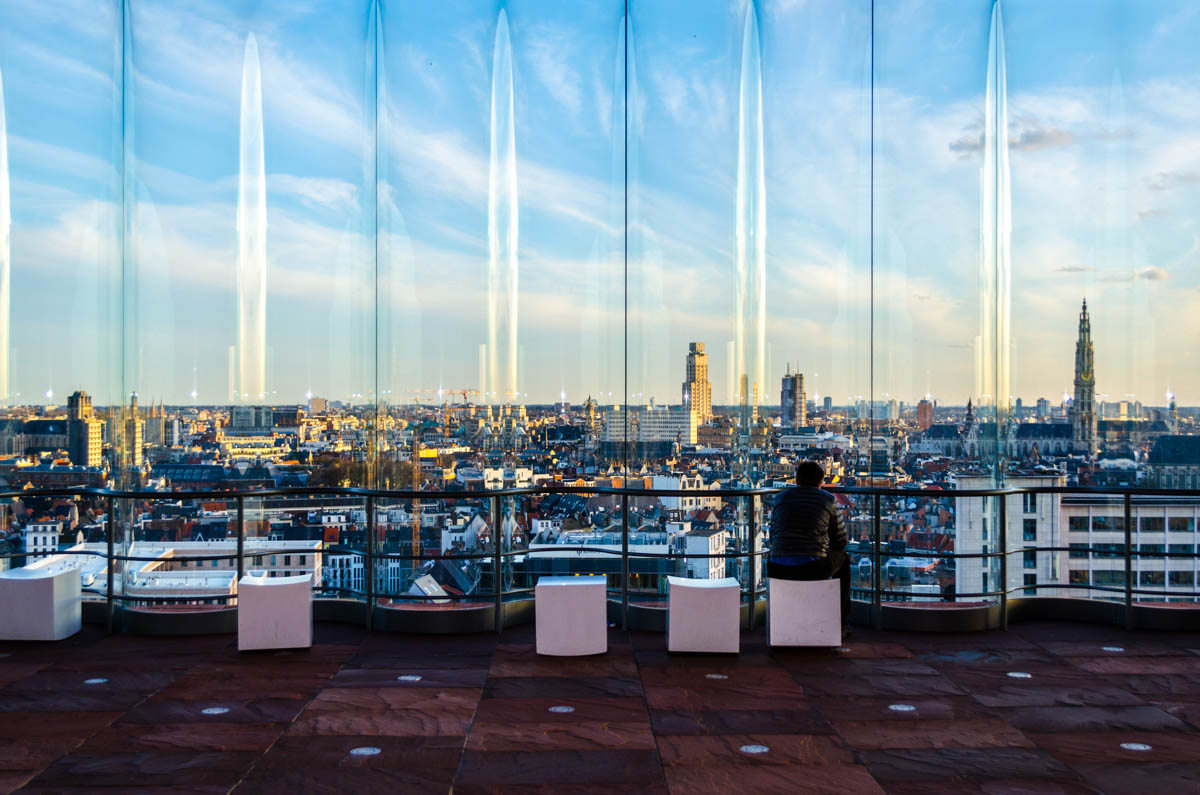 If you're looking for the best panorama view of Antwerp, then grab your Antwerp City Card and head to the top floor of MAS. Stupendous views allow you to understand better how the ancient and modern architecture co-exist in Antwerp.
The Linkerover neighborhood
Take the Pedestrian St. Anna tunnel to arrive to the left bank of Scheldt to get some pretty views of the Antwerp skyline from a different point of view.
Chill in one of green spots in Antwerp
In case you need a quick break from sightseeing, stop by the Botanical Garden, not far from the major central museums. It's quite small and intimate; so don't expect any long alleys for walking here, yet, there are a few benches where you can get some rest.
Families, if you travel to Antwerp in summer, take your kids to the Park Spoor Nord. It's a spacious open area with a couple of water fountains for children. Lovely place to hang around with friends, have a drink, or watch skaters perform their tricks at the skate park.
For jogging and cycling, we liked the Antwerp's Stadspark a lot. It's serene, and very well maintained.
And that's a wrap, dear friends. We're more than sure that since our last visit in Antwerp, there have been new inspiring places popping up and are certain that the city is truly justifying its "Atypical" feature.
Happy travels, and if you have more tips on things to do in Antwerp, leave us a comment below. We'll be happy to hear from you!
Get inspired by more travel articles:
Do you have a burning travel question? Join our Nomad is Beautiful travel community on Facebook and ask experienced travelers!
Disclosure: We got a 72-hour card from Visit Antwerp to explore the city at our own pace. As always, all words, good laughs, drafts and inspiration received from art seen in Antwerp remain our own.