I pulled a freshly printed photo my father brought me closer, and I was left in awe. Modest ancient buildings atop majestic smooth rocks looked like they were from another world, and I couldn't imagine how anyone could have climbed and build anything up there. I was twelve and my father just came back from a road trip to Meteora, Greece.
More than twenty years later, I was holding my own camera and staring at the same monasteries and the rocks that looked as impressive as my father's photo. I couldn't pull my eyes from the peaks of the rocks that touched the dramatically changing sky during our days in Meteora.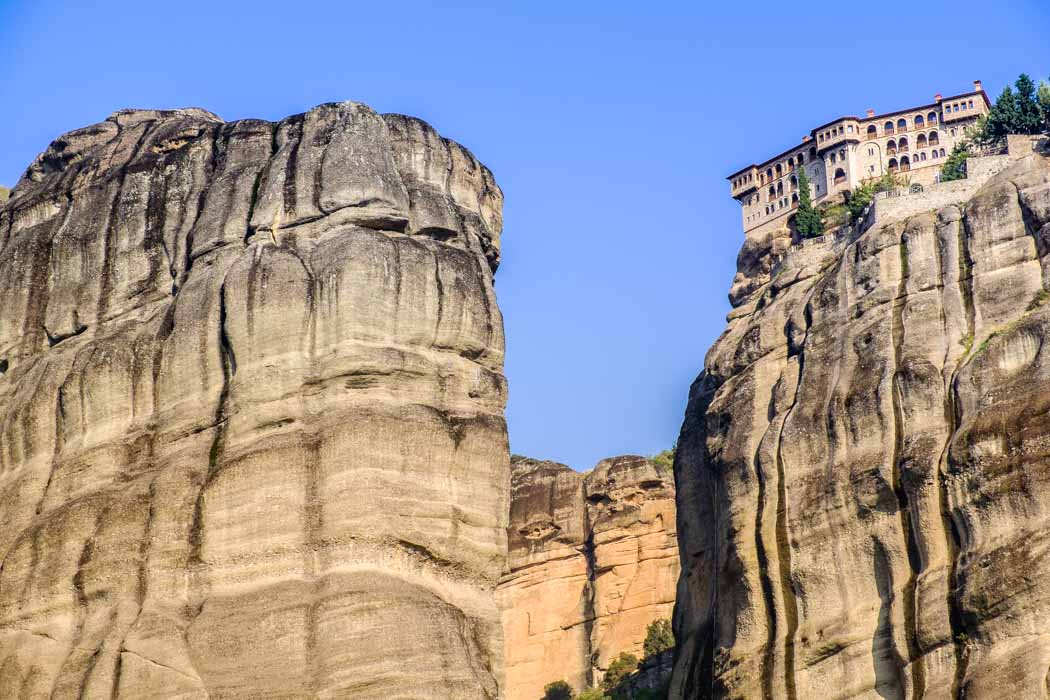 Three days of exploring the enigmatic rocks, abandoned hermitages, and walking among hidden houses that have witnessed a lot of history revealed many different faces of Meteora and brought about even more questions about the place before we had even visited.
Meteora in Greek means, "suspended in the air," and when you're wandering around, you feel like you might float up between the sandstone pillars at any second. Everything is serene, steady, and your heart slows down from the tranquillity Meteora transmits to its visitors. Just watch this video.
Meteora is epic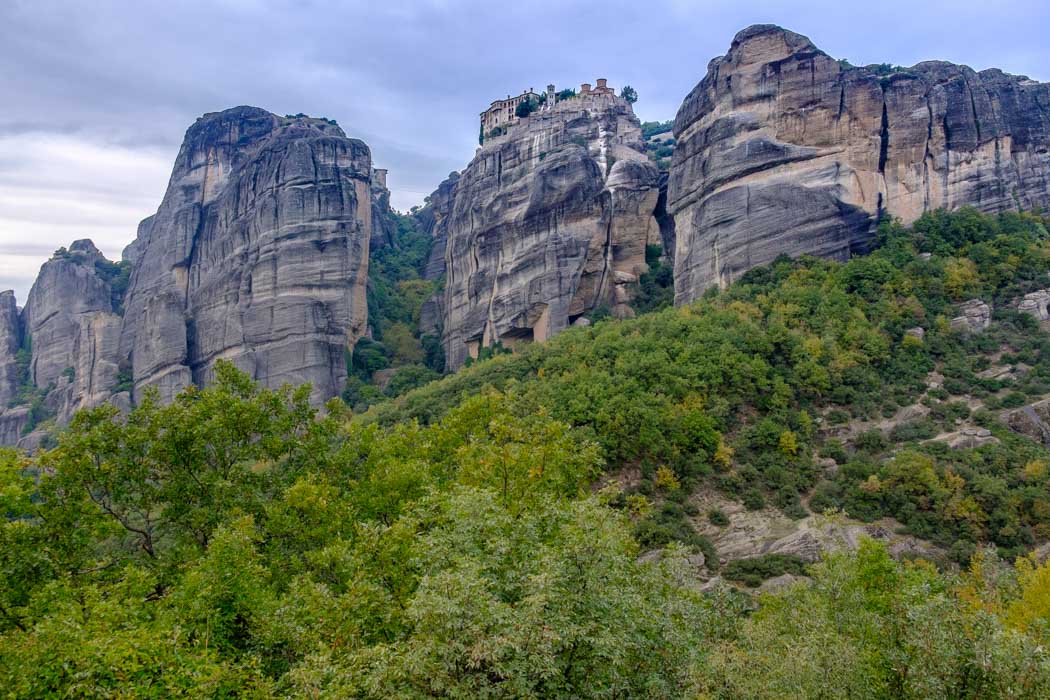 No matter how many photos of Meteora you've seen before, the first view of the giant mountains in real will be always extraordinary. When you stand at the foot of the rocks, you feel pretty humble when lifting your gaze up 1,800 ft (550 m) to the sandstone and conglomerate megaliths on which the monasteries were built.
Meteora is mysterious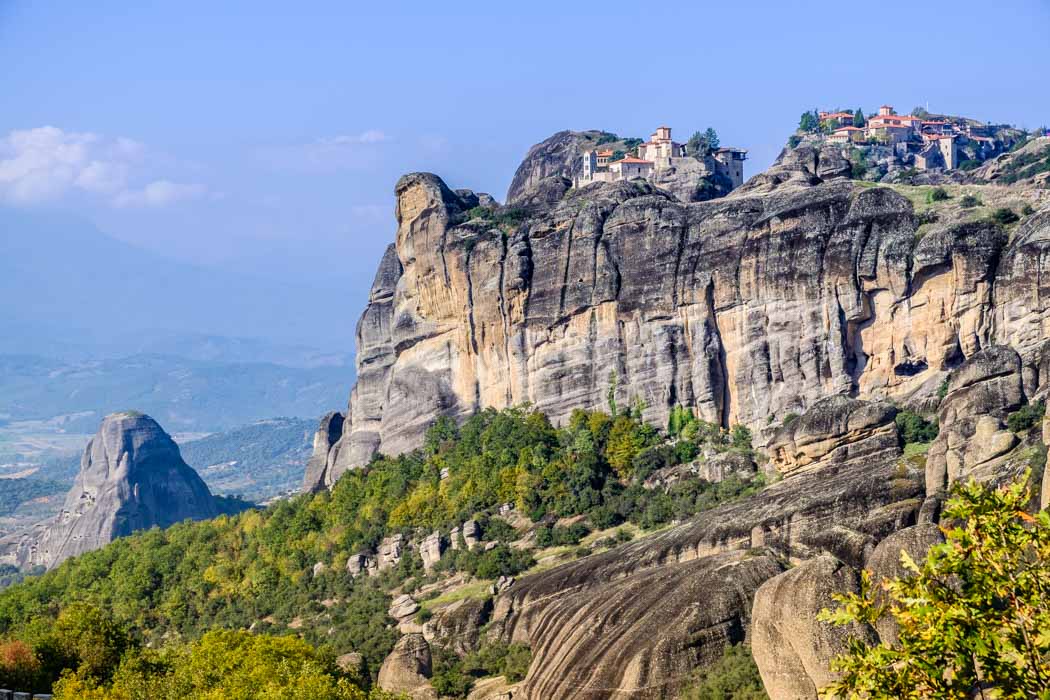 But how? And who? From the very first sight, cliff walls of Meteora are different from the mountains formations you might be used to. They look smooth, almost regular and still. The rock pillars were formed approximately 60 million years ago when in the big delta of the river a massive deposit of mud, river rocks and branches was created and after numerous earthquakes and floods, the rocks came into the surface and were formatted later by strong winds and lots of rainfalls.
Coming closer to the walls, you'll notice horizontal lines, which are lines of deposition and vertical ones, which are signs of water erosion. Caves that became homes for hermits seeking for security and peace are a natural creation of wind.
Meteora is embracing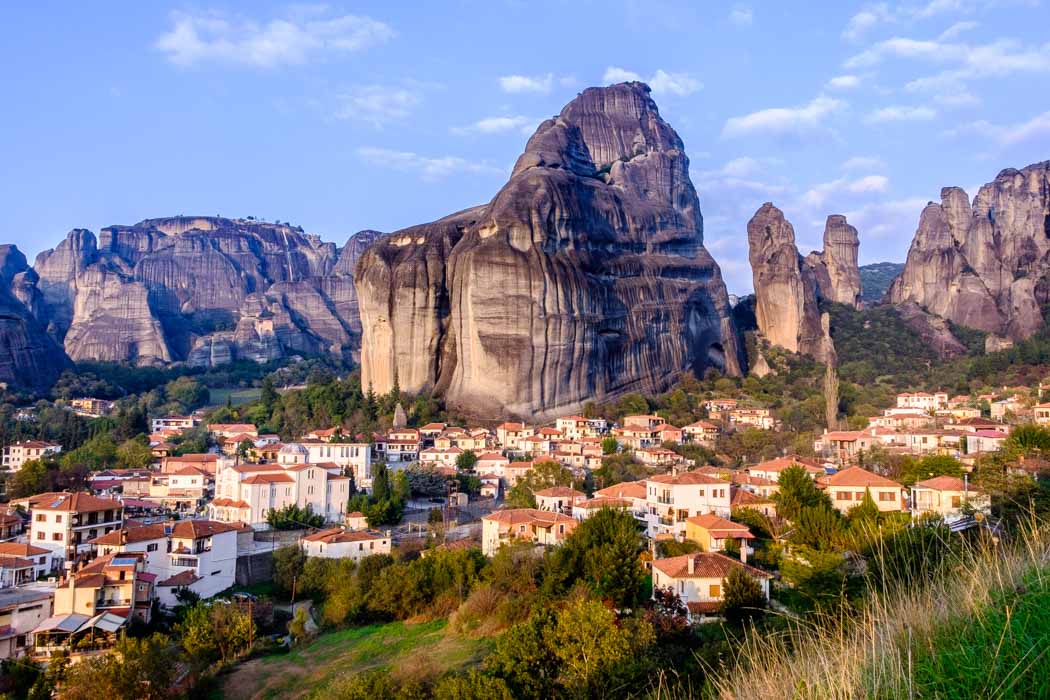 Observing the landscape of Pindos and Antihasia mountains of Meteora that is surrounded by the Pinios River gives a completely different perspective on your importance in the world. Meteora is massive, yet welcoming in a way that embraces you within its smooth rocks with a feeling of an elder who's seen a lot in this world.
Meteora is adventurous
Despite the fact that Meteora is visited mostly for the impressive ancient monasteries built on unique natural formations, there is a plethora of outdoor activities that can make your visit even more special. If you visit Meteora in winter, you can look forward to skiing and winter climbing.
If you travel there in summertime, you can choose activities like parachuting, mountain biking, canyoning, rafting, horseback riding, or taking an archery course. In case you travel light or cannot bring your own equipment, you can rent it right on the spot in Ski centre or local travel agents in Meteora.
We went for a morning hike with our professional guide Lazarus, who was more informative than any leaflet you'd find in the town of Kalambaka. Apart from that, we have to say that going for a longer hike and discovering some off-the-beaten paths in Meteora is better with a local guide, since the trails are not very well-maintained and the only means of orientation are the small towers of stones from sheep shepherds that you'll probably meet while hiking between the mountains, too.
Meteora carries some secrets
The history of Meteora, Greece started with the secret escape of hermits who were seeking a safe place where they could contemplate and detach themselves from the life "down there," in the villages below the rocks. Therefore, lots of the information we have about their lives is based on legends and assumptions, which makes the place even more interesting.
The first seekers of contact with God arrived to Meteora in the 9th century and only in 11-12th centuries was a Monastic community established together with the Dupiani church where they met for Sunday mass without going down to the village.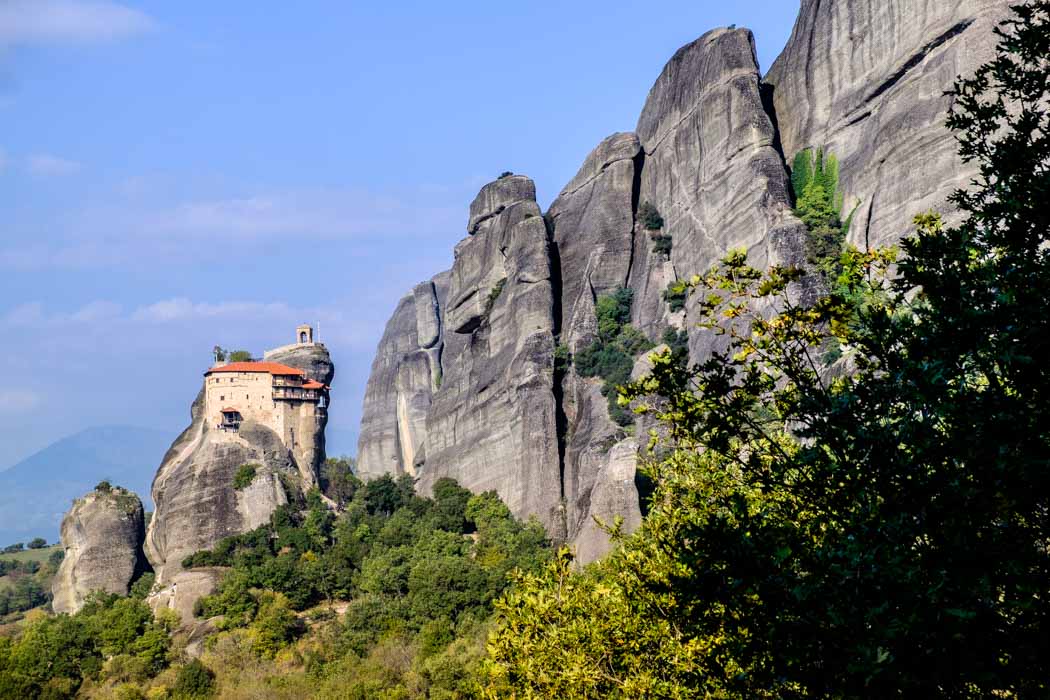 The first monastery was built in the 14th century, and by the 16th century there were 24 of them. The monks must have been very dedicated if you can imagine them carrying of their all materials in baskets on their backs or in large nets that hauled up both material and monks up to the top. Later on, when tourism started in the area, the stairs were built for visitors.
An interesting fact about this place is that there were only a few monks who established each monastery and took care of it. Presently, there are only 16 nuns and less than 15 monks in all six active monasteries in Meteora.
In the 30s of the last century, a plague hit the monasteries and the monks had to make a decision whether to break the rule and accept the help from nuns (this was not acceptable because of their celibacy vow) or … to let the monastic community die. Their community survived — so we guess an exception was made eventually.
During the WWII, monasteries were raided and lots of precious works of art were stolen. Fortunately, you can still find stunning frescos, original icons, manuscripts and objects from the daily life of monks in monasteries that are open to public.
Meteora can be solemn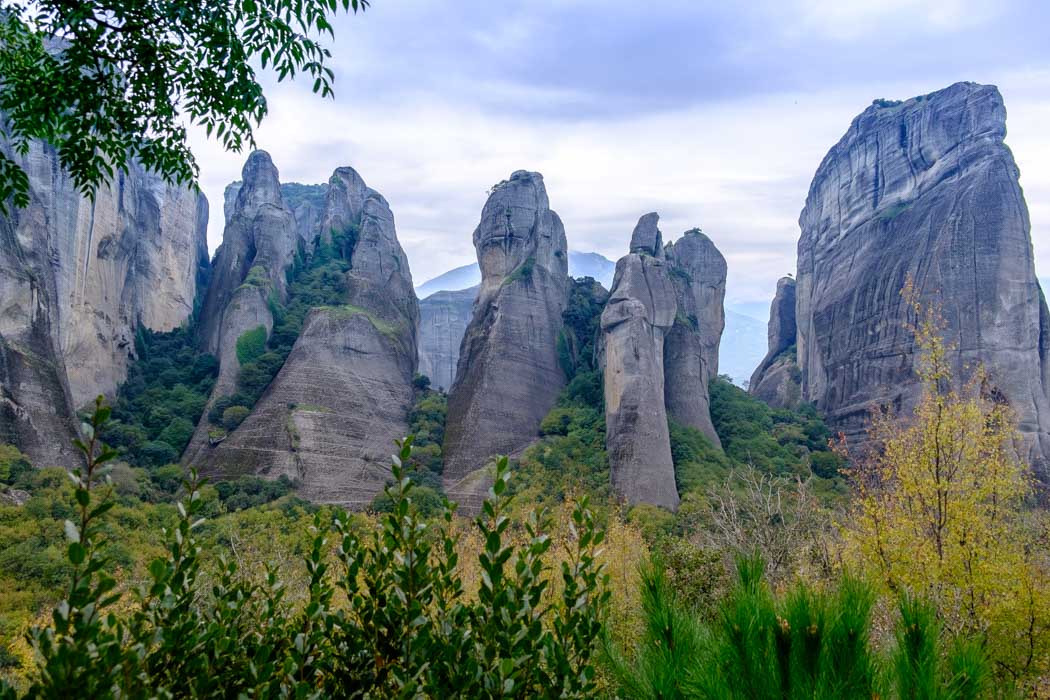 The weather can change quickly in Meteora, so don't be surprised when the mountains change their "mood" suddenly and sun hides for hours. Cuddled in the clouds, the rock cliffs seem a bit solemn and the only thing you can do is observe this contemplating atmosphere with respect.
Meteora is photogenic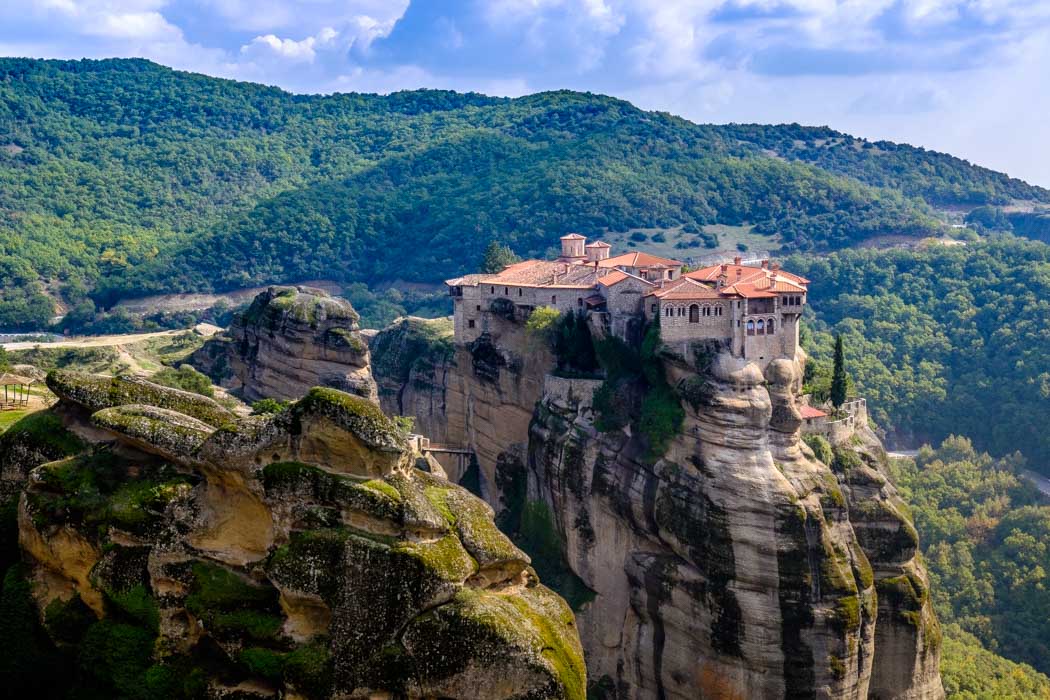 There are plenty of view points from where you can get some splendid views on the still rocks, abandoned and occupied monasteries and lively villages. You can either hike from Kalambaka or Kastraki village, and you will definitely find a favourite spot to watch the sunset.
Each rock is different and especially before sunset, the shadows of the rocks create truly fascinating atmosphere of different shades of yellow, orange, red, brown & grey clouds of the rocks touched by sunbeams.
Just embrace yourself with patience as the sun often hides behind thick clouds long before it goes below the horizon.
Meteora is traditional
Charismatic places bring curious customs and in Meteora there are plenty of them. While exploring rock formations, you'll most probably spot a "colourful cave," from afar. The legend of St George the Mandilas says that a Muslim man who was seriously wounded while cutting a tree near Saint George Hermitage was miraculously healed after his wife prayed to the Saint and offered the only valuable thing she owned: a headscarf.
Within a few days the man was fit enough to walk and since then, people strongly believe that bringing a colourful headscarf up to the steep cave dedicated to St George on the 23rd of April (the day of the Saint) will bring them health and keep couples in a strong relationship. The tradition has been followed for more than 300 years and many brave people keep it alive until nowadays by climbing the cave and bringing their offers to the Saint.
Meteora is precious
The site of Meteora survived Turkish occupation in the 14th century, but it couldn't escape being bombed during WWII. I feel that we should be very grateful for what remained in Meteora and appreciate every single sandstone pillar and monastery on the top.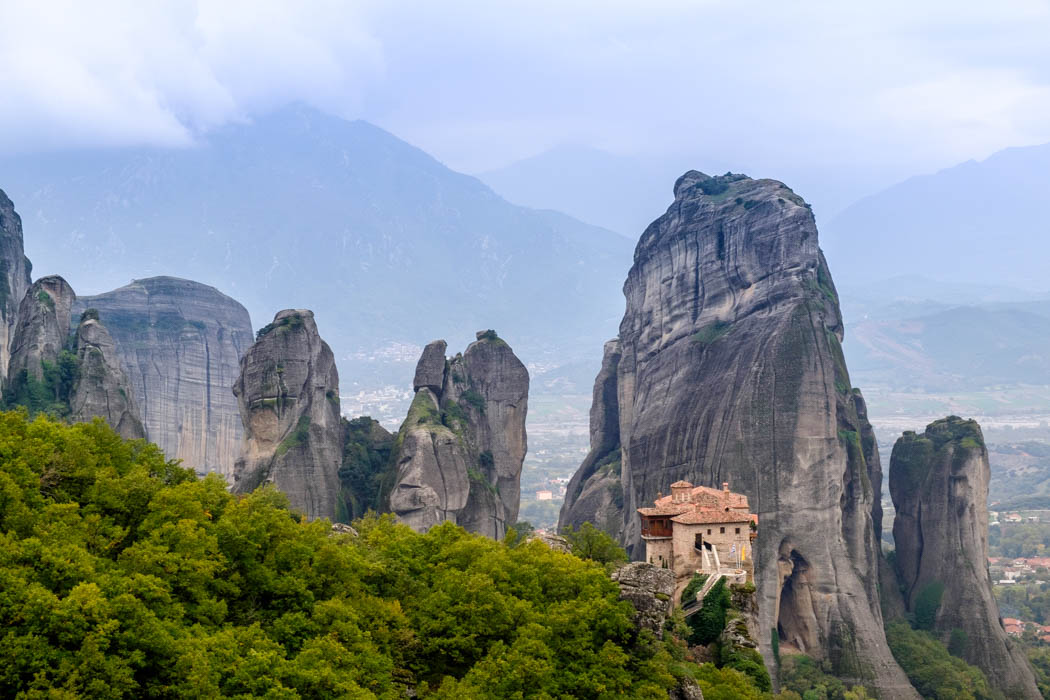 At the moment, only six out of the twenty-four monasteries are well preserved and accessible for tourists: the Holy Monasteries of Great Meteoron (Monastery of the Transfiguration), Varlaam (All Saints), Agia Triada, St Stefanos, Rousanou (St Barbara), St Nikolaos Anapafsas.
One more reason why Meteora in Greece is so exceptional: in 1988 it became an official UNESCO World Heritage Site.
Practical information when travelling to Meteora, Greece
How to travel to Meteora, Greece
If you plan to visit Meteora from Athens, the easiest way is to take a train. Go to metro station 'Larissa Station' and get your ticket here for Kalambaka (the closest town to Meteora) that is ideal for staying overnight before exploring the site. The direct train from Athens to Kalambaka takes about five hours.
You'll pay $20 for a one-way ticket and $32 for a round-trip so you better book your ticket online to be sure that you get a seat and save some money, too. If you head to Meteora from other destinations, please check this website for more details.
Entrance ticket for monasteries and a cave in Meteora, Greece
You'll pay $ 3.20 to enter each monastery, which is not a big amount of money if you pay for one or two of them, but in case you arrive in Meteora with a mission to see all of them, then it starts to add up. Unfortunately, for now there are no one- or two- days passes in Meteora.
The monasteries are open at different times and are usually closed one day per week. Visit the official website of Visit Meteora for updated information about each monastery.
A visit and a short tour in Theopetra's Prehistoric cave costs $ 3.2.
The best hotels in Meteora, Greece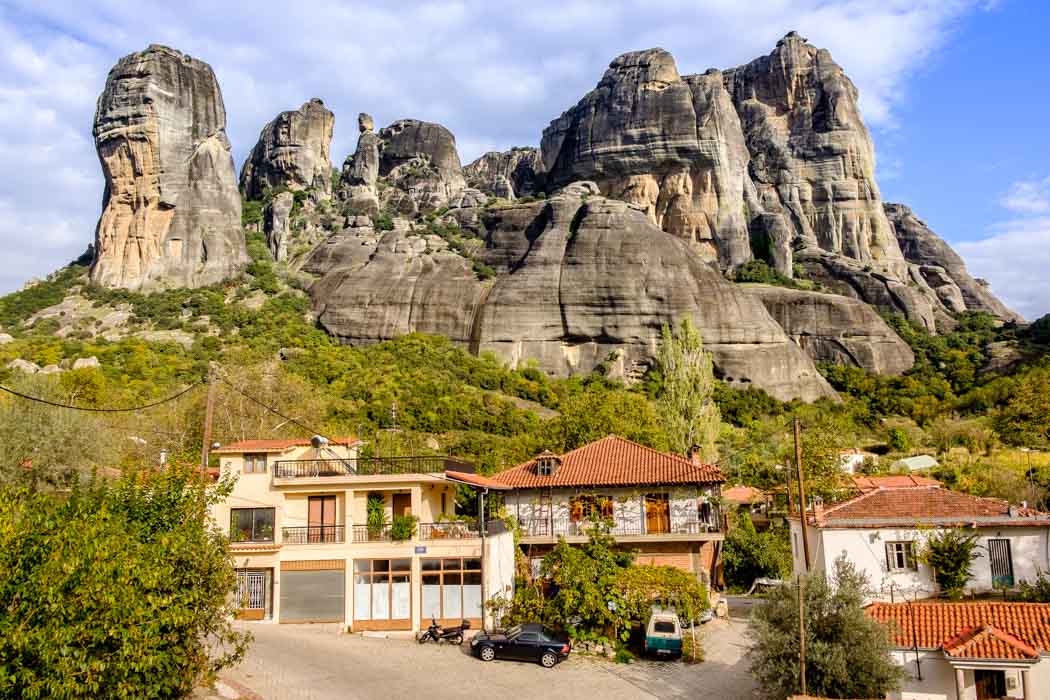 Elena Guesthouse
Traditional design, perfect location (only 100 m from the walking path to the rocks), very friendly staff.
Alsos House
Simple, clean and comes with wi-fi, good breakfast and fantastic view on the Meteora pillars.
Hotel King
Comfortable rooms in warm colours, centrally located, wifi, breakfast and all for very reasonable price.
Where to eat in Kalabaka
Archontariki Restaurant
Located in the centre, traditional atmosphere and very friendly staff. Recommended: potatoes stuffed with rice & classic Greek salad!
Meteoron Panorama
If you're looking for a spectacular view while tasting some Greek food, then opt for Meteoron Panorama. The price range might be a bit higher, but you pay for the view and Greek delicacies there. Go for lunch, because at a dinner you'll miss the scenic view!
Taverna to Paramithi
A very cozy place with homemade dishes for reasonable price. We had a steak there and a local mouth watering salad. We can recommend it as a place for a memorable dinner with traditional music.
Fastfood and pastries in Kalambaka
If you prefer to grab a traditional souvlaki for lunch or dinner, then head to Trikalon street, where a few local bistros are located and where you can fill your stomach for a few bucks.
For those of you with a sweet tooth, we recommend stopping by one of local pastries in the very centre of the town, just where the round turn is.
I'm not sure if my father remembers what an incredible urge to visit Meteora I felt when he was showing me that photo. Honestly, at that time I didn't really believe I'd be lucky enough to get there. When you're a kid, all looks too far, too big… But at the same time, all unreal from adults' perspective looks more real in your eyes.
Meteora is an ideal place to experience both grown-up and childlike points of view: you arrive there with a feeling of an outlandishness and amazement at this place you've heard about, and you leave with the impression that you've experienced one of the most authentic and solid wonders of the Mother Nature.
Have you ever been to Meteora, Greece? If not, would you love to explore the site and why? Please, leave a comment below.
Disclaimer: Part of our trip to Meteora was organised by Visit Meteora. Our opinions, words, excitement and memory cards full of beautiful photos are our own.