New York City (NYC) is a bustling cosmopolitan with a population of over 8.6 million people. The city consists of five boroughs: Brooklyn, the Bronx, Manhattan, Queens and Staten Island. It might be a little daunting to find a place to stay in this great, big city, but don't fret. We're highlighting where to stay in NYC with some of the best hotels and neighborhoods in the city.
The city is well-connected by the city's public transit system, the MTA, and many attractions can be easily walkable from the neighborhood you decide to stay in.
If you are interested to know where to stay in New York, we recommend some of the best hotels for different budgets.
When we travel, we book our hotels through TripAdvisor, one of the best websites to compare prices.
We also use a lot AirBnB to book local apartments. If you have never used AirBnB before, you can have a $40 discount for your first booking through this link.
Always make sure you travel with travel insurance! Be adventurous, but not careless.
Check out some of the most reliable insurance companies out there: True Traveller if you're European and World Nomads if you're from elsewhere.
If you love animals and you prefer going local during your travels, try housesitting, which is an amazing way to travel the world while taking care of the pets whose owners are on vacation. If you use TrustedHousesitters with this link you'll get $20 discount on annual membership.
Like it? Pin it!

Where to Stay in NYC
If you're looking for the best place to stay in New York City, then continue reading for a curated list of accommodations for visitors looking for budget, mid-range or luxury options with easy access to the city's main attractions.
Where to Stay in the Upper West Side
The Upper West Side (UWS) is one of my favorite areas in the city. It's a cultural hub home to the American Museum of Natural History (AMNH), Lincoln Center, Central Park to the east and Riverside Park to the west. It's a quieter area compared to most neighborhoods in lower Manhattan, but it still has plenty of activities and places to visit. This is one of the best NYC neighborhoods for families to stay in and enjoy the nearby attractions.
Set in the UWS, Arthouse Hotel is a stylish hotel offering guests a casual and quiet escape. The property has maintained many of its historic features while adding on a modern design and colorful artwork that give the hotel a special charm. It offers spacious rooms and suites, a 24-hr fitness center and amazing views of the city from its balconies and terraces. Guests can enjoy meals and cocktails at one of the hotel's three on-site restaurants, including a bar serving Prohibition-era cocktails. Check for availability and latest prices.
Luxury > Hotel Beacon
An upscale hotel located next to the Beacon Theatre and in the heart of the Upper West Side, the Beacon Hotel offers polished and spacious apartment-style rooms and two-bedroom suites. The hotel caters to guests who want to feel at home in NYC, and thus, their rooms are fully furnished with kitchenettes, flat screen TVs and free WiFi. Guests can enjoy cocktails and wines at the on-site Beacon Bar before heading to a show at the next door theatre or going out into the city. Check for availability and latest prices.
Mid-Range > Hotel Lucerne
Hotel Lucerne is set on a landmark building just a few blocks away from many restaurants, Central Park and AMNH. The Lucerne is perfect for guests looking for comfort and convenience. This hotel has a European-inspired charm while providing modern amenities. It offers free WiFi, 24-hr in-room dining, a fitness center, spa, as well as a lovely restaurant that serves French and Mediterranean inspired dishes. Check for availability and latest prices.
Budget > HI NYC Hostel
An affordable and welcoming hostel based in a Victorian-style property on the UWS. The hostel is newly renovated with bright and comfortable dorms, free WiFi and shared bathrooms. HI NYC provides guests with many opportunities to get to know the city, including free daily tours and activities and a 24-hr information desk. It also features a self-catering kitchen, a cafe bar, various communal areas and a large green patio. Check for availability and latest prices.
Get inspired by more articles:
Where to Stay in Midtown
Midtown is what many outsiders might think of when they hear "New York City". It has a lot of the city's major tourist attractions, like Times Square, Rockefeller Center, the Empire State Building, Radio City Music Hall, Lincoln Center, The Museum of Modern Art (MoMA), Madison Square Garden and Broadway. It's a really busy and touristy area and one that I, like many locals, try to avoid as much as possible, but sometimes it's unavoidable.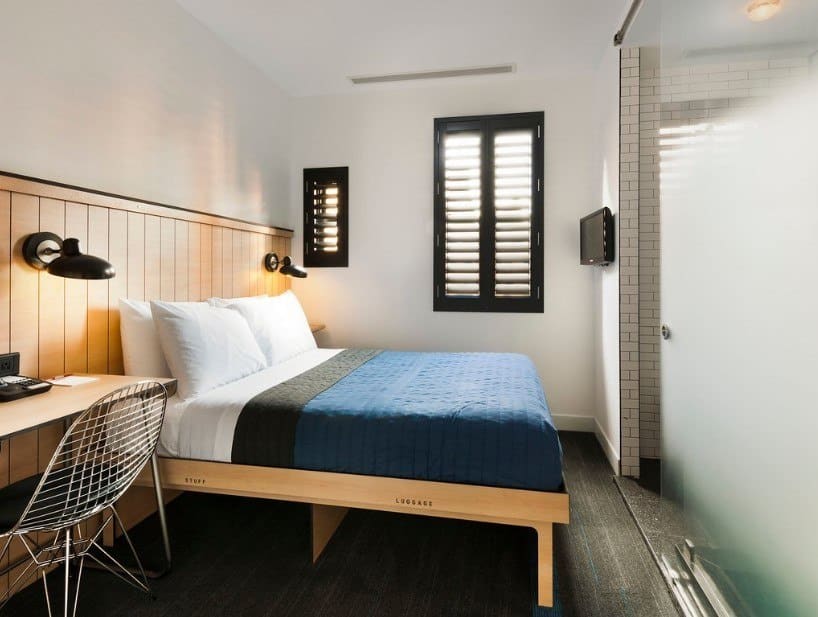 Pod 39 Hotel is a cool budget hotel with friendly staff. It's located in the Murray Hill area and close to Grand Central Terminal and the hustle and bustle of Midtown. The hotel offers bright and comfortable private rooms with WiFi access, guided walking tours, a casual Mexican-inspired restaurant, a lounge and a seasonal rooftop bar. Check for availability and latest prices.
Luxury > The Whitby Hotel
The Whitby Hotel is a beautiful luxurious boutique hotel with friendly service and a contemporary style. The rooms at The Whitby feature floor-to-ceiling windows, modern amenities, marble or granite bathrooms and many rooms with spacious private terraces. Guests can enjoy access to The Whitby Bar and Restaurant, complimentary WiFi, a gym, a drawing room, an orangery and a courtyard. The hotel is surrounded by world-class designer shops and department stores, restaurants and galleries. Check for availability and latest prices.
Mid-Range > YOTEL New York Times Square
If you're interested in staying near the always-buzzing Times Square and the theatre district, then YOTEL is the place to stay. It's a trendy capsule hotel that optimizes its space and creates contemporary areas for guests to enjoy. It offers free WiFi and breakfast, a rooftop terrace, an automated luggage storage and a gym. Guests of the hotel can relax on the hotel's private terrace that functions as a restaurant and club lounge. Check for availability and latest prices.
Budget > Jazz on Columbus Circle
Jazz on Columbus Circle is a budget-friendly hostel conveniently located a couple of blocks away from the Columbus Circle traffic circle and Central Park. Guests have easy access to various subway lines, shops and restaurants. This hostel offers ensuite rooms with bathrooms, three to six bed dorms and private rooms. Guests can enjoy free breakfast, luggage storage and staff organized outings and events. Check for availability and latest prices.
Where to Stay in Chelsea
Chelsea is a neighborhood in the far west side of Manhattan. It's a trendy neighborhood home to lots of art galleries, restaurants, bars, clubs, shops, the Whitney Museum of American Art and the High Line (a public park built on an old, elevated rail line). Chelsea is one of the best NYC neighborhoods for first-timers who would like to be close enough to the busy Midtown area but far enough for a quiet sleep.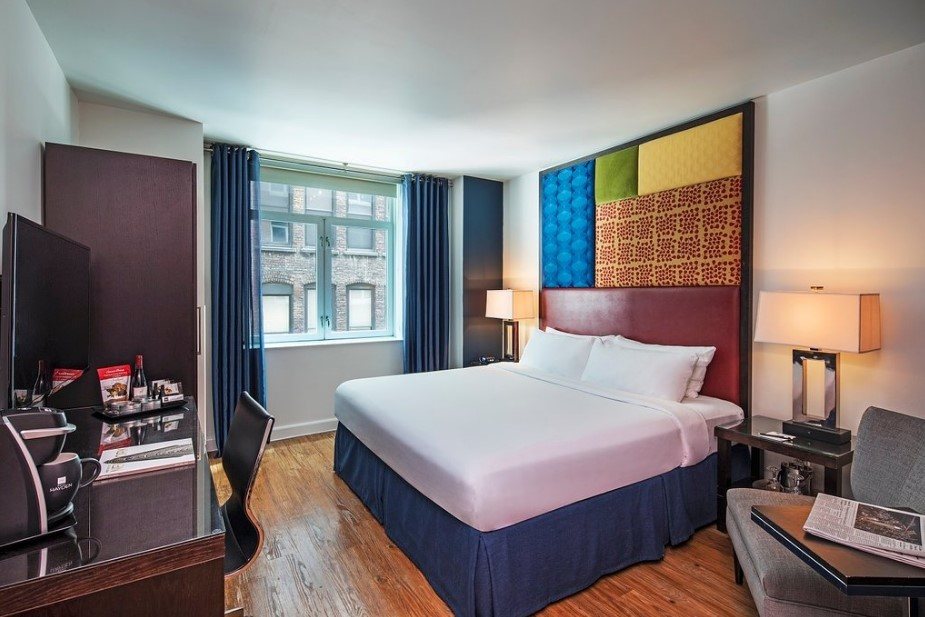 Hotel Hayden is a newly renovated, hip boutique hotel perfectly located within a few minutes walk from multiple train stations and famous landmarks like Madison Square Garden and the Empire State Building. It's a pet-friendly hotel offering modern, spacious and colorful rooms. Hotel Hayden has a nice on-site Greek restaurant and cool bar with panoramic views of the city skyline. Check for availability and latest prices.
Luxury > Kimpton Hotel Eventi
Located on the west side of Chelsea, the Kimpton Hotel Eventi is a lively boutique hotel offering world-class quality and service. The hotel boasts an on-site restaurant, bar, free WiFi access, comfortable and stylish rooms with wonderful views of the city. It's one of the best hotels in Manhattan with a central location that is perfect for those interested in quick access to both downtown and uptown attractions. Check for availability and latest prices.
Mid-Range > Heritage Hotel New York City
A classic-style hotel located close to Madison Square Park and the Flatiron Building. The hotel features complimentary breakfast and WiFi access, a tour desk, a 24-hr fitness center and baggage storage for an additional cost. Check for availability and latest prices.
Budget > Chelsea Cabins
Chelsea Cabins is a budget, vegetarian and non-smoking hotel offering basic single rooms with shared bathrooms. It's accessible only by stairs, and the rooms are cabin-styled with limited space. This hotel offers complimentary breakfast and WiFi and luggage storage space. Check for availability and latest prices.
Pack and travel:
Where to Stay in Greenwich Village
Greenwich Village, or "The Village" as locals call it, is a charming neighborhood in lower Manhattan known for its bohemian culture. Many of the streets in the area are lined with 19th century townhouses, which once housed many artists, musicians and writers. The Village is home to New York University, the iconic Washington Square Park and many eclectic galleries, eateries and bars.
Located right across the street from Washington Square Park, the Washington Square Hotel (WSH) is a great place to stay in NYC. Its location is ideal for those interested in exploring restaurants, theaters and music venues in the area, as well as easy access to other neighborhoods. WSH is a European-inspired and family-run property offering Art Deco-style rooms, complimentary WiFi and continental breakfast, a fitness room, spa services and friendly service. Many artists, including Bob Dylan, have stayed at WSH. Check for availability and latest prices.
Luxury > Walker Hotel Greenwich Village
The Walker is a charming Art Deco-styled boutique hotel in the heart of Greenwich Village. It's an inviting and cozy hotel offering luxury accommodations and great service. Guests can enjoy delicious meals and cocktails at Society Cafe, an on-site market-to-table restaurant that supports farms and locally sourced produce. Check for availability and latest prices.
Mid-Range > The Marlton Hotel
Set in a restored historic building from 1900, the Marlton Hotel is a stylish and compact boutique hotel featuring refined rooms with ornate moldings, herringbone wood floors, free WiFi and private bathrooms. The Marlton also has a beautiful Mediterranean restaurant and polished cocktail and espresso bars. Check for availability and latest prices.
Budget > The Jane
The Jane Hotel is a budget-friendly hotel located in a landmark building on the far east side of The Village. The property was once a hotel for sailors, and its restoration properly preserved its history with ship and train cabin inspired rooms. The hotel offers standard private and bunk bed rooms with shared bathrooms and private rooms with private bathrooms. It also features free and fast WiFi access, complimentary bicycles for exploring the area and an on-site restaurant, Old Rose. Check for availability and latest prices.
Where to Stay in the East Village
The East Village is a youthful neighborhood in the east end of Manhattan. It's a gritty and eclectic area that comes alive at night due to the popular dining and bar scene. The East Village is within walking distance of SoHo, Union Square and the Lower East Side. It's a great area for artists, foodies and those interested in having fun nights out.
The East Village Hotel is located above The Bean, a local coffee shop, and is accessible by stairway. The rooms are more reminiscent of homey studio apartments than hotel rooms as they include free WiFi, small kitchenettes, private bathrooms and a living room area. The hotel is just a couple minutes walk to popular bars and restaurants in the neighborhood. Check for availability and latest prices.
Luxury > The Bowery Hotel
The Bowery Hotel is the perfect accommodation for those looking to stay in a luxurious and quirky hotel in the East Village. The rooms are comfortable, beautifully styled and feature modern amenities and city views. The hotel offers complimentary WiFi access, newspapers, board games, DVDs, electronics and bicycles. It has its own on-site Italian restaurant, Gemma, and it's also steps away from other restaurants, bars and music venues in the neighborhood. Check for availability and latest prices.
Mid-Range > The Gatsby Hotel
The Gatsby Hotel conveniently borders the neighborhoods of the East Village and the Lower East Side. It provides bright and clean rooms, including mobility and hearing accessible double rooms. Each room features custom wood furnishings, comfortable bedding and standard amenities. Check for availability and latest prices.
Budget > St. Marks Hotel
Located on the corner of St. Mark's Place, a bustling street in the East Village. St. Marks Hotel is a cheap hotel in New York that offers basic yet comfortable rooms at affordable rates. The hotel is located in a walk-up building and features basic amenities and design. The main draw is its prime location close to the subway, many restaurants, bars and shops. Check for availability and latest prices.
Where to Stay in Williamsburg
Williamsburg, Brooklyn is the leader in gentrification in the city. Throughout the years, the neighborhood has experienced shifts in the people who have lived in the area, and it is now considered the mecca for hipsters. Williamsburg is home to a variety of artsy and trendy restaurants, bars, artisanal shops, art galleries and food markets, including Smorgasburg.
Located in East Williamsburg, BKLYN House is a boutique hotel offering affordable accommodations. Its modern rooms offer a clean and cozy loft-style feel with hardwood floors, work spaces, standard amenities and private bathrooms. Guests can enjoy a few perks, including day passes to two local gyms, complimentary WiFi and breakfast, a stocked business center with computers and printing and 24-hr concierge. The hotel also has accessible rooms for those with limited mobility. Check for availability and latest prices.
Luxury > The William Vale
The William Vale is a contemporary style hotel featuring open and clean rooms, a gym, an amazing 60-foot outdoor pool perfect for warm summer days and a trendy restaurant and rooftop bar. This upscale hotel located by the East River provides amazing views of the Manhattan skyline and is just minutes away from local restaurants, bars and Lower Manhattan. Check for availability and latest prices.
Mid-Range > Pod Brooklyn
Pod Brooklyn is a contemporary hotel featuring sleek and bright micro-rooms perfect for modern, urban travelers. Its rooms range from private bunk beds to suites and all include standard amenities. Pod Brooklyn also has a green courtyard, indoor social areas, four outdoor rooftops and a rooftop bar that are ideal for guests to relax, work or simply enjoy. Check for availability and latest prices.
Budget > NY Moore Hostel
NY Moore Hostel is located in East Williamsburg and offers guests a lively and colorful atmosphere. It offers clean and minimalist rooms ranging from mixed and female dorms to private rooms. Each room is equipped with a private bathroom. Guests can enjoy complimentary WiFi, a social common room, a courtyard, a full-sized kitchen and luggage storage. NY Moore Hostel is only a couple minutes away from an L-train station and many cool bars and restaurants. Check for availability and latest prices.
Each of the neighborhoods in NYC offer something different for all kinds of people. I hope this article helps you find the one that suits your style and interests. If you've visited and have additional recommendations on where to stay in NYC, please leave a comment below.
Get inspired by more travel articles:
Do you have a burning travel question? Join our Nomad is Beautiful travel community on Facebook and ask experienced travelers!