In this article, you're going to find awesome tips on where to stay in Malta, including the best neighborhoods and hotels of different price range. 
Malta – a little gem located in the heart of the Mediterranean Sea will steal your heart from the very first moment and it will bring you back to ancient times and old legends.
If you are interested to know where to stay in Malta, we recommend some of the best hotels for different budgets.
When we travel, we book our hotels through TripAdvisor, one of the best websites to compare prices.
We also use a lot AirBnB to book local apartments. If you have never used AirBnB before, you can have a $40 discount for your first booking through this link.
Always make sure you travel with travel insurance! Be adventurous, but not careless.
Check out some of the most reliable insurance companies out there: True Traveller if you're European and World Nomads if you're from elsewhere.
If you love animals and you prefer going local during your travels, try housesitting, which is an amazing way to travel the world while taking care of the pets whose owners are on vacation. If you use TrustedHousesitters with this link you'll get $20 discount on annual membership.
Like it? Pin it!
Where to stay in Malta
Being so popular, especially during summer time, there are plenty of places to stay in Malta and I am sure that you will find the right one for you.
Keep on reading this article filled with the tips and get ready to start a new adventure in Europe!
Where to stay in Valletta
Valletta represents by far the best place to stay in Malta. Being the capital of the island, it is full of attractions, points of interests and, of course, all kinds of accommodation – although some can be more expensive compared to other areas of Malta.
Let's take a look at our best options:
This 2* hotel is located not too far from the Upper Barrakka Gardens, one of the best Malta sightseeing in the area.
Offering a 24-hour front desk, all rooms include an electric tea pot and a private bathroom, while some others feature a terrace with sea views.
Continental breakfast served every morning. Check the latest price.
Luxury > Grand Hotel Excelsior
One of the best hotels in Malta if you are looking for an exclusive accommodation.
Located just outside the historic entrance to Valletta, this seafront hotel in Malta offers free parking, a gym and large outdoor and indoor pools.
All rooms feature a mix of classic and modern design, air conditioning, LCD TV with satellite channels and in most cases a balcony or a terrace. Check the latest price.
Mid-range > The Vincent Boutique Suites
Are you looking for a lovely and cozy accommodation in Valletta, Malta?
Well, I guess you have just found it.
This bed & breakfast in Valletta will make you feel at home with its cozy yet funky design interiors.
All rooms feature a TV, air conditioning and satellite channels, free toiletries as well as a coffee machine to make sure you start the day at your very best and have all the energy you need to visit Malta. Check the latest price.
Budget > Merchant Suites
A great option if you are looking for a cheap accommodation in Malta.
Located 2-minute walk from the Grandmaster's Palace and other several attractions, all rooms are equipped with a flat-screen TV, private bathroom with a shower and a desk.
A great solution for couples traveling on a budget. Check the latest price.
Get inspired by more articles:
Where to stay in Gozo
Gozo is the second biggest island and it's located only a 20-minute ferry ride from Malta.
It represents one of the best places in Malta for those looking to spend most of their time enjoying the beach and its surrounding nature.
Located in Victoria, on the stunning island of Gozo, one of the most beautiful places to visit in Malta, Casa Gemelli offers air-conditioned rooms with a private bathroom with free toiletries and a hairdryer.
The location of the structure is great and guests can enjoy some rest in the shared lounge area. Check the latest price.
Luxury > The Duke Boutique Hotel
One of the most luxurious hotels in Malta, located in Victoria, on the island of Gozo.
Here guests have the opportunity to enjoy some exclusive services while diving into the comfort and beauty of the area.
All rooms come with classic contemporary design, luxurious mattress and pillows, high textured sheets and towels. All bathrooms features a shower or bath tub, free slippers and toiletries.
Enjoy the yummy breakfast served every day at the buffet. Check the latest price.
Mid-range > Bellavista Farmhouses Gozo
Once in Gozo, one of the best solutions is to choose to stay at one of the several Malta apartments. Oh, sorry! Did I say apartments? I meant villas.
Enjoy the luxury of endless space and elegance at Bellavista Farmhouse, a villa built in authentic limestone.
The villa is located 5-minute drive from the red-sand beaches of Ramla Bay and about 10 minutes walking from the main shops and facilities.
Enjoy some sunbathing and a jump into the pool during your next holidays to Malta. Check the latest price.
Budget > Gozo Hills Bed and Breakfast
This cheap accommodation in Malta is located just a few minutes from Xaghra town center.
Among its best bonuses of the place is the outdoor pool and extensive buffet breakfast where you can enjoy some homemade bread, cold cuts, fruit and cereal. Victoria is located just 5 minutes away by car from the hotel. Check the latest price.
Where to stay in Sliema
Among the most popular places to see in Malta, Sliema is located on the northern side of the island.
It's a popular tourist area where you will find plenty of restaurants and facilities. However, if you are looking to spend the day on some sandy beaches during your holidays in Malta, bare in mind that most of the beaches around Sliema are rocky.
Public transport in this area of the island is efficient and Sliema represents a good option if you are looking to visit Malta on a budget, considering that the accommodations tend to be slightly cheaper compared to the rest of Malta.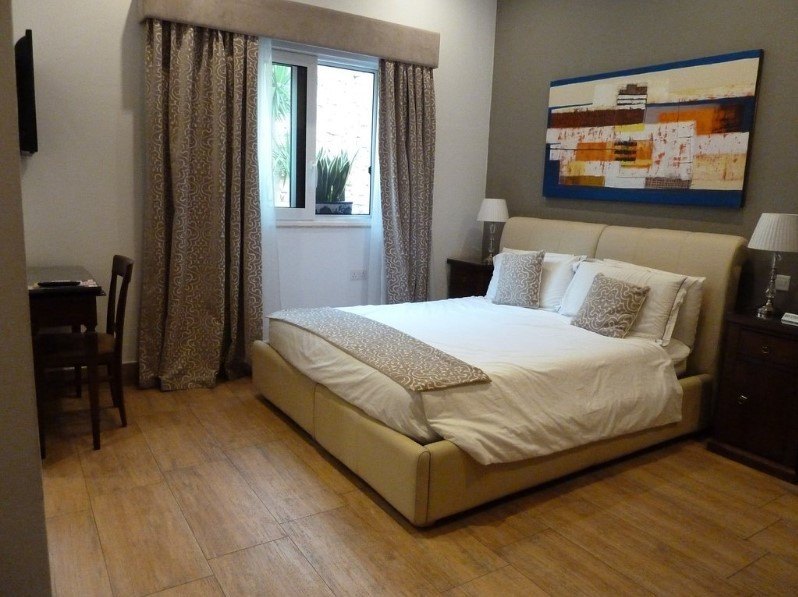 Located in Sliema, less than a 10-minute walk from the sea, this amazing Malta hotel offers a year-round outdoor pool and terrace, free parking, complementary wifi and modern studios with a balcony and air conditioning.
British and continental breakfast served every morning. Bike rental service available. Check the latest price.
Luxury > Ax The Palace
A wonderful option for those looking for the best luxury hotels in Malta.
This 5* hotel features a rooftop spa with infinity pool overlooking the Mediterranean Sea, the perfect location to enjoy some relax and take some unforgettable Instagram shots.
The hotel features two restaurants, one for Asian and one for Mediterranean cuisine.
Rooms are air-conditioned with a smart TV with over 70 HD international channels, a minibar, and a tea-and-coffee maker. Free Wi-Fi is available within the whole structure. Check the latest price.
Mid-range > Sliema Marina Hotel
Among the several places to stay in Malta, the Sliema Marina Hotel represents a good option for travelers looking for a midrange seafront accommodation.
There is a sun terrace with a hydrotherapy pool in the hotel as well as a rooftop breakfast room where you can enjoy the view across the harbor.
All rooms are air-conditioned and feature TV, phone, and free WiFi. Check the latest price.
Budget > Alborada Apart Hotel
Among the several cheap hotels in Malta, Alborada Apart Hotel wins thanks to its location, just 50 meters from the seafront Sliema bus stops.
Each room is characterized by a modern yet simple style which provides all the comforts you may need during your holidays.
Not too far from the hotel you can find several bars and restaurants, while St. Julian's is located just a 20-minute walk away. Check the latest price.
Pack and travel:
Where to stay in St. Julian's and Paceville
This is one of the most popular places to go in Malta all year round, especially if you are a traveler looking for nightlife, clubbing, and restaurants.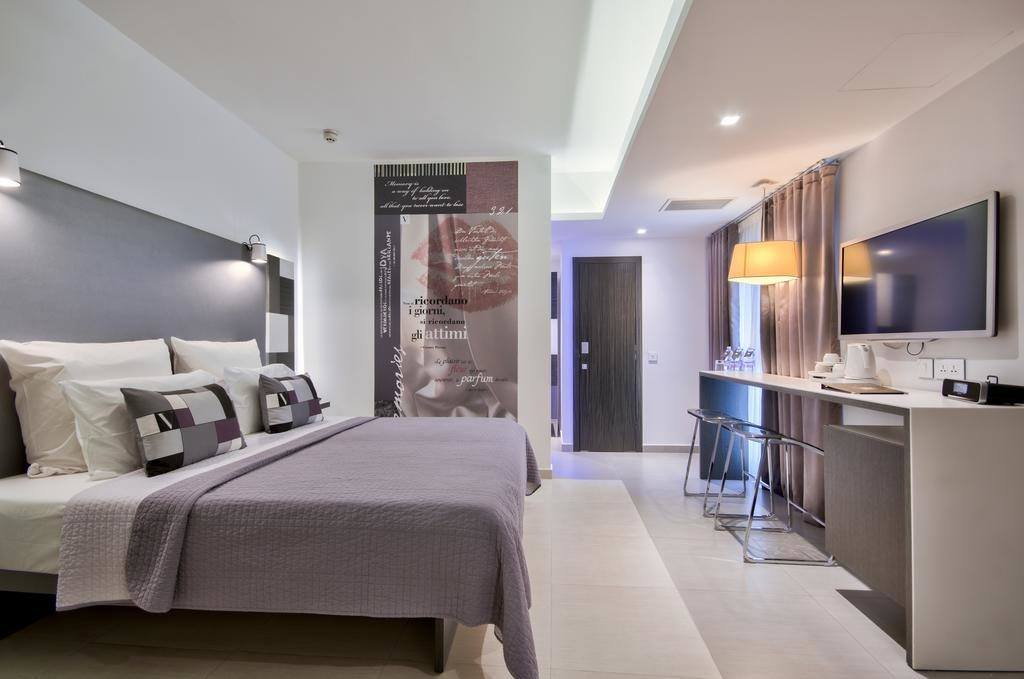 Located in the heart of St. Julian's, in the lively area of Paceville, Hotel Valentina is a stylish design hotel offering a seasonal outdoor swimming pool where to enjoy the warmth of the Maltese summer months, free WiFi throughout the whole premises, and air-conditioned rooms with ultra-modern furnishings and iPod docking station. Check the latest price.
Luxury > Hilton Malta
Hilton is always a great idea! And Hilton Malta in St Julian's will turn your next trip to Malta into a real exclusive experience.
Its modern and elegant design will definitely make you feel comfortable during your stay at this 5* hotel.
Enjoy its outdoor pool and its incredible buffet breakfast. Spacious and modern rooms come with a large balcony overlooking the sea or Portomaso marina. Check the latest price.
Mid-range > Hugo's Boutigue Hotel
A pretty special place where to stay in Malta, especially if you are traveling with your love.
This adult only hotel is located just 140 m from St. George's Beach.
Each room is equipped with all the comforts you may need in order to make sure you take the best out of your vacation or honeymoon.
If you are on a romantic trip and you are traveling on a midrange budget, go for it! Check the latest price.
Budget > Marco Polo Hostel
Looking for an affordable accommodation in Malta? Well, Marco Polo Hostel might be a perfect pick!
The structure offers dormitories and private rooms as well as shared facilities such as a sun terrace where guests can use the BBQ or enjoy a drink and some international talks.
All rooms come with shared or ensuite bathroom. Great location and a perfect choice if you are looking for a place to stay in Malta where to meet other fellow travelers. Check the latest price.
I do hope that this short guide on where to stay in Malta will help you to find perfect accommodation for your stay.
Have a lovely vacations in the heart of the Mediterranean sea!
Get inspired by more travel articles:
Do you have a burning travel question? Join our Nomad is Beautiful travel community on Facebook and ask experienced travelers!