If you have already seen all main Tbilisi sights then it's time to get out of the city and explore more of Georgia. And to be honest, there is so much to explore. With all the attractiveness of the main Georgian city, acquaintance with it alone is not enough to understand the soul of the country and appreciate the uniqueness of its culture and history. That's why you need to add to your itinerary a few day trips from Tbilisi.
This post will give you a good idea of where to go in Georgia to see the most iconic and interesting sights. Going on these trips will help you explore the outskirts of Tbilisi, taste wine, touch the most ancient walls of mysterious monasteries, drive one of the most scenic roads in the world, and get a real adventure in a deserted mountain valley.
For the best experience, it is better to rent a car (if you need help learning how to rent a car in Tbilisi, see my guide) and go on your own or join an excursion in order to save time and not to worry about the prospect of getting lost somewhere in the middle of the gorges. However, no matter what you decide, I know you will enjoy these trips! Now read more about places where you can go to from Tbilisi for one day.
If you are looking for a place to stay on your next trip, we recommend some of the best hotels for different budgets.
We researched our information on TripAdvisor, Booking.com and HotelsCombined where you can compare some of the best deals when booking a place in Europe.
We also use a lot AirBnB to book local apartments. If you have never used AirBnB before, you can have a $40 discount for your first booking through this link.
Always make sure you travel with travel insurance! Be adventurous, but not careless.
Check out some of the most reliable insurance companies out there: True Traveller if you're an European and World Nomads if you're from elsewhere.
If you love animals and you prefer going local during your travels, try housesitting, which is an amazing way to travel the world while taking care of the pets whose owners are on vacation. If you use TrustedHousesitters with this link you'll get 25 off on annual membership.
Like it? Pin it!
Day Trips From Tbilisi to Wineries
Visit the City of Love Sighnaghi & Nearby Wineries
Sighnaghi, "Georgian San Marino" is a picturesque town in the Kakheti region. It was built on the crest of a mountain ridge and for this reason, no one was ever able to conquer and destroy it throughout history. This is a rarity in Georgia since for a long time the Turks, then the Persians have been conquering Georgian lands.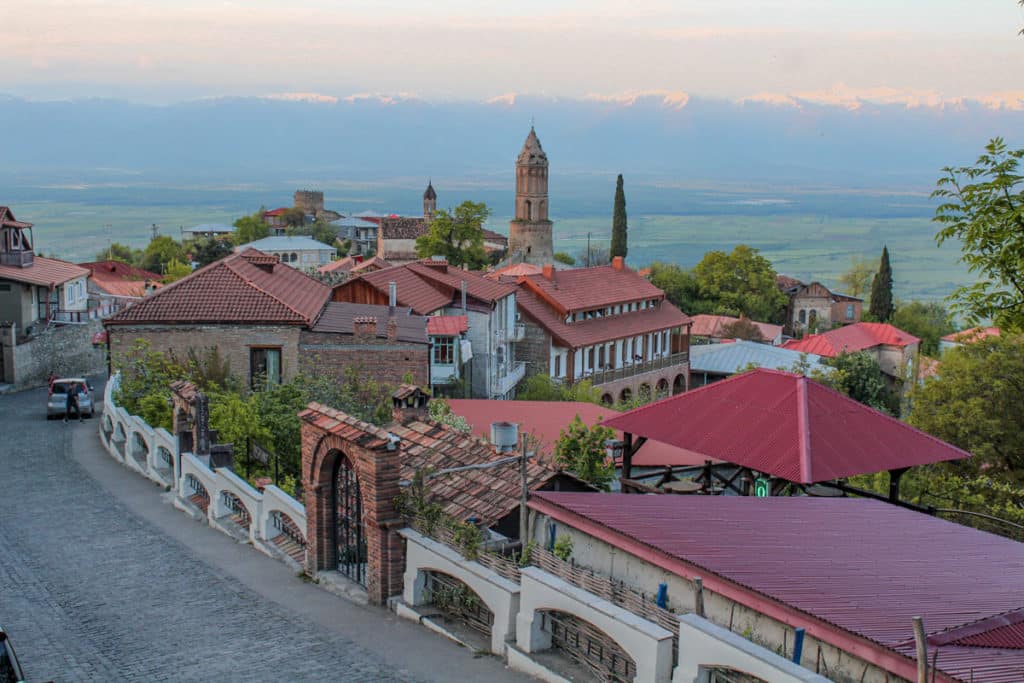 During the presidency of Saakashvili, Sighnaghi was restored and turned into the main tourist city in all of Eastern Georgia.
The center of Sighnaghi is a small very beautiful area with picturesque streets attached to it. It is very enjoyable to walk through them, go to the walls of the fortress surrounding the city for breathtaking views, spend an hour or two in Bodbe monastery, and of course visit a winery.
You can find the majority of wineries in Georgia in Northern Kakheti where you'd want to spend at least a few days. But Sighnaghi has a few wineries too that work great for a day visit from Tbilisi. The most famous ones are Pheasant's Tears Winery and Cradle of Wine Marani.
Check out these awesome tours in Georgia!
Drink Wine & Eat Khinkali in the 19th Century Palace (Winery)
If you are on a quick trip to Georgia and don't feel like going to Kakheti but you really want to visit the winery, then Chateau Mukhrani mini palace is an ideal option. The winery is located in an old atmospheric building that actually used to be a palace where the royal family lived.
This rather high-profile wine producer is meeting visitors in a small village in a very picturesque setting. Besides the wine tasting, you get to learn about wine production, try local cheeses, khinkali, and take dozens of Instagram worthy photos. It is definitely a truly atmospheric and sophisticated place!
TIP: Arrange an excursion in advance but make sure it includes khinkali and khachapuri master class.
Get inspired for your next travels!
Outdoor Day Trips From Tbilisi
Go on an Adventure Along the Famous Georgia Military Highway
The Georgia Military Road is one of the most beautiful roads in the Caucasus and in the entire world! It is a 208 km long highway connecting Russia with Georgia that goes through the Caucasian mountain range and is a real historical route full of many attractions, scenic landscapes, hot springs, and jaw-dropping views of the mountains.
For the fullest adventure, it is best to hire a transfer or rent a car because only with your own vehicle you'll have the freedom to stop where you want and spend as much time in one place as your heart desires.
If time permitting, it is even better to turn this Georgia trip into two days. Georgia Military Highway drive is full of natural wonders and Stepantseminda at the end of the road trip is a lovely authentic village where to stay overnight.
Visit Old Kutaisi And Its Surroundings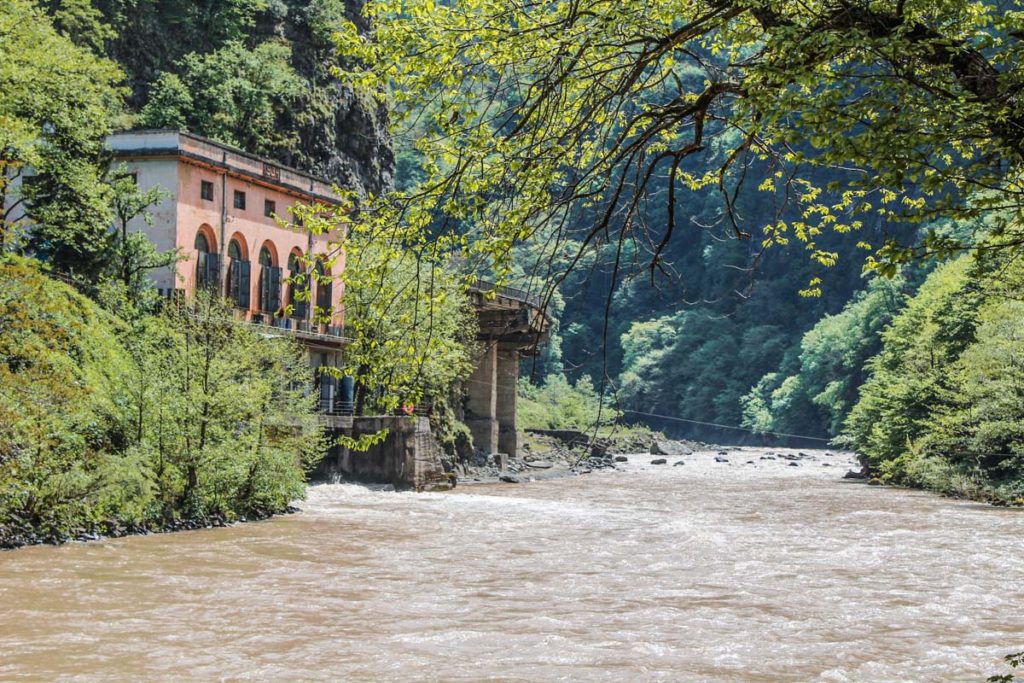 Kutaisi is an incredibly beautiful old city that lies on both banks of the Rioni River. It stands on a rocky plateau and holds dozens of sights of the "old" age. The old town lies on the right bank and the new city on the left.
Numerous bridges are built across the Rioni River from where you can take many panoramic pictures of the city. Among the most important tourist sites are the 10th-century Bagrati Cathedral, the Motsameta Monastery built on the site of the Muslim massacre of Georgians, and Okros Chardakhi the former residence of the kings.
But another reason to visit Kutaisi is the surrounding nature. Okatse Canyon and Martvili Canyon with numerous waterfalls as well as Prometheus Cave Natural Monument are the most famous natural wonders in that area.
TIP: It takes around 3 hours to get to Kutaisi from Tbilisi. For some people, it may be a lot for a day trip. If you have time, I highly recommend extending it and staying in Kutaisi for a night. Especially, considering a fact how many lovely guesthouses are in the area.
Day Trips From Tbilisi to Monasteries And Religious Sites
Visit One of the Most Ancient Monasteries in the City of Mtskheta
Mtskheta is not only a beautiful city not far from Tbilisi but also an ancient historical center that many people often call the "Second Jerusalem". It is located at the confluence of two rivers and for a long time retained the status of the oldest capital of Georgia.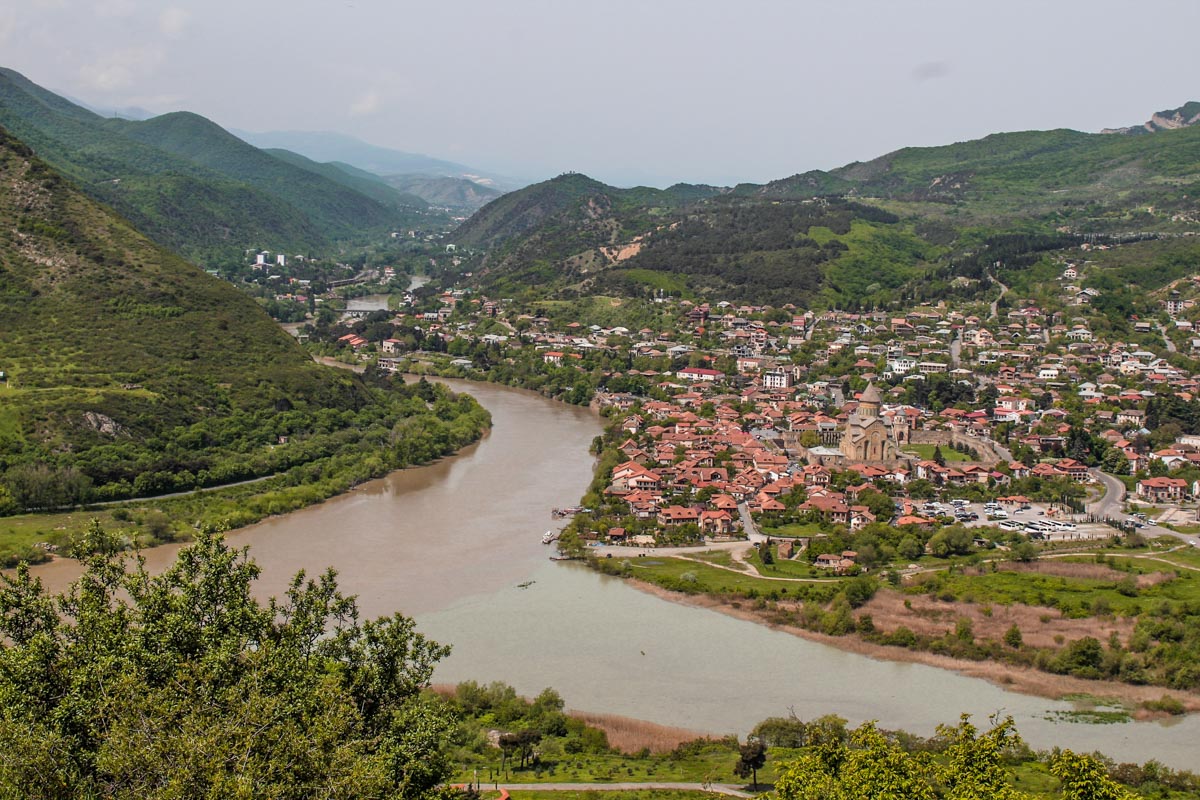 Many historical monuments here are examples of medieval religious architecture that are protected by UNESCO. But the most famous one, the Jvari monastery, is a cult monument of early Georgian Christianity. It sits high on the hill, overlooking the city and offering a breathtaking panorama of two rivers connecting with each other.
Mtskheta is beautiful, small, and cozy. This is already enough to include this city in your travels across Georgia. But additionally, you can also see with your own eyes one of the main religious sites in the Orthodox world.
More tours from Tbilisi!
Travel From Tbilisi to a Rock-Hewn Monastery on the Georgia-Azerbaijan Border
The name of the monastery I am talking about is Davit Gareji. It is actually a large complex of cave monasteries of the 6th that stretch over a 25 km site along the Georgian-Azerbaijani border. Nowadays, Davit Gareji takes a special place in Georgian history. And it is one of the main places to visit in Georgia.
In total, this complex is home to 14 monastic ensembles built at different times. Hundreds of rooms carved into the rocks used to be temples, cells, warehouses, and kitchens. Its importance in the local religious world is also comparable to Jerusalem and thousands of pilgrims visit here every year.
What can you do here as a tourist? Explore the monasteries (and make sure not to miss the Lavra of David with ancient frescoes preserved in their authentic form), learn about the history, enjoy a peaceful atmosphere, and stop for a meal in one and the only cafe.
It is worth coming here not only because of the monasteries but because of the general atmosphere of the Gareji Desert. If you are more adventurous, you can also walk from Sagarejo (about 45 kilometers) and then stay in a tent for the night. The desert air and morning scenery are incredible!
Pack & travel!