"Which one is better? Ho Chi Minh City or Hanoi?"
We've been asked this question many times, and since we love both Vietnamese cities equally for different reasons, here is a wrap-up of things to do in Ho Chi Minh City so you can decide for yourself whether it is attractive enough to visit.
You can expect another post on some of the amazing local experiences in Hanoi too, so you'll have a complete picture.
Why travel to Ho Chi Minh?
Many flights from other Asian countries are cheaper to Ho Chi Minh city. Weather wise, unlike Hanoi, HCMC doesn't have a cold season, but it does have a rainy period, which you might want to avoid (starts in May, the wettest month is September). February is the driest, and April is the hottest month.
Ho Chi Minh City is more modern compared to Hanoi. Although, you can still find districts that will bring you back in time, with street vendors who use  old carts and set their grills right on the ground.
If you plan to delve into traditional architecture in HCMC, look for the narrow and long buildings, so-called "tube houses" that stand out next to the modern skyscrapers.
The reason behind their peculiar structure is because during the French colonialism era, the tax for the houses was set according to the front facade. Hence, to cut expenses, residents gamed the system and built slim houses with a hope to pay less.
Now, let us take you to see the best things to do in Ho Chi Minh City!
Like it? Pin it!
Things to do in Ho Chi Minh City
When we travel, we book our hotels through TripAdvisor, one of the best websites to compare prices.
We also use a lot AirBnB to book local apartments. If you have never used AirBnB before, you can have a $40 discount for your first booking through this link.
Always make sure you travel with travel insurance! Be adventurous, but not careless.
Check out some of the most reliable insurance companies out there: True Traveller if you're European and World Nomads if you're from elsewhere.
If you love animals and you prefer going local during your travels, try housesitting, which is an amazing way to travel the world while taking care of the pets whose owners are on vacation. If you use TrustedHousesitters with this link you'll get 25% discount on annual membership.
Food tips
Vietnam is one of the Asian countries where your senses are active 24/7 and will absolutely be overwhelmed by distinct smells, flavors, and busy streets filled with perpetually honking scooters.
What makes the Vietnamese food scene so special are the fresh herbs used practically in all of their dishes, light rice flour, the non-fatty broth of the soups, and much less fried stuff compared to Malay or Filipino cuisine.
Grab your breakfast bowl on the street
You won't have any problem finding good food in Ho Chi Minh City, as there is an abundance of street food. Simply start in your neighborhood. Street food vendors wake up early, so should you.
Squeeze your knees up to your chin, grab a bowl of fresh phở soup, rice crepes banh cuon or a bánh mì sandwich, and start a small talk with a street vendor.
For lunch, head to local restaurants as many street food vendors will return back home to prepare the food for the evening food extravaganza.
Not sure where to start? Read this detailed list of Vietnamese street food dishes our friend Jodi from Legal Nomads put together. Being a devoted foodie and excellent travel writer, you'll start drooling when you  read her post.
Or get inspired by this exhaustive list of the places where you can eat street food in Ho Chi Minh city that will help you navigate through the city.
Join one of the local tours in Ho Chi Minh City:
Get a lunch in Little Tokyo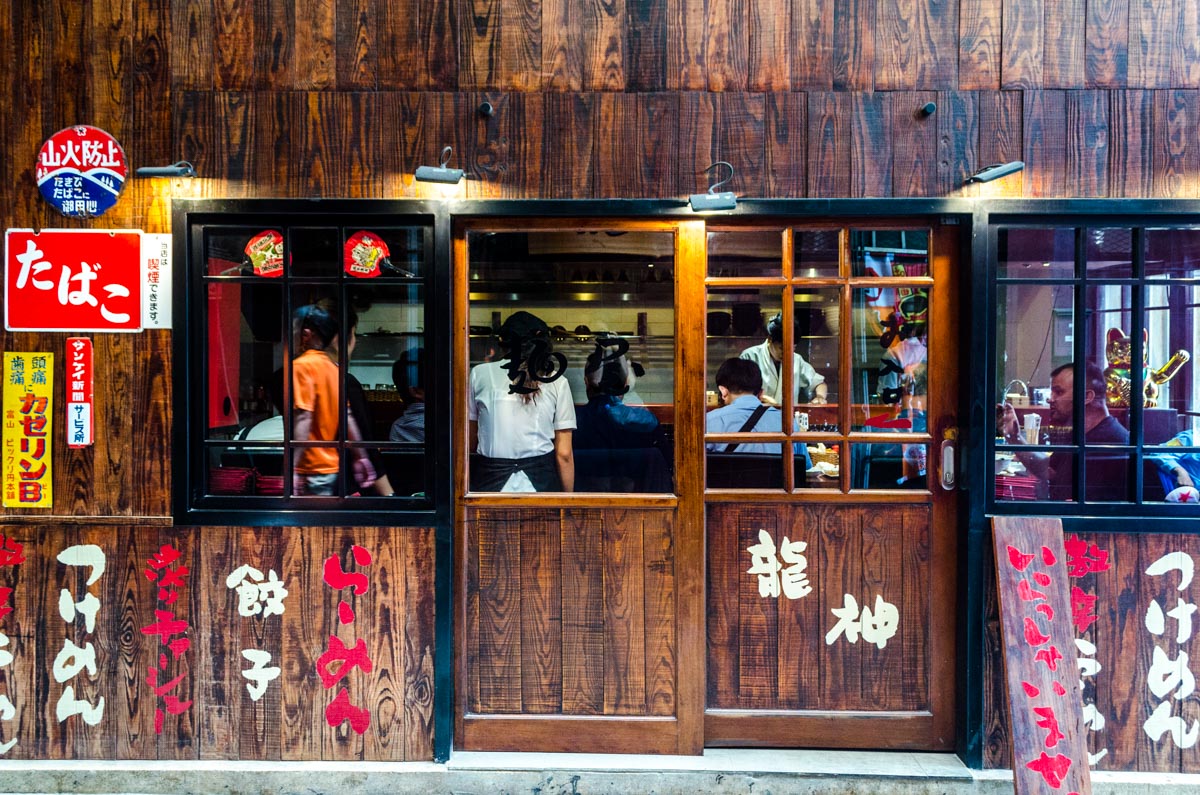 It would be hard to get tired of Vietnamese food, but if it happens, you might want to get a ramen or sushi. It won't be as delicious as the one in a side alley in Tokyo or Osaka, but it's worth a try. We discovered it thanks to a fellow travel blogger who's been living in the city for years. Thanks, James!
Little Tokyo at the Bình Thanh District is a real hidden gem with good Japanese (and Vietnamese) restaurants. We visited it during the day when many small bars were closed so we couldn't experience the streets with paper lamps lighten up. Still, it's a pretty place to stroll around and have some good tempura, sushi, and sake.
Location: the streets of Le Thanh Ton – Thai Van Lung – Ngo Van Nam in District 1.
Tip: we've heard there is a new Japanese street in HCMC, read more info here.
Get inspired by more articles about Vietnam: 
Get a caffeine boost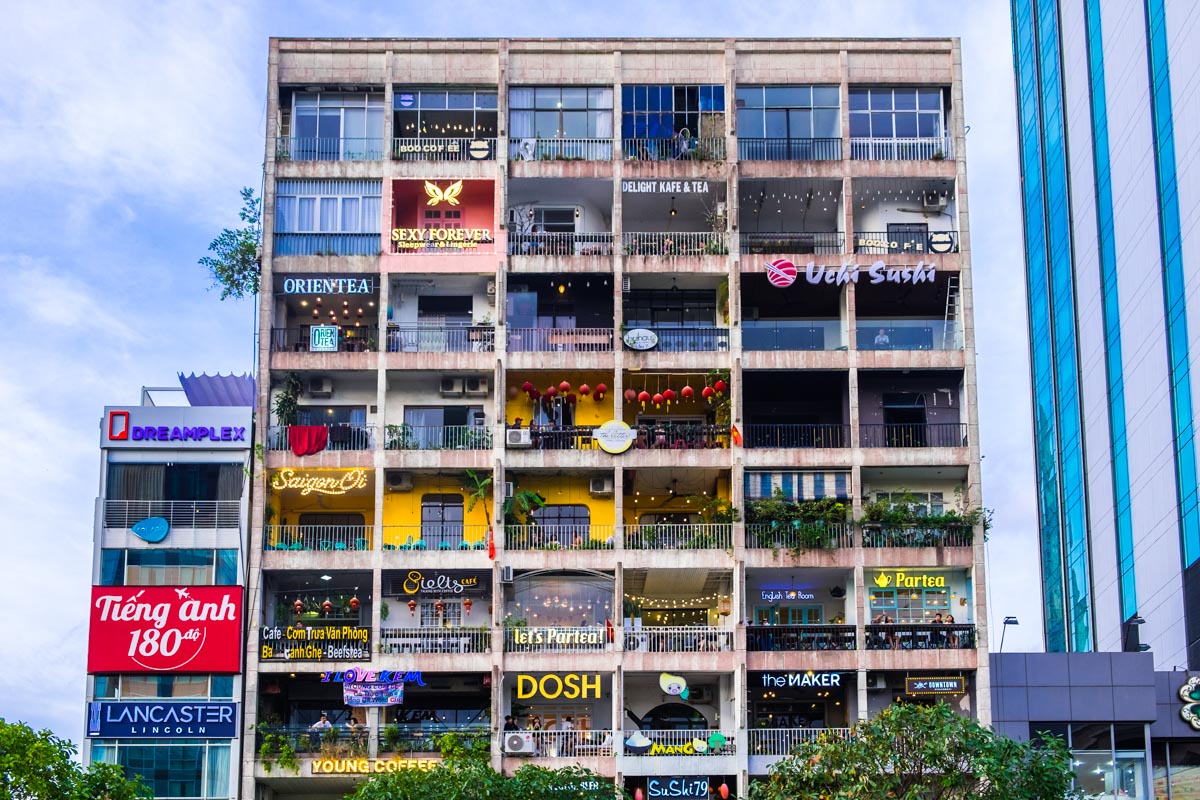 Not a coffee drinker? Neither was I… until I tried Vietnamese coffee in Hoi An some years ago. Cà phê sữa đá, traditional iced coffee with sweetened condensed milk is highly addictive, refreshing, and will re-charge you with super powers to continue venturing through the streets of Ho Chi Minh.
The new cafés in Ho Chi Minh City are sprouting in every district. You'll find anything from simple shops with low plastic stools on the sidewalks or fancy air conditioned places with a wide range of specialty coffees, teas, and desserts.
Our most favorite ones are The Workshop in District 1, a couple of small cafés at the popular Cafe Apartment at the 42 Nguyen Hue Walking Street, Shelter Coffee and Tea and a few lovely coffee shops with Vietnamese names in the Thao Dien neighborhood (District 2).
For more tips, read this incredibly extensive guide to the best cafes in Ho Chi Minh from a fellow blogger James.
Sample draft beers
There's no secret that local beers in Asia are nothing to write home about, and tourists would rather pay extra for well-known foreign brands or go for local rum. Not in Vietnam though.
Head to the Xuan Thuy Street in Thao Dien neighborhood in the evening and you'll see that the rumors about booming Vietnamese draft beer scene are true.
Our most preferred place was BiaCraft (Thao Dien neighborhood, District 2). The other places we liked a lot were Pasteur Street Brewing, HEM Taproom, and Heart of Darkness.
For more tips, read this comprehensive guide from our friends Jane and Stephen: 15 Amazing Places to Drink Craft Beer in Saigon. 
Join one of the local tours in Ho Chi Minh City:
Cultural tips
See a local worship at the Emperor Jade Pagoda
From outside, the temple might look like any other. But once you step inside, it's like walking in a fantasy world full of rituals and religious devotion. You can visit the place on your own (free entrance), but we highly recommend going there with a local guide (but try to avoid a big group tour).
We visited the pagoda with Lee who explained to us the rites and history of the place. Lee loves history, so we were lucky to learn about the religion in Vietnam, and also how the city evolves and what changes it has brought to the locals.
Note: we booked a tour with Lee through the I Like Local platform, and we had a fabulous experience with this company  in India on several tours as well. Check out the local tour with Lee.
Visit a green paradise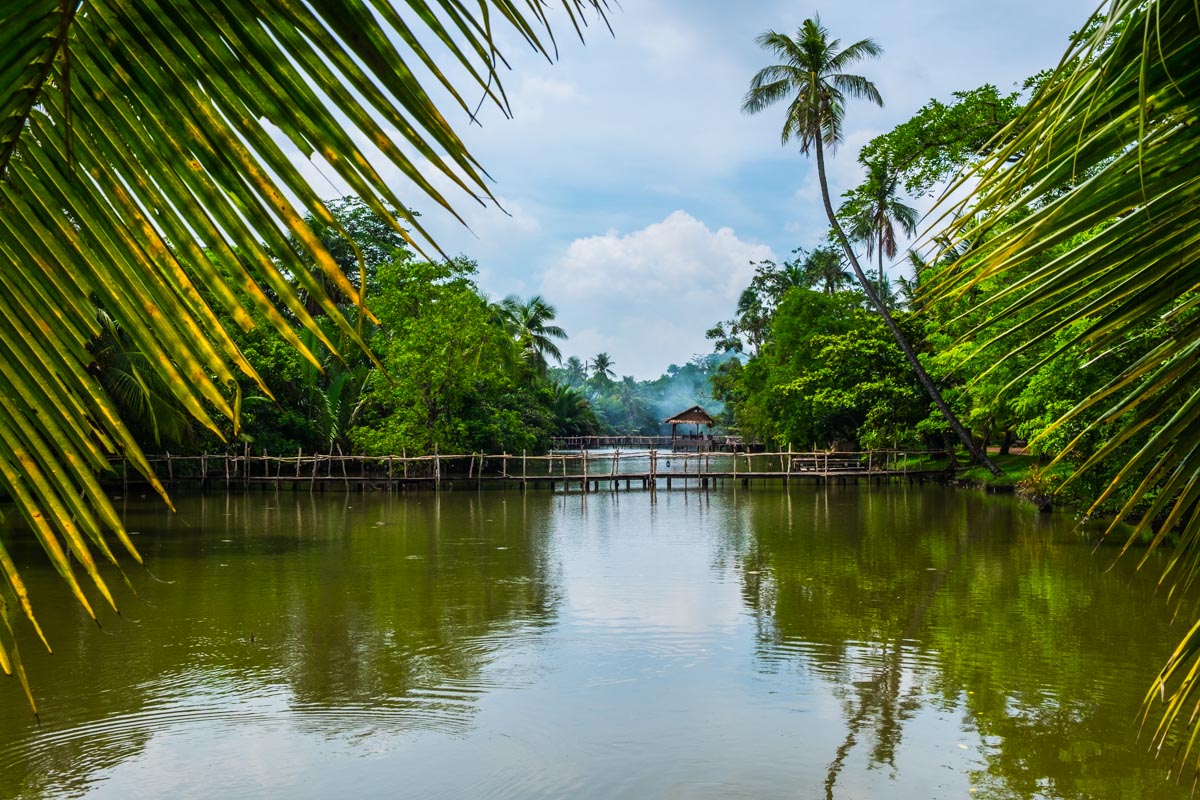 Air pollution in HCMC can become quite overwhelming if you're n spending a longer time there. You can quickly fix this by visiting the countryside, and you won't even need to travel far. The green paradise is only a few miles from the busy city center.
It's a park with a lake and a small kind-of museum display showcasing the life in the Mekong river. The place is very popular among locals, especially during the weekend when they hang out with their friends and families.
We can't reveal the name and address of the place, as we'd like to keep it away from mass tourism, but if you're interested, you can visit on a local tour with Lee. He was born near Mekong Delta, so he'll be happy to give you some insight into the lives of people in the region of the Mekong Delta that has changed so much during the last decade.
Send a letter from the iconic Post Office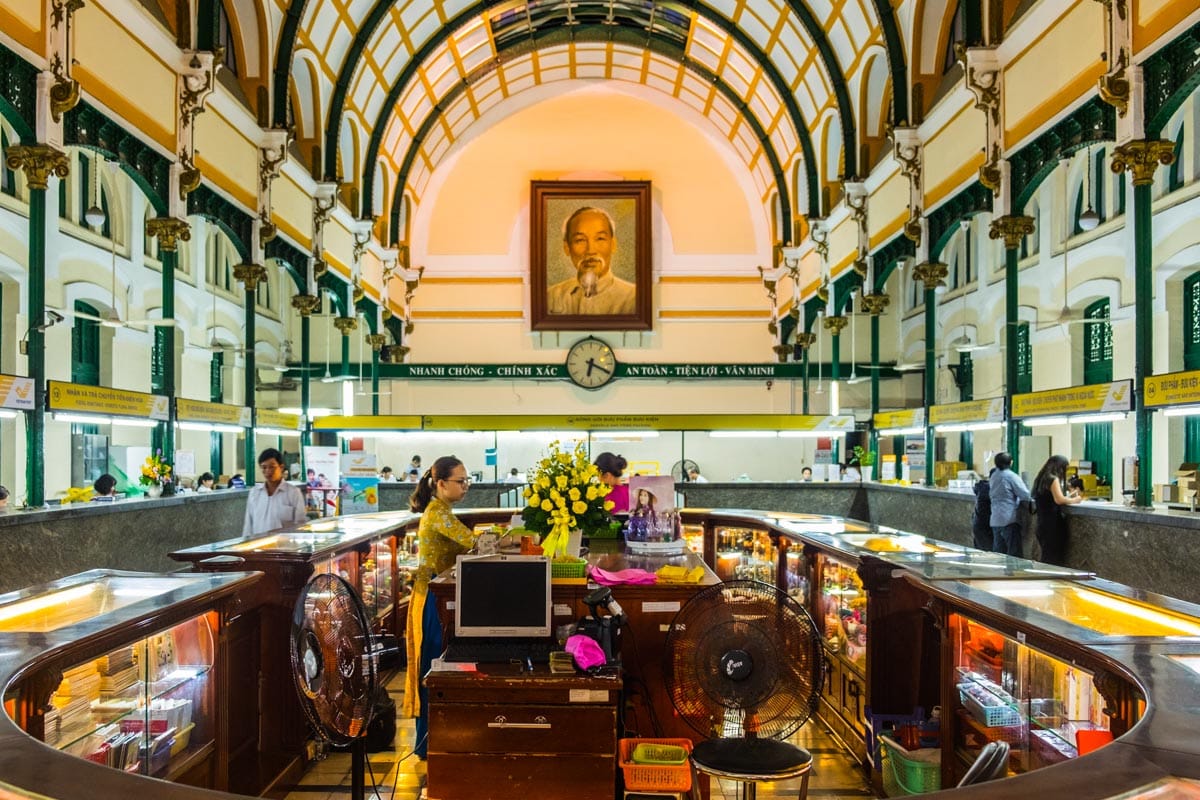 Ho Chi Minh Central Post Office from the late 19th century is one of the major landmarks of the city. It's also the biggest post office in the country.
And if you want to learn more about the French colonialism era, this is a place to be. The interior is impressive, don't miss out on this one. The entrance is free.
Join one of the local tours in Ho Chi Minh City:
Count the Buddhas at the unique Chua Van Phat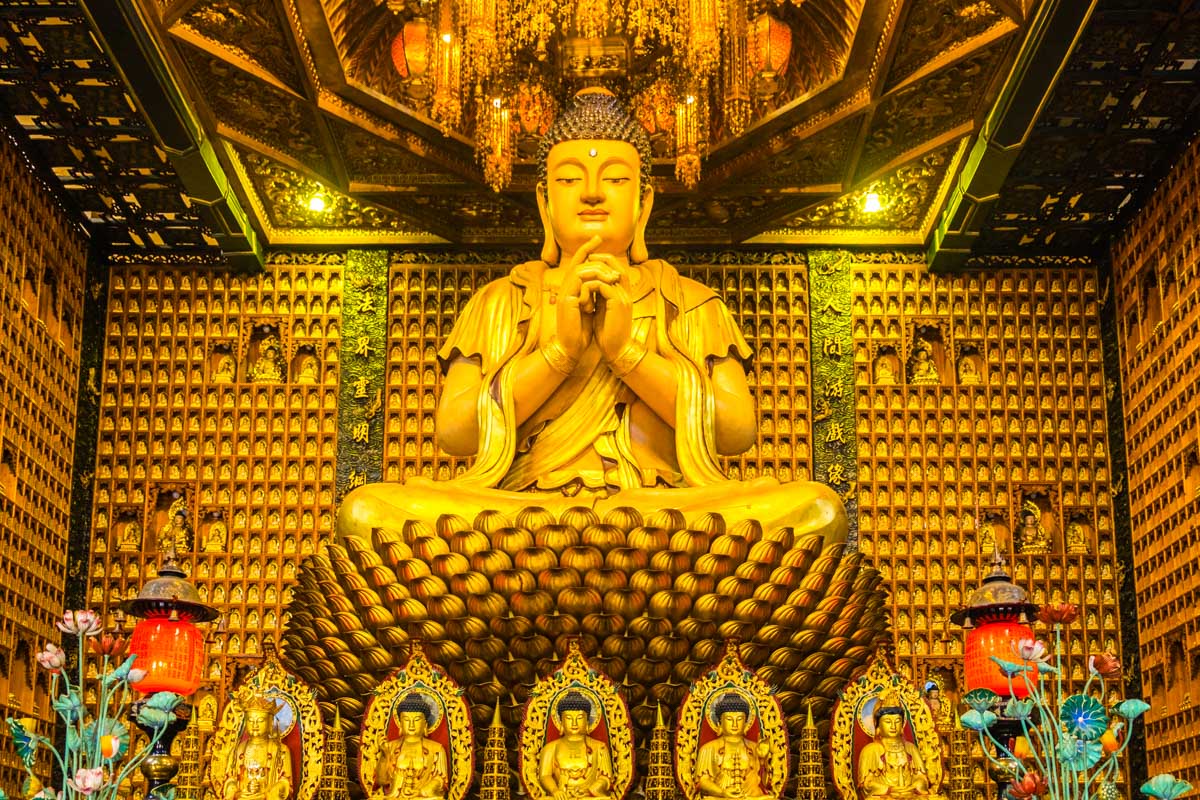 You might not succeed at finishing the count, but pay a visit to this extraordinary place. The Temple of Ten Thousand Buddhas has a truly sublime interior, and we again recommend going there with a guide to learn more about the temple who can also  bring you to the sections where you wouldn't dare to enter by yourself.
Read more articles about Vietnam:
Hunt some of the most awe-inspiring graffiti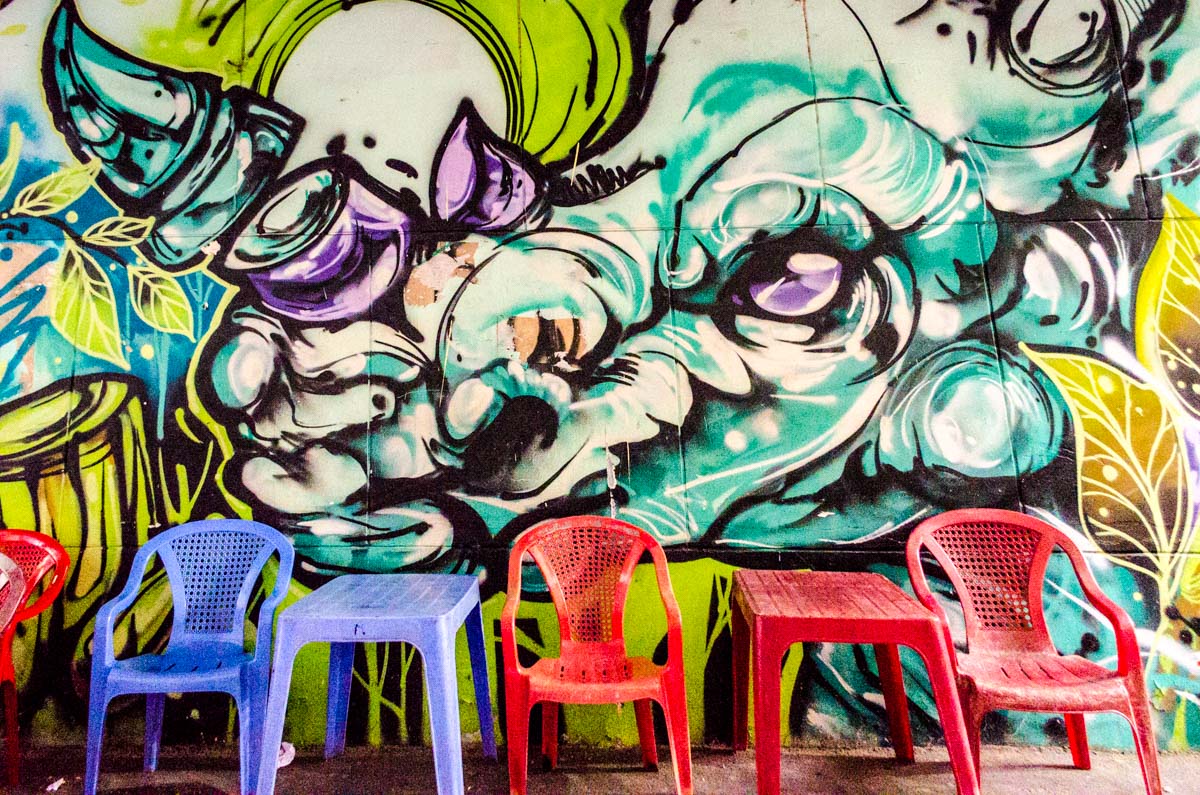 Finding cool murals in Ho Chi Minh City might be a big challenge. Not only because they are very hard to locate (double names of the streets, alleys, and walls with no names), but mainly because HCMC is rapidly changing its urban visual.
Thus, when you hear about some awesome street art from someone who visited the city a few years ago, the artworks he or she is talking about might be overpainted, or the whole walls demolished because of new hotels, office spaces, and entertainment centers.
Read this sad story of the famous 3A Station. Fortunately, some amazing works have survived the urban changes. Look for some strong messages against rhino poaching scattered throughout the city, mainly in District 1 and 3.
Shopping tips
Bình Tây Market (Ben Thanh Market)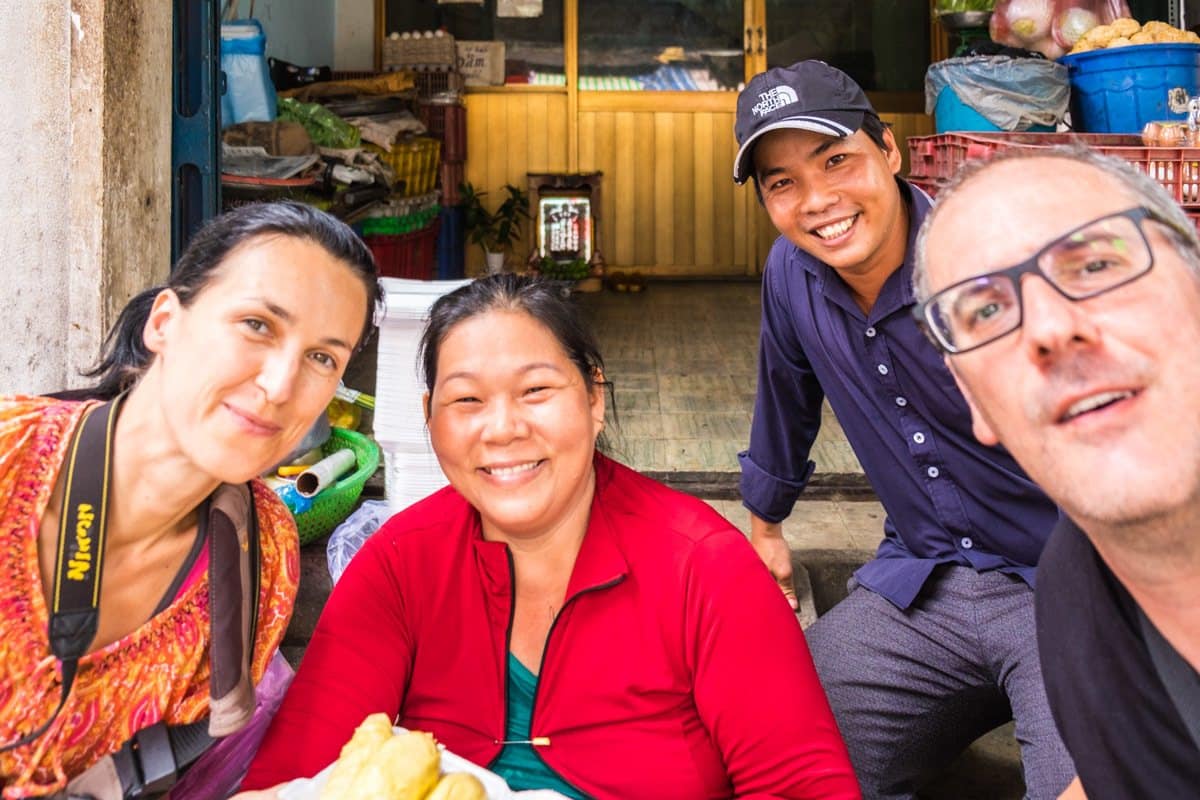 We love, love, love this market! It's pulsing with the energy of busy vendors, locals shopping, and making their way in tiny alleys filled with tons of various goods.
This market certainly has  character. We didn't meet any tourists here, which means: 1. the place feels very genuine and 2. you'll get local prices here compared to some more tourist oriented markets.
We walked through the market and did some fruit shopping here several times, but the best experience we had was when were exploring it with Lee, during a local tour of off the beaten path places in Ho Chi Minh City.
Not only did we learn about the significant importance of  Chinatown, but we also learned where the market is located, and Lee helped us to pick the best fresh produce there, too.
Best views of the city
Are you looking for a spot where you can capture the mighty city from above? Here are our suggestions of the places we liked the most:
Bitexco Tower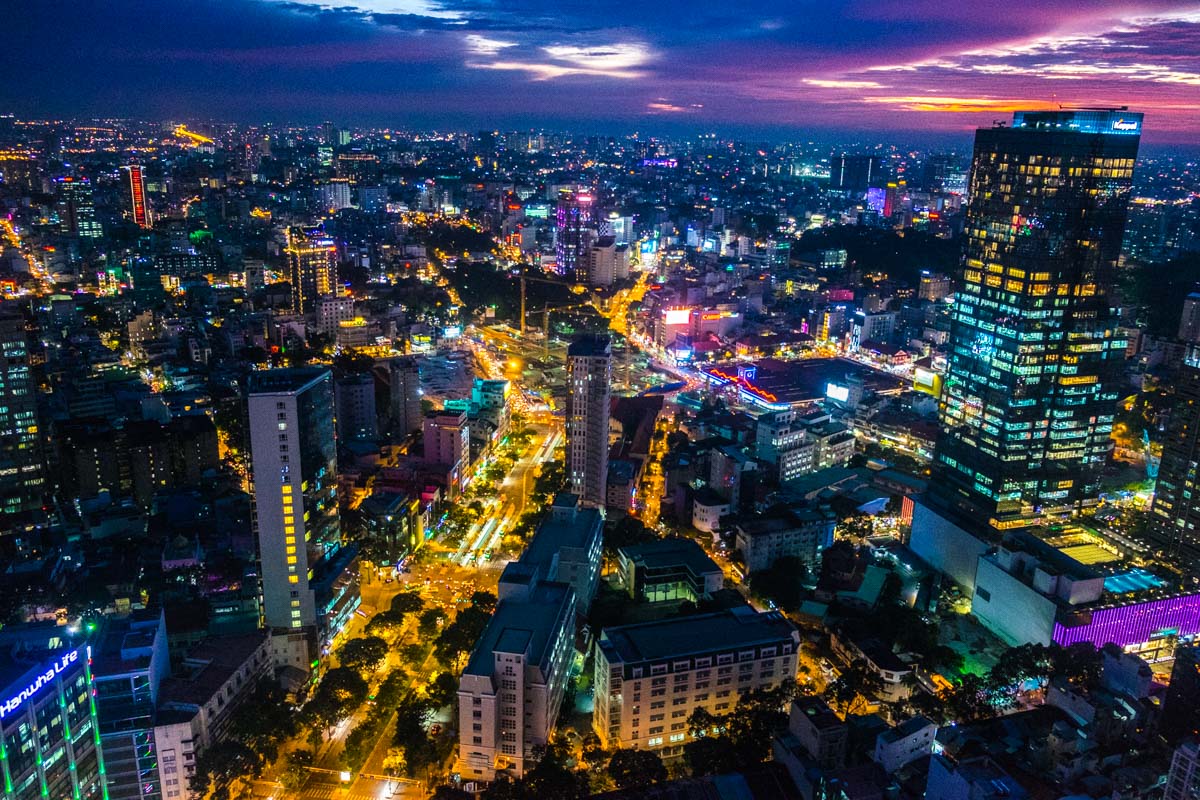 Bitexco Tower is well-known for the Heineken beer tour that will give you a 360 view. We did the tour and honestly, we've been on better brewery tours before.
It's way commercial, you're quite rushed to go through different sections, and you can get equally good views from the bar (Eon51) where you actually finish the tour and get free beers (meaning they're included in the price of the tour).
Best rooftop bars
A few other  great viewpoints are from the rooftop bars like The View Rooftop Bar, Breeze Sky Bar, Chill Skybar (beautiful in the evening!), and the very cool Air 360 Sky Lounge, and Glow Sky Bar.
Thu Thiem Bridge
The best time to go there is at sunset. You'll be able to see not only the Saigon's skyline, but also watch how the city is developing. Really a great spot!
Pack and travel:
Hope this list of things to do in Ho Chi Minh City has helped you to get an idea of what to expect and will make it easier to plan your travels in Vietnam!